Celebrate Christmas on a Budget: 25 Cheap and Creative Ways
Inside: Looking to celebrate Christmas on a budget? This guide has you covered with creative and affordable ways to do just that.
Are you stressed out about how to afford a fabulous Christmas on your budget? Worry not.
This festive season isn't about how much cash you fork out, it's about creating lasting memories and spreading joy.
Why let financial woes dampen the joyous yuletide spirit when you can celebrate a charming Christmas on a budget?
Remember, it's your money, your decisions, and your rules – no guilt trips or social pressures should force you into spending Christmas in debt.
Today you will learn:
Determine your Christmas budget: Figure out what's a comfortable amount for you to spend and stick to it religiously.
Be creative with gift giving: Homemade presents or heartfelt letters can be more valuable than pricey items.
Find simple ways to save money: Use these money saving tips to enjoy a festive holiday season.
This holiday season, celebrate responsibly, within your means, for a Christmas that's merry, bright, and totally guilt-free!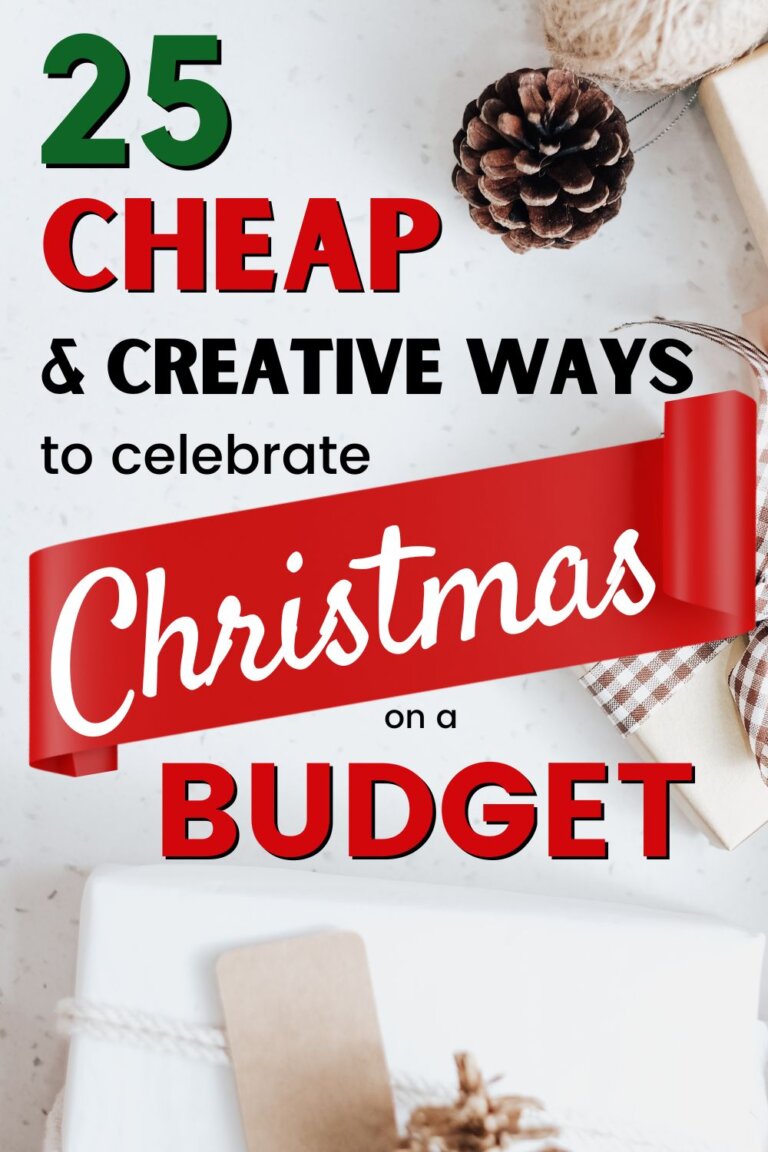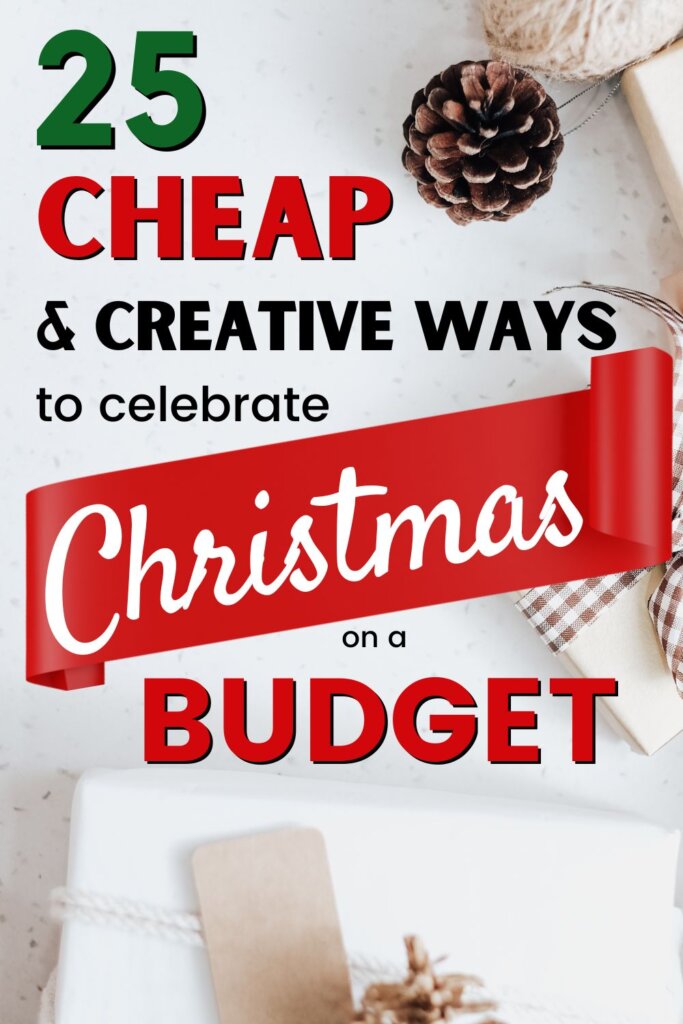 Why Celebrate Christmas on a Budget?
Embracing a budget-friendly Christmas can prove to be not only a smart choice but one filled with warmth, delight, and genuine joy.
Enjoy valuable family bonding time with exciting games and shared activities. Volunteer work, a day of holiday baking, or a simple drive-through Christmas lights sightseeing trip can leave a lasting impression. Look through this Christmas bucket list.
Opt for economical, yet thoughtful gifts or stick to fun gift exchange rules, such as the "four gift rule" for your kids. Remember, it's the sentiment behind the gift that matters the most.
In essence, an economical holiday season needn't be a dull affair, rather it's an opportunity to make it more heartfelt and unforgettable.
This post may contain affiliate links, which helps us to continue providing relevant content and we receive a small commission at no cost to you. As an Amazon Associate, I earn from qualifying purchases. Please read the full disclosure here.
What to buy for Christmas on a tight budget?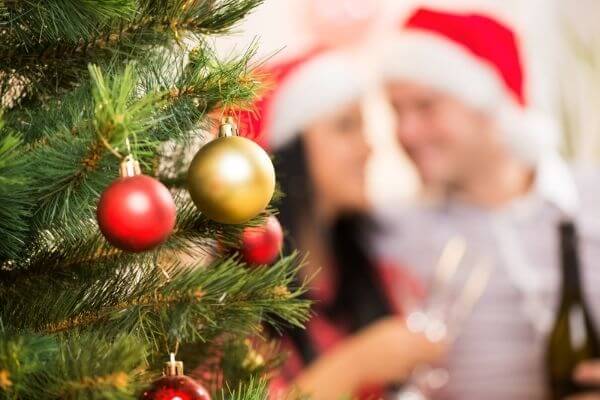 Yes, friend, you can buy meaningful Christmas gifts while sticking to a budget.
In fact, the thought behind a gift is often what makes it special, not the price tag.
A few ideas include homemade gifts, gift cards, subscriptions, and second-hand items. With a little creativity, you can find the perfect present for everyone on your list without spending a fortune.
Below you will find plenty of great gift guides for Christmas that won't break the bank.
Benefits of a Budget Christmas
1. Allows you to plan ahead and stay on track
2. Prevents overspending
3. Buy gifts that are within your budget
4. Focus on quality over quantity
5. Ensures that everyone gets a gift
6. Helps you avoid debt during the holidays
7. Prevents you from feeling stressed out about money during the holidays
8. Be creative and come up with unique gifts
9. Save for next year's holiday budget
10. Stay connected to the spirit of the holidays
Savings with Christmas on a Budget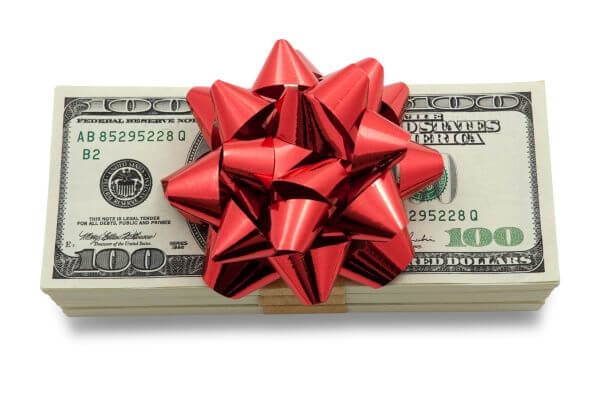 From homemade Christmas decorations to unique gift ideas, it's possible to create magical moments that'll last a lifetime without a hefty price tag.
Embrace the true spirit of Christmas – love, family, and togetherness, rather than commercialism, and read on to discover how.
Learn the simple ways to celebrate the festive season without breaking the bank with our creative and budget-friendly Christmas ideas.
1. Think about a No Gift Christmas
Having a No Gift Christmas is a creative and budget-saving alternative to traditional holiday festivities, especially suitable if funds are tight. Why not consider it?
Here are some benefits:
You can alleviate the holiday stress often associated with spending on gifts.
It fosters the idea of Christmas as a season of togetherness, not just gift-giving.
It offers the potential for unique and memorable experiences, like volunteering or creating fun traditions with your loved ones.
Remember, having a memorable Christmas doesn't have to cost much, or anything at all Learn more about a no gift Christmas.
2. Make Your Own Gifts
DIY Christmas gifts are your perfect solution. They not only save pennies but are laced with your love and creativity.
Start by exploring plenty of creative gift ideas available for free online. Need help? Look for "homemade gifts for Christmas" and you'll be surprised.
Compile a list of possible gifts from homemade candles to personalized coupon books, keeping the recipient's likes in mind.
Remember, your efforts will reflect in your gift. So, unleash your creativity and let the magic begin.
3. Borrow Instead of Buy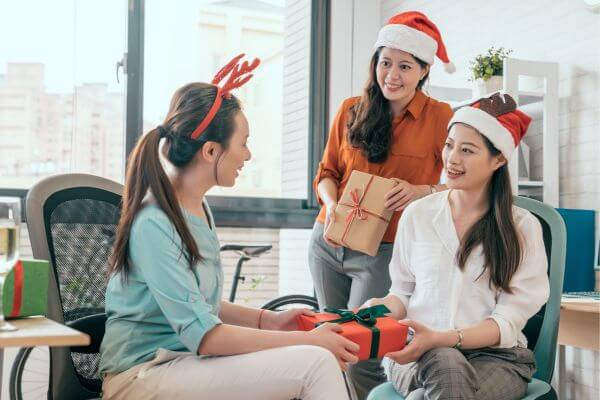 Borrowing instead of buying is a clever way to have a festive holiday while keeping things budget-friendly. This concept is simple: swap decorations, games, or even gifts with friends, neighbors, or family
Discuss your idea with your circle and organize swapping parties to exchange items.
The key is to creatively engage and make it a fun, budget-conscious activity. After all, Christmas is about sharing and caring!
Remember, return borrowed items in their original condition to maintain trust.
4. Attend Free Events
The Christmas season doesn't have to be a strain on your wallet. Attending free community events can provide fun and festive celebrations:
To find these events, check your local newspaper or community websites. Be sure to:
Take advantage of free refreshments, but also bring your own to share.
Consider hosting a potluck dinner before or after community events.
Attending free events supports your local community.
Remember, Christmas is about togetherness, not extravagant spending.
5. Make Your Own Decorations
To create a festive atmosphere this season, you could repurpose items around your house or make your own decorations.
Choose a color theme and gather items in those shades, then place them together on a mantel or coffee table to create a coordinated layout.
For a natural touch, clip pine needles, branches, or herbs from your garden, and enhance them with glitter.
Additional budget-friendly options include taking advantage of sales and discounts at thrift stores or crafting handmade decorations such as ribbons from fabric strips or Christmas cookie ornaments.
6. Keep Track of Your Christmas Expenses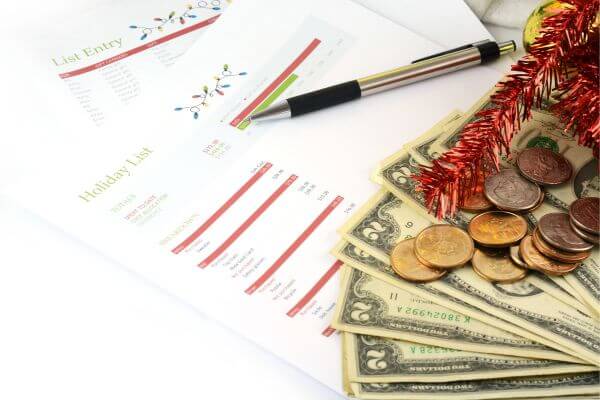 Just like throughout the year, budgeting is critical to your financial success.
Nothing changes with Christmas, it is crucial to track and budget your holiday expenses. Jot down every potential cost – from the Christmas tree, and food, to holiday décor.
Be thoughtful about what you really need and opt for items you can use for years.
This is one of the cash envelope categories I recommend saving for. To effectively manage your expenses, assign specific dollar amounts to each item on the list, ensuring you stay within your budget.
Enjoy guilt-free spending and effortless saving with a friendly, flexible method for managing your finances.
7. Share the Spirit
Embracing frugality during the holiday season can not only help you save money, but can also create memorable experiences and meaningful connections.
Small gestures, such as sending heartwarming physical letters to loved ones instead of emails, can still convey thoughtfulness and spur the holiday spirit.
By centering your holidays around family activities and endeavors, like homemade ornaments or a scavenger hunt with small gifts, the focus shifts from materialism to fellowship and unity.
Find more frugal Christmas ideas.
8. Check Out Bargain Stores
Bargain stores provide the perfect solution for savvy holiday shoppers looking to save money without compromising on quality or variety. Not only can you find unique, quirky gifts, but you can also keep a lid on your spending while doing so.
Stores like consignment shops or websites such as Craigslist often have high-quality used toys that are nearly new if you're willing to look carefully.
Another option is to look at discount retailers like TJMaxx as they often host sales during the holiday season, making it even easier for you to save money while hunting for the perfect gifts.
9. Save Money Throughout the Year
Automating your savings for the Christmas season can be a practical and efficient strategy. The 100 envelope challenge is perfect for this!
By setting aside just $50 each month, you could accumulate up to $600 by December, providing a decent budget for your holiday expenses. This method can ease the financial stress during the holiday season, letting you enjoy the festivities without worrying about overspending.
Consider setting up automatic transfers to a high-interest savings account. This ensures your Christmas funds grow without your intervention.
Lastly, try a no-spend month where you only cover essential bills, giving your savings a significant boost.
10. Start a Side Hustle for More Money to Spend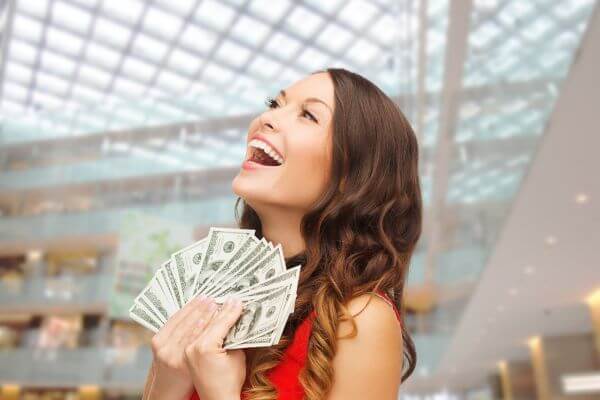 Engaging in side hustles throughout the year can help you significantly cover your holiday expenses.
By delivering food, completing microtasks, selling gently used items, or shoveling snow, you create extra earnings that can go directly into your Christmas fund.
For instance, extra income from a seasonal retail job could help finance gift-purchasing without straining your usual budget.
This strategy not only prevents potential post-holiday debt but also allows you to enjoy the season without financial stress.
In fact, more people are interested in how to make money online for beginners.
This is the perfect side hustle if you don't have much time, experience, or money.
Many earn over $10,000 in a year selling printables on Etsy. Learn how to get started by watching this free workshop.
If you've ever wanted to make a full-time income while working from home, you're in the right place!
This intensive training combines thousands of hours of research, years of experience in growing a virtual assistant business, and the power of a coach who has helped thousands of students launch and grow their own business from scratch.
11. Shop Online Instead of Going to the Mall
Shopping online for your Christmas gifts can seriously ease your holiday stress, and potentially save you money.
Let's explore why skipping the mall and clicking your way to a merry Christmas might be your best bet this year:
No dealing with holiday crowds or cranky shoppers.
Enjoy sales and deals without leaving your home.
Track prices over time to grab the best deals.
Use Rakuten to save even more money on purchases.
For smart online shopping, prepare a list of gifts before diving in. Take advantage of the "wish list" option on platforms to curate items of choice and make sure you first glance over deal sites before making purchases.
12. Have a Christmas Potluck
Host a festive potluck! Invite friends and family, asking each to bring their favorite dish.
Here are some tips for a successful event:
Get organized and ask guests to bring specific types of food. This prevents duplicate dishes and ensures a balanced meal.
Introduce a fun element. Try a cookie swap or a silly game like "Guess the Cookie."
Keep decor simple. A large vase filled with greenery and baubles can effectively replace a pricey Christmas tree.
Remember simplicity is key in food and decor. Costly ingredients and complicated recipes aren't prerequisites for a memorable Christmas.
Remember, the holiday is about togetherness, not extravagance!
13. Make Your Own Cookies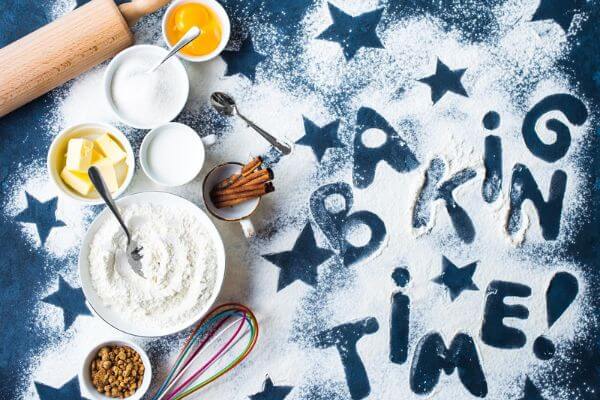 There's a unique pleasure derived from making your own cookies during the holiday season instead of buying them. More so, the cookies you've invested your time and creativity into can double as thoughtful, homemade gifts, adding another level of sentiment.
Apart from being a cost-effective option, it brings an opportunity to bond with friends and family during cookie exchange or decorating gatherings.
Making your personally crafted cookies also gives you control over ingredients catering to specific dietary needs or preference
Indeed, making your own cookies adds value that surpasses the mere cost savings, it infuses the holiday season with warmth, joy, and a sense of shared experience.
14. Cross Off Activities from your Christmas Bucket List
Having a joyful Christmas doesn't necessarily mean overspending. In fact, integrating cost-effective activities into your holiday routine can make the season more meaningful and fun.
This Christmas Bucket list post offers an extensive and diverse list of creative ideas for budget-friendly Christmas shopping, gifting, and celebrating.
Additionally, downloading the free printables and a Christmas Budget Template will make the process even more manageable and fun.
15. Have a No-Gift Party
A no-gift Christmas party is an affordable and fun holiday celebration where attendees do not exchange gifts. It's a great option for those looking to save money and still enjoy the festive season.
Here are steps to make it happen:
Step 1: Decide on the party type, either a simple gathering or a potluck dinner.
Step 2: Inform guests about the no-gift policy in advance.
Step 3: Organize exciting, cost-effective activities such as a game night.
Step 4: Engage guests with games for a joyful event.
Expert Tip: Conversation and laughter are your best tools.
16. Make a Christmas Memory Book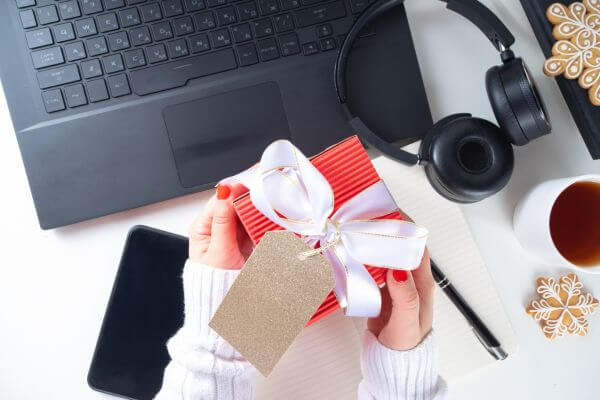 Creating a Christmas memory book is an affordable and engaging way to celebrate the holiday season, especially when you're on a tight budget.
To start, you can utilize items already at your disposal in your house such as old photos, greeting cards, and crafts.
Spend some time penning down heartfelt messages and your favorite holiday memories associated with each picture or craft. Embellish the pages with affordable decorating materials like glitter, stickers, or color pens.
Not only does this create a personalized touch, but it also serves as a nostalgic keepsake that can be cherished for years to come.
Tip: Digitize your memory book by creating an electronic version. This can also help preserve the original items.
17. Spend Time With Loved Ones
Celebrating Christmas on a budget doesn't mean skipping on the fun.
It's about cherishing time spent with loved ones, harnessing creativity, and making priceless memories that last a lifetime.
Here are some cost-effective activities you can embrace this festive season:
Share stories of memorable Christmas experiences.
Organize virtual celebrations with extended family and friends.
Create your own family-themed board game.
Bake Christmas cookies or make a popcorn Christmas tree.
Stream a Christmas church service.
If snow is around, engage in snow play.
Dance to classic Christmas music.
Put together an annual family calendar.
Participate in one of these Christmas Challenges!
Remember, it's not about what's under the tree that matters, but rather, who's around it.
18. Stash Christmas presents all year
Do what I do! Begin addressing the issue of holiday budgeting by stashing Christmas presents all year round.
This is a smart and stress-reducing move!
Find deals throughout the year rather than spending lavishly in December. Hang on to items like discounted gifts in your secret gift closet!
As you build an inventory of diverse items, you will be ready for birthdays or sudden party invites – you're always prepared!
Just be careful to stop shopping when your list is fulfilled to avoid overspending.
19. Write a Christmas Gift List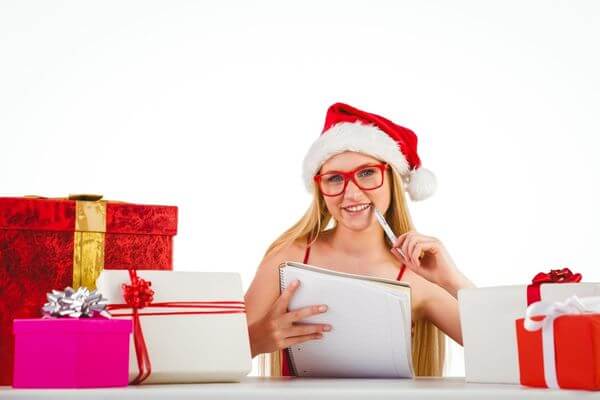 Creating a Christmas gift list can be an effective way to manage your holiday spending. This helps you understand the overall picture of your holiday expenditure.
Start by writing down the names of every person for whom you consider buying a gift.
Then, determine how much you're willing and able to spend on each individual. This helps you understand the overall picture of your holiday expenditure.
Take time to brainstorm potential gift ideas within your decided budget for each person. This process can be even easier and more informative if you're able to reference a gift list from previous years.
Ultimately, the goal is to ensure that your total intended spending is reasonable and manageable for your personal financial situation.
Remember, you may not need to buy gifts for everyone on your list – some individuals might appreciate homemade or free gifts just as much.
20. Choose Great holiday things to do for less
Set aside the societal notion of linking the joy of holidays to copious spending, and welcome small, inexpensive, yet heartfelt gestures.
Adopting a mindset that finds value in low-cost or even free activities, especially during the holiday season, can not only alleviate financial pressure but also create cherished memories.
Instead of focusing on extravagance and materialistic desires, turning attention to experiences and emotional bonding can revolutionize the celebration!
You can always find things to do on Christmas Day.
21. Think Outside the Box With Gifts
Finding affordable gifts doesn't mean you have to sacrifice quality or thoughtfulness.
By utilizing a gift guide such as the 4 gift rule – something they want, need, to wear, or read – you can ensure a well-rounded and meaningful set of gifts for each child.
Alternately, consulting lists of inexpensive yet creative suggestions like those curated by Money Bliss can help you find unique presents that won't break the bank. These affordable finds range from books, gadgets, to personal care items, and home accessories.
Regardless of budget, the key to successful gift-giving lies in understanding the recipient's needs and interests.
22. Consider Re-Gifting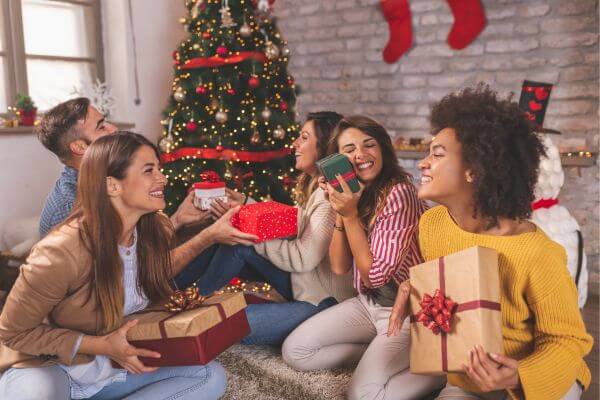 Re-gifting is a practical, budget-friendly, and environmentally-friendly way to celebrate Christmas. It allows unused or unwanted items another chance to be appreciated and might save you some cash too.
Here are some regifting tips:
Ensure the gift is in good condition, unwanted but quality, and not linked back to its original giver.
Consider the preferences of the new recipient, ensuring the gift suits them.
Completely re-wrap the gift to give it a fresh appearance.
Some may debate the etiquette of re-gifting but remember, it's more about the thought and less about where the gift originated.
Making smart choices can ensure a successful and fun re-gifting experience this festive season.
23. Use Gift Cards or Cash App to Stay on Budget
Purchase a prepaid gift card from your favorite store to ensure you're limiting your spending to a specific amount and preventing the temptation of overspending.
If you're planning to shop from a range of places, opt for a Mastercard of Visa prepaid card. While there may be an activation fee, it's ultimately going to be less than what you'd potentially overspend.
Another great option is using the Cash App card and learn where you can load your Cash App card.
Also, you can use budget tracker apps like YNAB or Simplifi. These can help you meticulously keep track of your spending and stay within your budget.
Remember, the key is to stick to a budget and avoid falling prey to impulsive purchases. Using gift cards or these budgeting apps makes it easier to limit and monitor your expenses.
24. Use Money Gift Ideas Wisely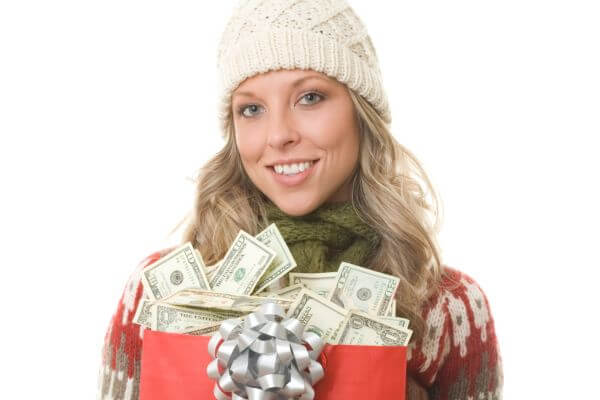 Money gift ideas can be an excellent alternative to traditional presents, especially when budgeting is a critical aspect.
Too many times, money gift ideas are overlooked as impersonal, but a money gift box or money cake will definitely surprise the recipient.
This will guarantee you will stay within your target budget by using money gift ideas.
For larger families, a gift exchange with a set price limit can keep costs manageable.
25. Donate to Charity Or Volunteer
Volunteering at a charity is a meaningful way to give back during the holiday season that doesn't put a strain on your budget.
Instead of buying more items a person may not need, you're investing time, money, and energy in causes they care about. Although this doesn't require a financial commitment, it's a generous gift full of sentiments.
Furthermore, donating money to a charity in someone's name is a thoughtful and effective way to honor someone who already has everything they need. It allows the recipient to feel the joy of giving, yet remains a budget-friendly option for the giver.
If you're keen on frugal yet meaningful ways to celebrate Christmas, how about considering charitable donations? It's a splendid alternative to traditional gift-giving – not hard on your wallet, plus it makes a difference!
Most people know it is hard enough to buy gifts for the woman you who has everything or kids who have everything.
How to Make a Christmas Budget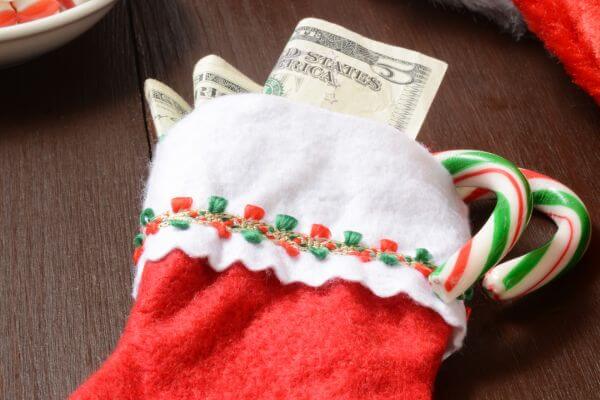 A lot of joy and goodwill is associated with the holiday season; however, it also brings with it the challenge of managing finances meticulously to avoid slipping deep into credit card debt.
One of the effective ways to keep your finances under control during this festive time is by creating an efficient Christmas budget.
In the following sections, we will delve in detail into the simple process of creating a feasible Christmas budget that you can adhere to.
Step 1: Decide What You Want to Spend on Christmas
Determining how much to spend at Christmas depends on your individual budget and financial situation.
On a general basis, most people will overspend at Christmas in order they don't look broke or not generous.
However, that thought process is backward if you are trying to reach your financial goals. You need to decide on how much you want to spend at Christmas time.
That is why these consumable gifts tend to be popular.
Expert Tip: Avoid surpassing your Christmas budget to prevent feeling the pinch of holiday debt later on. Stick to your allocations and plan things out in advance.
Step 2: Make a List of Christmas Gifts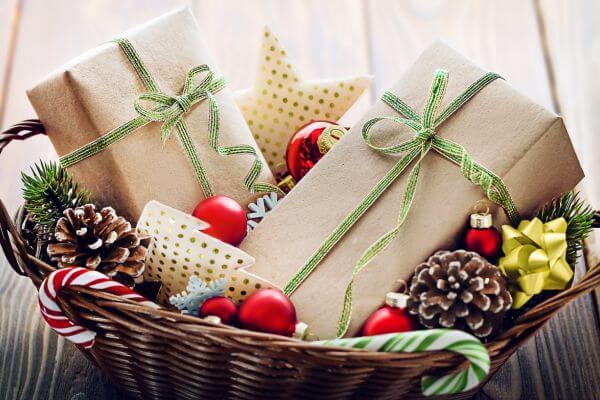 Creating a list is essential for budget-friendly and stress-free Christmas shopping.
This prevents you from forgetting someone important by intuitively documenting all the people you intend to get gifts for. Also, allows for the clear allocation of your total Christmas budget, preventing overspending on some individuals and under-spending on others.
If you aim to economize, consider the 4-gift rule: something they want, something they need, something to wear, and something to read. This method provides thoughtful gifts for children while maintaining a manageable budget.
More importantly, a well-planned list significantly reduces the time spent shopping and aids in buying gifts early before the holiday rush begins.
Expert Tip: Don't forget to consider items like stocking stuffers, last-minute gifts, or teacher's gifts, and the cost of extra food for holiday gatherings.
Step 3: Prioritize Your Spending
This is especially true unless you get a Christmas bonus.
Prioritizing where to spend money relative to your financial goals is crucial to achieving long-term financial stability and health. It ensures that your money is allocated effectively, giving priority to necessities and matters that directly support your objectives.
This practice can also prevent unnecessary expenditures and helps in averting serious overspending, especially during high-spending periods like the Christmas season.
Thus, you will need to prioritize your Christmas budget before the festive season. It helps prevent overspending and keeps you debt-free.
Step 4: Limit Your Christmas Spending
First, it is important to abandon the notion of a "perfect Christmas" and focus on enjoying the holiday within your budget.
You can even educate your family members about the concept of holiday budgeting and involve them in your planning process.
Consider proposing less expensive alternatives to traditional gift-giving within your extended family such as handmade or recycled gifts, or conducting a white elephant exchange with budget-friendly novelty items.
Don't overlook smaller gifting costs that can accumulate, like Christmas stockings – instead fill them with practical, affordable items that your family needs.
Save money on wrapping supplies by using items readily available at home like newspaper or butcher paper and involve the kids in a fun, cost-saving activity by having them create homemade gift tags.
Remember, sticking to your budget doesn't mean letting go of the Christmas spirit. It's about celebrating responsibly and starting the New Year without financial stress.
Step 5: Ignore Sales and Keep it Simple
Sales, sales, sales – the deal is too good to pass up!
Here are key ways to overcome this common dilemma.
Resist impulsive purchases compelled by sales, and stick strictly to your shopping list.
Pause before purchasing an item not on your list, consider the necessity.
Keep emotions in check, they run our shopping decisions.
Conquer emotional spending, stay true to your budget.
Discourage additional spending once your list is fulfilled and the budget exhausted.
Remember that it's better to focus on affordable presents rather than seeking the perfect, but expensive, gift.
Step 6: Shop for Christmas Gifts Early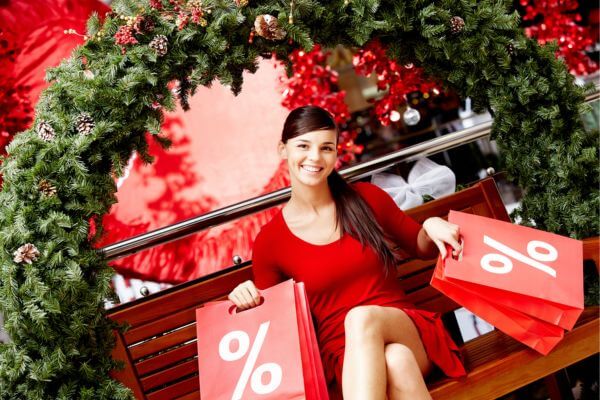 Start early. Begin watching for sales on items from your Christmas gift list way before the season's rush.
Begin monitoring for sales early, especially during holidays that precede Christmas, to stretch your budget further.
Make use of Black Friday and Cyber Monday. They provide excellent opportunities to snag deals on your gifts.
Expert Tip: Remember to stick to your list. If it isn't on your list, pass it up. It's challenging but keeps your budget in check.
Step 7: Reuse and Recycle Holiday Decorations
Start by taking stock of items in your house. Don't limit yourself to traditional decorations—choose a color theme and scan your home for items that fit and can be repurposed.
Use the resources outdoors. Pine branches, pine cones, mistletoe, and holly can be fashioned into decorations from nature's catalog.
Even consider trading decorations with friends or family. This can bring a new look to your home without the need for new purchases.
Get creative with items from dollar stores that can be combined to appear high-end and save costs.
How to buy gifts for Christmas on a budget?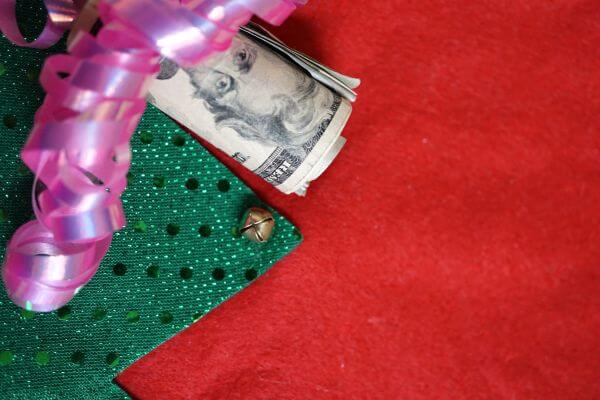 Maintaining a budget doesn't mean you can't enjoy giving gifts this Christmas.
Use these gift guides to help you out:
Remember, the joy is in the giving, not in the cost of the gift.
Time to Create Your Holiday Budget and Make it Memorable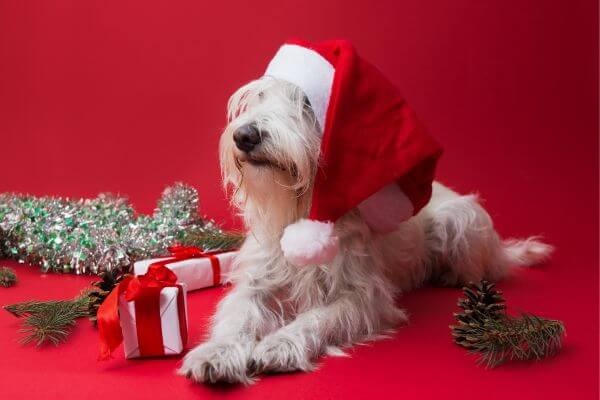 Regardless of your financial situation and the extent of your holiday plans, this guide will help you maintain financial stability while fully embracing the Christmas spirit.
By setting aside a prescribed sum for your holiday expenses, you're able to enjoy the season without the stress of unexpected expenditures or financial shocks after the holiday haze has cleared.
Celebrating Christmas on a budget doesn't mean skipping the fun or the warmth.
With just a dash of creativity and thoughtful planning, you can make the yuletide season enjoyable and meaningful without breaking the bank.
Use the festive tips provided and start planning your budget-friendly Christmas now. Remember, the true essence of Christmas isn't in extravagant spending—it's about love, joy, and spending quality time with those who really matter to you.
Don't forget to access a free printable worksheet for your customized holiday budget.