How to Make a Budget Binder to Motivate Your Financial Goals
Inside: Get a financial budget binder to help stay on track with spending and saving goals. Learn how to use it as a guide to help you reach your financial goals! Stay motivated.
I know that when my family and I set a goal for saving money in our budget binder, we're more likely to do so because we have visual reminders throughout the year of how much has been saved and what still needs to be done.
When it comes to financial goals, we want them all.
For example, you are trying to save more money or pay off debt, but you cannot track the progress you are making or find ways to make it happen.
You need to create a cute budget binder so you know the overall picture of finances and how it lines up with other events in your life.
It can be time-consuming to create a financial plan because most people lack what needs to be included. Save yourself some time and energy by using a personalized budget binder.
This in-depth guide provides step-by-step instructions on how to set up your budget binder along with downloadable worksheets to help get you started.
Learn how to create your budget binder and what tasks you can break up into sections for each week of the year.
Also, find out why it is important to be specific with your goals and how goal-setting can help us reach our financial goals faster!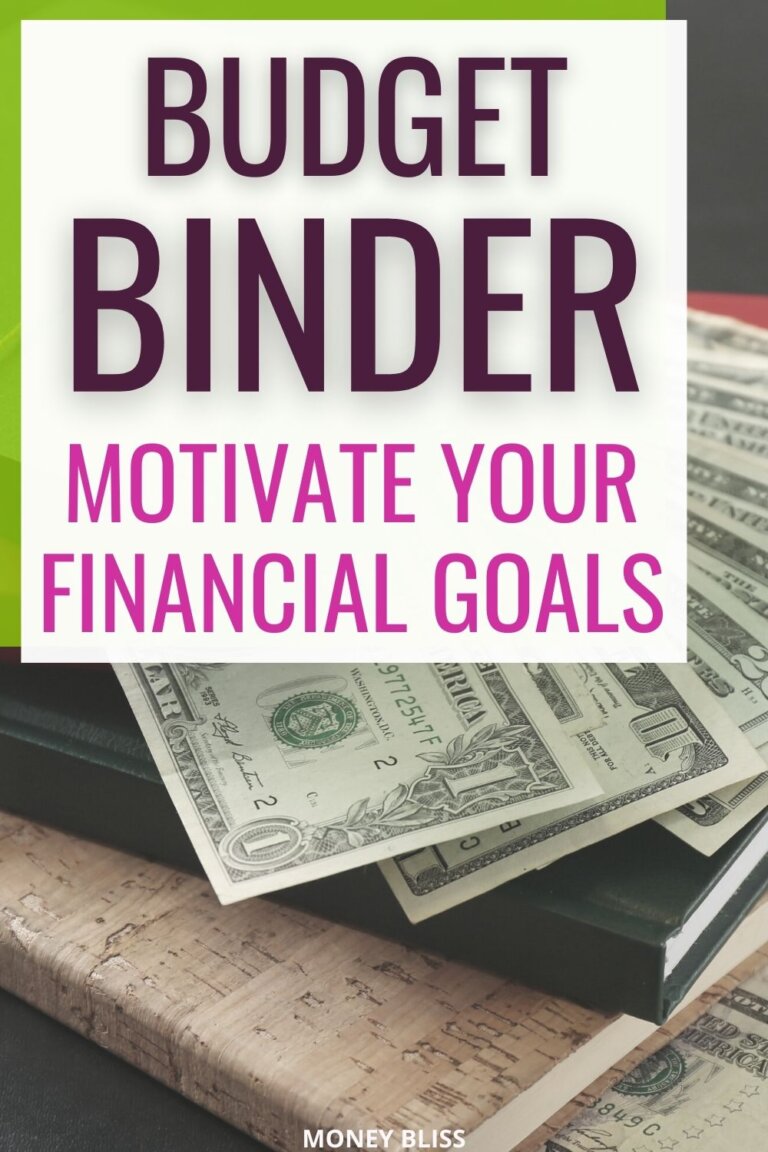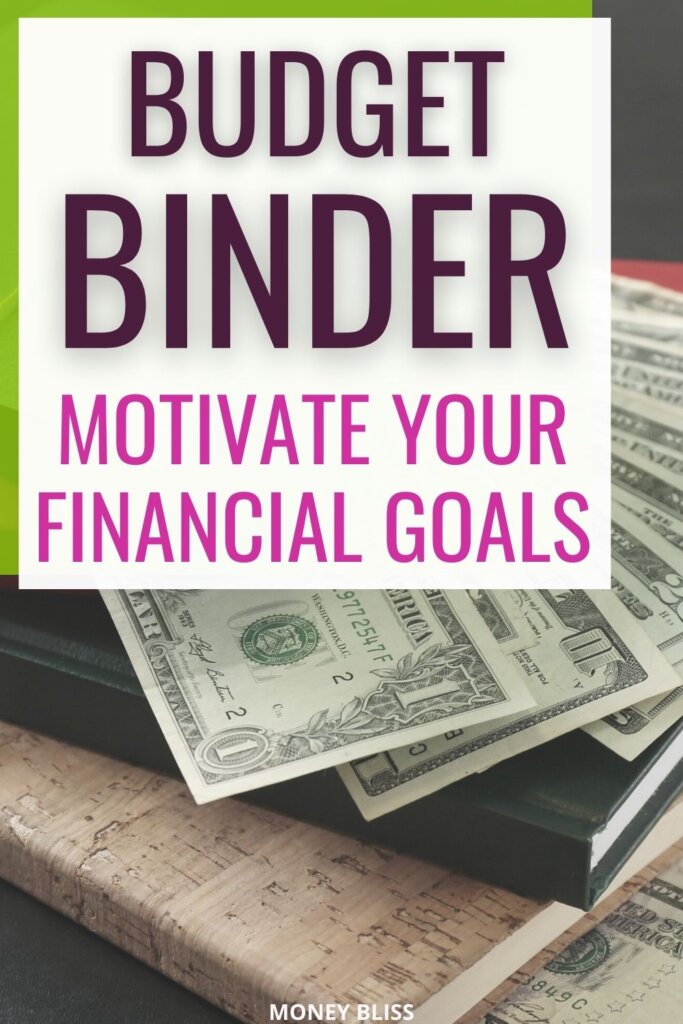 What is a Budget Binder?
Budget binders are designed to keep track of expenses and income.
A budget binder is a tool that helps you organize your finances and plan for the future.
They can be used for various purposes, such as budgeting, tracking your spending habits, maintaining a financial diary, or even identifying the best times to save money.
Why a Budget Binder Matters?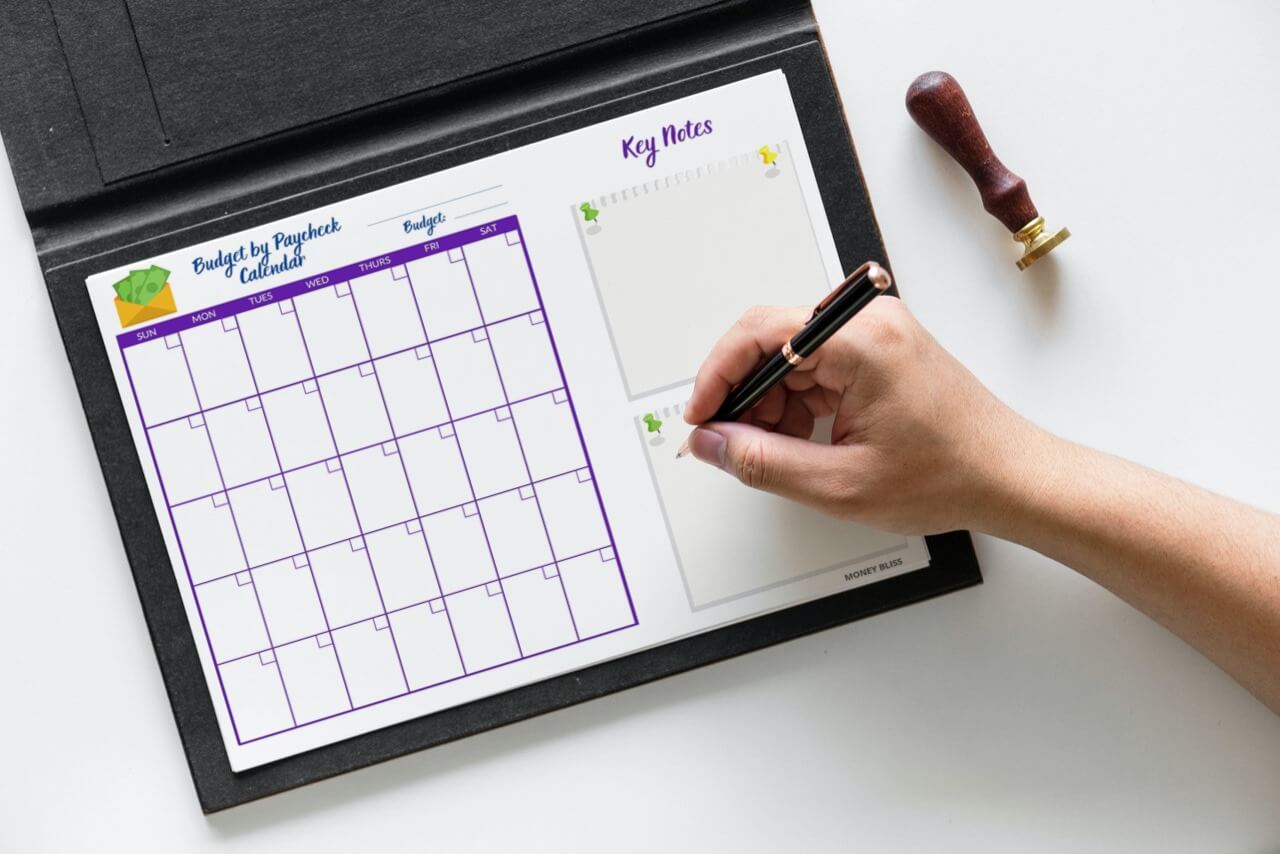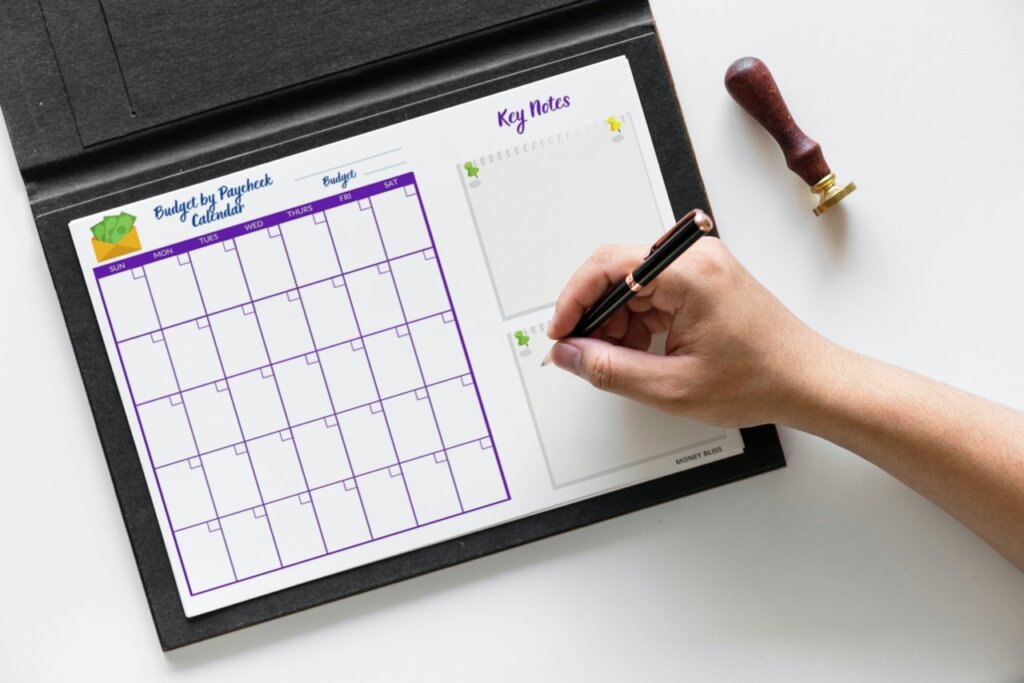 It's important to start this as early as possible because it will help keep you on track with your money goals and make sure you're saving enough money for them.
A budget binder is a place where you can keep your personal finance worksheets. Each budget sheet found in the budget binder is tailored specifically to each person, so if there are certain aspects of managing your finances that aren't working well for you, then it would be best to bring those sheets up with someone who can help fix them.
You can use it to create your own budgets from scratch or use a paid template.
If you're creating your own personal budget sheets, don't worry too much about making them Pinterest perfect! If they work for you, that's what matters.
The Benefits Of a Budget Binder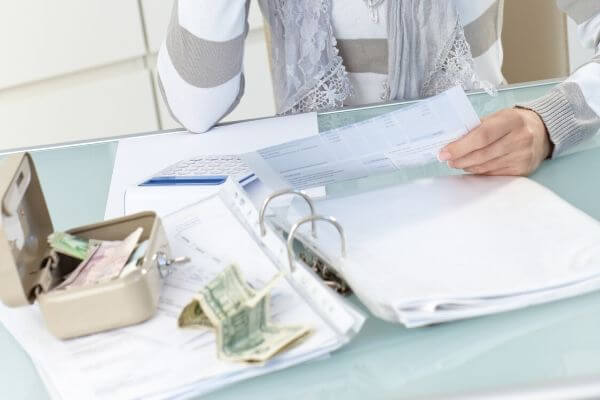 It is important to have a budget binder. This is especially true for those who are looking to pay off debt or manage their finances in the future.
The benefits of using this budget binder as a tool include:
Helping you organize your finances and stay on track with your financial goals.
Providing insight into how much money you spend, where it goes, and what can be done about that.
Showing you exactly what steps will help you fix your current situation.
Ultimately, budget binders can help people with their personal finances by helping them stay out of the red and save for a rainy day.
It also helps in managing expenses and debt, which is important for saving up to live off of while still having some convenience. Plus anyone has access to the binder if they need it and can pick it up without skipping a beat.
With financial freedom comes an easier life where you don't have to worry about money management and enjoy time freedom from your busy schedule because it all becomes automated!
Plus… This budget binder is also a great tool to use with children because it teaches them about saving up for their goals. This will teach kids that they can't have everything right now and need to save.
How To Make a Budget Binder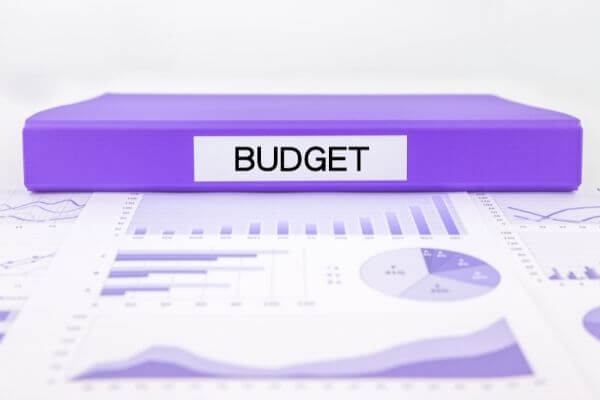 A "Budget Binder" is a binder that contains the various budget printables for different places on the internet. These include sheets to help you get started, and use whatever sheets apply to your needs.
If you are tired of losing track of your finances and overspending money more than you would like. You don't want to stress about what you spend or how much money is left over for retirement.
Let's keep things simple with a custom budget binder!
This space-saving product will help you organize all of your receipts and bills so that nothing falls through the cracks, while still being stylish at the same time!
To help you get started, check out the Money Bliss Budget Binder.
What supplies do I need to put together a Budget Binder?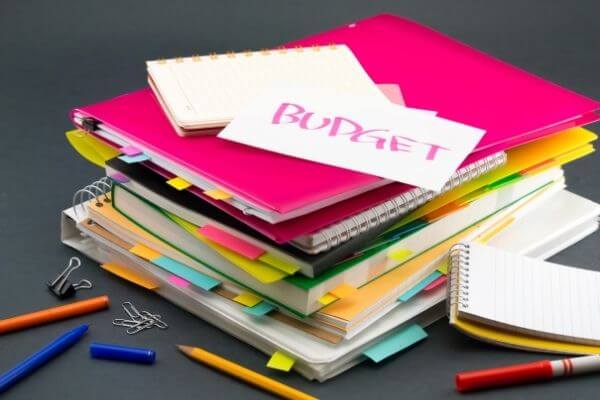 This post may contain affiliate links, which helps us to continue providing relevant content and we receive a small commission at no cost to you. As an Amazon Associate, I earn from qualifying purchases. Please read the full disclosure here.
The budget binder can be as simple or fancy as you like and that's the beauty of it – you're creating something that you actually stick with!
At the end of the day, you need something to stay organized and keep you motivated.
Here are the supplies you need for your binder:
Binder: A 3-ring binder will do just fine. I use a 1″ inch binder and that suits my needs just perfectly. Here are some binders to choose from.
Dividers: Your budget binder will be divided into sections. So you need 5 or 8 tab dividers. Here are the ones with binder pockets (that I prefer) or ones without pockets.
Clear Sleeves: These are great to keep your vision board front and center as well as any other current financial goals you are working on.
Fun Colorful Pens: You need pens that will motivate you to actually use the binder. When I first started using my budget, it was hard because not many people know about this system. So what I did is I bought a pack of pens in my favorite color and I put them right on the inside cover. These are the pens I love!
Highlighter Set: This is a necessity. I have found color coding to be helpful and it makes the process of bill paying more fun. Especially, when you are coloring in your debt payoff chart or saving money chart. These are the marker set I use!
Sticky Notes: Let's face it… we all love to use sticky notes.
Cash Envelopes: This is extremely helpful if you use the cash envelope system. You always know where your envelopes are located. Find cash envelopes that fit into your binder.
Printer: You have one of two options. You can print all of your budget binder printables from home or you can take them to get printed. The choice is totally yours. Personally, I have found laser printers to have the best value for printing at home.
Hole Punch: I would recommend a heavy-duty hole punch. This is something that will get heavy use and is easy to slide into a desk drawer.
Paper: Lastly, let's talk about the paper. For the budget printables you use the most, you may want to upgrade from the basic 20# copy paper. You will see the difference by using at least 24#.
Budget Binder Categories
In your budget binder, you will need various sections to help you reach your money goals and improve your money management skills.
Specifically, this is what should be in a budget binder:
How many accounts do you have
How many credit cards are open
Any outstanding debt unpaid
How you want to live your life with money
When your bills are due
How to handle that stack of paperwork and mail
A budget
Your net worth
Your credit score
Investment summary
Your first money goal
Your vision board
You can also use these printable binders for keeping track of bills, debts, savings, expenses, and more!
Whatever your goal is for the financial aspect of your life, you can create a binder that will help motivate and inspire you to work towards it.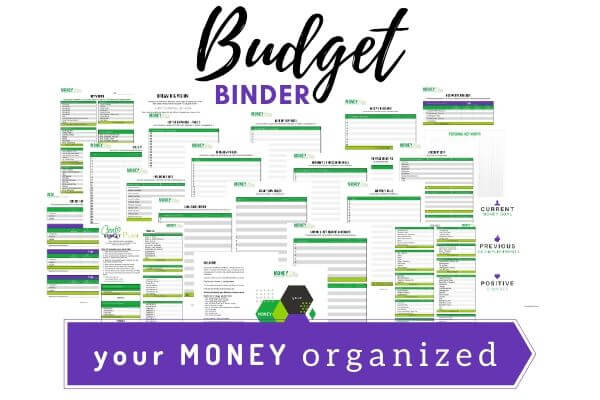 Budget Binder Printables
A budget is the most important tool to get your finances under control.
The Budget Binder Printables are a great way for you to create and stick with your own personal budget that has goals, targets, and an overall financial plan. It allows you to stay on track of what's going into each account so that it can be tracked regularly throughout the year (and even before then).
A budget binder is a living and constantly used document that contains all of your financial and personal information, such as income and expenses.
These are the types of budget binder printables you need:
Establishing a budget.
Listing monthly goals as well as long term vision.
Organizing personal information into categories.
Tracking income and expenses.
Bill Payment tracker
Saving tracker
Debt payment tracker
The Budget Binder Printables is a great way to stay motivated with your financial goals.
It will give you the motivation and tools that you need in order to achieve what it takes.
It's important to keep track of your income and expenses so you can stay on track with your goals.
Budget Binder Ideas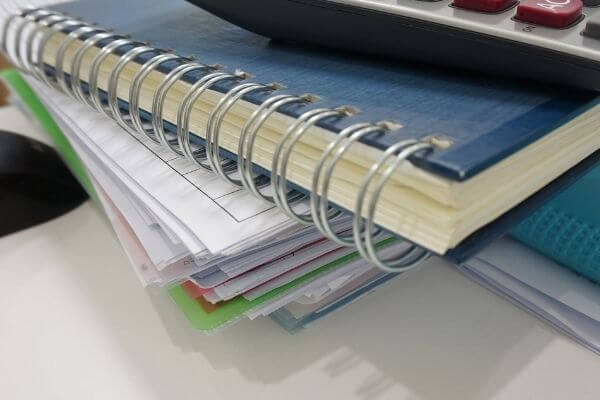 Many people have their own budget binders in order to help them practice spending only the amount that they earn and to motivate them to earn more income.
By creating your own budget binder, you are able to utilize whatever inspiration you want which is why one can use their binder as whatever motivates them. If you are looking to save money, then the budget binder can be full of pictures and graphics about saving up or getting out of debt.
Typically, I recommend making your own budget binder because it gives you the flexibility to add to it.
Many people rave about their budget binder with envelopes as well.
However, looking at other budget binders will give you the best budget binder ideas. Here are some great examples:
Budget Binder from Walmart
Here are the Budget Binders you can find at Walmart. As always, we look for those with higher reviews!
Walmart is known when you need somewhere cheap to buy all their necessities, that is the place to go!
Photo Credit: www.walmart.com
Track your spending and set your financial goals with our Pen+Gear Budget Planner.
This colorful 80-page planner is designed to help you keep your budget on track while staying organized when it comes to your spending. With guided prompts for tracking spending and financial goals, this handy-dandy planner is a must-have item for any parent, student, traveler, busy body, or young professional.
Use the labeled sections to keep track of things like housing costs, entertainment spending, your emergency savings account, and even charitable donations. Plus, its compact size makes it easy to plan your budget from anywhere you are, wherever you go.
Photo Credit: www.walmart.com
Whether you're managing your household finances, just venturing out on your own or running a small business, the Budget Binder is your comprehensive guidebook to help you stay on track to your dreams (and thrive within your means!).
Knowing your financial status each day/week/month is powerful intel that you can use to make good decisions about your money. Good decisions add up to a financial future you dream of! The first step of this journey is yours.
Photo Credit: www.walmart.com
Keep your budget in line with this convenient notebook. The notebook includes pages for tracking home, health, food, family, transportation, and other expenses.
The pockets hold receipts, bills, or other important documents in the conveniently included pockets.
The binding makes the notebook easy to use for a whole year.
Budget Binder on Etsy
Handmade items are becoming more popular, and Etsy is a great place to find them. If you are interested in purchasing an item that has been personalized, the seller might still be able to do so for you.
An Etsy budget binder is a unique way of keeping your financial goals in one easy-to-access location. It can be made from any material you choose - paper, cloth, or even wood! You can use it as a planner or just have it sit on your desk as a decoration.
Here are our personal favorites:
Budget Binder at Amazon
The best part of shopping for Budget Binders at Amazon is two-day shipping. Also, the prices tend to be more competitive than you would find elsewhere.
Even if you cannot decide which one you like put it in your cart for later or create a wish list of the budget binders you are considering.
Budget Binder at Target
Most women like to shop at Target. they want clothes that are affordable without sacrificing style. Consumers flock to the chain for its wide selection of trendy items, reasonable prices, and convenient location.
Plus with curbside service, you can order online and pick-up same day!
Photo Credit: www.target.com
12 Month budget planner and organizer notebook features 24 inner pockets to keep bills and receipts organized and secure. Use to save money, budget and keep track of spending efficiently.
Durable cardstock notebook cover with spiral binding. 5 x 7 inches (excluding binding).
Photo Credit: www.target.com
Budget Binder Cover Ideas
Every personal goal, small and large, starts with a dream.
Without knowing it intuitively, we can think of something we want or want to do and you can make it a reality.
With your cute budget binder, create a cover page that you will love and inspire you.
This is something you will identify once you make your smart financial goals.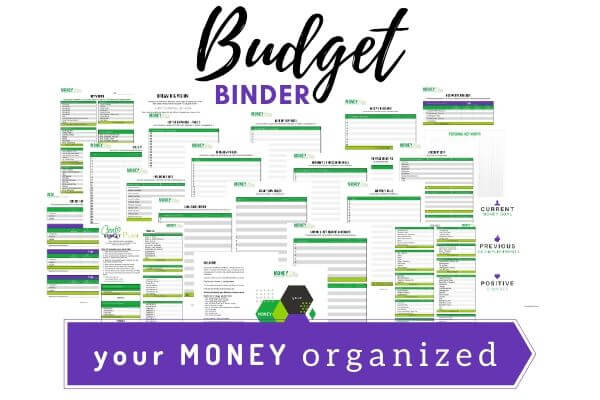 Are you ready to Make Your Budget Binder DIY
A budget binder is a DIY money tool for beginners and everyone along their money journey.
It contains a worksheet with the different parts of your budget and an open-ended spreadsheet to track how much you spend on each area.
If you want to live life with intention, creating a budget binder will help your progress faster.
Since the budget binder is a physical binder in which you keep all of your monthly bills, receipts, and other expenses. It is best to create a Budget Binder DIY.
It is easier for you to live life on your terms when you live below your means. The budget binder, whether in paper or digital format, can help you organize your tasks for productivity and success.
Once you finish yours, please share pictures with us!
This is one tool that will help you find long term financial success.
Whether you track your spending or use an app like Simplifi, having this tool at hand can help with staying on track financially even though there are always going to be unexpected expenses such as a broken appliance.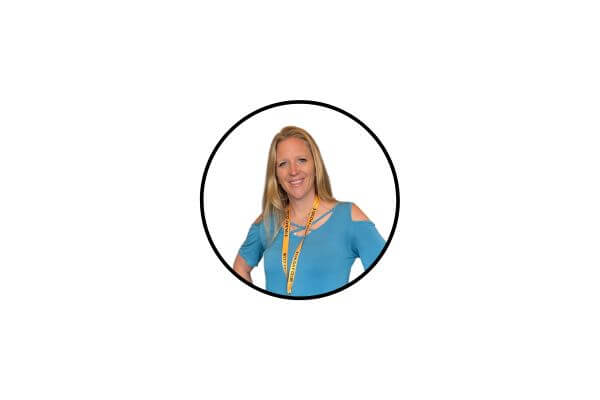 Did the post resonate with you?
More importantly, did I answer the questions you have about this topic? Let me know in the comments if I can help in some other way!
Your comments are not just welcomed; they're an integral part of our community. Let's continue the conversation and explore how these ideas align with your journey towards Money Bliss.