10 Essential Vision Board Supplies You Need for Making an [Epic] Vision Board
This post may contain affiliate links, which helps us to continue providing relevant content and we receive a small commission at no cost to you. As an Amazon Associate, I earn from qualifying purchases. Please read the full disclosure here.
---
Making a vision board is one of the most powerful things you can do to manifest your dreams and goals.
A vision board is basically a giant collage of all the things you want in life, from material possessions to lifestyle changes to career aspirations. The act of creating a vision board helps you get clear on what you want, and it's also a fun way to tap into your creative side.
But before you can start making your own epic vision board, there are a few supplies you'll need.
In this post, you will find a list of 15 essential vision board supplies to help you get started.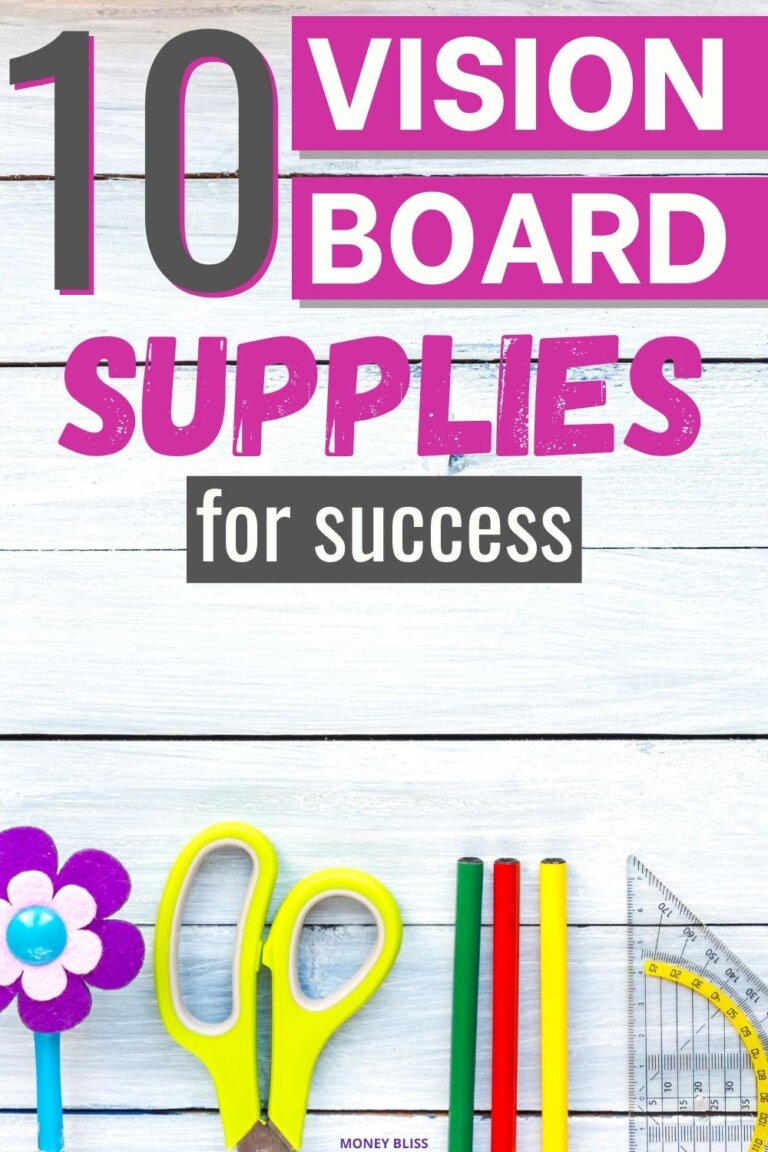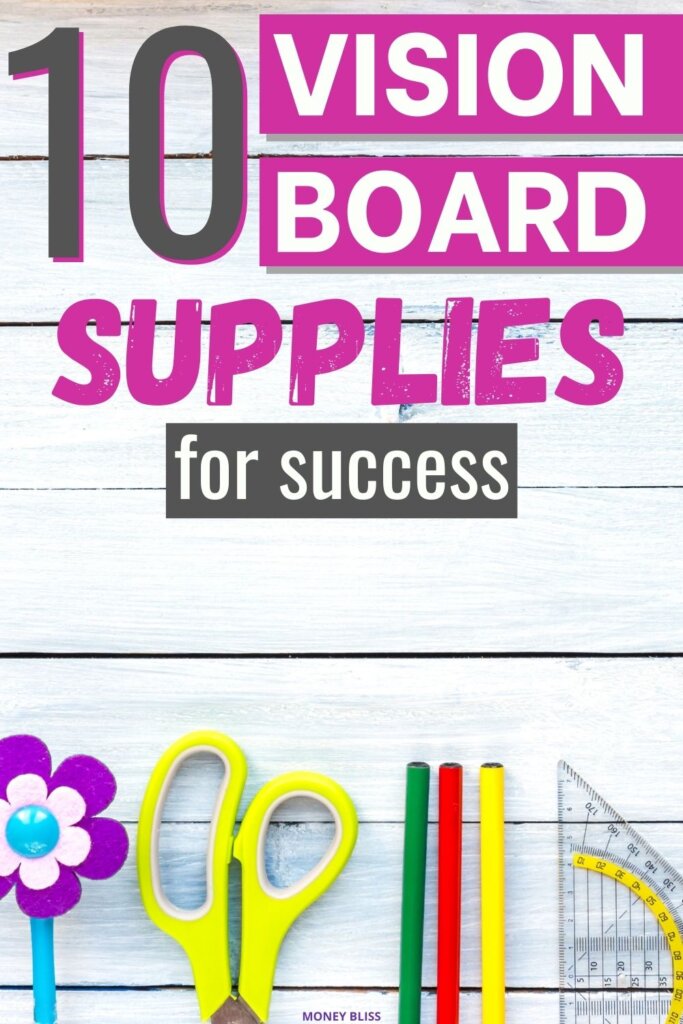 What is a vision board?
A vision board is a visual representation of one's goals and dreams that can help to focus on what is important.
Vision boards have been found to be effective because they encourage people to manifest their desired outcomes.
Creating a vision board requires the right supplies to make an epic vision board.
How do you make a vision board from scratch?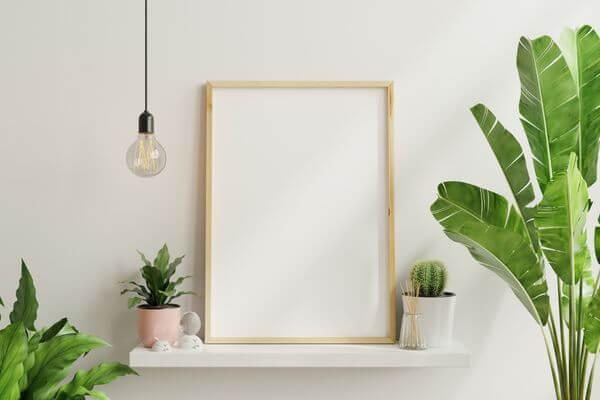 To make a vision board from scratch, you will need a piece of poster board or cardboard, pens, magazines, or pictures to attach onto the board and any other creative materials they would like to use including stickers, glitter, and more.
Also, you can use a software program such as Canva Pro to create a digital vision board.
Those looking to create a vision board should set aside some time, gather supplies, and turn on some music.
Many people enjoy starting with this vision board planner to help you reflect on where you have been and what you want out of life.
What kind of paper is used for vision boards?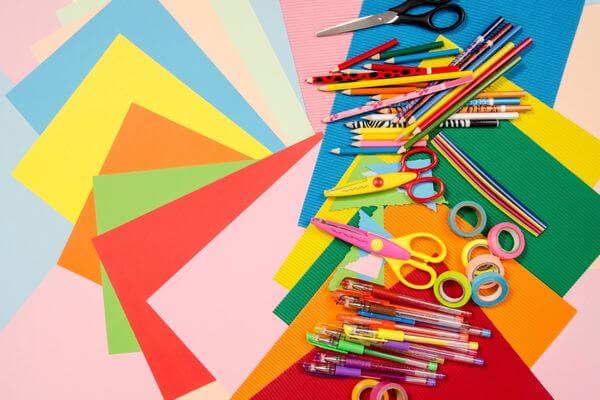 This is an important first step and one that people are afraid of messing up
Since creating a vision board is a popular way to store your dreams and aspirations, it's important to use the right kind of paper.
The most important thing when creating any type of vision board is that you will be able to see it in order for it to reach its full potential in helping you achieve your goals or objectives.
The Best Vision Board Magazines to Use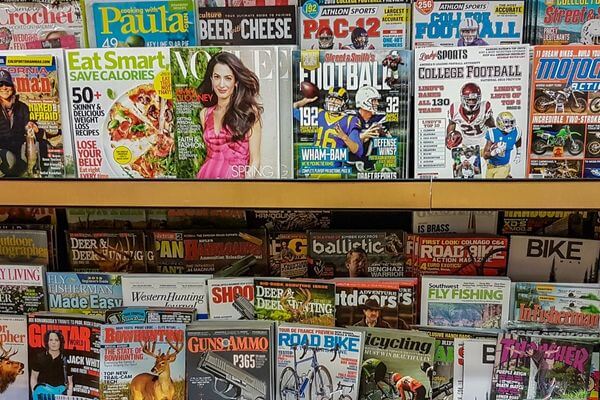 These are some of the top vision board magazines because they provide inspiring stories of success as well as helpful tips and advice.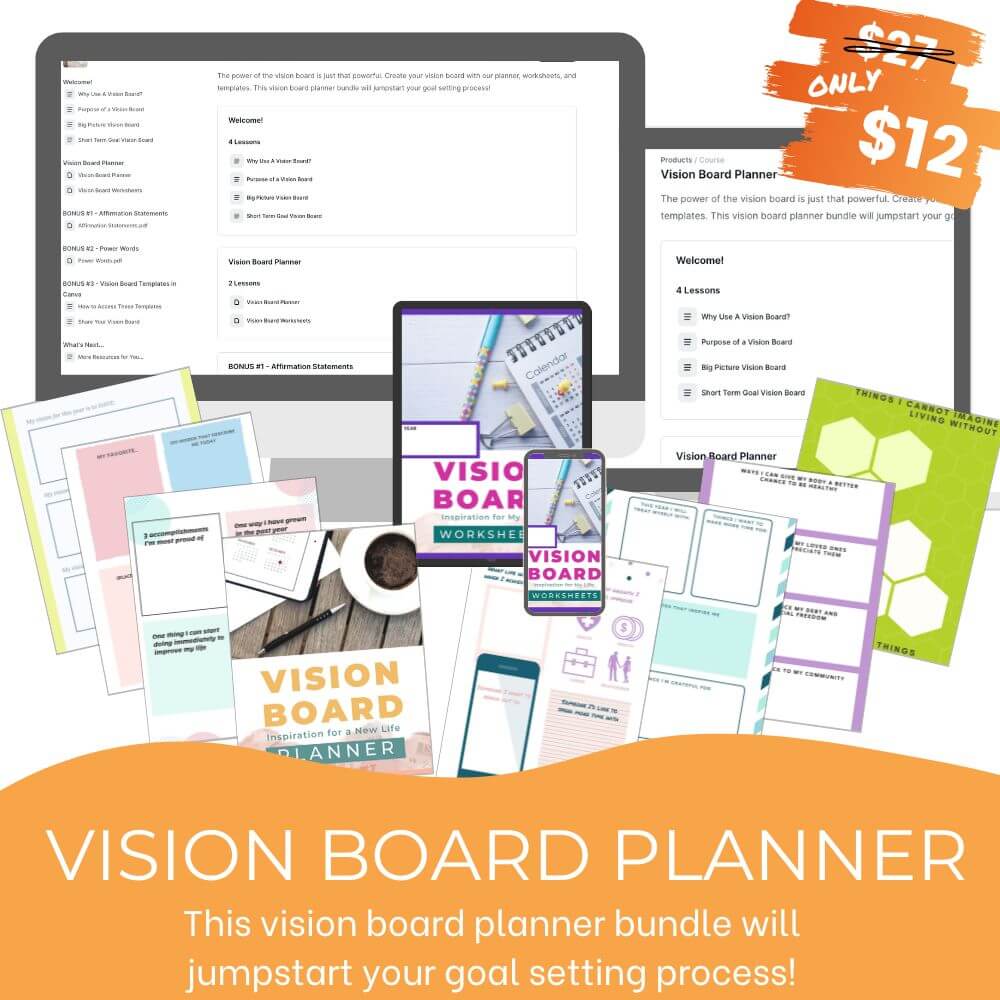 List of the Essential Vision Board Supplies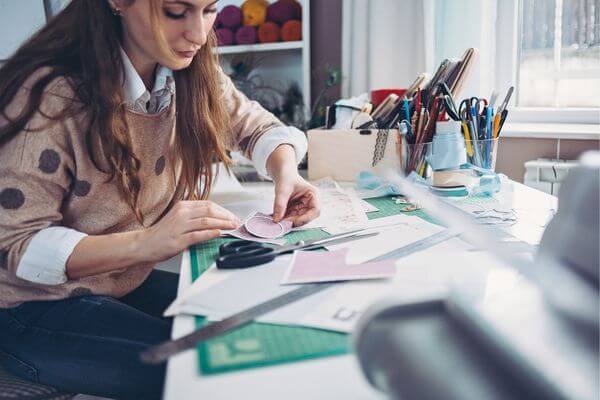 A vision board is a powerful tool that can help you manifest your deepest desires and bring them into reality. But in order to create an effective vision board, you need to have the right supplies.
Most of these supplies are reasonably priced depending on what product you choose but all are incredibly high quality. Time to start goal setting and achieving dreams!
Here is a list of the 15 essential vision board supplies you need to get started.
1. Vision Board Background (Poster, Cork Board, Journal, or Digital Design Program)
Vision boards are an important tool for helping individuals to focus on and achieve their goals. They provide a visual reminder of aspirations and inspire action.
To create a successful vision board, you must decide if you are going to make a paper vision board or a digital vision board.
2. Clip Art Book of Photos, Words, and Phrases
Clippings are an important part of creating a vision board!
They provide a way to collect and organize meaningful vision board quotes, photos, symbols, and other content that can be used to visualize and remember goals.
Clippings can also be used to reflect on past successes and achievements. Using pre-cut magazine clippings or printed images makes it easy to put all of this content together in one place.
3. Scissors
Scissors are essential for making a vision board because they allow the user to cut out items from magazines, newspapers, and other materials that can be used to create a visually appealing collage.
Fiskars is a preferred choice due to their durability and sharpness, but decorative-edged scissors can also be used for added aesthetic value.
To make it more interesting and visually appealing, decorative scissors and a craft knife should be used to add pictures, quotes, and designs onto the board.
4. Markers or Specialty Pens
Markers are essential for a vision board because they can be used to write quotes and create borders, making them an effective way to visually capture goals and intentions. Using markers to enhance one's vision board can add color, design, and quotes to the board.
Personally, I like using these archival pens for anything I want to last.
They are affordable and easy to find in various colors, allowing users to customize their boards with inspiring images.
5. Adhesive Vision Board Stickers
Stickers are important for a vision board because they add personality and bring the board to life. They can also be used as a way to remind oneself of positive affirmations, such as health, empowerment, self-love, and more.
Additionally, you can buy adhesive-backed vinyl sheets or create personalized stickers with a Cricut machine so you can customize your vision board exactly how you want it.
Stickers offer an exciting way to bring color and texture to the vision board, helping make it more dynamic.
7. Inspirational Quotes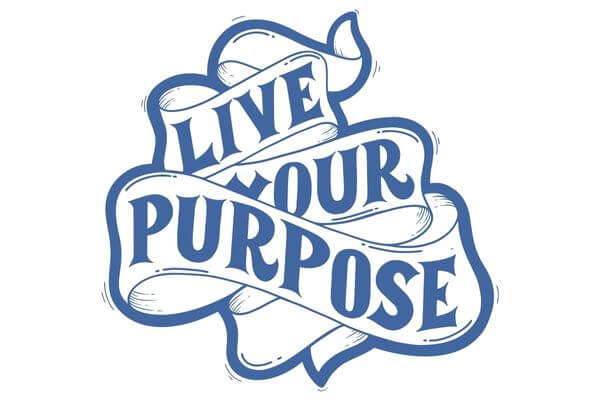 Inspirational quotes are essential to vision board supplies as they help to motivate and encourage the person creating the vision board.
By incorporating quotes into their vision boards, users can stay focused on the ultimate goal that they have set out for themselves.
Quotes can provide an extra boost of motivation, helping to focus on achieving their goals and staying positive while working towards them.
Here are inspiring millionaire quotes to help you out.
Additionally, quotes can serve as powerful reminders of why the user is pursuing a particular goal in the first place.
Find the best vision board quotes.
8. Ways to Hold Your Image In Place
Fasteners are necessary when creating a vision board in order to keep the pictures and words attached firmly to the desired surface.
Different fastening options that are easy to use and won't leave marks or residue, such as:
If you are using a corkboard, then pushpins of varying shapes and sizes can be used for further decoration of the vision board.
9. Optional Vision Board Materials
Since your vision board is very personalized, the same is true for the supplies needed for a vision board.
Here are optional supplies you may want:
Ribbon
Fabric Scraps
Yarn
Glitter
Sequins or Buttons
Hangers or Frames to display your vision board.
10. Vision Board Tool Kit
If you want the easy button to be inspired, then look no further than these vision board kits ready for you to dream, visualize, inspire and create life goals and big visions.
You need great vision board pictures for the full effect.
For many people, this is a great option.
Here are the popular vision board toolkits:
How to create a theme for your vision board?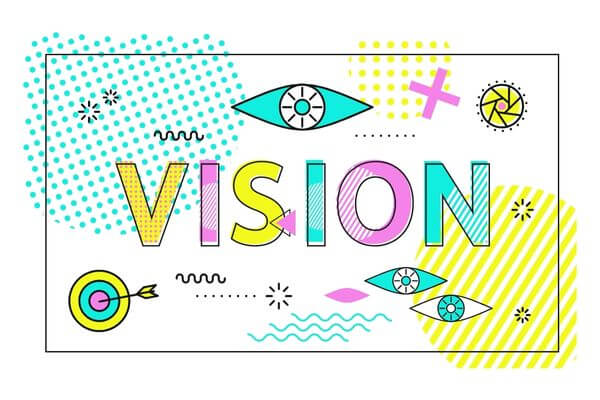 Creating a theme for your vision board is a great way to focus on what you want to manifest in your life.
It can be anything from increasing your wealth, improving your health, or finding love.
Add call to action
Creating a vision board and including a call to action is an important step in manifesting one's goals.
Having a call to action helps to focus the intention of the vision board and encourages motivation and productivity. Including money affirmations or positive statements, visual images representing goals, and setting aside a special time each day to visualize, reflect on, or take action towards these goals can help bring intentions into reality.
A call-to-action serves as a reminder of why the vision board was created in the first place – as a tool for success!
Create a title for your board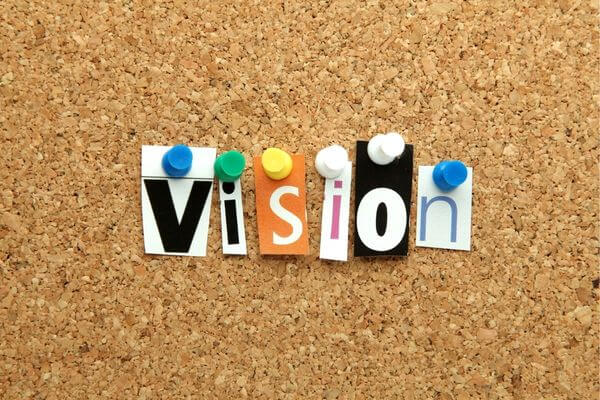 Creating a title for a vision board is important because it serves as an immediate reminder of the goal or intention that has been set.
It also helps to focus the message of the vision board, providing clarity and direction. Having a title can help to keep motivation high while visualizing one's goals regularly, as it provides an easy way to reference back to the original desired outcome.
Titles provide an additional layer of intent and purpose in order for visualization techniques to be most effective.
Hang up your board in a visible place
When the vision board is visible, it can help the individual stay focused and motivated on their journey to success.
Don't forget this important piece, so that it can serve as a visual reminder and source of motivation for one's goals.
Buy Vision Board Materials List
A vision board is a tool that can help you develop a roadmap for your future. It is a collection of images and ideas, which you can use to inspire and motivate you.
FAQs
Why use vision board art?
A vision board is an effective way to focus on and manifest one's goals and dreams.
It is a physical arrangement of items that represent those aspirations, which can help facilitate self-reflection and increase self-awareness, as well as assist in clarifying one's values.
Creating a vision board can be a powerful tool for achieving success in life.
What are the benefits of making a vision board?
The most important benefit is it helps you to focus and motivate l to move towards your goals, values, and aspirations.
It can also be used as a creative outlet to express what one desires for the future.
A vision board can be made with words or images that represent the individual's desired outcomes and remind them of what they are striving for on a daily basis.
What should you put on a vision board wall?
A vision board wall is a larger space dedicated as an effective tool that can help you achieve your goals by providing a visual representation of what you want to accomplish.
You have more space that allows you to clarify your values and create an actionable plan for achieving those goals.
By utilizing various supplies, such as magazines, posters, images, fabric scraps, and other visually appealing items, you can craft a unique and inspiring vision board wall that will serve as a reminder of what they are striving for.
How often should you update your vision board?
It is recommended that individuals should update their vision boards regularly to stay focused on goals and evaluate their progress. Most people tend to update their vision boards in January.
Updating the vision board can also help an individual decide which goals to pursue next.
Ultimately, how often you update your vision board is up to you, but for best results, it should be done at least when you reach major milestones on your current vision board, h so that it remains personal and relevant.
What is the science behind vision boarding?
The science behind vision boarding suggests that it can be a powerful tool in helping people reach their desired goals, as it allows them to imagine positive outcomes and increase their chances of success.
Studies have found that mental visualizations of goals are good for our well-being, and believing that we can improve is linked to better results.
Additionally, using vision boarding as a technique may help individuals gain clarity about what they want to achieve and help them create an effective plan for reaching those objectives. Ultimately, whether or not vision boarding is effective depends on the individual's commitment to achieving the desired goal.
What are some common mistakes people make when creating a vision board?
People often make mistakes when creating a vision board, such as not including affirmations that address common fears and distractions. This is the scariest part of the setting intentions is knowing which thoughts are holding back you from being able to manifest your dreams.
The other common mistake is not looking at the vision board on a regular basis. You need to make it a daily habit of reviewing your vision board.
How do you know if your vision board is effective?
To ensure that a vision board is effective, it is important to look at it regularly and prayerfully.
It can be helpful to ask oneself "how am I working to make these things a reality?" in order to stay on track.
If you need to update your favorite board often, that is a good sign you are hitting your targets.
Are there any negative consequences to making a vision board?
Some might argue that making a vision board can have potentially negative consequences, such as creating unrealistic expectations that may be difficult to achieve.
Additionally, spending too much time visualizing your goals could take away from the time and effort needed to actually achieve those goals.
Finally, focusing too heavily on what you want out of life could lead to neglecting the present moment in favor of a future that may never happen.
Ready to Create Your Dream Board?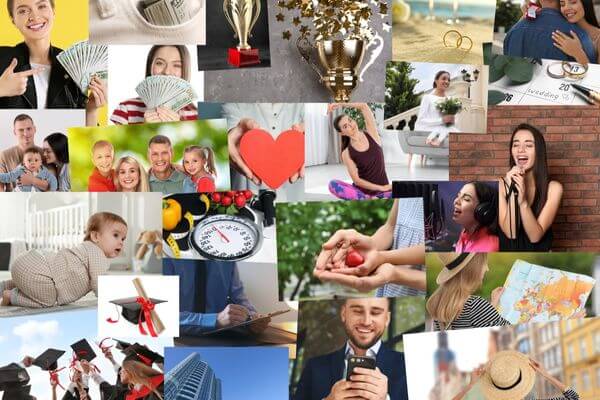 Are you ready to start creating your dream board? Dream vision boards are a great way to organize and visualize your goals and dreams.
Plus they can be used to track your progress, brainstorm ideas, and find inspiration.
The purpose of a vision board is to help you see your goals in a new and inspiring way. When you have a vision board, you are more likely to take action toward achieving your goals.
Creating a dream board is a fun and easy way to manifest your dreams and goals.
Don't delay in getting started on your vision board. If you need motivation, look at hosting a vision board party.
With the right supplies and materials for vision boards, you can make a vision board that is both beautiful and effective.
By following this vision board supplies checklist, you can be sure you have everything you need to make your vision board.