10 Best Budget Binder with Envelopes: Organize Your Budget with Cash
This post may contain affiliate links, which helps us to continue providing relevant content and we receive a small commission at no cost to you. As an Amazon Associate, I earn from qualifying purchases. Please read the full disclosure here.
---
Budgeting is not easy!
It can be stressful and complicated to stay on top of your finances.
It takes willpower, discipline, patience—but also creativity and flexibility in order for us to stick with it long enough that we start saving money as well.
A budget binder with envelopes is the perfect tool for keeping everything organized.
With this very simple and easy-to-use tool, you can organize all of your budgets and actual spending for multiple cash envelope categories in one place—all within an envelope that easily fits into a purse or wallet!
The hardest part is finding one that suits your needs.
In fact, 65% of Americans have no ideas how they spent their money last month.
In this post, we are going to review the topic budget binder with envelopes, so you can make a logical decision on what is best for you.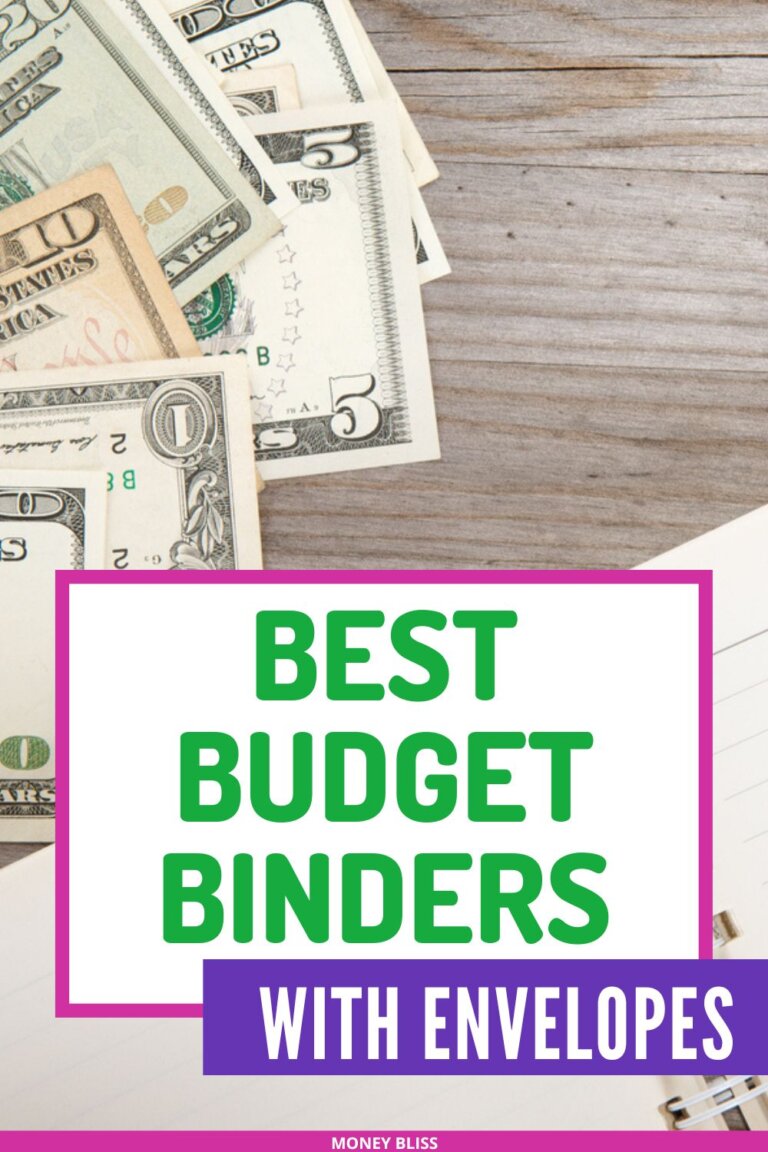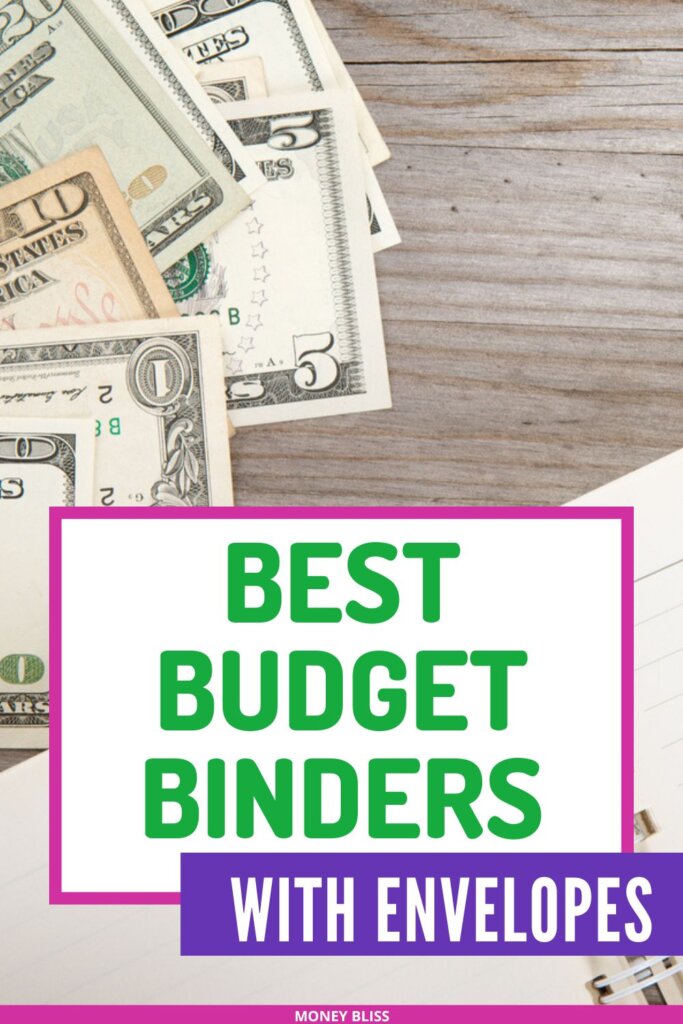 Why you should use a budget binder?
A budget binder is a great way to keep your finances organized. It can help you track your expenses, stay on budget, and save money.
In addition, with budgeting, you reduce your spending and plan for the future.
There are several ways to use a budget binder:
Set spending limits so you can save money
Label envelopes with category names like "groceries" and "dining out."
Add money to an envelope as you spend it in that category, even if it's not the last envelope for that category.
If there is leftover money at the end of the month, put it into savings or your emergency fund (or use it next month).
This type of detail will help you stay organized and aware of your spending habits. Learn more on how to create a budget binder.
Are budget binders worth it?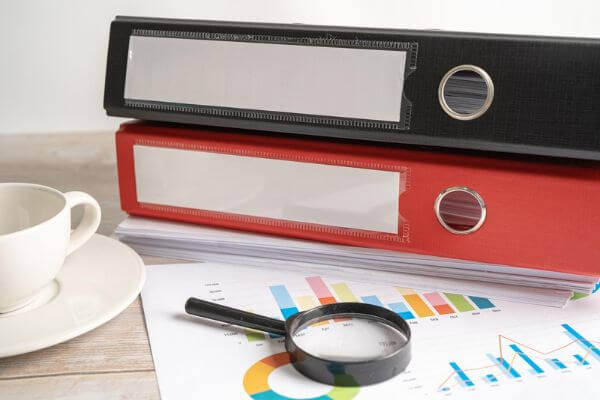 Though budget binders are not a new concept, they are still worth using to help you stay on top of your spending.
By recording where each penny goes, you can more easily track your progress and make necessary adjustments along the way.
Budget binders can be found in both digital and printed formats. They are often sold on Amazon, but they may also be bought online from other sellers like Etsy.
Budget binders are a popular way to stay organized and save money.
What to include in your budget binder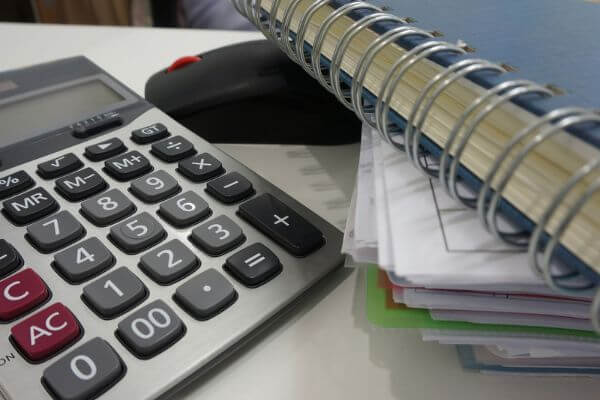 A budget binder is a place where you can keep all of your financial information in one spot–including accounts, receipts, and other important paperwork. This will help you stay up-to-date on your spending and make it easier to track expenses.
There are some key items that you should include in your budget binder so that it's most effective for you.
A list of your fixed expenses
A list of your variable expenses
Your budget goals
Your budget plan
This month's budget bill calendar
Debt payoff trackers
It's also helpful to have a section for current account statements and recent receipts.
When it comes to personal finance, the organization is key.
Best Budget Binder with Envelopes
A great way to get your budget in order is by using a budget binder with cash envelopes. This method is very simple and can be customized to fit your own needs.
If you want to organize your budget in a simple way, then consider using a budget binder with envelopes. This will help you to easily separate your expenses into different categories.
Here are the best budget binders with cash envelopes to choose from.
This budget binder is a great way to organize your finances. It is lightweight and easy to carry, making it convenient for use at home, work, or school.
The A6 size fits easily in your handbag or backpack, and the money pocket and cards holder make it easy to keep your important documents safe and secure.
Additionally, waterproof sticker labels make it easy for you to categorize everything you need to carry with you.
This budget binder is a great way to organize your finances. It comes with money saving envelopes for cash, as well as inserts that can go into the A6 ring binder. You can also carry it with you anywhere thanks to its handy zipped up holders.
This SOUL MAMA A6 Budget Binder with Cash envelopes is the perfect way to budget your money. It comes with pre-printed inserts for saving money, and the color scheme is half holographic purple and half white. The labels are also written in beautiful rose gold font.
The material makes it both quality and tear-resistant, while the waterproof and soft-to-the-touch design keeps your documents safe. Plus, there's a 100% satisfaction guarantee, so you can be sure that you're making a sound investment.
This budget binder is a great way to organize your finances. The faux leather binder has a pen loop and card pockets, which are perfect for hiding passports, ID cards, bank cards, and other important things.
Plus, the personalized holographic design will make you feel like a boss!
There are a variety of cash envelope options to help organize your budget. The most common are envelopes for Mortgage/Rent, House bills, Car payments, Car insurance, and Groceries. You can find specialized envelopes or create your own system.
Label each envelope with the name of the category and the amount you plan to spend each month. When the money is gone, it's gone!
You can find purchase add-ons with extra envelopes and budget tracking sheets in their shop.
Clever Fox cash envelopes are tear-resistant, water-resistant and durable, making them the perfect option for budgeting.
This Clever Fox cash envelope system is perfect for organizing your budget. The set includes a carrying case, 12 budget sheets, and enough envelopes to track all of your purchases and what you have left to spend. Each envelope has a different color for each budgeting category, so you can stay on top of your spending with ease.
I love the Clever Fox Cash Envelopes for Budget System because of its great features.
The tracker has a zippered storage case to keep everything together and each envelope has a blank category label. When you lift the flap, there's another label with plenty of space to write down the details! Plus, the quality is fantastic and I love how they include purchase trackers with every set.
Recently, I stumbled upon this super cute budget book that is perfect for organizing your finances.
This A6 budget binder comes with a customized cash envelope system, which will help you stay on track with your budget.
You can choose the color of your binder, the font for your personalization, and the vinyl color. You can also choose to have your name printed on the front of the binder as well as a phrase of your choice.
The quality of the book exceeded my expectations, and the best part is that it's just so darn cute! If you're looking for a custom budget binder, I would highly recommend this one.
This SKYDUE Budget Binder comes with 12 envelopes for cash, which makes it easy to keep track of your budget. The binder also has 16 self-adhesive labels to help you stay organized, and it fits in your handbag, backpack, suitcase, or desk.
In addition, the SKYDUE Budget Binder with 12pcs Cash Envelopes is perfect for college students.
The binder and sleeves are made from durable materials that can withstand wear and tear, while the cash envelopes are a great way to start using the sinking funds saving method. Plus, the pouches are big enough to hold a decent amount of money without being too bulky.
A customized cover is a great way to personalize your budget binder!
This starter set gives you all the basics you need to get started. You can have a maximum of 8 envelopes in your binder for a comfortable fit, but feel free to adjust this number according to your needs.
The binder was well put together and the customer service was amazing. The money was well spent and there are many customers very happy with the final product.
A personalized cash envelope binder is a great way to organize your budget.
You can customize the binder with any name or wording in any font color! The set includes a binder and 5 personalized cash envelopes.
This is a great way to start budgeting and get your finances under control.
This cash envelope wallet is perfect for budgeting. It has RFID blocking to keep your cash safe and a heavy duty wristlet to make sure it stays with you.
There are 12 cash envelopes included so you can get started right away, and the vertical design of the envelope makes it easy to add and remove bills or track your spending.
Personally, I like the plastic tabbed cash envelopes because they are durable and small enough to be taken out of my planner system without getting squished. The vertical orientation is easier to see, which helps me keep track of how much money I have left in each category.
In addition, this binder comes with access to a library of 50+ A6 printable pages. There are 12 monthly budget sheets included helping you build your budget and get organized. With this system, you can take control of your finances and see where your money is going.
This budget binder from TNHomegrowndesigns is a great way to start organizing your finances. It includes everything you need to get started, including cash envelopes and a money holder. The cash envelope system is a simple way to budget your money, and this binder makes it easy to do.
You can choose the color and number of envelopes you want, as well as have it customized with your name. This is a great way to organize your budget in a simple way.
Budget Binders with Envelopes DIY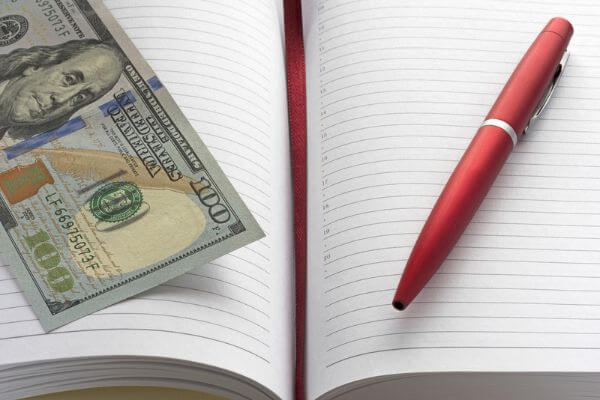 If you're looking for a low-cost option to organize your finances, consider using a DIY budget binder with envelopes.
This approach allows you to maintain control over your spending even during income fluctuations. Plus, by using airtight plastic bags to store the envelopes, you can save money on buying new folders!
How do you make a budget binder with envelopes?
Honestly, it is just as easy to create your own budget binder as it is to buy one pre-made.
Here are the supplies you need:
The benefits of making your own are personal customization and adding what is important to your personal situation.
For more information, learn how to create a budget binder.
How to organize your budget in a simple way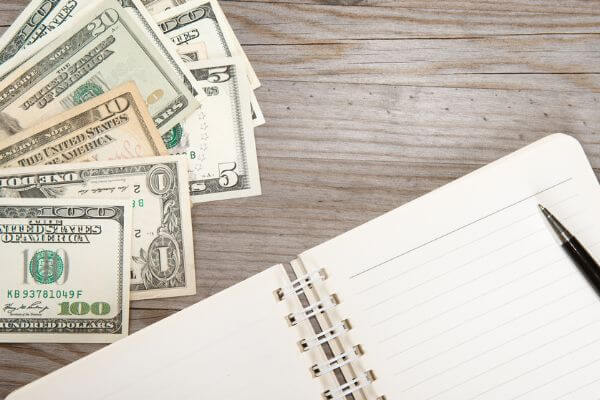 There are a few different ways to organize your budget:
Income and Expenses: This is probably the most common way to organize a budget. It separates your income from your expenses, so you can see how much money you have coming in and going out.
Fixed and Variable Expenses: This way of organizing a budget separates your fixed expenses, like your rent or car payment, from your variable expenses, like your grocery bill. This can be helpful in seeing where you spend money.
There are a few different ways to organize your budget, but we think starting with a zero based budget is best.
How much money do you save with the envelope system?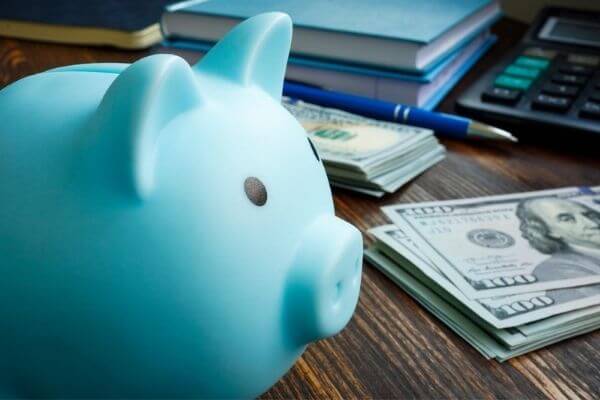 The envelope system is a popular way to budget and helps people save money faster.
It works by allocating specific amounts of money to each category of expense and putting that money into an envelope. When the envelope is empty, you can't spend any more money in that category. This helps people stay within their budget and avoid overspending.
If you need to save money on a tight budget, then the envelope system is helpful.
In fact, many people have had great success with saving over $5000 using the 100 envelope challenge.
Tips for sticking to your budgeting system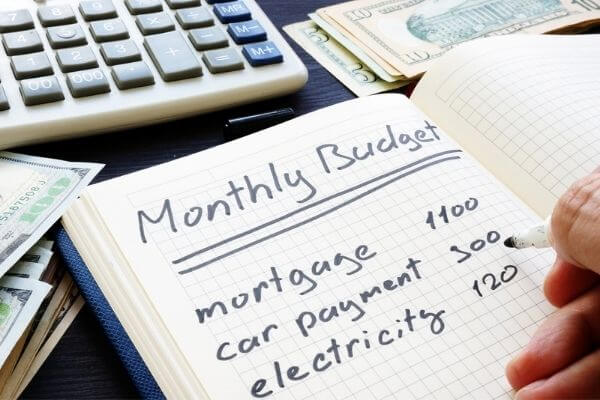 When it comes to sticking to your budget, there are a few things you can do to make it easier.
For starters, don't spend more than you can afford.
If you have debts or other expenses, make sure you factor those into your budget as well.
Also, be sure to set realistic goals and limits for yourself- if you try to cut back too much, you're likely to give up before you even start.
At the same time, don't be afraid to experiment a little bit and try new things with the money you have. Just because something is outside of your budget doesn't mean you can't enjoy it sometimes!
By being smart about how you spend your money, you can stick to your budget without feeling too restricted.
Which Budget Binder with Cash Envelopes is your Favorite?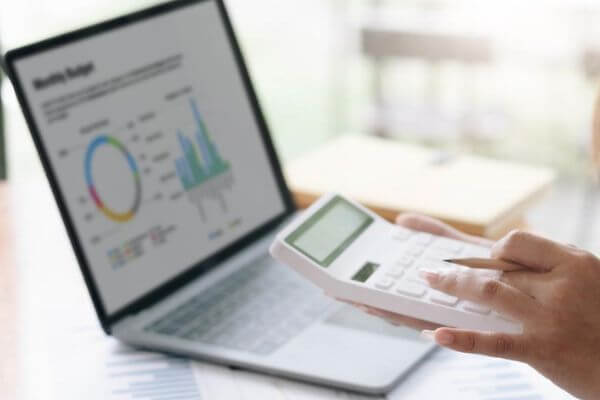 A budget binder is a great way to organize your finances and keep track of where your money is going.
Cash envelopes help to visually budget your money. You can use them to plan and budget for what you are going to spend each week or month. This will help you stay on track with your finances and change your future for the better.
In this system, you will have separate envelopes for each category of your budget, such as rent, groceries, and utilities. This will help you track your spending and stay within your budget by paycheck method.