5 Effective Bill Calendar Strategies That Boost Your Finances
This post may contain affiliate links, which helps us to continue providing relevant content and we receive a small commission at no cost to you. As an Amazon Associate, I earn from qualifying purchases. Please read the full disclosure here.
---
There are many ways to manage your money, but there is always one key piece that you need no matter how much or little you earn. The best way to get ahead in life and work when it comes down to personal finances:
Planning.
Yes, a little bit of planning will make sure your bills are paid.
If you are looking to save money and make more, then this article is for you.
We have broken down five effective bill calendar strategies that can help boost your finances. With each strategy comes an eye-opening fact about how to make paying bills easier.
Use these tactics in order to get ahead of the game and be one step closer to financial freedom.x
The term "bill calendar" may seem like a jargon-y thing stuck in the past, but it's actually an effective way to keep track of your finances and budget.
That being said, not all bill calendars are created equal. Make sure you choose one that meets your needs or is most suitable for what you're looking for so you can get the maximum benefit from this tool!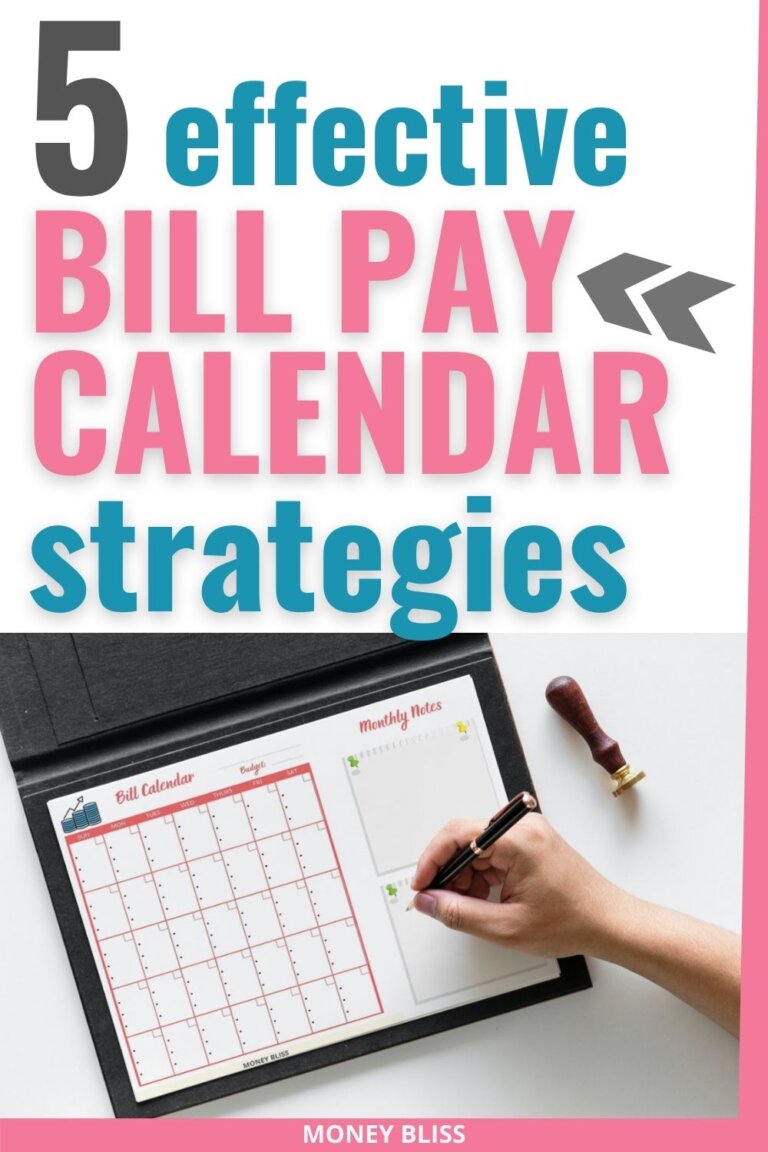 What is a Bill Pay Calendar?
A bill pay calendar is a financial tool that enables an individual to manage, track, and forecast bills.
It is useful for those who have multiple bills each month or need to plan ahead for upcoming expenses.
This is one of the files you can find in our budget binder.
A bill pay calendar is typically used in conjunction with a budget planner to help manage financial goals and stay on track towards financial success.
This simple tool helps you manage your finances better. The useful trick is to see where all of our bills fall in relation to when we make money, so it's easy enough for us to plan out what we need and don't need.
The strategies are effective because they allow you a visual way to see your bills and expenses. Thus, making bill-paying much easier than ever before.
Why a Monthly Bill Calendar Works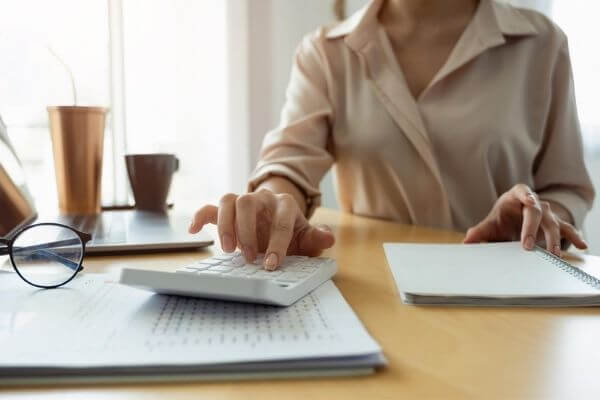 A monthly bill calendar is a great way to keep track of upcoming bills and make sure you're not missing any.
Also, it is helpful if you want to plan ahead for certain events like birthdays, holidays, or special occasions. Just to make sure you set aside enough money.
If you're struggling to keep up with your bills, a monthly bill calendar can help.
It will remind you when it's time to pay them and give you the proper schedule for future payments so that they don't get delayed.
A monthly bill calendar is an effective way of organizing finances because it provides reminders about what needs to be paid on which day. This helps to ensure debts do not accumulate over time without being noticed until they become unmanageable.
Other benefits of a bill paying calendar:
Keeps you focused.
Motivation to improve your finances.
Visually track your progress.
Simple Bill Calendar Strategies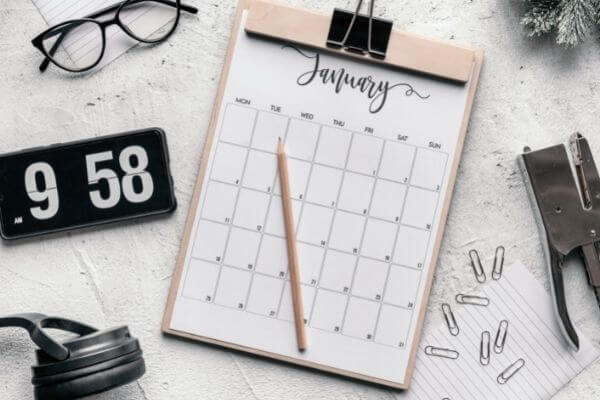 The financial benefits of a proper bill calendar include increased productivity, improved cash flow management, and long-term savings opportunities all brought about by thoughtful organization with an emphasis on efficiency in priority setting.
Just like with any time management idea, you must actually implement the system for it to work.
All of these strategies will give you a chance to get on top of your finances and start working towards getting out from under that large, unmanageable debt.
Five effective bill calendar strategies that will boost your finances include:
1. Use Budget Binder
Personally, I have found that those who have a printable budget binder stick to their budgets long term vs those who try to manage their finances digitally. That doesn't mean you can use your favorite budgeting app (I love Quicken). It just means you are writing out key financial information for your reference or if someone needs to pay your bills.
If you're looking for a way to organize your bills and keep track of when they are due, the bill calendar is an effective tool. By putting all of your bills on one page, it makes it easier to coordinate payments with your employer or other creditors.
The template allows you to add in expected paydays so that you can easily plan ahead.
2. Plan Reoccuring Time to Review
Not many people jump at the excitement of paying bills. Normally, it is a task that we put off until we just cannot wait any longer.
For me, I review our bills every two weeks. That is what I have found to work best for us.
To make the time more plausible, many couples will celebrate bill paying with a special treat or date night.
Do what you need to do.
Just make sure you review your bill payment calendar on a regular basis.
3. Avoid Paying Bills Late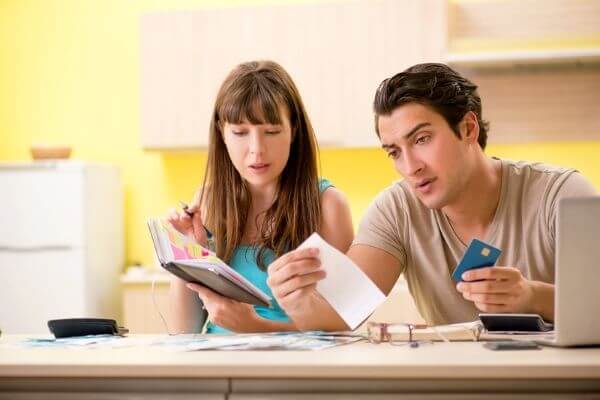 Paying your bills late will incur additional fees; those penalities in extra fees and interest are just not worth it. In addition, your credit score will take a hit with each late payment.
By consistently paying your bills late, you will have access to less cash. On the flip side, you could be saving money by paying your bills on time.
To avoid paying bills late, many people have set up automatic payments. This can be done by setting up a direct debit or Automatic Clearing House (ACH) payment.
When looking at your bill payments calendar, decide what bills are going to be paid by what paycheck. Make a plan for your money.
That will help you avoid paying bills late.
4. Keep Track of Bill Due Dates
One of the most important tasks that households have is paying their bills on time. However, it can be difficult for those without a lot of organizational skills to keep track of bill due dates and upcoming bills.
One way to keep track of bill due dates is by using a calendar that has notes on each day, as well as other information such as what's coming up in the near future.
You may want to color-code your bills by paycheck. Another option is to track your payments with colors, such as red for debt, green for paydays, etc.
Either way, you want to notate when you paid a bill and the manner you paid it.
5. Digital or Paper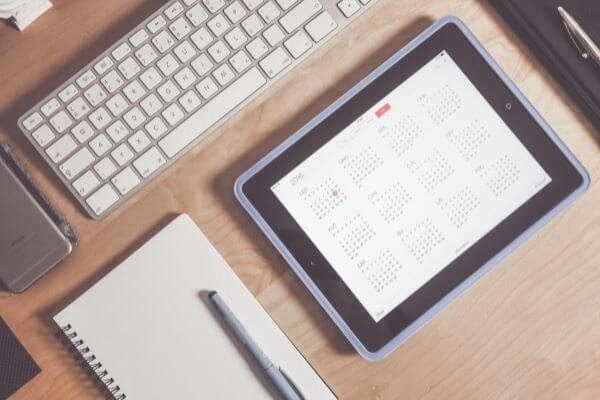 Now, for the endless debate… do you use a digital or paper system? Or do you need to use both for double reminders?
Regardless of what you decide, you should use a monthly calendar printable template to track what needs to be done.
Here are some options on how to organize your bill calendar.
Keep your monthly bill calendar in your budget binder.
Print out the month's schedule and hang it up on your refrigerator or wall for easy reference. This is an important habit because you'll never miss due dates if you don't have to worry about finding paper calendars or trying to remember which bills are due when.
Create a post-it note with the day's due date on it and stick it to your monitor so you don't forget.
Use Google Calendar or iCalendar, which are both free online calendars that can be accessed from any computer or mobile device. This allows you easy access when away from home but still keeps things relatively simple as well since these options only.
Many budget apps have cost-effective solutions with tons of cool features and helpful tools that will make your life easier.
The end goal is to keep things simple, allowing you more time for other tasks.
Here are the most popular budget apps today:
Bill Calendar Sample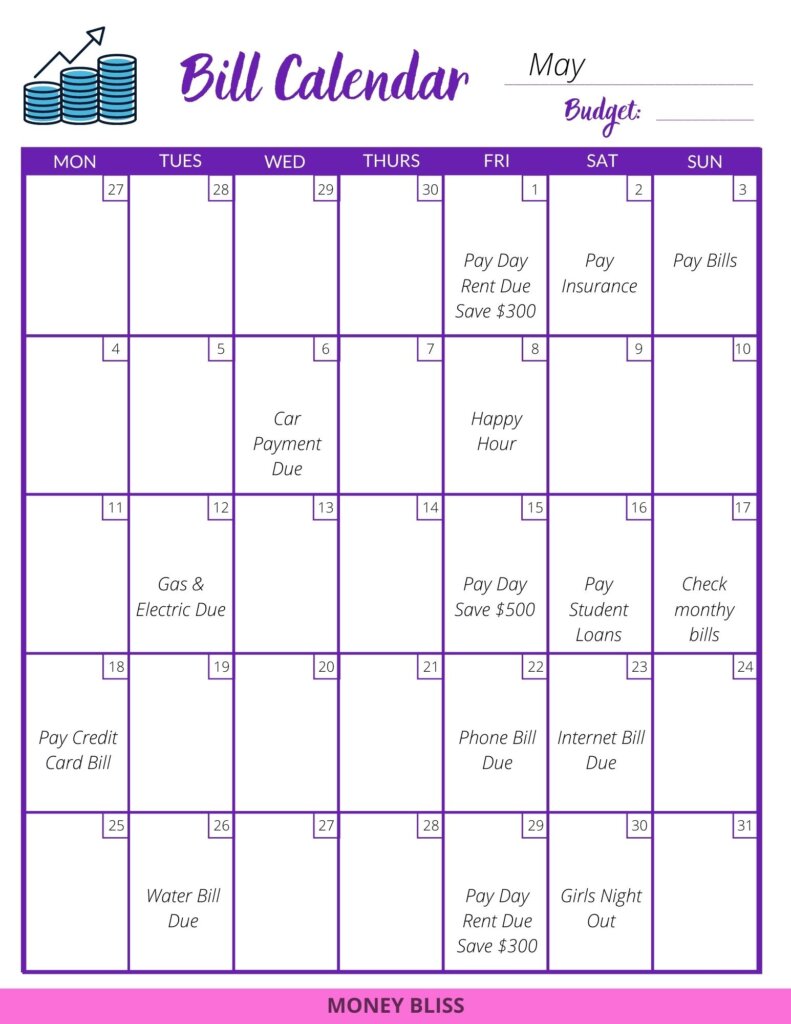 Here is a bill calendar example.
You would personalize this for your needs and your expenses.
Remember, many times it is helpful for people to visualize how bills will be paid and when.
This helps with cash flow planning.
Bill Calendar Template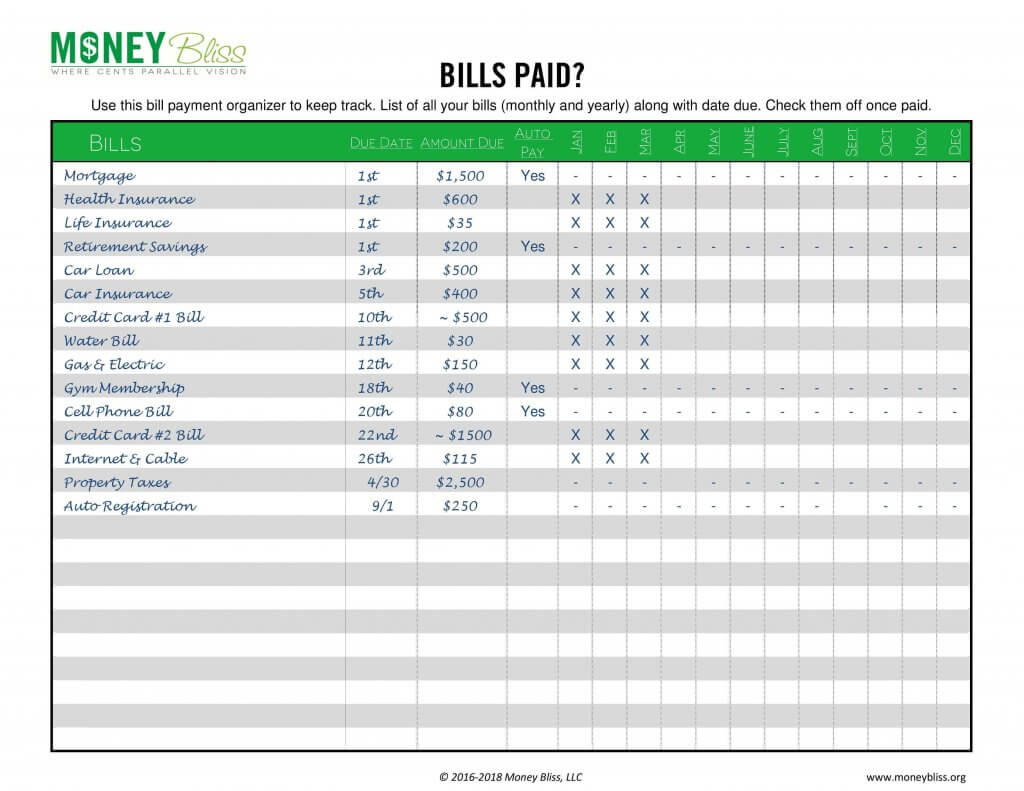 It is important to keep track of your bills and how much you have to pay each month. The best way to do this is with a bill calendar template that has columns for your monthly expenses, which include rent, utilities, phone service, groceries, etc.
Some effective strategies for keeping tabs on what's due when are:
– Create a list of all the upcoming payments in order from high priority (such as a mortgage) to low priority (such as grocery store), and then put them in your calendar as they come due.
– Create a list of all the upcoming bills, rent from highest to lowest priority, and then put them in your calendar as they come due.
To make the most of your budget, you need to know where every dollar is going.
A bill calendar template will help you plan and prioritize which bills are due when so that money can be properly allocated for important expenses without letting any slip through the cracks or being overspent on things like entertainment.
FREE Printable Bill Calendar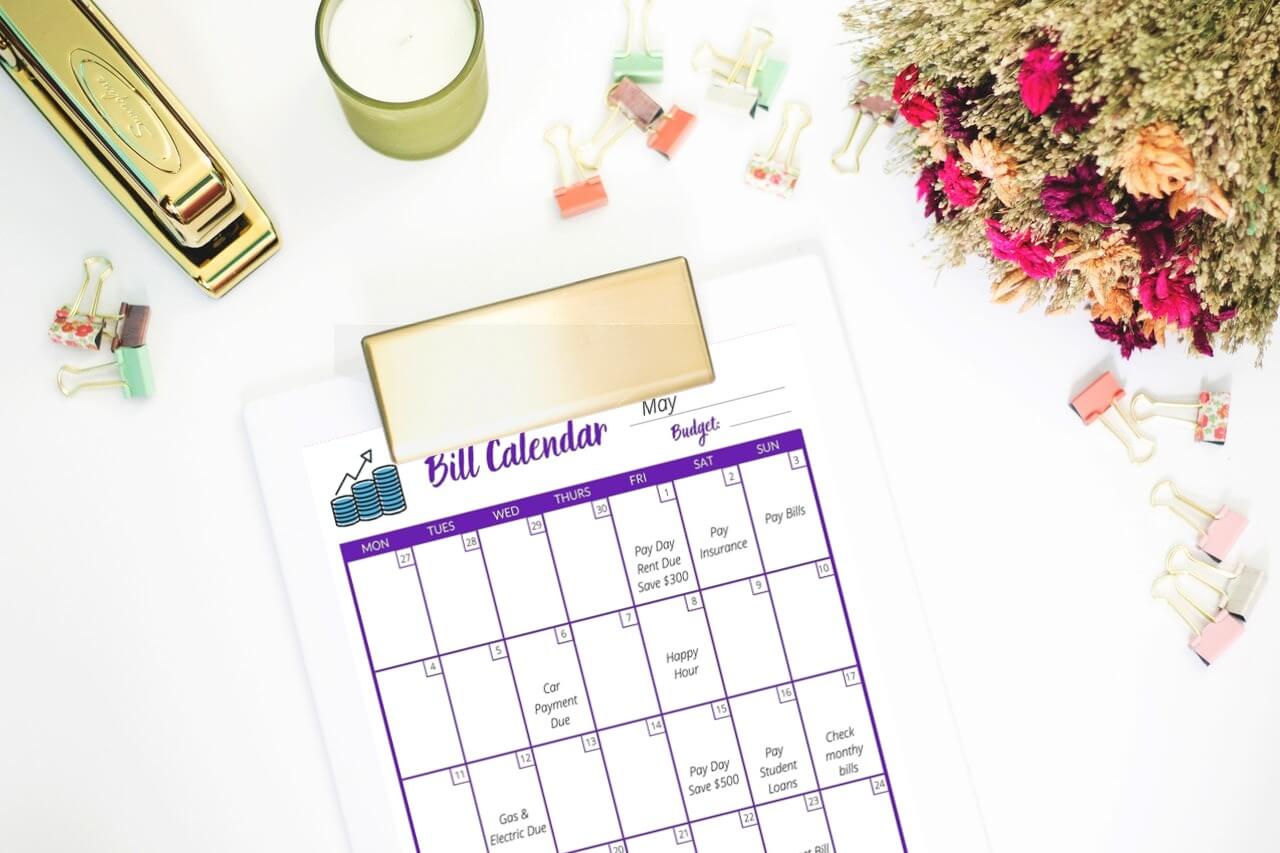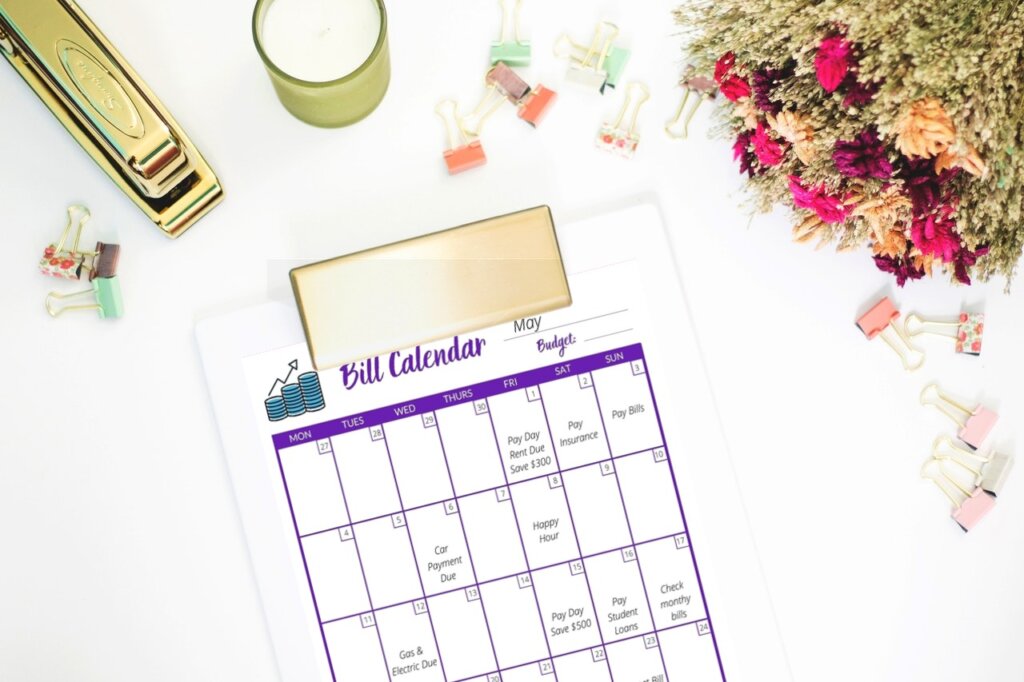 A bill calendar is a type of monthly planner used to keep track of bills that are due. This free bill calendar printable can be downloaded and used personally.
Having a visual reminder of what's coming up helps me stay focused and watch my spending because it gives me an idea at a glance of how much money comes out each month.
It also helps remind me when certain events occur such as income tax or mortgage payments.
Download your printable monthly bill calendar. (This is a perk for our readers who subscribe to our email list.)
A bill payment calendar is a helpful tool for keeping track of when your bills are due.
Bill Calendar App
A bill payment app is a form of software that helps people pay their bills online. It offers a way to manage the process and avoid any potential late fees.
Bill payment apps are useful for many individuals.
They can help you keep track of your monthly bills without having to use a paper calendar, which is typically cluttered with social events and day-to-day tasks.
Furthermore, bill month calendars organize recurring payments that occur on the same date each month so that they don't get charged twice or renew prematurely before you know it!
Here are some great options:
How Will a Bill Paying Calendar Help You?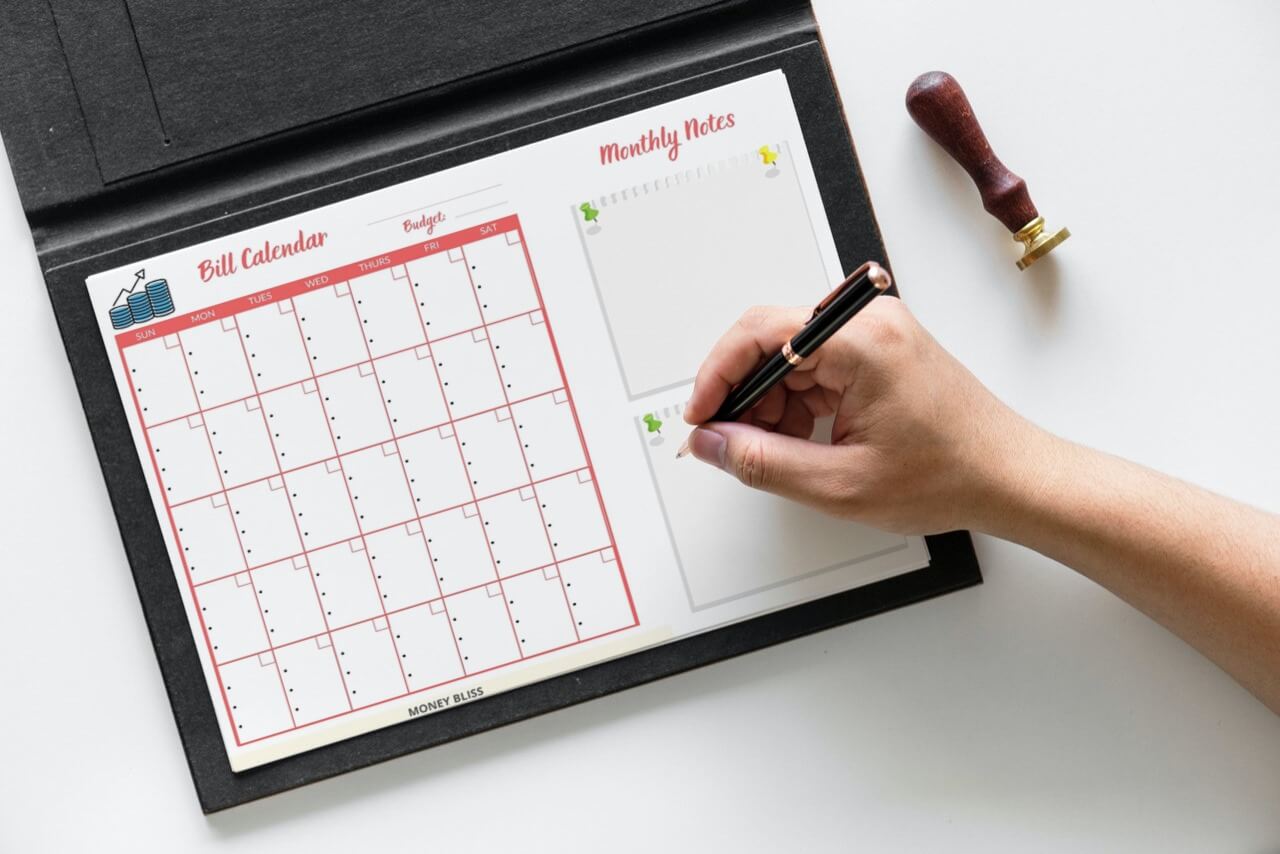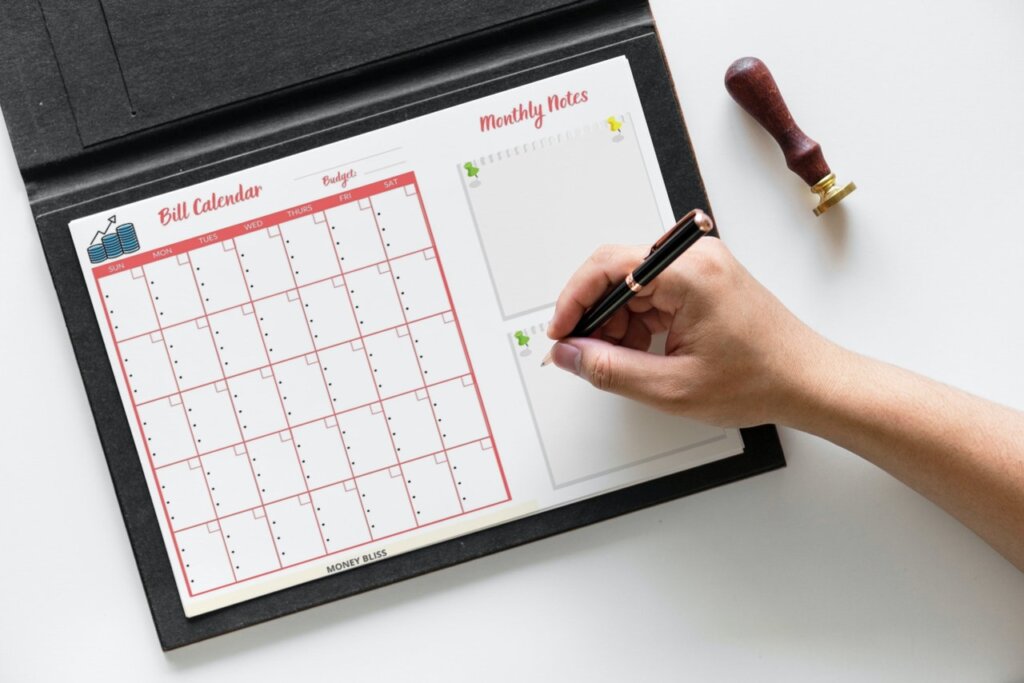 All in all, a bill calendar is another tool in the personal finance toolkit.
This bill organizer calendar is an important part of your managing money.
You can choose a checklist style or a monthly layout.
Bill calendars are a simple and effective way to keep track of your bills and expenses.
They can help you save money and come up with strategies to boost your finances. They come in many different types and are often used for budgeting purposes.
Many people use a bill calendar in conjunction with a budget binder with envelopes as well.
How do you see a bill calendar improving your finances?
Best Budgeting Apps - The Top 10
From all of the free and paid budgeting apps, here are our top budgeting apps to check out!
This section may contain affiliate links, which helps us to continue providing relevant content and we receive a small commission at no cost to you. Please read the full disclosure below. Empower Personal Wealth, LLC ("EPW") compensates Money Bliss  for new leads. Money Bliss  is not an investment client of Personal Capital Advisors Corporation or Empower Advisory Group, LLC.