50+ Ways How to Make Money Online for Beginners in [2023]
Inside: Learn how to make money online for beginners with one of these 65 easy ideas. This guide includes ideas on how to make money from home, start a blog, sell products, and more.
This is something you have always wanted to do because making money online is the best way to build passive income!
If you are a beginner, here's how to make your first buck online.
In fact, 1.79 billion people bought something online last year (source). That means people are making money online and you need to be one of them.
If you're currently struggling with finding a job that pays well, don't worry we have ideas for you! There are many ways how you could use your skills in order to make money online without needing an expensive degree or previous experience.
Also, if you are tired of the traditional grind and don't want to work anymore, then we have plenty of ideas for you.
There are so many benefits of working online including you work from home and wherever you want!
If you want to make money online, this post will show you how!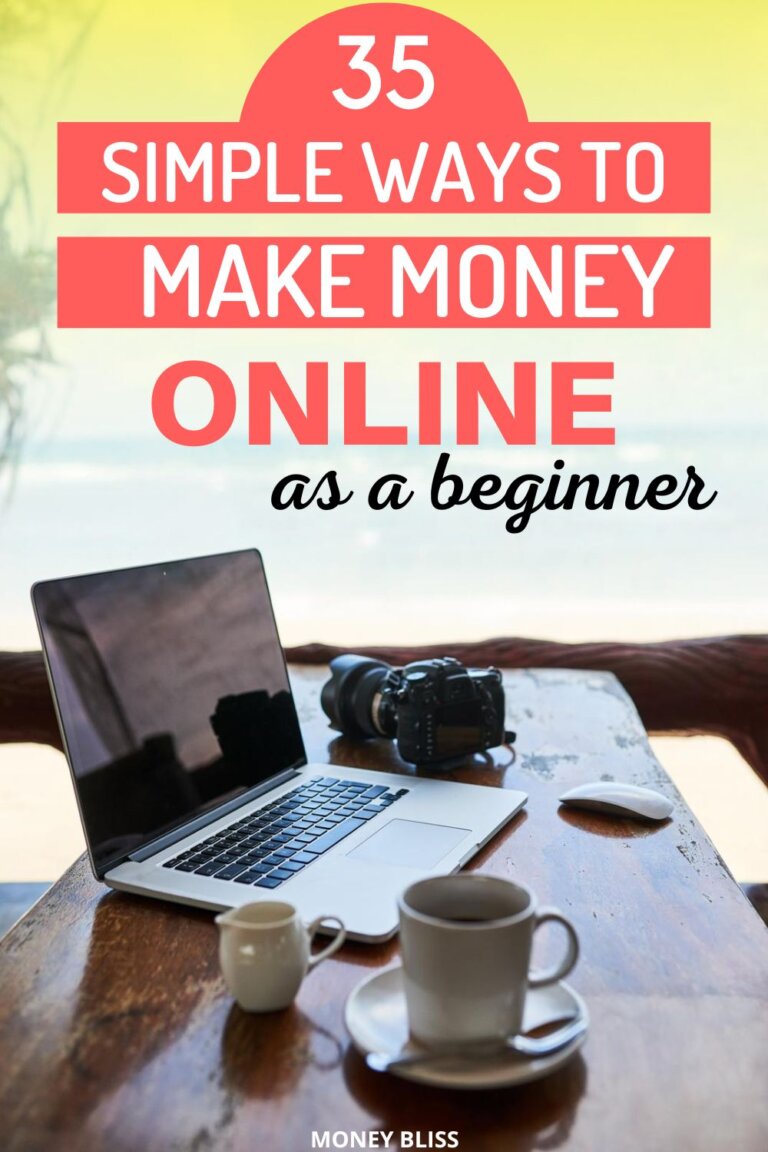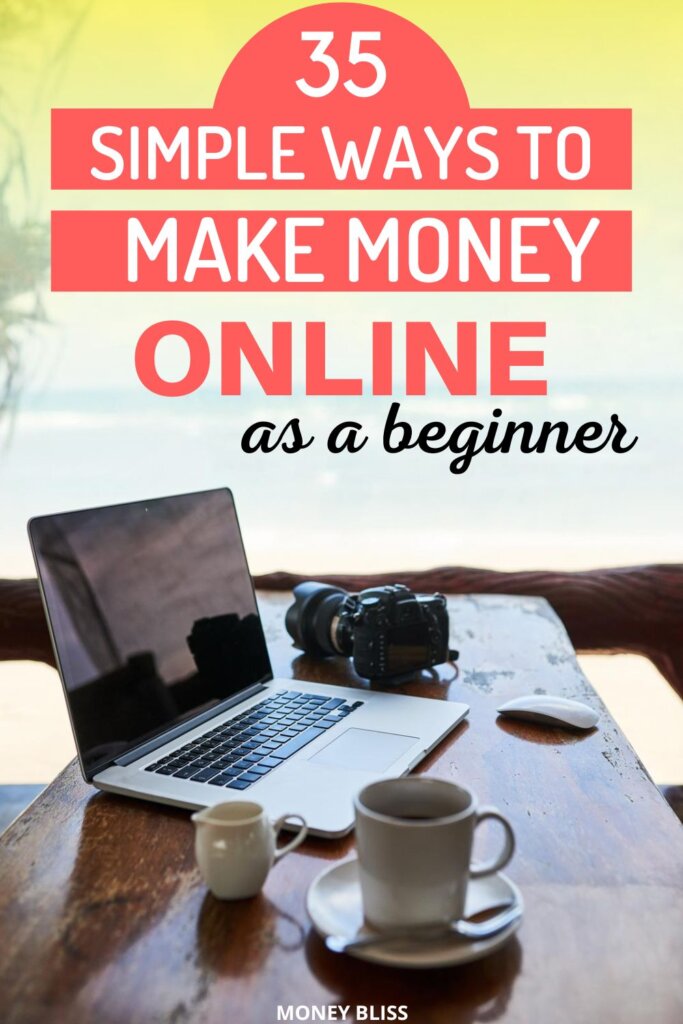 How to make money online for beginners?
There are many ways to make money online for beginners in 2023. Some of the most popular methods include affiliate marketing, blogging, and e-commerce.
Each method has its own set of benefits and drawbacks, so it's important to choose one that will work best for your goals and target audience.
Each method is also flexible – you can start small with one method and gradually expand as your skills develop or switch to a different approach if you find that your current strategy isn't working well.
No matter which route you take, remember to stay focused on making consistent progress towards your goals; success doesn't come overnight!
This post may contain affiliate links, which helps us to continue providing relevant content and we receive a small commission at no cost to you. As an Amazon Associate, I earn from qualifying purchases. Please read the full disclosure here.
How can a 2023 beginner make money online?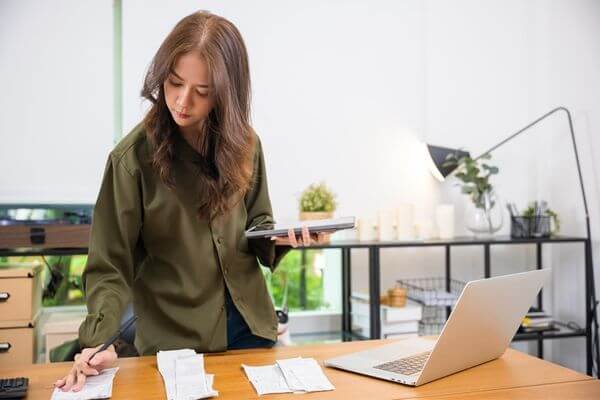 There are many ways that a 2023 beginner can make money online.
Some of the most common ways you have heard about before, but we are going to discuss ways to make money online that you may have not considered before.
This is exactly how to make 1000 a day.
You'll find detailed instructions for each of these money-making activities in this article. This guide will teach you everything you need to know about starting out with an income stream in the next few years!
What can I do right now online to make money?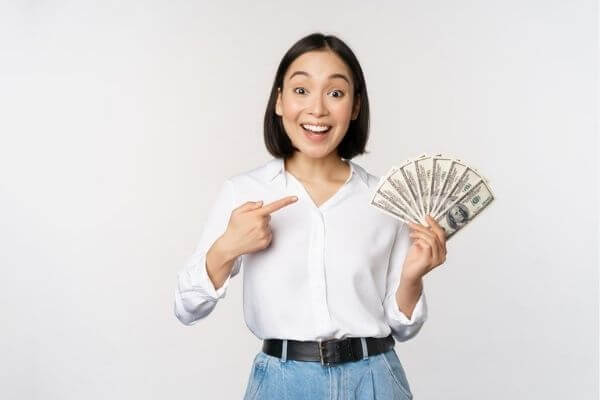 There are a variety of ways to make money online.
Most people choose opportunities to make money through blogging, affiliate marketing, course creation, or day trading.
You can find information on how to make money online in different ways in the following sections.
Key Takeaways –
You can start by finding a job that allows you to do some kind of online work, or you can start your own business.
Blogging (and Make Money with Google Adsense)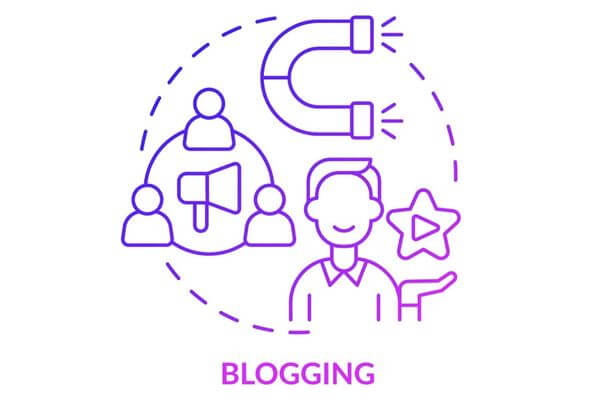 Blogging is a popular way to make money online.
As such, bloggers can write about anything they want and share their content with the world. This can be a great way non phone work from home job while building an audience, and making money.
There are many different ways to make money blogging, but the most common methods are advertising revenue, affiliate revenue, and sponsorships.
The best way to start making money blogging is by building an audience first and then monetizing them with ads or products later on down the line.
Startup Time: It only takes a few minutes to buy a domain name and get started.

Effort: However, it takes much more effort to make sure you are building a quality website that readers would enjoy reading. There is more competition today in the blogging niche, but I can attest that blogging does create passive income if you are willing to put in the work.

First Payout: Typically 30-90 days once you establish enough traffic to qualify for display ads on your website.

Key Tips: Take a blogging course to get you started and find other bloggers to connect with.
Sell Unwanted Items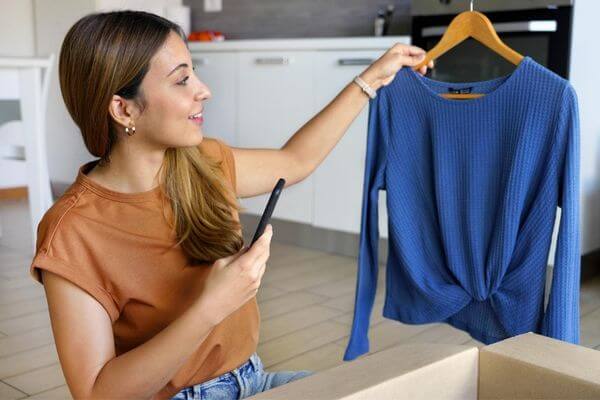 Selling unwanted items is a great way to make money online. You can sell items that you no longer need, or you can sell items you find at thrift stores.
There are many ways to sell unwanted items online.
You can auction them off, put them up for sale on websites like eBay, or list them on classified ad sites like Craigslist. You can also sell them through social media platforms like Nextdoor or Facebook Marketplace.

Startup Time: Spend some time clearing out a basement or garage to get started. Then, post your unwanted items for sale.

Effort: Not much. You have to be willing to connect with the buyers looking for your items.

First Payout: Depends on how soon you find your first buyer.

Key Tips: While you can find success selling items on your own. If you truly want to be a flipper, then look at taking this course taught by experts.
Make Earnings Daytrading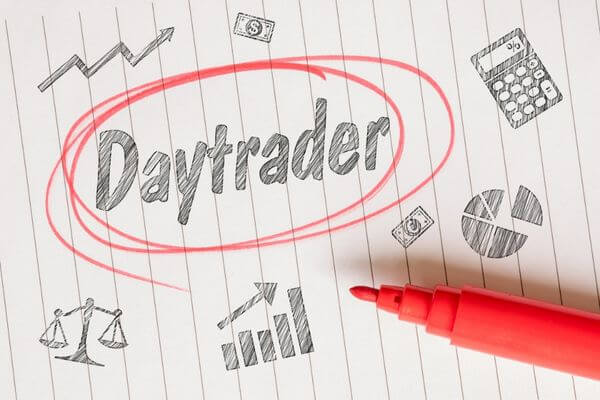 Daytrading is a type of trading where you buy and sell securities within the same day.
This can be profitable if done correctly, but it's risky because stocks can move rapidly in price. You should only trade stocks that you understand well and that you trust because there's always a risk when making trades.
This is a much different mentality than long-term investing also known as buy and hold.
Startup Time: It takes a few moments to open up an online brokerage with TD Ameritrade or another broker.

Effort: Extensive. It does take knowledge to learn how to trade stocks. This way to make money is not for the faint of heart.

First Payout: You need to have solid execution and profit in a simulated account before moving to a live account. Then, you can have a winning trade within moments.

Key Tips: As an active trader myself, I know the risks and rewards associated with day or swing trading. As much, I highly recommend you get solid knowledge on how to trade stocks first. Then spend at least six months practicing in a simulated account.

Become a Virtual Assistant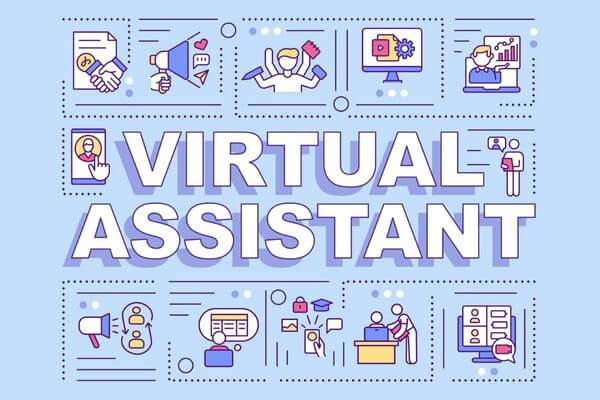 A virtual assistant is a professional who provides online assistance, typically through chat or email. They are often hired to do simple tasks, such as answering customer service questions, filling out forms, or sending emails.
They can also help with more complex projects, such as WordPress, creating graphics, or managing social media accounts.
This is one of the best jobs for moms. Virtual assistants usually work from home and usually charge by the hour or project length.
Becoming a virtual assistant with no experience is an easy way to make money online.
Startup Time: A few weeks to find clients who are in need of VA services.

Effort: Moderate depending on your background and experience. Most virtual assistants tend to be stay-at-home moms.

First Payout: The pay varies depending on the type of work you do and how much experience you have; however most virtual assistants charge by the hour or project length.

Key Tips: There are many ways to become a virtual assistant: you can find websites that offer services for hire, search for job postings online, or network with other professionals in your field.
Become a Freelance Writer or Editor for Blogs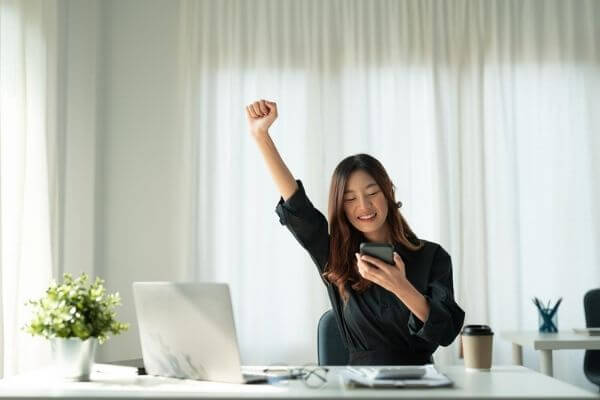 There are many opportunities to find freelance writing and editing jobs, and you can work from home as long as you have the right skills and experience.
If you have writing or editing skills, there are many opportunities to get paid to write for other people's websites. You can find freelance writing and editing jobs on websites like UpWork, Fiverr, or Problogger.
You'll need to research the different types of gigs available before submitting your portfolio so that you can highlight the best projects for potential clients.
Startup Time: Once you've found a project that interests you, be sure to submit a high-quality proposal that outlines your qualifications and explains why they're perfect for the job.

Effort: Not high with the right background or online training, this can be a profitable way to make money online.

First Payout: Varies by client or contract.

Key Tips: Make sure to follow up with potential clients after submitting your proposal so that everything is set up correctly and they're happy with the finished product.

Freelancing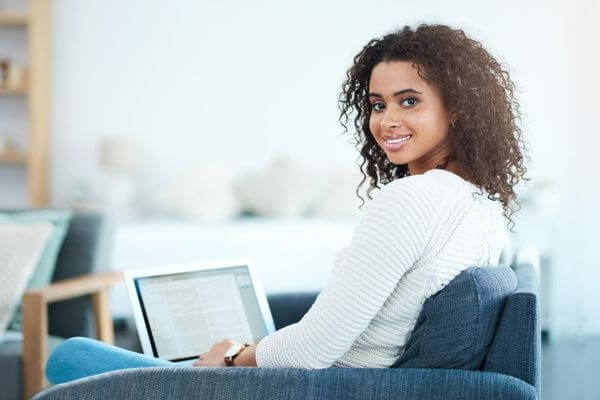 Freelancing is a way to make money from your own work, without having to be employed by someone else. You can freelance as a sole proprietor, as part of an organization or team, or through online platforms like Fiverr.
Freelancing is good for people who have plenty of experience and knowledge in their field.
You can also freelance as part of an organization or team. This type of freelance opportunity lets you share resources and skills with other professionals while still maintaining some autonomy and control over your work schedule and project timeline.
Startup Time: You can quickly sign up for an account and start marketing your freelance services.

Effort: The hardest part is building up your profile and gaining referrals through online platforms like UpWork or Fiverr. These platforms allow professionals from all walks of life to find short-term projects that fit their skill set and budget.

First Payout: Varies. Typically after you find a paying client.

Key Tips: Freelancing can be a great way to earn extra income and flexibility in your work schedule. It's also a great way to get started in the business world if you don't want full-time employment right away. There are many different types of freelance opportunities available, so you can find the right one for you.
Affiliate Marketing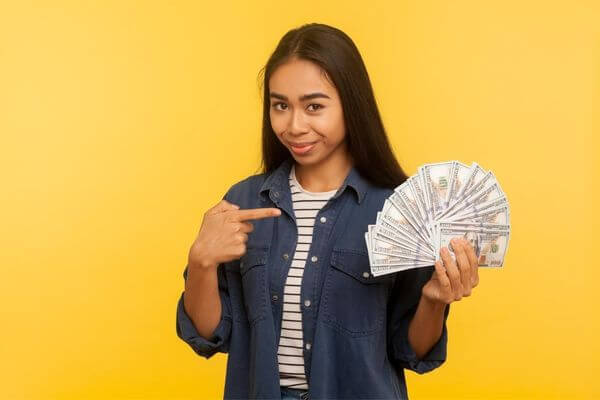 Affiliate marketing is a business model in which a company pays an affiliate to promote its products or services. When someone clicks on the affiliate's link and makes a purchase, the affiliate receives a commission.
Once you have an established blog or influencer account established, this is a simple way to make extra money.
This means that you don't have to do any work – all you need to do is find good affiliates and promote their products. There are many different ways to do this, so there's definitely something for everyone.
Startup Time: A few months or longer depending on how fast you can build your audience.

Effort: Promoting your affiliates is easy once you have an audience established.

First Payout: Varies by the affiliate network. Most have a threshold of $10 to $50 minimum in affiliate sales to pay out.

Key Tips: You must create a great platform for promoting other people's businesses and products.
Online Surveys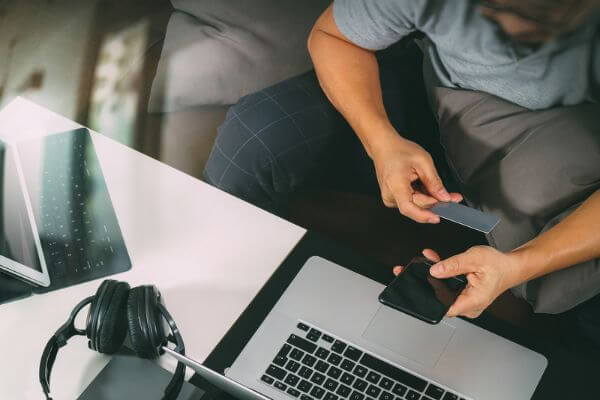 Online surveys are a way to make money by completing short, anonymous surveys. You can earn money by taking online surveys that are related to your interests or occupation.
You can also sign up for paid survey panels, which give you access to a large number of paid survey opportunities.
Startup Time: A few minutes to create an account on your chosen online survey sites.

Effort: Not much. Online surveys offer an easy way to make some extra money without any commitment or investment required.

First Payout: Varies by company. Some websites will send you payments directly after you complete a survey.

Key Tips: There are many different types of online surveys that you can take, including polls, focus groups, and quizzes. So, pick something you don't mind spending the time doing.
Top Paying Online Survey Companies:
Here are the top legit survey platforms:
LifePoints (MySurvey)
iSurvey World
E-Poll Market Research
Become a Virtual Bookkeeper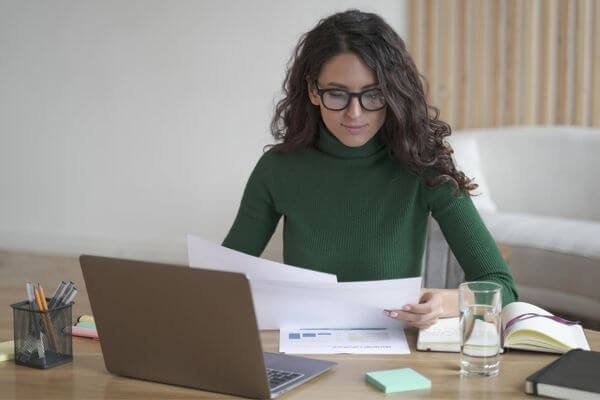 A virtual bookkeeper is a business that helps people keep track of their finances online. This can include things like creating budgets, tracking expenses, and filing taxes.
Virtual bookkeepers can help people stay organized and save money on their taxes. They can also help you create budgets and track your expenses so you know where your money is going.
Virtual bookkeepers can also help you file your taxes with ease by automating the process for you.
Make and Sell Printables
Make and sell printables are a way to make money online by creating and selling custom printed products. You can create PDFs or JPGs of your designs and then sell them online or in person.
In fact, this is a great summer job for teachers!
Printables are perfect for businesses that want to generate extra income from sales outside of their normal website traffic flow (especially for a blogger). Plus, they're a great way to promote your business on social media platforms like Facebook, Instagram, Twitter, etc.
Become a Tutor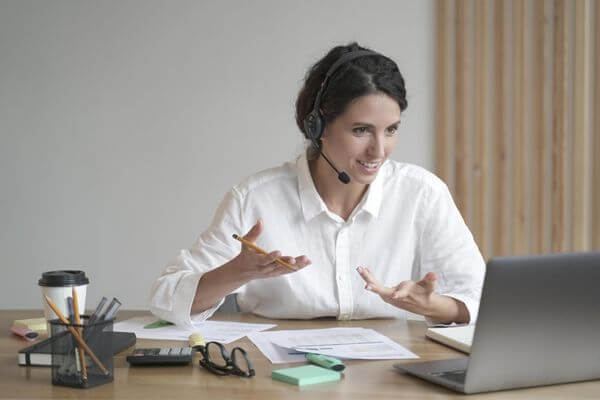 Tutoring is a form of professional help that people can receive to improve their skills or knowledge. You can become a tutor by teaching subjects that you know well or by providing instructional materials.
Tutors teach students in a one-on-one setting, typically over the phone or online.
Tutoring can be a great way to make money online and help others learn. Plus it is a great remote job for college students.
It's an excellent way to supplement your income and provide valuable services to people who need them most. Tutors help students by teaching them what they need to know in order for them to succeed in various subjects, and tutors can offer their services at a fraction of the cost of traditional schools.
Tutoring gigs are often available 24/7, so you can work around your schedule as needed.
Many people choose tutoring as their first foray into the world of online income, because it's easy enough to set up and manage but offers plenty of opportunities for growth.
Test Websites and Apps
Test websites and apps to see how people interact with them. This information can help you improve the design and functionality of your website or app.
Test websites using tools like Google Analytics and WebPageTest, and check how users are interacting with your content, ads, calls to action, and other features. You can also test apps by using App Insights or Crashlytics to monitor user engagement and performance.
Testing helps you identify problems early on so that you can fix them before they become bigger issues.
Testing is an important part of the content creation process because it allows you to understand how people are interacting with your website or app.
Start Dropshipping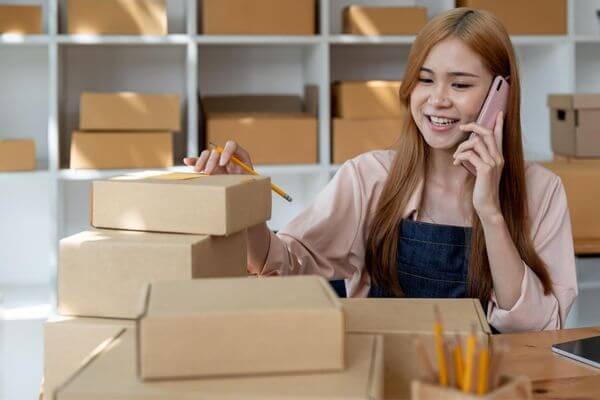 Dropping shipping is a business model in which an online retailer does not have any physical inventory of the products it sells. The retailer instead relies on suppliers who drop ship the products to them from their own warehouses.
This allows the retailer to avoid having to build or maintain its own inventory, as well as take advantage of lower costs associated with drop shipping.
Dropshipping can be a great way for retailers to start and scale their businesses quickly since it minimizes expenses while maximizing profits.
Buy and Sell Domains
Buying and selling domains is a way to make money online. You can buy or sell domains that are already registered, unregistered, or suspended. You can also sell expired domains.
Selling a domain is usually easier than buying one because you don't have to wait for the sale to go through.
You can usually find domain names on websites that list domain name prices.
Domain name prices change often, so it's important to check the current price before you buy or sell a domain.
Video Editing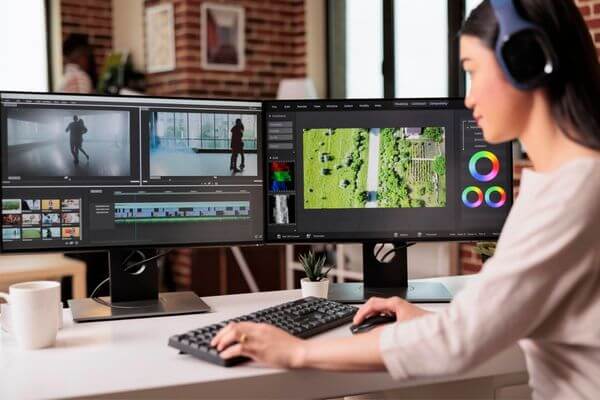 Video editing is the process of taking footage from multiple sources and putting it together to create a cohesive video. This can involve cutting, joining, and sequencing clips to create a finished product that looks professional.
Video editing can be used for personal or commercial purposes, and it can be done on a laptop or in an office setting.
Most people use video editing software to make videos look better than they would without it. This includes smoothing out shaky footage, adjusting lighting, adding titles and graphics, and more.
A simple way to make money on the side if video editing is fun for you!
Create Mobile apps
Creating apps is a way to make money online as you can create apps for iOS and Android devices, or you can create web applications. Apps that are designed for mobile devices can be sold through the App Store and Google Play, while web applications can be sold through websites or marketplace places.
Apps are a great way to make money online because they're easy to sell.
You can either sell them through the App Store and Google Play, or you can give them away as part of an advertising campaign. Plus, app development is a high-demand field, so there's always the potential for income growth over time.
Website Flipping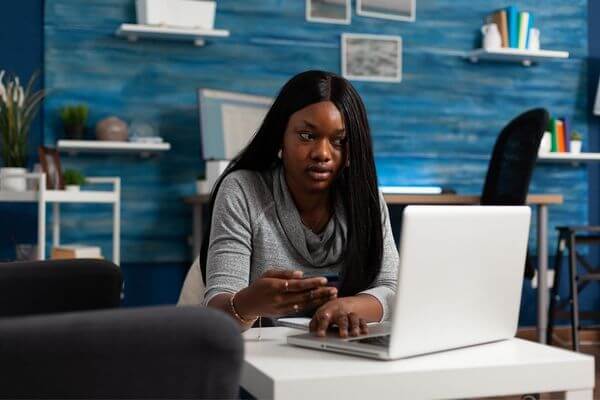 Website flipping is when you buy or lease a website, make some modifications to it (usually adding new content), and then sell it through an online marketplace.
Flipping websites is a highly lucrative way to make money online (especially if you are an SEO expert). This process can be done quickly and easily, which makes flipping websites one of the easiest ways to make money online.
You can also earn money by selling ads on your flipped websites. This means that you will have to spend time creating high-quality content that will attract traffic, but the profits you earn from those ads will more than cover your costs.
Create a YouTube Channel
Creating good content is the key to success on YouTube.
You can create a YouTube channel for free.
You need at least 1000 subscribers and a set number of hours watched to start earning money on your channel.
There are many ways to make money from your YouTube channel: by selling ads space, charging viewers for premium content, or making affiliate commissions from sales generated by related videos.
Start a Print on Demand Business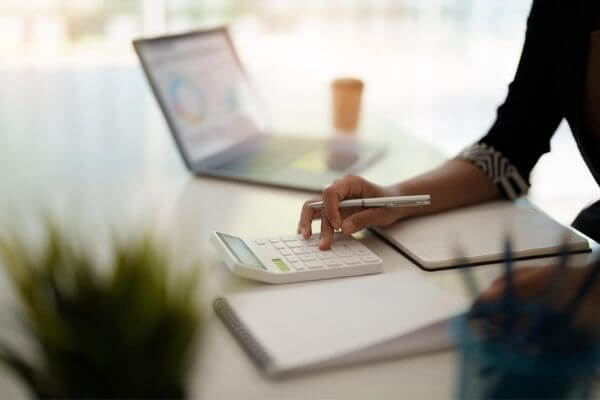 A print on demand business is a type of business that prints and sells products online. Customers order products from the business, and the business then prints and ships the product to them.
Print on demand businesses are growing in popularity because they're easy to start. You don't need any special equipment or knowledge, just a computer with internet access and an printer.
Customers can order products from print on demand businesses either through the website or by phone.
The main advantage of print on demand businesses is that you can set your own prices for your products. This means you can make more money than if you were selling traditional printed materials such as books or magazines.
Another advantage of print on demand businesses is that customers have more choice when it comes to what they buy. They can choose from a wide range of different brands and types of product, which gives them greater flexibility in their lifestyle choices.
Sell Graphic Design or Web Design Services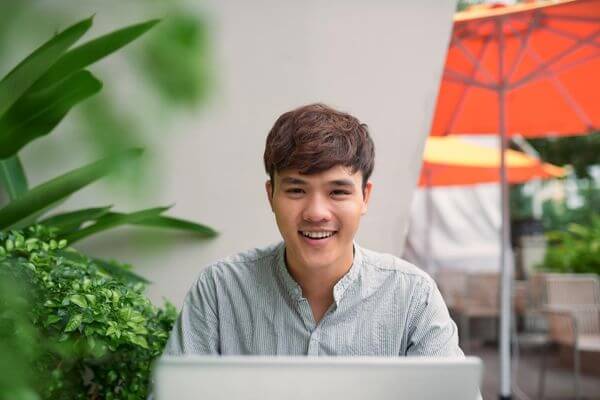 You can sell your graphic design services through online platforms such as websites and social media networks, or through specialized directories.
Plus you can charge different fees for different types of projects.
You need to have good design skills and experience in order to sell graphics design services or build websites.
The most important thing is that you have good design skills and experience so people will want to hire you!
Teach English Online from Your House
Teaching English online is a popular way to make money. You can teach English as a second language online, or you can teach English as a foreign language.
You can also teach online classes on different topics, such as grammar and vocabulary, writing, speaking, and more.
There are many ways to make money teaching English online. You could offer your services directly to students through an e-learning platform or website, or you could work with an education company that provides courses and materials for teachers.
Plus teaching English online can be a great way to travel and see new parts of the world while making money.
Become an Instagram Influencer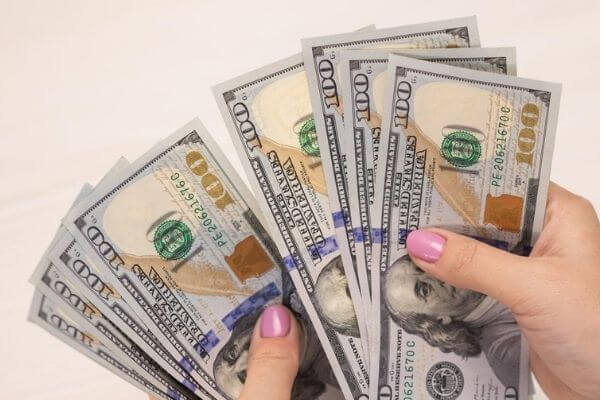 An Instagram influencer is a person who has a large following on Instagram and is able to sell products or services to their followers.
If you want to make money as an Instagram influencer, you need a large following on the platform. Becoming an influencer requires hard work and dedication, but it can be very lucrative if done correctly.
There are many different ways that you can become an Instagram influencer, but some of the most common methods include Sponsored Posts, Influencers Marketing Plans (IMPs), and Paid Promotions.
As an Instagram influencer, you'll be required to post regular content that promotes your brand or product. You'll also need to actively engage with your followers by responding to comments and questions, providing advice and tips, and sharing interesting content.
In order for your account to be successful as an Influencer Marketing Plan (IMP) should have measurable goals that you're able not only meet but exceed in order for bonus payments/rewards such as sponsored posts/shares etc., which in turn will help grow your following even further!
Create and Sell Stock Photos
Stock photography is a type of image that can be used in online and offline marketing campaigns. It's a popular way to make money because you can sell photos without having to design or create them yourself.
You can sell stock photos online using sites like Shutterstock. You simply upload the photo you want to sell, set the price, and let the site do the rest. This means that there's no need for any design skills – all you need is a good camera!
Teach an Online Course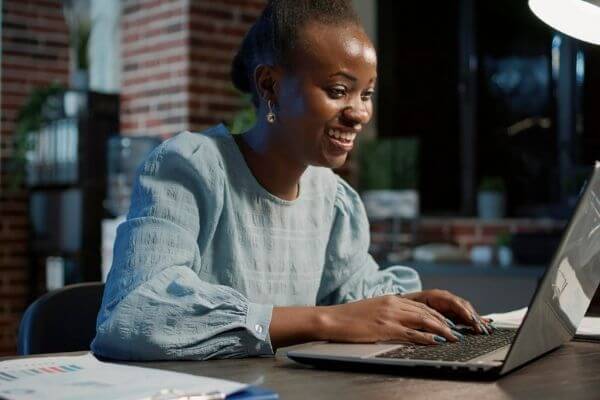 Teaching an online course is a way to teach people how to do something in a more comprehensive and organized way than what they could learn with free content available.
An online course can be delivered in different formats, including video, audio, PDFs, and e-books.
Plus the demand for online courses is growing to over 220 million people learning from this type of online education (source)!
In addition, teaching an online course allows you to share your knowledge while earning passive income without having to leave your home or office.
Develop a Coaching Platform
Coaching is a process where an individual helps another person to achieve a specific goal. This could be anything from helping someone to learn a new skill or lose weight, to helping them start and grow their own business.
Coaching can be done in-person or online, and it is becoming increasingly popular due to the flexibility it offers.
Coaches can earn a substantial amount of money if they are successful in building their businesses and connecting with clients.
The more qualifications you have, the better. You can offer services such as online courses, one-on-one coaching, or group coaching.
Building a Niche Site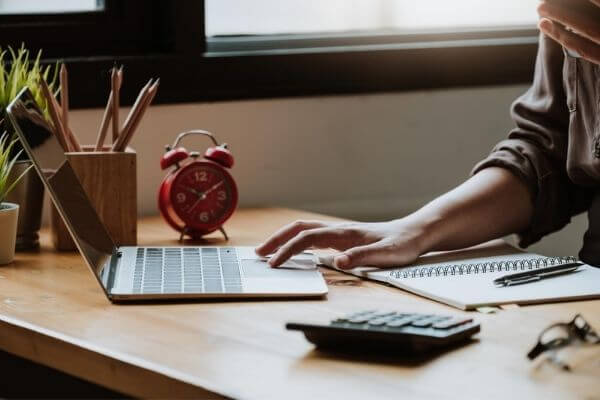 Creating a niche website can be profitable if done correctly.
By focusing on a specific topic or market, you can create a site that is tailored to your target audience. You can then generate income by selling advertising space or selling products and services directly through your site.
In addition, a niche website is usually easier than traditional blogging.
To start building a niche website, you'll first need to determine what type of content your site will contain. This content should be focused on the specific interests or needs of your target market.
Sell Clothes, Shoes, or Accessories on Poshmark
You can sell your items to people all over the world and earn money in a variety of ways. In fact, there are multiple ladies making over $100k on Poshmark.
You can use Poshmark to find buyers for your items, set up selling sessions, and track your sales statistics.
Poshmark offers a variety of payment options, including PayPal and credit cards.
Selling clothes, shoes, or accessories on Poshmark is an easy way to make money online. You need to build up your followers and store ratings for immense success.
Participate in Market Research
Market research is the process of gathering information about a particular market. This information can be used to help a company better understand its customers, their competition, and potential opportunities in the market.
As a participant in market research, you can get paid to provide your insights and feedback on various aspects of the market.
Studies can vary in length from just a few minutes to up to an hour or more, and they usually ask for various types of information such as your demographics, past purchases/buying habits, what products you'd recommend for others to buy, etc. There are many sites where you can sign up to participate in market research studies, including User Interviews, Respondent, Survey Junkie, Focus Group Alibaba, Apex Focus Groups, and more.
How much you make depends on the study, but it's generally not a lot of money. However, it's a legitimate way to make some extra cash working from home. Personally, I look for market research studies that pay between $150-300.
Start a Paid-Membership Community
Starting a paid-membership community can be a great way to make money online. This can be something unique and specific that you are passionate about or have expertise in.
Members will pay a monthly or yearly fee to access your content, which can include anything from articles and videos to podcasts and webinars. You can also offer exclusive benefits such as discounts, private forums, or even personal coaching for an additional fee.
Additionally, you can charge for different levels of membership in your community, which will give your members access to different content and benefits.
You can choose to create a community on various platforms, such as LinkedIn, Facebook Groups, YouTube Channels, or through a private area of a WordPress blog or a platform like Podia.
This can be a great way to create recurring passive revenue and build an engaged community around your brand or product.
Become a Transcriptionist
Transcription is the process of converting written or spoken material into a form that can be used again. This could be in the form of creating an academic transcript, transcribing a meeting, or providing a written version of a podcast.
The average transcriptionist completes 15 jobs per month and earns typically earns $156 per job.
Transcription jobs are usually freelance but may also be offered as full-time positions. Transcriptionists can find employment in a wide range of industries, including education, business consulting, healthcare services, government agencies, and more.
Become an SEO Consultant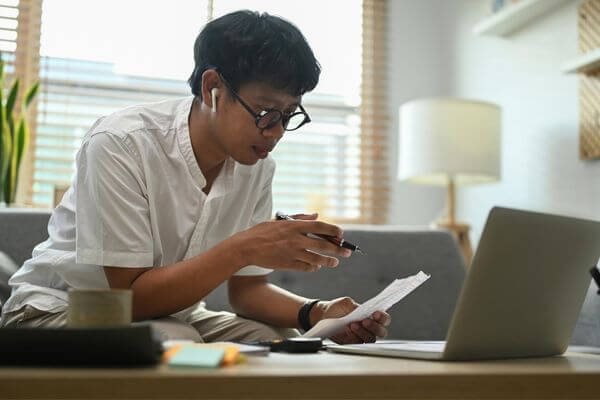 An SEO consultant is a professional who helps businesses improve their online visibility and rankings. They do this by creating high-quality, relevant content that targets the search engines' top keywords.
You'll also be responsible for developing targeted content that's both useful and interesting to users. Ultimately, this will lead to higher conversion rates and increased revenue.
To be an effective SEO consultant, you need expertise in both online marketing strategies and search engine optimization techniques. You also need the ability to communicate clearly with clients throughout the entire process.
If you have a passion for helping others succeed online, becoming an SEO consultant may be the perfect freelance choice for you!
Stream Video Games
To make money streaming video games, you'll need to build a community following. This can be done by streaming on popular platforms like Twitch or YouTube.
Once you have a sizable audience, you can start charging for sponsorships or begin offering paid subscriptions. In time, this could turn into a full-time income playing video games online.
Though it may not be for everyone, streaming video games can be a viable way to make money online. You could potentially earn ad revenue from your videos as well as subscription fees from your most dedicated followers. Additionally, the global gaming market in 2021 was $178 billion and is expected to grow to $268.8 billion in 2025 (source).
So if you have the gaming chops, give it a go!
Make Money with Trading Options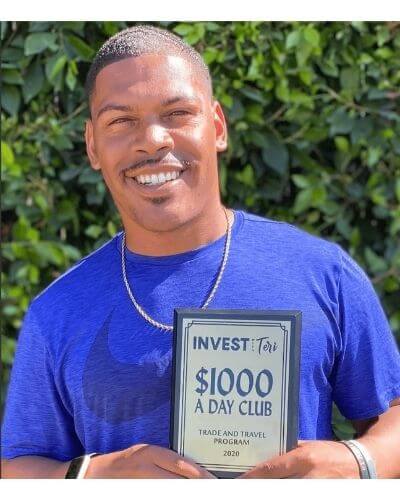 There are a number of ways to make money with trading options.
This is a sophisticated advanced strategy for those who are actively trading stocks.
When buying or selling options, you are making an assumption the stock is going to move in your favor and are willing to take the heightened risk for greater rewards.
There are many ways and tactics for making money with options and takes extensive knowledge to understand.
If you are serious about learning options, then make sure you take the only VIP investing course I recommend.
Invest in Peer-to-Peer Lending
Investing in peer-to-peer lending is a way to make money online. You can invest in loans from other people, and you receive interest on the loan.
The loans are usually short term (less than a year), and the interest rate is often high (between 10% and 30%).
Peer-to-peer lending is growing rapidly because it offers investors an opportunity to make quick profits without having to worry about the creditworthiness of the borrower.
This type of investment is risky, but it also has the potential for high returns.
Call Center Agent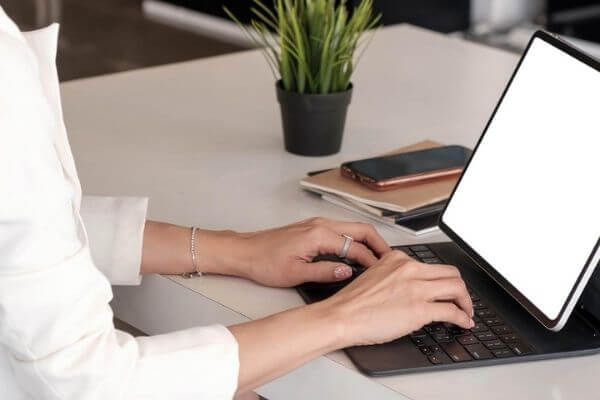 Call center agents are responsible for handling customer inquiries and helping customers with their problems. They may also be able to provide support with product questions or sales transactions.
They may work in a variety of industries, including technology, banking, insurance, and retail.
Call center agents typically receive training on how to deal with different types of customers and how to solve problems. They usually have a high level of literacy in English and are familiar with computer use.
As a call center agent, you need good communication skills and the ability to listen carefully.
Play NFT Games
Playing NFT games is a great way to earn money online.
You can make money by playing games that offer in-game items as rewards, or by selling the items you earn. There are many different NFT games available, and the amount of money you can make varies depending on how well you play them.
The best way to find out which NFT games are worth your time is to try them out for yourself.
Many of these games offer in-game items as rewards or sell the items you earn. If you're good at playing these types of games, then it's possible to make a lot of money by playing them.
Starting a Podcast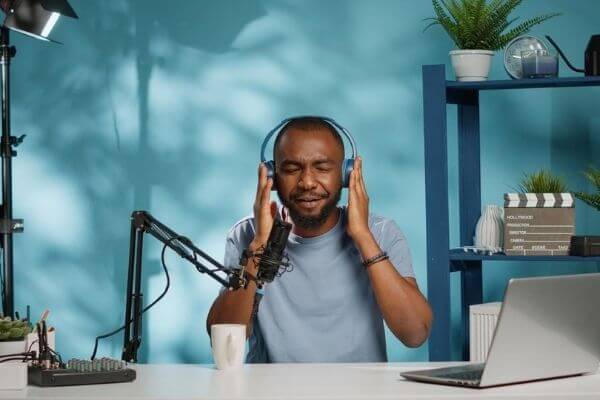 Starting a podcast can be a great way to share your voice with the world and make some money while you're at it. Podcasts are popular because they're easy to produce, and there's a growing market for them. You don't need any special equipment or expertise to start a podcast, and you can make money through advertising, subscription fees, and merchandise sales.
In addition to being informative and entertaining, podcasts can also be used as marketing tools to drive traffic back to your website or blog.
There are many ways that podcasters can make money from their shows.
One common method is advertising revenue; podcasters can sell sponsored ads on their shows or sell space in their show for corporate sponsorships.
Another way of making money is through subscription fees; podcasters can charge listeners for access to their shows or charge them for exclusive content (such as early access to new episodes).
Also, podcasters sometimes sell merchandise such as T-shirts and mugs through their websites.
Starting a podcast is easy, and there are many ways to make money from it. If you have an interesting story to tell and you're passionate about sharing it with the world, start a podcast!
Sell Stuff on Etsy
Etsy is a platform where people can sell handmade and vintage items.
Selling your crafts online can be a fun and profitable way to make some extra money.
Before starting an Etsy store, make sure you produce items that will sell well. This means doing your research on current trends and what people are looking for.
Be sure to follow Etsy's guidelines for selling handmade goods online and keep track of seasonal trends so that you can make the most money possible from your Etsy shop.
Become a Translator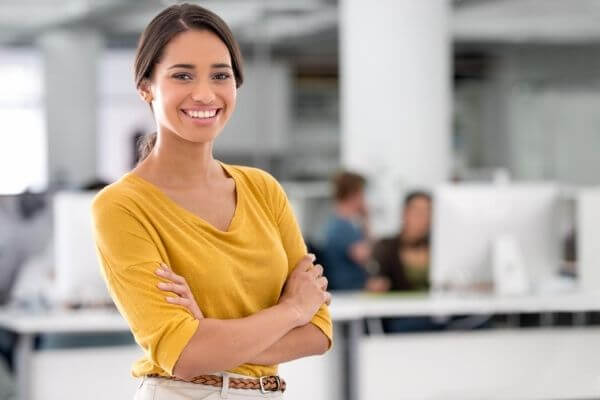 Becoming a translator is a challenging but rewarding endeavor. There are many different ways to become a translator, and each requires different skills and knowledge.
To become a translator, you need to have excellent written and oral communication skills. You also need to be able to read and understand multiple languages fluently. Plus, you should have experience working with software that helps translate text from one language to another.
There are many different ways to become a translator. You can start by studying translation tools and techniques in your native language. After you've mastered the basics, you can find work as an interpreter or translater for established companies or organizations. Or, you could train to become a professional translator through accredited programs like the American Translators Association (ATA).
Whichever route you choose, becoming a translator is an exciting journey that will open up new opportunities for your career growth.
Sell your Music Online Or in the App Store
Selling your music online can be a great way to generate income and reach new fans. There are a variety of ways to sell your music online, including through digital downloads, streaming services, and subscription services.
Digital downloads offer an easy way for people to purchase your music directly from your website.
Streaming services like Spotify allow users to listen to your music without having to download it first. This type of sale is good for artists who want their music available on as many platforms as possible and who don't mind giving away some of their profits in the form of ad revenue.
Whatever approach you decide on, make sure you're prepared with marketing materials (like music videos, blog posts, and social media accounts) and promotional strategies (like giveaways and tour dates).
Dive into Crypto Trading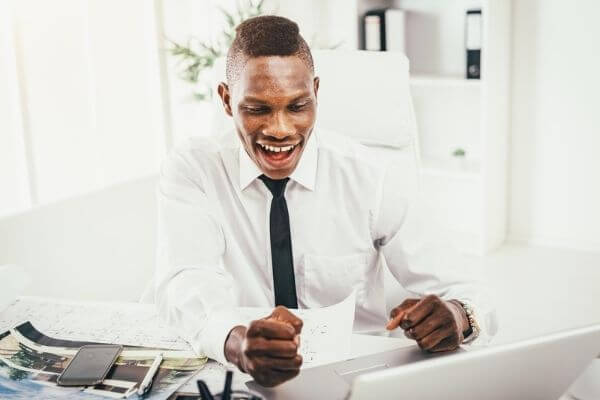 Crypto trading is a rapidly growing market that offers potential investors high returns with high risk.
Cryptocurrencies are digital or virtual tokens that use cryptography to secure their transactions and control the creation of new units. Cryptocurrencies are decentralized, meaning they are not subject to government or financial institution control. As a result, they have become popular among those who believe in their potential for long-term investment.
The market for cryptocurrencies is highly volatile and can be risky, but there are opportunities for high returns if you know what you're doing.
If you're interested in getting into crypto trading, first get familiar with the basics of cryptocurrency investing.
As long as you stay disciplined and aware of your surroundings, cryptocurrency trading should be fun and profitable!
Work as a Data Entry Specialist
A data entry specialist is someone who enters or updates data into a computer system. This can be done manually, through a form or application, or through a scanning process.
The work is relatively easy to do and does not require a lot of experience. It can be a good way for beginners to make money online.
Sites like FlexJobs and Microworkers offer a variety of data entry jobs for all skill levels. You can also find data entry gigs on Upwork or Indeed. As a data entry specialist, you can expect to earn an average of $16 an hour.
Design and Sell T-shirts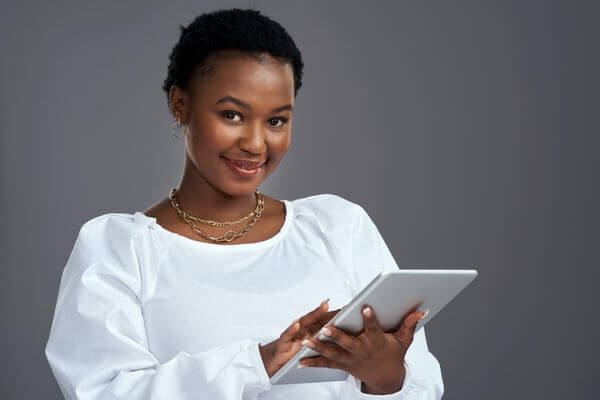 Design and sell T-shirts online to make money. You can create your own designs or use designs from other people. You can also sell shirts through an online store or through social media.
To design and sell T-shirts online, you need to have a decent understanding of graphic design and Photoshop. You'll also need to set up a shop on an online platform like Shopify or Etsy, where you can sell your shirts directly to customers.
Alternatively, you could market your shirt sales through social media channels like Facebook and Instagram.
Become a voice-over artist
A voice-over artist is a person who records audio for video or web content. They perform the voices of people, animals, or objects and create the sound effects needed for multimedia productions.
Becoming a voice-over artist can be an excellent way to make money online.
You can work as a freelancer or as part of a team in studios or production companies. The jobs are varied and often require flexible hours and good communication skills. There are also opportunities to work from home, which may be ideal if you have children/children at home who need care during the day.
Sell your Home-grown Produce or Baked Goods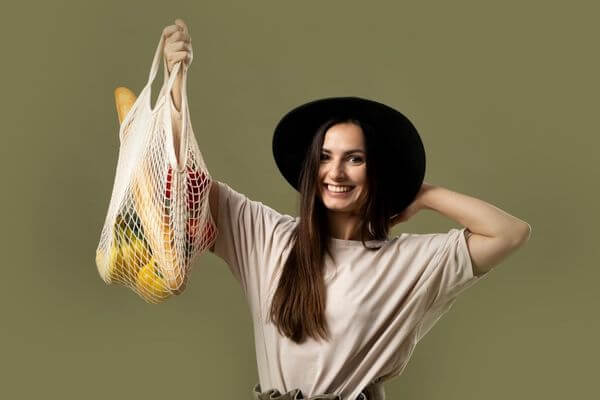 Selling your home-grown produce is a great way to make money online. You can sell vegetables, fruits, or baked goods and bread at local farmers' markets or through online marketplaces.
Local buyers will appreciate the freshness and quality of your products, while online buyers will have more options for delivery and payment methods.
This is a great way to make money from home if you love to be in the kitchen!
Let Your Artistic Side Make Money
Creators, whether they are writers, artists, or musicians, can sell their media creations online and make some money.
There are a variety of ways to do this, including setting up a shop on a website like Etsy, making an account on a streaming service like Spotify or Apple Music, or selling through marketplaces like Amazon.
Selling media can be a great way for people to follow their dreams and make an income.
There are many platforms that allow people to sell their artwork, music, writing, and more. This can be a great opportunity for people who want to share their talents with the world and make some money doing it.
Sell on Amazon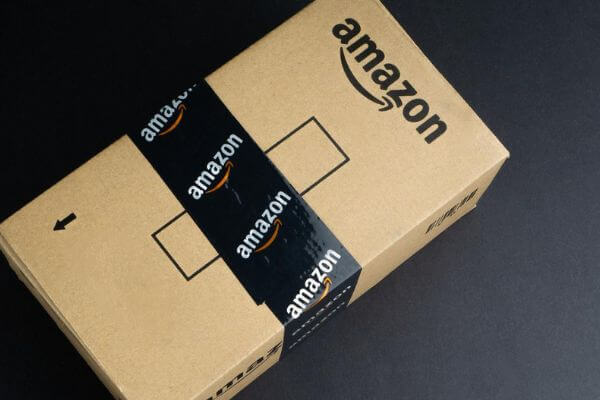 Sell on Amazon is a process of selling products through the Amazon website.
You can sell products by setting up an account, uploading your product, and listing the product for sale. When you list your product, you'll need to specify the price, shipping information, and other details about the product.
Selling on Amazon can be a great way to make money online because there are many people who are looking for specific types of products that may not be available in local stores.
Additionally, selling through amazon gives sellers more control over their inventory since they're not beholden to any retailer's policies or demands.
Sell Digital Products
Digital products are intangible assets that you can sell repeatedly without restocking an inventory. This is because they are delivered electronically, such as through a download or email.
They have become such a good source of passive income that many top professional influencers, bloggers, or public icons release digital products.
These can be in the form of courses, e-books, templates, plugins, or even software. Digital products are scalable and there's no limit to how many you can sell.
Selling digital products on Etsy is a great way to make money online because it has a low barrier to entry- you don't need a lot of capital or investment to get started. In addition, as long as you have a good sales page and make enough sales, you can see a healthy return on your investment.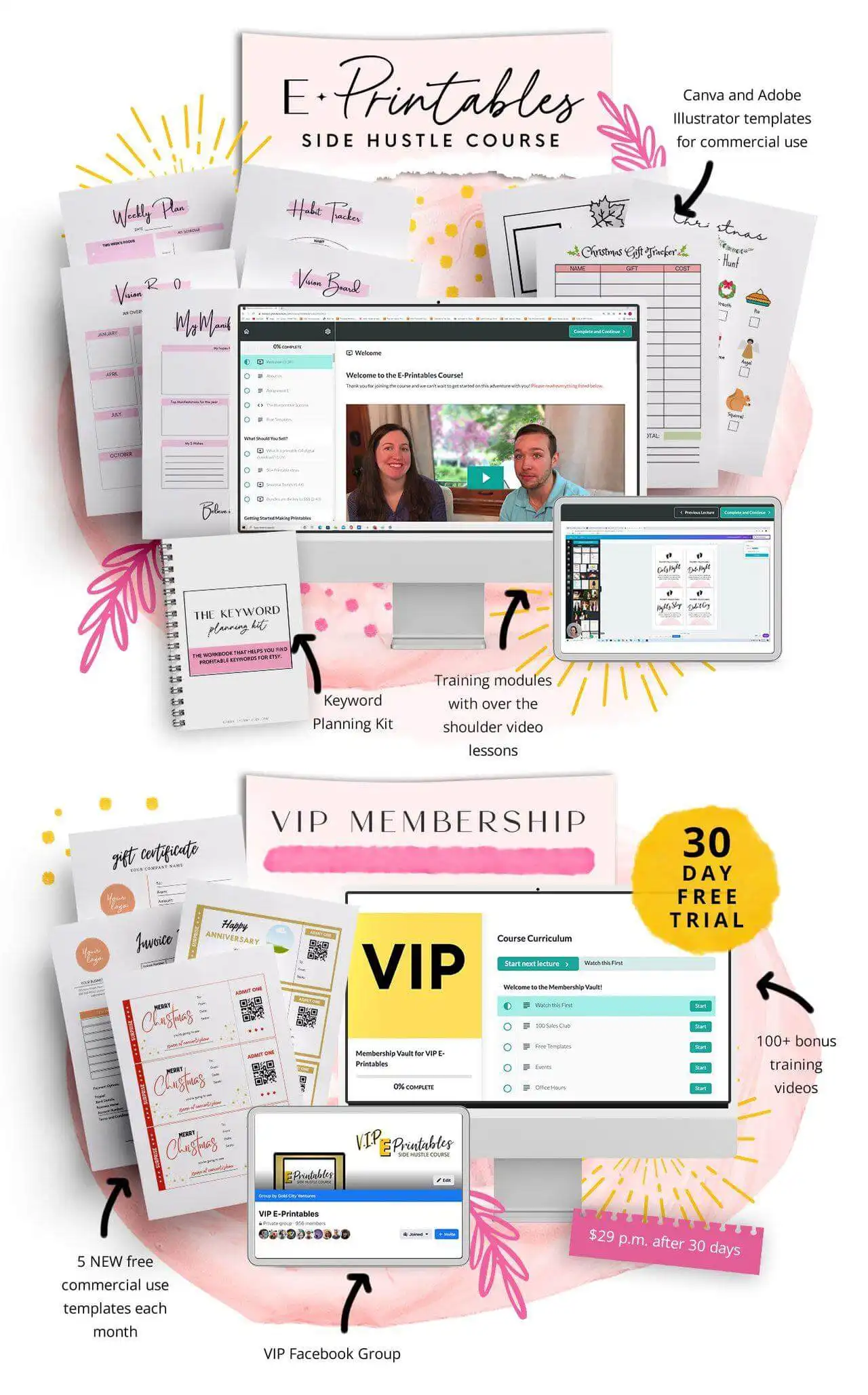 E-Printables Course
Are you ready to start selling on Etsy? Great!
Now, learn from the experts, so you are successful from the start. Learn everything else that goes into actually making money with this side hustle.
Spend time making products that have the best chance of selling.
Making printables is FUN, but it's even more fun when it's PROFITABLE!
Join the Waitlist
Trade in Your Class Notes for Money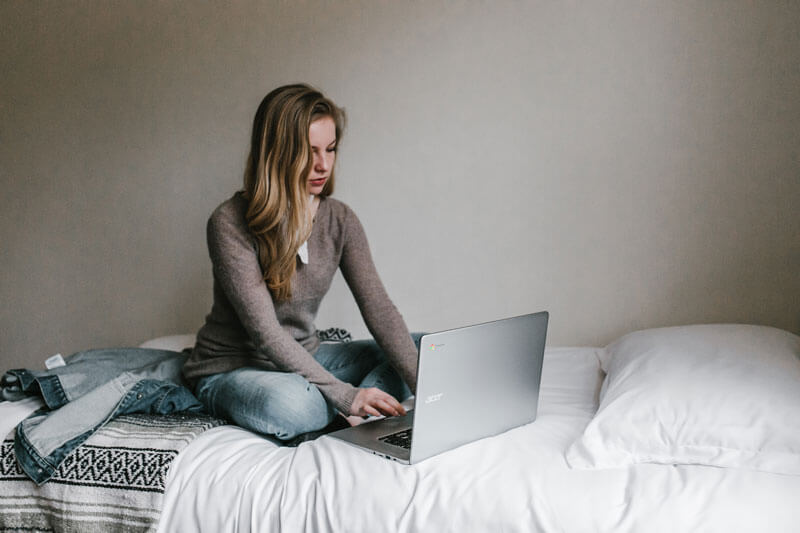 Smart one in the class? Then, turn that into a money-making machine. You can trade your class notes for money by selling them online or through a course sponsor.
By trading your class notes, you can make some extra money and improve your skills at the same time.
Some people sell their notes to other students, while others use them as research material for new courses.
Selling your notes can be a great side hustle.
Launch a Shopify Store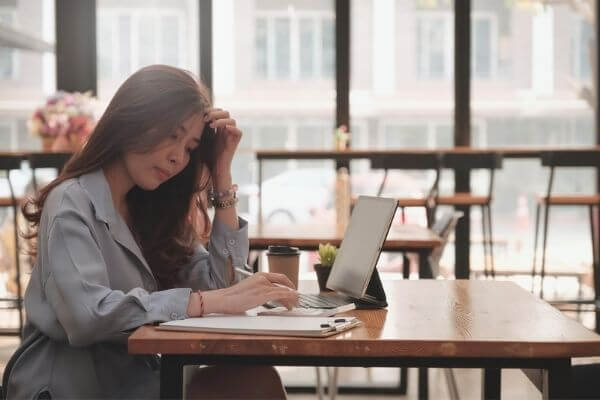 If you want to make money online, one of the best ways to start is by launching a Shopify store.
A Shopify store is a retail website that uses the eCommerce platform from Shopify. You can sell products using this website, and you'll need to have a valid merchant account in order to do so.
Launching a shop on Shopify is an excellent way for beginners to get started with making money online.
With this website, you can sell products directly to your audience without any technical knowledge or experience required. Plus, setting up your shop takes very little time at all – even if you're not familiar with web design or eCommerce concepts whatsoever.
So whether you're looking for an easy way to start making money right away or want more control over your income stream down the line, launching a shop onShopifie is definitely worth considering!
Twitch Streamer
A Twitch streamer is a person who broadcasts video of themselves playing video games live on the website Twitch.tv.
Streamers can make money by charging viewers for access to their streams, or through donations from fans.
There are different ways to make money as a Twitch streamer, and you can also create your own content and sell it through the site's marketplace.
Twitch has become one of the most popular streaming platforms in the world, with more than 75 million active users each month.
What are some creative ways to make money online?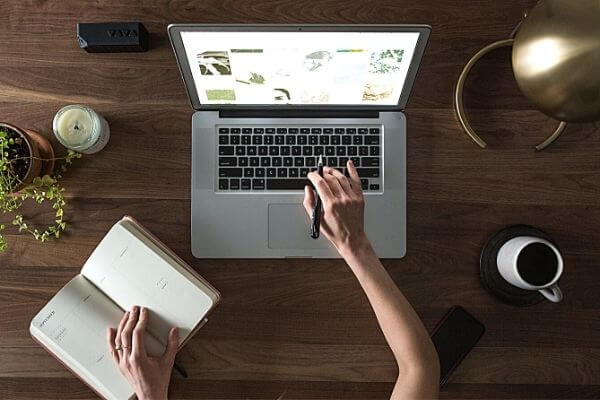 The Internet is more than just looking something up to research.
In the digital age, we are able to make money from our own homes by starting businesses on the internet and harnessing all of the opportunities that come with being connected to our peers. With this in mind, we want to share some creative ways for beginners who are just starting out on their entrepreneurial journey and would like a head start.
The top 3 ideas for making money online as a beginner entrepreneur: –

1 – Create an online course or printables and sell them.

2 – Create a blog and monetize it through Google AdSense or affiliate marketing (this one is my favorite).

3 – Learn how to become an active trader (another one I love).
If none of these ideas strike your fancy, we have covered many ways above to make money online that are sure to excite and inspire.
Everything You Need to Start Online Selling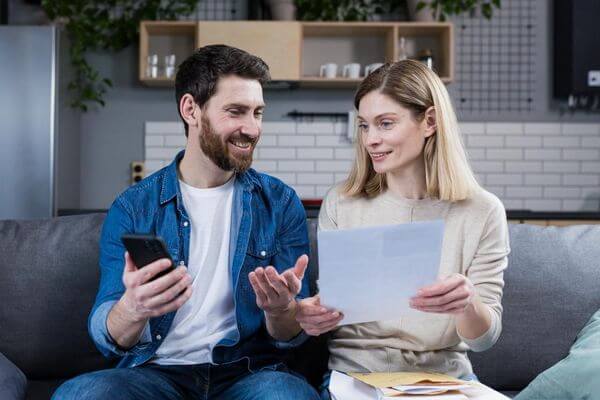 In today's modern world, online selling is the best way to earn money. With many advantages and opportunities for people all over the globe, it has become a popular career choice for many young people.
The world is changing fast and online business has become a key market. With the many ways to make money, you will have an easier time if you take your own time to explore different opportunities and learn the ropes.
If you are looking for ways to make money online, then this is a good place to start your journey.
The biggest key is to act on what you want to do!
Don't just daydream about the life you want to have. Today is the day to start creating the life you deserve.
In this post, we covered different ways that you can use to make money online, but the most important thing is for you to find out what works best for you.
Now, how to make money online for beginners will you choose?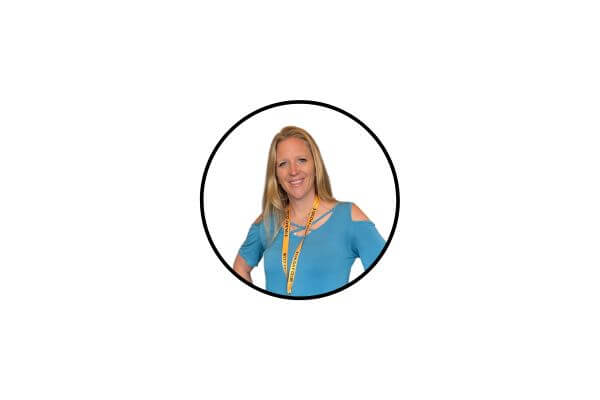 Did the post resonate with you?
More importantly, did I answer the questions you have about this topic? Let me know in the comments if I can help in some other way!
Your comments are not just welcomed; they're an integral part of our community. Let's continue the conversation and explore how these ideas align with your journey towards Money Bliss.