Money Gift Box: Ideas on How to Give and Dispense Money as a Gift
Inside: Looking for a creative and easy way to give money as a gift? Look no further than these Money Gift Boxes! These boxes are perfect for any occasion and can be customized to make the gift even more special.
Gone are the days of simply slipping cash into a card; let's welcome the creative and memorable gesture of a money gift box!
A money gift box, usually filled with crisp euro or dollar bills, presents a unique, exciting, and personalized way to gift money!
Why settle for boring when you can enchant the lucky recipient with this delightful surprise?
Gifting cash doesn't have to be impersonal or dreary.
A money gift box makes the act of giving money much more thoughtful and engaging, as it shows that you have gone the extra mile to make your gift special.
The beauty of this idea is that it can be customized to fit various occasions – birthdays, weddings, graduation, or even business events.
No matter the occasion or recipient, a money gift box is not just a gift, it's an experience that lasts even beyond the moment the box is opened.
Choose to make your gift memorable with one of these curated money gift box ideas.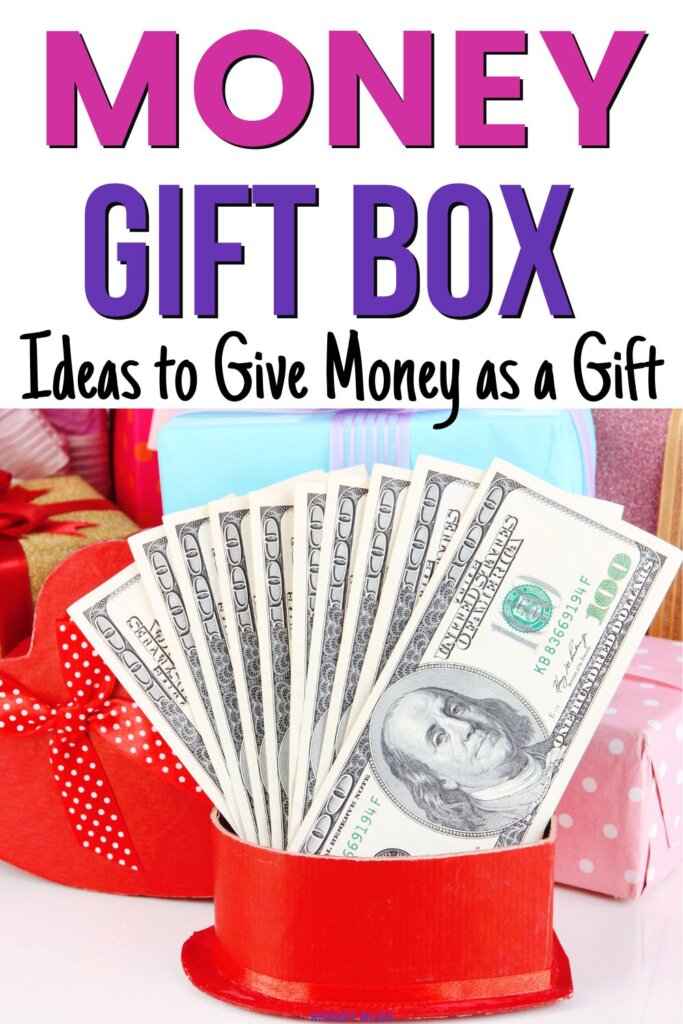 What is a Money Gift Box?
A Money Gift Box is a unique and creative way of giving money as a gift where cash, often in the form of dollar bills assembled and neatly packaged within a gift box.
These boxes are popular gifts for occasions such as weddings, Christmas, birthdays, and other celebratory events where monetary giving is customary.
Money gift ideas are a hot idea and these are unique ways to wrap your cash gifts in an enticing box, creating a true element of surprise or maybe even a puzzle!
How can I surprise my money as a gift?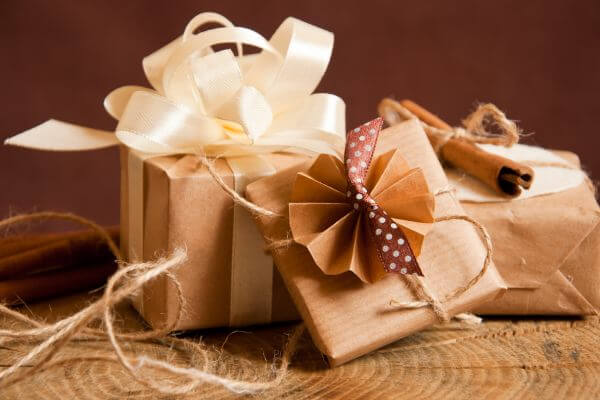 Coming up with innovative ways to gift money can transform an otherwise simple and predictable present into a surprise packed with joy and excitement.
One fantastic method is the money gift box — it's unique, elegant, and speaks volumes about your creative prowess.
The money pull box is not just an exciting twist on traditional greeting cards or money envelopes, but it also allows for personalized notes and heartfelt messages, turning a practical gift into something far more special and sentimental.
This ingenious idea is not only an impactful way to give cash but also easy to accomplish.
Remember, it's the thought, creativity, and effort that transform money—often perceived as a last-minute and impersonal gift—into something unique, intimate, and forever memorable.
Turn that element of surprise up a notch with the money gift box!
This post may contain affiliate links, which helps us to continue providing relevant content and we receive a small commission at no cost to you. As an Amazon Associate, I earn from qualifying purchases. Please read the full disclosure here.
Why Choose a Money Gift Box?
1. You can give money in a creative way.

2. The gift can be customized according to the occasion.

3. Money is a versatile gift that can fit any budget.

4. The gift is easy to make.

5. Money can be given in many different forms, including coins, dollar bills, and more.

6. The gift can be given in various ways, such as in a card box, on a birthday cake, or in an envelope.

7. The gift can be personalized with decorations and other additions.

8. Money can be given in a memorable way.

9. The gift can be given in a way that is relevant to the event.

10. Money can be given in a way that is safe and secure.
How do you put money in a gift box?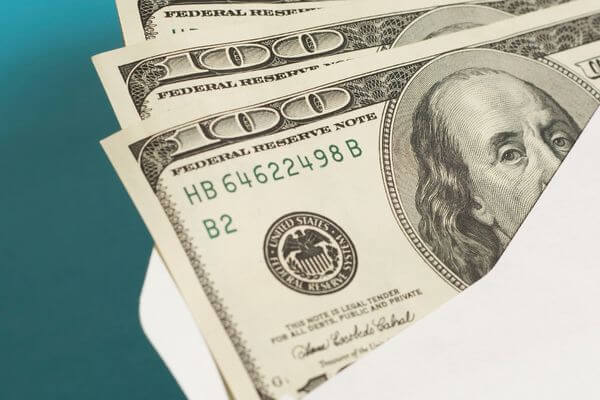 Putting money in a gift box can be a delightful surprise for the recipient. One commonly fun method is to tape dollar bills or Euro notes end to end and roll them up tightly – even easier to use the money dispenser bag.
The rolled-up notes are then placed inside the box, with one end fed through a slit in the box and attached to a tab labeled "pull". This allows the recipient to unravel a long coiled string of money, adding an element of surprise to the gift.
The type, amount, and currency of money can be chosen based on the occasion, whether it's for a wedding, graduation, or birthday.
Learn how much to give for high school graduation.
Money Gift Box Ideas
Jazz up your gift-giving game with a delightful surprise: a money gift box!
This innovative yet straightforward gift is perfect for any occasion, and we bet the recipient will love it.
Perfect for anyone you value, from family to friends. It's an excellent gift for celebrations like birthdays, weddings, graduation, or even anniversaries. Perfect small gift ideas!
We curated the best money gift boxes available and picked our favorites, which we can't wait to share with you!
Money Box for Cash Gift Pull
Imagine surprising your loved ones with a unique, fun-filled cash gift – the Money Box for Cash Gift Pull! Not your traditional presents, this creative and thrilling gift idea redefines the joy of giving.
Tug at the end, and imagine their thrill as they unfold a continuous string of dollar bills.
This money pull box adds excitement, charm, and a touch of suspense to your gift-giving occasions. It combines love, beauty, and utility, making gifting cash a delightful experience.
Expert Tip: Personalize with heartfelt written notes and be generous with the denomination of bills for a more memorable surprise.
Green Money Machine Cash Dispenser
Ditch the mundane envelopes for gifting cash and add a fun twist with the Green Money Machine Cash Dispenser. It is a gift box that turns your cash gifts into an exciting surprise, adding a layer of anticipation to your presents.
We all want a money machine, right? Sounds like a rack of money to me!
The Green Money Machine Cash Dispenser guarantees a gift-giving experience that's both exciting and memorable.
To use it, just attach the pull-tab to the first bill and thread it through the slot on the top of the Money Machine. The card stock box is lightweight making it hassle-free to carry or send through mail.
Made in the USA, this money dispenser doesn't include cash, providing you the flexibility to fill it with your choice of cash amount.
Pink Cash Heart Money Pull Box
Looking for a creative way to gift money? Meet the Pink Cash Pull Box – a unique money gift box designed to add a memorable twist to your gifting moments.
This DIY money pull kit allows you to roll your cash, hide it under the box filler, and insert other surprises like flowers or a gift card. Watch as your loved ones delight in pulling out a cascade of money and gifts – an unforgettable moment!
This versatile gift box features an automatic on/off string light that illuminates when the box is opened, providing an enchanting reveal. It's suitable for multiple occasions such as Valentine's Day, Mother's Day, birthdays, or anniversaries, making it a thoughtful gift idea for your wife, husband, mother, father, or grandma.
Imagine your loved one opening this in anticipation of a small gift, only to continue pulling out surprise after surprise, ending with birthday money – a gift that perfectly blends sentiment with practicality.
Black Money Box Cash Pull
Surprise your loved ones in a uniquely thrilling way with Ribbonbonbox's Black Money Box Cash Pull, a luxurious and unforgettable gift experience.
The black box is elegantly designed, highlighted by beautiful red soap roses and a built-in LED light for an additional extraordinary effect.
Crafted with a durable wooden board and acrylic lid, it's designed for longevity, ensuring the surprise doesn't fade with time.
Optimized for everyone — from life partners and best friends to parents and grandparents — it's a compelling choice for all occasions, from birthdays to anniversaries.
Expert Tip: Add in different types of bills while filling the box, for an extra element of fun when your loved one pulls out the cash!
ThinkMax Money Maze Puzzle Box
If you're searching for the perfect gift that's both exciting and wallet-friendly, the ThinkMax Money Maze Puzzle Box is an excellent choice. This unique gift combines the thrill of a puzzle with the sweet success of a hidden reward, making it an unforgettable present.
The puzzle box offers a fun and challenging way to gift money or small items. Just slide the ball to the top and push the latch to open the box.
It's ideal for teen boys, girls, and co-workers, thanks to its modern design and eye-catching colors. In fact, these are inexpensive gifs for coworkers.
But it's more than just a gimmick – the money maze puzzle box also fosters the development of motor skills, enhances spatial awareness, and strengthens logical thinking.
To make it even more memorable, consider adding a custom message or inserting a specially chosen gift into the box.
Remember, with a touch of creativity, the ThinkMax Money Maze Puzzle Box can be transformed into the greatest gift of all seasons.
Money Puzzle Box for Cash – Solve the Puzzle
Looking for a fun way to give money gifts in care packages for college students? Let me introduce you to the Money Puzzle Box!
This unique gift box adds a thrilling twist to gift-giving by turning it into a captivating adventure. As one of the best money gift box ideas, it's not just a box, it's a rewarding 3x3x3 maze puzzle that stores your precious present inside.
This is a clever cash holder and brain-busting puzzle in one.
Plus gives a delightful challenge to your recipient, improving their spatial awareness, motor skills, and concentration.
3D Escape Game Money Box
Imagine surprising your loved ones with a unique, puzzle-solving gift box experience. How, you ask?
Let me walk you through the marvel of 3D Escape Game Money Box.
Start by acquiring the wooden puzzle escape room game, which doubles up as an impressive gift box.
Upon unboxing, navigate through its various compartments designed to pose stimulating mental challenges.
Once you unravel all the mysteries, find the hidden compartment which is perfect for concealing an assortment of gifts such as jewelry, money, or even a personalized note.
Undoubtedly, this 2-in-1 gift idea holds more than meets the eye. It's not just about the physical treasure hidden inside, but the thrilling adventure in unlocking it.
Happy Birthday Day Money Box for Cash
A happy birthday money box filled with cash makes for a unique and exciting gift.
This creative alternative to placing money in a pull-out fashion offers a colorful and festive way to surprise the birthday person.
The process is simple: dollar bills are taped end to end, rolled up, and placed in a specially designed box. The recipient then pulls a long string of money out of the box, resulting in plenty of smiles and happy surprises.
Above all, the exhilaration of pulling out a roll of cash is an unparalleled experience that makes it the best gift for friends or family who appreciate fun and creativity.
Wooden Secret Puzzle Box
The Wooden Secret Puzzle Box is an innovative and entertaining way to gift money or small presents. With an additional double lock, it creates a mentally stimulating challenge for the recipient, promoting problem-solving skills and increasing brain fitness.
This wooden keepsake box is not just a puzzle, it's an experience.
The excitement of unlocking the secret compartment to reveal the gift inside surpasses the typical present, providing hours of entertainment. These boxes aren't just for adults, children can also enjoy the challenge.
The process to unlock the loot requires some effort but is ultimately rewarding. Tilting the box and navigating the slider right, you'll hit the lock— rewarding patience and logic with the much-desired gift.
Perfect to add to Easter basket ideas for girls.
Confetti Exploding Gift Box
Experience the thrill of giving and receiving with the Confetti Exploding Gift Box – it's not just a gift; it's a party in a box!
Imagine the surprise and laughter as the box explodes with confetti, making for a truly unforgettable gift-opening moment.
This isn't your typical ribbon-tied gift; the box is beautifully crafted in Europe with premium quality materials, ensuring not just a surprise but also a touch of class. It's perfect for everyone – children, adults, or even your colleagues celebrating their work anniversary.
Think about it… who wouldn't love their face sprinkling down with confetti! This gift guarantees not just an explosion of colorful bits but, more importantly, an explosion of emotions.
Remember, this isn't just for the recipient; bystanders will be delighted too, making your gift the talk of the party!
Brain Teaser Wooden Box with Hidden Cash
Introducing the Brain Teaser Wooden Box, an enthralling blend of puzzles, secret stash, and premium craftsmanship. This mysterious box is a fun, engaging, and stylish way to gift cash or other valuables.
Imagine the thrill of gifting a treasure chest that doubles as a mental workout. Crafted from high-quality wood, its intricate design and precise construction make it an impressive gift. Whether it's for men, women, or puzzle enthusiasts, they will appreciate the challenge and craftsmanship.
What's in the box? That's part of the mystery, making it an intriguing conversation starter.
It's more than just a puzzle; it's a secure place to hide valuables or surprise someone with a cash gift.
With its versatility, it can also serve as a chic jewelry box or desk decor.
The journey of unlocking this box is half the fun! Whether you're playing Santa or looking for a unique anniversary gift or boys Easter basket, the Brain Teaser Wooden Box is your exciting solution.
Secret Puzzle Box
Discover a whole new world of excitement and intrigue with the Secret Puzzle Box – an innovative way to gift money or valuable cards. Delight in the thrill of solving a complex mystery as you explore this extraordinary gift box.
Its design combines the addictive challenge of a brain teaser with the thrill of a treasure hunt. It's perfect for adults who relish intellectually stimulating experiences.
You can safely conceal valuable possessions such as cash, jewelry, or gift cards in its lockable compartments. Nothing like sparking curiosity by keeping your gift under wraps!
Constructed with high-quality wood, it boasts an intricate design that showcases exquisite craftsmanship. Apart from being a captivating puzzle, it doubles as a unique jewelry box and conversation starter.
Cake Money Box Transparent Bags
Most of the money gift boxes come with transparent bags to load up your cash in.
However, you may need extra. These are perfect if you decide to make a DIY money gift box as well.
Why is it one of the best? Well, here are some compelling features:
The bag has a size of 3.1 x 7.5 inches, an ideal and manageable size to tuck in your cash gift.
It's constructed from high-quality cellophane plastic; lightweight, reusable, and practically invincible against breaks or deformations.
High transparency ensures your gift is perfectly visible, adding to the anticipation and excitement.
The self-adhesive design simplifies packaging and saves you time.
Plus, it possesses excellent vapor-blocking properties, safeguarding your gift from dust and bugs.
Best for occasions like birthday parties, weddings, and family gatherings, this revolutionary gift idea will surely create unforgettable memories.
Expert Tip: You can use these bags not just for money, but also to include small treasured items or personalized notes to make your gift extra special.
How to make a money dispenser box?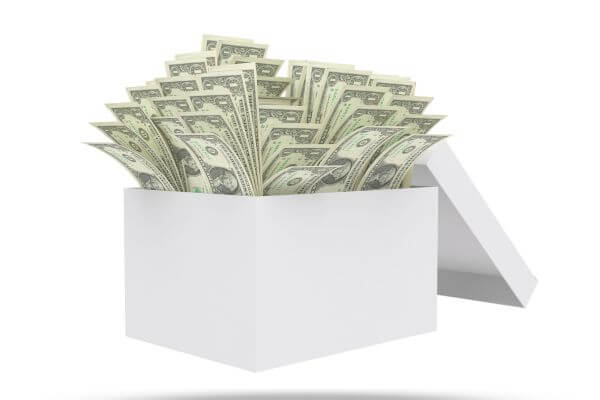 All it requires is taping dollar bills end to end in a long string, rolling them, and neatly placing them inside a beautifully designed box. Add a final touch by attaching a "pull" tab to the end bill, and voila – you've created a delightful and unexpected gift.
Sounds easy, right? Well, it is. It just takes some practice like these money cake ideas.
Consider using this idea for occasions like birthdays, weddings, or graduation celebrations. After all, who doesn't love the sight of cascading cash pulled from an exquisitely crafted box?
Step 1: Choose a Money Gift Box
Opt for a box with a festive allure for birthdays or celebratory events.
The box size and shape determine how much money it can hold and how smoothly it dispenses.
The design showcases your creativity and speaks volumes about the occasion.
Remember, it's not just a gift, it's an experience. If you want to surprise a friend, pick a box that pops with colors.
Your chosen money gift box sets the stage; make it count!
Step 2: Prepare the Money Roll
You're onto a fun-filled step of crafting your own money dispenser box, and preparing the money roll!
This part is crucial, so follow closely.
First, gather your dollar bills. Getting new dollar bills may be a challenge, so make sure you ask your bank first.
Next, neatly insert the dollar bills in the transparency bags. Also, include a few memorable notes.
Then, tape the bills end-to-end or use the small sticky dots. Ensure to connect the bills seamlessly and cleanly to maintain the charm of the constant pull.
Once you've crafted a nice lengthy string of bills, begin rolling. Start from one end and maintain a tight, steady roll until it looks like a small, compact money bundle.
A quick expert tip here – if the roll seems loose or flimsy, don't worry. Tightening it up as you go often helps achieve compactness.
Congratulations, you're one step closer to creating an absolute hit of a gift!
Remember, the joy is in both the making and the giving! Keep up the great work, and let's dive into the next step soon.
Step 3: Make the Boxes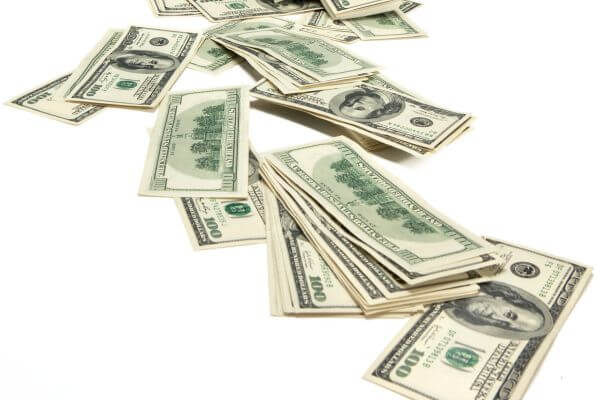 This is where you incorporate the money into the box, effectively transforming it into a thrilling dispenser.
Insert your tightly wrapped roll of money into the gift box. Make sure you leave the pull the money out.
Next, you can add trinkets or other mementos to the box if you prefer.
Make sure to securely tape it, ensuring that it's attached beautifully and strongly.
Step 4: Give Out the Boxes
Now for the fun part! Give your money gift box to the recipient or recipients.
As your friend unwraps the seemingly ordinary gift, the initial confusion transitions into pure delight as they pull out a long string of dollar bills from the box. Their bemused smile and surprised laughter truly makes the effort worthwhile.
Remember, it's not just the monetary value of this gift that matters, but the joyful surprise and the shared happiness it brings.
Get creative with your gift-giving and make each celebration truly memorable.
Which Money Boxes for Gifts are your Favorite?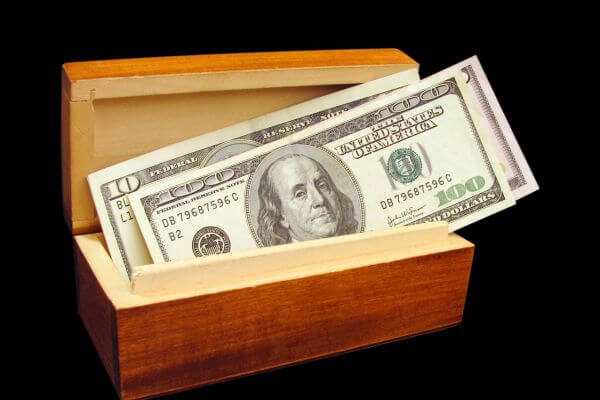 In conclusion, these money gift boxes are more than just vessels – they're tangible expressions of generosity, thoughtfulness, and affection. They instill in the recipients a sense of appreciation and an overwhelming feeling of being valued.
Plus, who doesn't like a little surprising twist with their monetary gift?
Start shopping now for these amazing money gift boxes to make your gifting experience memorable and cherished.
After all, the best gifts are not only about what you give but also how you give them. Perfect ideas for gifts for kids who have everything!
With money gift boxes, you can add that extra personal touch, making your gift more special and memorable.
Filled with surprise and delight, these money gift boxes are sure to impress and leave a lasting imprint.
So why wait? Begin your money gift box shopping now and lavish your loved ones with a gift they'll truly cherish!
Embrace gifting in style with a money gift box! Plus these may work perfectly for a no gift Christmas!