The [Best] 50 Small Gift Ideas for Everyone In Your Life 
Inside: Looking for the best small gift ideas for everyone in your life? Look no further! This guide provides creative and practical ideas for anyone in your life – all under $30!
You need to find a gift ASAP. Yep, that is always me.
Do you know what better way to spread cheer than by giving thoughtful gifts to the people you care about?
But finding the perfect gift can be tough, especially if you're on a budget.
That's why we've put together a list of small gift ideas that are sure to please everyone on your list – without breaking the bank.
So take a look and get inspired!
Your shopping inspiration is here, which means your whole life is about to get a whole lot easier.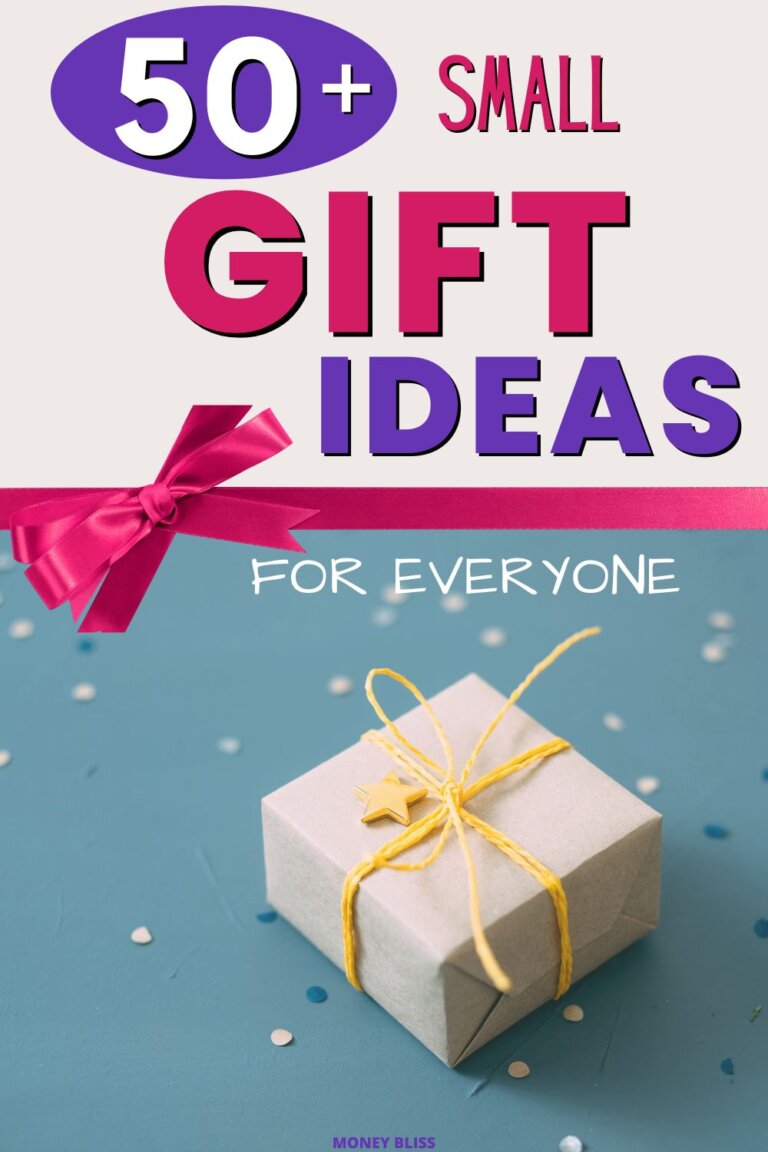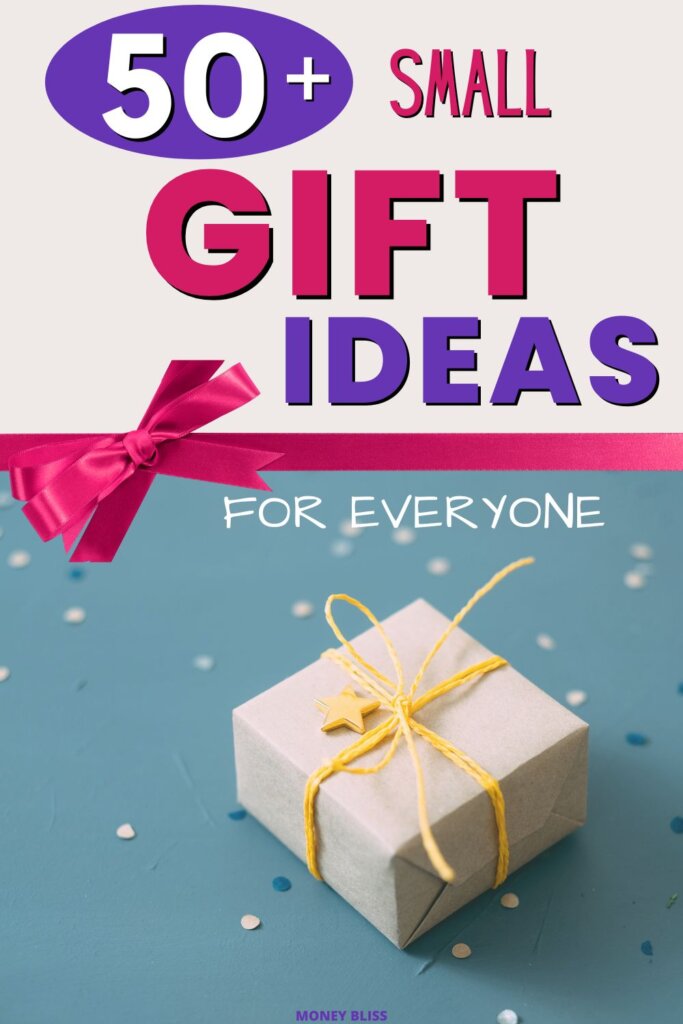 Why Small Gifts Matter
Who says grand gestures are the only way to show you care? Discover the power of small gifting and the incredible impact it can bring.
When you give small gifts, you're not just offering a token item – you're expressing your thoughtfulness in a tangible form.
These gifts, from customized stationery to propagating new plants, prove that it's the personal touch that wins hearts, not the price tag.
So, embark on the amazing journey of small gift-giving.
Tips for Choosing the Perfect Small Gift
1. Know the recipient
2. Think creatively
3. Research gift ideas
4. Consider budget constraints
5. Think about the recipient's interests
6. Look for gifts that are useful
7. Consider the recipient's lifestyle
8. Think about whether the gift should be practical or fun
This post may contain affiliate links, which helps us to continue providing relevant content and we receive a small commission at no cost to you. As an Amazon Associate, I earn from qualifying purchases. Please read the full disclosure here.
Small Gift Ideas for Everyone In Your Life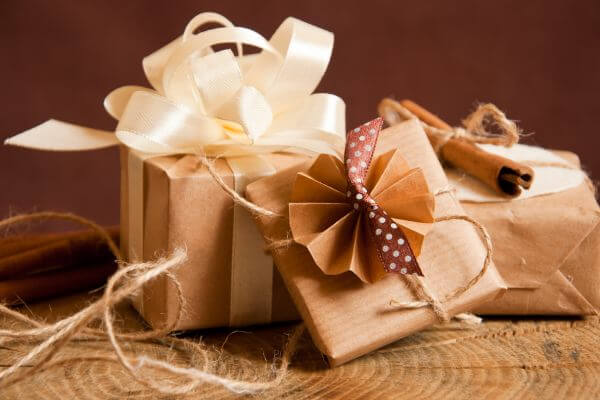 It is the season of giving and what better way to show your loved ones that you care than with a small, thoughtful gift.
You want something more than just a cheap Christmas gift.
We've rounded up over 50 different gift ideas for every person on your list — all for under $30.
1. Personalized necklace
A personalized necklace makes a fantastic small gift because it shows thoughtfulness and an understanding of the recipient's style.
It's an intimate and fashionable present anyone would be thrilled to receive.
When selecting the perfect personalized necklace, look out for quality materials, like 14K white gold, which offers durability and elegance.
Ensure the provider can engrave in a style aligning with the recipient's preferences and always check reviews before buying.
2. Bath bombs
Bath bombs make superb small gifts to both surprise and delight. Their unique features uplift moods, promote relaxation and offer a spa-like experience at home.
Look for bath bombs made with essential oils and ingredients like shea butter that nourish your skin.
With their fascinating ability to fizz and dissolve, bath bombs turn a regular bath into a captivating spectacle. Plus, some bath bombs even contain surprises like necklaces inside – that's two gifts in one!
They promote self-care. Perfect for your workaholic friend, or perhaps for indulging in some me-time. You're not just gifting a bath supplement, you're gifting relaxation and rejuvenation.
Expert tip: Set the mood with a soy wax-scented candle for a complete home spa experience.
3. Monogrammed tote bag
A monogrammed tote bag is an excellent gift idea for your eco-conscious friends, family, or colleagues!
With an appealing monogram, it turns a simple utility bag into something uniquely theirs, making this small gift highly personalized.
Honestly, the prices to personalize a tote bag have come down a lot, which makes it an affordable option! Yet a high perceived value due to the monogram personalization.
Also, consider the functionality – a tote with multiple compartments would be greatly appreciated by someone who likes being organized.
4. Infused Tea Bottle
Are you searching for the perfect little gift that screams thoughtfulness and innovation? Look no further than the Infused Tea Bottle!
This unique present has universal appeal, making it an excellent choice whether you're shopping for a seasoned tea connoisseur, a hydration enthusiast, or someone constantly on the go. This is true as I received one as a gift a few years ago!
The Infused Tea Bottle revolutionizes tea consumption in a playful, convenient way. It combines functionality with chic design, guaranteeing enjoyment and use for whoever receives it – we're talking exquisite taste with each sip!
Expert tip: Present the Infused Tea Bottle gift-wrapped alongside a selection of their favorite teas or a new blend to try.
5. Motivational Calendar
Motivational calendars have become one of the most sought-after small gift ideas. These handy gifts are more than just a way to track date and time, they are influencers of positivity that brighten up each day.
Each day features witty, uplifting messages that are meant to inspire and boost morale.
This gift appeals to everyone, from students juggling homework to professionals managing work assignments.
According to research, a constant stream of positive money affirmations increases happiness and reduces anxiety.
In a nutshell, a motivational calendar is a gift that keeps on giving, as it provides a year-round dose of positivity and inspiration. It's a perfect small present that undoubtedly leaves a big impact.
6. Frother
Why stop at the joy of gifting when you can make everyday mornings captivating with a milk frother?
A frother isn't just a delightfully compact gift, it's a ticket to creamy coffee shop beverages at home! I can attest because I own this brand of frother!
The PowerLix Milk Frother can whip up foamy lattes, and cappuccinos at will, bringing the café experience to their kitchen counter.
The best part? It's suitable for anyone, from busy professionals to cozy homebodies, making it a perfect practical present.
Expert Tip: Choose frothers like PowerLix which has been ranked the best overall in industry guides – this ensures high-quality frothing that adds the ultimate froth to the preferred drinks.
7. Skin Care Gift Set
Imagine the delight on your loved one's face when they unwrap a Skin Care Gift Set.
More than a token of appreciation, it offers an invitation to self-care, indulgence, and rejuvenation. The Skin Care Gift Set is a stellar product due to its 100% natural composition, promoting skin hydration and healing.
Additionally, remember to choose a set that matches the recipient's skin type for the best experience.
Pro-tip: Pair it with my favorite lip balm for those battling dry lips.
8. Personalized Mugs
Add a little zing to someone's morning routine with a personalized mug! These small, practical gifts are fun and customizable, and bring a touch of joy to every sip.
Personalized mugs are like a blank canvas – they can feature personal photos, favorite quotes, or unique designs.
A trending variant is the color-changing photo mug, offering a surprise with every hot beverage poured!
Expert Tip: For the ideal mug, consider the recipient's tastes – a travel mug for the globetrotter or a smart mug for the tech whizz who likes their drink at that "sacred temperature".
9. Neck and Back Massager
Imagine your stress dissolving away with the perfect gift – a Neck and Back Massager!
This little warrior won't just offer you relaxation, but it will also work magic on your body's knots and tensions. Our house can attest to this!
Do you know those annoying muscle knots in your neck or that lingering shoulder ache? This handy gadget specializes in kneading them out, soothing your thighs, calves, back, and even your tired feet.
After a long day, it's all you'd need for a luxurious spa-like experience, right at home.
Pro-tip: Before buying, check reviews and ratings, ensuring a reliable brand stands behind the product. Don't compromise on quality for the sake of price.
10. Embroidery Kit
This is an enchanting little present perfect for anyone who appreciates a hands-on crafting project. This embroidery kit is a phenomenal way to tap into your friend's creative side – or perhaps inspire new hobbies.
It's affordably priced at just $20, making it a cost-effective choice for gift-giving occasions.
It comes with all the essentials for a beginner to start their embroidery journey.
11. Silk Pillowcase
Want to truly spoil someone special and upgrade their everyday routine? Gift them a Silk Pillowcase, and they'll thank you every morning. This isn't just a luxury item, it's a practical, affordable, and thoughtful gift idea for nearly everyone.
It's made from organic mulberry silk, offering a cool, gentle touch on the skin and hair. This feature battles against the friction that can lead to hair breakage and skin irritation.
With 36 colors to choose from, you can find the perfect match for their bedding.
It's ideal not just for beauty enthusiasts, but also for anyone who values a good night's sleep.
An added bonus? No more pillow lines on the face! So, why not transform their sleep into a beauty treatment?
12. Throws
Throws make incredibly thoughtful, versatile, and affordable small gifts! Whether it's a cozy night in or a well-deserved nap, a throw is always right by your side.
The best way to give someone a hug and comfort in a gift.
Nothing else makes snuggling up and staying in as delightful as a comfy, neutral throw. Throws offer practical functionality as an added layer of warmth while reading a book, enjoying a movie, or just cozying up on the couch.
Also, you can pick up these waterproof dog blankets for couch protection!
Word of Mouth Tip: These burrito blankets are a hot commodity! My friend had to buy one for each family member, so they stopped stealing hers!
13. Multitool Pen
The Multitool Pen is incredibly handy and brimming with useful functions, making it the ultimate choice for a practical and astoundingly innovative present.
Imagine gifting not just a quality ballpoint pen, but an entire toolbox cleverly concealed within it.
No need for eye-rolling at the cliché of a 'pen as a gift' – this pen doubles as a powerful flashlight, a glass breaker, and a trustworthy self-defense tool.
Its compact size means it can easily be tucked away in a pocket and carried anywhere. Now that's what we call functionality at its finest!
14. Miniature craft kit
Are you looking for a unique and delightful gift idea? The miniature craft kit is a wonderful choice that promises big fun in a small package! This nifty little craft kit is tops because it allows the recipient to explore their creativity and craft intricate, tiny masterpieces.
It's perfect for individuals who love DIY projects or are trying to cultivate a new hobby.
Ideal for those with a fascination for all things miniature!
Great for busy bees as it gives them a quick, satisfying project without the daunting commitment of larger crafts.
Give the gift of fun, creativity, and tiny magic with the miniature craft kit.
15. Jewelry Sets
Jewelry sets are the perfect go-to for small gifts! They're chic, customizable, and can be surprisingly affordable, creating an immediate wow factor.
The contained items like necklaces, earrings, and rings come beautifully packed, eliminating any worries about tangled jewelry.
You can find delightful jewelry set options under $20.
Nothing says thoughtfulness like gifting a loved one a jewelry set that perfectly complements their unique personality.
16. Cold Brew Coffee Maker
Looking for a nifty gift that delivers incredible value? The Cold Brew Coffee Maker is your perfect pick!
This budget-friendly marvel saves hundreds of dollars per year on iced coffee, making it an ideal gift for coffee lovers.
Perfect for those who can't start their day without iced coffee or are stuck with room-temp beverages, this cold brew maker can chill any hot beverage in under a minute.
Gifting this is like serving up savings, convenience, and satisfaction in one delightful package. Now, who wouldn't love that?
Expert tip: Choosing a cold brew coffee maker comes down to capacity and convenience. If your gift is for a frequent coffee drinker, go for the two-quart option for sure!
17. Miniature Art Kit
Are you tired of finding bulky gifts? These miniature art kids are compact and creative present allowing the recipient to explore their artistic side wherever they are.
It's best for art enthusiasts, frequent travelers, and small-space city dwellers looking to express their creativity without occupying too much space. Personally, I just picked up coloring cards for the car.
Small in size, but it doesn't compromise on content, which makes it an ideal present for someone who loves art yet prefers a minimalistic lifestyle.
18. Plant Terrarium Kit
Imagine gifting a miniature world that brings nature indoors and thrives with minimal effort. That's exactly what you can do with a plant terrarium kit, a unique and exciting small gift idea.
This kit is a genius solution for friends who love houseplants but lack the proverbial green thumb. It's a low-maintenance ecosystem that can house succulents, air plants, or even hydroponic plants.
Ideal for eco-enthusiasts, busy folks, or apartment dwellers, it offers a soothing touch of greenery that requires little to no fuss.
But what makes this terrarium kit stand out is its affordability.
19. Scarves
Enthralling for their multifunctionality, scarves translate as thoughtful, fashionable, and highly practical presents.
Available in a spectrum of sizes, colors, and materials, a scarf can brighten up any outfit, keep you warm during chilly weather, or serve as an additional accessory on a handbag. Perfect as a gift for both men and women, a scarf satisfies an array of individuals and occasions – from a casual meeting to a formal event.
When choosing a scarf, focus on its quality and softness, as well as the personal style of the recipient.
So next time you're tackling gift-giving, remember that a high-quality scarf isn't just an accessory, it's a statement.
20. Travel Jewelry Box
Looking for a practical yet stylish gift? Surprise your dear one with a Travel Jewelry Box—a true travel game changer!
This case, lined with soft microsuedes, securely holds their valuable necklaces, earrings, and rings, completely eliminating the annoyance of tangled jewelry. Plus, for an added personal touch, this case can be monogrammed.
One of the popular travel essentials for women!
This is perfect for traveler who likes to bring their jewelry with them but wants to avoid damaging it or losing it in their bag.
21. Throw Pillows
Throw pillows make an exciting and personalized small gift idea! They are not only aesthetically pleasing but also functional, versatile, and customizable, making them a top choice for gifting.
Throw pillows can instantly add a spark of joy to any home's decor. Plus it is an item someone may not spend money on themselves.
They are delightfully comfortable, perfect for those cozy snuggle sessions or much-needed power naps.
Pro Tip: You will need to buy these throw pillow inserts and pillow covers separately!
22. Zen Garden
You've surely heard about Zen Gardens, right? These are compact, tranquil spaces filled with items like sand, stones, and small figurines, enabling you to harness your inner zen in the most serene way.
A Zen Garden is an incredible small gift idea that will thrill the recipient with its charm and functionality.
Zen Gardens boosts mindfulness and reduces stress while bringing tranquility to everyone.
This makes a Zen Garden a perfect gift for anyone seeking calm in their chaotic life.
23. Tie Dye Kit
The Tie-Dye Kit is a fantastic and budget-friendly gift for anyone who loves a creative project. This gift opens the door to hours of fun and experimentation with fashion trends.
With this tie-dye kit, not only can the recipient create their unique tie-dye clothing, but they can make any clothing item more vibrant, turning an old wardrobe into a trendsetter.
This creative kit is perfect for aspiring fashion designers, creative adults, and anyone interested in adding a pop of color to their attire.
24. Cocktail Party Conversation Starter Items
If you're looking to branch out with your gift-giving, giving conversation starters can be a unique and thoughtful option.
These sets usually include a collection of interesting, thought-provoking questions designed to spark interesting conversations. This is especially ideal for those who enjoy meaningful, deep conversations or for someone getting to know people.
These delightful items not only serve as wonderful gifts but also as conversation starters, infusing fun into every gathering. Perfect to give the hostess of a party!
25. Scented candles
Can you resist the soothing aromas ranging from refreshing eucalyptus, sweet French vanilla to uplifting citrus-mint? Absolutely not! And let's get real: everybody loves a scented candle.
Scented candles are the all-rounder gift that just keeps giving! With their delightful fragrances and mood-enhancing ambiance, they're undoubtedly an exciting and thoughtful mini-present.
No matter your budget, you can find a quality aromatic candle, some even under $5! Plus, with stunning packaging that often surpasses its price point, your gift will look more plush than it costs.
Insider tip: Choose soy-based candles for a healthier and cleaner burn, without any airborne chemicals.
26. Journal
Imagine the joy of gifting a perfectly versatile and thoughtful present like a journal! The beauty lies in its myriad uses, from jotting down thoughts to planning daily tasks.
A journal takes the gifting experience up a notch. It's a win-win, whether your friend is a seasoned journaler or a newbie exploring mindfulness.
Fancy something more meaningful? Opt for the Five Minute Journal or The Gratitude Journal. They can easily fit in a bag and offer a delightful way to reflect on blessings twice daily.
For the globetrotter friend, choose a travel log book. Documenting adventures becomes a breeze, while also sparking joy!
Don't underestimate the value of an exceptional pen to pair with that journal.
Remember, the best journals are those that cater to your friend's unique interests and lifestyle.
Expert Tip: Consider buying a set of mini journals, maybe paired with a cute pen that can be divided up. That's four times the happiness!
27. Decorative Ceramic Bowls
Decorative ceramic bowls serve multiple purposes and can greatly enhance the aesthetics of any home.
Apart from being a holder for various items, they can act as an appealing centerpiece on your dining table, or even hold fruit in an organized and fashionable manner.
Purchasing decor items like ceramic bowls as a gift can be an excellent way to spruce up a living space by bringing a touch of nature indoors.
Expert Tip: When picking ceramic bowls, consider the recipient's style and choose a neutral color or pattern that will blend seamlessly into their decor.
28. Jewelry Box
There's nothing as frustrating as tangled necklaces and misplaced earrings. Save the day for that special someone with a Jewelry Box!
This elegant little essential is the perfect gift for anyone who loves their bling. It's not just a random storage box, it's a secured home for their precious jewelry.
So, why not give a gift that keeps on giving? Make every day a little less tangled for your loved ones. Embrace the joy of organized jewelry today!
29. Lip Balms
Do you know that awesome feeling when you find a lip balm right when you need it? That's why lip balms make a fantastic small gift idea!
They're perfect for everyone, especially those living in cooler climates, who routinely reach out for a lip treatment.
Lip balms offer a plethora of features: infused with enriching ingredients like Vitamin E and green tea, they provide vital nourishment to your lips.
Items like the Jack Black Intense Therapy Lip Balm Trio offer SPF protection apart from lip treatment, making them doubly beneficial.
Brands like TonyMoly even offer mini fruit lip balms that are fun and delicious, perfect for the beauty aficionados in your life.
For a luxe touch, opt for Julep Tinted Lip Balm. They add a natural matte finish color to your lips while hydrating them.
Expert Tip: While choosing lip balms look for those which do double duty, such as offering SPF protection or double as a lip color.
30. Bath Soaps
Bath soaps make the perfect little gift, bringing joy and relaxation to the daily routine. Loaded with delightful fragrances and skin-loving ingredients, they offer a touch of luxury in a practical package.
Bath soaps are packed with features that lift them beyond the ordinary. Some boast essential oils and shea butter for extra moisture and an aromatherapy boost, while others deliver a fun surprise, like a hidden necklace. There's always something unique to discover!
Ideal recipients for bath soaps are friends in need of some self-care or those who relish a bit of pampering. Even your hard-working friend with dry hands from frequent washing would appreciate a nourishing soap. These small treasures can help turn regular baths into rejuvenating spa experiences.
Expert Tip: When choosing bath soaps as a gift, consider the recipient's preferences for fragrances and skin benefits.
31. Cards and Stationery
With a personalized touch and the analog delight of handwritten notes, these stationary sets weave the sweet charm of nostalgia. And the trend of handwritten notes is making a comeback.
Gifting someone their very own monogrammed notebook adds an intimate, bespoke dimension. Each cover radiates with uniqueness, enhancing the joy of unwrapping.
Stats show that handwritten notes are prized treasures, especially for parents compiling fond memories.
32. Outdoor Accessories
Outdoor accessories are perfect gifts that combine practicality and fun, a delightful surprise for those who love the great outdoors. They offer a unique touch, proving you know and care about what the recipient loves.
These handpicked items are not just gifts, but experience enhancers. They transform simple outdoor activities into adventures while catering to various interests – from camping to cycling.
Expert Tip: Look for items that serve a practical function, enhance the outdoor experience, and speak to the person's unique outdoor interests.
33. Cocktail Napkins
Who doesn't love a gift that will boost their hosting game? Cocktail napkins, my friend, are a small gift with a big impact!
These small wonders are not just functional; they are adorned with conversation-sparking icebreaker statements that take a mundane dinner party to a whole new level of fun. They come in multiple sayings.
Know a friend who adores hosting or a new neighbor who could use a charming housewarming gift? This is perfect for them!
34. Personalized Blankets
Thinking of a memorable gift for your loved ones? Let personalized blankets come to your rescue!
Custom throw blankets are the perfect way to express your affection, truly wrapping your loved ones in warmth and cherished memories.
They come with the dual benefit of showcasing your thoughtful gesture and offering cozy comfort, making them more than just a decorative item.
Expert Tip: Choose your photos mindfully, ensuring they're of high resolution for the best results. Or pick a monogrammed writing.
35. Coasters
Looking for a charming and handy gift? Consider coasters – the foolproof small present that's both practical and impressive.
Coasters, seen as a touch of glamour in décor, can also be a statement about your creativity.
This is a great gift that will be used over and over! Go ahead and give a gift that is as practical as it is beautiful.
36. Diffuser
A diffuser makes a delightful small gift idea that not only energizes their space but also soothes their mind and body. Gifting a diffuser shows thoughtfulness by contributing to the recipient's wellness.
The diffuser is compact – perfect for an unobtrusive presence in their living area or workstation. It uses fragrant oil blends, which you can gift along. These blends bring a hint of aromatherapy right into their room, helping to invigorate or relax depending on the blend.
The beauty of a diffuser lies in its versatility allowing customization of the fragrance to fit the mood or time of day.
Expert Tip: When selecting oil blends to accompany your diffuser gift, consider lavender for relaxation or citrus blends for an uplifting, energetic atmosphere. The beauty of a diffuser lies in its versatility allowing customization of the fragrance to fit the mood or time of day.
37. Cooling Fan
Looking for a unique and functional gift? A cooling fan is a top choice! It's bladeless and designed to rest comfortably around your neck, offering a cool escape from the heat while keeping your hands free.
Perfect for those dealing with hot flashes, on medication, or simply enduring a hot day.
It operates with a quiet motor, ensuring you're not distracted by noise.
This little lifesaver can make a huge difference to someone's daily comfort, and it's not something many would think to acquire on their own.
38. Lotion
Are you ever stuck trying to find the perfect small yet thoughtful gift? Lotion hits the sweet spot! It's practical, and luxurious and can offer a sensory retreat with just one swipe with a lotion gift set.
It's a versatile present, ideal for both men and women. Especially beneficial for folks in cooler climates where skin tends to dry out, or those clean-freak friends who are constantly washing their hands.
Turn a simple everyday routine into a moment of pampering with a good lotion! It's the gift that keeps on moisturizing.
39. Books
There's nothing more exciting than the gift of a book! It's a small present that holds an entire world inside just waiting to be discovered.
Books make the perfect small gift because they offer a wide assortment of topics – be it technology, fitness, gardening, cooking, or travel, and they are available in a range of prices, with options even under $10.
Even better check out this newly curated life changing books list!
They hold the ability to touch hearts for they can be customized and personalized, telling your friends and family that you truly know and understand them.
For the wanderlust-struck friends, a Kindle Unlimited Subscription or Audible would be a spot-on gift, ensuring they can travel with their favorite tales.
40. Slushie Maker Cup
Looking for the ideal gift that brings year-round refreshments? The DIY slushie maker cup is an unbeatable choice.
It simplifies creating a cold and delightful treat – any time you want it.
Just freeze the cup for four hours, and it's ready to transform your favorite drinks, like orange juice, into a slushie. Whether they're kids or adults, anyone with a love for chilled treats can use it with ease.
41. Artwork
Artwork gifts are perfect for loved ones, art enthusiasts, and anyone who appreciates creativity.
When selecting art as a gift, consider the receiver's style and preferences. This will be one of the harder presents to buy for someone.
Art reflects individual personalities, tastes, and preferences. It makes the receiver feel known and appreciated.
42. Shower Steamers
Shower steams offer an amazing and easy way to gift the power of aromatherapy. These small but powerful tablets are packed full of aromatic essential oils that transform your shower into a revitalizing at-home spa.
As the steam from the shower interacts with the tablet, it releases a fragrant mist that can help to alleviate stress, promote relaxation, and rejuvenate the mind and body.
Shower steams can be especially useful for those who don't have the luxury of a bathtub to enjoy a bath bomb but still want to enjoy a similar experience.
43. Stress Balls
Stress balls are practical aids that help you manage stress throughout the day. They are small enough to fit in the palm of your hand, making them perfect to keep on your desk or in your pocket.
Stress balls help you channel your stress and anxiety instead of externalizing it on people around you. This makes them a great coping mechanism in high-tension situations.
Using a stress ball isn't just beneficial for your mental well-being; it also strengthens your wrist and hands. This can be especially beneficial to people with arthritis, enabling them to perform hand exercises that can alleviate pain.
44. Game Night
Game night gifts make for fantastic presents that cater to everyone, regardless of their interests, age, or relationship to you. They offer an exciting opportunity to unwind, bond, and create memorable experiences with those important in your life.
They can range from traditional board games, engaging card games, or interactive trivia sets; making them perfect for friends, family members, or even as party tokens.
Make sure to check out the latest popular games to know you are buying the right gift.
45. Kitchen Gadgets
Looking for those perfect small yet thoughtful gifts that enhance daily cooking experiences? Consider kitchen accessories!
These practical utensils not only solve common kitchen challenges but also add a dash of style, making them the perfect pick for gifting.
Also, prioritize dishwasher-safe and durable items for enhancing everyday convenience.
46. Grilling Accessories
Are you looking for an exciting small gift idea for the BBQ lover in your life? Consider grilling accessories for their smokey, flame-grilled endeavors.
Grilling accessories indeed make an exceptional gift for any grill enthusiast. They enhance the grilling experience and even transform winter into a BBQ season.
These grilling accessories are perfect for anyone who loves BBQing, not just during summer, but all year round.
Expert tip: When choosing grilling accessories, prioritize items that are multifunctional, resilient to high temperatures, and easy to clean.
47. Travel Accessories
There's nothing like a thoughtful and practical gift that points to on-the-go adventures. These items make great gifts because they enhance the traveling experience and come in handy when least expected.
Remember, the best travel accessory gifts are practical, compact, and add joy to the journey. Give your loved ones the gifts they never knew they needed, but won't travel without again!
48. Subscription
Gifting a subscription service is a terrific way to show your thoughtful side, as these seemingly small gestures provide long-lasting entertainment and joy.
From bookworms and film aficionados to coffee aficionados and travelers, there's a subscription out there to delight everyone.
The Kindle Unlimited membership, priced at $11.99/month, enriches the reading experience with access to an extensive library of books.
An Audible membership is perfect for someone who enjoys audiobooks.
Paramount+ subscription delivers an endless stream of shows and movies
Atlas Coffee Club is an excellent choice for coffee lovers, offering unique brews from around the world via monthly or bimonthly deliveries.
Do a little sleuthing to find out if they already have a subscription or if there's one they wish they had.
Remember, the magic of gifting a subscription service lies not only in the thought but also in the continuous delight it brings your loved ones.
49. Flowers
This delightful act of kindness is always cherished and never goes out of style.
So, why are flowers the universal gift you ask? One word is versatility.
They can range from plentiful bouquets to petite blossoms, ensuring there's something for every budget and occasion.
Plus they can easily spruce up any home decor by adding a touch of natural beauty and fragrance.
50. Gift Card
Gift cards are the ultimate answer to your gifting concerns when you're unsure what to pick!
They provide a practical and personal avenue for the recipient to enjoy your present.
With the ease of Visa Gift Cards, your loved ones or colleagues can choose what they want from their favorite store or restaurant. This ensures your gift won't be stashed away in a closet, unused, or unappreciated.
Remember, the gift of choice is a priceless one and a gift card offers just that. Here are more money gift ideas for you!
What are examples of thoughtful gifts?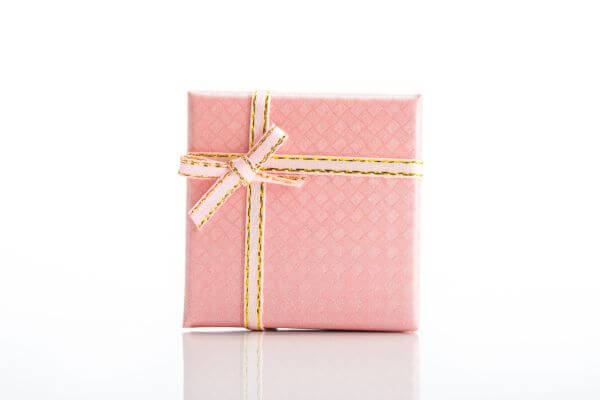 Examples of thoughtful gifts are ones that show you were paying attention to the person and what they like.
For example, a gift card to their favorite restaurant, tickets to a play they've been wanting to see, or a book by their favorite author.
You want a personalized gift that is tailored to the recipient's interests or a unique or hard-to-find item that the recipient would appreciate.
You could always look at experience gift ideas as well.
Plenty of ideas for Small Gifts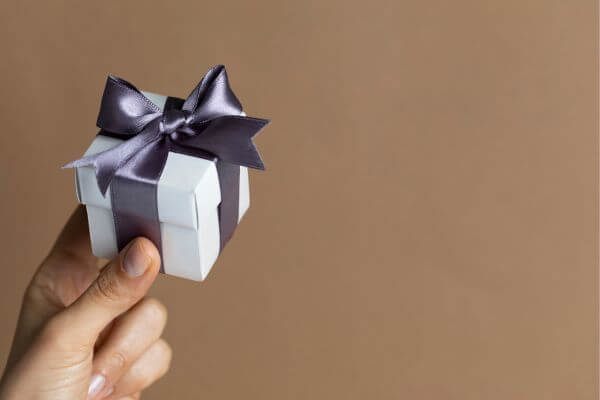 Excited to discover the perfect small gift ideas that will bring joy and utility to your loved ones? This guide has simplistically curated a list of unique, affordable, and pleasing items that will help to express your gratitude and make any occasion special.
Remember, when choosing small gifts, focus on usefulness and quality rather than size.
Consider the recipient's interests and preferences, trusting in the fact that beautiful and memorable things often truly do come in small packages!
You are guaranteed to walk away with the perfect small gift!
Find specific small birthday gift ideas!