Epic Frugal Christmas Ideas with No Money or Very Little
Inside: These festive money saving ideas you need to have a magical frugal Christmas! Rediscovering a Christmas with no money is still possible with a little bit of planning, fun, and creativity.
Just like throughout the year, the word frugal can have a bad connotation. When you put the two words together – Frugal Christmas, most people think of a sad holiday with no joy or excitement.
However, just like with a frugal lifestyle, being frugal means you are looking to stretch your dollar to the fullest.
A frugal Christmas means to be economical with the spending of your Christmas funds. You prudently set money aside for Christmas ahead of time, but remember your overall money goals. When it is time to buy Christmas gifts and decor, you are not wasteful with your money and make your money go further.
Everyone's level of frugality is different.
The same holds true at Christmas. Your frugal Christmas will look different than your neighbor's or a friend's. There is no reason to trap yourself in a comparison mode.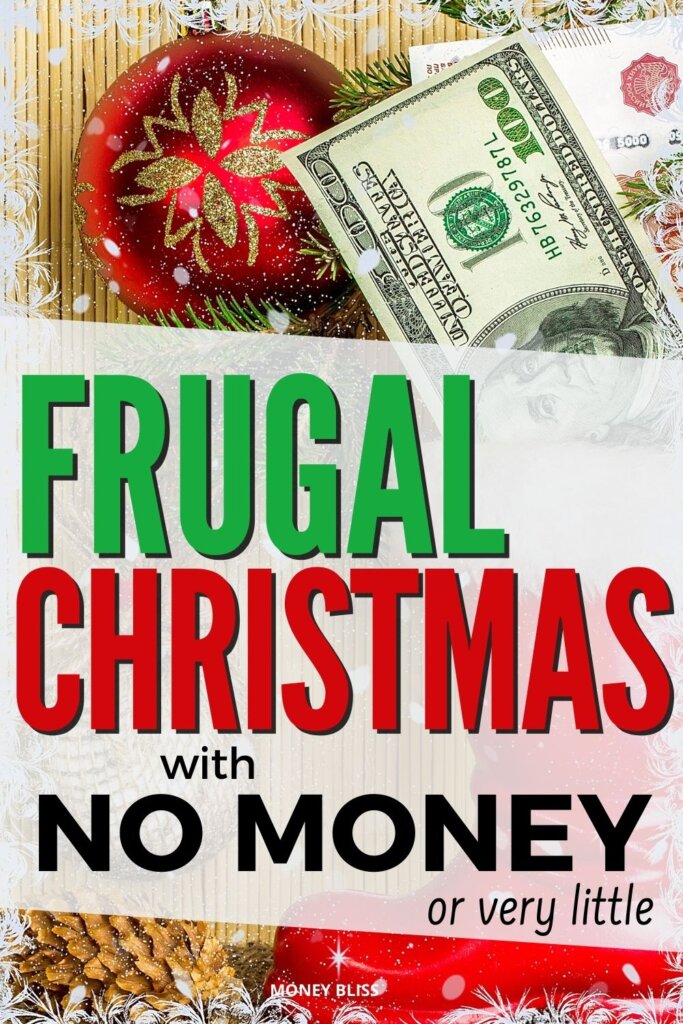 Why a Frugal Christmas Traditions Matter?
If you are looking at Christmas with no money, don't despair! There are plenty of money saving tips in this post to make sure you still enjoy a festive season.
If you want to stay on course to pay off debt or reach FI, then a frugal Christmas would be part of your innate nature to do. You just need some frugal living tips related to Christmas.
You can create a magical frugal Christmas.
More importantly, these frugal money saving ideas for Christmas will help you stick with your budgeting goals and lower your stress level.
This post may contain affiliate links, which helps us to continue providing relevant content and we receive a small commission at no cost to you. As an Amazon Associate, I earn from qualifying purchases. Please read the full disclosure here.
How to Survive Christmas with No Money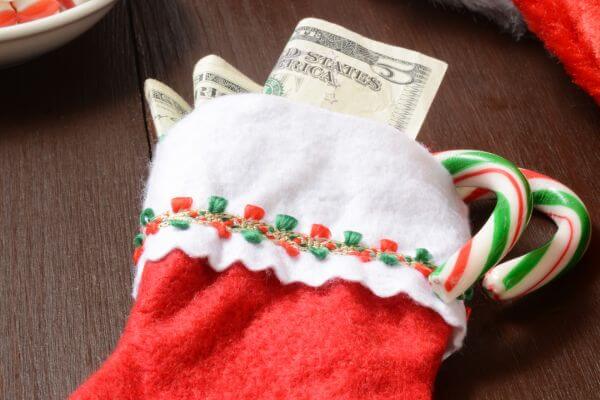 Before we just into the Christmas frugal living tips, let's discuss the big elephant in the room… what if you can't afford Christmas gifts?
First of all, that is an unfortunate circumstance that you are in right now. I say "right now" because you have the power to dictate your future.
And it all starts with your mindset… you are focused on surviving Christmas with no money.
Not the fact that you are surrounded by your loved ones. With the chance, to enjoy time together, laugh together, create traditions, and make memories.
That is what Christmas is about.
So, before you move forward, you need to change your mindset. Your current money mindset is focused on having no money, being poor, and being broke.
If you want to change your financial future, then it all starts with your thoughts consuming your mind.
Start with writing down three positive things that happen in each of your days. Make sure one of them is related to money.
Frugal Christmas Tips & Money Saving Ideas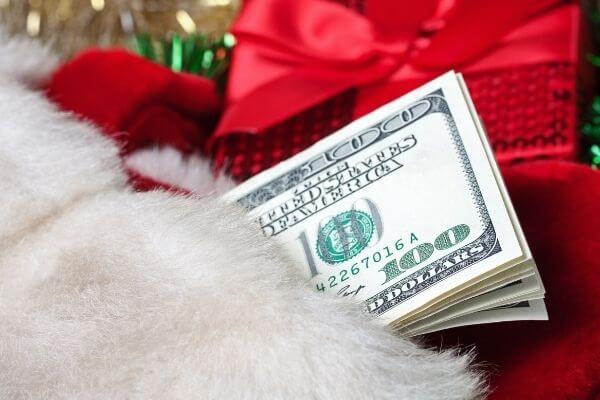 Okay, now, we are going to dig into specify ways to make a frugal Christmas a reality.
These are frugal traits that will improve your money management throughout the holiday season, but you can also start to carry these over to all aspects of your life.
To keep in the spirit of Christmas, let's dig in and learn how to create a frugal Christmas that won't leave you broke!
1. Focus on the Important Things
When you make the conscious decision to become more frugal, your center of attention is on the bigger picture.
For a frugal person, they view Christmas as part of a bigger puzzle. Their spending at Christmas needs to align with their money goals and desires.
This is the point when you must ask yourself the hard questions… Would you rather stay on track to pay off debt faster? Keep on saving money so you can take some time off next summer.
These are where you decide what is important in your life.
Just to be clear, I am not saying Christmas isn't important because it definitely is. I am saying the Christmas that has been defined in our culture that focuses on gifts may not be the overarching focus of Christmas.
2. Plan to Spend Half of "Normal"
Did you know most people plan to spend an AVERAGE of $800-900 on Christmas?
For most folks, that will break any budget with a lot of debt hangover coming in January.
Challenge yourself to a Frugal Christmas of $400 or less.
When you create your frugal Christmas budget, plan to spend half of what you did the previous year. Don't know how much you spent previously, then stick to the $400 or less.
If you are tempted to overspend, then set your budget at $200.
Now, you need to use Christmas budget template to plan your gifts into your budget.
3. Make Your Frugal Christmas Plan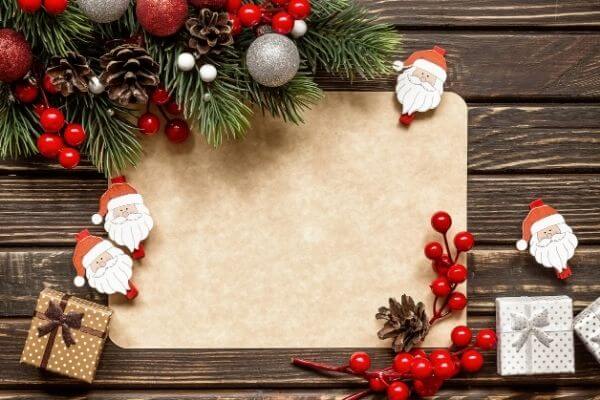 Now, that you know how much you can spend on Christmas, you must make your budget line up with your gifts, Christmas decors, parties, etc.
This step is often overlooked and we typically fly by the seat of our pants.
However, one of the best money management tips is to plan how you will spend your money before you start spending anything!
In our free printables areas, we have worksheets and spreadsheets to help you.
Also, this is the chance, to be honest with friends and family about your desires for a frugal or no money Christmas. You have the time to plan a no gift holiday, gift exchange of unwanted items, etc.
4. Ask Around for Gifts
Oh my goodness! This is seriously my favorite money saving idea all year round.
Ask around and see what others don't want anymore.
Another man's trash is the next man's treasure.
A recent example in my life… Someone posted in our NextDoor group that they were looking for fly fishing equipment. I politely responded that once the original poster got what they needed I would be interested in anything leftover since my hubby took up this hobby. A neighbor messaged me and we got a bunch of fly fishing equipment for a fraction of the price.
You can always find Christmas decorations and maybe even gifts for no money.
Don't be afraid to post in Facebook groups or NextDoor. Search Craigslist or thrift stores. You will be AMAZED by what people are happily willing to get rid of.
5. Shop Based on Price
This is where you go into the store and look for gifts that can suit those on your list – more importantly, at your price level.
This is a great chance to pick up items on clearance or deeply discounted sale.
For instance, my son loved LEGOS (okay, what boy doesn't go through that phase) and they can get quite expensive. Throughout the year, I would always look for LEGOS when they were on sale or being discontinued. This is one example of enjoying a frugal Christmas
6. Creative with Gift Exchanges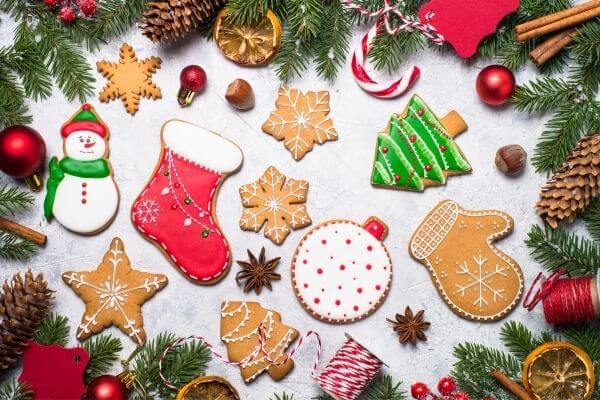 With gift exchanges, you don't need to go out and buy a brand new present. This is a chance to find something in your house that will make a great gift for someone else.
Here are various types of gift exchanges that cost little or no money:
White elephant gift exchange
$5 gift exchanges
Unused item gift exchange
Cookie Exchange
Used toy, puzzle, or book exchange
Coffee mug exchange
Charity donation exchange
Craft supply gift exchange
Dollar Store Finds Gift Exchange
Fabulously fashionable clothing exchange
Dropped that hobby gift exchange
There are just a few ideas on how you can get creative with holding gift exchanges. Not everything must be expensive to be an awesome winner!
7. Buy in Bulk and Divide Up for Gifts
A frugal trait is buying things in bulk to save money. When the holidays roll around, this is where you use your DIY skills to come up with frugal Christmas gifts.
If you find a lot of people on your list to buy small gifts for, you can create nice packages of presents to give. Typically, these holiday gifts are ideal for teachers, neighbors, co-workers or other special people that you want to wish a Merry Christmas.
For example, you can buy scented candles in bulk and wrap a beautiful bow on the glass jar. That is an easy way to divide them up for multiple gifts.
Another idea is to buy Christmas treat bags and divide up assorted miniature candies to quickly put together many small presents.
These are ideal gifts because they are thoughtful, but also budget-friendly.
8. Plan At-Home Parties
One of the most expensive areas for any budget is entertainment and eating out. The same holds true at Christmas.
To combat extra costs, plan at-home parties where you can control the prices of food, drinks, and decor. And as a bonus, your friends and family may be relieved to spend less as well!
You can hold a potluck or cookie exchange for a fraction of the price of a night out or booked Christmas party.
There are plenty of ways to make it fun. You can still have cocktail hour with the festive dresses that are already in your closet. Don't have something to wear – pretend you're a teenager and shop your friend's closets!
9. Stop Christmas Shopping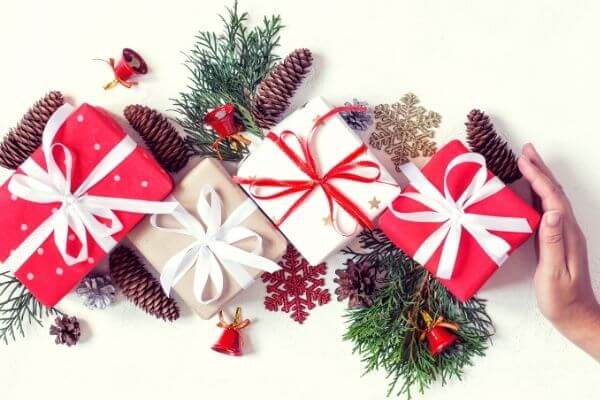 When you are done, you are done Christmas shopping. Block your eyes and ears from all of the last minute shopping and stocking stuffers.
One of the frugality traits is to make a plan for your money and stick to it.
Remember, marketers are good at their job of getting you to open up your wallet and spend money. Be stronger and stop shopping for the holidays.
Don't go over your Christmas budget and your plan.
10. Track How Much You Save
Every frugal person likes to know how much they save.
Not everyone likes numbers, but it is pretty motivating to see how much you save.
With a financial freedom mindset, you know that every penny saved is a penny earned.
This is where you realize your out-of-the-box thinking to create a frugal Christmas is worth the time and effort. You can see your savings on the gifts, decor, and thinking adds up.
Bonus Tip: Eliminate the Stress
One of the traits of becoming frugal comes with learning to live with less. It doesn't have to be full minimalism. A better term is living simply.
The more you do around Christmas (buying gifts, putting up decor, hosting parties, attending parties, participating in cookie exchanges, cleaning for guests, traveling for events, the list can go on and on) will cause stress.
Look for ways to take a step back and focus on what is most important to you.
That was the first tip mentioned in this post because it is the one that is overlooked the most often. You don't decide what you want Christmas to look like. You let others and life decide how your month of December rolls out.
Eliminate the undue stress surrounding the Christmas season.
Frugal Christmas Ideas for Kids When You Have No Money for Gifts
Okay, we are going to spend a little more time around one area that causes us the most stress around the holidays – giving gifts.
There is extreme pressure to provide the Pinterest-perfect, movie-ready, Insta story each and every year.
Regardless of what you spend on Christmas, you will never be able to live up to the self-created expectations you put on yourself.
Just remember that statement when you have no money for gifts.
This is where you get super creative and honest with your loved ones.
Be Honest with Your Finances
The first step is to be completely honest with your financial situation at the moment. You aren't looking for handouts. You just want a dose of empathy and maybe a hug.
Just like everyone else, you want to give your family the world and shower them with gifts.
However, the center of Christmas is coming together as a family and spending time together. You don't need money for that.
Time for Creativity and Maybe a Little DIY Christmas
This is where you get creative and start digging to find gifts.
Unfortunately for society, we are flooded with materialistic items. (Just look at any donation center or walk around on trash day.) There are plenty of gifts floating around that would cost you no money.
Post in a No Buy Facebook group or Nextdoor and see if anyone is getting rid of what you want.
More than likely, you will find Christmas gifts for no money. Sometimes, you may have to a fraction of the retail price.
Another option is to use your DIY skills – learn to sew, knit, bake, etc. Give away some of your treasured handmade gifts.
No-Spend Christmas Activities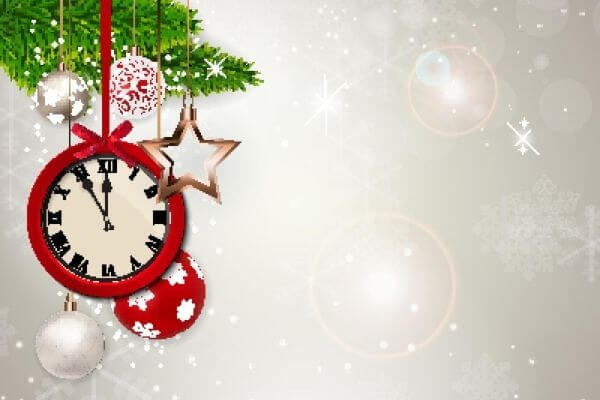 For frugal individuals, like me, the key enjoyment of the festive season does not rely on these costly aspects, but rather on the spirit of unity, shared experiences, and thoughtful gestures. This is where the concept of 'No Gift Christmas' comes in, emphasizing value-driven festivities that foster warmth and happiness without the need to break the bank.
The good news is you can enjoy the holidays with plenty of things that don't cost money.
Fun and Frugal Christmas Activities at Home
Enjoying a festive holiday season doesn't have to break the bank. In fact, there are several fun and frugal Christmas activities you can do at home!
Roast marshmallows: Whether you have a fireplace or a stove, roasting marshmallows at home can be a delightful way to savor the season.
Christmas movie night: Why not curl up on the couch with some popcorn and a Christmas movie? Consider a crowd-pleaser like The Christmas Chronicles on Netflix.
Bake cookies: Get the whole family involved in baking and decorating Christmas cookies.
Make a popcorn garland: This is a festive and fun craft you can enjoy together and later use to decorate your Christmas tree.
Play Christmas Charades: Searching Google for free printable charade cards can give you a night of fun that is sure to create hilarious memories.
Hot Chocolate Night: Warm up and gather around with the sweet treat of homemade hot cocoa.
DIY Christmas Cards: Create and send handmade Christmas cards to local nursing homes or soldiers abroad. A personal touch to your season's greetings will mean a lot to the recipients.
Christmas Light Scavenger Hunt: Turn your Christmas light viewing into an adventure! Print out a free scavenger hunt, bundle up, and enjoy a hands-on game during your neighborhood stroll. Remember, the true spirit of the holidays can be found in the joy of being together—not the amount of money spent.
Taking Advantage of Free Christmas Events in Your Town
There are usually plenty of free Christmas events in your town or city if you know where to look. Here are some festive events you can attend without spending a penny:
Visit the Christmas tree in your town square: Most towns have a community tree lighting ceremony that often includes free musical performances too.
Check out community holiday parades: Many towns host Christmas parades that are open and free to the public.
Look for free events at local libraries and community centers: Many libraries and community centers host free Christmas-themed activities for children, from story readings to crafts or even visits from Santa!
Go Caroling in your neighborhood: Gather your friends and family for a simple and heartwarming tradition of spreading Christmas cheer through carols.
Visit Church ceremonies: Attend church services or watch local choirs perform their favorite Christmas hymns.
Volunteering: Use the season of giving to volunteer at a local food bank, soup kitchen, or charity. It's free and can be a rewarding experience.
Christmas Lights Tour: Drive around or take a leisurely evening stroll to enjoy the holiday light displays in your local neighborhoods. Remember to check your city or town's events website for a complete schedule and details. The holiday spirit is abundant and can be found without breaking the bank.
For more ideas, check out the Christmas bucket list that has plenty of fun holiday-filled events.
Shopping Strategies for a Frugal Christmas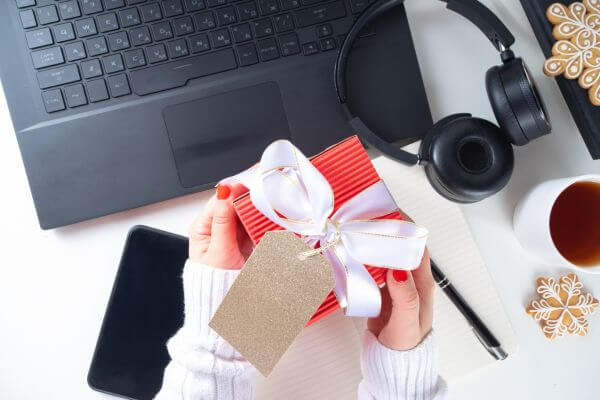 While we have plenty of tips for shopping smart on our website, we are going to focus on two areas when preparing Christmas for the frugal.
Tip #1 – Start Buying Christmas Stuff in January
Starting your Christmas shopping in January means you get to spread the cost over the whole year, taking advantage of these deep discounts.
It's very budget-friendly and helps control the infamous last-minute Christmas shopping spree.
Now, it's important to note that you should only buy items you are reasonably sure you will use the following Christmas, to avoid clutter or unneeded spending.
Expert Tip: make a list during the holidays of the items you need, so you know precisely what to look for in the January sales.
tip #2 – Using Money-Saving Apps for a Frugal Christmas
To save money while shopping for Christmas presents, consider using money-saving apps. These apps give you cash back, coupon codes, and discounts while you shop, reducing the overall cost of your purchases, and essentially making you "earn" while you spend.
Here are some trusty tools to help you achieve a frugal Christmas:
By keeping these apps at your fingertips and using them proactively, you can stretch your Christmas budget further and end the year on a high note, financially.
Ready to a Magical Frugal Christmas?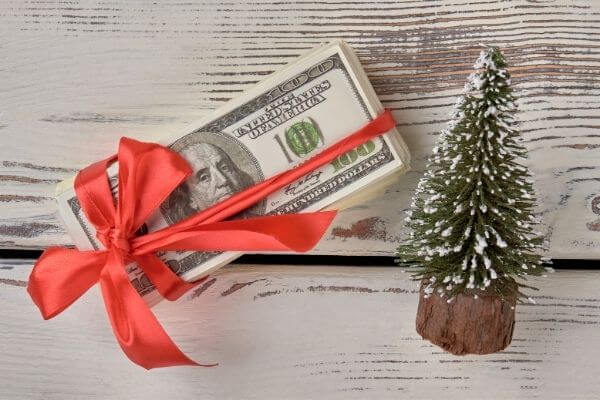 The best part of being frugal is focusing on what is most important and saving money along the way.
That is why frugal living tips are so very helpful!
As a frugal person, there are some years that we can have Christmas on very little money, and in other years, we choose to spend a little bit more. Never ever have we spent close to the average Christmas spending.
That right there my friend defines a frugal Christmas.
If you are still on the fence about a frugal Christmas and spending $400 or less, then let's think about it like this…
For 20 years, you spend half of the average spending at Christmas time, you will save over $8000. That amount doesn't include inflation.
So, you need to ask yourself, how much are you willing to spend on the Pinterest perfect Christmas? That spending must be able to be paid in cash in full – not charged to a credit card.
We have shared many frugal living tricks to make your Christmas magical. What else would you add to the list?
Happy frugal Christmas!
More Christmas Gift Ideas: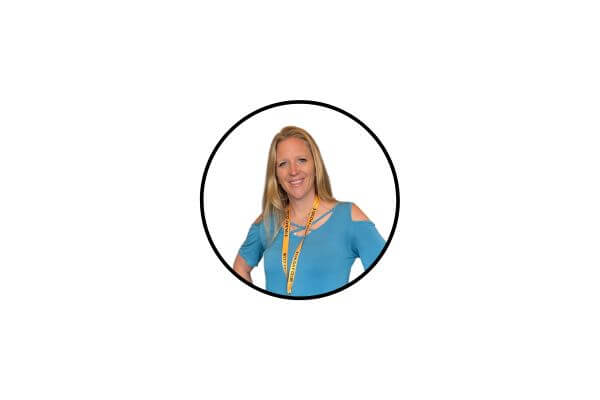 Did the post resonate with you?
More importantly, did I answer the questions you have about this topic? Let me know in the comments if I can help in some other way!
Your comments are not just welcomed; they're an integral part of our community. Let's continue the conversation and explore how these ideas align with your journey towards Money Bliss.