This post may contains affiliate links, which means I receive a small commission at no cost to you. Please read the full disclosure here.
For many people Christmas, birthdays, Valentines Day or any other holiday is tough when you are struggling with money.
I totally get it.
Finding awesome gift ideas when you're broke is demoralizing.
You may be living paycheck to paycheck or gazelle intense on paying off debt or saving for a house. Maybe you don't want extra stuff in your house and leaning to the minimalist movement.
When we were paying off debt, Christmas, birthdays, and all holidays were very very slim. We wanted to think outside of the box in order to pay off our debt sooner. The hardest part is the family didn't fully support our decisions.
The biggest learning from that year rolling into the future – it wasn't about the gifts for us (parents), it was about having more experiences in our lives. (Thankfully, our kids are slowly coming around to the same idea.)
Very interesting concept…once debt is gone, people tend to be okay with living with less.
But gift giving is still that the opportunity to bless someone with an awesome gift you found (or made) just for them. Since you're broke, you need to figure out some cheap or inexpensive gift ideas.
So, what types of gifts can you get when you're broke?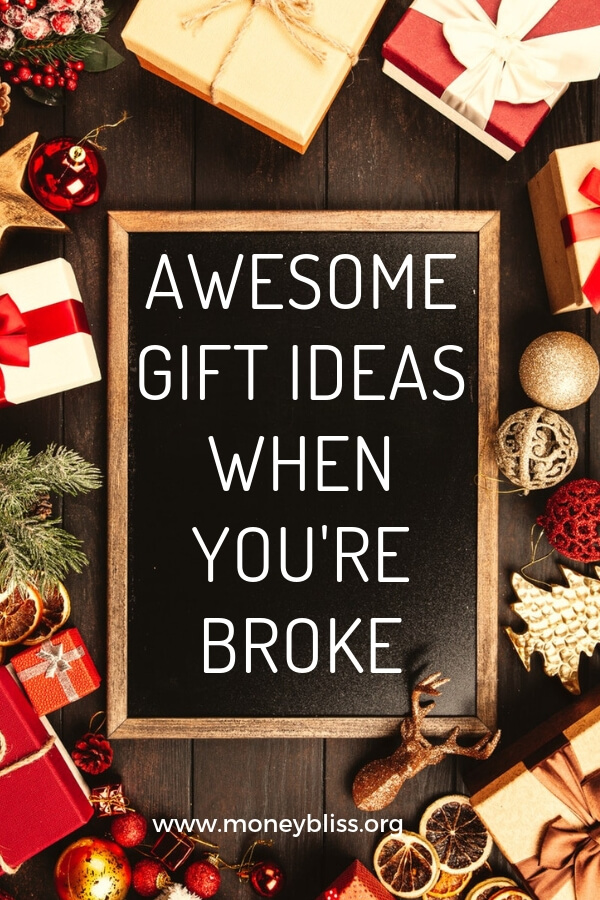 What Can you Afford?
First of all, this is the most important step. What amount can you take from your budget and put it towards gifts?
Be real. Be honest.
The worst gift to give is when you overspend and then you feel guilty. Each. Time. You. See. It.
Each season is different. The place you are in now will not last forever. (Especially if you follow these steps.) Right now, what can you afford to spend on gifts?
Download the Budget Tracker and Gift Planner now.
Comparison Trap
Oh my! I could write a whole post on the comparison trap and why it is so bad for your personal finances. Comparing yourself to others is a slippery slope for financial destruction.
With the influx of social media, comparing yourself to the highlights of someone else's Facebook or Instagram reel is cause from trouble. You are viewing their best moments in their lives. There are very few people who post the low moments and the times when we are struggling.
Key Tip: You never know who bought what in cash or debt. So, don't judge your finances on what you don't know as fact. In the end, cash is king (aka Millionaire status).
Related Post: The Best Methods of Budgeting You Need to Know
Think Outside of the Box
Literally, think outside the box. Ask yourself questions like:
What does this person enjoy?
What does this person not do / get on a regular basis?
How can I spoil this person?
How would I like to spend time with this person?
What is this person working on right now (ie: paying off debt, moving towards minimalism)?
By thinking outside the box (and the copious sales ads), you can discover what the best idea for this person would be.
Many times the best gift ever is one that doesn't cost a penny.
Download the Budget Tracker and Gift Planner now.
For Future Years
Pick up some cash envelopes for various holidays and stuff extra money into those envelopes throughout the year. It is the simplest way to start saving for Christmas, birthdays, or any other gift.
This is known as a sinking fund. Money saved up for a single purpose and held in a different account.
Another idea is to look at The Debt Free Christmas Challenge. Pick a dollar amount that is doable for your budget and start saving now.
Personally, I upgraded from the simple white envelopes to these. They are more durable and last longer.
Further reading: Complete Guide to Sinking Funds – Why They are So Important?
Bonus Tip for Families
Decide how many gifts you give each year. This will help your gift budget immensely!!
For us, these are the three Christmas gifts we give to our children:
Pajamas
One Learning Gift
One Santa / Fun Gift
To kick off the Christmas holiday season, we always get one of these for each kid.
For birthdays, it is normally an experience or a fun family outing.
For families who are used to getting and giving an overwhelming amount of gifts, it is okay to explain to the children as to why the sudden change. Honestly, you may be surprised at the grace and understanding they give you. Also, it may be the best money lesson you give to your children during their lifetimes.
Awesome Gift Ideas When You're Broke
Customized Coupon Book
This is probably the first gift idea someone thinks of when you are broke. So, don't feel like it is overused and silly. A coupon book is a very personalized gift for the receiver.
Also, many times it provides a chance for the person giving the gift and the recipient to spend quality time together.
Here is a list of Coupon Book ideas:
Massage
Clean Car
Housekeeper for a Day
Breakfast in Bed
Game Night
A Morning to Sleep in
Personal Chef for a day
Explore Downtown together.
Unplug Electronics for a Day
Afternoon at the Park
If they love to read, here are the must-read best finance books to change someone life forever.
Picnic
This can be quiet and romantic. Or it can be fun and whimsical. The choice is yours.
Eating is a daily necessity. The gift is changing things up from the norm. Also, this one doesn't break the bank because we all have to eat eventually anyways.
We own a cute little picnic set like one of these. Excitement always builds up because the family wants to know where we are going. #CreateMemories
Board Games
Thankfully, board games are slowly making a comeback. They are a great gift since most of them are under $20 and even $10.
These make an awesome gift ideas when you're broke.
In addition, you save hundreds of dollars on entertainment out of the house. This is a win-win for anyone living paycheck to paycheck or trying to rein in their discretionary spending to pay off debt or save more money.
Check out Amazon's list of most wanted board games.
Personalized Item
Nothing says love as much as a personalized item. Plus you can get personalized items fairly inexpensive and sometimes darn cheap.
Types of personalized gifts:
Just a few ideas to get your creative out of the box ideas following for personalized gifts.
Saver's Tip – Sometimes it is cheaper in the long run to outsource a personalized item to a company that does them all the time. Both Amazon and Etsy have plenty of personalized gifts to choose from.

Framed Inspirational Quote
For as long as I can remember, I have always loved inspirational quotes. They have filled my room as a kid and now fill my house. They are great reminders of simple words to inspire you.
This can be a simple project with a home computer and printer. Or professionally done with an Esty creator and for less than you would think. The choice is yours based on your budget.
Also, I love to put inspirational quotes on canvas. I think it adds a softer touch to a room.
Related Post: Are You Making One of these Common Debt Payoff Mistakes
Picture Collages or Albums for Grandparents
Grandparents go googling eyes of pictures of their grandchildren. It is simple and easy to pull together picture collages, albums, coffee mugs and so much more.
For inspiration, check out Etsy or Amazon Prints. Both are full of terrific ideas on personalized picture creations.
Personally, I know grandkid photos are prized possessions.
Homemade or Knitted Items
Homemade gifts are always thoughtful gifts. However, some times the material can be more expensive than you planned on. Also, this assumes you already have the required sewing machine, croquet hooks, etc.
In order to save money, scour the thrift stores, nextdoor, or Facebook groups. One man's trash is another man's treasure.
If you aren't crafty, then maybe find a free class where you and the person receiving the gift can go together. This is a double win; spend time together and learn a new craft.
Homemade Food
Are you known for (fill-in-the-blank)? For instance, a good friend makes the best jam and jelly ever.
This is a tradition that is going away since very few people actually can and make homemade food.
In reality, it only takes a few hours of cooking and most of the gifts cost less than $5 each. Plus it looks so pretty in the mason jars. Some ideas are salsas, jams, pickles, BBQ sauce, mustard, or even your own spice blend.
If this is something you have always wanted to learn how to do, go here for a terrific Start Canning course. Plus for my readers, use the code BLISSREADERS for 50% off.
Personalized Playlist
This past year to celebrate our 10 year anniversary, I was struggling with really cool ideas. I was feeling like the awful wife. What could I do to celebrate such a wonderful occasion?
So, I created a personalized playlist of all our wedding songs. When my hubby got home, music was playing in the background (which if you know me is totally common). Then, he realized that this was a special playlist just for us. To top it off, I picked up an ice cream cake from where we got our wedding cakes. Yes, you read that right – we celebrated with ice cream!
Favorite Recipes Book
In today's age, it is easy to pull up any given recipe on the Internet or Pinterest. But, let's face it…not all are stellar. Once in awhile, you will likely to get a dud. Recipes from a friend are a golden winner!
So, pull together your favorite recipes and make your own recipe book.
It doesn't have to be fancy and perfected formatted. Print your favorite recipes from the web and staple them together with a handwritten note. Or opt for a pretty recipe binder. If you want to create your own cookbook, there is plenty of software that makes it possible.
This is a great gift for someone looking to try a new way of eating!
Your Talents
Do you have an unique talent? Something worth teaching and helping other?
It could be something simple like helping to clean, paint a wall, and organize. Eye for design – either fashion or home decor. You have been blessed with unique talents and gifts that are special just to you. This could be a homemade or DIY present.
Think of creative gift ideas that center on your talents.
Related Resource: Gift for Life – Personal Finance & Money Gift Ideas
Free Babysitting
Oh my goodness! For any parent out there, this is always the TOP gift to receive. #seriously
This gift costs you zero dollars. Only your time.
As a friend of mine stated…when they are out on a date, he wants to spend more time with his wife, but in his head he is counting the extra time spent in babysitting dollars. True reality of living within your means.
Typically, family expenses are hit the hardest when a baby is born because of new baby expenses or possibly a loss of one income. This allows the parents the much-needed time to connect without worrying about the clock ticking on babysitting dollars.
Bonus Tip – Throw in $20 for the parents to catch a movie, happy hour, or bowling.
Charity Gifts
To this day, this is one of my favorite gifts to give people. It is the chance to bless others through a gift. There are so many organizations out there that can do wonderful things for just $5.
For example, a retired teacher I would find a charity gift that involved equipping other teachers to teach students. For the cyclist fanatic, a bike for someone to get to work. A stuffed animal for children so they know they are loved. The ideas are endless.
Organizations that make charity gift ideas simple through their gift catalogs are Samaritan's Purse, Save the Children, Compassion International, or any organization you choose to support.
In our household, this would come from our "giving" sinking fund. Not our "gifts" sinking fund.
Re-Gift
Yep, I let the elephant out of the room. Re-gifting gifts is 100% acceptable.
If and only if, these conditions are met:
Don't give it back to the person that gave it to you.
It is still in new condition.
Take out the gift tag or note from when you got the items as a gift.
While every gift giver has the best of intentions, it may not fit your personality or needs. For instance, giving Starbucks gift cards are a norm in society except for the person writing this blog post hates coffee and doesn't go to Starbucks. Every year, I end up with tons of gift cards that I always re-gift. #truestory
Re-gifting is an aweseome gift ideas especially when it is more suited for the next recipient.
Download the Tracker and Gift Planner now.
When you're broke, re-gifting can be a win-win if it something the new recipient will love. Personally for you, there is less clutter in your home.
Don't be afraid to re-gift items because you are afraid of looking cheap. Think of it as being savvy with your money.
Related Post: Gift Giving That is More than Toys
Plenty of awesome gift ideas when you're broke. Most of them take a little bit more creativity and thought, but it is completely doable on your gift budget.
Which inexpensive gift idea do you like the best?
FREE ACCESS!
All of the resources you need to succeed with money. Gain instant access to financial printables, worksheets, guides, and more!
---
The password will be be emailed to you!