This post may contain affiliate links, which helps us to continue providing relevant content and we receive a small commission at no cost to you. Please read the full disclosure here.
---
Are you ready for the list of the most epic Christmas gift ideas for kids under $10? These can be the best Easter gifts, too!
Too many times, we fall into the trap that it isn't really a gift unless you paid a hefty price for it. However, that doesn't have to be the case.
For my daughter's birthday, she wanted a CD player (my old CD player finally bit the dust after MANY years). I looked online and couldn't justify spending $50 for a CD player. So, I jumped on Nextdoor and asked if anyone had one sitting around. I ended up with 5 different people saying they would love to give me their CD player. A buy nothing FB group is another place to check.
My lesson learned.
Epic gift ideas for kids don't have to cost a fortune!
This is true for any holiday.
In actuality, they can be reasonably priced under $10. That way you can stick to your Christmas budget.
And these gift ideas for kids are perfect for any occasion! Birthdays, Easter, back to school, stocking stuffers, or to stock your gift closet.
Now, that it is finally snowing around here (over 12 inches so far) and Christmas is just a month away, I wanted to give your the best Christmas gift ideas for kids that are under $10.
Don't worry… these gift ideas won't break the bank! And even better…some are non-toy ideas!
No video games on this list. Think brain thinking and body moving gift ideas.
Oh, this list is totally KID APPROVED! Made with love by kids!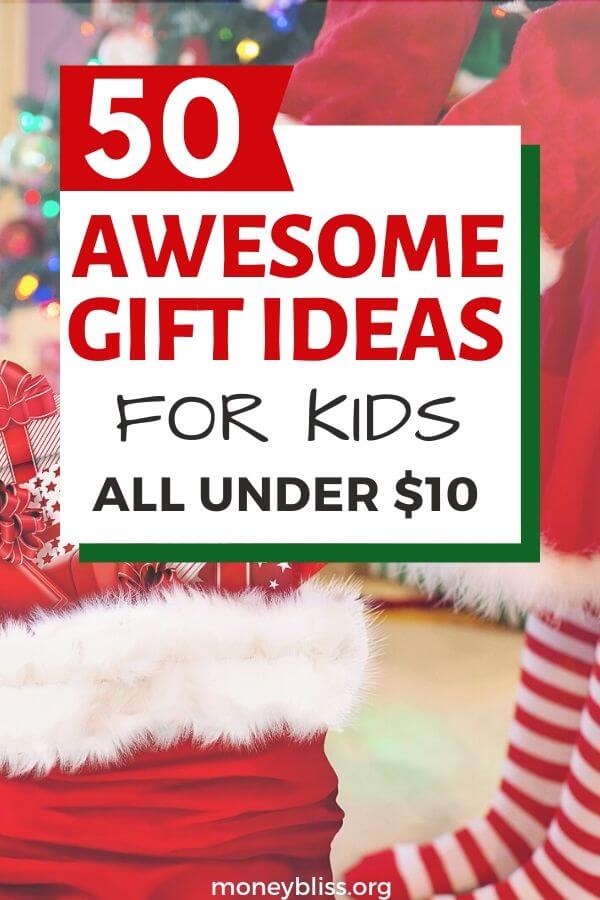 Christmas Gift Ideas for Kids Under $10
Oh, this list is totally KID APPROVED!
Made with love by kids!
Christmas Gift Ideas by Age
More Gift Ideas: