43 Best Side Hustles for Men to Make Money in 2024
Inside: Are you looking for ways to make money on the side? This guide has everything you need to know about the best side hustles for men. From turning your passion into profit with these gig ideas!
In this post, I collaborated with my husband. Together, we combined our ideas and expertise after work to generate ideas centered around how men specifically can make money. His input and insights were remarkably vital to this post.
Break free from the 9-to-5 grind and embark on a journey towards a fulfilling side hustle – it's a game-changer for gentlemen looking to beef up their bank accounts.
In the ever-evolving landscape of side hustles, now is your year to supercharge your earnings. There's a treasure trove of opportunities waiting for you to delve into, all while indulging in your passions. From tech-savvy endeavors to unleashing your creative genius and practical gigs that pay, our guide is here to unveil the ultimate side hustles that can set you on the path to financial triumph.
Ready to boost your income? Fantastic! You're on the path to prosperity.
Here, we'll explore the 40 best side hustles for men in 2024.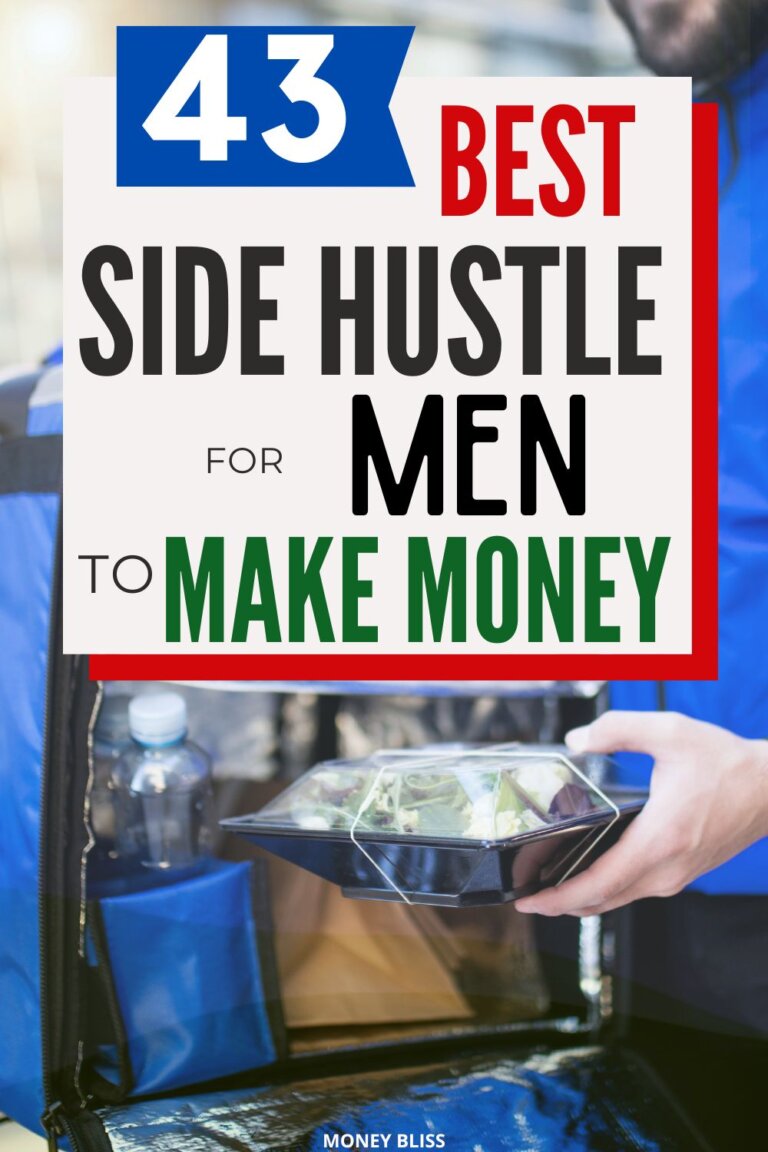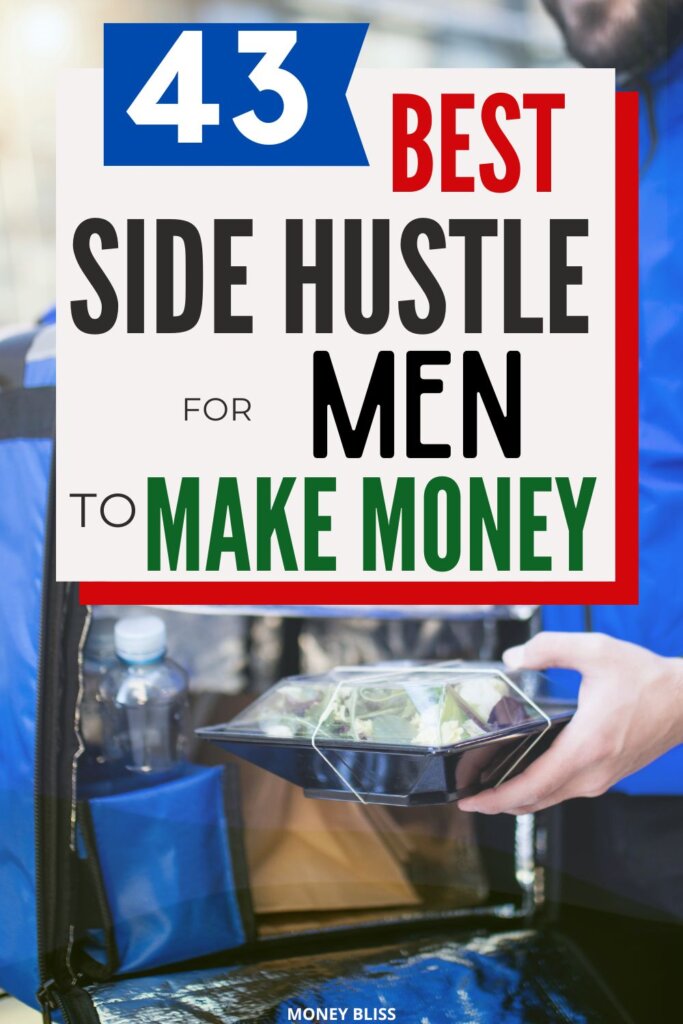 This post may contain affiliate links, which helps us to continue providing relevant content and we receive a small commission at no cost to you. As an Amazon Associate, I earn from qualifying purchases. Please read the full disclosure here.
Embracing the Hustle: Why Men Should Consider Side Hustles
Side hustles are more than mere cash generators – they're the keys to a world of freedom, flexibility, and endless growth potential.
If you're a gentleman with a hunger for financial prosperity, a side hustle can be your golden ticket. It empowers you to call the shots and maintain your existing commitments while paving your way to success.
While women tend to lean towards side hustles for women, it's high time for men to dive headfirst into the captivating world of side hustles!
How can a guy make extra money?
Making extra money doesn't have to be monotonous. Whether you're a tech whizz, an avid creator, or a hands-on worker, there's something for you.
There are so many ways to make money. I just read this story about a college kid starting with $300 and turning his sticker side hustle into a full time business. 1
These options can yield solid income by leveraging your unique skills and interests. Want to learn more? Keep reading; we have plenty of ideas for you!
Top Side Hustles for Men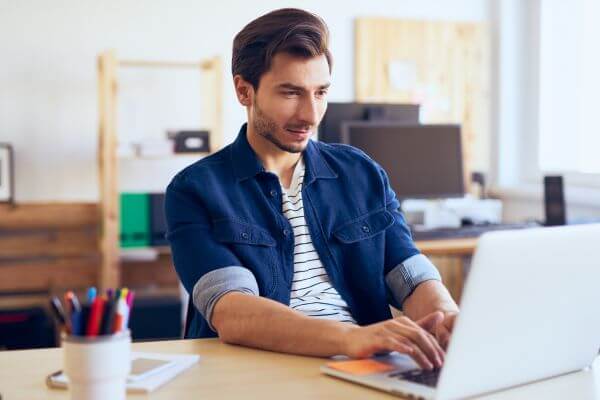 As my hubby said, extra income takes the financial strain off the normal job. With side hustles, you can choose how you want to spend your time – watching sports, playing video games, or making money.
The choice is yours!
Right now, learning to make money online for beginners is the most popular place to start.
1. Invest in Real Estate
Around here at Money Bliss, we always stress how to make your money work for you and real estate is no different.
Real estate investment is a golden opportunity that not only offers a steady income but also the potential for property value to soar. Keep in mind, that it's a long-term game that requires a significant upfront investment.
However, there are many options like flipping properties, renting properties, or even investing through a REIT. Dive into the world of real estate to maximize your returns. Let your money do the heavy lifting for you.
2. Day Trader
Many men opt for trading stocks and options as a side hustle for several compelling reasons.
Trading offers flexibility, as your research can be done at any time, making it convenient to manage along with a nine-to-five job.
It has an immense profit potential, given the volatility and opportunities present in the global stock markets.
Many want to earn a rate of return greater than the average return of the S&P 500 – a common benchmark index for that competitor inside them.
Finally, trading presents an opportunity for continual learning and development, as successful trading requires staying updated with financial news, stock apps, market analysis, and economic trends, thereby enhancing one's financial literacy.
Trade & Travel
Learn to trade stocks with confidence.
Whether you want to:
Retire in peace without financial anxiety
​Pay your bills without taking on a side hustle
​Quit your 9-5 and do what you love
​Or just make more than your current income....
Making $1,000 every.single.day is NOT a pie-in-the-sky goal.
It's been done over and over again, and the 30,000 students that Teri has helped to be financially independent and fulfill their financial dreams are my witnesses…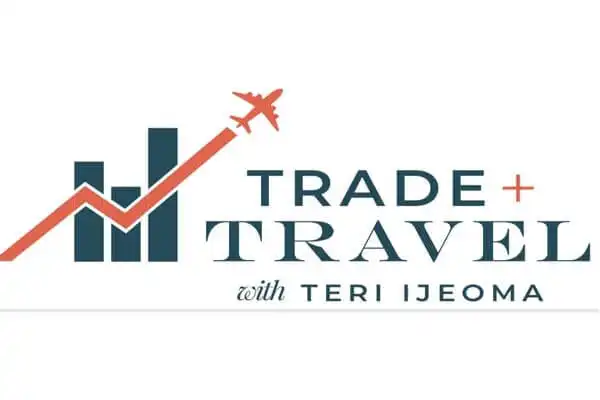 3. Become an Umpire or Referee
Sports fans, here's your calling! Transform your passion into a profitable part-time gig by becoming a sports referee.
There is a HUGE shortage of umpires and referees.2 Rates per game can range from $20 to $60, and over time, you can earn even more as you referee older leagues. Plus many leagues are paying more to incentivize refs to come back to the fields.
Not only does it assure good pay, but it also lets you enjoy your favorite sport, exercise, and create exhilarating moments. Check it at your local club or league for training and to get started today.
This is something my brother-in-law did all the time and easily made 200 dollars a day.
4. Participate In Medical Studies
If adding to medical knowledge interests you while earning, consider participating in clinical trials.
Compensation depends on various factors like the study's length and complexity. You can earn $50 to $300 a day!
It's worth considering if you're comfortable with potential risks and lengthy commitments. Websites like ClinicalTrials.gov or your local hospital could help you get started. It's a unique way of contributing to medical research while making money. Do check the risks before diving in!
5. Moving and Heavy Item Delivery
Feel like adding some muscle? Moving and heavy item delivery might be your perfect hustle. If you've got a buddy, a solid back, and a truck (or can rent one), this is the gig.
You could easily earn about $20-$25 an hour helping people move houses or delivering large items. Opt for evening or weekend gigs to fit around your day job.
Get started by advertising your services or using apps like TaskRabbit or NextDoor. An excellent way to stay fit and earn some extra dollars at the same time!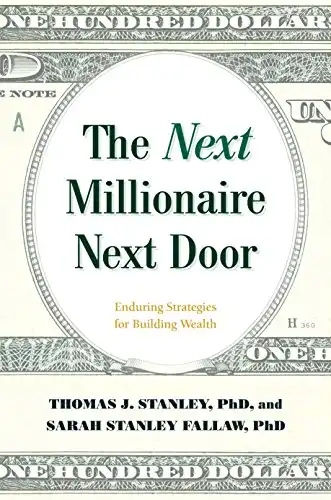 6. Rent Out Your Extra Room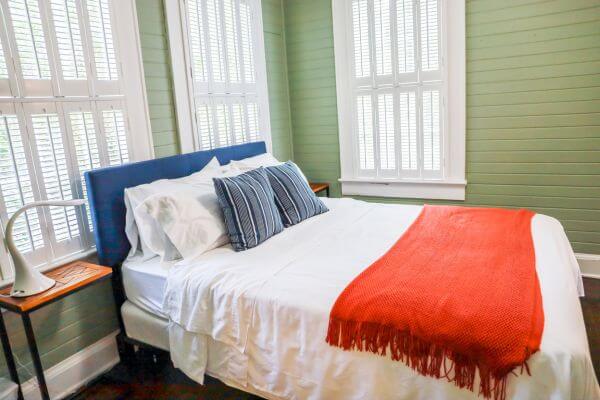 Do you have a spare room? Then, transform that neglected space into a cash cow.
Airbnb or VRBO can help you lease it out to travelers. Its user-friendly platform lets you manage rentals with aplomb. Plus, you get the chance to grow into a SuperHost.
Another option is to look at investing in a duplex where you live on one side and rent out the other.
7. Woodworking
This takes a special talent like my father-in-law had. He and his boys were known for crafting Adirondacks chairs, bedroom furniture, and patio tables.
So, if you have this woodworking knack, then this side hustle could be a golden ticket. The key to success is to perfect your craft to a few select items to be efficient with your time, so, you can better the profit. Let your handyman skills shine and earn you some extra cash!
The average earnings of a woodworking side hustle in the U.S. can range from approximately $500 to $3,000 or more per month, depending on factors such as the complexity of projects and marketing efforts.
8. Beekeeping
Honey, take note! If you're not deterred by bees and are interested in agriculture, try your hand at beekeeping. This might be a family affair – like my daughter's soccer coach.
Honey sells for around $20 a pound, and bees virtually do all the work! Plus, you contribute to pollination and the environment.
Combined with pest control services (like removing large nests), you can amplify your earnings. However, getting comfortable with bees might take time. But, once you do, the sticky sweet liquid gold that is raw honey could put a sizeable amount of money in your pocket.
9. Detail Cars
If you have a passion for cars and cleanliness, consider detailing cars as your side hustle. There's something gratifying about transforming a dusty vehicle into a sparkling gem.
Depending on the quality of your service, you can earn up to $500 in a single weekend! Start by experimenting with your own car and build a portfolio to attract customers.
You'll need tools like a good shop vacuum and detailing brushes. I have seen plenty of men showcasing their work on social media with before-and-after photos. Polish those wheels and drive towards profit!
10. Landscaping Side Hustle
Armed with green fingers? Eager to perform hard physical labor? Then a side gig in landscaping can do wonders for your wallet.
From regular lawn care to fall leaf cleanup to full-on backyard redesigns, there's something for everyone. Look to websites like Lawn Love to match you with your first clients.
Potential income for this venture depends on how many hours of your time you are willing to trade.
11. Drive for Ridesharing Apps
Like to drive? Awesome, do it for cash! Ridesharing apps like Uber and Lyft got you covered.
Be your boss, and work on your terms.
You need to make sure you have a nice car, proper insurance, and learn the busiest routes to maximize your earnings. Do pay heed to your vehicle's wear and tear, though. However, this is one of the jobs that pay weekly.
12. Snow Plowing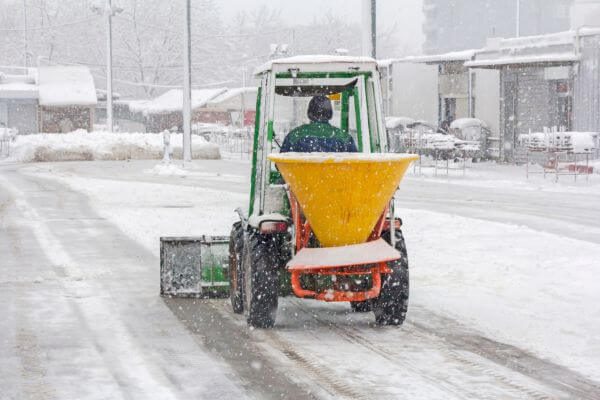 Living in a snowy region? Consider snow plowing. This is a quick way to make money! I can attest to my kids quickly making $200+ a day from snow shoveling.
Even better is to have business clients that need this service. As such, all you need is a reliable truck or SUV with four-wheel drive and a snowplow. Plus, you can upsell by offering extra services like salting and hand shoveling.
This lucrative side gig can result in you earning thousands each winter. It's an opportunity to put your vehicle to good use and tackle Mother Nature for a handsome payout.
16. Knife Sharpening
If you have a knack for precision and patience, knife sharpening could be a rewarding side hustle. Businesses like restaurants butcheries, and home cooks are potential clients.
All you need is a quality knife sharpening setup and knowledge of the right techniques. Advertising your services on social media can help bring in customers. Who knew such an unusual skill could be so profitable?!
17. Plasma Donation Centers
While this one is probably more geared to side hustles for college students have you ever considered donating plasma for cash?
You help others, and it earns you up to $500 a month. It's a generous deed with a minimal time commitment.
Search for "where to sell plasma in [your city]where to sell plasma in [your city]" to get started. Remember, most places have similar requirements to blood donation and may require a short medical screening first.
18. Bookkeeping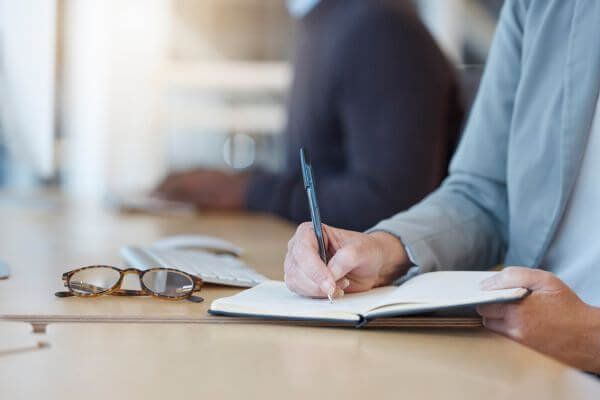 Good with numbers? Have an eye for detail? Look into bookkeeping.
Services like generating invoices, managing accounts payable, and preparing tax returns are always in demand. Overhead costs are low as you only need a computer and accounting software. Plus, payment is high at around $50 per hour!
For most bookkeepers, referrals are their bread and butter. To start out check the local Chamber of Commerce to start meeting other business people.
Turn your love for crunching numbers into a lucrative side hustle.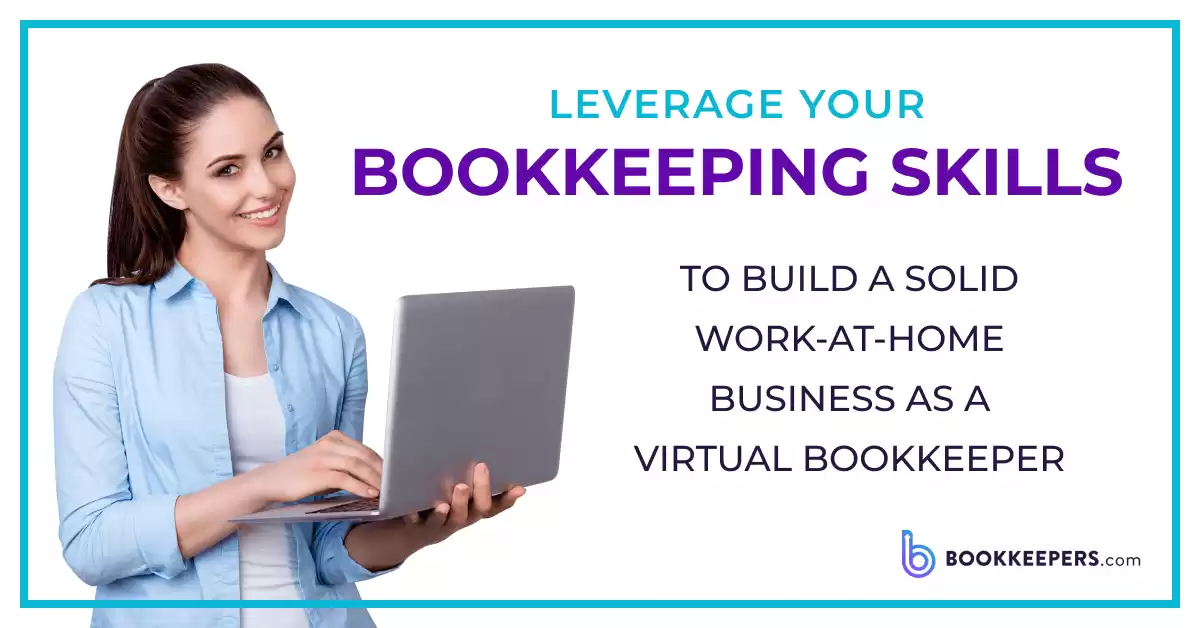 Earn Extra Income with Bookkeeping
Bookkeeping is the most stable, reliable & simple business to own. This is how to make a realistic income -either part-time or full-time.
Find out TODAY if this is THE business you've been looking for.
Show Me How
19. White Label Software
Dip your toes into software reselling by using white-label software. This is great for someone who is good with technology and understands SaaS. However, no coding or IT background is necessary.
All you need to do is buy "seats" of an existing software at a wholesale rate, then resell them at retail.
Use any software name or category on Google and add "White Label" at the end to find options. Build a website, market your product, and start earning by becoming a digital intermediary! Start earning by becoming a digital middleman!
20. Work as a Translator
In the United States, nearly 20% of the population, roughly 67.8 million people, speak a language other than English at home, with Spanish, Chinese, Tagalog, Vietnamese, and Arabic being the most prevalent.3 If you're fluent in another language, this opens doors to flexible and potentially lucrative side hustle in translation and interpretation.
Earnings in the language translation side hustle can fluctuate based on the client's requirements and your preferences. For instance, you might find translation opportunities on platforms like Freelancer.com offering rates of up to $60 per hour, while translators on Fiverr can charge as much as $125 per project.
21. Pallet Flipping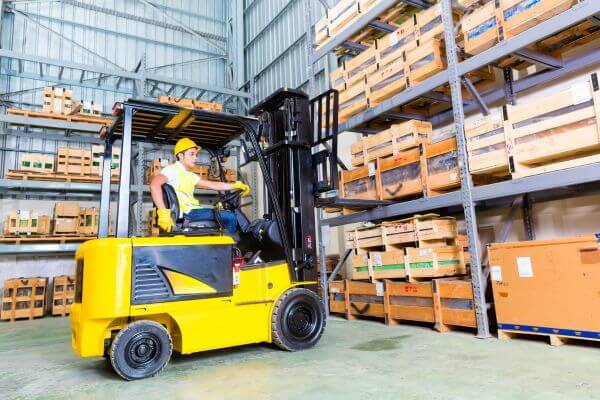 Are you inclined towards an entrepreneurial middleman ship? Pallet flipping could be your ticket to substantial income.
This is similar to buying storage units unseen and flipping for a profit. With pallet flipping, the process involves buying and reselling pallets of customer returns, overstocked items, or unsold merchandise, often from major online platforms. Connect businesses that need pallets to ship their products with those looking to get rid of them.
Whether you start small or aim high, scalability and considerable earnings are within reach. Check out this Pallet Flipping book to get started.
22. Help Others Write Resumes
If you have a talent for crafting impressive resumes, there's a lucrative side hustle waiting for you. Job seekers are constantly looking for professionals who can help them stand out in the competitive job market.
According to our research, professionals skilled in resume writing can start charging for their services on platforms like Fiverr, often earning anywhere from $50 to $150 per resume service including cover letters and LinkedIn profiles.
Mastering the art of creating effective resumes, including understanding industry-specific keywords, is the secret sauce to success in this field. By assisting others with their career aspirations, you can collect a decent income while making a meaningful impact on their job prospects.
This is also a popular digital product to sell on Etsy.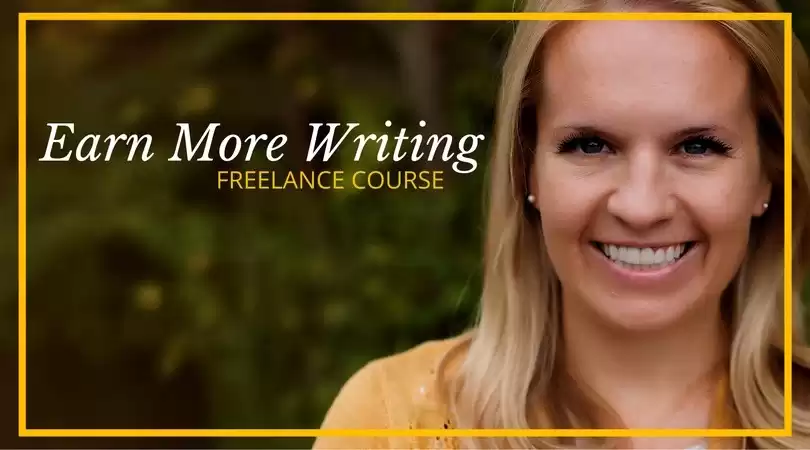 Earn More Writing
You can make money as a freelance writer.
Learn techniques to find those jobs and earn the kind of money you deserve!
Plus get tips to land your first freelance writing gig!
Start Now
23. Laundromat
Here's an unconventional yet profitable idea – owning a laundromat! It's an already profitable model (as it has been around for years) and most processes are automated.
Integrating some digital marketing skills and making tweaks like improving your online presence could earn you significant profit. But be aware, that this does involve an initial investment. Scope out opportunities to buy a laundromat near you.
Also, another trend is starting a laundry business where you take care of others' laundry needs. Who would have thought laundry could be so rewarding?
24. Start a Consulting Side Hustle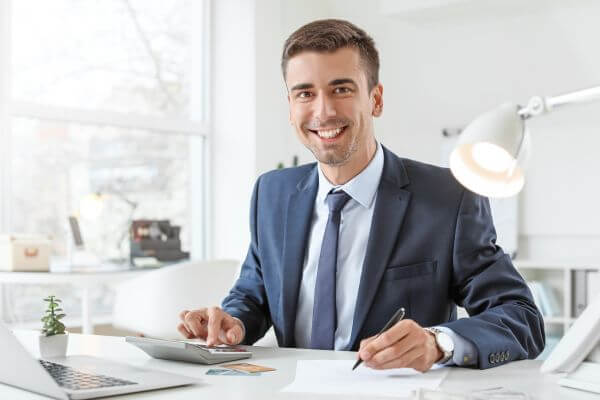 Do you have expertise in a specific area? Consider starting a consulting side hustle.
Consulting is often about solving problems and providing strategies. Whether you're skilled in marketing, HR, tech, or any other field, your knowledge can be valuable to businesses. Use your existing network to start and gradually grow your client base.
With the right marketing and a robust network, consulting can be highly rewarding. Honestly, this is a popular job after retirement for many. So why wait? Start monetizing your wisdom today!
25. Furniture Flipping
Ever heard of furniture flipping? It's about buying used furniture at low prices, revamping it, and selling it for a profit.
Furniture flippers can be a goldmine especially if you know what to look for. Unearth the potential in old furniture and flip it into a profit with this artistic hustle.
You can source items from yard sales, flea markets, or online. Sanding and repainting can transform items into showpieces. This gig is perfect if you love hands-on projects that require creativity and patience. Remember, a great photo makes the sale for your final piece!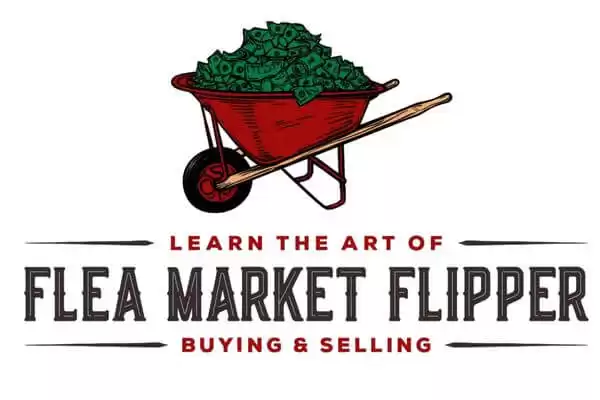 26. Walk Dogs
Dog lovers, rejoice! Here's the perfect gig for you – dog walking. If you love playing with our furry friends and love the outdoors, why not get paid for it?
Apps like Rover can connect you with dog owners in your area in need of walking services. Dog walking can fetch (pun intended!) you around $10–$18 per walk. If you're passionate about spending time with fidos, this side hustle is a pleasure that pays!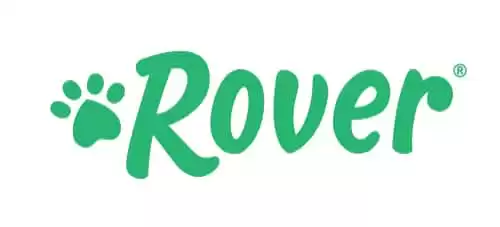 Rover
Get paid to play with pets!
Rover makes it easy and promotes you to the nation's largest network of pet owners.
Earn money doing something you love.
Become a Sitter
27. Find Odd Jobs in Your Area
Not afraid to roll up your sleeves? Awesome! Odd jobs can be a treasure trove of opportunities.
Think yard work or furniture assembly. Seek out these gigs on platforms like TaskRabbit, Nextdoor, Craigslist, or Fiverr, and a few hours of work can earn you a tidy sum. It's the perfect hustle for those in search of quick cash injections!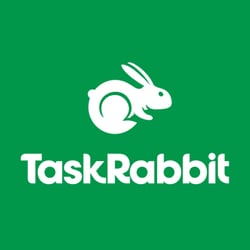 TaskRabbit
Find local jobs that fit your skills and schedule.
With TaskRabbit, you have the freedom and support to be your own boss.
Plus set your own rates!
Get Started
28. Photographer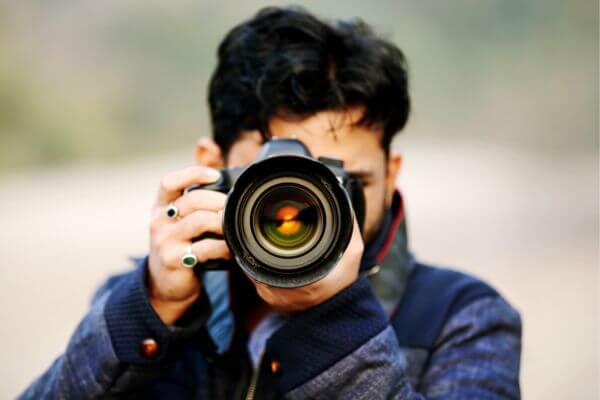 Are you skilled at capturing beautiful moments? Turn your passion into a lucrative side hustle by becoming a photographer.
With average rates of earning 500 dollars per day, your earnings could easily surpass those of a full-time job. You can explore areas like wedding photography, senior photos, or commercial product photography.
The best way to gain clients is through referrals or a fundraiser. Grab your professional camera and start capturing memorable moments while boosting your income. Focus your lens and let your creativity shine!
29. Unusual Rentals
Get creative! As this man demonstrated, unconventional rentals like a power washer can earn you thousands of dollars every month. 4
You can rent out spaces like your garage, or backyard to pet owners, or even invest in items like portable hot tubs or bounce houses. Platforms like Airbnb, Sniffspot, Vrbo, and Neighbor can help you get started.
Your unused space or items can transform into extraordinary sources of income. Dive into the world of rentals and unveil massive profits!
30. Cryptocurrency
Crypto investment is a popular side hustle that can yield incredible returns (and significant losses).
However, keep in mind that the cryptocurrency market is volatile, and you should only risk what you can afford to lose.
Crypto is not for the faint-hearted, but with the potential for high returns, it could be your golden opportunity.
31. Teach Music Classes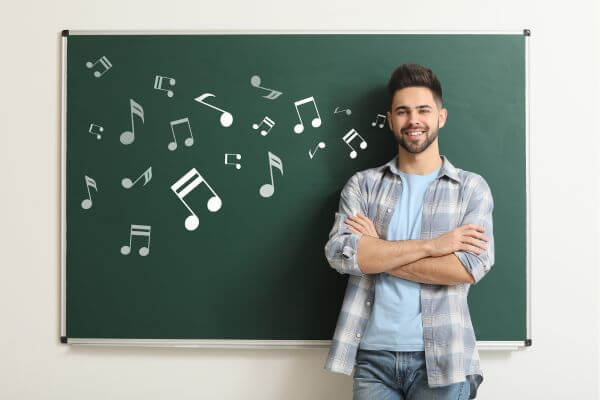 Do you possess a hidden musical talent? Then, teach music class!
With countless adults and children seeking music lessons, you can make good money sharing your skills. Offer piano lessons, guitar instruction, drumming, or any instrument you excel in. You can use platforms like Skillshare or provide private lessons.
On average, music instructors can charge anywhere from $40 to $100 or more per hour for online lessons depending on how advanced the lessons are. Sharing your passion for music while making money sounds like music to the ears, doesn't it?
32. Sell on eBay
Have you ever visited a garage sale? Turn those finds into a profitable hustle by selling on eBay. eBay is an excellent platform for selling a wide range of items.
Some personal successes include flipping items like electronics, old iPods and iPhones, sneakers, and furniture. Successful eBay selling boils down to recognizing profitable items and securing a bargain purchase.
Are you ready to flip and fill your wallet with extra cash? You could sell on Facebook Marketplace, too.
33. Reselling on Amazon
Reselling products on Amazon is the trend of the hour. Scout for items cheaper in your area than online, including toys, limited edition shoes, or seasonal delicacies.
Consider trying dropshipping to curate your product lineup without worrying about inventory. Armed with just an Amazon seller account and a keen eye for trends, you can dive into this lucrative venture!
34. Start A Freelance Business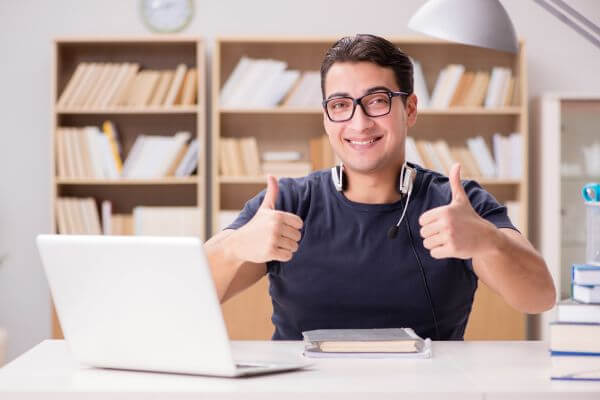 Have niche skills? Time to cash them in by freelancing. This is a booming market.
Bid on projects that resonate with your skill set: graphics, writing, social media management, website design – you name it! Going freelance offers flexibility, and autonomy and can bring in some serious cash.
Be sure to create a compelling portfolio to attract clients and make sure you have solid reviews.
35. Play Games Online
Game on, fellas! Who said you can't turn your gaming hobby into a money-making machine?
You can pocket money by playing games like Blackout Bingo and Solitaire Cube.
Just remember you can win real money, but you can suffer losses as well. Also, be sure to check if cash tournaments are available in your region.
36. Watch Videos Online
Do you enjoy watching videos? You can earn while indulging in your favorite pastime! Platforms like InboxDollars and MyPoints offer cash rewards for watching videos. Plus, you can claim a $5 sign-up bonus on InboxDollars.
While the earning potential might be relatively low, it's a seamless background activity. You can make money while relaxing on the couch. So, why not unwind with your favorite video content and get paid for it?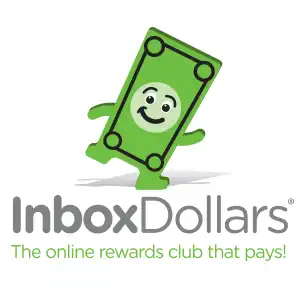 Inbox Dollars
Since 2000, InboxDollars has paid over $80 Million in cash rewards to members for doing everyday online activities like reading emails, taking paid surveys, or playing games.
The InboxDollars community allows members to influence future products and services.
Sign Up Now
37. Start a Podcast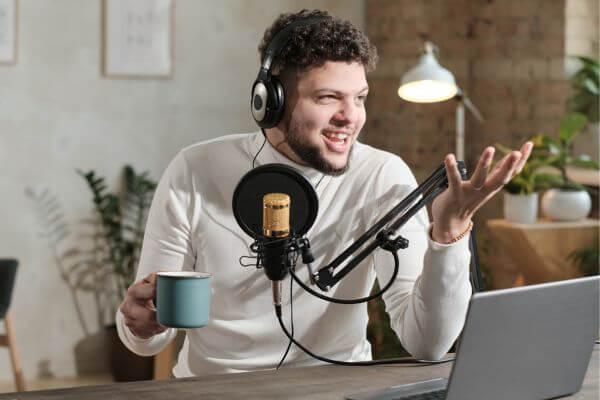 Do you have a passion for conversation? Starting a podcast is not just about speaking your mind; it's a captivating path to potential profit.
With over 177 million podcast listeners in the U.S. alone, your words have a vast audience waiting to tune in.5
Dive into topics like BBQ techniques, current events, or life's twists and turns, and you might be surprised to know that top podcasters earn money with sponsorships.
38. Delivery Gigs
Do you love driving, but want to limit contact with people? Consider delivery gigs.
Food delivery apps like DoorDash, Uber Eats, and Instacart can pad your wallet. You can make deliveries on your schedule while retaining control over when and where you work.
These gigs typically pay $15 to $20 per hour, plus tips. Some companies even allow bicycle deliveries for a bit of exercise. Deliver your way to financial success with this flexible side hustle.
39. Start a YouTube Channel
Do you have a passion for digital creativity? Consider starting a YouTube channel – the "king of side hustles."
Use your unique perspective to engage viewers, whether through personal vlogs, tech reviews, or evergreen content. The potential is boundless.
YouTubers earn money from ad revenue and sponsorships. With a staggering number of users on YouTube, why not tap into this vast audience?
Established channels can rake in thousands per video. However, remember that channel success hinges on content quality, relevance, and consistency. Get behind the camera and share your creativity with the world!
40. Freelance Writing
If you have a way with words, freelance writing is an attractive side hustle. Typically, writing is the most sought-after freelance service.
You can choose from various writing niches, including copywriting, blog writing, ebook, social media content creation, or creating detailed reports. Impress clients with samples of your best work.
For many, this was the first step before they went into to the world of blogging.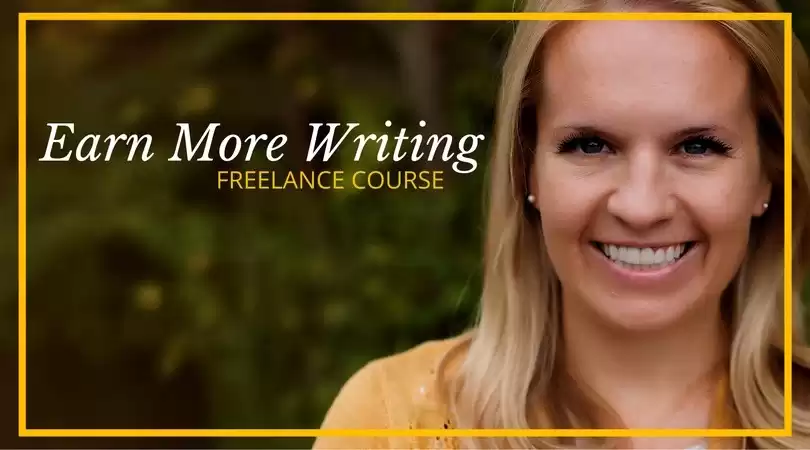 Earn More Writing
You can make money as a freelance writer.
Learn techniques to find those jobs and earn the kind of money you deserve!
Plus get tips to land your first freelance writing gig!
Start Now
42. Take Online Surveys
Have some free time and a reliable internet connection? Consider taking online surveys.
Websites like Swagbucks, Panel Place, or Survey Junkie are on the lookout for your opinions. It's simple: sign up, share thoughts, and cash out! Look out for the highest-paying survey sites to maximize your profits.
Taking online surveys can typically amount to around $50 to $200 per month, depending on the frequency and length of surveys taken.
While it won't make you a fortune, it's an easy way to make a couple extra bucks during downtime. Start voicing your opinions for money today!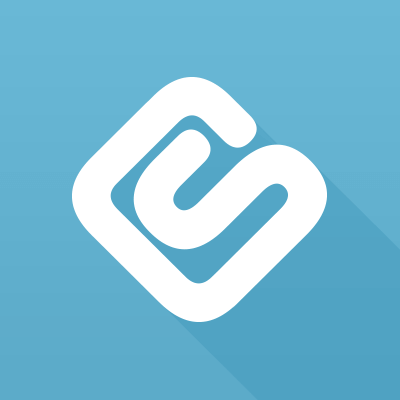 Swagbucks
Swagbucks is a fun rewards program that gives you free gift cards and cash for the everyday things you already do online.
Earn points when you shop at your favorite retailers, watch entertaining videos, search the web, answer surveys, and more!
Start for FREE
Get $10 Sign Up Bonus
43. Find a Flexible Part-Time Job
Finally, a part-time job can provide a steady cash stream.
Right now, you can find hiring signs everywhere! This is a great way to trade your time and make a little bit over minimum wage.
Apply to those vacant positions now, and sail towards extra cash!
Striking the Balance: Juggling Regular Jobs and Hustles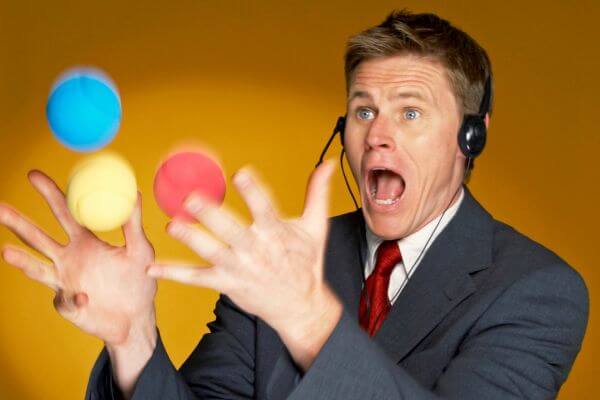 This is where my husband is always the most concerned because juggling your full-time job along with your side hustle can be tricky. Even more so, if you have a family.
The key is to create a feasible schedule that allows you to manage both without affecting the quality of work.
Keeping a time log can help identify how you can spare time for your hustle. Remember, side hustles should not hinder your regular job.
The goal is to make extra money, but not lose precious time with your family, so you must strike that balance for a smooth side-hustling journey. It's all about dedication, time management, and commitment.
Now, are you ready to toss that juggling ball up in the air?
Frequently Asked Questions about Side Hustles
Which Side Hustle for Guys Do You Like?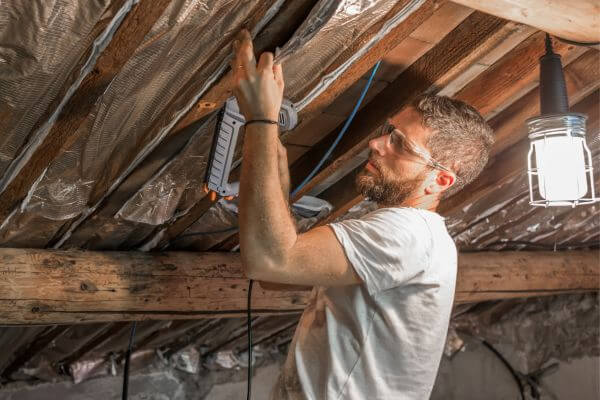 Now that we've explored these exciting side hustle opportunities, it's time for you to take action. Which one resonates with you the most?
To truly excel in the world of side hustles, it's crucial to approach your ventures with the right mindset. Your skills, hobbies, and interests should align with your chosen hustle, ensuring that you're not just chasing dollars but pursuing something that genuinely excites you.
Remember that side hustles require time, commitment, and sometimes an upfront investment. The higher you're willing to climb, the better your view (and the payouts) will be!
Don't wait any longer. Start your side hustle journey today, and unlock the door to financial freedom and personal fulfillment.
Don't forget to forward the best side hustles specifically for moms.
Source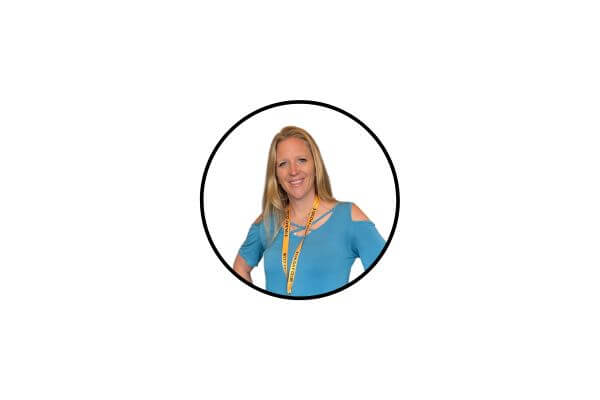 Did the post resonate with you?
More importantly, did I answer the questions you have about this topic? Let me know in the comments if I can help in some other way!
Your comments are not just welcomed; they're an integral part of our community. Let's continue the conversation and explore how these ideas align with your journey towards Money Bliss.