30 Best Same Day Pay Jobs: Work for Jobs That Pay Same Day
Inside: Looking for a way to make money quickly? Check out our list of best same day pay jobs! These jobs offer immediate payouts and allow you to work from home or in a more comfortable environment.
Have you ever found yourself stressed, waiting for a payday while your bills stack up?
It's a dilemma too many of us understand. Uncertainty and worry can creep in, making life significantly harder than it needs to be.
But there's a solution that can ease the pressure and offer instant relief – same-day pay jobs.
While same day pay jobs can provide immediate financial relief, it is not advisable to rely solely on them for consistent income.
This is because the availability of tasks may vary, impacting the sustainability of your daily income. Diversifying your sources of income, mixing in traditional employment or multiple gig economy roles, can offer a more secure financial foundation.
Given the number of work days in a year, this gives you plenty of chances to earn cash.
However, if you have pressing burdens of unexpected expenses, then these are the best same day jobs.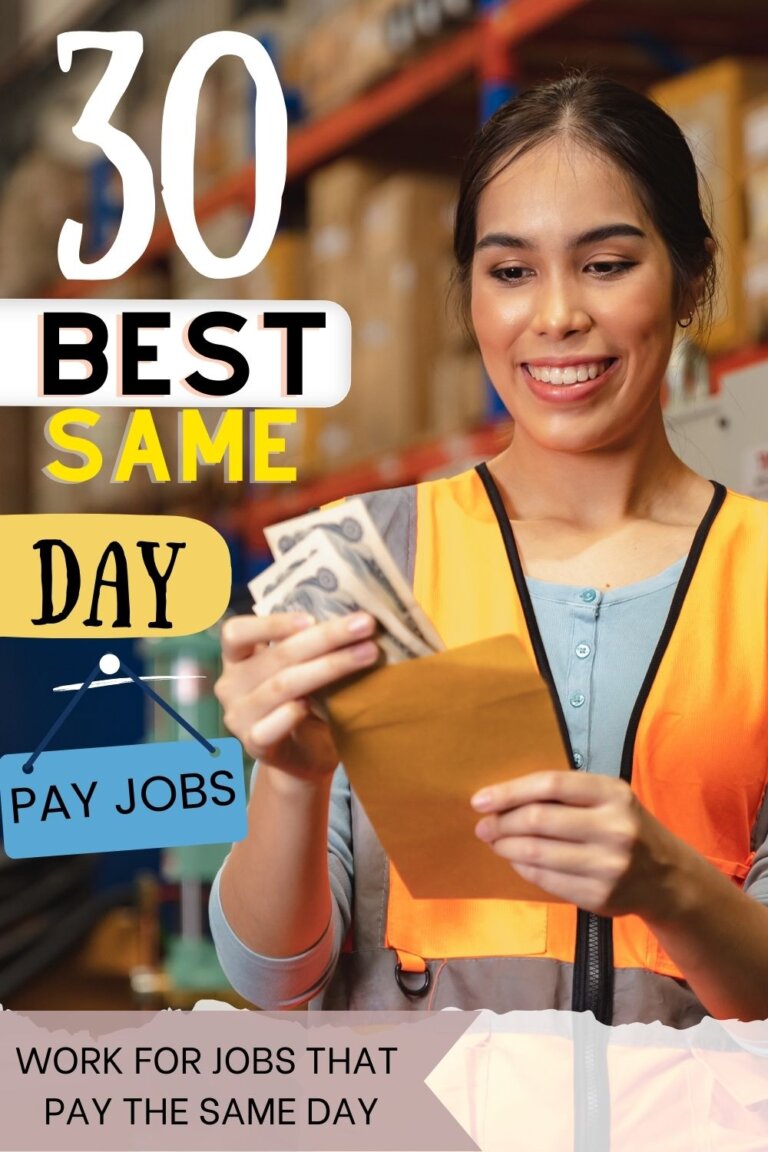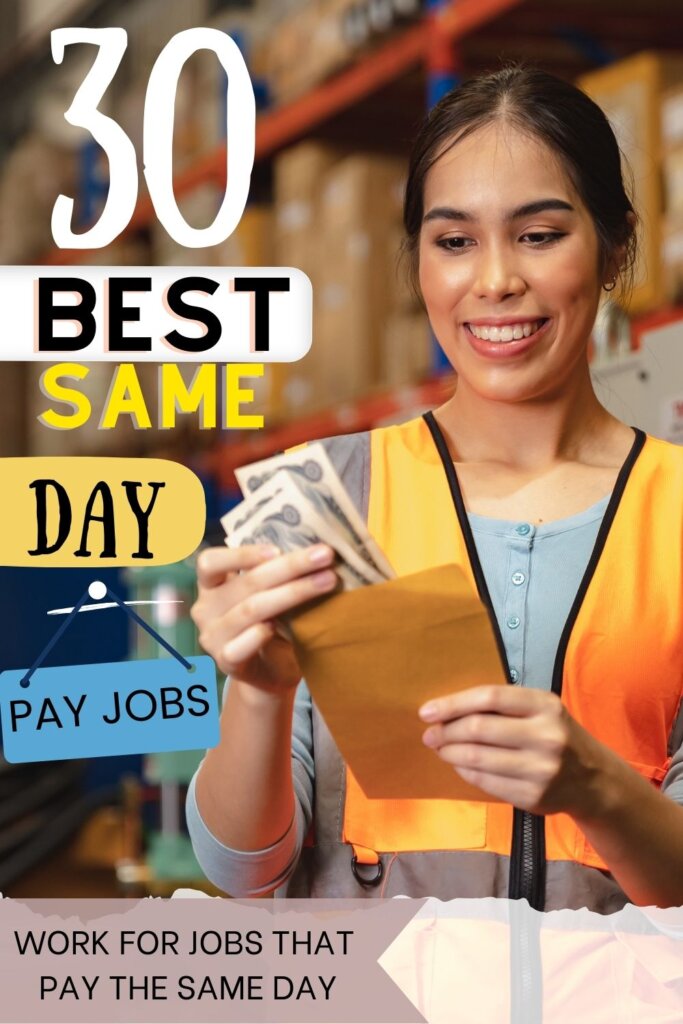 What are Same Day Pay Jobs?
Same Day Pay Jobs are employment opportunities where you complete work and receive compensation within the same day.
This dynamic approach is perfect for those needing immediate income; for example, as a babysitter, you look after children for a few hours and get paid on the same day. It provides you the advantage of quick payment without having to wait for a traditional pay cycle.
The lucrative benefit of same-day pay jobs attracts many, especially in an era when instant gratification and swift results are preferred.
How can I get paid and work the same day?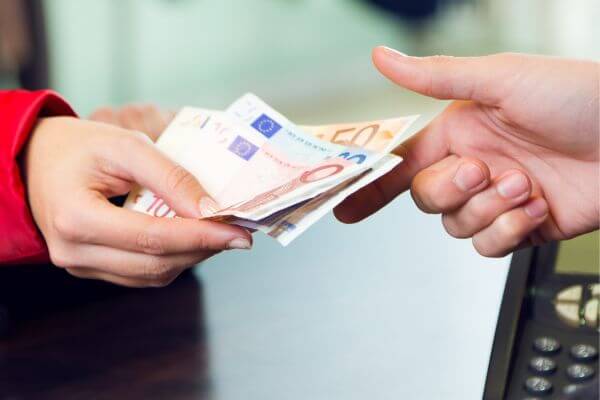 Great news! You can work and get paid on the same day! Here are a few examples for you:
Suppose you love the outdoors and our furry friends. In that case, a job like dog walking can earn you immediate cash while providing ample fresh air.
If you love cooking and have developed some culinary skills, there are always people willing to pay for a freshly cooked meal. You can offer your services to cook for parties, get-togethers, or families who want a cozy homemade meal without the hassle of cooking.
Many individuals are willing to pay cash for these services immediately after the job is complete, either for a single day's work or on an ongoing basis.
No matter your skill set, there's a same-day-pay job waiting for you. So, don't wait and jump onto the wagon of those earning daily!
Top Jobs To Be Paid In Cash Daily –
If you're investigating ways to earn money on the same day you perform a job, you're in the right place.
These are the top areas of jobs to be paid the same day.
1. Construction Jobs
2. Driving Jobs
3. Service Oriented Jobs
4. Delivery Jobs
5. Caretaker Jobs
6. Odd Jobs
This post may contain affiliate links, which helps us to continue providing relevant content and we receive a small commission at no cost to you. As an Amazon Associate, I earn from qualifying purchases. Please read the full disclosure here.
21 Best Same Day Pay Jobs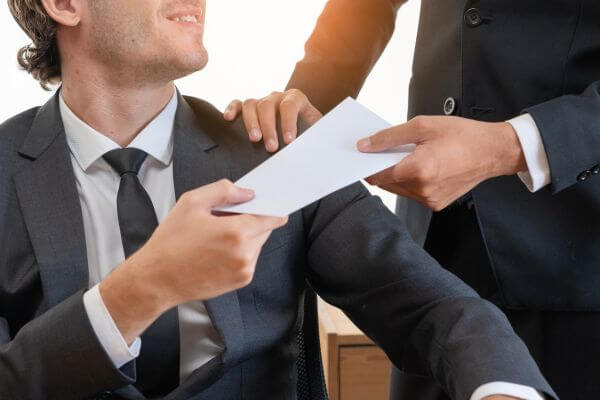 Below, we delve into a variety of job opportunities, spanning electronic repair, blog writing, service positions, and more, all offering the allure of same-day pay.
This is a great idea if you are wondering what should I do today!
Based on your skills and preferences, these jobs could be a rewarding way to add to your income.
1. Personal Shopper
Embrace the thrilling job of a Personal Shopper with apps like Instacart. Why? It's hands-down one of the best same-day pay jobs! Let's delve into why:
Flexibility reigns supreme. Choose your own hours and cash out just two hours after you work!
Variety is the spice of life. Each task is unique, making your job interesting every single day.
Communication is key. Stay in touch with your customers and get their shopping needs fulfilled.
No waiting for payday. Receive your earnings within thirty minutes of completing a shop.
Gratuity game. Amplify your earnings with tips from satisfied customers.
Perfect for those who love shopping and relish delivering excellent customer service.
2. Uber or Lyft Driver
Uber or Lyft driving can effortlessly top the list of same-day paying jobs. Here's why:
Flexibility: You have no set hours. Drive as much or as little as your day allows.
Independence: You're the boss, no need to answer to anyone.
Quick Pay: With daily payout options, your hard-earned wage hits your account immediately.
Comfortable Work Environment: Drive comfortably in your own vehicle.
Meet New People: Interact with various passengers, adding to your social skills.
Ideal for those seeking immediate earnings while enjoying the perks of self-employment, driving for Uber or Lyft is a sure winner.
Another option is earning tips from valet parking.
3. UberEats or GrubHub Delivery Driver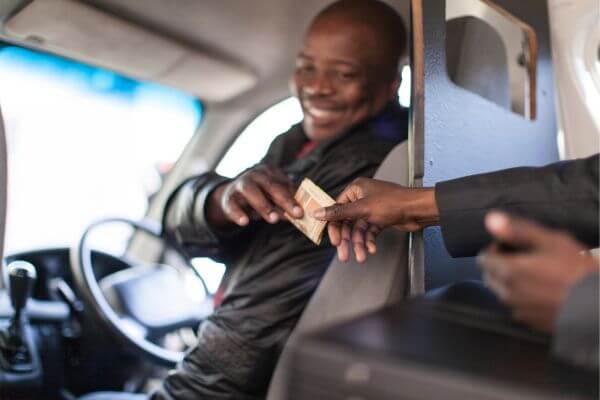 This gig is bang on for same-day pay, offering both flexibility and good earnings. Could it get any better?
Here are the top 5 reasons why this delivery job is simply unbeatable:
Flexibility: Dictate your own schedule and decide when to work— it's freedom redefined!
Earnings: Grab up to $22 an hour, not to mention the peak pay and hotspots!
Tips: Keep 100% of your hard-earned tips. Remember, the quicker the delivery, the better the tip.
Instant Pay: With Grubhub's Instant Cash Out, access your earnings in just around 15 minutes.
Perks: Enjoy exclusive discounts on oil changes, gas, and more at Grubhub.
If you've got transportation means and desire quick income, this job is perfect for you. Start delivering happiness to doorsteps and fill your pockets!
4. Pet Sitting and Dog Walking with Rover
Rover, offering pet sitting and dog walking, sits at the top. This is an extremely popular option! Here's why:
You set your own schedule: Flexible hours make it perfect for anyone.
Set your rates: Rover lets you fix your price, skilfully combining autonomy with quick earnings.
Variety of services: Walk a dog or play with a cat, diversifying tasks for added fun and income.
Quick pay: Usually, you get paid in two days, making it a viable same day pay option.
Four-legged friends galore: The best part, meeting new adorable pets on the job.
This is highly recommended for animal enthusiasts looking for flexible and fast earning jobs.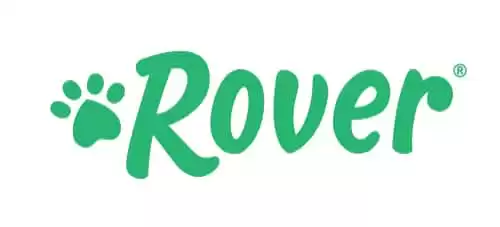 Rover
Get paid to play with pets!
Rover makes it easy and promotes you to the nation's largest network of pet owners.
Earn money doing something you love.
Become a Sitter
5. Home Decorating Service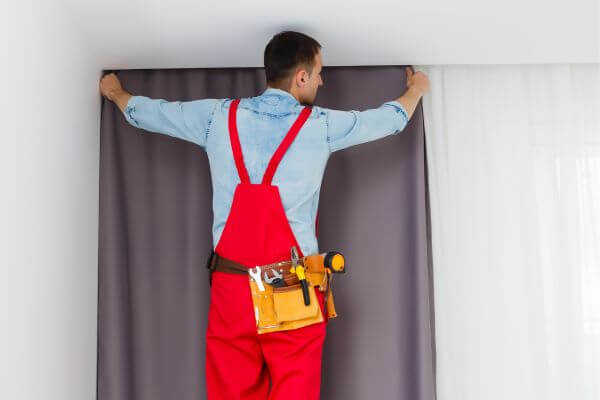 Home decorating services encompass someone helping to decorate another home with their expertise! Here's why it's top-rated:
You're essentially paid for creativity, turning ordinary spaces into stunning masterpieces.
You get to work in different environments, keeping the job interesting.
Payouts are substantial! Luxurious designs command hefty compensation.
This job often includes networking opportunities as you'll meet individuals from various backgrounds.
There's vast satisfaction in seeing your designs come to life and the happiness they bring your clients.
If you feel a strong pull towards creativity and have an undying passion for beautifying home spaces, this job is highly recommended for you.
Boost your income while doing what you love!
6. Flipping Anything
You can flip items such as workout gear, home appliances, baby gear, and more, which can lead to substantial profits as demonstrated by experts like Melissa and Rob of Flea Market Flipper who've made thousands of dollars flipping such items.
Flipping items for profit is one of the best same-day pay jobs, offering instant gratification along with solid earnings.
Lucrative: Many items considered junk are actually potential gold mines, as proven by the success of Melissa and Rob of Flea Market Flipper.
Versatile: From furniture to clothes, there is always something to sell.
Accessible: The platforms like Facebook Marketplace and Mercari make it easy for you to reach interested buyers.
Empowering: This provides you the opportunity to control your income by identifying profitable margins.
Creative: It requires a keen eye for spotting bargains and potentially profitable items in thrift shops, yard sales, or online.
Recommended for anyone looking to monetize their keen eye for spotting valuable items and seeking immediate income.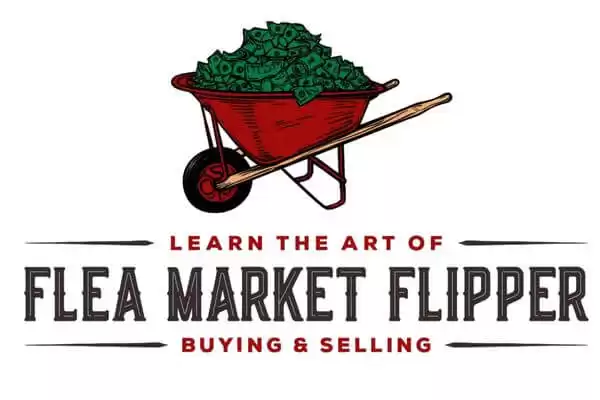 7. Transcriptionist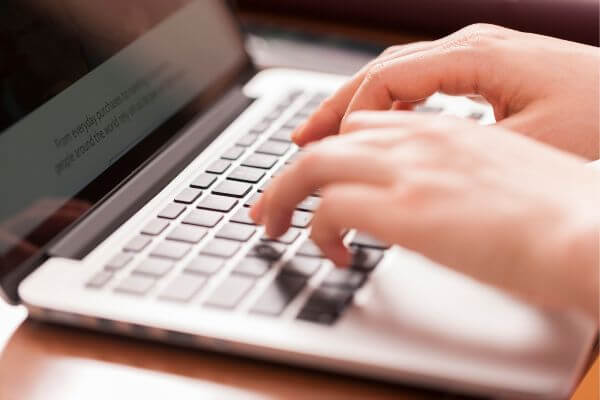 A transcriptionist is a professional who listens to audio recordings or watches video presentations, deciphers the conversations, and takes that information to create a written document, often earning daily pay and enjoying the flexibility to work from home and on a schedule that suits them.
Flexibility: You dictate when and how often you work, adjusting to your daily plans.
Diversity: With companies like TranscribeMe, Rev, and Crowdsurf, there's a wide array of industries awaiting your skill.
Satisfaction: Typing speed can turbo-charge your earning potential, making each day more rewarding.
Convenience: No commute, no dress code, just your computer and some headphones.
Freedom: Choose tasks that align with your interests and schedule.
If you've got excellent grammatical skills, can easily discern complex conversations, and enjoy a work-from-home lifestyle, transcription could be your next lucrative venture.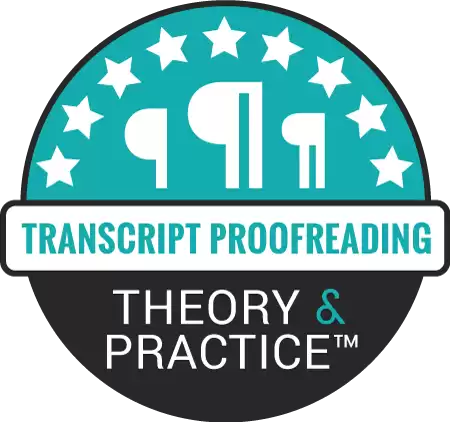 Transcript Proofreading
Get the step-by-step guide Caitlin Pyle used to build a thriving at-home business making a full-time income!
A booming legal industry means that transcript proofreaders are in higher demand than ever...
Enroll Now
8. Proofreader
If you have a knack for spotting grammatical errors and it irks you to see improper verb tenses, proofreading is the best same-day pay job for you! It made the top spot due to some significant advantages:
High-demand: Businesses, writers, and academics always need proofreading.
Flexibility: You can do it from any location at any time.
Quick earning: Several platforms pay you on the same day.
Skill growth: You can upgrade your skills and charge more.
Added services: Leverage your insights for SEO auditing and enhancing sales.
If you're a grammar enthusiast who craves flexibility and instant earnings, consider proofreading!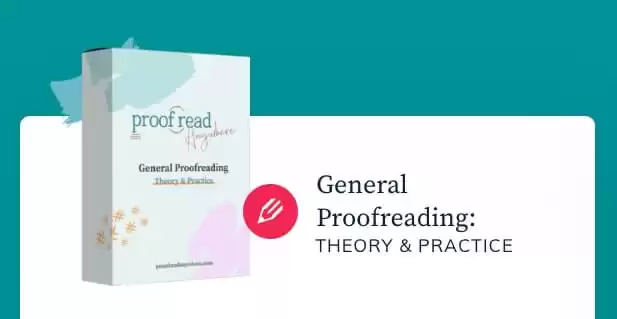 9. Warehouse Work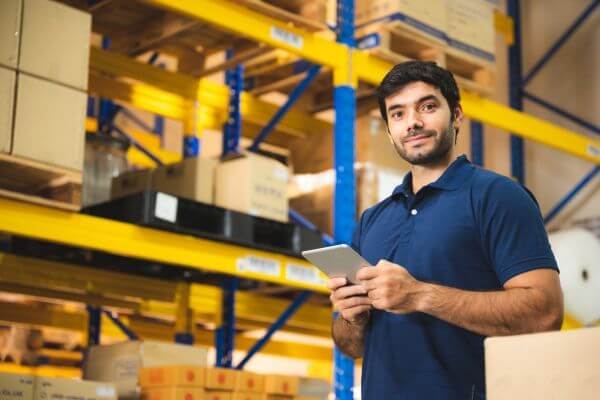 The type of warehouse work involves a variety of responsibilities such as sorting, scanning, stacking packages on pallets, and preparing customer orders for delivery in a fast-paced, physical sortation center environment, with options for part-time or full-time shifts and opportunities for career advancement and skills development.
Many warehouse jobs pay weekly, some even daily!
Prompt payment: You can cash out up to 70% of your earnings right after your shift! No more waiting for payday.
Flexible timing: Pick shifts that suit your lifestyle – overnight, early morning, day, evening, or weekend. You decide!
Busy, dynamic environment: Keep active, and engaged while learning new skills using top-notch technology.
Solid career progression: Amazon provides free training and opportunities for advancement. Your career growth is a priority.
Attractive benefits: May even be eligible for benefits including competitive wages, healthcare, and savings plans.
In essence, anyone seeking a flexible, rewarding, and fast-paced job would thrive in a warehouse!
10. Babysitting
If you love kids, then you can always find a babysitting job or two!
High Pay: Babysitters average about $15 an hour. Pay can increase based on the number of children or specific care requirements.
Immediate Payment: Often, you're paid the same day in cash or through Venmo.
Flexible Schedule: You can work around your availability, making it an ideal gig for those with variable schedules.
In-Demand: There's a soaring demand for dependable babysitting services, assuring a consistent stream of income.
Skill Enhancing: Get bonus points (and pay) for relevant certifications like CPR or early childhood education.
Notably, if you enjoy kids and thrive in dynamic environments, babysitting could be your perfect same-day-pay job! SitterCity is a great place to start finding real gigs.
11. Mystery Shopper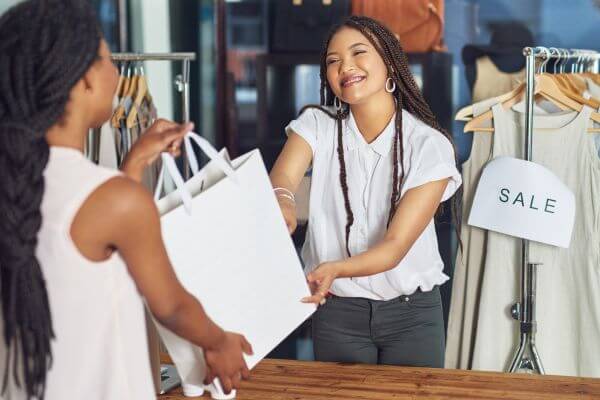 Love to shop? You'll adore getting paid to peruse in your favorite stores. Here's why it is undoubtedly one of the best same-day pay jobs:
Valuable Tasks: From auditing to price checks and mystery shopping, the tasks you undertake hold significant value.
Flexibility: There's no fixed timetable! Earn while you enjoy your shopping spree.
Quick Payout: With Field Agent or Gigwalk apps, you can get paid on the same day! Some I have down have taken a week to get paid.
Variety: No room for monotony, as every task is unique.
Perfect for the Shopaholic, you can experience shopping to the fullest while earning. So next time you visit your local grocery store, why not earn some bucks by verifying the products they carry?
12. Ibotta
Why not use Ibotta, one of the best cash back apps out there! It tops the list because it pays you for things you're already buying!
You earn cash back on groceries, clothing, and electronics boosting everyday savings.
An easy-to-use interface, making money-saving a breeze.
Flexibility to shop both in-store and online.
Quick cash-out once you've earned $20 in cash back.
The chance to earn a $10 bonus when you sign up and redeem your first rebate.
This job comes highly recommended for savvy shoppers looking to save and make money on their everyday purchases. Join Ibotta and start earning today!
13. Selling Printables
The demand for printables on Etsy is strong, especially for consumer favorites like planner pages, invitations, birthday cards, and stickers, making it a lucrative niche for online sellers.
Plus selling printables on Etsy is an incredible same-day pay job for these top features:
Unmetered earning potential: Your earnings are dictated only by your creativity and selling prowess!
Inventory-free business: You'll save on cost, storage, and time since all products are digital.
Passive income generator: Once a printable is designed, it could bag sales repeatedly without any extra effort.
Vast market reach: Etsy's popularity offers a ready market for your creative products.
Totally free start-up: Starting your Etsy store comes free, ensuring zero initial investment. Find out the popular digital products to sell on Etsy.
So, if you're artistically inclined and desire a flexible and quick-paying gig, selling printables on Etsy might just be a perfect match.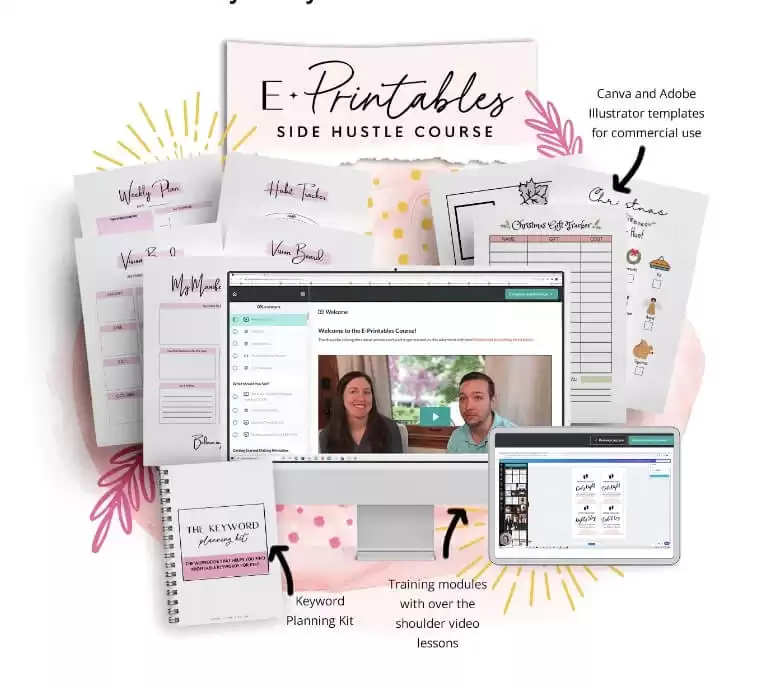 14. Freelance Writer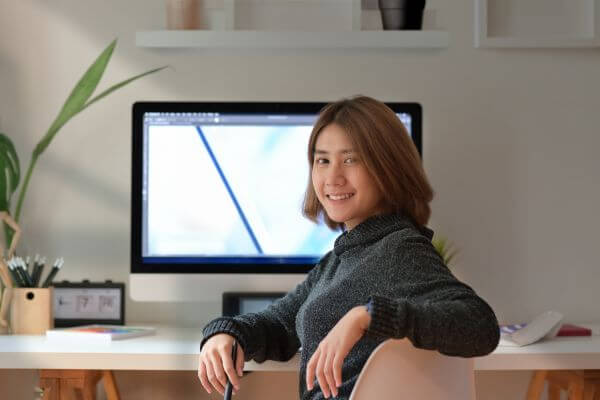 As a freelance writer, you have the freedom to choose what to write. With myriad options like blog posts, social media updates, and ebooks, you decide your writing forte.
Flexibility: Work remotely and decide your payment mode, providing a uniquely flexible work-life balance.
Rapid earnings: Get same or next-day pay, helping you manage your finances efficiently.
Variety: Every contract brings a fresh challenge and diverse clientele, preventing monotony.
Entrepreneurial spirit: Be your own boss, and scale your business at your pace.
Ideal for wordsmiths with a knack for deadlines, it's time to set forth on the exciting journey of freelance writing!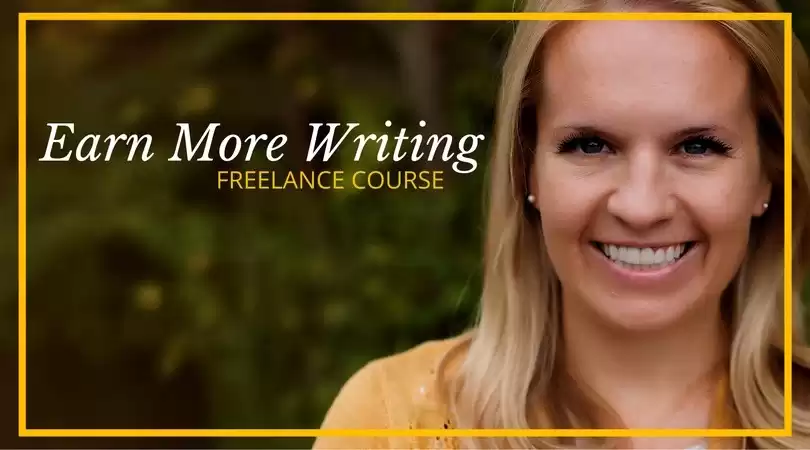 Earn More Writing
You can make money as a freelance writer.
Learn techniques to find those jobs and earn the kind of money you deserve!
Plus get tips to land your first freelance writing gig!
Start Now
15. Household Personal Assistant
This is someone who is helping with the family's personal and professional needs. The tasks can vary by what your employer needs to be done.
If you love to run a household this could be.
Active – the physical work keeps you active and fit.
Variety – no two days are the same.
Hours – The job offers flexible hours to accommodate your schedule.
Work in a fast-paced environment that makes time fly.
This job perfectly suits those craving quick cash and don't mind the aspect of being someone's right-hand man.
16. Postmates Delivery Driver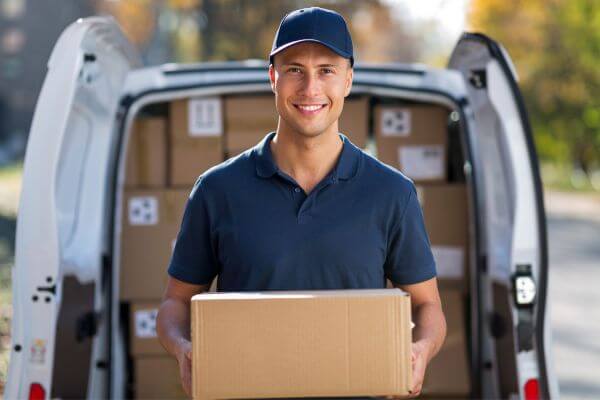 A Postmates delivery driver picks up and delivers meals from various restaurants to customers' homes or businesses, choosing their own hours, and earning over decent money.
Flexible Schedule: Choose when to work, fitting your income-making into whenever suits you best.
Above Minimum Wage Earning: You can make $15 an hour, with the potential for more in busy hours.
Instant Payout: Postmates allows for up to 5 instant cashouts per day, once you've earned at least $1.
Minimal Requirements: All you need is a car and enthusiasm!
Diverse Deliveries: Spice things up by delivering from various restaurants, not just one!
This job suits independent spirits seeking to control their income, time, and pace. Start delivering with Postmates today, and enjoy the freedom it provides!
17. Freelance Services on Upwork or Fiverr
Nowadays, you can offer various freelance services such as freelance writing, working as a virtual assistant, transcription, proofreading, and editing for digital content, providing your expertise in a diverse range of areas.
When freelancing on platforms like Upwork and Fiverr and able to meet high-quality standards, you can potentially earn same-day pay.
Flexibility: You choose when and where to work, allowing you to control your schedule.
Unlimited opportunities: Numerous jobs are posted every day in a wide range of fields.
Instant payment feature: Get paid immediately after completing a task.
Control over earning: You set your prices and decide what you earn.
Direct contact with clients: Get immediate feedback on your work.
If you're a creative individual or want to freelance outside your 9-to-5, Upwork and Fiverr are perfect for you. Welcome to a world of incredible freelance opportunities!
18. Bookkeeping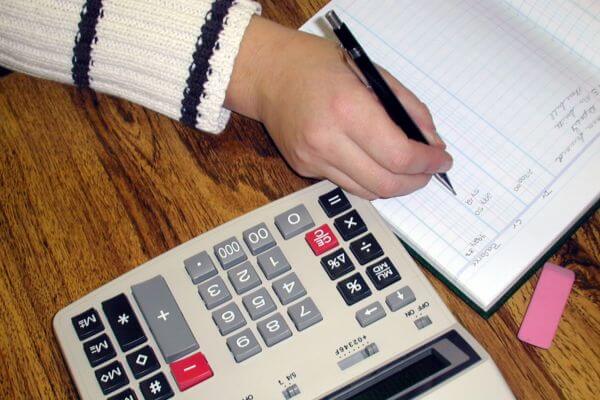 A bookkeeper is responsible for recording and managing daily financial transactions for a business, including paying bills, managing payroll, and collecting payments, ensuring all financial data is accurate and up-to-date. This is a highly sought after position!
High pay: Averages $30-$40 per hour, promising impressive earnings!
No degree? No problem: Unlike accounting, bookkeeping doesn't require a degree.
Flexibility: Ideal for those seeking a balance between work and personal time.
Extensive Application: Small businesses, bars, and restaurants are often in need of bookkeepers.
This job aligns perfectly with individuals good with numbers, more specifically those with accounting or business knowledge. Dive into bookkeeping today by taking this introduction webinar.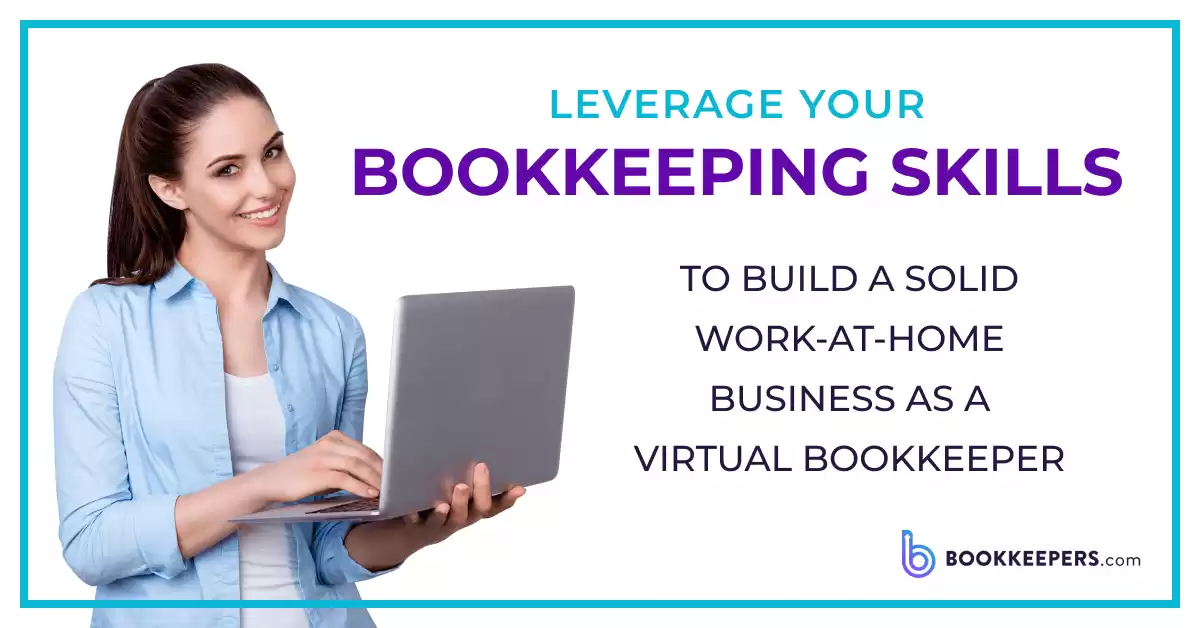 Earn Extra Income with Bookkeeping
Bookkeeping is the most stable, reliable & simple business to own. This is how to make a realistic income -either part-time or full-time.
Find out TODAY if this is THE business you've been looking for.
Show Me How
19. Courier Service Jobs
Courier services generally perform the task of delivering goods, packages, and mail from one location to another. These can vary from simple letters to large parcels which may include home appliances or furniture.
They work closely with both businesses and individuals, providing personalized services based on their unique needs. Whether it's delivering important legal documents, retail goods, or personal belongings, courier services cater to a wide range of requirements.
Prompt Earnings: These jobs pay swiftly, often on the same day.
Flexible Schedule: You get to pick your own work hours that suit your lifestyle.
Fair Terms: You're an independent contractor, not tied to any single entity.
Choice of Deliveries: Accept orders that you are comfortable delivering.
Perfect for students, part-timers, or anyone looking to supplement their income with a flexible hustle.
20. Scrap Metal Collection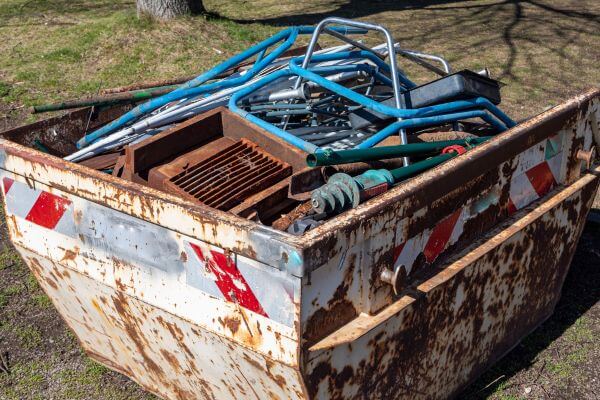 Scrap metal collection is simple and pays really really well! This is a popular job for teens and young adults!
Instant payment: Collection sites pay in cash on the same day.
Profitability: With knowledge of scrap metal values, you can make hundreds a month.
Environment-friendly: It's a fantastic way to promote recycling.
Active job: It gets you moving and lifting, contributing to daily exercise.
This job is recommended for anyone seeking quick cash, particularly those enjoying physically active tasks and possessing a knack for identifying valuable scrap.
Great as side hustles for college students!
21. Steady
Need same-day pay? Look no further, Steady is your solution! This revolutionary app made it to the top because it confidently challenges traditional work norms by providing fast and flexible earnings.
Here are the top 5 features that set Steady apart:
Convenience: Just download the app, create a profile, and connect with local jobs instantly.
Variety: With a plethora of available jobs, there's one that will surely pique your interest.
Clear instructions: Once selected, you receive precise details and instructions to make the job easier.
Same-day pay: No waiting game here, get paid directly to your bank account on completion.
Extra income: Existing Steady members clock an extra $5,500 in average income yearly!
Steady is recommended for those struggling to make ends meet or seeking additional financial freedom.
22. Data Entry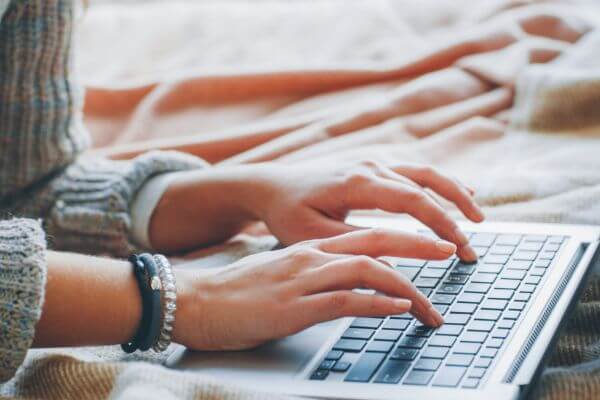 Love digging into data? Data Entry could be your top pick for same-day pay jobs.
Fast and easy: Data entry involves inserting provided information into databases, making it incredibly user-friendly.
Money-maker: Given the versatility of jobs and time flexibility, you're sure to line your pockets significantly.
Quick payouts: Upon project completion and payment processing, your earnings are readily available.
If you're a stats aficionado or a fast typer, data entry would be a delightful side gig. Westat, for example, has ample opportunities. Just dip in and see your earnings soar!
23. Day Trader or Swing Trader
Trading stocks and options daily can be a profitable same-day pay job, with most platforms offering commission-free transactions to maximize your earning potential.
Stay Busy: You'll remain engaged. The stock market is always moving.
Shift Flexibility: Choose what type of trader you want to be and work limited hours.
Unlimited Potential: There is no limit to what you can earn and lose in the stock market.
Personally, this is one of the ways I choose to make money each day! But, you must have a solid investing education before you partake in trading stocks.
This rewarding job comes highly recommended for those yearning for a fast-paced, at-home work environment with flexible hours and instant pay!
Trade & Travel
Learn to trade stocks with confidence.
Whether you want to:
Retire in peace without financial anxiety
​Pay your bills without taking on a side hustle
​Quit your 9-5 and do what you love
​Or just make more than your current income....
Making $1,000 every.single.day is NOT a pie-in-the-sky goal.
It's been done over and over again, and the 30,000 students that Teri has helped to be financially independent and fulfill their financial dreams are my witnesses…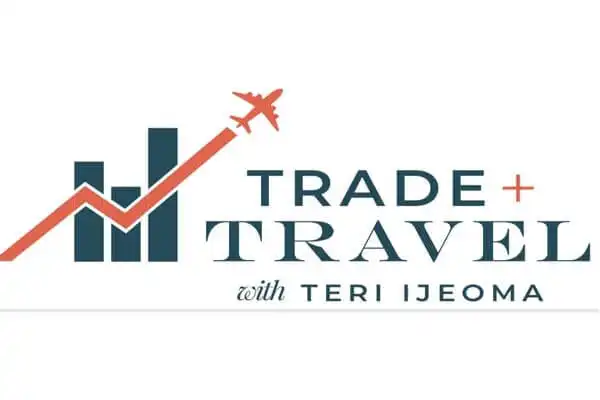 24. Shipt Shopper or Instacart Shoppers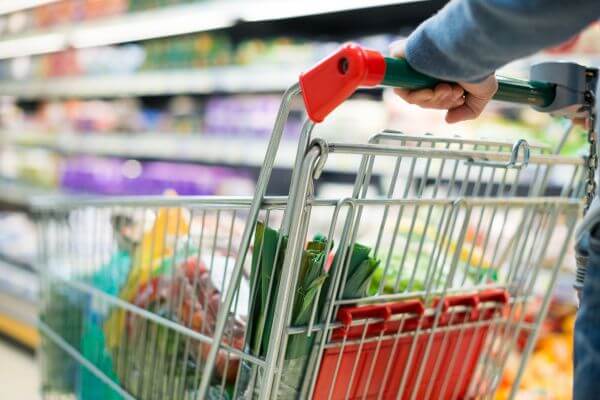 These platforms allow you to shop and deliver groceries for customers from local stores, and earn a fee per order plus tips, with an earning potential of $15-$20 per hour.
You enjoy *Flexible hours*, picking up or dropping orders at your convenience.
An *Easy-to-use app* ensures efficient communication with customers.
Higher *Earning potential* upwards of $20 per hour, inclusive of tips.
*Set your delivery preference* within your comfortable proximity.
This job ideally fits anyone seeking immediate earnings with flexible work-hours and has a vehicle. Sign up with Instacart today!
25. Landscaping Service
Ideal for those who enjoy being outdoors and seek a physical job, this task is perfect for green thumbs or anyone with a love for nature.
Easy to start. With just basic tools and know-how, you're good to go!
Year-around demand. Mowing, weeding, and even snow shoveling are appreciated in all seasons.
Flexible. You can schedule your work on your own terms.
Referrals are common. Excellent customer care ensures your client circle grows.
It's local. Services like NextDoor let you find work in your neighborhood!
Choose Landscaping – it's more than a job. It's fast cash as a side hustle for men!
26. Cleaning Houses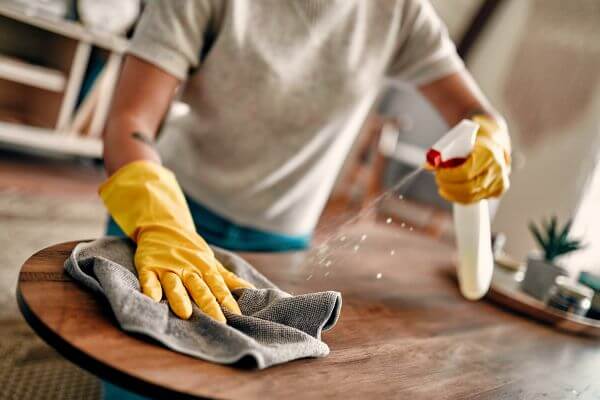 Cleaning houses is an underrated job with competitive hourly rates, providing an opportunity for same-day cash pay, with housecleaners potentially earning over $50 an hour, making it an attractive prospect for additional income.
Ready Market: The high demand for affordable cleaning services positions you for numerous opportunities.
Competitive Pay: With rates stretching above $50 an hour, the financial rewards are impressive.
Same-Day Cash: Cleaning jobs typically pay on the same day, boosting your cash flow instantly.
Freedom and Flexibility: Set your own rates, schedule, and choice of clients. Total control is in your hands.
Simple to Start: Just gather some cleaning supplies and spread the word. It's as easy as that!
This job is ideal for flexible workers who love doing physical work that yields visible results.
27. Simple Tasks on TaskRabbit
TaskRabbit is an efficient platform to find simple, odd jobs such as lawn care, furniture assembly, cleaning tasks, and more, with the added perks of setting your own rates and getting paid daily.
Flexibility: You're in control of your rates and schedule, customizing your workflow to suit your lifestyle.
Diversity: From lawn care to tech help, there's an assortment of tasks available, keeping your day-to-day interesting.
Quick Payment: The payment settles into your bank account within 24 hours after task completion.
Profile Customization: Set up a profile detailing jobs you're willing to do and specify your rates.
Although the platform is competitive, consistent quality work can lead to more business.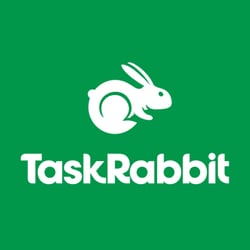 TaskRabbit
Find local jobs that fit your skills and schedule.
With TaskRabbit, you have the freedom and support to be your own boss.
Plus set your own rates!
Get Started
28. Branded Surveys
Branded Surveys allow you to earn between $1 to $3 per survey, which can be conveniently converted to cash or gift cards once you accumulate at least $5 worth of points.
Your voice counts. This platform provides an outlet for your opinions on various products and services.
The rewards system is versatile, offering payment via PayPal, bank transfer, or gift cards.
The points to cash threshold is low. You can cash out once you've earned 500 points.
Loyal users get even more. Silver badge holders can earn money through referrals.
Here are the top legit survey platforms:
LifePoints (MySurvey)
iSurvey World
E-Poll Market Research
Ideal for anyone seeking a straightforward way to monetize their spare time, Branded Surveys create a win-win for consumers and companies.
29. Focus Groups
Engaging in paid focus groups, where you're remunerated for sharing your insights on various topics, is one of my favorite ways of making money as it not only leads to an income but also allows me to voice my opinions and insights.
Instant Pay: You receive compensation immediately after participation, making it a good option for immediate income.
Interesting Topics: The discussions usually revolve around novel products or services making it an engaging job.
Meet Diverse People: Since the groups pull participants from various demographics, it can be socially enriching.
Easy Tasks: Unlike other jobs, focus groups only require your opinion, making it quite straightforward.
Flexible Schedules: Meetings can often be arranged to fit around your commitments providing flexibility.
This job is perfect for those seeking immediate income and flexible work hours with minimal requisites.
30. Acorns
This is a user-friendly investment app that efficiently rounds up your everyday purchases to the nearest dollar and invests the change into a diversified portfolio of Exchange Traded Funds (ETFs), enabling you to grow your wealth incrementally without the need for active trading.
Acorns made it to the top owing to its user-friendly nature and automatic investment technology.
Simple set-up: Link your bank account and credit card, and the app does the job, no expertise is needed.
Roundup feature: It rounds up your purchases and invests the difference, creating a seamless way to save.
No stock market stress: Stop wondering about ups and downs in the market, Acorns has it covered.
Micro-savings: Small savings today can grow into significant investments over time.
Ideal for people aiming to start their wealth-building journey without getting overwhelmed by the intricacies of investing. Get started with Acorns for free!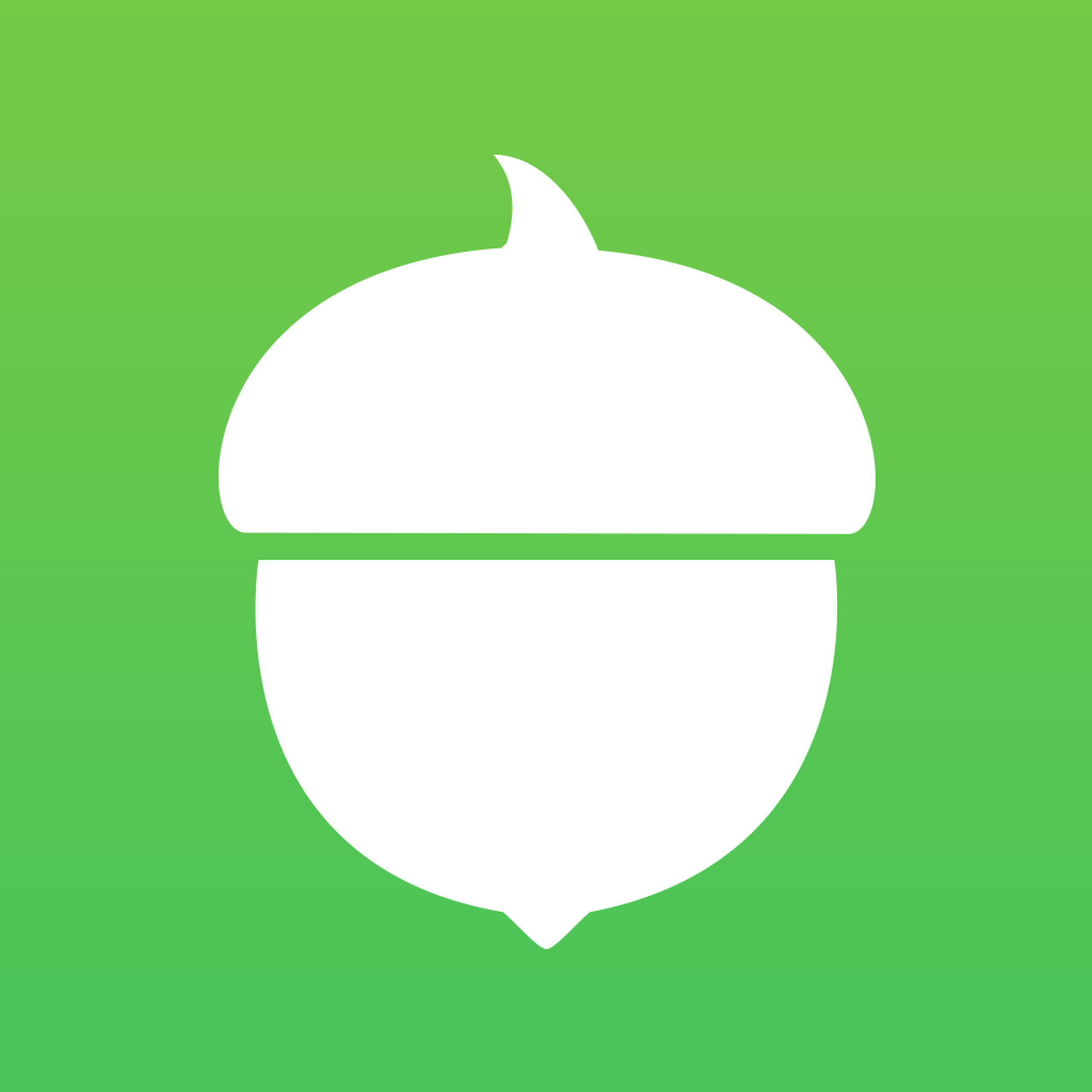 Acorns
Invest spare change, invest while you bank, earn bonus investments, grow your knowledge and more.
Every purchase you make means an opportunity to invest your spare change! So coffee for $3.25 becomes a $0.75 investment in your future.
Get Started
Is there a job that pays you every day?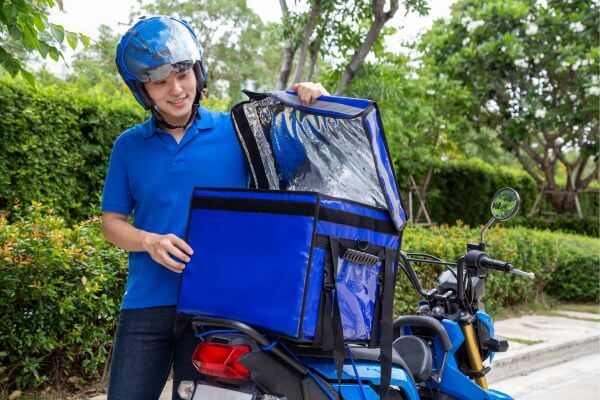 Yes, there are indeed jobs that pay you every day!
For example, part-time gigs like a dog-walker, babysitter, or delivery driver can provide immediate payouts on the day of work. Freelance roles such as bookkeeping and proofreading, or even just completing online surveys and selling items online can also offer same-day payment.
Remember, getting paid every day can help you reach your financial goals faster, especially when you need cash quickly.
If you are looking to raise money for a school quickly, look at a food truck fundraiser to help you reach your goals!
FAQ
Which Jobs that Pay the Same Day Interest You?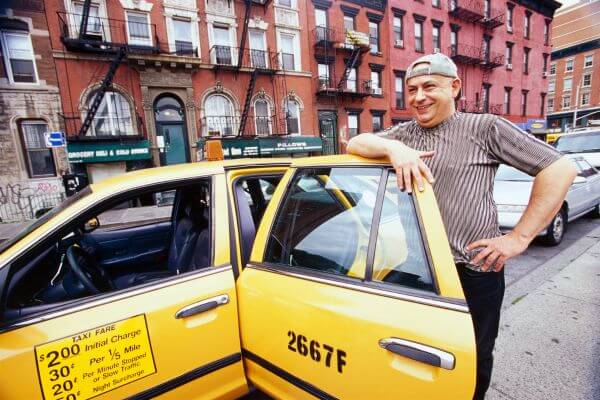 Same-day pay jobs are a game-changer in the job market, making it possible for you to earn money immediately after work. The top choices include delivery and driving jobs, online freelance work, and service industry positions.
Most importantly, they offer you the power to decide your schedule and workload.
There's no waiting for a monthly paycheck; you receive your cash instantly.
You can easily find a wide variety of roles available, fitting various skill sets and preferences.
Many are actually low stress jobs that pay well without a degree.
Whether you're a student, stay-at-home parent, or just someone looking to supplement their income, same-day pay jobs are a versatile solution. You're ready to start earning now!
Description:

This is the perfect side hustle if you don't have much time, experience, or money.

Many earn over $10,000 in a year selling printables on Etsy. Learn how to get started by watching this free workshop.

Description:

Learn how to buy and resell items from flea markets, thrift stores, and yard sales.

This is how to create a profitable reselling business quickly

…no matter how much or how little experience you have.




Description:

The SavvySystem is the signature self-paced Virtual Assistant Program with step-by-step instructions for launching your own at-home business from scratch.

Swipe our exact methods to start earning a living from anywhere as a VA – no experience needed!

Description:

Are you passionate about words and reading?

If so, proofreading could be a perfect fit for you, just like it's been for countless of my readers!

Learn how you can create a freelance business as a proofreader.

Description:

Get the step-by-step guide Caitlin Pyle used to build a thriving at-home business making a full-time income!

A booming legal industry means that transcript proofreaders are in higher demand than ever...

Description:

Stay for free with adorable animals in unique homes around the world. Sit as often as you like, wherever you like.

Description:

Bookkeeping is the most stable, reliable & simple business to own. This is how to make a realistic income -either part-time or full-time.

Find out TODAY if this is THE business you've been looking for.

Description:

Learn to trade stocks with confidence.

Whether you want to:

Retire in peace without financial anxiety
​Pay your bills without taking on a side hustle
​Quit your 9-5 and do what you love
​Or just make more than your current income....

Making $1,000 every.single.day is NOT a pie-in-the-sky goal.

It's been done over and over again, and the 30,000 students that Teri has helped to be financially independent and fulfill their financial dreams are my witnesses…

Description:

You can make money as a freelance writer.

Learn techniques to find those jobs and earn the kind of money you deserve!

Plus get tips to land your first freelance writing gig!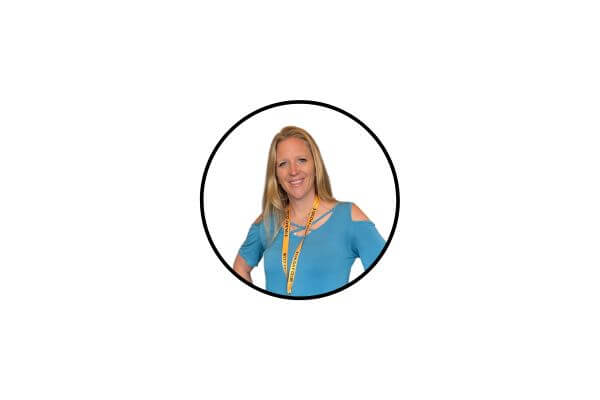 Did the post resonate with you?
More importantly, did I answer the questions you have about this topic? Let me know in the comments if I can help in some other way!
Your comments are not just welcomed; they're an integral part of our community. Let's continue the conversation and explore how these ideas align with your journey towards Money Bliss.