10 Simple Tips on How to be Frugal with Food
Inside: Here are the tips and tricks on how to be frugal with food. Learn what a frugal budget for 1 and family of 4 or more. Find plenty of furgal living ideas in the kitchen to save money.
One of the basic expenses in life surrounds food.
The options on how to consume our food are endless and that is a complete blessing. You can cook your own food, grab takeout, pick up food from a specialty store, or patronize your favorite restaurant. Whatever you need to do to fill your belly.
For many families, the food budget takes up a great percentage of their overall budget.
So, a frugal food budget will help you to save money and eat healthier, too!
Learning how to be frugal with food isn't hard at all.
Just like any of the frugal living tips, it starts with changing and implementing habits that are easy to start. Then, slowly work to include more food hacks to become more thrifty with your grocery budget.
If you are ready to learn how to be more frugal with groceries, then you are in the right place.
If you are wondering how much should a monthly food budget be, we will get an answer on a realistic food budget. One from a mom who knows it can be done.
Let's dig in and learn how to be frugal with food and still enjoy delicious meals.
(Hint: you won't be eating just beans and rice.)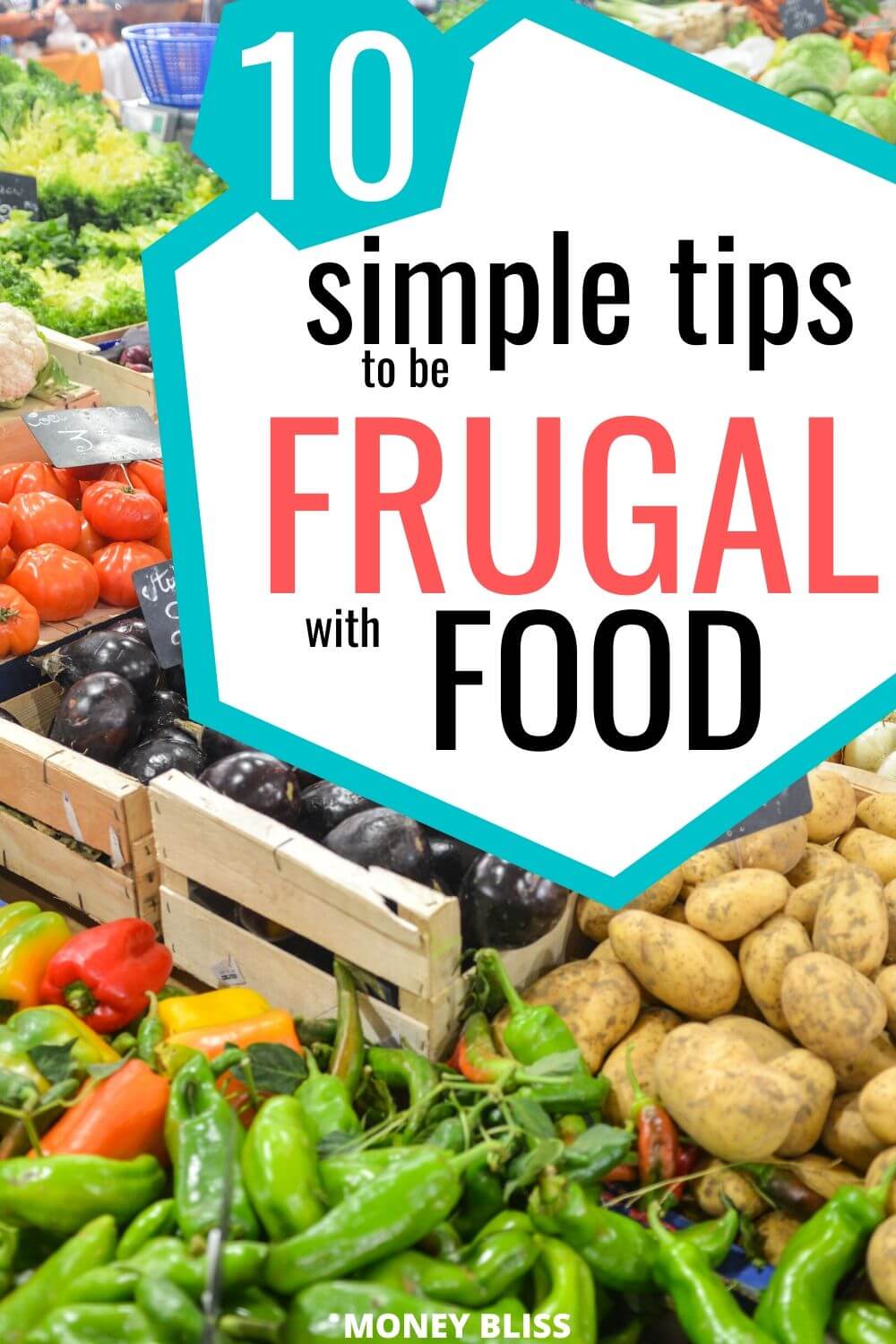 This post may contain affiliate links, which helps us to continue providing relevant content and we receive a small commission at no cost to you. As an Amazon Associate, I earn from qualifying purchases. Please read the full disclosure here.
How to be Frugal with Food?
This is probably my favorite area to teach people how to be more thrifty with food.
Did you know that on average most people waste 20% of their food?!?!? That is food that is uneaten and gets thrown out, food that spoils, not using all of the items, etc.
Would you throw 20% of your grocery budget in cash into the trash can? For many people, that would be throwing in excess of $100 a month into the trash. More than likely, you are horrified at the thought. Yet, that is what the average person does each month!
It is the easiest place for anyone that needs to improve your budget.
Being thrifty with food is simple once you learn a few tricks. Enjoy these frugal food money saving ideas…
1. Learn to Cook
The first thing you must do is to learn to cook.
This single frugal tip and trick will save you thousands of dollars each year!
Unfortunately, cooking at home is becoming less and less common each year; at the same time, the rise of the fast food and convenience food industry has grown.
You can't be a thrifty person unless you know the basics of cooking.
Plus the best part is cooking is fairly simple – you just need to know the basics.
The Best Learn to Cook Cookbooks:
I always say have a few trusted cookbooks on hand that are your go-to resources for finding recipes.
2. Know a Stock Up Price
Grocery store prices are constantly fluctuating. To stretch your grocery budget the furthest, you must learn the lowest price a certain item is sold.
For example, strawberries in December will cost you $4.99 a package. But, during their growing season of April and May, you can find strawberries for about a dollar or two. That is a $3 difference.
You might believe that spending an extra $3 to get strawberries isn't a bad deal, but you don't have your thrifty person hat on. If you bought them out of season each week, you could spend an extra $100 on just strawberries.
What is a stock-up price?
The lowest price an item is typically sold for.
You can download your grocery stock up price list.
3. Meal Plan
This tip and trick is essential for the frugal person. It helps to ensure that everything bought at the grocery store has a plan and a place.
Meal planning is a great money saving tip!
If you never meal planned before, it is way easier to do than you think. Plus you are never caught up in the question… What is for dinner? You already have it planned and won't be scrambling at the last minute.
The extremely thrifty person would also plan out breakfasts and lunches as well. For me personally, I just make sure we have on hand what we typically eat for those meals. You can learn how to meal plan for a month.
Meal Planning Resources:
4. Freeze Leftovers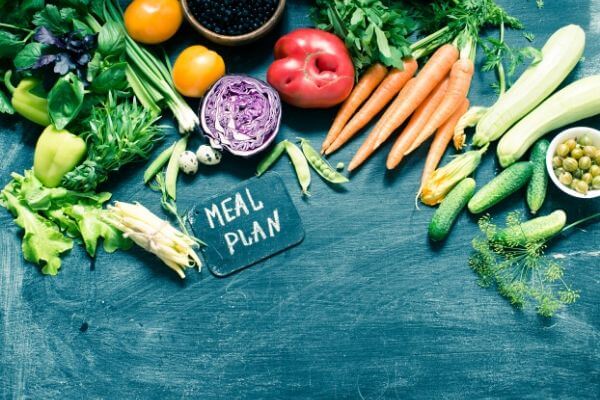 A key way to make sure you don't food spoiled food into the trash can is to freeze it before it goes bad.
You can freeze almost anything!
Your week isn't going as planned or the kids are eating as much as you anticipated, so you are left with a bunch of leftovers. Yes, that happens. You just have to be prepared with your thrifty tips on what to do.
In this case, freeze extra leftovers. To cut down on waste, check out these reusable bags.
Personally, I love to freeze leftovers. So, when there aren't enough leftovers for lunch, I always have a healthy option to eat.
Hint: These are my favorite tool when freezing food or leftovers. No dumping food everywhere and you can fill the bags without help.
Pro Freezer Meal Tip: Plan to make extra freezer meals. That will help you become more frugal with food.
This is something I have done over the years. We gather a group of friends and spend time together making meals to stock our freezer with. We save even more money than making a single meal.
Freezing extra meals helps you on busy nights when time is crunched and difficult to cook a meal.
5. Make sure to Eat Frozen Meals
A frugal person will make sure to eat any frozen food in a reasonable amount of time.
While each type of meat and other food item has a different freezer shelf life, my rule of thumb is to eat everything within 3-6 months.
The only exception to the above rule is the quarter of a cow. That is processed for longer term shortage and we know it hasn't been thawed at any time.
By eating everything sooner rather than later, it minimizes freezer burn and foods will last fresher.
When your grocery money is running out, a helpful trick is to cook or reheat food from the freezer! That is one of the save money on groceries tricks.
6. Keep a Stockpile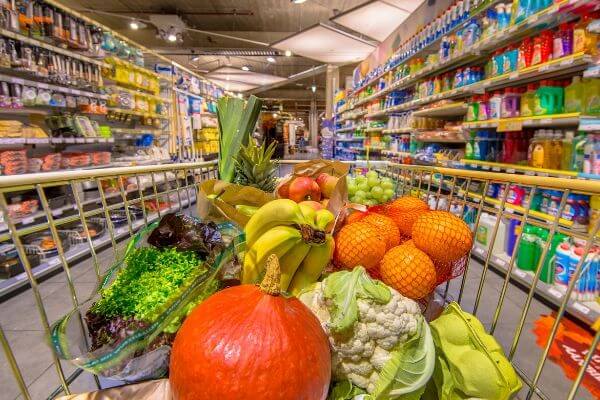 A stockpile is helpful to know you are paying the lowest amount for a grocery item.
The key is to not have an extreme stockpile where you can't use up the personal care items and it will take you 7-10 years to do it.
The ultimate stockpile amount is to buy enough until the next sales cycle hits.
For example, peanut butter goes on sale around back to school and typically one other time per year. So, I would buy enough peanut butter to last about 5 months.
Another example is health foods. Each January the lowest prices on health and organic foods will happen. The manufacturers want to make sure their products are affordable when people want to stick to their New Year's resolutions.
A stockpile is great for items with a long shelf life – cereals, oats, beans, rice, peanut butter, personal care, or laundry / cleaning items.
Once you start to meal plan for a month, you will begin to learn how much food you need to stockpile since your grocery store trips are limited to one or two times per month.
7. Know How to Use Everything
This is where a thrifty person excels!! A must frugal food tip!
This is where an average mom like myself turns to Google. For example, I had zero clue the tops of beets could be used. Guess what? They can and are great for salads, stews, or adding to the meat. Plus they are full of good nutrients!
Learn to use all the scraps and have a waste-free kitchen with this resource list!
More than likely, this will be one of the last frugal food habits to pick up and that is okay. It takes time to learn how to use everything in the kitchen. The key is to be wise and do your best not to waste money.
8. Eat Less Meat
This isn't about the cheapest thing to eat. It is just a true fact.
Meat is the most expensive part of a meal.
By eating less meat and start adding plant based ingredients, you will create frugal meals for a fraction of the cost of meat.
Many people are under the ill-advised notion that fruits and vegetables are too expensive. However, they are cheaper than meat and more filling than quick carbs and snacks. So, in the end, you will save money.
Personally, we aim for at least 3 meals without meat each week.
But, that wasn't always the case! I made the most awful-tasting meals without meat. Thankfully, I found this plant-based cookbook that changed my family's perspective on eating less meat.
9. Cheap Food Substitutions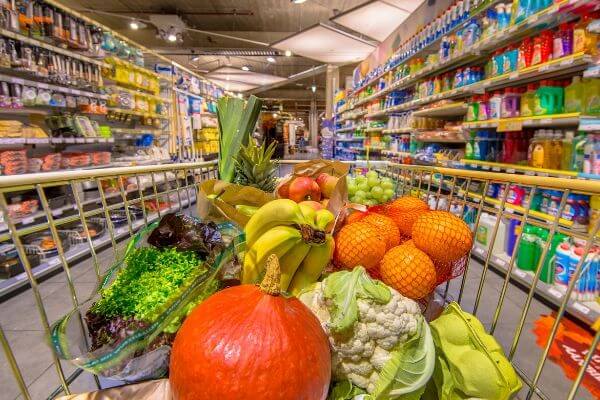 One of the hardest things, when you follow a recipe, is coming across ingredients that you must use to make the recipe taste right. However, many of the recipe owners aren't always focused on writing recipes to save the most money possible.
There are easy ways to make substitutes in recipes that will save lots of money. Believe me… I do it all the time.
Here are my personal cheap substitutions to save money:
This can be substituted for any chicken, beef or vegetable stock in any recipe. Plus when you are freezing meals, only add the bullion to the freezer meal. Then, upon cooking, you add the extra water.
Cost Savings: One 16 oz jar = 38 cans or 19 boxes = $12-31 savings per jar
Honestly, dry beans cooked in a crockpot taste way better than canned beans. Plus you save on the salt and extra stuff added.
Cost Savings: 1 heaping pound of dry beans = 3 cans of beans = $2 savings per pound
The main reason I prefer minced garlic in the jar is the simplicity of mincing up the garlic. It is already done for you. The hassle is worth the price. But, in actuality, it is cheaper than buying garlic cloves.
Cost Savings: Huge and difficult to calculate
This is a great substitute, especially for drinks. Plus the bottle of lemon juice lasts longer than lemons.
Cost Savings: For most lemons, you can get 8 Tablespoons of lemon juice from them. A big bottle of lemon juice has 66 tablespoons = $8 a big bottle
Also, these cheap substitutes take up less space in the pantry. Find cheap foods when you're broke to keep on hand.
10. Shop Less Often
If you are heading to the store more often, more than likely you will pick up a couple extra items and may end up with wasted food at home.
To be the most thrifty with food, would mean shopping for everything once a month. You can learn how to meal plan for a month.
To be frugal with food, then you would be shopping no more than once per week and sticking to your grocery list. No last-minute impulse purchases.
Realistic Food Budget for 1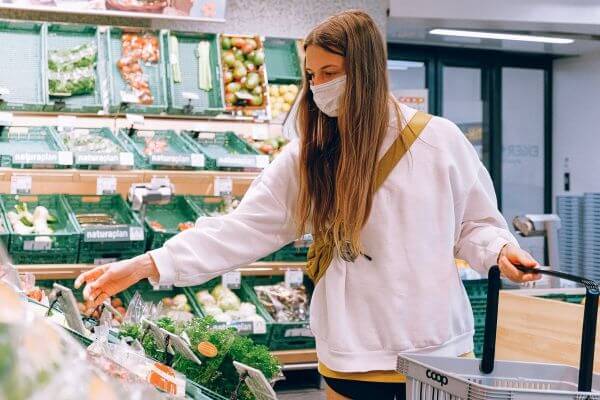 What is a reasonable monthly food budget?
That is a question that I get quite often. Some people avoid the topic because they are afraid to tell others what they spend on groceries. Others avoid the monthly food budget because of food allergies that make it harder to spend less money.
According to the USDA, a frugal food budget for one person would be $162-188 per month. That means a weekly frugal food budget for 1 would be $37-43 per week.
Is that realistic for you?
To make that work, you would have to be very crafty in finding recipes that you can modify to make 1-2 servings instead of the 6-8 servings. The other option would be to freeze the extra for another meal.
According to the USDA, the average food budget for one person would be $202-310 per month or $47-71 per week.
One key note… we are using comparisons to the USDA and they use calculations based on food cost and the number of servings people need to eat. You can find a link to their numbers.
Realistic Food Budget for a Family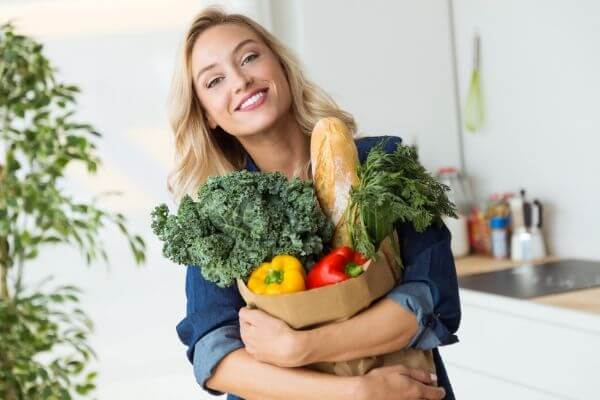 Truly, I believe it is harder to be frugal with food for a family because of all the different preferences and requests. However, I know that you can save thousands of dollars by being keen on what you spend on groceries.
For our purposes, we are going to say a family of four would be two adults and two kids (age 6-11). If you have pre-teens or teenagers, you know that feeding them is the same as feeding an army (I mean an adult), so you can refer to the numbers above.
According to the USDA, a frugal food budget for a family of four would be $654 per month. That means a weekly frugal food budget for 1 would be $150 per week.
Is that realistic for a family?
Yes, I do believe it is IF you are trying to be frugal with food. You have to put extra effort into saving the most you can on groceries. But, truly, being thrifty with food is a lifelong trait and the money saving hacks for food will become natural.
The average food budget for a family would be $965 per month or $222 per week.
Check out this affordable meal plan for a family of 4!
Once again, that grocery budget is completely realistic. Shop less and cook more often.
Are You Ready to Be Frugal with Food?
Just like with any frugal living tip, being frugal food is a learned habit.
At first, it will take more work and effort. But, over time, you will keep adding on frugal tips and tricks and continue to save more and more money.
Using any of these frugal food tips will help you to save lots of money each month.
Which frugal with food tip will you implement first?
You can spend hours trying to find cheap meals to make. But, if you don't know the basics of how to be frugal with food, then it doesn't really matter at the end of the day.
The goal is to save money on groceries without a lot of hassle or stress.
To make things easier, check out our meal planning bundle.