This post may contain affiliate links, which helps us to continue providing relevant content and we receive a small commission at no cost to you. As an Amazon Associate I earn from qualifying purchases. Please read the full disclosure here.
---
Let's face it. Cooking or the need to eat happens on a daily basis.
My attitude about meal plan subscriptions has always been – not needed. Why should I pay for someone to plan out my meals? This is something I can do myself.
Meal planning shouldn't be hard.
Nope, I totally got this handled. No need for someone to plan out my meals. We have a stack of favorite recipes to pick from.
And then, I hit a rut and have zero clue what to make for dinner.
Have you ever felt that way, too?
Recently, I took part of a 7-day plant-based meal plan. It was great! Plus the family loved the dinners. It was a win-win!
Each meal (breakfast, lunch and dinner) and snack was planned out. I didn't have to think about what was for dinner. I just had to pull up the meal plan, read the recipe, and cook. Simplicity. (If you are interested in learning more, go here.)
That was the point when I realized the a meal planning subscription could be extremely helpful.
Also, if you aren't ready to dive into paying for a subscription, then learn how to meal plan for a month.
Okay, now for you to decide if a meal plan subscription is worth it for your household.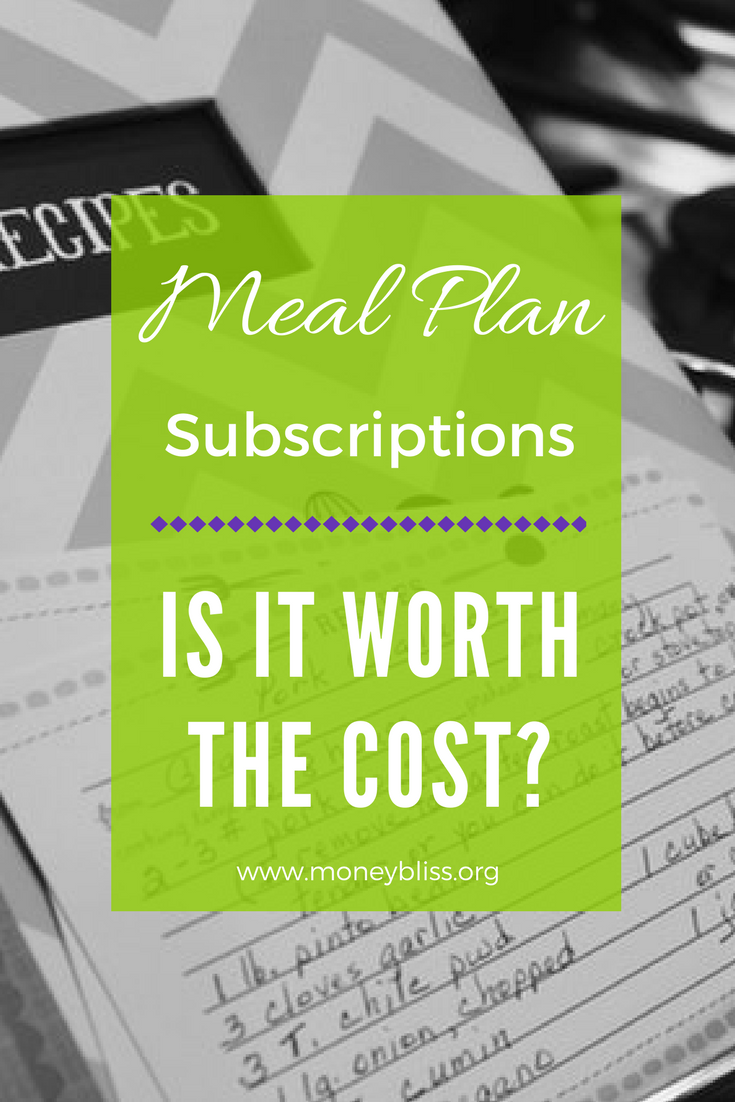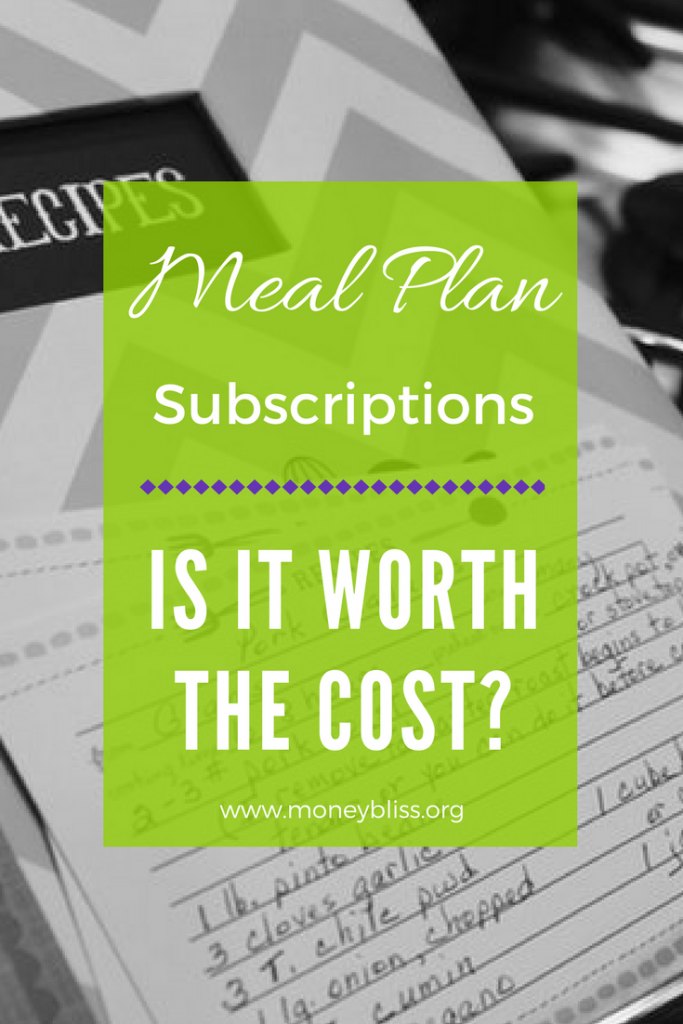 Yes, that one experience changed the way I looked at meal plan subscriptions. So, I decided to sign-up for one. With the intention of checking them all out, then I can let you know my personal favorite and the best meal plan subscriptions.
But, the question remains are meal planning companies worth the cost.
Meal Delivery Services vs Meal Planning Subscriptions
Both help you get dinner on the table.
However, there is a BIG difference and it depends on your needs and your budget.
You have to decide for yourself. Are meal delivery services worth the cost? Or is a meal planning subscriptions worth it?
Let's dive into the differences first.
1. Meal Delivery Service
First, a meal delivery service offers you meals delivered directly to your home. Some may be cooked and ready to be reheated. Others you will prepare yourself.
This is a healthy option than eating out on a regular basis. Plus you are given proper meal serving sizes.
The price may be comparable to eating out. But, you are still paying a higher price than buying groceries and planning to make it yourself.
2. Meal Planning Subscriptions
A meal planning subscription will help you create your own meal plans.
Are Meal Plan Subscriptions Worth the Cost?
Convenience
Yes, it is a small price to pay for the convenience of a meal plan. Someone else spent the time and effort to make sure you are eating a balanced, healthy meal. It makes the task of cooking much easier because you have a guide to follow.
Cheaper than Eating Out
Eating out one time can cost a family at least $20. (Yes, that is on the low side.) So, with the help of a meal plan company, the cost is minimal compared to eating out. It is quick and easy to swing by and pick something up because you don't know what to make for dinner. By utilizing a meal planning company, you are able to save tons of money each month because dinner is planned.
Break from Planning
Let's be real. This is the #1 reason I enjoy paying for meal planning service. As a mom, I feel like I have to structure and plan everything out in order to make our family run smoothly. It is a nice break to have someone else tell me what to cook.
Choose from 18 healthy & delicious recipes a week from Sun Basket! Save $45 if you order today!
Hassle
No need to search through cookbooks to plan out what is for dinner. The struggle to decide what is for dinner is over. No fuss. No irritation. The problem of figuring out what is for dinner is gone. Problem solved on what's for dinner.
Chance to Try New Recipes
This is probably my next favorite reason I enjoy using a meal plan subscription. It is the chance to try new recipes! And maybe even a new way of eating. Many of the companies offer gluten-free, dairy-free, paleo, whole30, and clean eating options. Plus, they have been tested, so they are family approved.
Balanced Meal
As a mom, I am always trying to create a balanced meal. We all "know" how much of the basics we should be getting right? But, in the craziness, how often do we actually serve up a meal like that? One of the first things I noticed when taking part in the 7-day plant-based meal plan was the hunger wasn't there. I was constantly full. Truly, I believe it is because more time and effort was spent creating a nutritious meal. Many of the companies have trained nutritionist creating their meal plans. Why not benefit from all of their knowledge?
Extra Time
While meal planning on your own doesn't take a lot of time (at least most of the time). Even if the extra time is less clutter in your own mind! One thing off your ever-ending to do list. It does free up time you can use in another way.
Save Money
Whether you are meal planning on a budget or trying to trim your overall grocery budget, you will save money. By utilizing a meal plan subscription, you are buying less groceries and everything has a plan, so there is less waste. Did you know that right there is one way to shave 25% off your grocery budget? Also, the temptation to grab a quick bite to eat will save money.
Less Stress
Feeding a family each and every night can be stressful. In today's busy society, there are so many demands on us. Why not use a meal plan subscription in order to have less stress in your life? One less demand on you.
Cheapest Way to Hire Help
If you are looking to push tasks off your plate, then this is the cheapest way to do it. A house cleaner is going to cost you $50 and up to clean your house. Someone to drive your kids to and from activities starts at $15+ for each hour. You can spend $5-12 per month and have someone else plan your meals for you family.
List of Meal Planning Subscriptions
What are your thoughts? Are meal plan subscriptions worth the cost?
Personally, my recent experience has changed my thinking on using a meal planning company. It is the simplest way for me to get extra time in my day and have less on my mind.
More Money Saving Posts-