20 Simple Ways on How to Save Money on Groceries
This post may contain affiliate links, which helps us to continue providing relevant content and we receive a small commission at no cost to you. As an Amazon Associate, I earn from qualifying purchases. Please read the full disclosure here.
---
One of the easiest places to start saving money is evaluating what you eat.
Very simple to learn how to save money on groceries.
As a single person, I had more freedom in my spending and my budget. But, it was buying soda (one thing I don't buy anymore) that was killing my budget. Soon I realized that is was easy to save money on groceries. I just had to be willing to do it.
When we got married, I realized how many more calories men need compared to women and that obviously comes at a cost. So, I become to improve my money saving skills.
By the time, we had kids and a family to feed, saving money on groceries become crucial. There was less money to go around period. And growing kids eat a lot of food. Plus, many of the products tailored to babies and toddlers end up acquiring picky behaviors to a wide variety of flavors.
Saving money on groceries has become second nature to me.
It happens out of habit without even realizing it. Today, I am going to teach you these simple ways to save money on groceries. So, they become second nature to you as well.
Our grocery budget hovers in the $550 range for a family of 4. That is the amount we allocate each month. In order to eat healthy and mix in organic foods, I have stretch our grocery budget in everywhere possible to do it.
Obviously, it is completely doable to lower your grocery budget, you just have to willing to do it.
To this day, I still challenge myself to stay under our allocated grocery budget while eating crazy healthy meals. Apparently, I enjoy a challenge to make it fun.
If you are living paycheck to paycheck, then trimming your grocery budget will greatly improve your situation.
Now, let's lower your grocery bill as you learn how to save money on groceries!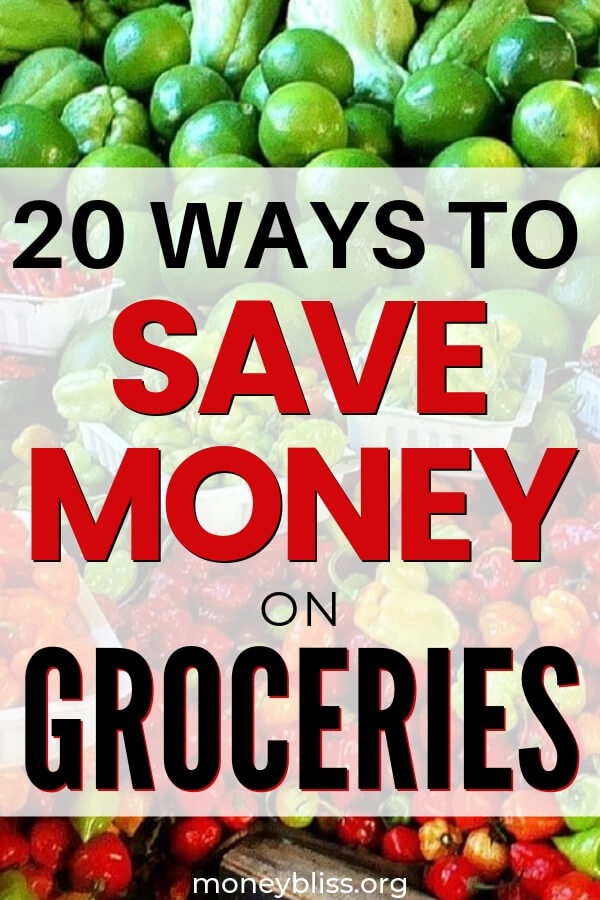 How to Save Money on Groceries
There are many ways to start saving money on groceries today.
It doesn't cost anything to start. You can save money now!
Here is my recommendation: Pick two to three ways to start saving money on groceries and master those. Bookmark this page. Then, come back and master a few more.
By the end, you will have transformed how you shop for groceries as well as saving thousands of dollars!!
1. Shop Your Pantry and Freezer
Before even heading out to the grocery store or shopping online, see what you have on hand.
Look in the depth of your pantry and the bottom of the freezer. Too many times we buy things we already have!
The easiest way to save money on groceries is to eat what you actually have before buying more food.
2. Total Your Bill While Shopping
As you go through the store, tally what your bill will be at checkout. That way you are 100% not going to be surprised at the checkout.
There are many ways you can do this:
Use a calculator and add up what you spent.
Grab a paper & pen and use tally marks for every $5 spent.
Use a calculator and subtract from the amount you can spend.
Pick up a clicker to keep you on track.
Buy online and pay the pickup fee to make sure you avoid temptation.
Any of these methods are great ways to keep track of how much you are spending while still shopping.
Plus it is a great way to teach kids!
3. Unit Price or Ounce Price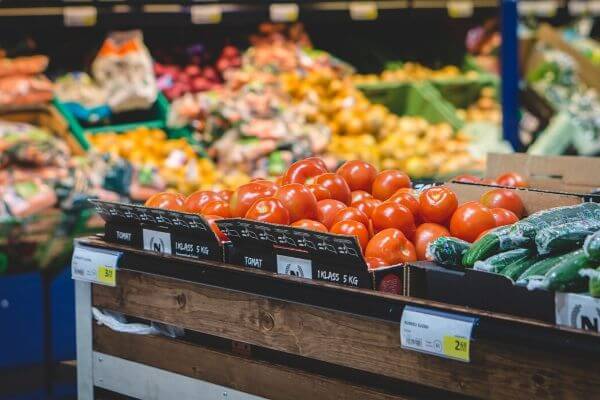 Ready to become a savvy shopper at the grocery store, this is how to do it!
Before purchases an item, see which is better deal by looking at the unit price or the ounce price.
To calculate the unit price, divide an item's price by its quantity.
To calculate the per ounce price, divide an item's price by the number of ounces.
Sometimes the stores put this info on their sales tag (it is really small writing if they d0).
Then, figure out which item is the better deal.
4. Use a List
Oh my goodness! Use a list. Period.
There are so many advantages of using a grocery list!!
First, you won't buy something that you already have at home. Second, you won't be tempted to put extra in your cart (markdowns are excluded from this). Lastly, you are actually buying what you can eat during the upcoming time frame.
If an item isn't on your list, then ignore it for the next trip. If it still makes the list the next time, then buy it.
Don't leave home without your list! Check out this how meal planning will help you!
5. The Dirty Dozen List
When it comes to buying fresh fruits and vegetables, that can make up a good chunk of the grocery bill.
In order to figure out when to buy organic and when not to buy organic, use the dirty dozen list as a guideline.
This guideline is a great way to save money on groceries!
Here is the dirty dozen list and the clean 15 list.
This is my go-to when trying to lower the amount spend on produce each and every month.
6. Shop Sales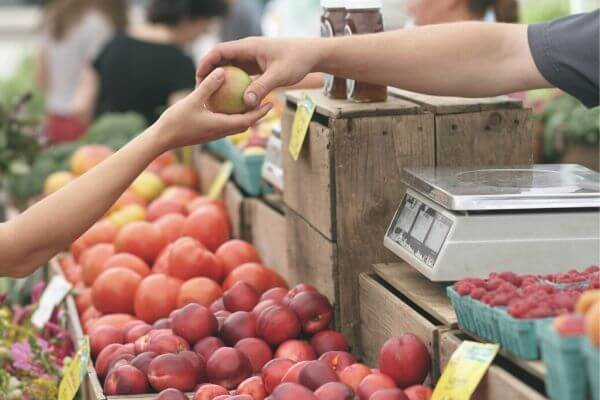 This is my love and hate relationship with grocery shopping. In a perfect world, every time I go to the grocery store, the prices would be the same. Then, I wouldn't be forced to make my own stockpile. Since that isn't happening any time soon, we must shop sales.
Every store has a different sales cycle. Pick one (maybe two) stores and figure out their sales cycles.
For the two stores, I grocery shop. One store overlaps their sales flyers on the same time. That is the perfect time to get sale prices from both weeks sales flyers. The other store has specials over the weekends. They offer sales prices on items. It is a great way to save on groceries without coupons and the hassle.
By learning how your store run their sales, then it is an easy way to save on groceries.
Bonus Tip – Not everything on the front page is a loss leader or stock up price!! It is the stores way to get extra profit margin by you wanting those items.
7. Know Your Stock up Price
What is a stock up price? It is the lowest price certain items are sold. Pick up your copy of the grocery stock up list.
A stock up price for groceries makes shopping sales so much easier!
Scan the sales flyers and write down the groceries that are a stock up price. The first couple of times it will take a little bit longer, but as you get the hang of it, it becomes much easier and second nature.
This tip is the best way to learn how to save on groceries!
In the long run, it will help you shave off thousands of extra dollars spent.
Key Tip: Not everything needed on the list will be a stock up price and that is okay. Try and stay close to the stock up price on a regular basis.
8. Meal Plan
After scanning the ads, it is time to meal plan! Take the items that are stock up prices in the sales flyers and base dinner meals off of those ingredients.
Meal planning is perfect way to save on groceries!
It takes a little bit of planning in the beginning, but can save thousands of dollars by avoiding take out and other quick meals. Plus many of the meals are healthier, too!
To be honest learning to meal plan is a topic to fully understand on it's own. Make sure to check out our Meal Planning 101 guide.
If you get stuck on coming up with recipe ideas, google the two main ingredients and discover thousands of choices!
Related Meal Planning Resources:
9. Make Freezer Meals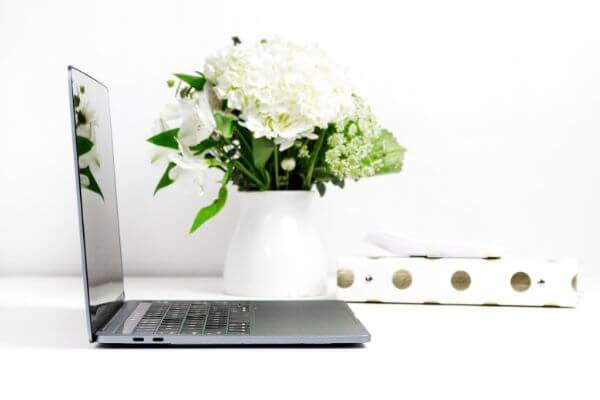 Freezer meals makes meal planning easier for any busy family. It is a go-to on a busy weekday night!
Plus it is a great way to save on groceries, too!
Many recipes may call for specialty ingredients that you may end up wasting and that won't lower the grocery budget. So, double or triple the recipe and then nothing is wasted plus the need to cook on those nights is wasted.
The key on how to save money on groceries with freezer meals is simple. Make sure you plan to eat the freezer meals before the sit too long in the freezer!
Since digging into the freezer isn't my idea of fun, in the FREE RESOURCE LIBRARY, you can find a Freezer Inventory that you can customize to fit your needs.
Bonus Tip on Freezers – We owned a chest freezer and honestly it is difficult to keep track of freezer meals. Now, we own an upright freezer and it makes life so much easier!
10. Buy What You Need
Only buy what you need. That seems so simple. Yet, the marketing geniuses make it so complicated for us.
When shopping, stick to the grocery list and only buy what you need.
Too much food is wasted in America. Unfortunate true fact.
Here are 53 things you should NEVER buy at the grocery store.
Simple Saving Money Tricks:
11. Stockpile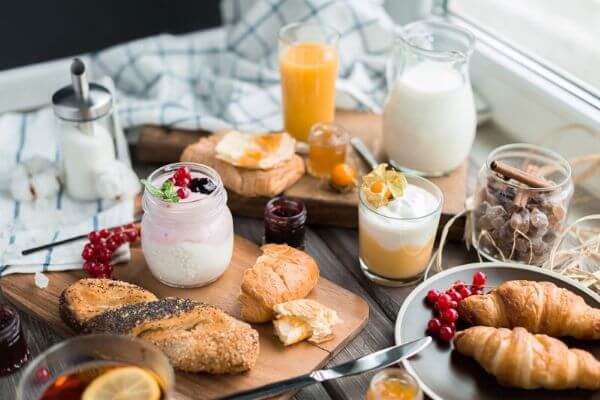 When learning how to save on groceries, a stockpile will help you accomplish that. However, don't let your house become overwhelmed by this stockpile. That will run the purpose and cause overwhelm.
List out the must have grocery items in your household.
That is what your stockpile needs to be created on.
Not on what you think you may need. Remember, the point from above – Buy what you need.
Typically, the sales cycles are about 3-4 months before the grocery item will go on sale again.
Buy enough to last you until the next time they go on sale. A stockpile is focused on items you buy the most often.
Here are the best cheap staples to keep on hand.
12. Shop In Season
Today, we are extremely lucky that we can get whatever type of fresh fruit and vegetable at any time of the year. However, that convenience comes at a price – a steep price.
Focus your grocery list and meal planning on what is in season now.
This simple tip on how to save on groceries will save you the most amount of money over time. Use the Grocery Stock UP price list as a guide.
13. Don't Shop at Eye Level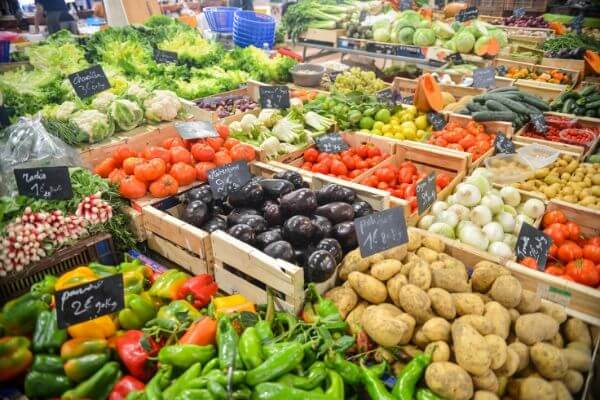 The marketing gurus know that we tend to shop at eye level.
When shopping the main, interior aisles, look up and down first.
When shopping with kids, watch how your children are tempted with things that are on their eye level.
Stick to your list and stay focused on buying only what you need.
14. Don't Shop If Hungry
That quick trip in before dinner will hurt your pocketbook. Guaranteed.
Everything in the store will look and smell so appetizing. That adding a few extra items will go unnoticed by your senses.
Fresh bread, cookies, yummy meat, or pizza smells. Anything to get your mouth watering.
Pick a time to grocery shop when you (and your family if they are coming) are full. Early morning after breakfast is a great time.
15. Skip Pre-made or Pre-cut
You are paying for someone else's labor in prepping your groceries.
It takes minutes to chop up a fruit tray. It takes even less time to assemble a vegetable tray.
The price of convenience really adds up when trying to save money on groceries.
Skip pre-cut or pre-made and do it yourself.
16. Store Food Properly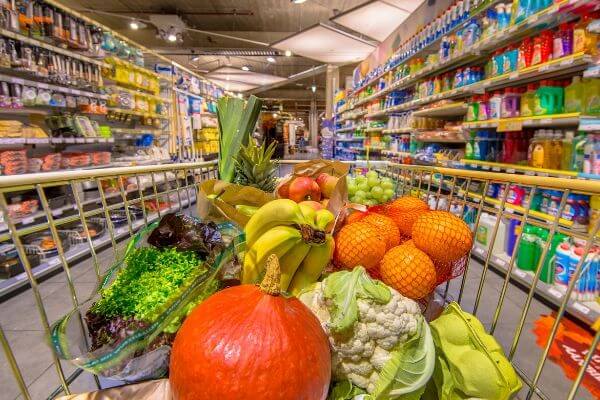 Personally, I hate it when produce goes bad because I simply hate wasting money.
Store root vegetables (onions, garlic, potatoes) in a cooler dark space like a basement.
For fruits and veggies, pick up a fruit and vegetable keeper to help produce last longer.
Bonus Tip: This one doesn't involve saving money instead it is healthier practice. Wash produce immediately getting home from the grocery store. Then, you get the icky pesticides off your produce sooner.
17. Washing Produce
Unfortunately, washing produce is a must. This is one area I have personally researched for our own family, and of course, can't find the study to link to right now.
The best practice to wash produce is to wash it in baking soda and water. Let it sit for 15 minutes. Then, rinse off with water.
The specialty wash sprays aren't cheap. But, baking soda and water is. We have a spray bottle that is premixed with baking soda and water to make things easier.
Great way to save money on grocery bill!
18. Shop Less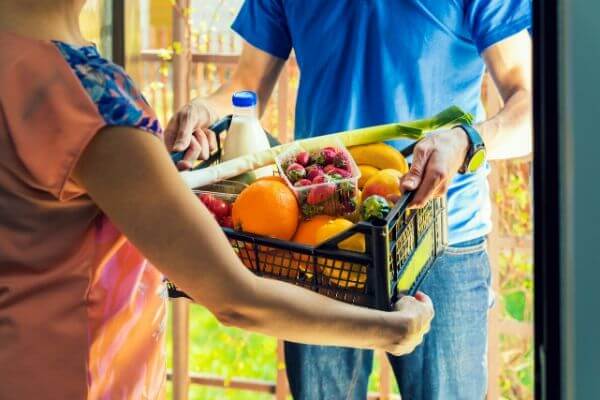 The more you shop, the more you are tempted to buy more. Or pick up a few more items that planned just because you don't want to come back.
Studies have proven that grocery shopping daily or every couple days will lead to a 25% increase in their final total than those who shop less often.
Figure out how many times per month you can afford to shop and then stick to it. Save on groceries!
What happens if you run out of something? Then, try to figure out an alternative.
Pro Tip: Learn how to meal plan for a month. Guaranteed – you will spend less money and save time by not being at the stores.
19. Use Digital Coupons
The tip on how to save money on groceries will take longer to add up significant savings. However, every penny saved is one less penny spent.
Load digital coupons for items that is bought most often. Most grocery stores learn spending habits and will start giving best customer coupons on reoccurring items bought.
There is no special trick to using digital coupons except that loading them is necessary.
Time Saving Tip – Scroll through the digital coupons and load them to the savings card while waiting in line or for kids activities to finish.
20. Use Grocery App
Another great way to save money on groceries is with grocery apps.
Just like digital coupons, you load offers before shopping and save money on groceries that would have purchased anyways.
Some of the grocery apps make you upload a receipt after shopping. Others are tied to your loyalty card.
Popular Grocery Apps:
Just like when shopping sales and focusing on 1-2 grocery stores, do the same with grocery apps. That way you don't give on saving money on groceries!
How to Save Money on Groceries without Coupons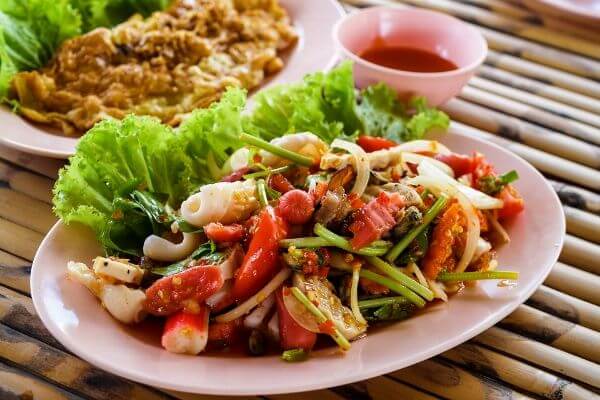 Specifically, we are talking about clipping paper coupons.
I went through a period and learned how to extreme coupon. We were able to pick up items for our household and donate what we didn't need. Unfortunately, lots of fraud came through the couponing community. People were selling their stockpiles (which is illegal) and going to extreme measures to steal from the manufacturers as well as the grocery stores (totally not cool).
Thankfully, the manufacturers who make the coupons available cut back significantly and the rules change. However, for the consumer, finding deals became harder and the coupon expiration dates are shorter. The stores keep changing their rules, so make sure to stay current.
Don't get me wrong… You can still coupon and find deals. You just have to decide how much your time is worth.
There is a tradeoff when it comes to how to save on groceries with coupons.
Using coupons is best for baby products (especially diapers), personal care items, and snack foods.
Ready to Spend Less Money on Groceries?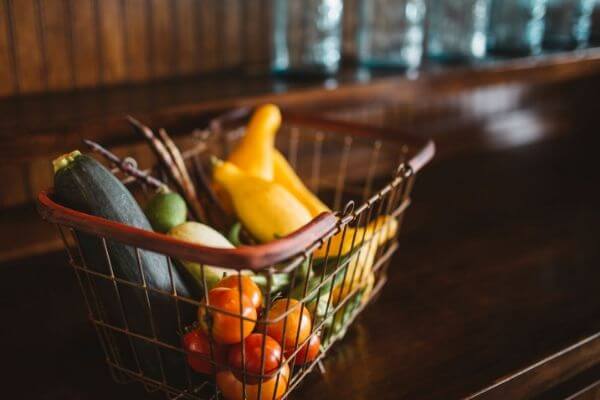 One of the best ways to reduce your overall spending is looking at what you spend on groceries. It is possible to save $500-1000 off your grocery bill each month. Just by paying attention to what you buy and how you buy it.
In this post, we covered twenty ways to help you save money on groceries!
Some are simple and easy to implement. Others will take time for them to become habit.
Regardless, you can start saving money on groceries today!
That is key.
Your budget will thank you for saving money.
More Grocery Resources: