45 Best Family Christmas Gifts: Top Ideas for the Whole Crew
Inside: Looking for the perfect gift for your family this holiday season? Check out our comprehensive guide to family Christmas gifts. You will love these personalized ideas!
Are you already stressed about hunting for the perfect family Christmas gifts this year?
Fear no more, as we're here with a comprehensive list of unique and thoughtful gifts that will light up your holiday season and leave your loved ones touched. This handpicked selection covers a wide array of delightful gift ideas for all your family members—no matter their tastes and interests.
One of the best places to start is to think about what do I want for Christmas – that will likely help guide you to the perfect gift!
Today, we will explore a variety of charming gift options, in a variety of budgets.
Highlighting the best last-minute finds on Amazon, our list ensures that your gifts will arrive just in time for the merrymaking.
Isn't it exciting to think about all those remembered moments and shared smiles on unwrapping these treasures? Time to deck the halls with joy!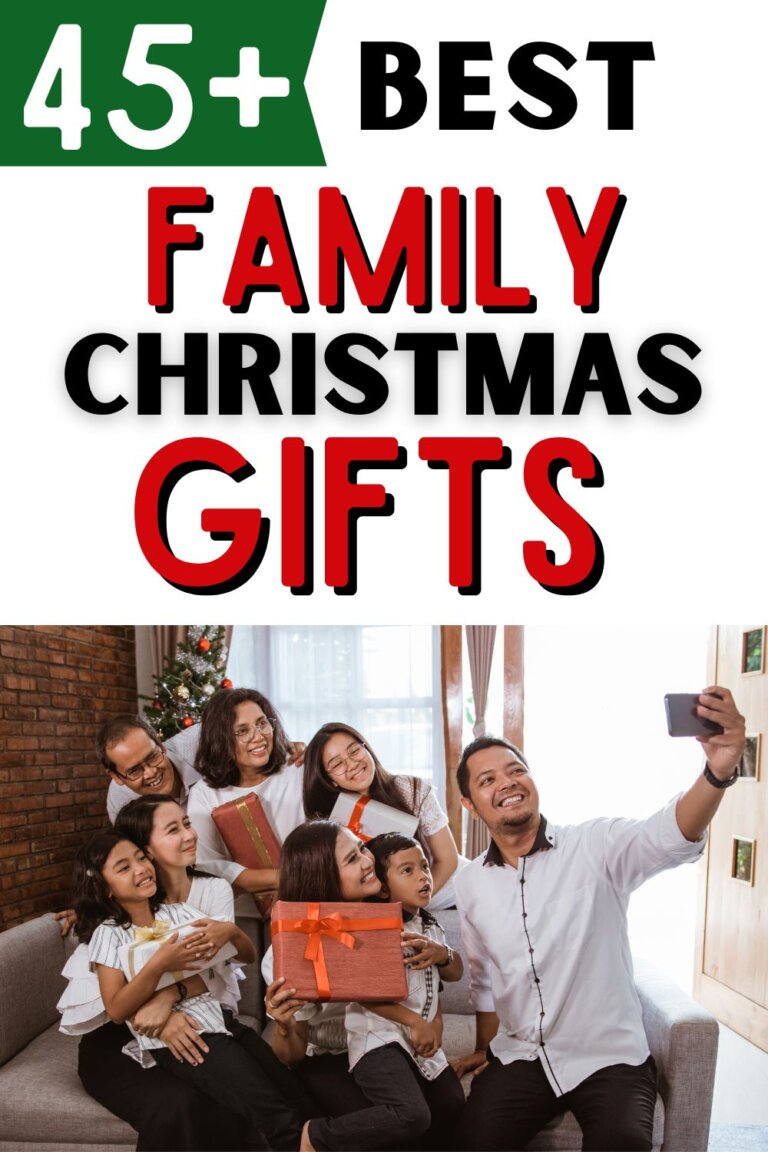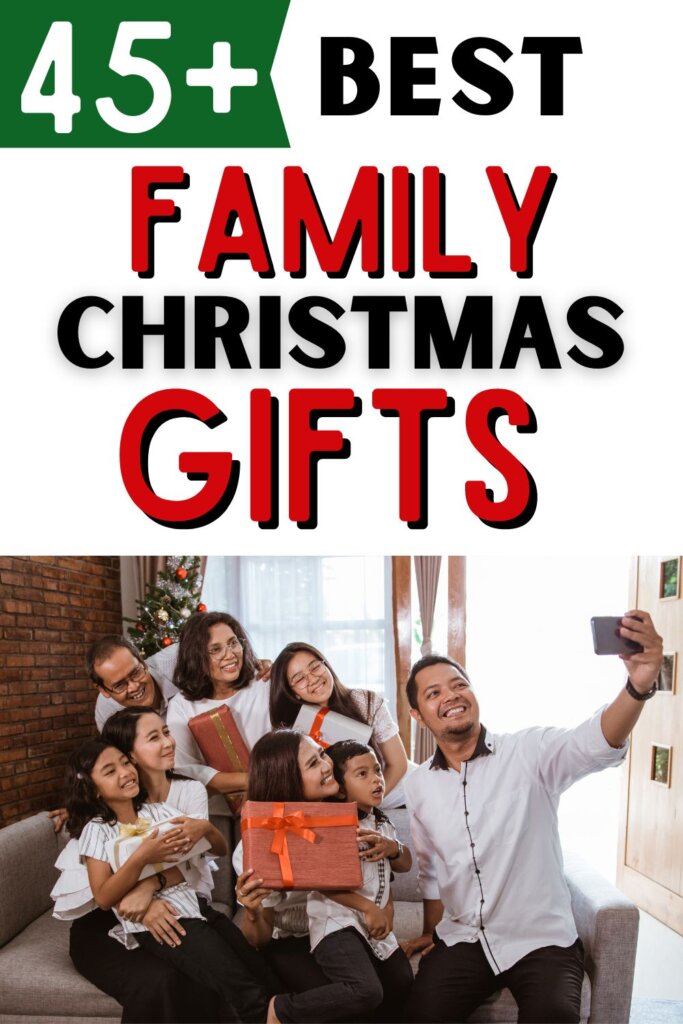 What to buy a family for Christmas?
Nothing compares to the joy of finding the perfect Christmas gift for the whole family, right? The sparkle in your loved one's eyes as they unwrap a gift that caters to everyone's tastes – it's simply priceless.
Keys to the kingdom of joy are not simple gifts but those that bring the family together, trigger delight in the little ones, stimulate the tweens' curiosity, and thrill the adults all at once.
Consider options like matching family pajamas that make for adorable group photos or smart tech that fascinates all age groups. Foodie gifts like an ice-cream station or Christmas gift basket are guaranteed to tantalize taste buds and spread festive cheers in the room.
And, who can resist personalized presents that beautifully tell your family's unique story?
Simple Ideas To Find A Good Family Christmas Gift –
1. Encourages Togetherness
2. Fun for the Whole Family
3. Enjoyed Repeatedly
4. Enjoyed at Different Ages
5. Sense of Accomplishment
6. Enjoyed Independently or Together
7. Perfect for Any Occasion
8. Enjoyed in a Variety of Ways
9. Enjoyed without a Huge Time Commitment
10. All Members of the Family LOVE It!
This post may contain affiliate links, which helps us to continue providing relevant content and we receive a small commission at no cost to you. As an Amazon Associate, I earn from qualifying purchases. Please read the full disclosure here.
45 Best Family Christmas Gifts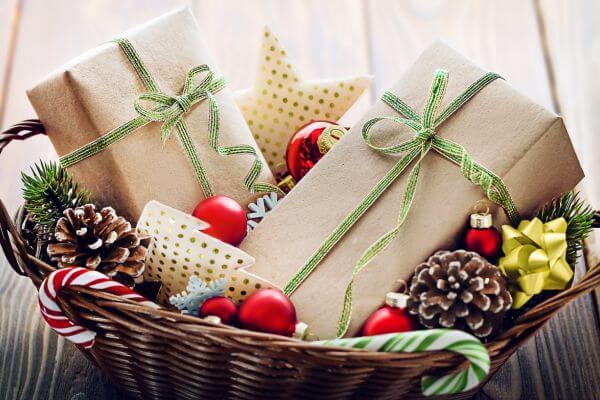 Selecting the perfect family Christmas gifts can undoubtedly be a Herculean task.
With each person having different tastes, interests, and passions, it becomes challenging to find that perfect gift that equally delights everyone from children to grandparents. However, experts agree that the most successful presents often hold a personal touch or provide a shared experience.
Many of these are great gifts for kids who have everything!
So dive in, and let's make those holiday smiles even brighter this year!
1. Family Vacation
Want to give a Christmas gift that keeps on giving? A family vacation is a Christmas gift that is an experience!
This is not just a gift; it's an experience, a memory-maker, and a well-earned break wrapped into one.
A vacation offers a break from routine, a change of scenery, and a chance for shared adventures that will surely inject joy into those hectic family schedules.
The world is full of fascinating cultures and landscapes to discover. Gift your loved ones the chance to explore a new corner of the globe together.
Be creative when announcing this gift. Maybe wrap up a travel guidebook, or create a fake airline ticket. Use the festive season to excite and build anticipation, guaranteeing a Christmas they'll never forget. This is something we have done many times!
Remember, the best gifts don't always come in small packages.
2. Woodfire Outdoor Oven
This incredible oven will spark culinary inspiration and fill your home with irresistible aromas from homemade flatbreads to smoked meats.
The Woodfire Outdoor Oven might just be the answer you're looking for! Your family movie nights will never be the same again with the addition of perfectly crispy, oven-fresh pizzas – recreating the magic of a wood-fired brick oven.
This will be an investment, but your family is certainly worth it. It's best suited for families that enjoy experimenting with different types of cuisine and derive joy from shared meal times.
Gift your family memorable gastronomical experiences with the Woodfire Outdoor Oven this Christmas!
As an expert tip, let your imagination run wild and use this oven to its full potential – it's not only for traditional oven recipes.
3. Tabletop Fire Pit
A Tabletop Fire Pit is a fantastic choice for a family Christmas gift due to its versatility and ability to bring the family together. This fire pit is not only functional but also serves as a stylish home decor item. Your family can gather around it for s'mores, meals, or storytelling, enhancing your family bonding time.
It's an ideal pick for those who enjoy cozy comforts, without the fuss or space for a traditional outdoor fire pit.
Great for families fond of camping, this small, portable device enables you to create a camping-like environment in your backyard conveniently.
It's easy to light, thanks to a base plate that oxygenates the embers, allowing you to join the fun sooner instead of struggling with fire starters.
A particular perk is its double-wall structure that intensifies the heat and decreases smoke, encouraging family members to stay out longer without irritation.
Remember, a fire pit is more than a housewarming gift; it's a conversation starter, an icebreaker, and a source of warmth and relaxation. Perfect for things to do on Christmas Day!
4. Instant Photo Printer
Imagine your family's favorite moments, not just on your phones but printed and beautifully displayed around your home!
That is exactly why the Instant Photo Printer is a fantastic Christmas gift idea for your family.
It's a unique, fun way to bring your favorite phone photos to life in an instant, perfect for creating lasting memories.
Plus it's also a great tool for people who enjoy scrapbooking or creating physical photo collages.
Expert Tip: Use it to print classic black-and-white photos for a vintage-inspired photo display.
5. The Ultimate S'mores Kit
Celebrate Christmas this year by taking the s'more route.
This Ultimate S'mores Kit is a holiday must-have: assembling s'mores turns bonding moments into memories and fills holiday evenings with laughter.
Whether you're an outdoor-loving family up for a cozy fireside treat, or enjoy indoor game nights with delicious snacks, this kit is a game-changer.
Don't wait for a camping trip, host a s'mores night in the comfort of your warm home. Manage a fun, mess-free activity with this indoor version that comes with flameless, electric heaters. It also fits graham crackers, cookies, and any chocolate bar of your liking.
Best for families with teens and tweens, this kit also doubles up as a unique food-tasting experience. Savor this quintessential holiday classic anywhere, anytime.
Pro-tip for best use – keep experimenting with toppings, there's no limit to s'more creativity.
6. Family Game Night Gift Set
Dive right into the joy of the holiday season and surprise your tribe with the ultimate Family Game Night Gift Set! Keep the fun rolling all night long!
Bursting with timeless games like Uno, Phase 10, and more novelty items like Taco vs Burrito, this gift set is sure to ignite flashes of friendly competition and sparkling exchanges of laughter amongst the young and old alike.
So, what are you waiting for? Bring the magic of game nights alive this Christmas and relish in unforgettable family memories. Act fast while stock lasts – go grab this must-have set from Amazon, Walmart, or Wayfair!
Expert Tip: Intensify the fun and make sure to include THESE card holders for kids, it will certainly help the younger players hold their own in the heated rounds of card games. Or these domino trays to make sure no one sees your pieces!
7. SodaStream Art Sparkling Water Maker
Kick off your family's Christmas with the exuberant gift of SodaStream's sparkling water maker, an incredibly efficient unifier of elegance and utility.
Shake off the costly and ecologically damaging routine of buying bottled water with a single purchase of this appliance. The Art Sparkling Water Maker not only saves you money in the long run but also significantly slashes down on plastic waste, making it a gift for your family and the environment.
Perfect for those who value sustainability and taste, it's a guaranteed hit with sparkling water enthusiasts.
Pro Tip: Store the CO2 canisters sensibly to maintain their effectiveness. Also, compare prices with Amazon for the best deal!
8. Giant Bean Bag
Enjoy the joy and comfort a giant bean bag brings to your family this Christmas.
This is a gift everyone can enjoy, a perfect platform for shared moments from movie nights to story times.
Built for relaxation, the giant bean bag is roomy enough to accommodate the whole family. Coming in some 8 feet in size, it provides a lounge space designed for togetherness.
Besides a wide range of over a dozen colors, it features memory foam for tailored comfort, molding itself to the user's form.
Make this Christmas unforgettable. A giant bean bag could be the surprise that brings your family closer, in comfort and joy, for several years.
9. TableTopics Conversations Cards
Are you seeking a fresh, fun way to bond with family this festive season?
The TableTopics Conversation Cards might be the ideal Christmas gift you've been looking for. Enhancing family interaction has never been this exciting, with over 350 conversation starters packed into this card set.
Break the monotony of routine conversations, expanding dialogue horizons from "regular updates" to compelling questions like "What's the best thing about leaving home?" and "What social changes have you seen in your lifetime due to activism?".
It's versatile – perfect for dinner time, downtime, or when those cousins you scarcely meet arrive.
10. Fondue Set
Imagine the joy of unwrapping a fondue set on Christmas day – a gift that screams luxury, uniqueness, and fun.
A fondue set is not a gift you see often, but when you do, it's nothing short of amazing. Believe me; ours is well loved!
Take ordinary family meals to a whole new level and make dinner time a memorable experience.
Fondue sets are virtually synonymous with a fancy twist on comfort food, combining the wizardry of melting cheese and then chocolate with the sweetness of fruits, marshmallows, and pretzels. And the best part? It's perfect for families who enjoy interactive, hands-on fun during their meal times.
11. Family Pickle Ball Set
In case you haven't heard, Pickle Ball is all the rage!
Gift the colorful Family Pickle Ball Set! Not only does it cause healthy, competitive fun, but it also brings a new spin to traditional sports.
With its vibrant colors and easy setup, even those new to pickleball will find it hard to resist joining in.
To make the most of this gift, consider planning an annual family tournament on Christmas Day. This gives everyone something to look forward to and makes the gift an immediate hit.
It's a wonderful choice if your family loves engaging group activities and has a penchant for sports. But even if you're notoriously bad at ping pong, like so many of us, this is a chance to start a new, entertaining tradition.
12. Portable Mini Movie Projector
Looking for a family Christmas gift that's fun and transforms everyday living into an extraordinary experience? The Portable Mini Movie Projector is the ultimate gift that keeps on giving.
Elevating the age-old ritual of family movie night, this compact device enables you to project your favorite films, videos, and pictures onto your living room wall or even a camping tent.
Ideal for adventurous families who love outdoor cinema experiences or those who appreciate a good movie marathon at home.
Remember, you can venture beyond traditional indoor settings and even transform your backyard into a cozy outdoor theater with this projector.
13. DASH Hot Air Popcorn Popper Maker
Family movie nights turn into a blockbuster experience with the DASH Hot Air Popcorn Popper Maker, a splendid Christmas gift this holiday season!
This dynamic appliance elevates snacking, offering freshly popped, theatre-quality popcorn at the pleasure of your cozy home.
The DASH Popcorn Maker stands out for its efficiency. It's designed to pop up a deluge of popcorn in less than three minutes, keeping the entertainment flow uninterrupted. But it's not just about quantity; the air-popped popcorn carries a crisp, delicious taste that totally outplays microwave alternatives.
It's a perfect match for families fond of movie nights and popcorn enthusiasts. With the ability to churn out over 16 cups of popcorn at a time, it ensures an inexhaustible supply for that binge-watch session.
Expert Tip: Add your family's favorite flavors directly into the DASH maker for a personalized snack experience. Whether it's buttery caramel or sizzling sriracha, this popper can handle it.
14. Ice Cream Maker
An ice cream maker is a sweet and rewarding gift idea for families this Christmas. It offers an unparalleled sense of delight and fosters family bonding, serving as an all-around winner.
With an ice cream maker, you can challenge your creativity by customizing treats with your favorite ingredients, turning dessert time into an adventurous event.
It's perfect for movie-loving families or dessert aficionados, ensuring every sundae night is a mini celebration.
When choosing, look for quick and convenient machines that are also easy to clean.
15. Pizza Night Kits
Who can resist the allure of a family pizza night? Consider gifting a Pizza Night Kit this Christmas and watch as your present becomes the star of the season!
This fun-filled package ticks all the boxes for families who love cooking and experimenting with new recipes.
Best suited for families who enjoy cooking together or those seeking fun and unique activities for family gatherings. To maximize this gift, indulge with the Ooni Koda Pizza Oven to make every pizza a hit!
Thus, a Pizza Night Kit becomes more than a Christmas present—it's a source of laughter, bonding, and kitchen magic! One of the great consumable gifts!
16. WiFi Digital Picture Frame
Meet the Wifi Digital Picture Frame, an interactive and memory-rich gift for your family this Christmas.
This refined tech accessory will transform the way you treasure and enjoy family photos, making memories more accessible and vivid.
Display your cherished photos prominently and elegantly, eliminating the need for traditional frame mounting or physical prints.
Its user-friendly design allows you to easily upload pictures via the app, email, or Google Photos. An included remote control and an intuitive motion sensor make photo navigation and display effortless.
With the ability to store up to 30,000 photos, every cherished moment can find a place in this gadget.
Perfect for parents and grandparents who love to look at family photos, it can also be customized as a unique pre-loaded present for tech-challenged relatives or hard-to-please family members.
17. Kids Against Maturity
The Kids Against Maturity game is a hit for all ages! Brimming with 600 question and answer cards, this engaging game promises non-stop fun and endless giggles. Indulge in a riveting challenge against your loved ones and keep boredom at bay.
This game is the epitome of family-friendly since it's tailored to cater to all ages. It encourages interaction, ensures a fun pastime, and, most importantly, draws laughter – an essential aspect of any festive period.
Perfect for the family who enjoys a hearty laugh and some friendly competition.
The game is expertly tailored to amuse players of all ages, making it ideal for comprehensive family enjoyment during the festivities.
Get ready for a slew of brain-tickling questions and witticisms – they define the game's charm.
You'll witness your quick-wittedness improving with regular play!
18. Karaoke Microphone
Light up your family's Christmas with the unstoppable joy of a Karaoke Microphone! It's an affordable, entertaining gift that lets everyone unleash their inner superstar. There's never going to be a dull moment with this gift.
With this gadget, everyone can pick their favorite tunes, thanks to its compatibility with Bluetooth for wireless streaming from various services like Apple Music, Spotify, and YouTube.
The setup is simple – just pair your phone via Bluetooth or cable, download the app, and gear up for an American Idol right at home!
The Karaoke Microphone is indeed a unique way to create unforgettable Christmas bucket list memories!
Expert Tip: Create a family karaoke night tradition. Pitching siblings against each other in a friendly song battle can turn a regular night into a fun-filled extravaganza.
19. Personalized Fleece Blankets
Looking for the ultimate cozy Christmas gift for your loved ones?
Personalized fleece blankets are the perfect choice, providing both warmth and a beautiful custom touch.
These blankets are special because you can add family photos, creating a unique gift that brings warmth physically and emotionally.
They're ideal for family movie nights or sipping cocoa by the fire.
Experience snuggle time like never before with these personalized cozy creations. Wrap your family in comfort and joyful memories this Christmas!
20. Matching Pajamas
This timeless gift adds excitement and coziness, embodying the warmth of Christmas more than ever before. Matching Pajamas is a top Christmas gift idea that refreshes family traditions while bringing everyone together in an adorable way.
Matching Pajamas are not just comfortable, they are an opportunity to cutely match with your little ones and even the family pet. It's a fun way to make everyone part of the holiday squad.
They are available in a variety of fun patterns with sizes fitting the whole family.
In essence, Matching Pajamas is a delightful, meaningful gift that cultivates family closeness and is an invitation to start a new, cozy Christmas tradition.
21. Instant Pot & Air Fryer Duo
The Instant Pot & Air Fryer Duo might just be the jackpot present you're aiming for! It is one we scored before!
This dynamic duo is not just a boon for cooking enthusiasts, but also a life-saver for busy families. With these two appliances, you're completely covered from speedy pressure cooking to healthy air frying.
The Instant Pot can serve not only as a pressure cooker but also a slow cooker, rice maker, yogurt maker, cake maker, to name a few! Hence, it provides an all-in-one cooking experience.
Adorn your kitchen with these appliances and make meal preparation a family affair this Christmas. This is the exact model I own!
22. Picnic Backpack for Four
You know how hectic packing for a picnic can be, right? This backpack eradicates those woes by incorporating a complete cutlery set, wine glasses, a cheese plate with a knife, stainless steel shakers, an insulated bag, and even a picnic blanket.
The Picnic Backpack for Four does just that and more, making it an excellent family Christmas gift idea.
It's an all-in-one solution that makes picnicking effortless, spontaneous, and fun.
The waterproof and insulated design ensures that everything stays fresh and dry, regardless of where your adventure takes you. Perfect for families that enjoy being outdoors, it provides an unparalleled convenience that makes picnicking a breeze.
Remember: picnics aren't just for parks. This set's portability means you can take it with you on camping trips, beach outings, or even backyard barbecues.
23. Personalized Cornhole Boards
Looking for an electrifying gift for a fun-loving family this Christmas? Personalized cornhole boards fit the bill perfectly, delivering hours of amusement and camaraderie.
Relatives of all ages enjoy these backyard gems. Their simplicity ensures effortless setup and play, embodying the heart of family-friendly competition.
To make the cornhole boards a unique keepsake:
Personalized with the family's last name or initials
Choose their favorite scenic destination
Embellish with their family quote or funny saying!
Unwrapping Personalized Cornhole Boards will be a big hit for your loved ones this festive season, guaranteeing laughter and connection in every game!
Don't forget to check out the popular Kube Yard Game Set, too!
24. AncestryDNA DNA Testing Kit
Immerse your family in a unique and thrilling journey into the past with the AncestryDNA testing kit. This isn't just a gift, but an exciting gateway to discovering your deep family connections and hidden ancestry.
With AncestryDNA, you're gifting a simple and user-friendly interface coupled with comprehensive reports. One of its incredible features is its vast DNA database, making it the prime platform to unearth your lineage. Though it notably doesn't differ between maternal and paternal ancestries, its other offerings make up for this.
This DNA kit is a perfect gift for relatives who revel in their family-ness or any parent intrigued by their family history. The resulting breakdown of genetic results isn't just informative but fosters enlightening conversations.
Another option is 23andMe Ancestry Service.
25. Adventure Challenge Family Book
Amplify your festive festivities with the Adventure Challenge Family Book, a thrilling compendium of 50 scratch-off surprise adventures.
This innovative keepsake scrapbook is designed to make every family outing an exciting expedition.
What makes it a perfect gift? It turns mundane family gatherings into epic quests, cultivating unforgettable memories and knitting the family closer together.
The book comes with inbuilt categories, and time and money indicators for each adventure, ensuring selections that fit all lifestyles and budgets.
With dedicated spaces to journal and paste pictures, it doubles as a beautiful memento.
Break the shackles of decision-making with a surprise element. Scratch, reveal, and brace for a fun thing to do, no deliberation is required!
Bound to defeat the "what should I do today?" rut, it's ideal for adventurous, activity-loving families.
Expert Tip: Complete challenges on special days, like Christmas, to inject extra joy into festivities.
26. Hot Chocolate Bomb Kit
Imagine making your family's Christmas cheerful and memorable with a scrumptious activity – the Hot Chocolate Bomb Kit, priced affordably. Perfect for delighting your loved ones, it offers everything you need from molds to fillings to create delicious homemade cocoa bombs.
It's perfect for families who love getting hands-on in the kitchen and enjoy savoring warm drinks during winter.
To get the most out of this kit, invite each family member to design their own cocoa bomb.
Blend tradition with innovation and fill their hearts (and mugs) with sweetness.
27. Mini Donut Maker
Make this festive season a family affair with a mini Donut maker, the ultimate addition to your holiday festivities.
Perfect for family breakfasts, the simplicity of the mini donut maker is what makes it stand out – you'll be churning out delicious Donuts in a matter of minutes.
Enlist the kids in adding fun toppings like chocolate chips, coconut, and nuts for a bespoke doughnut experience, resulting in treats they don't have to wait forever to devour. It's an ideal gift for families with young children or for those who simply enjoy a sweet treat.
Trust us, it's a gift that will bring smiles onto their faces for many breakfasts to come!
28. Our Family Recipes Journal
Surprise your family this Christmas with a thoughtful and practical gift that tugs at the heartstrings— Our Family Recipes Journal. This unique present can be used to preserve all cherished family recipes and create lasting memories.
This little book is perfect for families who love to cook together. Not only can you store your family's favorite dishes, but it also serves as a vessel for holding precious memories of cooking together.
There is a space to journal about each cooking experience and to include a photo, making it an evergreen keepsake for your family.
Expert Tip: Choose a digital recipe journal. That is what I did and recipes are so easy to share.
29. Amazon Echo Show
Imagine controlling all your Alexa-enabled devices, showing your favorite photos, video calling family and friends, playing music, or checking the news- all in one place.
The latest Amazon Echo Show is a game-changer, transforming how families stay connected. I
It's ideal for loved ones less savvy with electronics with its easy remote setup system.
The Echo Show, not just a smart display, serves as a digital assistant, managing your calendars, or reading out recipe instructions too.
30. Personalized Cutting Board
Why struggle for a unique family Christmas gift when the Personalized Cutting Board can do the magic for you? This gift is not just a regular kitchen item—it's a sentimental keepsake.
With a beautifully personalized design, this cutting board instantly transforms a simple gift into precious memorabilia.
It not only serves as a functional kitchen tool but also a decorative centerpiece for your kitchen.
This makes it an ideal gift for families who hold the kitchen as the heart of the home or for those who cherish their culinary heritage.
31. iRobot Roomba Vacuum
Consider the iRobot Roomba Vacuum, a game changer for cleanliness and peace of mind. Seriously, mine was!
Why is the Roomba a top pick? It's adept at navigating around furniture, ensuring no corner remains dusty. More remarkably, it does all this while your family enjoys their time, undisturbed.
Perfect for busy parents, pet owners, or simply cleanliness lovers, the Roomba is a practical yet exciting gift they'll love.
Expert Tip: Harness the full potential of your iRobot Roomba by taking advantage of its Wi-Fi connectivity. Schedule cleanups when the house is empty to return to a freshly vacuumed home after a long day.
32. Bamboo Charcuterie Board Set
Time to surprise your family this Christmas with the popular Bamboo Charcuterie Board Set! This gift adds a touch of elegance to your family meals and is perfect for parents who love hosting dinner parties.
The Bamboo Charcuterie Board Set is much more than an average cheese board. It becomes the epitome of classy dining when you dress it up with some delicious local honey, crackers, flavorful jams, and choice meats and cheeses.
This board simplifies meal times and makes food sharing fun. It's an instant conversation starter and a sublime treat to the eyes as well as the palate.
Who is it for? Anyone who loves good food and enjoys entertaining guests.
Expert Tip: To add a touch of personality, consider buying a personalized board.
33. Dog DNA Test
Capture the joy of Christmas by surprising your family with a distinctive and thoughtful Dog DNA Test. This unique gift is not only engaging but also educational, making it the perfect present for pet parents.
The Dog DNA Test is a remarkable gift that unearths a pet's breed and potential genetic health issues.
It's an exciting exploration into your furry friend's ancestry, providing detailed genetic results that can spark insightful conversations within your family.
This fascinating gift is not just limited to families with rescue dogs. Even pedigree dog owners will find it eye-opening to confirm their beloved pet's lineage.
For instance, I cannot wait to use this on our rescue dog; so the findings can give us a deeper understanding and appreciation of her breed mix.
Expert Tip: Ensure your dog has not eaten anything for about 2 hours before collecting the DNA sample. This ensures that you get a clean sample, void of any possible food particles.
34. Espresso Machine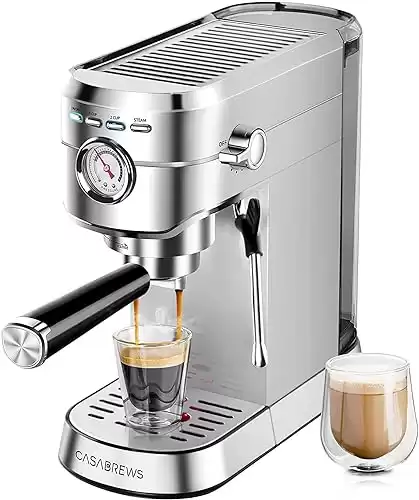 Looking for a fabulous Christmas gift for your caffeine-loving in-laws or parents? This dual espresso machine is your best bet! Not only does it churn out exquisite lattes and Americanos right at home, but it's also an amazing way to make a luxe impression.
This entry-level espresso machine means your parents can ditch the long coffee shop queues and bask in a dreamy cup of froth in the comfort of home. It's sleek, user-friendly, and delivers an unmatched coffee experience.
For an extra special touch, consider teaming up with your other half or siblings and make it a joint gift.
35. Cards Against Humanity: Family Edition
Have a jolly time this Christmas season with the Cards Against Humanity: Family Edition, a perfect gift for the whole family. Transform your family gatherings into epic amusement, keeping everyone from kids to adults thoroughly entertained.
The game reimagines the classic version, well-suited for kids aged eight and up, still retaining its humorous charm that stirs laughter across all ages.
As you know, the original version of Cards Against Humanity can get a bit racy, but this edition ensures to maintain a family-friendly atmosphere, featuring side-splitting cards that can't be turned dirty – a stellar win for parent's peace of mind.
Not merely a pastime, this game enhances memory and coordination, particularly beneficial for young ones. Plus, it's an exciting alternative to conventional family games.
Expert Tip: To maintain the game's fun factor, ensure to shuffle the cards well every time you play.
36. Christmas Jigsaw Puzzle
Are you hunting for a Christmas gift that would give your family cherished memories and hours of fun? The family Christmas Jigsaw Puzzle is an exquisite gem that's sure to bring hearty laughter, keen concentration, and a constellation of shared moments.
These puzzles aren't just perfect gifts for family members who relish spending quality time together, they are opening doors to traditions that families cherish and revisit year after year as our family has done.
Whether it's the joy of seeing familiar personalized faces coming together, reliving joyous moments through a customized puzzle, or the challenge of completing a 1000-piece fantasy feast, puzzles are sure to act as a catalyst for bringing everyone closer.
Expert Tip: When selecting a family puzzle, consider the age range and their puzzle-solving abilities to ensure everyone gets to join the fun.
37. Personalized Beach Towels
Imagine making a splash with a fantastic family gift this Christmas – personalized beach towels! Not only do these offer a practical solution for beach or pool days, but they also add an extra splash of fun with a personalized touch – and no arguing over who's is whose!
They're great for family travel adventures or just lounging at home by the pool, versatile for any situation!
This gift is perfect for families that love a good summer vacation, enjoy poolside chilling, or even those who just appreciate a unique touch to common household items.
38. Hammock
Wondering what to get your family for Christmas that'll bring them joy all year round?
Consider a hammock, a fantastic source of fun, relaxation, and even decoration.
From leisurely backyard lounging to beach vacations and even a cozy corner in the family room, this versatile gift is perfect for anyone who loves basking in comfort with a touch of the outdoors.
Your family will surely enjoy lounging in this boho hammock that flirts with the wind and invites them to relax.
39. Yard Games
Yard games are an exciting choice that brings fun, camaraderie, and hours of family bonding.
Our top pick, Slammo, is loved by all age groups. It's portable, light-weight, and easy to carry to any outdoor venue. With the added bonus of a points scoring system that adds a competitive edge, Slammo is a sure winner.
For larger family gatherings, consider Farkle, Yahtzee, or Toss. These offer a variety of games in one bundle to keep everyone engaged.
Younger ones will find the Giant Connect Four Game enjoyable.
An all-age pleaser is the Ninja Warrior Obstacle Course, perfect for balancing weekend evenings.
Remember, the secret to yard games is keeping things light and enjoyable. With this gift, you'll be providing laughter, memories, and the chance to create new family traditions.
40. Huge 10-Person Family Camping Tent
A camping tent is an ideal choice, especially for family outdoor adventures. Being able to accommodate up to 10 people, the tent presents the capacity to host an entire family.
The tent has the flexibility to be partitioned into three separate rooms or used as one large space, suiting various needs.
All these features are bundled at an affordable cost of under $100, making it a cost-effective luxury for camping nights.
Don't forget these comfy sleeping mad pads!
41. Twister
Reignite family fun this Christmas with the classic game of Twister, renowned for inducing fits of laughter.
Twister is an exceptionally affordable gift that's bound to bring every family member together especially Twister Splash!
You're in for a treat with the Ultimate Twister set, boasting a size twice as large as the original, offering ample space for more chaos and laughter.
Sharpen your balancing skills, bring on the competitiveness, and prepare for roaring laughter with family Twister this Christmas.
Expert Tip: Increase the fun by adding rules, such as a person who falls has to do a silly task. This game isn't just for children—adults can join in the fun too!
42. Museum Memberships
Personally, this will always be one of my favorite family gifts!
Imagine gifting a world of adventure and exploration to your loved ones this holiday season. That's exactly what you offer with a Family Membership to a local museum – a unique gift experience.
This thoughtful gift tops the charts because it provides not just a one-time experience, but ongoing access to cultural enrichment, learning, and family bonding. It's a versatile treat tailor-made for families who enjoy exploring together, especially those with curious toddlers.
Imagine their thrill as they engage with children's museums or science museums that feature hands-on exhibits.
Expert Tip: If you are a travel lover, many museums offer reciprocal passes!
43. National Parks Pass
The National Parks Pass gives you access to all 63 National Parks across the USA, making it the ultimate present for families itching to explore the wonders of nature.
This travel passport makes every tour memorable by allowing the family members to add their unique stamp each time they visit. Discovering majestic terrains, breathing fresh air, and witnessing fascinating wildlife – this gift is unrivaled for families who relish outdoor escapades.
Enhance the gift's value by incorporating a map and highlighting the parks, sparking excitement for the trips to come. Include a lightweight camping gear package into the mix, contributing to perfect family camping nights under the star-studded skies of national parks.
Get these fun National Park Sticker Pack to use as your guide!
44. Gift a Streaming Service
Another one of my top family Christmas gifts – minimalist style! Gift a streaming service!
This is perfect if you want to give your family members access to a world of entertainment. Imagine gifting a Disney+ subscription, Paramount Plus, or a Netflix family plan, they're sure to love the convenience!
The great part about a streaming service gift is the vast range of shows and movies at your fingertips. You can even do a music subscription!
Moreover, the entertainment can span over a year with ever-changing content, ensuring no one ever runs out of things to watch! This trumps traditional gifts that run their course quickly.
Plus, you are not only gifting entertainment but contributing to memorable family time spent watching TV together.
45. Book or Magazine Subscription
Imagine the thrill your little bookworms get, month after month, diving into fresh stories and exploring fascinating worlds – all thanks to your Kids' Book or Magazine Subscription gift! It is the perfect present for your family members who love to read, and for kids who are eager for new books.
Kids' Maganzie or Book Subscription promotes a love of reading and ensures that your children have a regular supply of age-appropriate, curated books.
For adults, you can fuel their imagination, enhance their creativity, and help them learn about different cultures and subjects.
This is especially great for various age groups as you can customize the subscription based on their age and interests.
When choosing the right subscription, consider the reading level, genre preferences, and whether they prefer physical books or e-books. Additionally, research subscription services like Amazon Kid's Book Box or The Book Drop to ensure quality and relevant picks.
Expert Tip: Look into getting a Kindle Unlimited or Audible subscription.
What is a gift you can get for the whole family?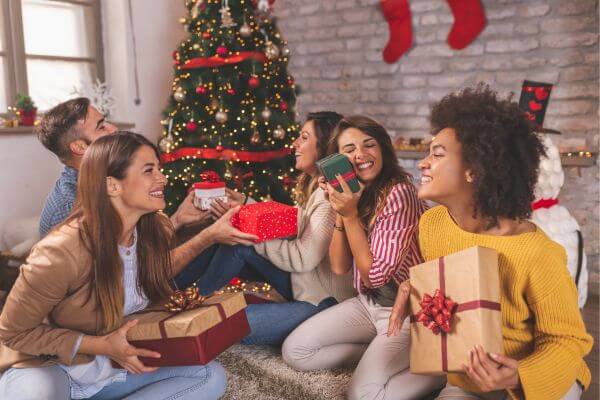 Ready to wrap up happiness for the entire family in one swoop?
Choosing a gift for the whole family can have incredible value if you opt for something personalized and meaningful.
Above we gave you plenty of ideas with our gift guide to get your creative juices going!
Which Gifts for Families for Christmas Do You Plan to Get?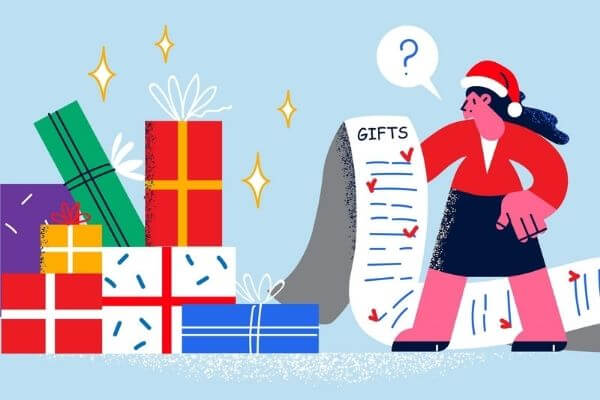 This gift guide inspires your gift selection process, offering a broad spectrum of ideas designed to appeal to everyone in the family.
There's ample room for creativity when it comes to picking out family gifts. From delightful treats and personalized items to matchy-matchy family pajamas and smart tech gadgets, Christmas shopping can be an enjoyable endeavor as opposed to a daunting task.
Ready to dive into the festive shopping season? Getting ahead of the crowd ensures you a wider selection of choices, better deals, and plenty of time for personalizations or special requests.
What are you waiting for?
Start shopping early for this season's best family Christmas gifts.
And remember, the gifts that promote togetherness and create memories are the real winners! This Christmas, let the fun of gifting be a shared experience.
Now, gear up, follow these expert tips, and make this festive season the most memorable one yet!
Don't forget to shop for those inexpensive gifts for coworkers…