Unlocking the Best Deals on Amazon Prime Days 2023
Inside: Discover a treasure trove of savings during Amazon Prime Days 2023! Maximize your budget, snag the best bargains, and embark on the journey of a financially savvy shopper.
In the pursuit of Money Bliss, making thoughtful and strategic purchasing decisions is key.
If you've been eyeing that item on your wishlist or contemplating a purchase that aligns with your needs, Amazon Prime Days might just be the opportune moment to turn that desire into a savvy financial decision.
Amazon Prime Days offers a limited-time chance to acquire the items you need while keeping a firm grip on your budget.
So, go ahead, explore the Prime Day deals, and let the thrill of savings elevate your journey toward financial well-being.
Remember, it's not just about what you buy—it's about how wisely you buy it.
Make sure you scroll all of the way to the bottom of this post! I captured ideas from real people on what they want for the Amazon Prime Days 2023!
Happy shopping!
When Are Amazon Prime Days 2023?
Amazon Prime Days 2023 are October 10 and October 11.
Why Shop Amazon Prime Days?
Here's why navigating the digital aisles during Amazon's annual shopping extravaganza can be a brilliant move for your wallet and your quest for savings.
1. Irresistible Discounts:
Amazon Prime Days are synonymous with jaw-dropping discounts and deals. Whether it's electronics, home essentials, or personal care items, the prices often take a dip that's hard to resist.
This presents a golden opportunity to snag that coveted item you've been eyeing at a significantly lower cost, instantly contributing to your maximizing savings.
2. Strategic Timing for Big Purchases:
If your intended purchase is a substantial one—perhaps a new gadget, appliance, or even furniture—Amazon Prime Days provides a strategic window for major savings.
By aligning your buying decision with this event, you can make that big-ticket item more budget-friendly, helping you stay on track with your financial goals.
3. Bundled Offers and Exclusive Launches:
Amazon Prime Days often come with exclusive launches and bundled offers. Whether it's a combination deal on related products or early access to new releases, these perks can enhance the overall value of your purchase.
By capitalizing on these special offerings, you not only save money but also potentially gain more for your investment.
Special pricing will only be reflected during Amazon Prime Days. As deals are dropping every five minutes!
4. Prime Day-Exclusive Benefits:
Being a Prime member comes with its own set of privileges, and Prime Days amplify these benefits.
From lightning deals to free shipping, the exclusivity of these discounts adds an extra layer of value to your purchases.
Deals start early for Amazon Prime Members too!
5. Kickstart Your Holiday Shopping:
For the savvy planner, Amazon Prime Days serve as an excellent opportunity to jumpstart your holiday shopping. Or finish up your Christmas shopping like my friend, Kaitlyn.
By taking advantage of discounted prices during this event, you can spread out your expenses and avoid the last-minute holiday shopping rush, ensuring a stress-free and budget-friendly festive season.
This post may contain affiliate links, which helps us to continue providing relevant content and we receive a small commission at no cost to you. As an Amazon Associate, I earn from qualifying purchases. Please read the full disclosure here.
Popular Amazon Prime day Deals
Spoil Yourself with These
Prime Day Deals For Home
Kitchen Steals
Fashion Steals
Fitness Items You Have Been Eyeing
With Kids
For Our Treasured Pets
For School
Travel Essentials
When You Can't Find it in Your Buy Nothing Group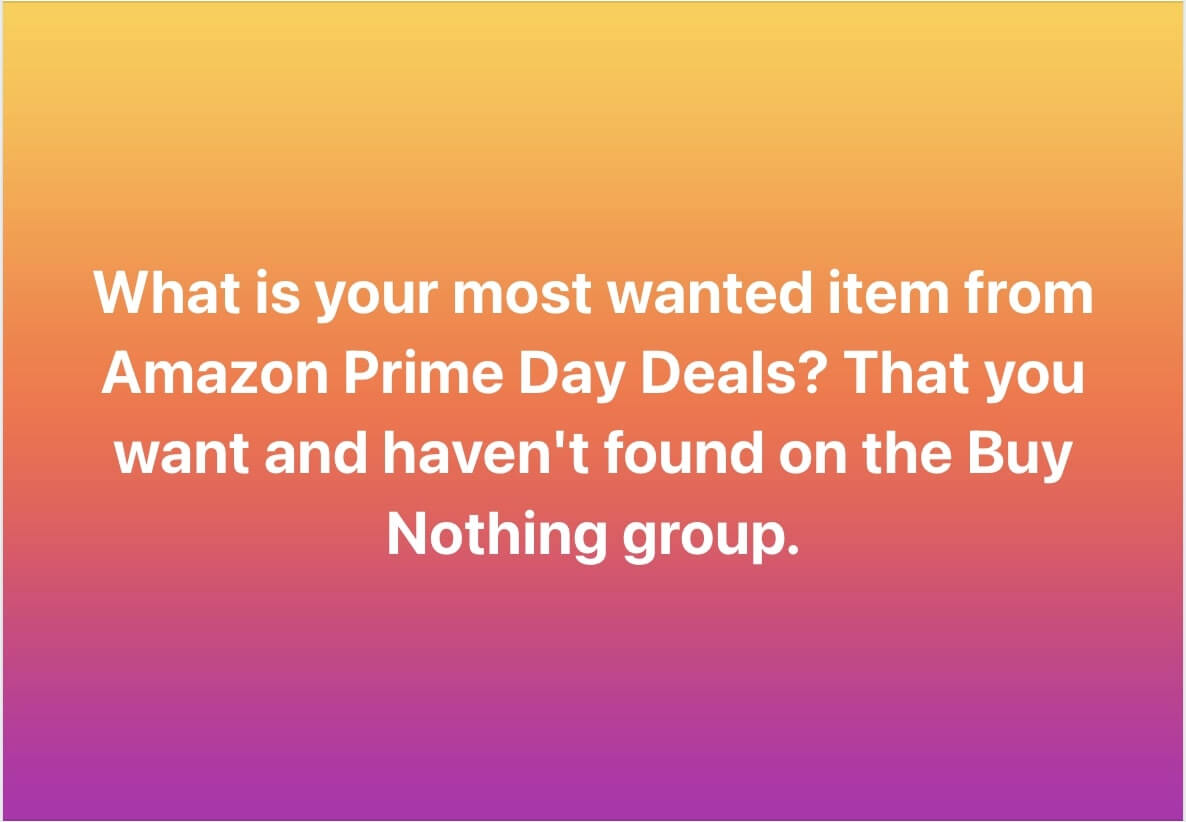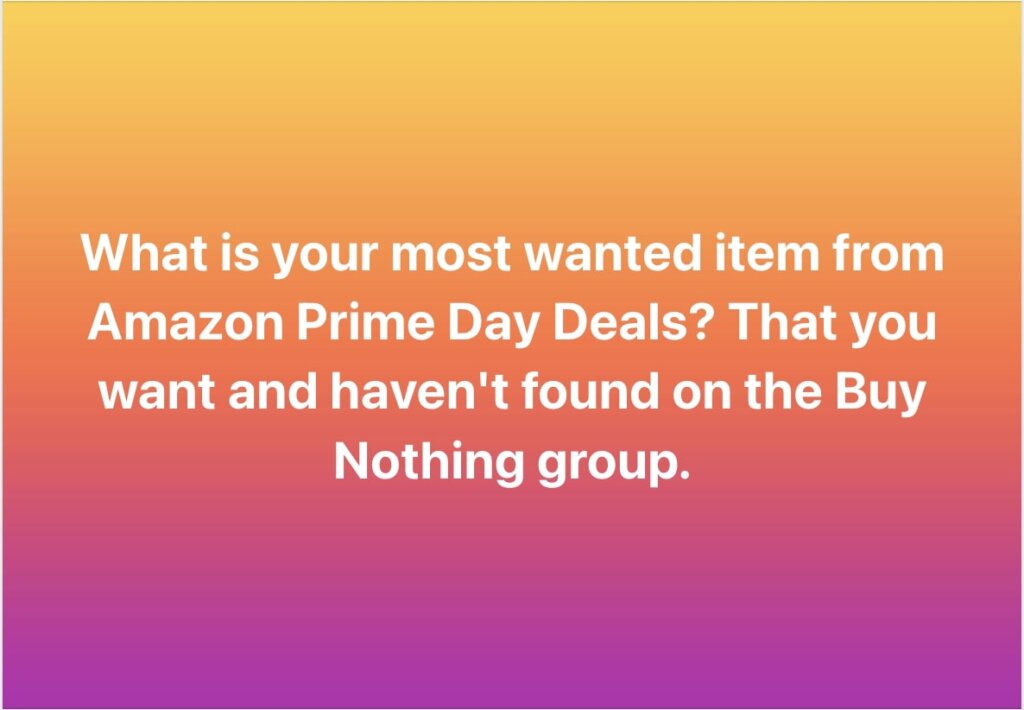 Okay, I asked my local Buy Nothing Group what the most wanted items they wanted on Amazon Prime Days and they let me know. Here are a few of their wants.
And if you don't know what a Buy Nothing group is… It is a local group focused on ways to give away, lend, or share anything to keep it out of landfills! You can find your local group on Facebook.
Because You Need to Stock up
Time to Shop Those Amazon Prime Days Before They Are GONE!
As the curtain falls on Amazon Prime Days 2023, seize the moment and secure the deals that beckon to your savvy shopper's soul.
The virtual aisles are teeming with savings, and the time is ripe to claim what your budget permits.
Remember, the thrill of a great deal lingers far longer than the sting of an impulse purchase.
So, shop wisely my friends, prioritize your needs, and relish the joy of snagging the best bargains.
Make sure you act swiftly before the deals vanish into the digital abyss, and may your purchases bring not just instant gratification but lasting Money Bliss.
Happy shopping, frugal budget maestros!
Now, All of the Amazon Insider Information: