Amazon Order Says Delivered But Not Received: How to Track Your Package 
Inside: You are frustrated because Amazon order says delivered but not received. This happens for a variety of reasons. Learn how to find missing packages with updated tracking.
We've all been there. You order something on Amazon and the estimated delivery date is just a day or two away.
But then, that day comes and goes…and your package still hasn't arrived.
Worse yet, when you check the tracking information, it says "delivered"! So where is it?
If this has ever happened to you (and chances are good that it has), don't worry – you're not alone.
In fact, it's one of the most common issues that Amazon customers face.
So what can you do if your Amazon order says it was delivered but you can't find it?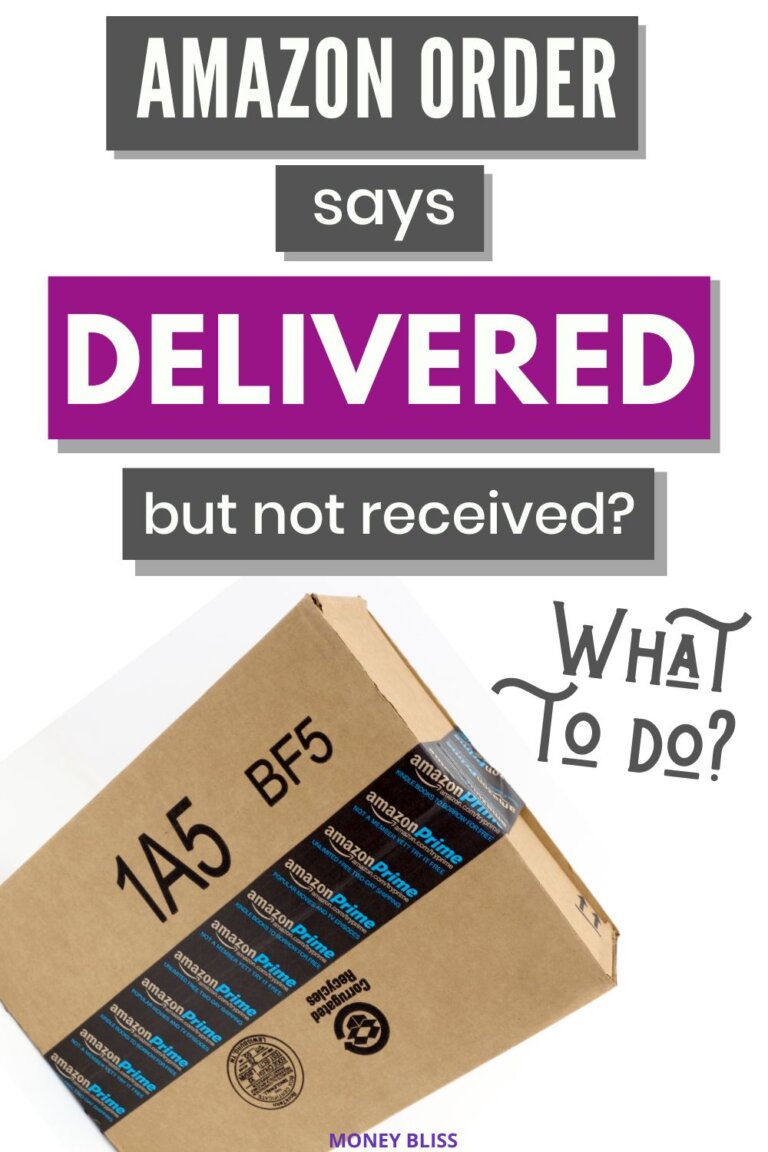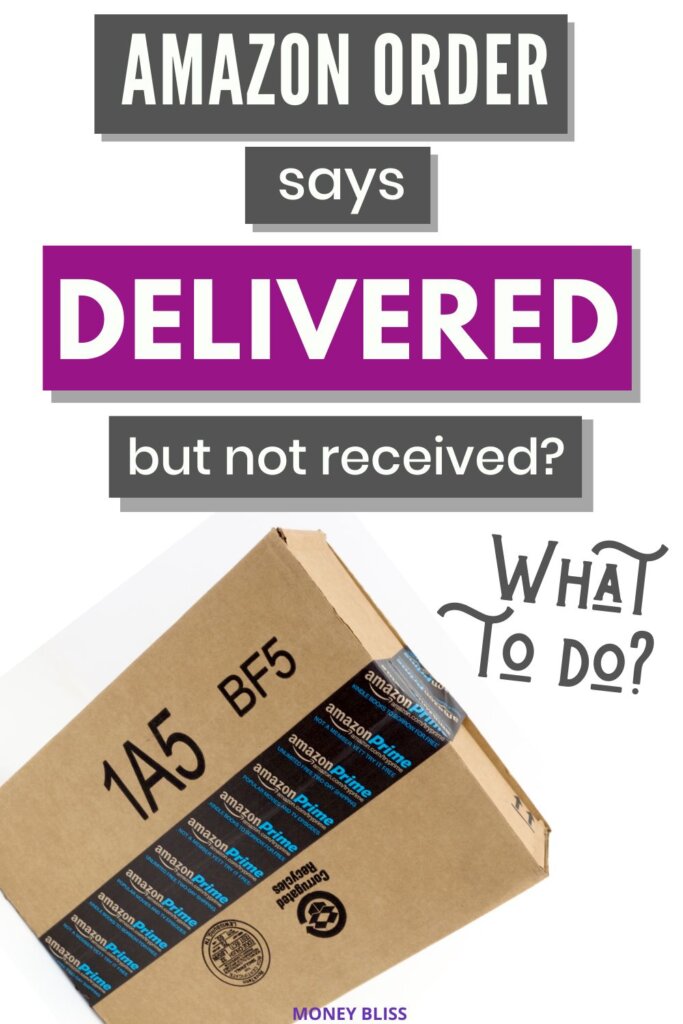 What to do if your Amazon package says it was delivered today but have not received yet?
It can be incredibly frustrating and confusing when you eagerly await the arrival of an Amazon package, only to find that it is marked as "delivered" but is nowhere to be found.
This situation often leads to a mix of emotions, including disappointment, worry, and confusion.
However, there are steps you can take to track your package and resolve the issue.
In this guide, we will provide you with a detailed, step-by-step process on what to do if your Amazon package says it was delivered today but you have not received it yet.
By following these instructions, you can navigate through the frustration and hopefully locate your missing package.
This post may contain affiliate links, which helps us to continue providing relevant content and we receive a small commission at no cost to you. As an Amazon Associate, I earn from qualifying purchases. Please read the full disclosure here.
How do I track my Amazon order that says it has been delivered?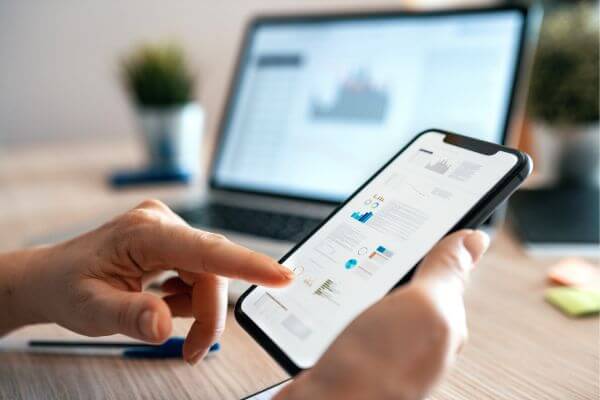 It can be incredibly frustrating and confusing when an Amazon order is marked as delivered but has not actually been received by the customer. This is a common issue that many customers face, and it can lead to a lot of stress and worry.
To ensure that you have the most accurate and up-to-date tracking information, it is recommended to double-check your tracking information.
However, there are steps that you can take to track your Amazon order and determine its whereabouts.
Sign into your Amazon account.
Once you are signed in, click on "My Orders" to access your order history.
From there, you should select the "Track Package" option for the appropriate order.
If your package has been delivered, you can also see delivery information and specifics on where the package was left. For example, it may say "near the front door" or "inside the residence's mailbox."
However, it is important to note that this information may not be available for every shipment, as it relies on the delivery person noting such details.
If the tracking information shows that the package has been marked as "delivered," but you have not received it yet, there are a couple of steps below on how to handle the situation.
How to Use Third-Party Providers to Track Package: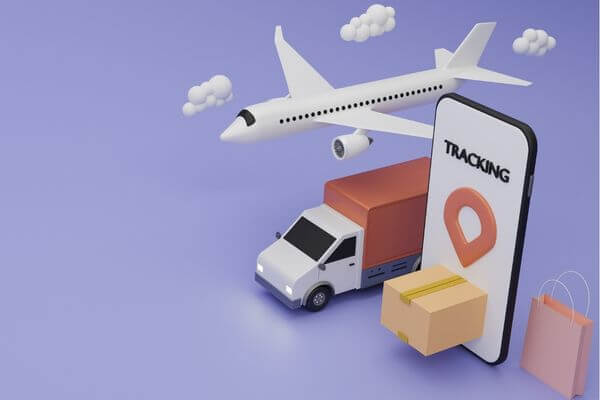 If your Amazon package is delivered through someone outside of Amazon, you should refer to their tracking information.
While the Amazon account dashboard is a great place to check for updates, it is also beneficial to go directly to the source.
If your package was sent via USPS, you should check the USPS tracking tool for more details.
The same applies if your package was sent via FedEx or UPS – you should use their specific tracking tools.
To streamline the process, you can copy and paste your tracking code into a web browser or the Google search bar. This will provide you with the most recent updates for your tracking information.
Remember to be patient and give it 24-48 hours before contacting Amazon for further assistance.
Learn which countries Amazon ships to internationally.
What are the possible reasons for an Amazon package saying it was delivered but not received?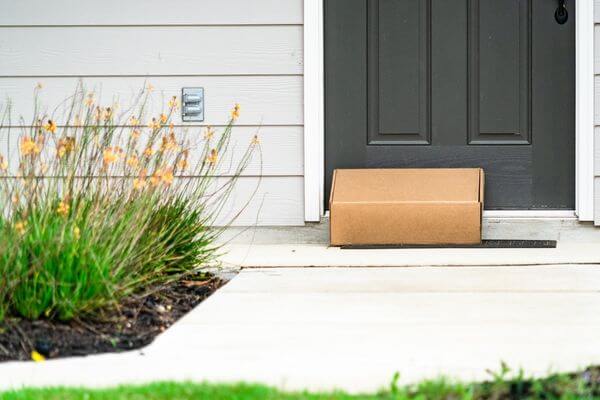 There are a few reasons this could happen.
Most are completely outside of your control and you have to be patient for them to be fixed.
1. Order May Have Marked Delivered Too Early
Occasionally, delivery companies may mistakenly mark a package as delivered when it hasn't been. This can happen due to miscommunication or system errors. In such cases, contacting the delivery company for clarification and providing them with the necessary details can help resolve the issue.
If the delivery driver marked the package delivered, before it arrived at your doorstep, then you will be searching for something that is not there.
This happened to me with an Amazon order delivered by USPS. I spoke to the USPS driver and they said they were helping each other finish delivery routes and to transfer the package to the new driver, they had to mark it as delivered.
This discrepancy between the tracking data and the actual delivery can lead to confusion and disappointment. It is important to understand why Amazon tracking data might not be accurate in order to address this issue effectively.
2. Package could have been stolen
One of the main reasons for a package being marked as delivered but not received is theft.
According to a report from C+R Research, 67% of Americans have reported having a package stolen.
Unfortunately, package thieves are quick and practiced, making it difficult for the authorities to catch them in the act. This results in customers losing their packages and feeling helpless.
The consequences of package theft are significant for customers. Not only do they face financial loss, but they also experience frustration and inconvenience.
Being proactive and vigilant is crucial in safeguarding packages from theft and ensuring a smooth online shopping experience.
3. Package could have been misdelivered
There are several possible reasons for this, with one of the main possibilities being misdelivery. Misdelivery happens when the package is mistakenly delivered to the wrong address or handed over to someone other than the intended recipient.
This can occur due to various factors such as human error, incorrect address information, or confusion during the delivery process.
For example, if the intended recipient's address is 123 Main Street, but the package is delivered to 132 Main Street by mistake, the recipient will not receive the package.
In such cases, it is important to approach neighbors and inquire if they have received the package on your behalf. Good neighbors will realize the mistake and hand over the package to you.
Learn exactly what to do when Amazon delivered to wrong address.
4. Personal Delivery Instructions not Followed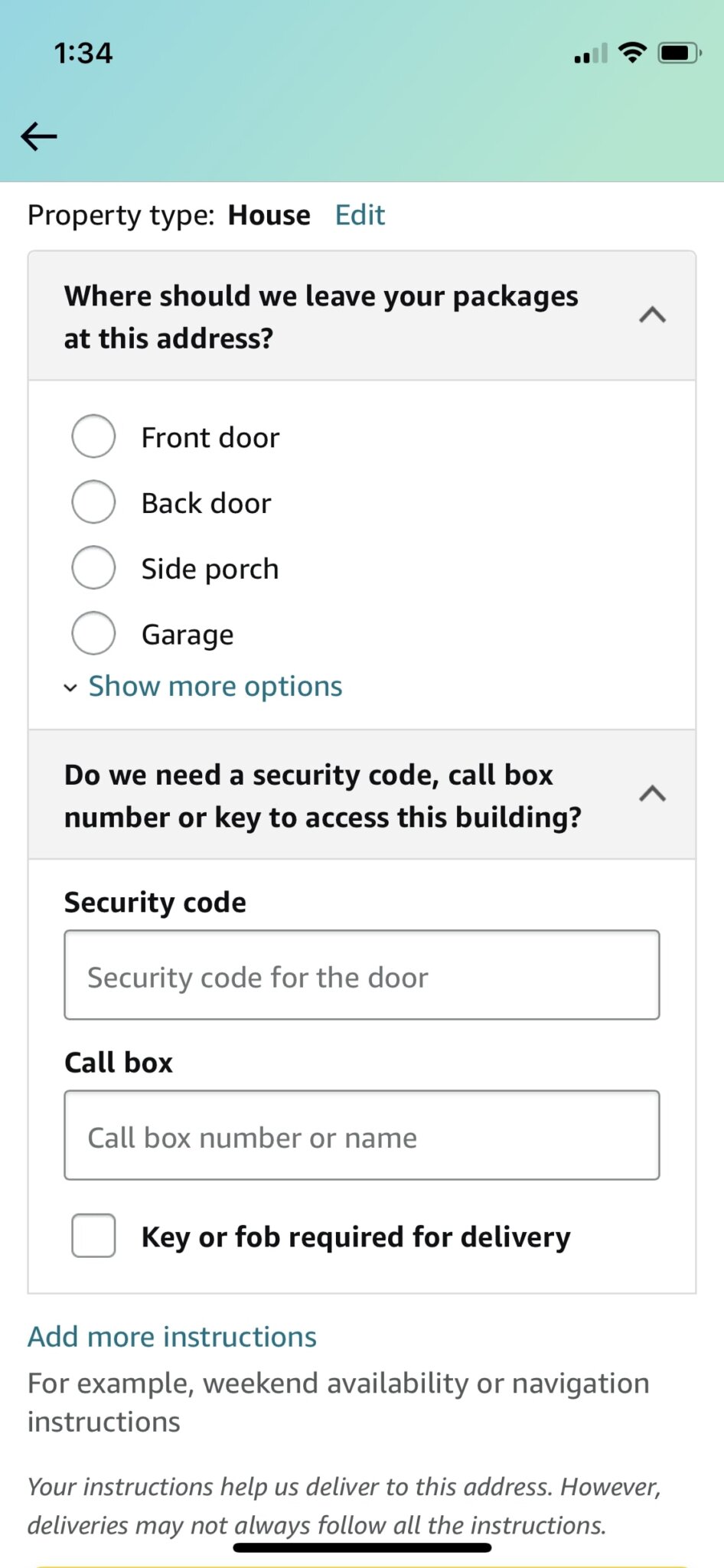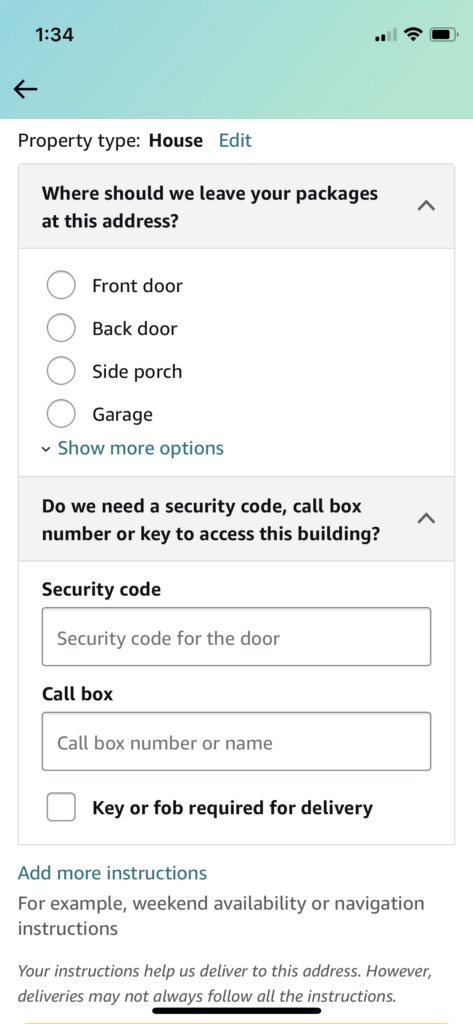 Another cause of misdelivery can be attributed to the recipient's own delivery preferences.
Sometimes, recipients may have specified in their delivery preferences for Amazon to leave the package at a front door, back door, side porch, or garage. However, your packages may not be left at the specified location.
This is true when an option other than the front door is selected.
5. There could have been a mix-up with the address
If you live in an apartment complex, this happens more often than you'd think.
Amazon packages sometimes show as "delivered" in the tracking information, but customers may not actually receive them. One of the potential reasons for this discrepancy is a mix-up with the address. There are several common scenarios that can lead to this issue.
This can happen if the customer did not provide the complete address information during the ordering process. Similarly, if the address was missing the street direction, such as N. Main Street vs. S. Main Street, it can result in the package being delivered to the wrong location.
What should I do if I haven't received my Amazon order?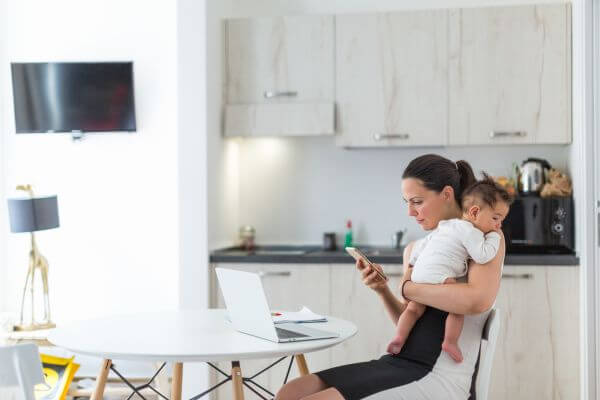 It is not uncommon for customers to encounter the frustrating situation where their Amazon order is marked as delivered, but they have not actually received the package.
This can be a cause for concern, but there are steps you can take to track your package and resolve the issue.
By following the guidelines provided by Amazon, you can increase your chances of locating your missing package and finding a solution.
1. Investigate Your Surroundings:
Take a closer look around your home and consider places where the package may have been delivered that are not immediately noticeable.
It is possible that the package may have been left at your garage door instead of your front door or maybe in your driveway. Once, we saw our package sitting on the base of the basketball hoop.
Additionally, check your mailbox as Amazon sometimes passes on parcels to the USPS.
2. Check with Your Neighbors
If you feel safe and comfortable doing so, you can check with your neighbors to see if they received the package on your behalf or by mistake.
My rule of thumb is to look at the picture. That normally helps to decipher similar-looking houses.
Just in case, Amazon delivered to the wrong address.
3. Check Order Status and Shipping Address: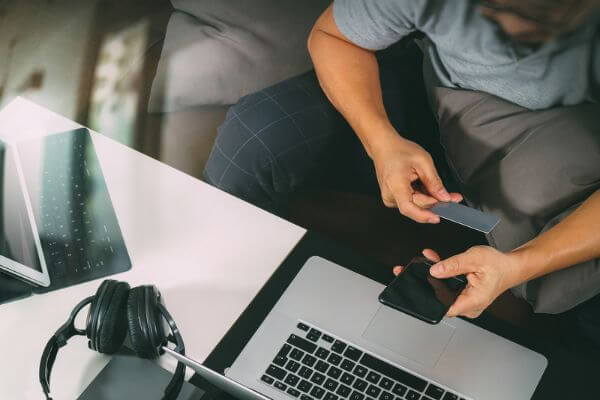 Double-check that there were no shipping errors and ensure that your shipping address is correct.
Just log in to your Amazon account and go to your orders.
Let's be honest… I accidentally sent something to my mom instead of my house. Oops.
4. Wait 48 Hours:
Before taking any action, it is important to give the delivery process to reflect any changes.
Sometimes, tracking information may update prematurely, or carriers may deliver packages as late as 10 PM. The package could still be on its way and may arrive later that evening or the next day.
Learn how late does Amazon deliver.
5. Contact Amazon Customer Service
If you have followed the previous steps and still have not located your package, it is time to reach out to Amazon's customer service.
Log in to your Amazon account and choose one of the two options:
You can choose whether to speak via a bot or by phone. Just to note.. the phone option may not be immediately obvious.
Explain the issue to the representative, and Amazon will initiate an investigation.
If your claim is genuine, they will issue a refund.
How can I tell if my package has been stolen?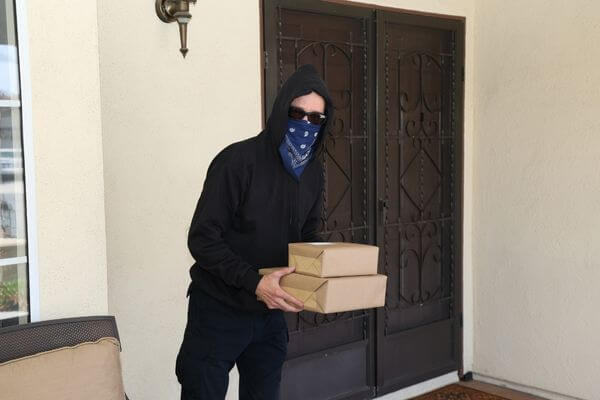 The best way to tell if your package was truly stolen is to install security cameras.
That way you know the package was delivered and then stolen off your doorstep.
Unfortunately, package thefts continue to rise, especially during the holiday season.
If you determine the package was stolen, it is also advisable to contact your local police department, especially if the stolen items were valuable.
Taking preventive measures, such as tracking your orders and utilizing Amazon Lockers, can also help protect your deliveries in the future.
FAQ
Can I get a refund for my Amazon order if it is not delivered?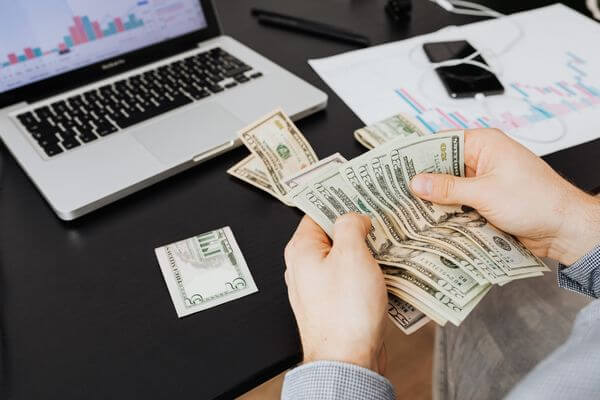 Customers can get a refund for their Amazon order if it is not delivered. Understanding the refund policy for undelivered packages is important to ensure a smooth resolution to the issue.
Here are the steps to follow:
Sign into your Amazon account and go to "Orders".
Select the order with the missing package.
Click on "Problem With Order".
Choose "Request a Refund" from the options.
Select a reason for the refund from the drop-down menu.
Click "Submit" to initiate the refund process.
If the package was shipped by a third-party vendor and not by Amazon, it is recommended to contact the vendor directly for assistance.
What other steps can I take to track my Amazon order?
When an Amazon order is marked as delivered but has not been received, it can be a frustrating experience.
Above we covered, all of the steps to fix your situation.
However, you could consider Amazon Map Tracking, which allows you to track the real-time progress of select packages delivered by Amazon.
This feature provides you with the remaining number of stops the driver has before the delivery arrives at your door. Typically, you will get a notification when your package is 10 stops away or less.
Now, You Know What to do With Amazon Packages Not Delivered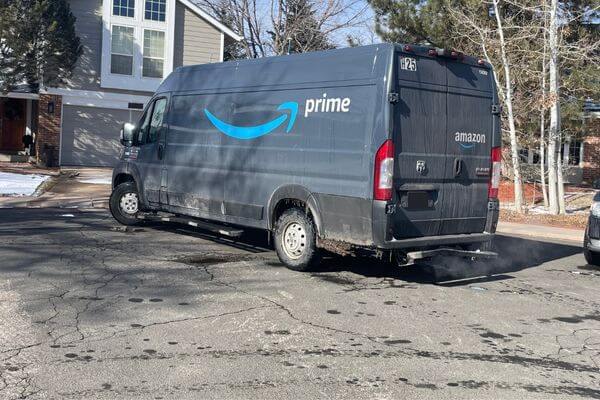 Taking these additional steps is crucial in resolving the issue of a marked "delivered" but missing package.
While this is frustrating, especially for something you really needed by a certain date, it can be easily solved and fixed.
Knowing what time do Amazon packages arrive will help you to make sure you track your deliveries closely.
There are plenty of steps we outlined above to make sure your package is swiftly back in your hands.