Should Parents Pay for College? Reasons For & Reasons Not To
This post may contain affiliate links, which helps us to continue providing relevant content and we receive a small commission at no cost to you. As an Amazon Associate, I earn from qualifying purchases. Please read the full disclosure here.
---
Graduation is a couple of months away. Kids are moving up a grade. Parents are getting closer to that point where the kids can head off to college. So, should parents pay for college?
This simple question has become more and more hotly debated.
Should parents pay for college?
Maybe you feel like you should pay for college because your parents paid for your college education.
Maybe you paid for your own college degree and want to provide an education to your children without all of the debt you incurred.
Regardless of the reason to pay for college, should parents pay for college? Let's dig into the hot debate.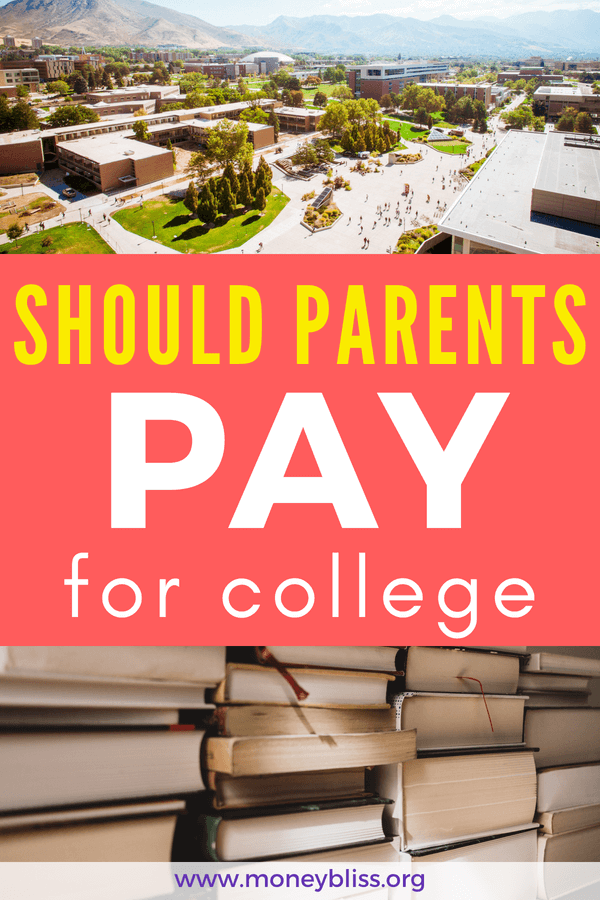 Cost of College
According to research at Sallie Mae, on average the cost of college was $30,017 in 2019-2020.
Broken down, how college was paid for in 2019-2020:
Scholarship & Grants – 25%
Relatives & Friends – 1%
Student Income & Saving – 8%
Parent Income & Saving – 44%
Student Borrowing – 13%
Parent Borrowing – 8%
Then, who should pay for college? Parents or students?
Before we go any further, did you realize 22% more people are searching out scholarships to pay for college tuition than compared to the year prior.
Make sure to check out how to find college scholarships.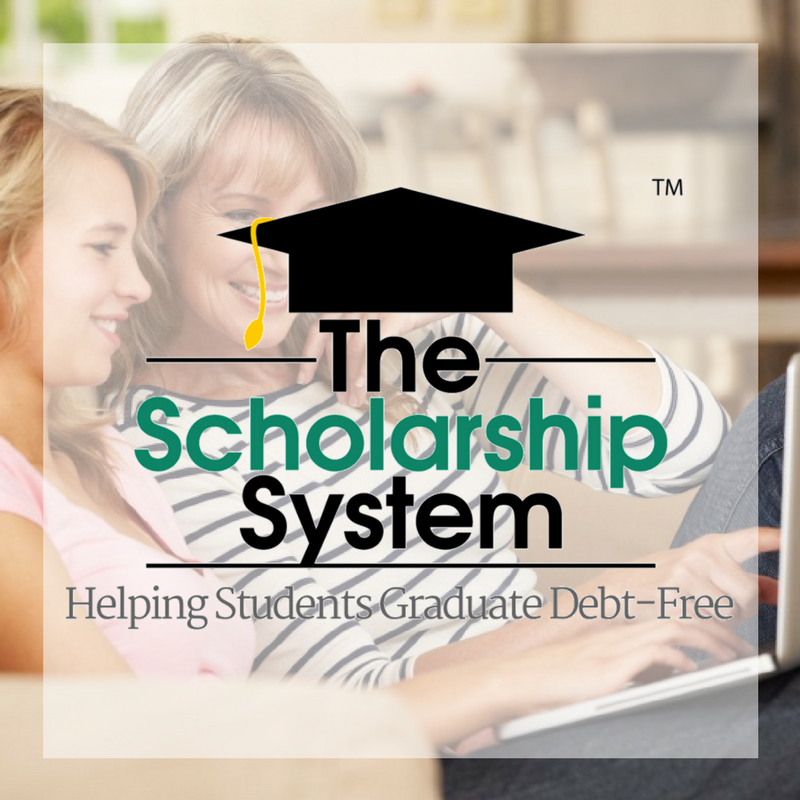 Variables on Who Should Pay for College
First of all, there are many variables that go into this question of who pays for college. Each family situation is unique like their family.
Also, the education system is shifting, which is a good thing to line up to the new jobs to be created. Lastly, the workplace is vastly different than ever before with more and more people becoming their own bosses.
All of these are variables on who should pay for college.
1. Change in College Landscape
There is a shift in our economy where the traditional college system is not the guaranteed path to high paying careers. College is not the best avenue for each student. The traditional 4-year bachelor's degree does not mean what it did just 10 years ago.
Each year, less and less kids are enrolling in college. The primary reason is the rising cost of tuition. This trend has been holding steady since 2012. See the latest report from the National Student Clearinghouse Research Center. Plus, many college students who start don't end up completing their degrees.
That being said, there will be some career fields like doctors, attorneys, and scientists that will continue to thrive in the traditional college landscape.
In an effort to keep up with the trend of fewer people enrolling in traditional 4-year degrees, colleges are starting to offer master certification programs. In a shortened amount of time and a lower cost of tuition, an adult can get the exact training they need for a job.
And steer clear of thousands of dollars of student loan debt.
Will the traditional university and college system go away? I have no idea. Personally, I believe the alumni and booster clubs are too powerful at many universities. That being said, I do believe the path to college will change for 80% of our younger children.
Related Post: What is the Scholarship System? Plus Q&A with the Founder
2. Change in the Workplace
The traditional model of working at the same company for 30 years and getting a pension went out about 20-30 years ago. Today, people are changing jobs every 2-3 years in an attempt to make themselves more marketable. Also, many are starting their own businesses either full time or as a side hustle.
Does any of their jobs have to do with their 4-year college education?
In many cases, no.
While college education prepares you for critical thinking, the ability to fulfill requirements, and to actually finish something you started. For many college graduates, they don't even work in the field of study their degree is in.
The workplace is demanding job skills. Many of which, you learn on the job or through specific job training. Another option is to go out and get a master certification in the topic.
Lastly, the number of entrepreneurs is growing each and every year. Do you need a college degree to start your own business? No, you need passion, desire, and an idea.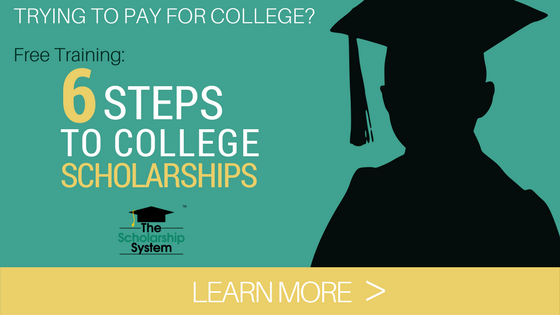 3. Unpredictable Future Market
Okay, let's be honest.
We have no idea of the financial climate when our kids graduate from high school and/or college.
The financial markets have been more variable in the last 10 years than the 50 previous years. The trend that will likely continue is the high cost of living; thus, making it more difficult to purchase a home.
What could benefit your child more?
College fully paid for by their parents.
– Or –
Down payment on a house.
Honestly, I don't have a crystal ball to tell the future 10-20 years from now. However, I do know many young adults today are being priced out of the housing market because of the down payment needed in many hot job markets.
Many people automatically invest in 529 plans without knowing the fully consequences of that decision. For instance, if the child decides not to go to college and you don't want to change the beneficiary, then you take a non-qualified withdrawal from the account to get access to the money. Any earnings on the account are taxed as income plus a 10% penalty is incurred.
So, why not look at a taxable basic account that can be used for a myriad of purposes and pay long term capital gains tax?
Please note… The tax law is guaranteed to change over the years plus each and every situation can be drastically different. Please contact a tax accountant to review your specific situation.
4. Your Personal Financial Situation
Honestly, it is hard to tell your child that you can't afford their college tuition. However, many people don't and they are now unable to pay on the student loans and their own retirement has been put off even further.
Remember, that saying on the airplane?
Put your own mask on first before helping those around you.
That is tough medicine to shallow for any parent. To put yourself first over the needs of your children. Take care of your own financial house before helping others.
Learn how to find scholarships today.
That is where the Money Bliss Steps to Financial Freedom are so very helpful! Build a solid foundation for your financial independence.
Read here to learn where paying for college falls on your journey towards financial freedom.
Your own personal financial situation will dictate your ability to pay for college.
Related Post: How to Achieve Financial Independence Retire Early (FIRE)?

Lastly, it saddens me the number of people I meet who are swaddled in thousands of dollars of student loan debt and not working in their degree field.
The two reasons stated are they can't find jobs in their field or the pay is so low they can't afford their living expenses while being swaddled in debt. Many of whom continued schooling for a master's degree or higher. Holding on to the prospect of a higher paying job upon graduation.
If that is you, learn how to refinance student loans and save some money on interest.
Should Parents Pay for College?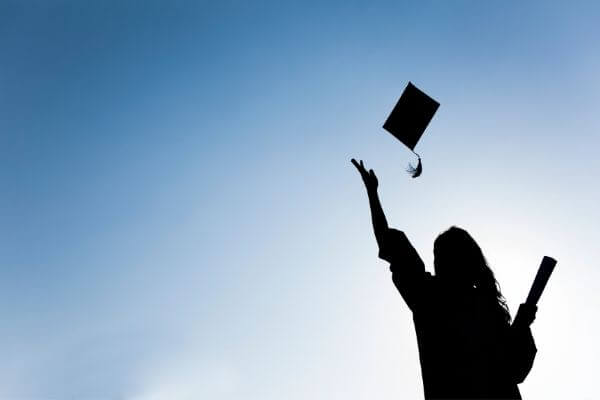 There are many variables that impact your decision on whether parents should pay for college. This is a personal decision for your family. Not for others to weigh in on.
As parents, the best thing we can do is build a solid foundation for our family.
Like I said, this is a highly debated topic.
You may or may not agree on who should pay for college.
However, I hope I shed some points of view why college may not be the best situation for all children and how parents need to have their financial house taken care of first.
Continued Reading: