The [Best] Easter Basket Ideas for Teens: Teenagers Love Presents!
Inside: Teens can be tricky to shop for, but we've got you covered with the best Easter basket ideas for teenagers.
Easter is coming up, and you know what that means! Time to start thinking about Easter baskets for the teens in your life.
We've got you covered with 70 of the best gifts to stuff those baskets with.
From clothes and accessories to tech gadgets and games, we've got something for everyone on your list.
So what are you waiting for? Get started on your Easter shopping today!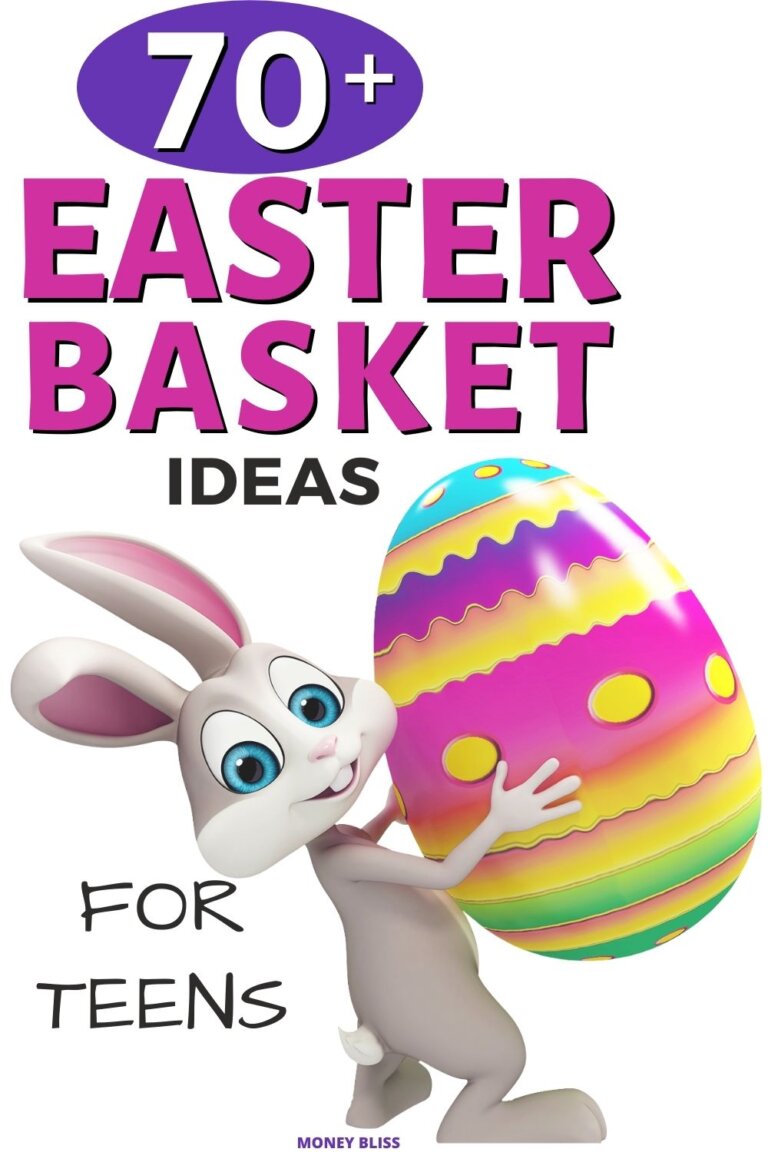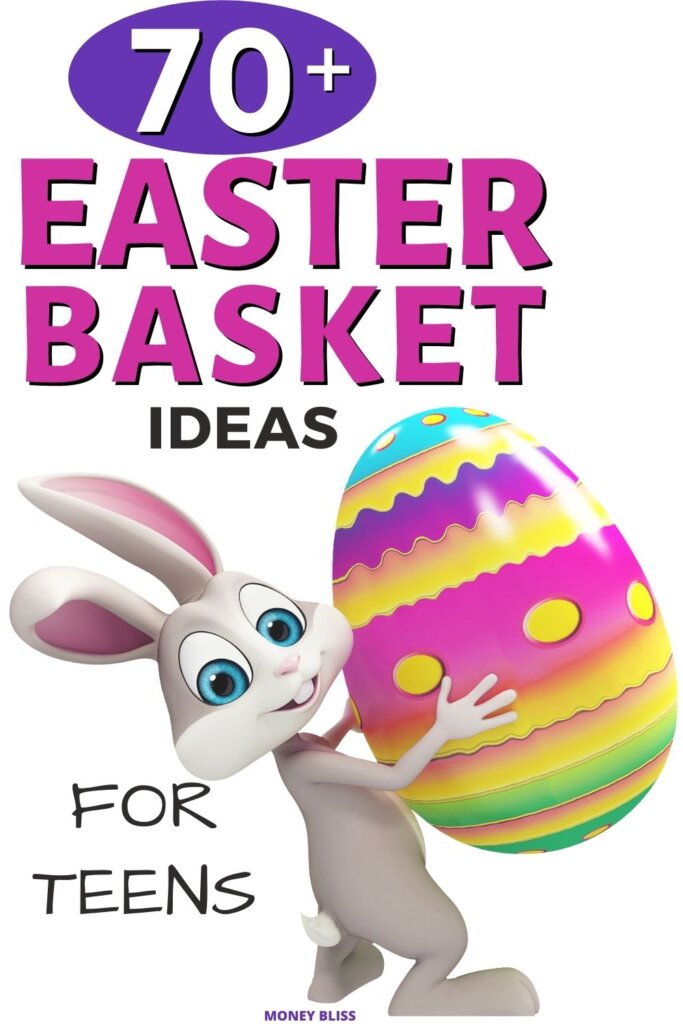 What do you put in older kids Easter baskets?
Teens are notoriously hard to shop for, but Easter is the perfect time to show them how much you care.
Regardless of age, giving a gift is an act of love. Plus all teens love to get gifts (even if their way of showing it is awful)!
Teens will appreciate gifts such as cool gadgets, accessories, books, phone accessories, small games, and unique items that they wouldn't normally find in their Easter baskets.
This post may contain affiliate links, which helps us to continue providing relevant content and we receive a small commission at no cost to you. As an Amazon Associate, I earn from qualifying purchases. Please read the full disclosure here.
What are some of the best Easter basket ideas for teens?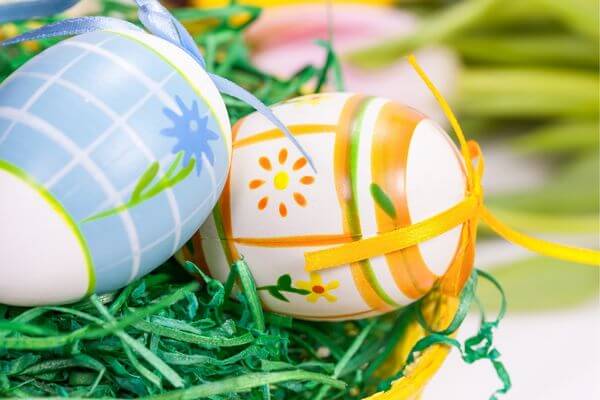 When it comes to Easter baskets for teens, it's important to choose gifts that reflect their hobbies and interests.
From trendy gadgets and gifts for tech-savvies to cozy self-care products for the beauty buff in your life, there's something for everyone.
For the kid who has everything, consider a unique tech gadget like a color-changing speaker or a selfie ring light.
For the active teen, gift a sports-inspired Easter basket with items like a fitness tracker, water bottle, and sweat towel.
For the teen beauty enthusiast, layer the basket with fun items like bunny ear headbands and candy-colored lip glosses.
And no matter who you're shopping for, don't forget the classic Easter candy like chocolate bunnies and pastel-colored cake pops.
With a little creativity and some thoughtful gifts, your teen is sure to have a memorable Easter this year.
Choose a Non-Basket to Stuff your Gifts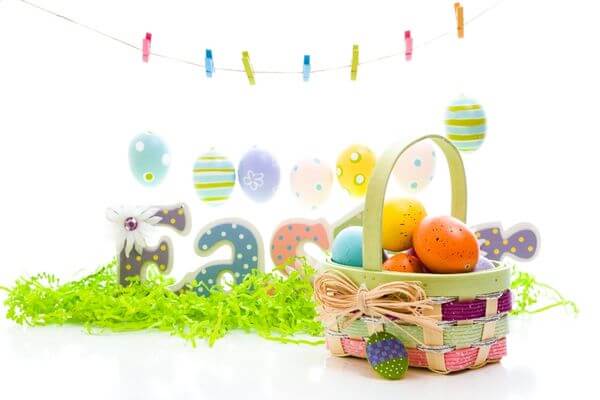 Teens want to be unique and not treated like children or babies.
Thus, choosing a non-basket idea is a great place to start.
For a basket that's truly unique, opt for one of the non-basket ideas below…
Beach tote
A beach tote is perfect for carrying all of the Easter basket stuffers!
This will make a great tote for a perfect beach day.
Laundry basket
A laundry basket makes a great gift holder.
It can hold a variety of gifts and is easy to carry around.
Plus it has a practical use afterward. Just make sure to fill it with items that the recipient will appreciate.
A mini cooler or mini fridge
A mini cooler is a perfect place for an Easter basket.
Not only is it a great gift for someone who loves to drink cold drinks, but it can also be used to store food.
Just make sure to load it with the hottest hydration drink for teens!
This is a great option if you're looking for a small, but convenient, Easter present.
Pillow Case Basket
There are many ways to hide an Easter present. One way is to put it in a pillowcase.
This way, the present will not be seen until the recipient opens the gift.
These satin pillowcases are a great gift!
Video Game Storage Basket
This is a great Easter basket idea for teens as it also serves a practical purpose.
It allows teens to store their video games in one place and easily access them without rummaging through drawers.
Caboodle Makeup Organizer
A caboodle is a small, versatile, and affordable storage option that can be used to store a variety of items. Thus, making it perfect to combo as a gift holder and gift!
It is a small, portable, and affordable storage option that can be used to store a variety of items.
Caboodles can be used to store items like jewelry, hats, scarves, and gloves. They are also perfect for storing small items like keys and wallets.
Stuffed Mug
A Mug Basket includes a mug, tea, coffee, hot chocolate, and a tea infuser – all the essentials for a relaxing and enjoyable time.
The mug can be decorated or personalized with a special phrase or design, adding a special touch to the basket. If the teen is a coffee or hot chocolate lover, then a mug basket is the perfect way to show your appreciation this Easter.
or a mason jar!
Similar to using a mug, you can do the same idea with a mason jar.
You can stuff a larger mason jar instead of the traditional size.
Not only is it practical and useful, but it also provides your teen with a special reminder of your love and thoughtfulness.
Makeup Bag Basket
A Makeup Bag Basket is a great gift for the makeup enthusiast in your life!
It is perfect for teen or college student who loves to take their time in the bathroom or travel with their beauty products.
The basket can be filled with a variety of items including a phone case, zippered makeup pouch, journal, nail polish, gift card, tassels, Jade Roller, face masks, razors, makeup eraser cloths, lip gloss, dry shampoo, coffee mug, scented candle, and body wash.
Plus you can dress it up with colorful Easter basket filler, ribbons, and other decorations.
Shower Tote Basket
A shower tote basket is an all-in-one container designed to store and carry bathroom essentials.
It is the perfect accessory for any teen, college student, or an adult looking to keep their bathroom items organized and easily accessible. This is especially helpful for those who live in dorms or shared bathrooms, as it allows them to quickly grab their items and go.
A shower tote makes a great Easter basket idea for teens, as it contains practical items that they can use throughout the year.
Whether they're heading off to college soon or already living in a dorm, this basket can come in handy!
Bike Basket
Middle schoolers spend a lot of time on their bikes as it is the fastest way to get from point A to point B without the help of parents.
This is a nostalgic gift basket that can have a secondary purpose.
A bike basket is a container that attaches to a bicycle and is used to carry items while riding.
Movie Night Basket
Movie night baskets are perfect for teens. They can include snacks, drinks, and movie materials like DVDs, Blu-rays, and games.
The baskets can also include a blanket or pillow for comfort.
Laptop Sleeve Basket
What a great way to disguise some tech gifts?!?
Personally, I love my laptop sleeve and use it way more than I thought I would.
You can fill Easter goodies like an external charger, Airpods, and a Visa gift card inside.
Shoe Basket Organizer
Um, I think every teen needs a way to organize their shoes!!
A shoe basket is a great Easter basket idea for teens because it is both practical and stylish.
Teens can use the basket to hold and store their shoes in a fun and attractive way.
Not only is a shoe basket a great way to store shoes, but it can also be filled with fun items such as chocolate bunnies and eggs, making it an adorable and creative choice for an Easter basket.
Lunch Bag Basket
Teens are on the go and packing food whether for school or sports practices.
You can fill the Easter goodies stuffed inside the lunch bag.
If you want to continue the theme, you can buy thermos or bento box containers to take their lunch to and from.
Cap Organizer
Time to hang all of the Easter goodies!
Teens love their hats especially since many can wear them during school starting in middle school.
And it is devastating when they cannot find the one they love or for the current team they are playing on (been there, done that)!
This is a fun way to show that you understand their style and interests, and it is also a practical gift that will last them for years to come.
Skateboard Stand Basket
For teens who love skateboarding, a skateboard stand with storage can also be used as an Easter basket and can be filled with Easter candy and skateboarding accessories.
The Best Easter Basket Ideas for Teens
Easter basket ideas for teens are great for anyone from pre-teens to teenage sons and daughters, nieces, and nephews. Plus many of these ideas are great for college students or young adults 🙂
The best Easter gifts for teens are tailored to reflect and complement their unique personalities.
Whether they're active and enjoy playing sports or are beauty buffs who enjoy experimenting with makeup, these Easter basket ideas are sure to impress.
So, the best idea depends on who you are shopping for and we have plenty of ideas covered.
💻 Tech Gifts for Easter Basket Ideas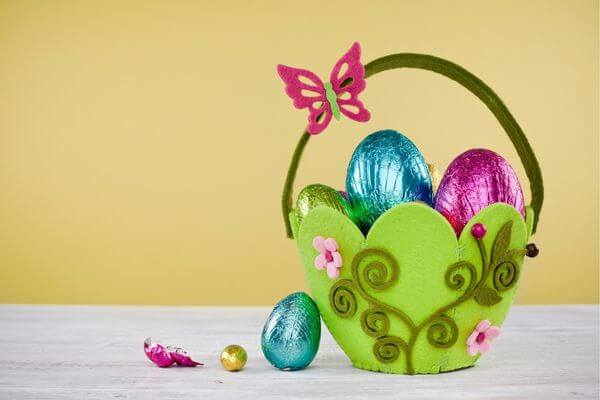 If you're looking for Easter basket ideas for teens, this list has got you covered.
We've rounded up the best tech gifts that any teenager would love to receive.
From headphones and cases to gaming accessories and more, there's something for everyone on this list.
There are a lot of different ways to use VR headsets, and they can be a lot of fun. They can also be a great way to entertain kids.
This is one of the hottest gifts for teens.
A rechargeable laser tag is a fun and interactive game suitable for an Easter Basket.
It is a four-player game that is designed to be played indoors or outdoors. Each player has a laser tag piece, which they use to shoot the opposing player's targets.
The great thing about laser tag is that it is rechargeable, meaning it can be used multiple times without having to replace the batteries. It is a great way for teens to have fun, get active, and have a friendly competition.
Any tech lover would love a basket filled with these great wireless earbuds!
The wireless AirPods offer a snugger fit, noise-cancelling technology making them a great option for any music lover. With the Bluetooth microphone, they can easily connect their smartphone to listen to their favorite music.
The AirPod leash Straps will hold AirPods or AirPods Pro tightly, preventing them from falling out while they work or exercise.
Headphones are an important and highly personal purchase, making them a great gift for any music-loving teen.
For a special Easter basket, we'd recommend either the Beats or Bose. The wireless headphones provide crystal-clear sound.
Whichever option you choose, your teen will be sure to enjoy their new headphones and soundtrack to the Easter festivities!
A smartphone case is a protective cover for a smartphone that helps protect it from scratches, dirt, and damage from dropping it - something all teens need.
It can also provide a stylish look, as many cases come in different colors and designs.
Furthermore, many teens are very attached to their phones and want to keep them looking and functioning as best as possible for as long as possible, so a phone case is a great way to do that.
A portable charger is a device that allows you to charge your electronic devices like phones, tablets, and laptops while on-the-go. This is the one we use!
It is a great gift for an Easter basket as it offers convenience and portability, making it easy for your teen to always have access to power and stay connected.
Additionally, as it is light and compact, it can easily be carried in a pocket or backpack and provides peace of mind knowing that your devices will always stay charged.
This is one of the popular Amazon travel must haves!
Wireless speakers are becoming more popular as they become more affordable.
They are a great option for gifts for teens who are on the go. There are a variety of styles and colors to choose from.
Yep, this is exactly what every teen wants!
A selfie ring light is a device used to take selfies, video chat, and live stream videos. It also comes with an adjustable phone holder and a weighted tripod, making it easy to take pictures no matter where you are.
Selfie ring lights are popular gifts for Easter baskets because they make it easier to take great selfies in dark areas or whenever natural light is not available.
A GoPro camera is a type of action camera designed to capture high-quality photos and videos of extreme activities and outdoor sports.
It is popular as an Easter gift because it is a durable, high-quality device that virtually anyone can use to capture incredible shots.
Its rugged design makes it versatile enough to use in almost any environment (perfect for teens), and its unique features like time-lapse and video stabilization make it easy to take stunning videos.
Additionally, its small size makes it perfect for packing in a backpack and taking on-the-go.
Or get this knockoff instead.
There are many different types of gaming headsets that are available for purchase. They come in different prices and styles.
If you are looking for a gift for someone who loves to play video games, this could b a perfect addition.
With its powerful hardware and a vast library of games, the Switch can provide hours of entertainment right at their fingertips.
It features both a powerful home console and a portable device, which means gamers can access their games from any location, whether it be the living room, a friend's home or on the go.
This makes the Nintendo Switch a great choice for any teen's Easter basket.
The portability of the Switch also allows your teen to play games with friends or family members who may not have their own consoles.
Video games are a popular gift for Easter baskets. There are a variety of games for different ages, interests, and budgets.
Some popular games for X-Box include "Call of Duty" and "Fortnite".
Nintendo Switch games include "Mario Kart", "Splatoon 2", and "The Legend of Zelda: Breath of the Wild".
This is a must! As most teens are transporting a laptop back and forth from school and home.
It is the perfect gift for Easter baskets because it provides protection against dust and spills, and it also helps prevent the laptop from wearing out.
Furthermore, it adds an element of style to any laptop, making it an attractive accessory.
The SoundBot is a Bluetooth microphone that allows users to easily connect to their smartphones and turn any setting into a karaoke party.
It is a great gift for Easter because it is not only super fun for kids, teens, and adults, but it also provides a form of stress relief.
In addition, it is also waterproof and can be used in the shower.
Finally, the device has a color-changing bedside lamp that acts as a Bluetooth speaker, an alarm clock, and has a built-in microphone for hands-free calls with 48 light modes and three brightness levels.
Table top robots are small robotic toys that can be used for a wide range of activities.
They're a perfect gift for an Easter basket because they can engage the whole family in fun and imaginative play.
Not only do they help children learn about robotics and technology, but they also encourage creativity, critical thinking, problem solving, and collaboration.
Money Tree 🤑 Easter Basket
Money, money, oh money! Teens love all this related to money.
This is one of their ways of promoting their independence.
Gift cards to popular stores or pick up a multi-store gift card are always great ideas, allowing teens to pick out their own items.
For those who have their own wheels, a gas gift card is always appreciated.
Other fun options include a Visa gift card, which can be used to purchase almost anything.
The Investing for Teens book is a resourceful read that is full of practical advice and useful information on just about everything to get pre-teens and teenagers started on their journey toward adulthood.
It covers topics like basic money management, opening a savings account.
While your teen may not be thrilled with the book at first, hopefully, they will be happy over the long period.
Most adults realize they are clueless on basic life skills and managing money.
This is a great book to introduce the concept of life skills
Best for older teens heading to college or living on their own.
Here are over 45 ways to give money that are creative and fun!
Exactly what you need for a teen gift.
🎲 Games Easter Basket Idea
Board games are a great way to keep your teen and their friends entertained this Easter.
Find plenty of games ideas that teens will love!
Ready for this mind-challenging light-up memory game?
This extremely popular and highly rated game makes a great gift.
You can use it solo or two player game. Plus great for travel.
Bring on endless laughter on family game night! #guaranteed
Kids Against Maturity is a popular game that will get your teen to cry laughing.
You definitely want to add this to your Easter basket.
This fast-paced game only takes 10 minutes to play, which is perfect for teens.
Plus it is surprisingly strategic and created by a 7 year old.
Grab this award-winning game for your teen's easter basket.
This highly rated card game is perfect for 2-10 players.
Remember Russian roulette? This is a highly-strategic, kitty-powered version.
Unstable Unicorns is an exciting and strategic card game that is ideal for teens and adults alike.
This game is all about combining destruction and unicorns, and it is an ideal activity for Easter Games.
This uber popular Kickstarter game has sold over a million copies worldwide.
Already own the base games?? Check out one of the expansion packs.
For some extra fun on Easter, why not fill an Easter basket with fun games that the whole family can enjoy?
What better way to get to know your family and get a few laughs through game night?!?! Create hilarious family memories! Here's a step-by-step guide to filling an Easter basket for your family.
From the makers of Exploding Kittens, Throw Throw Burrito is the world's first dodgeball card game.
Clear some space on the table!
Perfect for outdoor picnics, camping or travel games.
Bamboozled is party style bluffing game where players must roll the dice and tie or beat the previous player, but if they don't they have to bluff!
Bluff your way to victory in this hilarious new dice game!
Jewelry ideas 💎 for Easter baskets for Teens
There are many different types of jewelry that can be used for Easter baskets.
Some people like to use jewelry that is traditional for Easter, like Easter eggs or rabbits. Other people like to use more modern jewelry, like necklaces with charms.
There are many different pieces of jewelry that are perfect for your Easter baskets.
Pendant necklaces are a popular gift idea for Easter baskets, and there are many styles to choose from to fit your teen's style.
For a sleek, modern look, they'll love the stainless steel cross necklace that comes in various chain lengths and finishes. For a more boho vibe, gift them a set of handmade necklaces with sunflower charms and gold beads.
If they are a fan of asymmetrical details, Anthropologie has a monogrammed necklace they will adore.
For Easter baskets, jewelry is always a great gift for any teen girl.
Consider gifting the classic hoop earrings from Forever 21 which are super simple and affordable. They offer a beachy style and come in sterling silver or rose gold.
Yes, rings are a great option for Easter baskets.
You can find many different styles and prices to fit any budget, from a $10 spinning prayer ring to a $15 gold initial ring for older teens.
Whichever option you choose, it's sure to bring a smile to whoever receives it.
Easter baskets are the perfect opportunity to give a fashionable gift to an important teen in your life.
Popular bracelets for Easter baskets include boho-style bracelets with pretty sunflower charms, gold beads, and neutral braids, as well as delicate bracelets with adjustable lengths that come in vibrant colors like pink or sky blue.
Popular necklaces for Easter baskets include delicate and elegant pieces like the sleek initial necklace available at Amazon for less than you would believe.
Choose from gold, black or silver finishes and pick a preferred chain length.
Other statement necklaces, such as layered designs with asymmetrical detailing, are also perfect for this occasion.
How about a beautiful set of charm bracelets? With pretty sunflower charms, gold beads and neutral braids, these bracelets are sure to impress.
Charm bracelets are individually unique pieces of jewelry that can be added on throughout the holiday. Surprise your teen this Easter with the perfect charm bracelet set!
Diamonds are a great choice for Easter gifts, as they symbolize purity and love.
Popular types of diamond jewelry that could be included in an Easter basket include diamond earrings, diamond necklaces, diamond bracelets, and diamond rings. From modern and contemporary to classic and timeless, you are guaranteed to find something for your teen.
Easter is a great time to get your teenager's Jewelry organized.
This can be done by buying them a Jewelry Box in which they can keep all of their jewelry. Perfect to store earrings, necklaces, watches and rings.
The 💋 Glam Easter Basket Idea for Teens
The Glam Easter Basket Idea is a great way to show your Easter spirit.
You can make a basket full of Easter goodies that your teen will love!
Makeup brushes are a must-have for any glam Easter basket.
They come in a variety of shapes and sizes, and are perfect for applying and blending makeup like foundation, concealer, blush, and bronzer.
Brushes are a popular choice because they are easy to use and give a more precise, natural-looking application than sponges.
There are a lot of different types of nail polish that you can choose from this Easter.
You can go for something simple and classic like red or hot pink, or you can get more creative and add some color to your nails.
You can also choose to go for a more festive look and add some pink, green, or orange nail polish to your Easter basket.
A palette of colors is exactly what every teen needs.
They never know their mood, so variety is a good choice.
Plus these eyeshadow palettes tend to be replaced each year with the latest eyeshadow colors on the market today.
Beauty Blender is a tool that is used to apply makeup.
It is a device that is made from plastic, has a round shape, and is filled with small metal balls that are used to blend the makeup. Beautyblender is a great tool plus it is vegan, cruelty-free, and made in the USA.
Teenagers need to get enough sleep in order to stay healthy and productive.
Sleep deprivation can have serious consequences, including impaired mental and physical performance, mood swings, and difficulty concentrating.
A good way to help your teen get a good night's sleep is to equip them with a sleep mask.
Teenagers are always looking for new ways to improve their skin.
Some of the popular facial masks include charcoal, clay, and enzyme masks. These masks work to clear the skin and reduce the appearance of pores.
They are also popular for their spa-like effects.
The absolute best!!
This is one your teen will love! (Guaranteed - mine steal mine all the time!)
This Glam Easter Basket must include a pack of Jumbo Hair Metal Claw Clips, which are highly-rated on Amazon.
These clips are made from metal alloy and open up an entire 180 degrees to provide a strong hold for all hair types, even thick and curly hair.
The pack includes 6 gold claw clips in the large size, and the metal springs are covered to help prevent tangling.
The 🎨 Creative Easter Basket Idea
Creative Easter Basket FIllers for Teens
🙏 Faith-Based Easter Basket Idea
There is no one right way to put together an Easter basket, but one thing is for sure- it should be filled with items that represent your faith.
You can find baskets filled with religious books, journals, or you can go with something more creative.
A Bible-themed Easter basket should include a Bible.
For many teens, they have outgrown their children's bibles and an adult bible is too complicated. These teen bibles are focused on hearing God's word in their language.
Pick up the teen girl version here.
A prayer journal is a journal where you can write down prayers, reflections, and other thoughts related to your faith.
It can be a great way to cultivate your relationship with God and it can be a powerful tool in your spiritual life.
For Easter baskets, a prayer journal is an excellent way to help your teen cultivate their faith.
A cross pendant necklace is a popular and meaningful choice for faith-based Easter baskets.
It is a stylish and symbolic way to express one's faith.
The simple design makes it a timeless item and is a popular choice for teens and adults alike. It is a great way to show your devotion to Christ and to celebrate the resurrection of Jesus.
Easter baskets are often filled with books that are designed to help teenagers grow spiritually.
These books usually focus on topics such as faith, prayer, gratitude, and forgiveness.
They often contain stories and reflections that can encourage teenagers to think more deeply and develop their spiritual lives. Additionally, there are often activity books, devotionals, and books that explore the meaning of Christianity in the modern world.
These books are great for inspiring and encouraging teenage boys and girls.
Did you know how many Christian rappers there are? You may be surprised.
A music subscription to Spotify Music, Apple Music or Amazon Music would be suitable for an Easter basket.
Candy and snacks 🍭 for my teen's Easter basket
Easter baskets are filled with candy, eggs, and other items to represent the victory of good over evil.
Traditionally, the Easter Bunny brings baskets of candy to children on Easter morning.
Easter eggs are a popular tradition for teens!
Gummy Bears are the perfect addition to any teen's Easter basket!
Chocolate bunnies are a popular Easter basket treat for teens.
Whatever your teen's craving, there's sure to be a chocolate bunny that they'll enjoy! Especially Ferrero Rocher chocolates!
Peeps are popular among teens because of their sweet and soft taste, colorful look, and nostalgia associated with them.
These iconic treats are shaped like a chick, bunny, or other Easter-themed shapes and covered in a sugary coating. They are made from marshmallows and are available in an array of colors and flavors.
Additionally, Peeps are relatively inexpensive and easy to find, making them an easy and affordable treat for teens to enjoy.
Chocolate eggs are a popular Easter basket staple for teens.
They come in a variety of shapes, sizes, and flavors, including traditional milk and dark chocolate as well as white chocolate varieties.
Popular options include Reese's, Cadbury Mini Eggs, Whoppers, and Kit Kats.
Easter jelly beans are a tradition in the United States.
Enjoy the Brach's classic or my favorite the Starburst Jelly beans.
These are sure to satisfy any teen's sugar craving and make their Easter extra special.
Easter Basket for the 🚗 Driving Teen or Young Adult
This gift basket is perfect for someone who is driving for the first time.
This basket is filled with items that will help the teen or young adult to have a safe and successful driving experience.
Are there any Easter basket ideas that are appropriate for teens?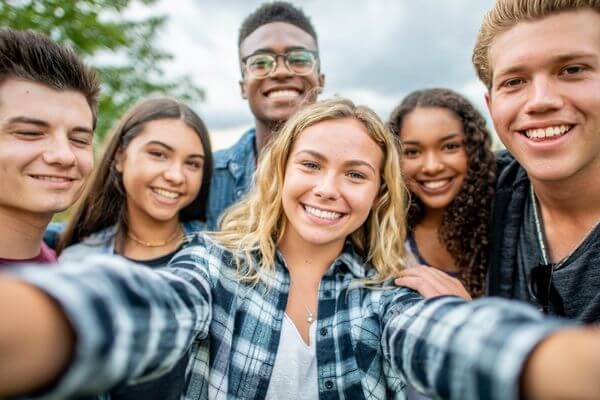 Yes, there are Easter basket ideas that are appropriate for teens.
There are trendy gadgets and gifts that teens love, such as color-changing speakers, selfie ring lights, soap sets, and bunny ear headbands.
These items are both age-appropriate and sure to please teens.
Other Easter basket stuffers like bunny lip glosses, bunny slipper socks, and a variety of candy can also be included to make the basket even more special.
Are there any Easter basket ideas that are appropriate for tweens?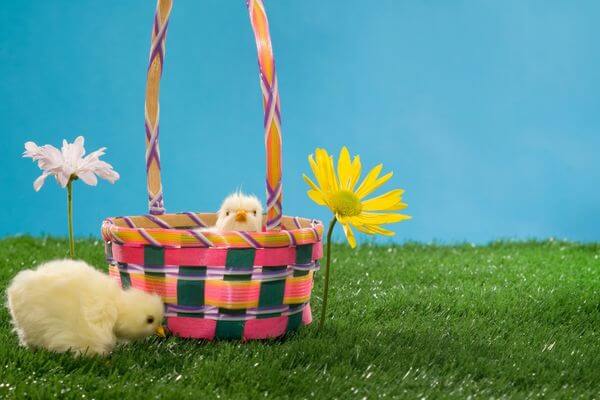 Yes, many of these gift ideas are perfect for tweens.
Tweens are running around wanting to be adults anyway.
Just to note… As your tween gets older, the prices of gifts typically increase as well. So, you may not want to spend as much money on a tween.
Whatever you choose, there is something for everyone that is sure to make your tween or teen feel special this Easter.
FAQ
Plenty of Teenage Easter Basket Ideas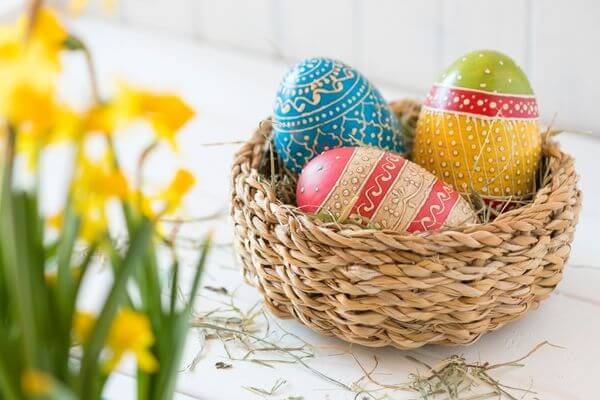 Easter is a great time to show your teen how much you love them.
With so many unique and creative Easter basket ideas, you're sure to find the perfect gift for any teen. Maybe even one of these travel essentials?
So what are you waiting for? Start shopping today!
Lastly, Easter scavenger hunt clues can be used to add excitement to the event by making the teen search for the Easter basket.