Amazon Travel Must Haves: Best Travel Essentials You Need to Know
Inside: Are you looking for the best travel essentials? This list is filled with Amazon travel must haves. Picking up these accessories will make traveling so much easier.
Are you ready to level up your travel game?
I know I am! After traveling to four time zones in four months, I learned a thing or five about traveling must haves.
Buckle in, as we dive into the world of top-tier Amazon travel must haves, curated to serve every kind of traveler.
Traveling itself is an exhilarating experience marked by new destinations, cultures, cuisines, and friends. From the adrenaline-infused anticipation of an upcoming adventure to the relaxing downtime at serene locales, every moment is a cherished memory.
However, seasoned travelers will tell you, that the secret to a smooth and enjoyable journey lies in impeccable planning, and part of this planning involves having the right travel gear.
Being prepared not only eliminates unnecessary stress but also enriches the travel experience by ensuring comfort and organization.
So whether you are gearing up for a seaside retreat, a mountain escape, or a road trip expedition, we have got your travel gear sorted.
Start shopping with the latest Amazon Travel Must Haves to make your 2023 trips enjoyable and fuss-free!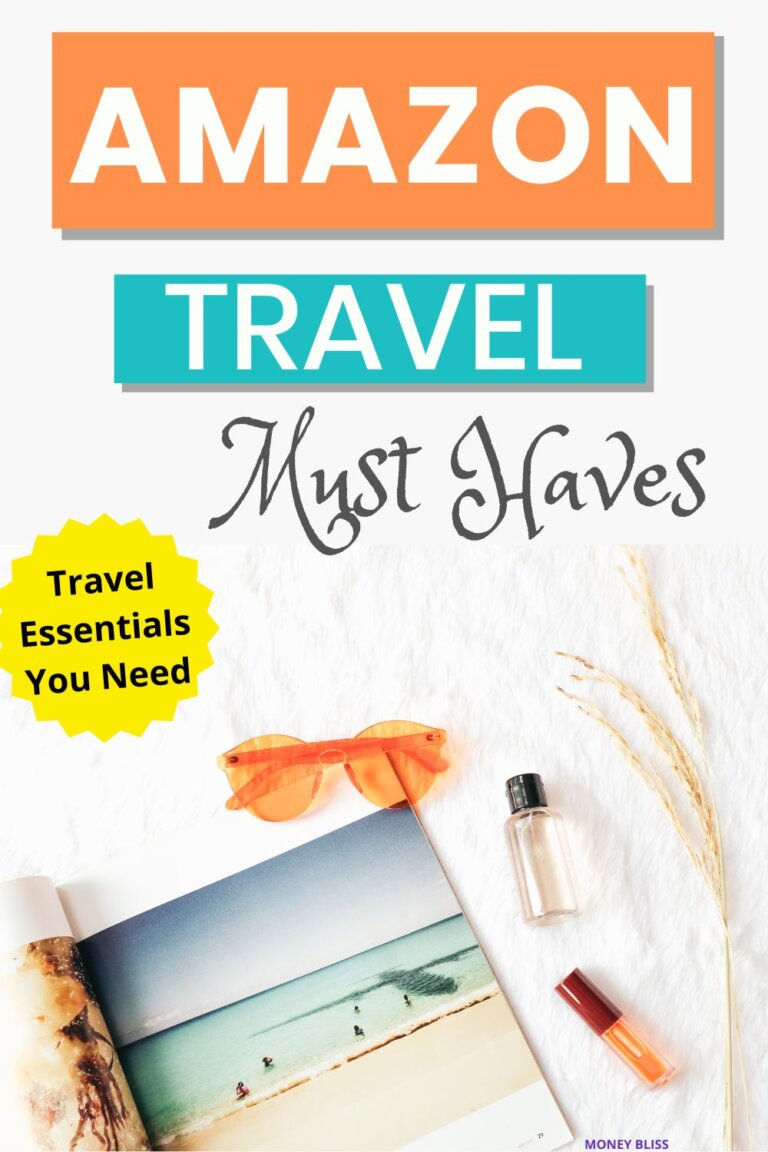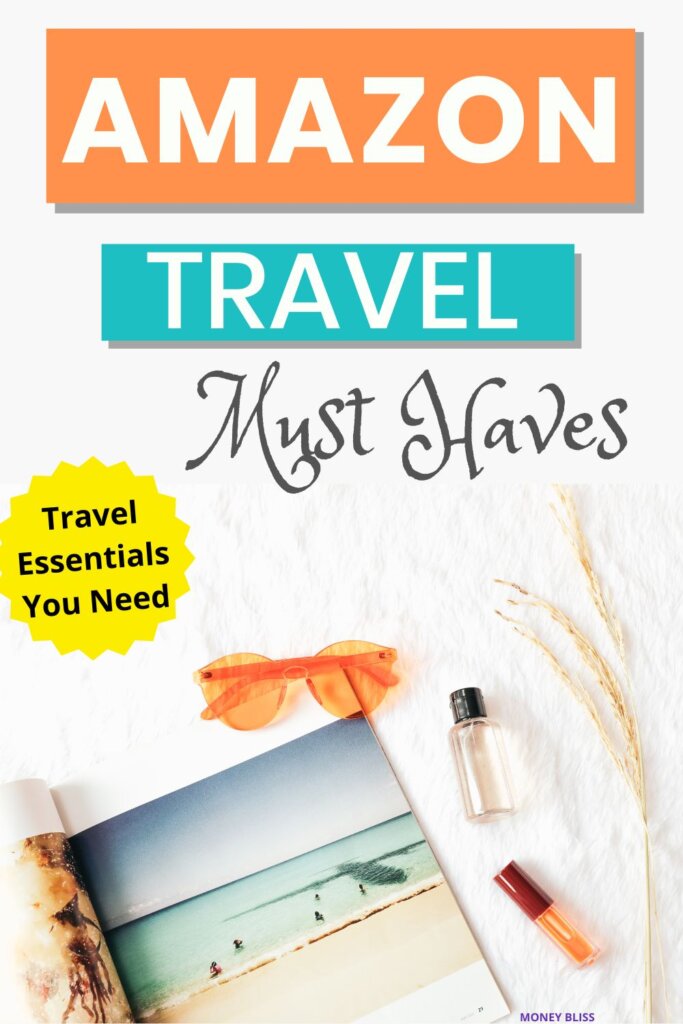 What items do travelers need?
To have a great trip, travelers need to remember to pack the essentials: clothes, toiletries, medications, electronics chargers, and a map or guidebook of the area.
As advised by travel experts, it's also crucial to pack items that enhance comfort, support organization, and promote health during travel.
Comfort-enhancing items include noise-blocking and light-filtering devices, neck pillows, and compression socks, while organizers with pockets can aid in easy access to belongings, and health-oriented products may include sheet masks, serums, pre-filled reusable water bottles, and TSA-approved containers for toiletries.
More importantly, you need to know what time do Amazon packages arrive. Quickly followed by, how late does Amazon deliver?
This post may contain affiliate links, which helps us to continue providing relevant content and we receive a small commission at no cost to you. As an Amazon Associate, I earn from qualifying purchases. Please read the full disclosure here.
Amazon Travel Must Haves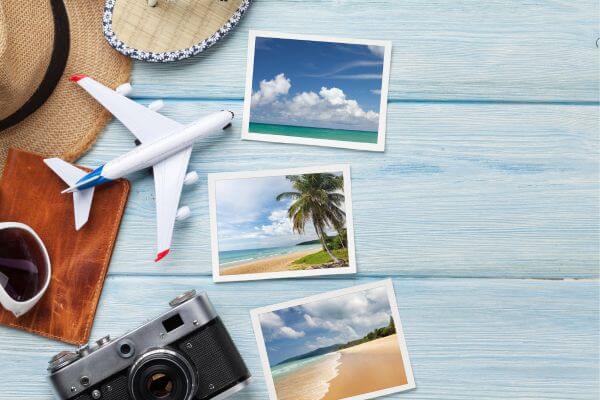 As we usher into the popular traveling season, it is essential to explore the latest must-haves to ensure a smooth and hassle-free travel experience.
From high-tech gadgets to organizational tools, Amazon has been the go-to platform for a wide array of travel essentials. Plus many you can get in time for your trip!
This is a great way to spend your Visa gift card on Amazon!
In this section, we delve into an array of trending and innovative Amazon travel must-haves (many seen on TikTok) that are designed to boost your comfort and convenience throughout your journey.
1. Amazing Lightweight Rolling Suitcases
If you're an avid traveler, these lightweight rolling suitcases on Amazon are a game changer.
Personally, we have saved hundreds if not thousands of dollars on baggage fees by investing in lightweight suitcases. Our large wheeled luggage weighs 7.5 pounds and 4 pounds. Thus, helping you significantly with the weight limits. These extraordinary suitcases are unbeatable in terms of utility, convenience, and style.
The above picture luggage weighs 4 pounds 4 ounces.
This makes it easier to travel light and pack smart.
These suitcases are perfect for everyone from the business traveler to the holiday backpacker.
2. Travel Backpack
If you're an avid traveler, a travel backpack is an absolute game-changer for you! It's your trusted ally, helping manage your essentials comfortably while being on the move.
The ideal travel backpack, like the popular Amazon travel backpack, is feature-rich – it offers a large compartment, a padded laptop pocket, dedicated small pockets, and is very comfortable to carry.
Experts suggest looking for features like abundant pockets for easy organization, USB ports for handy device charging, breathable fabric, comfortable straps, and water-resistant material.
Remember, a traveler must be flexible and hands-free – and a great travel backpack ensures just that. Get ready to revolutionize your vacation experience with your travel backpack today!
3. Luggage Scale
Imagine breezing through the airport, free from worry about overweight luggage.
A portable luggage scale is the secret tool that can make this dream a reality! This compact device, small enough to fit in your hand, lets you weigh your luggage before you even leave your home – saving you from surprise fees or last-minute repacking at the check-in counter.
This is one of the best gifts I received!
**Key features include easy attachment to your luggage, a clear digital readout, and quick, reliable results.
Travelers who frequently shop during their trips or who have been hit by overweight fees before will find this tool particularly useful. Not only will it save you money, but it will also ensure a stress-free start to your journey.
Pro Tip: Pack the portable luggage scale in your luggage so you can still weigh your suitcase before your return flight, accounting for any goodies picked up during your travel.
4. External Battery Power Bank
Never let your phone dip into the dreaded single-digit battery life again!
With a portable charger, you're prepared for the unexpected, making it an essential in your travel kit. As a traveler, this compact, lightweight power bank will be your lifeline, keeping your devices juiced up – whether you're snapping photos or navigating new cities.
Handy for quick charges on the go, it can replenish your phone's battery multiple times over with just one charge!
Choose a portable charger that's light and small for easy transportation.
The best chargers offer built-in cables and USB-C output for simultaneous charging. Consider one that can efficiently charge both your phone and laptop!
Whether you're an avid tech user or just looking for a simple solution to dodge low-battery situations, a portable charger is a must-have, making your travel trips a lot less stressful.
Always stay connected and never miss the chance to capture those wonderful travel moments.
5. Apple Air Tags
Are you tired of losing your luggage every time you travel? Waiting forever for your baggage and want to know where it is?
As a little travel secret, the Apple AirTag can take the guesswork out of your luggage's location. Next time you're traveling, breathe easy knowing your belongings are only a tap away on your phone. AirTags truly define the phrase "travel smarter, not harder".
Frequent travelers can find relief from the baggage loss nightmare by simply placing an AirTag in each suitcase. You'll know exactly where your bags are, even during long layovers.
Casual users can use the AirTags to locate key items like wallets or keys around the home.
If this story doesn't convince you, I don't know what will!
I highly recommend getting the highly rated Apple Air Tags, as they are the ultimate solution for tracking your luggage in real-time, any time, any place. See my picture of tracking my luggage!
Don't forget these handy AirTag holders!
6. TSA Approved Travel Bottles
These TSA-approved travel bottles from Amazon are an absolute must-have for every trip. Made from BPA-free, food-grade silicone, they are both safe and durable.
These leakproof bottles hold up to 3 ounces of your necessary liquids like shampoo, conditioner or body wash – they're so versatile, that you can even use them for food items like salad dressing!
Especially perfect for frequent flyers, these bottles adhere to the TSA 3-1-1 rule, saving you the worry about your in-flight essentials. They come in fun colors and feature a no-drip valve that ensures every drop counts.
Having these reusable bottles also means you're contributing to waste reduction by avoiding purchasing numerous smaller bottles. Just fill them up, pack them in your carry-on and you're good to go!
7. Compression Packing Cubes
Game changer people! Especially for those traveling with kids!
Ever imagined a perfect travel companion that organizes your luggage, saves space, is highly durable, and everyone can find their stuff?
Say hello to Compression Packing Cubes, your ultimate must-have hassle-free travel essential.
These cubes provide outstanding organization, portion your clothing into neatly packed bags, and through their vacuum-seal-like compression technology, cut down space usage by an impressive 50%.
Made of ultra-soft, lightweight rip-stop nylon material, they are resilient and feature smooth double zippers to endure the weight of filled essentials.
The cubes come in a set of three sizes catering to varied packing needs, making them ideal for family vacations, business trips, and even daily storage.
Perfect for over-packers and frequent travelers who value orderliness and simplicity. But remember; resist the urge to overstuff them. Ensure they're filled just right, allowing space for compression.
Grab these lifesavers now, these packing cubes are your answer to compressed, snugly secured, and orderly packing.
8. Tech Organizer Travel Case
The Tech Organizer Bag from Amazon is an absolute game-changer, making it a must-have for your travel essentials.
It's an organizational superhero, ensuring you never have to untangle a web of cords or search for elusive AirPods again! Perfect for globetrotters, professionals, and gadget-lovers, this bag helps you keep all your gadgets, cables, and electronics accessories in check. Some of its notable features include:
Compact and lightweight at just 3.9 ounces
Double layers of storage pockets for holding all your devices
Waterproof material to protect against accidental spills
Room for power adapters, cords, and small electronic items
Enhance your travel experience with this efficient organizer bag.
9. Folding Travel Mirror
Having to get ready in a poorly lit room can be agonizing or even the need to take out your contacts, but with the Folding Travel Mirror from Amazon, that inconvenience becomes a problem of the past!
This ultra-handy, compact mirror is a game-changer and a steadfast staple in any seasoned traveler's arsenal.
The lightweight and foldable design makes it an effortless addition to your travel bag.
Its long-lasting charge lets it stay lit for 90 minutes – more if used on the dimmest setting!
An additional mirror with 10x magnification allows for meticulous touch-ups.
Make the most of this mirror by using it even at home – no need to reserve its benefits solely for travel. You'll wonder how you ever traveled without it!
10. TSA Approved Travel Lock
Secure your belongings with the TSA Approved Travel Lock, a must-have travel item from Amazon!
This lock isn't just sturdy, it aligns with the Transportation Security Administration guidelines, ensuring TSA agents can conduct luggage inspections without causing any damage. What's more, the unique key system adds an extra layer of security, accessible only to TSA agents.
This is a top product for frequent travelers, especially those who often leave their luggage unattended, like in hotel rooms. Also, travelers who value additional security would highly appreciate this travel essential.
Expert Tip – order a few of these locks and pack an extra just in case!
11. Door Lock
Believe us when we say a portable door lock is an absolute travel game-changer! Ensuring your security wherever you lodge, it's realistic to declare this item as an indispensable travel essential.
Ever stayed at a hotel by yourself and worried about how many other people might have the key to your room? I know I have! I barely could sleep.
This invaluable travel buddy helps prevent unauthorized entry. Apart from hotels, it's perfect for securing Airbnb apartments and college dorms too. With this lock, installing an extra layer of defense is as easy as a breeze without any need for tools or complicated procedures.
It's your door stopper warning you about an intrusion, scaring off potential threats. Your security is priceless, especially for solo travelers or those who prefer an added safety measure.
And remember, safety first, forget the rest!
12. Luggage Straps
Luggage straps are an absolute travel must-have, ensuring security and convenience for your journeys. These nifty gadgets act as an additional layer of protection for your baggage, keeping things tightly packed even on long flights with multiple transfers.
What makes luggage straps the real deal? Besides offering an extra layer of security, these TSA-approved luggage straps are exceptionally durable. They're a hot favorite, especially among frequent flyers who've hailed them as "perfect", impressing with their resilience during grueling 24-hour flights.
When choosing your luggage straps, ensure you opt for the TSA-approved ones – they ensure easy access for security checks without compromising on the bags' security. Your luggage remains safely fastened, reducing the risk of accidental openings or unwelcome intrusions.
What's more, they come in vivid neon colors, making it super easy to spot your belongings at baggage claim!
13. Mesh Laundry Bags
Mesh laundry bags are incredibly convenient tools for washing clothes whilst on the go. Designed with practicality in mind, they offer a multitude of benefits that can ease the stress of laundry-related tasks during travel.
One of the surefire selling points of mesh laundry bags is the easy separation they provide between dirty and clean clothes in your luggage. Along with different people in your party!
Mesh laundry bags, like the one from Miamica available on Amazon, can be securely zipped up when not in use, making them a quite compact and efficient packing item. This user-friendly element makes it a breeze to store any variety of clothing items, from t-shirts to jeans, socks, or even delicate fabrics.
The mesh design also allows for clothes to breathe, which is a major advantage when combating possible moisture build-up and odor. You can easily avoid molding or dampness issues that might ruin your attire.
14. Passport Holder
Planning your next adventure?
A Passport Holder is a must-have travel essential! Here's why.
First off, it prevents you from losing important documents in unfamiliar places. It gives your passport added heft and makes it more identifiable, reducing incidents of misplacement.
Secondly, it lets you keep several important documents at your fingertips. An ideal holder accommodates vaccination cards and more, making it multi-purpose.
Furthermore, quality passport holders feature RFID-blocking technology. No more worries about stolen identities or credit card information!
And for the fashionistas, it adds a bit of color and style to your travel accessorizing. With a range of designs and colors, there's a passport holder for everyone.
Choosing the best one? Pay attention to features like material (high-quality faux leather), size (fitting 4 x 3-inch passports), and color variety. The best passport holder is easy to handle, secure, and aligns with your aesthetic taste.
15. Rinse Free Bathing Wipes
Imagine this; you're on a travel spree and boom, an unforeseen travel delay or a spilled drink all over you! That's where rinse free bathing wipes come in to secure your day.
They are your ultimate cleanliness warrior on-the-go, ensuring an overall refreshing and clean environment no matter where you are.
Turn your travel woes into wonders with this compact, versatile solution! Wipe your worries away with bathing wipes and focus on making everlasting memories.
This is also one of my popular items from must haves after back surgery!
16. Universal Adapter
Heading out on an exciting journey?
Don't forget to pack the Universal Travel Adapter, a compact yet mighty gadget that will become your savior when you're in a foreign land, promising to keep your devices powered up no matter where your adventure takes you.
Compatible with plugs in over 150 countries, this adapter ensures you'll never face the 'no power' nightmare. Whether you're exploring the historical avenues of Europe or the spectacular landscapes of Australia, power access is guaranteed.
You can say goodbye to carrying multiple adapters, as this universal gem boasts four USB-A ports, one USB-C port, and one universal AC outlet – making it perfect for solos or families.
Compact and lightweight, it fits neatly into any suitcase or backpack without adding bulk.
Remember, it's not a voltage converter, so ensure your devices are dual-voltage. If not, pack an adapter that converts voltage.
17. Collapsible Travel Water Bottle
If you're a frequent traveler, this 20oz Collapsible Travel Water Bottle from Amazon is an absolute game-changer. It's the ultimate travel accessory that solves the all-too-common suitcase space dilemma.
This BPA-free water bottle folds up small when not in use, easily fitting into your carry-on or purse.
It's not just space-efficient but also wallet-friendly; it eliminates the need for pricey airport water purchases.
Lightweight and leakproof, it's a savvy choice for any traveler. You can even pick one in your favorite color!
The attached carabiner means you can hook it to your travel bag, freeing up even more space.
In the long run, you'll save money, and it's a frugal green choice too!
Expert tip: Carry it empty through security, then fill it up at a water fountain on the other side.
18. Portable Small Travel Safe
Travel aficionados, imagine a way to keep your valuable items safe regardless of your accommodation situation, meet the Portable Small Travel Safe. This is not just a travel essential, folks, it's a small godsend for your priceless items on the move.
Its convenience and simplicity of use make it a favorite among regular travelers.
On the fence about bringing your treasured items on a trip for fear of losing them? Cue in this travel safe. It unhitches you from the dilemma of having to choose between taking your valuables or missing out on an epic deal.
While there is always the unfortunate incident that someone steals the whole travel safe, it is advisable to put an Apple AirTag inside to be able to quickly locate it.
19. Quart-Sized Travel Case for Liquid
Looking for the perfect travel essential? The Quart-Sized Travel Case for Liquids is your ideal companion in your carry-on! It's sturdier – and trendier – than your standard Ziplock bag, perfect for holding your desired toiletries for flights.
This clear case ensures your liquids are visible at security checks, enhancing convenience during your travel.
This travel case is truly versatile! It's perfect for those who prefer to carry their belongings on flight.
20. Jet Lag Tablets
Imagine being able to travel without experiencing jet lag.
This is a brilliant solution to combat fatigue from long, tedious travels. This plant-based remedy from Amazon is a flight essential, esteemed by frequent flyers and professionals alike.
Miers Labs' NO Jet Lag Homeopathic remedy aids your body in shifting its circadian rhythm, thus lessening the overall impact of jet lag. Prepared from natural ingredients, these tablets are a handy asset in your travel kit.
The compact tablets are formulated to naturally prevent jet lag, containing herbs such as wild chamomile, daisy, leopard's bane, ipecac, and clubmoss. You simply chew one every couple of hours during your flight, starting from take-off.
Loved by people attempting to maintain productivity or enjoy vacations post-flight, they truly give your travel experience a lift. Experience the difference by investing in these tablets – an essential Amazon travel staple to bring along on your journeys.
21. Luggage Cup Holder
In the world of travel must-haves, the Luggage Travel Cup Holder stands out. Not just a cup holder, it's an organizer that helps streamline your airport experience.
Imagine gliding through the airport, coffee and water snug in your suitcase-mounted cup holder, hands free to carry vital documents. With its easily accessible back pocket, this nifty gadget easily accommodates your phone, wallet, or passport. Its secure attachment to roll-on suitcase handles comes as a boon, ensuring your latte isn't jiggling precariously in your hands.
But remember, never overfill it with heavy items as it might tip your suitcase.
Perfect for the free-spirited solo traveler or the detail-oriented family organizer.
22. Liquid I.V. Hydration
Stay hydrated and energetic on your travel adventures with Liquid I.V. Hydration, a must-pack item from Amazon. It's a hydration multiplier pack that magnifies the hydration potential of your ordinary water, upping the game for your health and well-being on the road.
Plus, let's be honest… drinking water gets old!
It's best for travelers who encounter long travel days, hot climates, or people prone to getting dehydrated. Plus, it's a proven remedy for hangovers, making it ideal for those who might party a bit too hard.
Liquid I.V. Hydration is a non-GMO electrolyte drink mix packed with essential vitamins and minerals. Simply pour the contents of a single-serving stick into your water bottle, and voila – you get up to 2-3 times more hydration than water alone.
The combo of Liquid I.V. Hydration and a reusable bottle transforms your drinking practices into a hydration powerhouse. Personally, I like drinking one of these for a headache.
23. Compression Socks
You, the wanderlust-filled traveler, have a new best friend – compression socks!
Don't let those long flights or car rides cause discomfort; these miracle workers are designed to keep your feet comfy and your ankles swell-free.
Imagine a long international flight without leg swells and fatigue – Isn't that a dream?
It's especially beneficial for busy business travelers, frequent flyers, and adventure junkies who can't afford unnecessary discomfort ruining their explorations.
24. Travel Pillow
Get ready for unparalleled comfort in your journey with Amazon's top-rated travel pillow! Say goodbye to neck strain and lay onto the cozy neck support, transforming your travel experience.
Here's why you must grab one:
Firstly, the game-changing memory foam guarantees comfortable rest in your desired position.
Secondly, plenty of customers adore its adjustable nature. Long flights and road trips will never be a slog again!
Handy features include an eye mask, ear plugs, and a travel bag. It's not just a pillow, it's an all-in-one sleep set.
Compact and easily attachable to your carry-on bag, it's perfect for regular flyers and long-haul travelers alike. Don't compromise your sleep while you're on the go!
25. Airplane Phone Holder
Ready for a game-changing travel accessory? The Airplane Phone Holder, now available on Amazon, will make your in-flight experience infinitely better! No more struggling to prop up your phone and neck strain from staring down for hours.
Here's why it's a must-have:
It securely clamps onto your airplane tray or luggage handle, turning your phone into a personal entertainment center.
With its adjustable 360-degree rotation, you can comfortably watch your favorite shows from any angle.
This gadget is perfect for long-haul travelers, adventure-seekers, and even parents traveling with kids!
Travel tip: Don't forget to preload your favorite shows or movies from Paramount+ to maximize the use of this device, especially on airlines with no in-flight entertainment.
26. Travel Steamer
You surely don't want to compromise your sharp look when traveling, do you? No problem!
A portable travel steamer should be at the top of your Amazon essential travel items.
This compact and foldable little-helper ensures wrinkle-free clothes wherever you go. Can you believe that? Just toss it in your suitcase, and voila, wrinkle-busting power ready for use! Forget worrying about that essential business meeting or dinner date attire being creased.
Despite its small size, the data speaks for itself. It heats up in just 20 seconds and boasts of dual voltage functionality – no need for a voltage converter, not-so-tech-savvy friends!
Worried about safety? It comes with an anti-heat glove – that's a thoughtful innovation for you.
This steamer is perfect for those who are always on the go. It's definitely a must-have, whether you are a busy business traveler or a fashion-conscious tourist.
27. Noise Canceling Headphones
Noise-canceling headphones are a traveler's best companion, assuring an uninterrupted journey by blocking unwanted noises.
Ideal for every journey, these headphones from Amazon are indispensable, transforming the overall travel experience.
These devices are a must-have for frequent fliers, audiophiles, and anyone seeking to enjoy an undisturbed journey.
28. Yoga Pants with Pockets
Just think about it, wouldn't it be fantastic to glide through airport security or a long flight with everything you need stored neatly in your pants?
These Yoga Pants with Pockets are game-changer travel essentials that pairs style and practicality. And you will catch me in them every time I travel.
Their comfort and multiple pockets make them a hit with travelers. You can easily store your phone, plane ticket, or other belongings close at hand while you're on the go.
Available in a variety of colors and size options, these pants cater to everyone's style and fit preferences.
They offer ultimate comfort, particularly during extended travel, so you won't feel pinched or uncomfortable.
Their wide range of colors and sizes make them a standard fit for any traveler.
Plus you can buy yoga pants with pockets in Capri length or shorts length.
Pro tip: Pair the pants with comfortable sneakers to maximize your travel ease.
Don't forget to check out the new flare yoga pants with pockets!
29. Athletic Lounge Pants
You, a travel enthusiast, are in for a treat. Here are your comfy, stylish, and affordable essential – athletic lounge pants!
Why is it a must-have? Comfort is key on travel days, and these comfy pants embody just that.
You can wear them alone or over leggings for extra coziness, perfect for those chilly flights.
Suitable for everyone, they're unisex, additionally, coming in a range of sizes.
Expert tips… Stick to neutral colors for versatility and remember, comfort and fit are paramount for successful travel attire.
Choose wisely and travel cozy!
30. Slip On Shoes
Slip-on shoes are an essential travel accessory that every wanderlust-stricken individual needs. These versatile, easy-to-wear shoes will have you stepping out in style, comfort, and convenience wherever your journey takes you.
Who has room for discomfort on their adventures? Certainly not you! Whether you're traveling within a bustling city like NYC, or exploring the wild terrains of rainforests, slip-on shoes are for you.
Remember, the best journeys start with a single step – make sure it's a comfortable one! And a breeze through airport security!
31. Travel Zip Up Sweatshirt
Who doesn't love a comfy sweatshirt, right? It's an absolute must-have for any globetrotter, providing warmth and style in equal measure.
You know the drill, flights can often get excessively chilly, that's where zip up sweatshirts come into the rescue. These lightweight yet toasty laying outfits are perfect for those cold airplane rides.
They neatly fit in your carry-on or backpack effortlessly and have fans all over the world praising them as the perfect addition to any travel ride.
Remember, the right travel jacket isn't just about staying warm, it's about traveling with convenience and style.
32. Travel Umbrellas
Travel umbrellas should be your top must-have Amazon purchase for your next trip! Stop the rain from ruining your vacation with a small, compact, and fuss-free travel umbrella.
in unexpected weather – being ready is better than getting wet.
Not packing an umbrella is a common mistake, avoid it and save your vacation days!
They are lightweight, weighing a mere 15 ounces, and easily packable in your luggage or car.
Resilient with reinforced fiberglass ribs, these umbrellas can face harsh weather conditions.
Travel umbrellas are fashionable too! They're available in various vibrant colors.
Lesson learned the last time I traveled, I was soaked from unexpected rain.
33. Travel Toiletry Bag
The Travel Toiletry Bag is clearly an Amazon best-seller adored by many travelers like you.
This bag keeps all of your toiletries meticulously organized, prevents spillage, and enhances luggage space efficiency.
It comes in various sizes, allowing you to pack for short or extended trips.
Its water-resistant feature safeguards your luggage from messy leaks from toiletry bottles!
It best suits those with an assortment of toiletries to pack, from makeup brushes to skincare products and shower gels. Even more, it fits your vacation essentials like sunscreen, body wash, and hand sanitizer.
Expert Tip: Keep it filled at all times with every toiletry you need for any trip to avoid forgetting anything!
34. Hanging Toiletry Bag
Why struggle with space on your next adventure when you can have the Hanging Toiletry Bag, an absolute travel essential! This one is a tried and true favorite among travelers.
The four compartments and a body that can hang anywhere mean the struggle to find your items will be a thing of the past.
The bag boasts a water-resistant design, perfect for those unpredictable travel moments.
Featuring transparent interior compartments, you won't have to rummage through your bag looking for that one product.
A lifesaver in those smaller hotel bathrooms or slightly untidy guesthouses, this bag turns the least glamorous part of travel into a breezy experience.
35. Travel Jewelry Organizer
The Travel Jewelry case is a must-have travel essential that'll revolutionize how you pack and keep your precious valuables safe.
With various compartments of various sizes, searching for your favorite ring or necklace will never be a hassle!
Just pop your jewelry back in any compartment after use.
Another option is The BAGSMART Jewelry Organizer – with separate spaces for necklaces, rings, earrings, and more, it prevents tangling!
So, step up your travel game with a Travel Jewelry Organizer and let packing woes be a thing of the past.
36. Bluetooth Earbud Transmitter
Tired of struggling with cord tangled headphones during your flights? The Bluetooth Wireless Audio Transmitter is one of your must-have travel essentials from Amazon connecting your wireless earbuds to those out-of-date in-flight monitors.
Here's why it's a game-changer:
Enables your Bluetooth earbuds, such as AirPods, to connect to in-flight entertainment that tends to use older microphone jacks.
Thus, letting you delve into your favorite flicks without a cord hanging around.
Have a travel partner? It's cool. This device can connect up to two headphones, allowing for a shared entertainment experience.
Ideal for avid travelers, the Twelve South AirFly Pro saves you the cost of purchasing wired headphones for inflight systems.
Expert Tip: Always carry a small charging bank to keep your Bluetooth transmitter juiced up.
37. Waterproof Phone Pouch
Designed to keep your communication gadgets safe, this pouch is an absolute must-have for every travel enthusiast – waterproof phone pouch!
Imagine diving into the azure blue water of a tropical island without fearing your phone getting wet! This pouch not only offers waterproof protection but also keeps your phone tangle-free and organized.
Remember to zip it up after sliding your phone in, and you're good to go!
38. Mini Belt Bag
You deserve travel gear that makes your journey a breeze and elevates your style. The ODODOS Mini Belt Bag from Amazon is the trusty sidekick you need. With over 9,000 glowing reviews, it's less than $20, and looks strikingly similar to a luxe Lululemon bag.
Here's why:
it's not just a trendy accessory, it's a functional must-have.
This mini belt bag securely carries your essentials – passports, wallet, keys, and even your phone!
It features an adjustable strap, and can be worn around your waist, chest, or cross-body, offering you endless comfort and versatility.
What's more, it's waterproof, made with durable materials and high-quality zippers, protecting your belongings against the elements.
If you're a busy mom needing both hands or a traveler rushing through airport terminals, this is your go-to accessory.
39. Foldable Wireless Charging Station for Multiple Devices
You're about to discover a total game changer for your travel routine: the foldable wireless charging station for multiple devices.
This is the must-have travel gadget that's got the tech community buzzing.
A 3-in-1 solution, this ingenious charging station is the ultimate power source for your iPhone, AirPods, and Apple Watch. Wave goodbye to juggling multiple chargers, and say hello to the future of charging.
It's not just compact, but also foldable and a lightweight 4.5 ounces, making it the perfect travel companion.
Beyond just charging, it also serves as an efficient phone stand. Angle it horizontally or vertically for convenient FaceTime calls or movie watching.
Trust me, make space for this compact powerhouse in your travel bag. You won't regret it when all your devices are fully charged and ready to assist your adventure.
40. Stain Remover for Clothes, Pocket Size
Are you tired of unexpected stains ruining your clothes while on the go? Fear not, carry a tiny tube of stain remover for clothes is there to rescue your outfits swiftly.
This powerful yet portable solution is your perfect travel companion – small enough to slip into your bag yet mighty enough to tackle even the toughest stains.
With its easy-apply feature, you simply dab and rub, and voila! Your outfit is spotless again.
Best for those unplanned dinner spills or muddy adventures, this stain remover is a godsend for travelers, especially those with kids.
Expert tip: Apply the stain remover as soon as the stain occurs for the best results – the sooner you treat it, the better!
41. Travel Alarm Clock
Traveling is always an exciting adventure, but it can also present unforeseen challenges – one of them being, keeping track of time. Whether you're exploring a remote village without the convenience of electricity, camping in the wilderness, or just jet-lagged in a different time zone, a travel alarm clock becomes a vital piece of gear.
A travel alarm clock provides the simplest solution to keeping track of time irrespective of where you are. Its compactness makes it ideal for any backpack or suitcase, without taking much space.
The trusty travel alarm clock also comes in handy when there's an absence of other means to tell time like wall clocks or your phone. In such situations, it serves as your personal time-keeper, ensuring your routine doesn't go awry, and you stay on top of your travel schedule.
42. Motion Sickness Pills
Say goodbye to travel sickness with these game-changing Motion Sickness Pills! They're a pocket-sized answer to the nausea, dizziness, or exhaustion you might experience when traveling.
Think about it. You're heading on a fantastic holiday trip or an important business meeting. You don't want motion sickness to mar your experience, right? That's where these convenient pills come in. They're compact, and allow you to enjoy your voyage without any discomfort.
Ideal for those prone to motion sickness, they fit right into your daily life seamlessly.
Expert tip: Make sure you take the pill 1-2 hours before your journey begins for effective results.
43. Pill Organizer
As a traveler, it's vital to make sure your medications are organized and easily accessible. Make no mistake – the travel pill organizer is a game-changer, turning medication mishaps into a thing of the past.
This item is perfect for those who are on a regular medication routine and prefer to travel light.
Space-saving design: No more juggling bulky medicine bottles.
Convenient organization: Effortlessly separate and locate your pills on the go.
To maximize its utility, keep a mini-list of the meds within the organizer. This will act as an additional safety measure should you forget what a particular pill is for.
44. First Aid Kit
Traveling opens the door to unexpected moments, and with a First Aid Kit, you'll always stand prepared for mishaps. A well-stocked First Aid Kit is a must-have travel essential, providing peace of mind and practical help in emergencies. Or just a scraped knee!
Whether you're embarking on a road trip in your Tesla, jetting off to Europe, or planning outdoor adventures, these first aid kits are your best bet.
They prove to be surprisingly handy, and ideal for travelers seeking peace of mind.
Expert Tip: Always recheck and replenish your kit before every trip to stay always ready.
45. Spy Travel Card Game
The Spy Travel Card Game is not just a simple card game, it's an engaging travel companion that turns any trip into an exciting adventure. It's your pocket-sized solution to dull travel times, essential for any travel enthusiast.
The game offers an enjoyable way to pass time during airport waits, long flights, or relaxing evenings at your destination. With its immersive gameplay, it encourages strategic thinking and fun competition, which can liven up the atmosphere during any travel downtime.
Ideal for travelers of all ages, from children to adults, it turns otherwise tiresome travel periods into a shared fun experience, fostering bonding moments among friends, families, or even newly met travel companions.
What every girl needs to travel?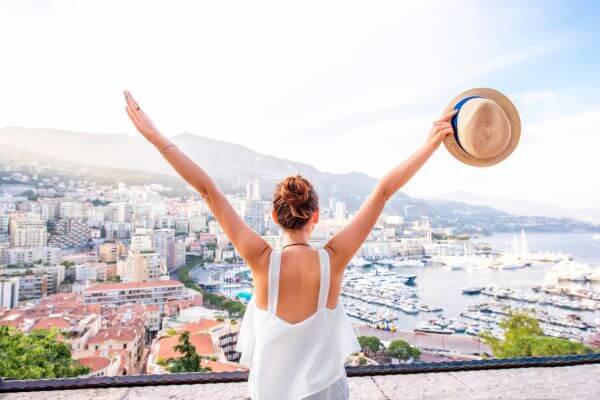 Every girl's travel essentials can vary based on personal needs and destination, but there are certain items that most women tend to consider indispensable for trips.
Firstly, hygiene and skincare products, such as makeup wipes, sheet masks, and serums, can help combat skin dryness often caused by long-haul flights.
Secondly, comfort items such as neck pillows, light-filtering eye masks, and ear plugs can ensure better sleep and relaxation during travel.
Depending upon the person's health needs, packing specific items such as compression socks can be useful to prevent circulation issues during flights.
Overall, the key is to pack items that meet personal comfort, health, and hygiene needs while adhering to weight and size restrictions.
Buy these Amazon Travel Essentials to have on hand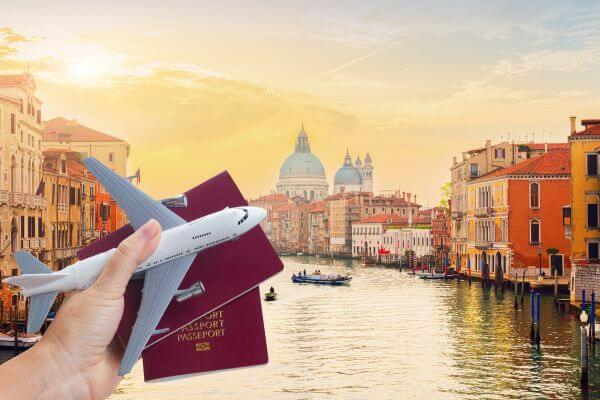 In this insightful piece, we've traversed the landscape of Amazon travel must haves, assisting you in unearthing the best picks for your journey.
If you're looking to elevate your travel experience, these meticulously curated Amazon travel must-haves will offer you unprecedented comfort, convenience, and style on your sojourns.
These accessories are not just 'things', they are your companions in ensuring a hiccup-free journey.
Remember, the right travel gear can redefine your travels, turning stressful ordeals into happy memories.
Also, make sure you know how much cash can you fly with.
So why wait? Transform your future adventures with these thoughtfully designed travel essentials picked just for you by trusted travel experts!
Upgrade your travel experience today.