Intuit's Mint App Shutting Down: What You Need to Know
Inside: Intuit bought its popular Mint app and now it shutting down leaving users scrambling to find an alternative. This guide will help you understand Intuit's decision to move Mint to Credit Karma and provide a list of alternatives for personal finance management.
In an era where personal finance apps are thriving more than ever, the shutdown news of Intuit's Mint app comes as a shock for many.
When I heard the news, I couldn't believe my ears… moving Mint's feature to Credit Karma – a credit repair app?!?!
Once I got over the shock, I knew you wanted the best information out there to decide on what to do next.
Our guide here is dedicated to helping Mint users navigate the ongoing changes and prepare for what's next in their personal finance journey.
This post may contain affiliate links, which helps us to continue providing relevant content and we receive a small commission at no cost to you. As an Amazon Associate, I earn from qualifying purchases. Please read the full disclosure here.
The Downfall: Intuit's Decision to Shut Down Mint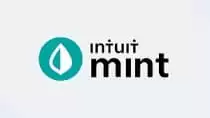 Mint has always been a beacon in the realm of top budgeting apps; mostly due to the fact it was free.
However, Intuit's decision to close Mint marks the end of an era. Yet, there is a teaser… Mint is propelling people to Credit Karma.
Here is a statement in the Mint App News:
"Credit Karma is thrilled to invite all Minters to continue their financial journey on Credit Karma, where they will have access to Credit Karma's suite of features, products, tools and services, including some of Mint's most popular features."

Mint App News1
Mint's commendable service, free albeit with ads, which has been helping many people manage their finances effectively, will be missed by Minters—time to understand why this happened.
Why is Mint Shutting Down?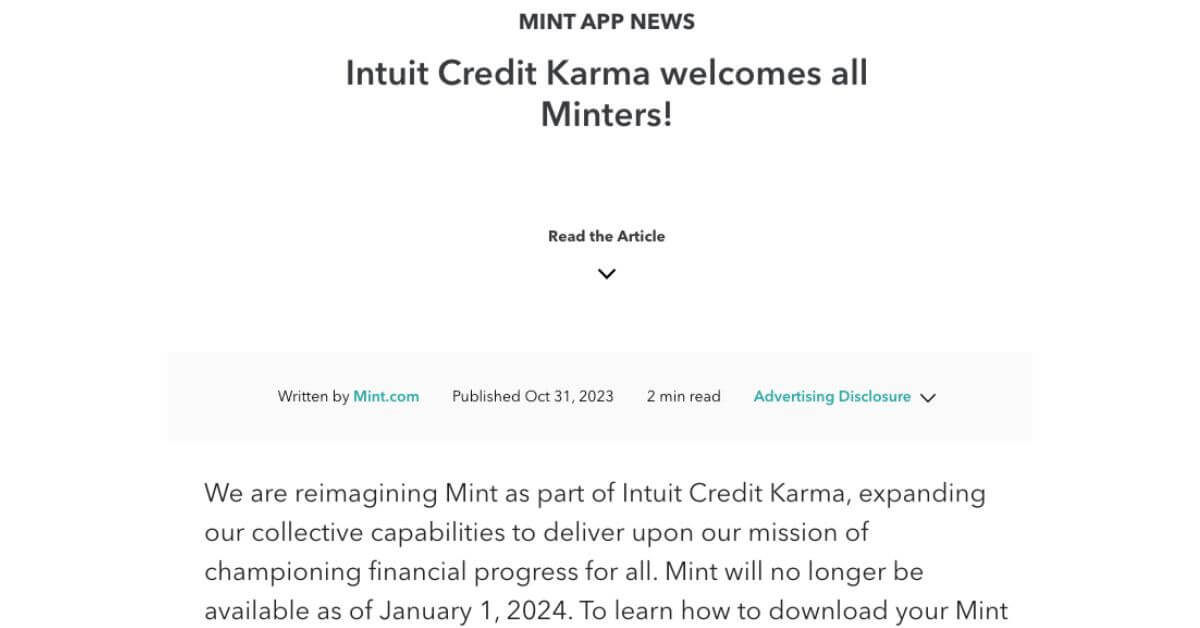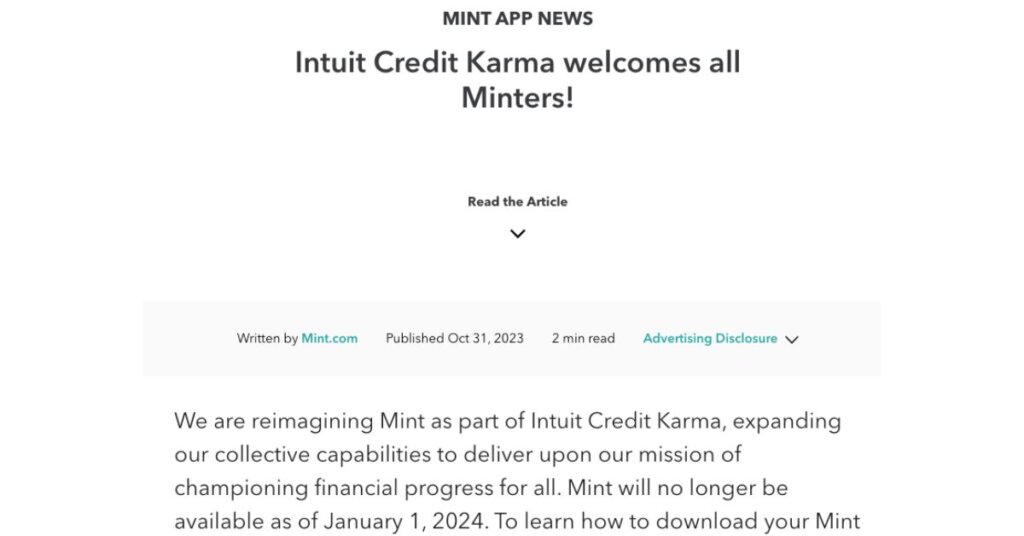 A surprising fact is that a free personal finance app like Mint isn't a sustainable business. Most free apps have marginal direct costs associated with their services, unlike personal finance apps. They heavily rely on expensive data aggregators to gather the necessary financial data, causing a steady revenue loss for Mint per free user.
Intuit's model has never been able to cover these costs leading to a revenue crisis. That was a key reason why I believe Intuit decided to shut down Mint. While Intuit denied Mint's expenses being material in their quarterly earnings calls in 2023, they did note however they are looking to grow their consumer base across all of their products. 2
The Controversy Surrounding Mint's Shutdown
While the financial reason behind Mint's closure is understandable, this decision has provoked a wave of consternation among the users. Massive user outcry on Reddit underscores the integral role Mint played in their lives, and some even accuse Intuit of abandoning its commitment to free financial management resources.3
Given the fairly recent acquisition of Mint into Intuit, this may be surprising for many including these Twitter users.10
Not totally surprised to see this move to kill @Mint by @Intuit. @CreditKarma had plans to compete directly with Mint while independent & it makes sense to have a single consumer portal.

Very worried about the execution. 😬 https://t.co/pki8J3R2lg

— Adam Nash (@adamnash) November 1, 2023
Intuit is shutting down budgeting app Mint and is trying to get people to instead use Credit Karma, an app without any budgeting functionality https://t.co/j2AXvLtd6F

— bart (@bart_smith) November 2, 2023
Pt 1/2 Opened my @mint app today to find that they had moved the platform over to Credit Karma! What the hell!? And worst of all, they got rid of all of the features that I liked about Mint! I loved Mint, it helped me take my personal finances seriously!!

— Trevbotplaya (@trevbotplaya) October 25, 2023
When is Mint shutting down?
Yes, Mint is being shut down. Mint's curtains will be drawn on January 1, 2024.
From this date, users will no longer be able to access their accounts or use any Mint services as we know them today.
So, don't be caught off-guard; stay prepared and choose the right alternative before Mint bids adieu. We have other options below to help you guide this transition.
Mint User's Guide: Next Steps to Credit Karma

Okay, one piece of advice I always give at Money Bliss is to plan and carve your own money journey. So, let's move from panic to planning:
What should Mint users do now?
It's natural to feel perturbed by Mint's shutdown. Yet, the smart step is to immediately switch to planning mode.
Some crucial actions include exporting your transactions from Mint for future use and deleting your account once you have secured all necessary information.
In this interim period, also make sure to explore personal finance app alternatives, considering their features and support services, to find one that fits your needs perfectly.
Starting Afresh: Alternatives to Mint App
In light of recent events, here are the best apps available for Minters.
Switching to a new personal finance app might feel daunting initially, but there's no need to worry. This era offers a wide array of options, many of which employ advanced technology and provide a user-friendly experience.
Look for apps that offer seamless data importation from Mint with a CSV file, comprehensive financial overview, dependable security features, and preferably, competitive pricing as well.
Diving into Details: A Comparison of Mint Alternatives
When comparing Mint alternatives, consider factors such as user interface, functions, cost, and customer feedback. Each app has its unique strengths.
For instance, YNAB stands out for budgeting, and Quicken shines in terms of portfolio management, while Simplifi offers a user-friendly interface. You may pick a budget app based on your budgeting preference, such as budget by paycheck or zero based budgeting.
Research thoroughly to find the app that delivers your personal financial needs the best.
YNAB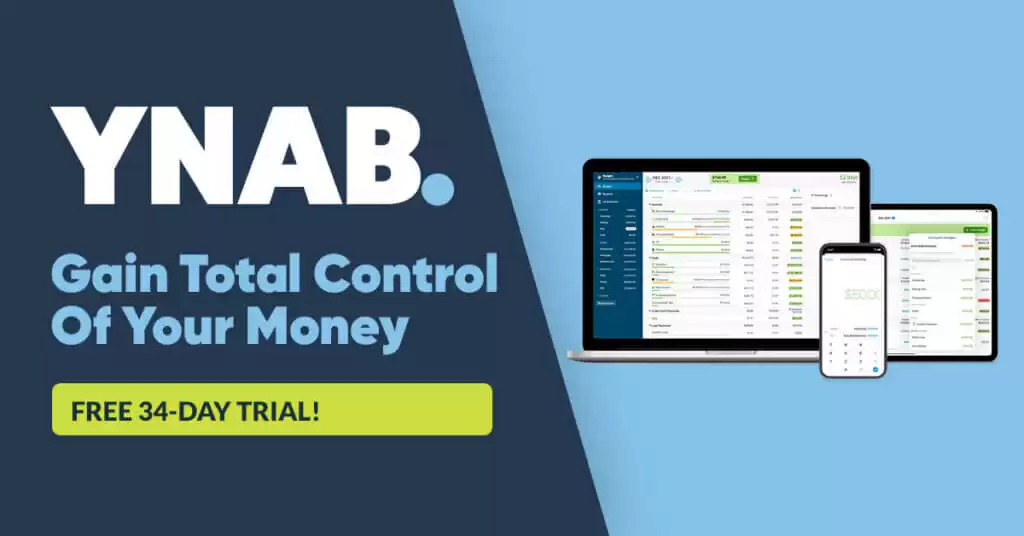 YNAB, or You Need a Budget, stands out for its award-winning budgeting system. It's not a clone of Mint, but rather, it takes a unique approach to helping people proactively track spending and work towards financial goals.
YNAB stands out in personal finance management since it allows for utmost user control with its four simple pillars:
Give Every Dollar a Job
Embrace Your True Expenses
Roll with the Punches
Age Your Money
Additionally, YNAB presents flexible customization options for category names, a feature that enhances user experience, along with an open-source toolkit for extensive reporting while maintaining supreme user data privacy.
Learning Curve: YNAB requires diligence and customization in its early stages, but offers a robust set of personalized budgeting tools once users cross the learning curve.
Import Existing Mint Transactions: Yes 4
Price: Free 34 day trial and then a subscription-based model of $14.99 monthly or $99 annually.
Most people struggle with YNAB because of the steeper learning curve as well as getting one month ahead on their money. This is YNAB's rule #4 to age your money, which is a smart money move and one we do personally.
No need to compare YNAB vs Mint anymore.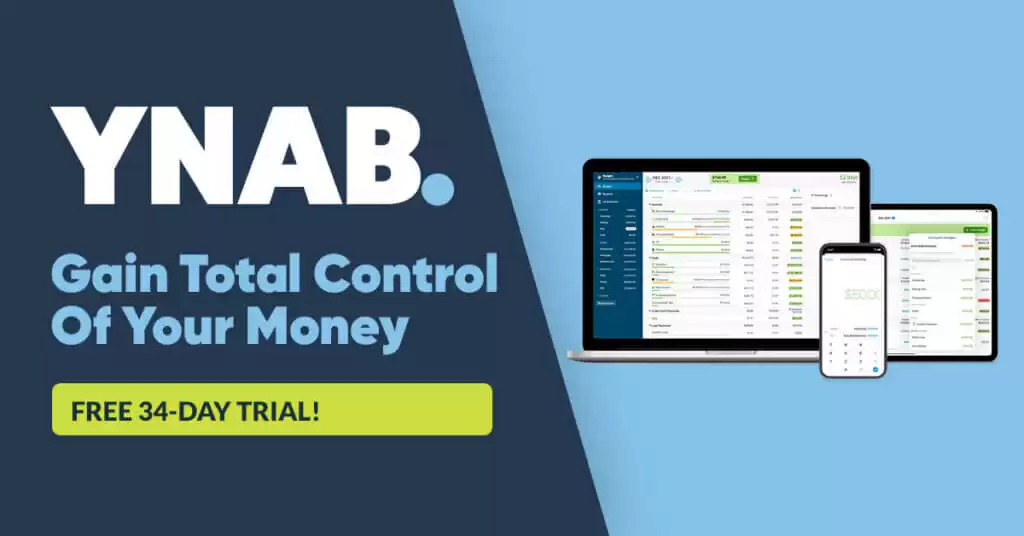 YNAB
Enjoy guilt-free spending and effortless saving with a friendly, flexible method for managing your finances.
Pros:
Comprehensive approach to budgeting, helping you plan monthly budgets based on your income.

Offers expert advice, making it suitable for those who require an in-depth, forward-thinking budgeting strategy.

Superior synchronization skills make it the winner in this area.

YNAB has extra features like goal setting for budgeting, shared budgeting tools for partners.

Option to manually add and upload transactions from accounts each month.

YNAB prioritizes user privacy.
Start 34 Day Free Trial
Simplifi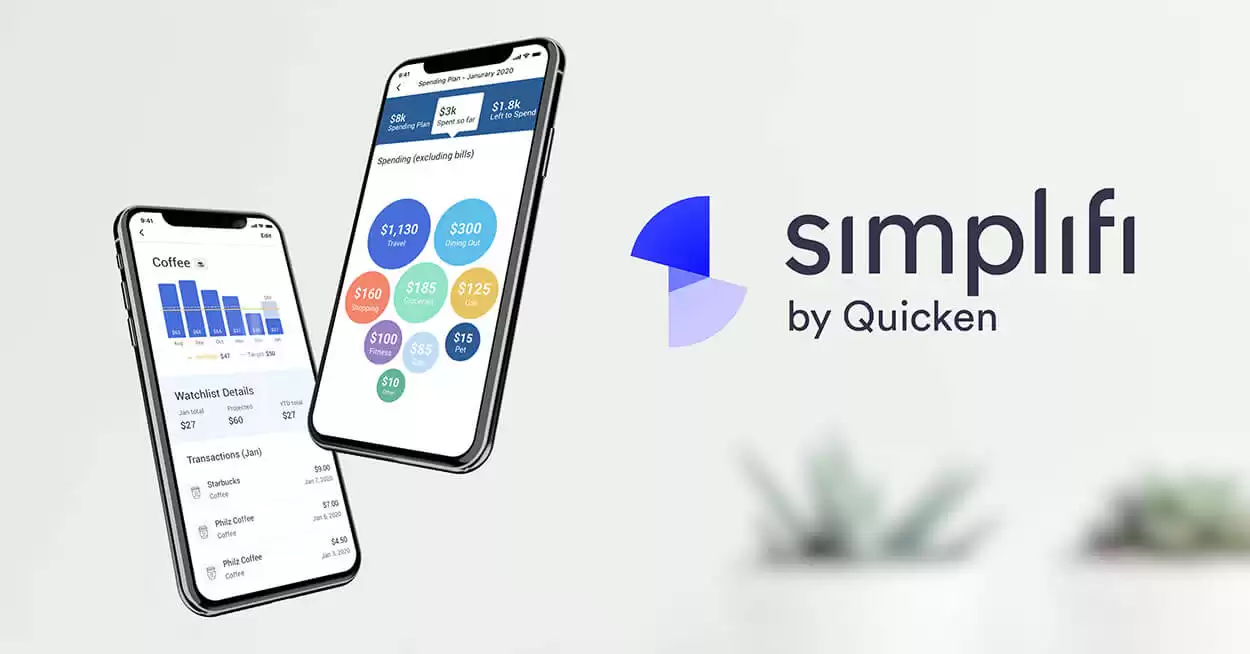 Simplifi by Quicken is a budgeting app that strikes a fine balance between complexity and simplicity.
Cheaper than a gallon of gas per month, Simplifi by Quicken a great bargain that offers a clean, intuitive, and clutter-free interface. It allows users to effortlessly track their spending, monitor savings goals, capture bills, and more.
Learning Curve: Simplifi is smooth due to its user-friendly interface and detailed instructions
Import Existing Mint Transactions: Yes 6
Price: Starting at $2.39/ month for new users
Simplifi has been rated as a preferred choice for people who want a fuss-free app to manage finances.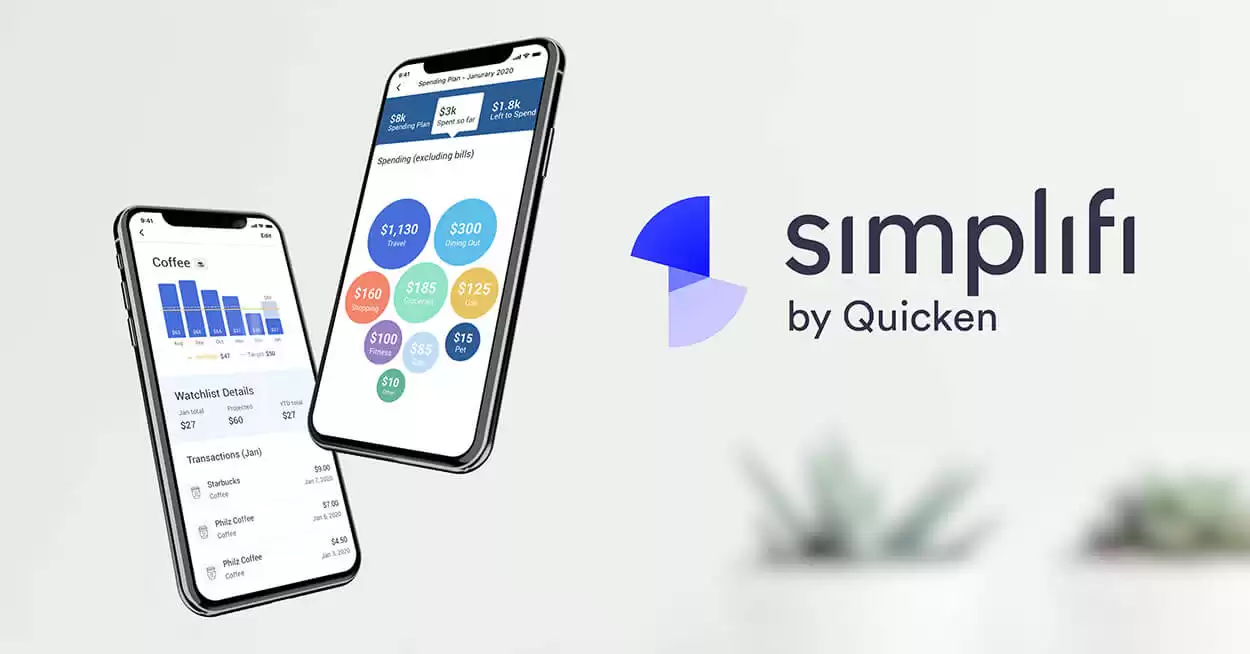 simplifi
Manage your money less in 5 minutes each week.
Reach your money goals with confidence!
"The easiest, most comprehensive way to both see where your money is going and plan for future expenses."
Start FREE Trial
Quicken

This is the personal finance software I have been using for over 25 years.
Quicken offers robust personal finance management tools that make it easier to track expenses, income, and investments. Many people complain their budgeting feature isn't up to par, but their cash flow reporting overcomes this as you can see your spending and plan accordingly.
Quicken Classic Deluxe: Robust & feature-rich | Best for power users
Quicken Classic Premier: Robust & feature-rich including investment| Best for serious users
Quicken Classic Business & Personal: Best-in-class business features integrated with our flagship personal finance product
Quicken might be the most suitable option for current Mint users due to its compatibility and ease of use. Unlike Mint, Quicken is not free, but its expansive features such as detailed expense tracking, report generation, and robust investment tracking arguably justify the cost. Plus you can add attachments of receipts into the transactions.
Learning Curve: Quicken may present a significant learning curve for beginners.
Import Existing Mint Transactions: Yes 5
Price: Starts at $4.19/ month for Quicken classic for new users. All plans have a 30 day money back guarantee.
It's a perfect match for anyone requiring a comprehensive personal finance tool. You can sync between multiple devices as I covered in my Quicken review.

Quicken
Personal finance and money management software allows you to manage spending, create monthly budgets, track investments, retirement and more.
I have used this platform for over 20 years now.
Pros:
Birds-eye view of your complete financial picture.

Conveniently download your spending activities, and automatically categorize them (Quicken connects to over 14,000 financial institutions).

Track investments with it's features like portfolio analytics, retirement goals, and market comparison.
Cons:
Little complex to use at first, the learning curve is moderate.

Yearly subscription-based model to use the platform.
Save 40% on New Memberships
Our Review
Monarch Money

Monarch Money's unique selling point is its robust data connectivity. Armed with state-of-art financial transaction infrastructure that integrates with various data aggregators, Monarch promises effective budgeting and financial planning. It's not free but offers a 7-day free trial to test its features.
Its subscription charges are $14.99 per month or $99.99 per year, a fair trade for its impressive service.
This is the latest top budget app to surface as true competition.
Learning Curve: Monarch Money boasts an intuitive and user-friendly interface, making the learning curve minimal and easy for new users.
Import Existing Mint Transactions: Yes 7
Price: Try Monarch Premium for free for 7 days. Then choose between the $14.99/month or annual $99/year plan.
Monarch Money facilitates financial planning with goal setting and forecasts, allows Mint transactions importation for history preservation, has customer-driven rapid development, provides a multi-user platform for collaborative financial management, is available across multiple platforms, and provides efficient customer service.

Tiller Money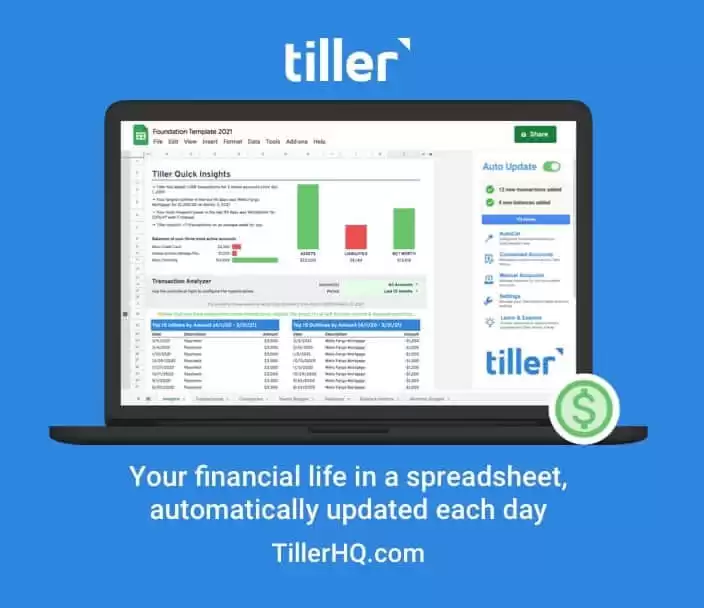 Tiller Money might be the perfect solution for spreadsheet enthusiasts. This unique budgeting tool uses spreadsheets to manage finances and daily transaction updates. It is highly customizable with categories and reports to help you stay on top of your spending.
Tiller Money is a definite contender in the personal finance app scene.
Learning Curve: While Tiller Money requires a basic understanding of spreadsheets, users can easily customize it to suit their personal budget needs.
Import Existing Mint Transactions: Yes 8
Price: Starts with a free trial for 30 days and then charges a reasonable annual fee of $79.
A notable feature is its ability to pull and categorize credit card transactions, providing an in-depth view of spending habits.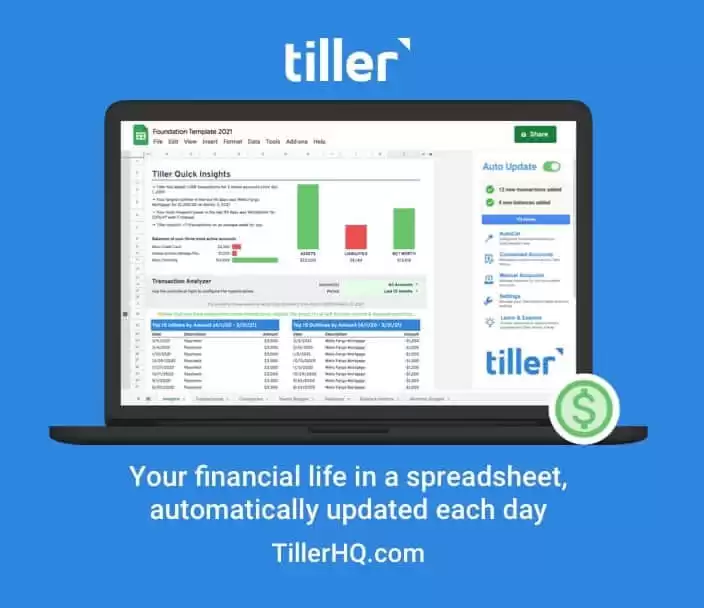 Tiller Money
Your financial life in a spreadsheet, automatically updated each day.
Tiller is the fastest, easiest way to manage your money with the unlimited flexibility of a spreadsheet.
Update your finances in one place, so you can take control of spending, optimize cash flow, and confidently plan your financial future.
Pros:
Tiller automatically updates Google Sheets and Microsoft Excel with your latest spending, balances, and transactions each day.

No more tedious data entry, CSV files, or logging into multiple accounts.

You can customize everything and finally track your money, your way.
Try Tiller Free
Empower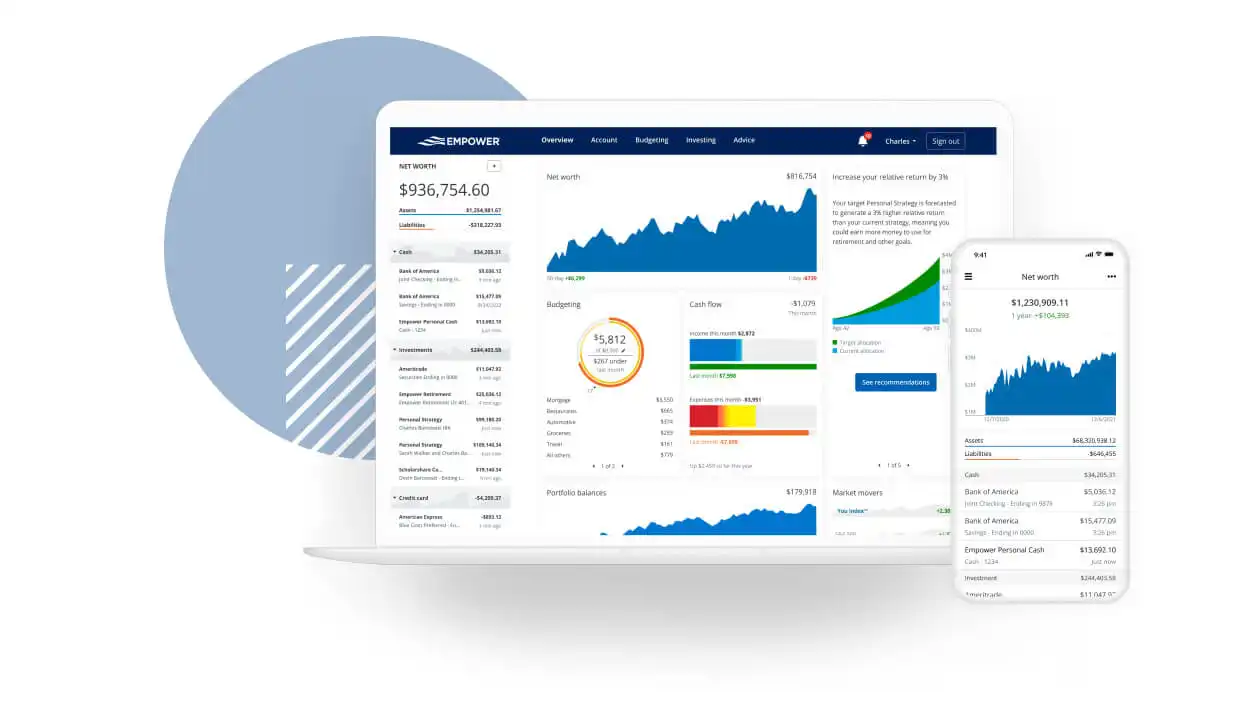 Empower, formerly known as Personal Capital, is a comprehensive personal finance app that provides tools for managing income, expenses, assets, and liabilities.
With its intuitive interface, Empower users can seamlessly track their spending, create custom budgets, and even get insights into their net worth which can be updated on a monthly basis, thereby aiding in effective financial management. Additionally, their retirement planner is one of the best available – plus for free.
Learning Curve: Empower has a relatively intuitive interface, making the learning curve fairly manageable for new users.
Import Existing Mint Transactions: No 9
Price: Free to use
The downfall is Empower provides wealth management services, so there is a heavy sales pitch to bring assets under management.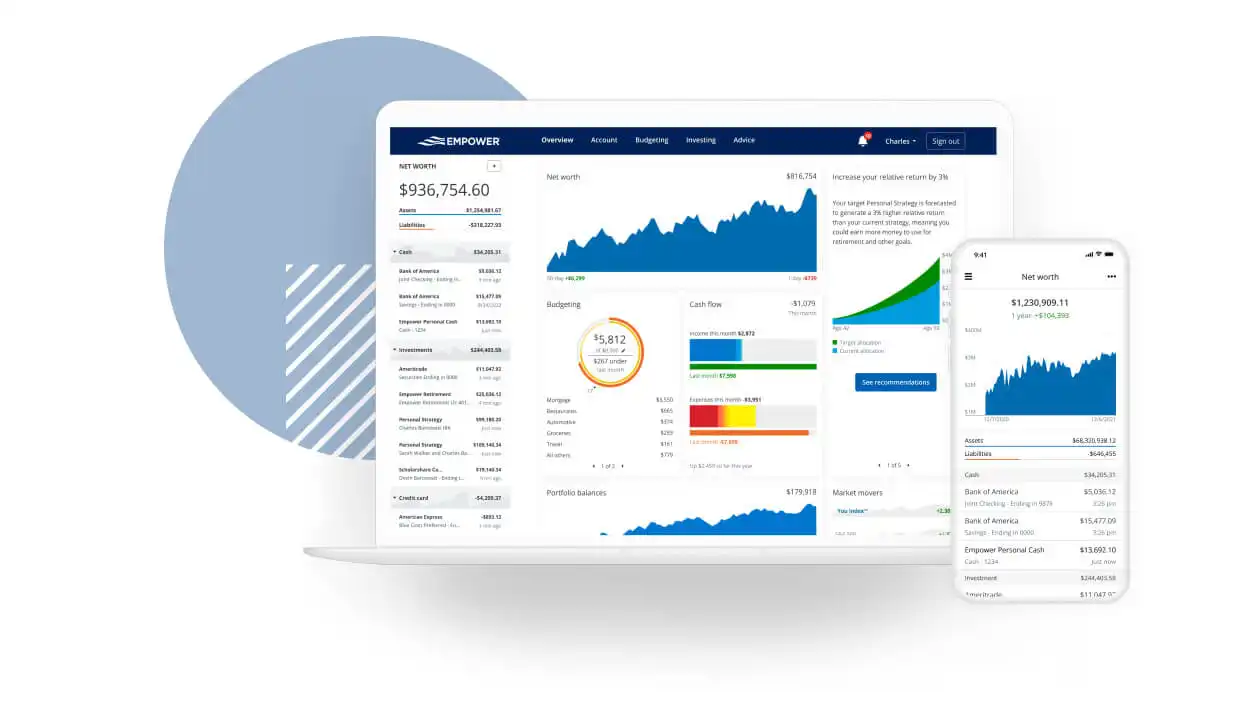 Empower
Empower offers powerful tools to help you plan your investment strategy along with basic budgeting features and a great net worth tool.
As a free app, Empower can help you to save money, save time, and even make more money.
Get Started
Empower Personal Wealth, LLC ("EPW") compensates Money Bliss  for new leads. Money Bliss  is not an investment client of Personal Capital Advisors Corporation or Empower Advisory Group, LLC.
How to Move From Mint to Credit Karma?
Yep, I gave you the alternatives to Mint first.
Yet, the goal for Intuit is to move to Credit Karma. The core issue right now is while we do know which features will be transferred from Mint to Credit Karma. We are not sure as Minters if we will like the new layout and features offered with Credit Karma.
Right now, the budgeting feature will not be offered at Credit Karma, which I know for many Money Bliss readers is a big feature lost.
Learn more on how to move from Mint to Credit Karma.
Intuit's Current Portfolio of Products
Intuit buying out Mint in 2020, you may be wondering about the current products offered by Intuit. 10
Intuit offers a range of financial and tax preparation products, including
Most notable is the success of TurboTax and Credit Karma.
Frequently Asked Questions
Coping with the Closure: Dealing with the Loss of Mint
For long-time Minters, Mint's shutdown can feel like losing a trusted companion. It's natural to feel a sense of loss and uncertainty. I completely understand. That is why I haven't switched from Quicken because of the long-term history.
However, remember that technology promises continual growth and evolution. There are numerous other personal finance apps out there, likely even better ones suited to your needs.
So, take a deep breath, do your research, and move on to the next chapter of your financial journey with confidence.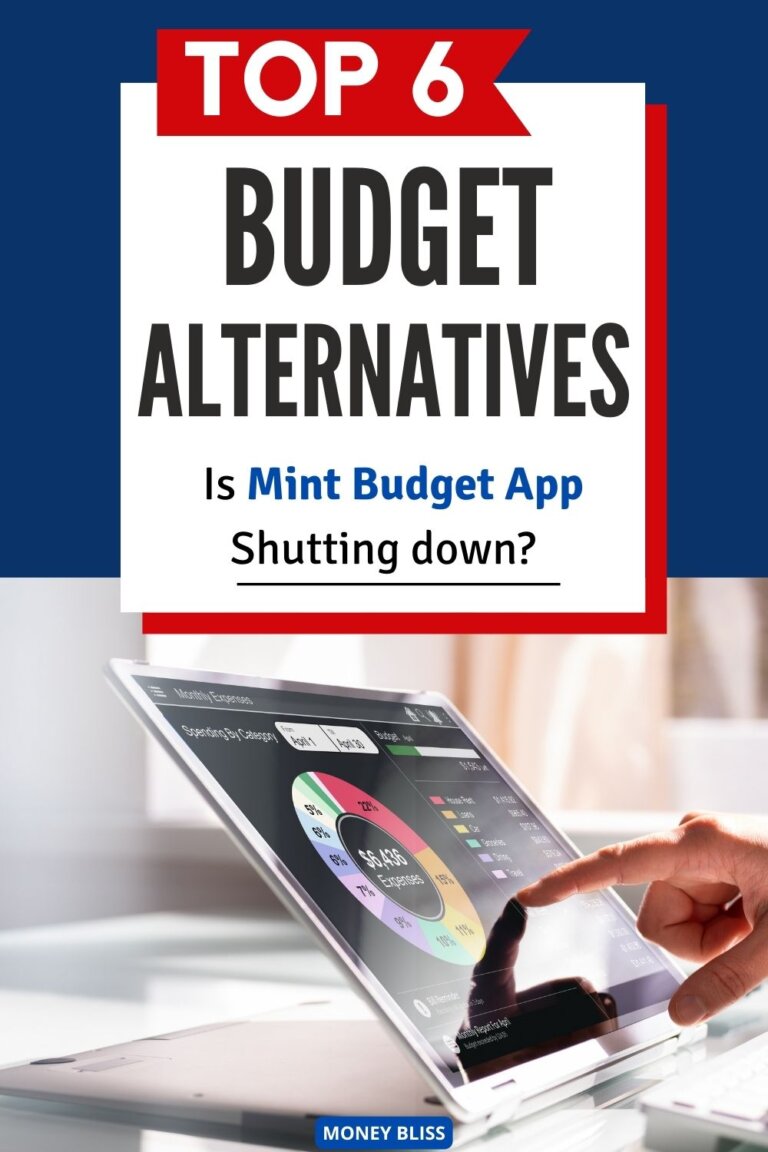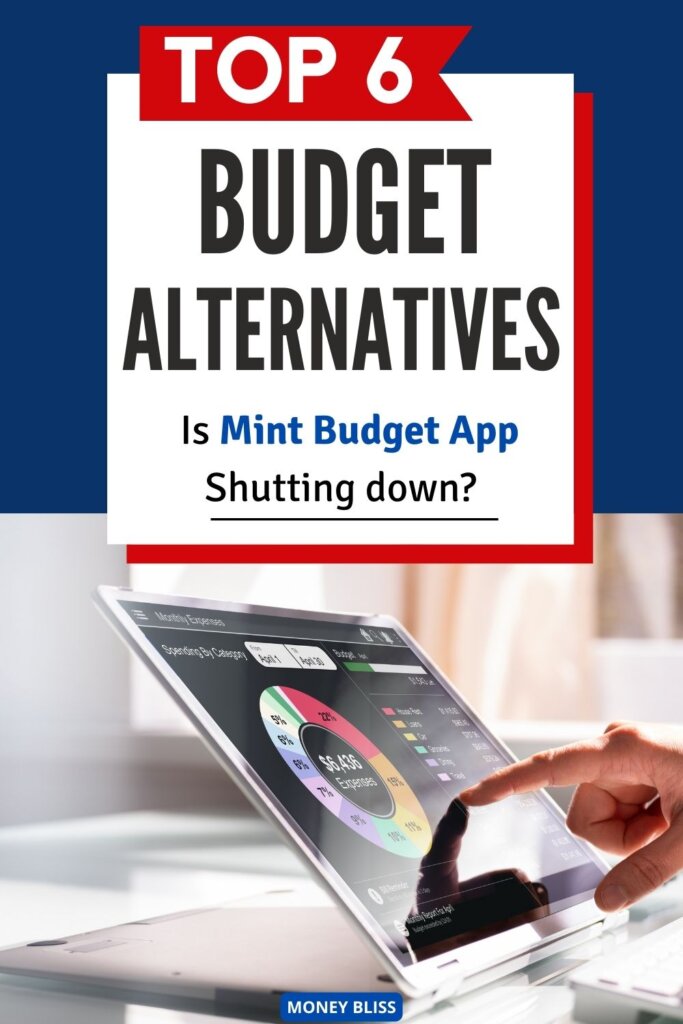 Source
Intuit MintLife. "Intuit Credit Karma welcomes all Minters!" https://mint.intuit.com/blog/mint-app-news/intuit-credit-karma-welcomes-minters/. Accessed November 1, 2023.
Intuit. "Event Details – Intuit Investor Day 2023." https://investors.intuit.com/events-and-presentations/event-details/2023/Intuit-Investor-Day-2023/default.aspx. Accessed November 1, 2023.
Reddit. "Thoughts on the Mint shutdown from Monarch CEO (and first Mint product manager." https://www.reddit.com/r/mintuit/comments/17llnbu/thoughts_on_the_mint_shutdown_from_monarch_ceo/. Accessed November 1, 2023.
YNAB. "File-Based Import: A Guide." https://support.ynab.com/en_us/file-based-import-a-guide-Bkj4Sszyo. Accessed November 1, 2023.
Quicken. "Quicken for Windows: Importing Address Book Records From Another Program." https://www.quicken.com/support/quicken-windows-importing-address-book-records-another-program. Accessed November 1, 2023.
Quicken Simplifi. "How to Manually Import Transactions." https://help.simplifimoney.com/en/articles/4413430-how-to-manually-import-transactions. Accessed November 1, 2023.
Monarch. "Move data over from Mint to Monarch." https://help.monarchmoney.com/hc/en-us/articles/4411877901972-Move-data-over-from-Mint-to-Monarch. Accessed November 1, 2023.
Tiller. "How to Easily Export Mint Transactions to a Spreadsheet." https://www.tillerhq.com/exporting-mint-transaction-data-into-a-google-sheet-spreadsheet/. Accessed November 1, 2023.
Empower. "Am I able to see more than 3 months of data in Empower Personal Dashboard after I first link my account?" https://support-personalwealth.empower.com/hc/en-us/articles/201170160-Am-I-able-to-see-more-than-3-months-of-data-in-Empower-Personal-Dashboard-after-I-first-link-my-account-. Accessed November 1, 2023.
Intuit MintLife. "Intuit to Acquire Mint.com." https://mint.intuit.com/blog/press/intuit-to-acquire-mint-com/. Accessed November 1, 2023.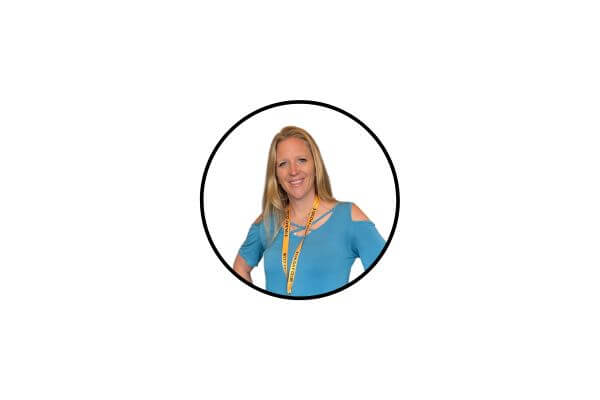 Did the post resonate with you?
More importantly, did I answer the questions you have about this topic? Let me know in the comments if I can help in some other way!
Your comments are not just welcomed; they're an integral part of our community. Let's continue the conversation and explore how these ideas align with your journey towards Money Bliss.