Quicken Review: Things You Need to Know to Improve your Budget
This post may contain affiliate links, which helps us to continue providing relevant content and we receive a small commission at no cost to you. As an Amazon Associate, I earn from qualifying purchases. Please read the full disclosure here.
---
Quicken is a personal finance software that most of us use to track spending, income, and investments. This Quicken review will help you realize that!
The Quicken company has been in the market for 39 years and they have developed some pretty neat features like charting your net worth.
Personally, I have been using Quicken for over 20 years. They have had their ups and downs throughout that time, but they are still around. Plus once they moved to a subscription-based model, their product improved immensely. Thus, I am a happy customer in the long term.
However, it's not always easy to find out what a feature does if you're just getting started with the software or new to it altogether.
In this blog post, I am going on about things you need to know before using Quicken so that you can ensure that you're getting the most out of it.
We all know that budgets are important.
Tracking our money helps us to understand where our money is going and helps us manage our spending so we can get the most out of what we have.
There's no need for stress about not knowing where your hard-earned cash goes– we will review one of the most popular budgeting apps on the market!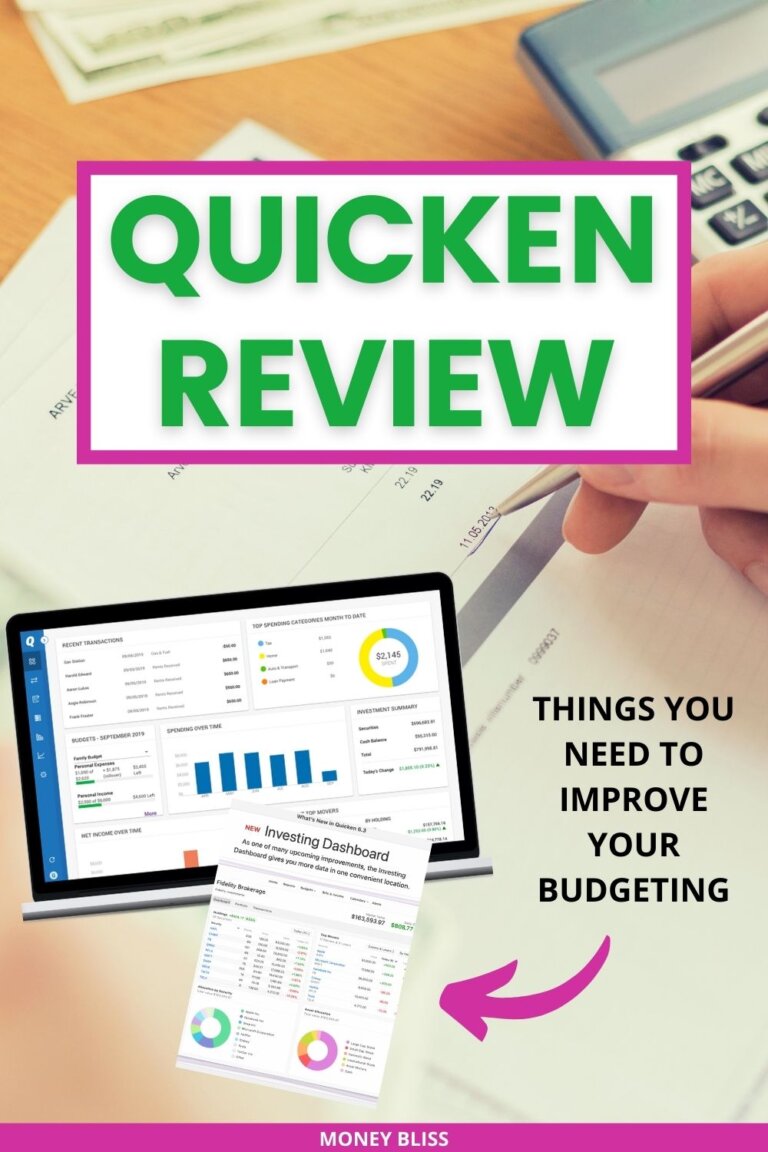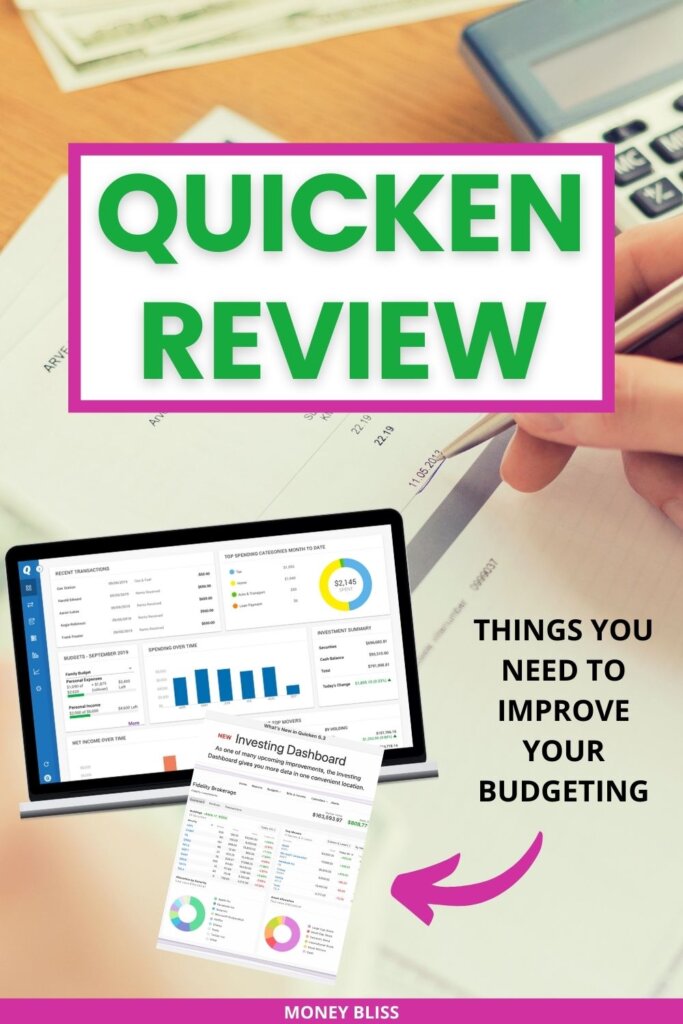 Who is Quicken for?
Quicken is a personal finance software program that helps users manage their money better.
It enables users to track income, expenses, investments, and other financial information. The software can also help users find ways to save money on things like bills, groceries, and banking. It also has some budgeting features that allow users to see where they can afford to spend and save money in order to improve their finances.
Quicken is available for Windows and Mac platforms.
If you want to take control over your personal finance situation with tools like tracking spending and saving money in categories, then Quicken is perfect for you.
Just remember… You have to put in the work to make a budget, pay bills, and organize your finances.
Quicken is the software that many people turn to for budgeting, expense tracking, and financial planning.
What are the Features of Quicken?
Quicken is a personal finance management application that helps users track and manage their money. It offers a variety of features, including investment tracking, budgeting, and forecasting.
Quicken was the first personal finance software to introduce a QIF format for transferring bank account data.
There are 5 different Quicken products available; each with the features you need at your current financial level.
The features of personal finance are listed below:
1. Consolidated View of Your Finances
This is the birds-eye view of your complete financial picture.
Get a clear gauge on how much you are spending versus how much income you are bringing in.
Conveniently download your spending activities, and automatically categorize them (Quicken connects to over 14,000 financial institutions).
When you started the process of reevaluating your budget, it was so overwhelming that it became financially paralyzing. Find out what you can do to cut irregular expenses and watch your bank account improve immediately.
Whether you're starting a new plan, reviewing an existing plan, or assessing your progress, Quicken provides a comprehensive overview of the finances we tend to overlook.
2. Manage Spending
Quicken captures the details you need to make informed financial decisions. The software will automatically categories transactions and expenses so you don't have to.
Plus you have the ability to customize categories of spending.
In addition, use of their reports to see monthly spending trends to spot opportunities to save money.
Quicken offers over-time reports which are more useful the longer you use them because they provide information about your spending habits over time.
3. Create a Budget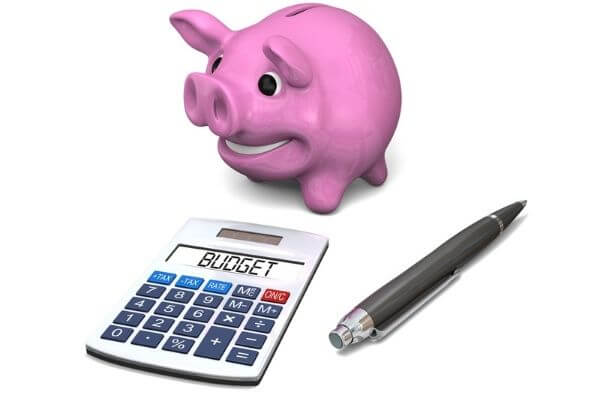 A budget is an estimate of the money that you will spend in a certain period of time. In order to create your own budget, you need to first have a list of items or expenses that you will be budgeting for.
Although Quicken is easy to use, it can be a bit confusing when you are trying to create your budget for the first time.
It is important not just to have the right categories but also re-categorize transactions so that they fit into their respective category in order for this software tool and set of tools as a whole will help with staying on track financially.
4. View & Pay Bills
The view and pay bills feature allows you to view the current status of your bill, including what's due on which date.
You can also set up automatic payments for future bills, so they are taken care of automatically.
This bill calendar feature is important to stay on top of your bills.
5. Plan for Retirement
Plan for retirement is a process of going through to ensure they have enough money saved up in order to meet their financial needs after retirement.
Retirement planning is not a one-time process, but rather, an ongoing effort that should be taken seriously and planned for responsibly in order to ensure the best possible outcome.
Use Quicken to get a clear picture of where you stand.
You can create future models based on current and projected retirement contributions. Quicken has an intuitive retirement planning software that helps you overcome planning roadblocks for your retirement modeling.
6. Track Investments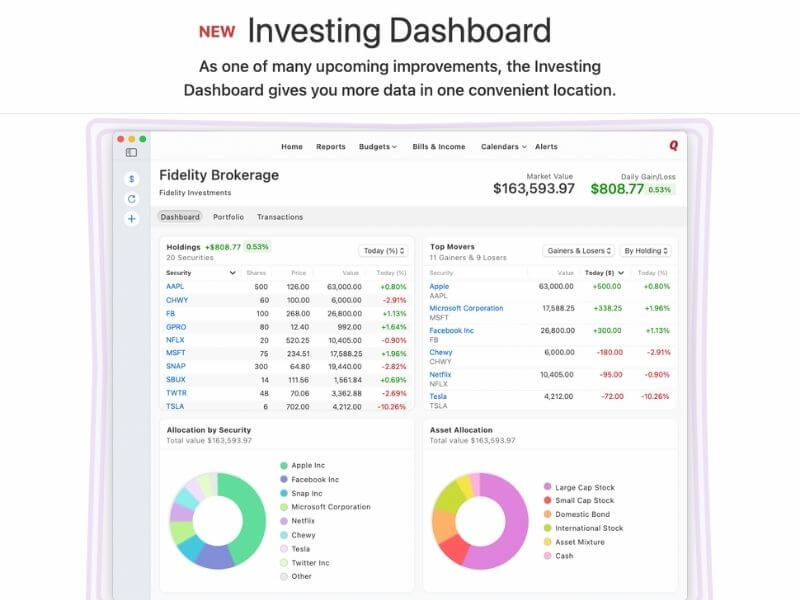 Quicken is a personal finance management program that helps you track investments. It has features like portfolio analytics, retirement goals, and market comparison.
Start saving for your retirement with a financial management tool trusted by over 17 million customers.
This secure and user-friendly platform helps you get the most from your investments.
These are key features that set Quicken apart:
Plan for the near- and long-term — track both liquid and retirement holdings including brokerage, 401(k)s, IRAs, options, bonds, ETFs, and mutual funds.
Understand true market returns and make smarter moves by tracking investment fees all in one dashboard.
View market benchmarks to make investment portfolio performance comparisons.
Monitor your goal progress with target portfolio allocation analysis (Windows) and historical snapshots.
Easily run investment tracking reports to understand IRR and ROI.
Minimize risk and maximize diversification by uncovering concentrated positions and other holding details with the Morningstar X-Ray tool (Windows).
Understand your tax obligations while keeping more money in your pocket.
7. Manage a Small Business
Managing a small business is difficult and challenging without having to worry about finances.
However, to grow your business, you must prioritize your business finances. In addition, using the Profit First concept is great.
Quicken is a software tool that can help small businesses track their finances and find deductions.
There are features for business purposes, such as separate personal and business finances.
Use Quicken to simplify your taxes prep time.
Spend more time on your business and less time on taxes with easy tax reports on business income, expenses, and deductions. Plus you can create and send tailored invoices directly from Quicken Home & Business.
8. Property Management
Whether you work with a property manager or do it yourself, you'll have the tools necessary to manage your rental property.
This is a huge benefit to track everything related to your rentals – property value, bank accounts, loans, documents, tenant lists, income, and expenses.
Plus maintain tenant contact information, rental agreements, move-in, and move-out dates, and security deposits.
Quicken Deluxe offers the minimum amount of features whereas Home & Business is probably better suited for rental property owners.
9. Mobile App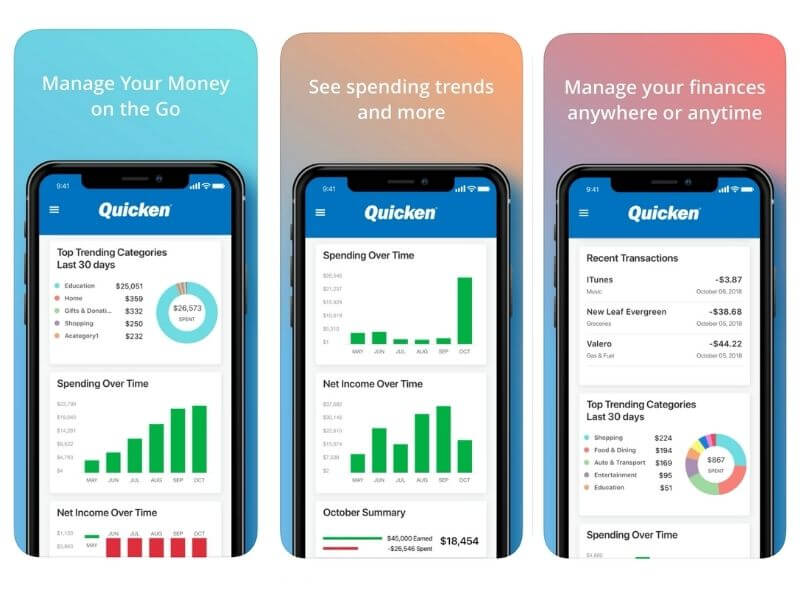 Quicken offers online access with the desktop program as well as mobile apps for Apple and Android phones.
The mobile app syncs with your desktop program, so you don't have to manually enter information into the two different programs.
A huge feature is you can snap and store a picture of your receipt.
10. Reports
Reporting is the process of collecting, analyzing, and presenting information on an ongoing basis. This can be a very task heavy endeavor unless you are using the Quicken software.
It generates plenty of financial reports, including cash flow, profit and loss (P&L), account balances, transactions, payee comparisons, budget spending, and banking summaries.
Plus you can customize and save any report for your future use.
Pros and Cons of Quicken
Quicken is a program that helps you to organize and manage your personal finances. It has many great things, but it also has quirks.
These are the pros and cons of Quicken, so before you decide whether or not to use this software, take some time to consider what it would mean for your life if you did.
Benefits of Quicken:
If used properly, Quicken can help you save money by tracking all your financial transactions over time.
You can easily track your expenses and income with Quicken.
You can create different budgeting plans to help you save money in the future.
Fast, user-friendly way to organize your finances and track your spending.
Offers budgeting tools that help you set up budgets for specific areas of spending, such as entertainment or food.
Quicken has plenty of financial reports and tools to help you manage your budget.
It also allows for online banking which saves on time and resources.
Financial institution integration: Ability to track account balances and automatically download transactions.
Well-designed UI with an easy-to-use interface, and it also offers advanced features like categorizing transactions.
Cons of Quicken
It is a little complex to use at first, the learning curve is moderate.
Yearly cost to use the platform. Yet, it is still lower than many other budget apps available.
Many previous users do not like the subscription-based model and wished they could upgrade versions as they did in the 1990s and 2000s.
User experience is inconsistent and reviews vary greatly.
Quicken is not compatible with ALL banks and financial institutions, which can make it difficult to transfer your data from one institution to another.
Overall, Quicken is an easy-to-use software program that helps consumers manage their budgets. It's a useful tool for people who want to track spending, set goals and make adjustments over time.
However, Quicken has some shortcomings because it can be difficult to use if you're not familiar with the software or lack relevant skillsets.
Quicken Pricing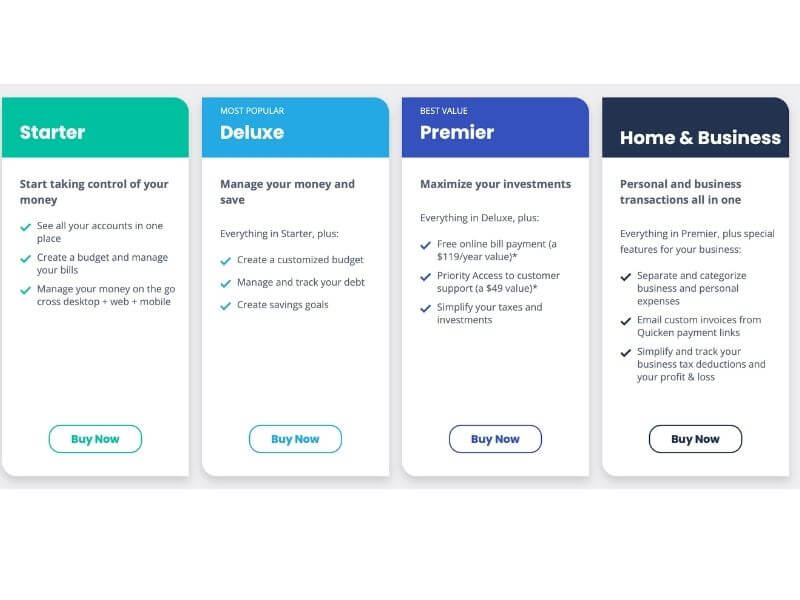 Quicken is accounting software that offers a wide range of features for budgeting, planning, and tracking. It's available on both PCs and Macs so you can access your data from anywhere.
Quicken has a variety of pricing options and plans to suit your needs. For example, the basic Quicken Starter Edition is minimal while the elite Quicken Home & Business is $103.99 per month.
The most popular version is Quicken Deluxe and costs less than buying coffee one time per month.
The new pricing model means that you will be paying annually rather than monthly to avoid any inconveniences in your budgeting process. This update will allow members to take advantage of all the latest features and updates without having to purchase an expensive renewal fee again later on down the line when their membership expires.
Click here for the best promo price on Quicken.
Quicken Starter includes basic budgeting and managing your bills, but you can also sync to bank accounts for automated budgeting.
Quicken Deluxe has everything in the Starter version, including customized savings goals and what-if analysis.
Simplifi by Quicken is an extremely low cost product that offers the ability to check, manage, and monitor all of your finances in one place. It has many of the Quicken features, but in a simple platform for those who do not want complexity.
Quicken Premier features go above and beyond to include access to priority customer support, options for taxes and evaluating investments and your overall portfolio.
Quicken Home & Business is specific for business and/or rental income and expenses. It caters to business needs.
Quicken also has custom saving goals which can be set up with pre-set amounts or percentages on your monthly paycheck.
Learn the difference between these subscriptions.
Simplifi by Quicken Review
In 2020, Quicken released a personal finance app called Simplifi by Quicken. It contains a lot of the familiar tools you've come to enjoy in a budgeting app including budgeting, projecting, and setting savings goals.
Simplifi is a web browser-based finance tracker that has no desktop app. It can be used on any device and is available for both Android and iOS. Simplify's mobile apps are easy to use, well-designed, intuitive, and useful for people who want an online budgeting experience with less hassle.
Budgeting: Create a one-month budget, budget for savings, and track spending history.
Bill management: Alert you about unusual bills, auto-detect bills, and project cash flow.
Personal Finance Tracker: Simplifi only offers one budget per month
Simplifi by Quicken is a budgeting solution that includes all of the tools needed to create an efficient and effective budget. With its ability to track spending across all accounts, income, and expense categories in one place, it's perfect for people who want simple solutions without having to break their bank account.
Other alternatives to Quicken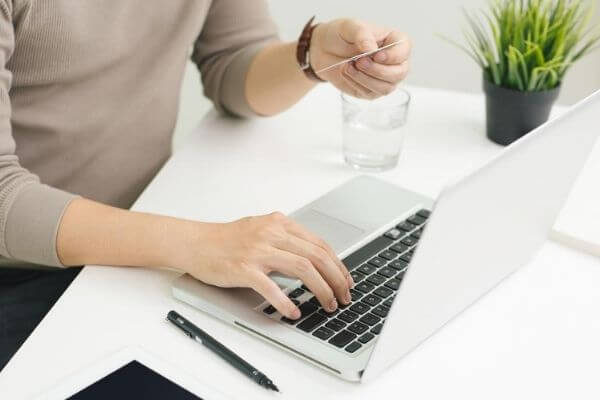 Quicken is very helpful and powerful software that helps you keep track of your most important financial data. However, there are lots of alternatives to Quicken with different features and functions that may suit the needs of each individual user better than Quicken does.
Some people prefer Empower or Mint because they focus more on managing investments rather than personal finance management. Also, cost is a factor for many users.
Empower Personal Wealth, LLC ("EPW") compensates Money Bliss  for new leads. Money Bliss  is not an investment client of Personal Capital Advisors Corporation or Empower Advisory Group, LLC.
Empower is a personal finance app that helps its users track their spending, net worth, and income. It offers information on investments, retirement planning, mortgages, and insurance. Empower can help you to save money, save time and even make more money.
Empower offers powerful tools to help you plan your investment strategy along with basic budgeting features and a great net worth tool. It also has a free account, unlike Quicken which charges for its services.
If you are looking for something free, check out Empower!
Check out my Empower review.
Money Patrol is a great program to help analyze your personal finances. It can track spending, cash flow, and bills separately in order to get a detailed view of your financial situation.
However, it only specializes in budgeting which may not be enough for some people who want more information on investing as well.
Qube Money is an online digital envelope budgeting platform that aims to help people spend their "Cash" and get ahead with their bills.
The cash envelope system made easy. They invented digital cash envelopes. Real-time financial awareness without carrying cash.
Basic is free to use. Upgrade for more qubes. Start today.
If you are a spreadsheet person, then Tiller is the only tool that automatically updates Google Sheets and Microsoft Excel with your spending, transactions, and balances each day.
Tiller Money helps you track all your finances in one place. You can customize what you want and no ads!
Quicken Review FAQs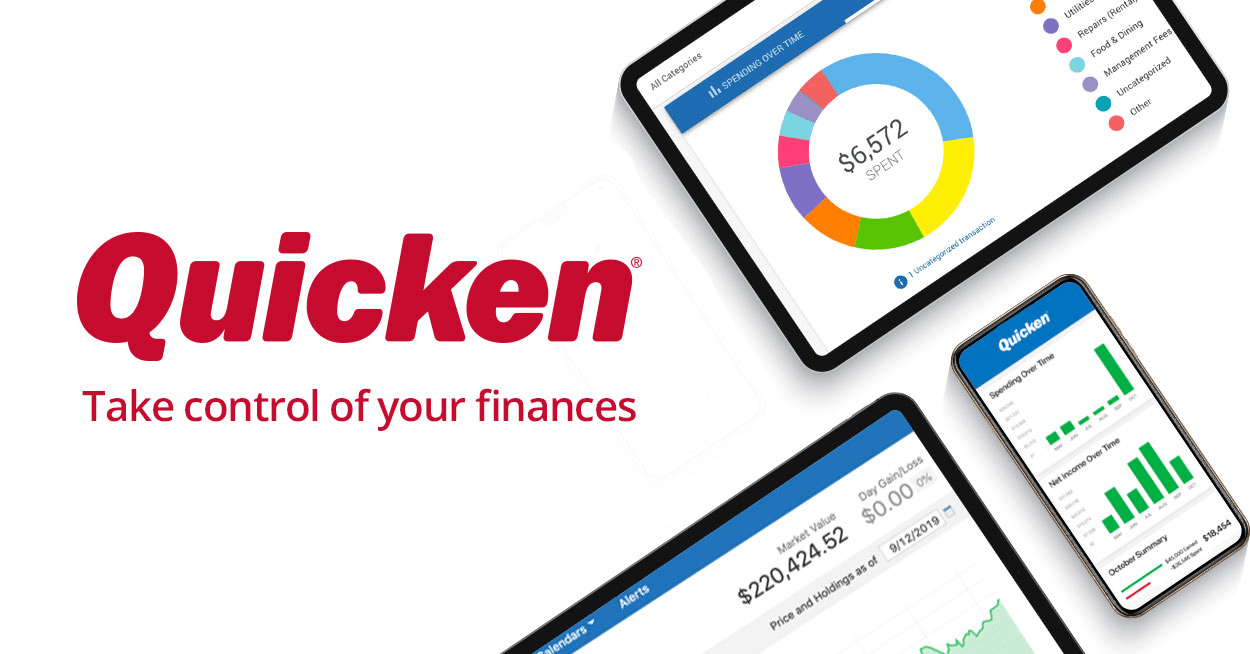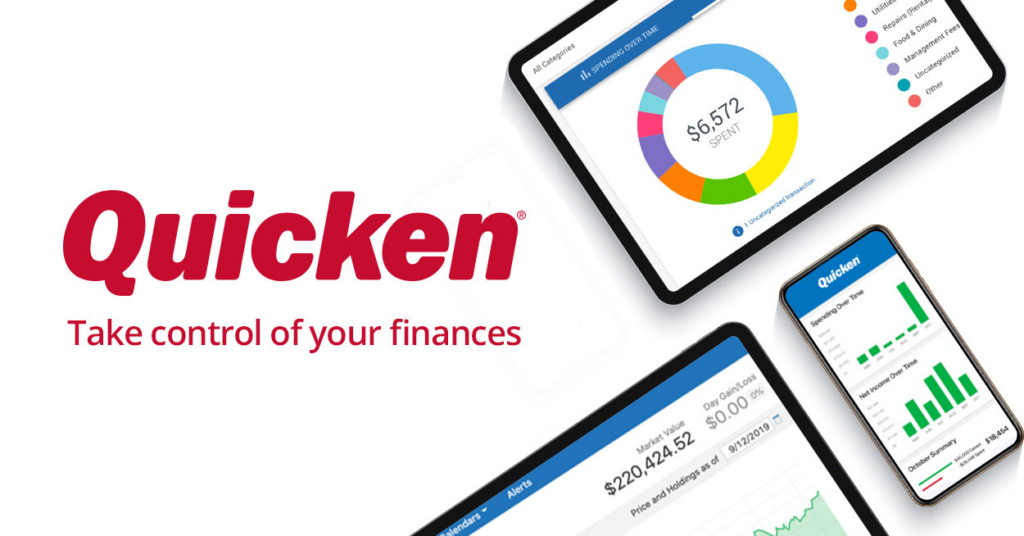 Here are answers to the most common questions people have about Quicken.
What happens if you don't renew your Quicken subscription?
If you do not renew your quicken subscription, it will expire on the date of expiration. You will be unable to use any features that require a current quicken subscription.
For those who enjoy automatically downloading your transactions, you will not be able to do that. For me, I find the convenience of downloading transactions cheaper than manually entering them.
If you don't renew your quicken subscription, it's not the end of the world.
What if I don't like using Quicken?
All plans come with a 30-day money back guarantee.
This lets you try out Quicken before committing to it and buying their software. This is a great option to try Quicken out since all plans come with a 30-day money back guarantee.
If you decide not to renew your subscription after the year, then you lose the features that require an active QUicken subscription.
You'll need to contact Intuit customer service for help getting refunded.
What about Quicken upgrades?
Quicken upgrades are very important because they can bring in new features and enhancements that make your software more usable.
You never had to pay for upgrades if you have a current Quicken subscription.
They are consistently upgrading their features. This is the best reason I am happy with the subscription based model. Yes, I am paying more to use Quicken. But, they are constantly upgrading and making the software better and my ease of use is improved.
Upon starting the Quicken software, they will walk you through the latest updates. See these screenshots from my latest update.
Does Quicken have any promotions or discounts?
Yes, Quicken is currently offering 10% off of new memberships. Click this link for new users.
All plans also come with a 30-day money back guarantee.
What About a Quicken for Mac Review?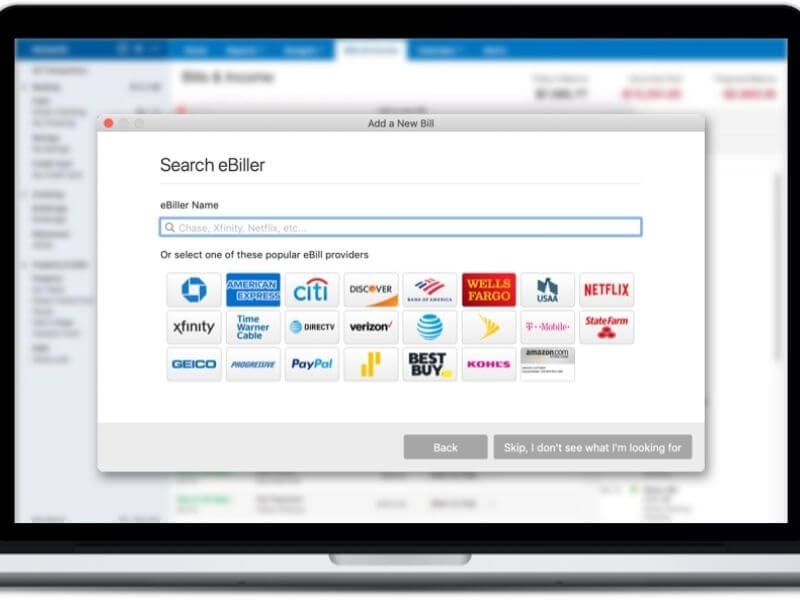 Quicken for Mac is the most popular version of this product, and it has a variety of features that make it easy for users to manage their personal finances.
There are some features that are not available for Mac and only available on the Windows version. This is highly frustrating for Mac users (believe me, I get it. However, Mac users and loyal Quicken fans have made their requests known and the company has taken note.
For instance, Quicken Home & Business is only available on Windows.
Also, as of now, you are unable to track cryptocurrency.
In Quicken for Mac 2021, over 500 customer-requested improvements and fixes were rolled out plus significantly improved reliability.
Personally, I am very happy with using Quicken for Mac and look forward to the new features being rolled out.
Is Quicken Personal Finance Worth It?
Quicken is a popular personal finance software that helps people track their spending and manage debt.
If you are considering purchasing Quicken, there is a chance that it will be the best budgeting tool for your needs. Hopefully, this Quicken review helps you make a decision.
Quicken offers a free trial, but many users believe the paid version is worth purchasing.
The app is compatible with Windows, macOS, and Linux.
Quicken has a lot of great features that make it worth the money.
One example is its budgeting tool, which helps people organize their finances and find ways to save more money in case they have too much or not enough.
The company has been around since 1983 and offers a stellar return on investment for users who are looking for easy-to-use personal finance software with lots of tools at hand.
There is also a possibility that after you've bought and started using Quicken, it might not meet all of your expectations. But don't worry! You can always upgrade to an improved version or buy another software product like QubeMoney which offers envelope budgeting.
Please leave me your Quicken app review.
Best Budgeting Apps - The Top 10
From all of the free and paid budgeting apps, here are our top budgeting apps to check out!
This section may contain affiliate links, which helps us to continue providing relevant content and we receive a small commission at no cost to you. Please read the full disclosure below. Personal Capital Advisors Corporation ("PCAC") compensates Money Bliss  ("Company") for new leads. ("Company") is not an investment client of PCAC.