This post may contains affiliate links, which means I receive a small commission at no cost to you. Please read the full disclosure here.
It's time for the ghosts and goblins to take on the neighborhood streets! Halloween is the FUN holiday of the year!!
For many people, Halloween is their favorite holiday of the year. And rightfully so, it is fun to take a break for our normal selves and transform to our favorite character.
Did you know Halloween is the 2nd highest spending holiday in the US? 2017 was a recording setting year of $9.1 billion spent on Halloween. For comparison sake, $1 trillion dollars is spent for the Christmas / holiday season.
Seriously, the average consumer spends $86 on Halloween. (And men actually outspend women at Halloween time!!)
In all honestly, $86 is a small amount of money (but every penny counts at the end of the day). There are ways to have a frugal Halloween and still enjoy the fun.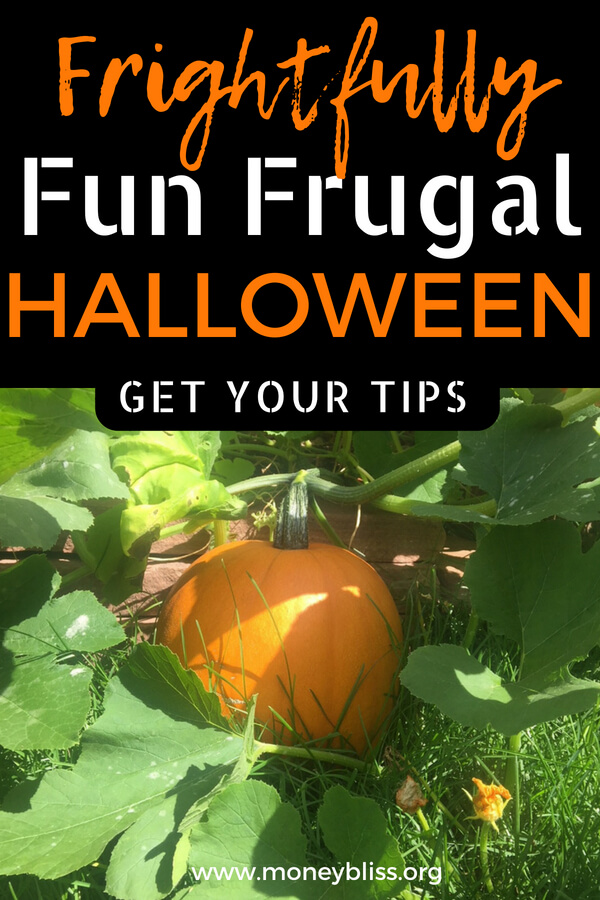 Frightful Frugal Halloween Tips
1. Decide How Much to Spend
The number one way to stay on budget is know your number. Decide in advance on how much you want to spend on everything Halloween. This is the difference between the millionaire next door and living paycheck to paycheck.
It is so easy and simple to pick up a couple of last minute items because you couldn't resist. I'm guilty of that one, too!
Set your frugal Halloween budget and stick to it.
2. DIY or Buy Retail
This is my dilemma each and every year. Yes, I could pull out some crafty skills. But, my projects never turn out as good as the Pinterest Halloween ideas (sigh). Then, there is that thing called time. Time is precious. So, what should I do – DIY Halloween or be a Normal Halloween consumer?
The debate is real.
Be honest about your abilities and the amount of time to dedicate to whatever you decide. The holiday in short and held in the dark.
Especially if you are looking for a frugal Halloween!
My go to DIY project each there is this. It is one thing that would be really hard to screw up. Plus it is a kid favorite! Throw in some glow in the dark spiders for extra fright!
Or check out Esty for some great ideas!
3. Halloween Costumes
Halloween costumes make up the majority of spending at Halloween.
Regardless if you are looking for child and adult Halloween costumes, there are so many options and the prices are cheap compared to 20 years ago. However, they can still break the bank at $30 and up.
So, where can you find Halloween costumes for the frugal family? First, shop used. Remember, many costumes are worn just once, maybe twice. Some of my favorite places to look: NextDoor, Facebook Buy & Sell groups, Mom Buy & Trade groups, and Craigslist.
If you know your little Superhero or Princess is planning to live in their costume for the next year, check Amazon and Target. Sometimes buying new is worth it since they wear it every single day.
Here is a little formula to figure out the true worth vs. cost:
Costume cost: $30 and they wear it 100 times equals 30 cents per time worn.
Pretty worth the money, right?
Target is known to run great Halloween sales. And you can get the same deal shopping online (at least in past years.) Simple and easy plus guaranteed to get the size you need. Win-win.
Another great way to save on Halloween costumes is to reuse them for more than one year. Say what?
I know it may seem crazy. That is a frugal Halloween for you!
But, kids love the same character for more than one year. For adults, it is easy to collect a few of your favorite characters and rotate them every year.
Have you considered using big cardboard boxes? One of my favorite Halloween costumes growing up was when my friends and I went as a table and chairs. Creativity for the win! Just because everyone tends towards the new, shiny costumes doesn't mean you have to follow.
Think outside the box and save money along the way!
Key Money Learning for Kids…
If your family participates in commission jobs, then let your child buy their costume. This is a great learning opportunity. Teach them to save their money for something big, the advantage of cost comparing, and the joy of money well spent. I still remember the day when my then six year-old bought his Superman costume with his own money. He was SO proud of himself and we were proud of the money lessons learned.
4. Halloween Candy
One of my favorite memories was the guy on the corner who passed out King-Size Candy Bars! As a kid, it was epic! Later, I learned he bought 10 candy bars and then he was done handing out candy. That is one way to handle trick-or-treaters and set the cost.
For those that are truly social or don't want to leave a kid out, that idea would never work.
So, what are you left to do?
Pass out the cheap candy or splurge on name brand chocolate?
That is completely your decision.
If you have kids trick-or-treating, it is normal to take the candy your family won't eat and refill your Halloween bowl. AKA being frugal.
To stretch out the candy, we pass out temporary tattoos to the little kids (and guess what, most big kids will take them instead of candy). This is a win-win for me as a mom. Less sweets in kid's hands and less money spent. Win-win!
Candy & Allergies – This is a growing area of concern for many parents. The Teal Pumpkin project has taken off, which is great! To celebrate, think about picking something up to tell trick-or-treaters with allergies that you have something special just for them. Find ideas here…
5. Party Supplies & Halloween Décor
Okay, this is what will make or break any frugal Halloween budget.
It is a challenge to stay on budget on Halloween when it comes to party supplies and decorations. The best option is to stock up after the holiday and store for the following year. Many stores will have their Halloween items 60-90% off. That is a huge savings.
And if you are reading that and saying what about this year. Check out U.S. Toys; that is my go to place for frugal decorations and party supplies.
To stay organized with décor items, this is the bin I use to rotate my seasonal décor items. It is simple to rotate seasonal decoration items in and out. Plus I will always know where I put that really, cute frugal Halloween item I bought on discount.
The best and cheapest Halloween decoration is spider webbing. It is super easy to use (and store for next year). Download some Halloween music. Add a holiday light projector.
Frugal Halloween is complete.
Plus, two of the three items can be used year over year and the light projector for other holidays, too. One-time upfront cost to be used many years to come. That right there is the definition of being frugal. Spending money when needed to save in the long run.
For one-time use items, Dollar Tree is a great place to stretch your Halloween budget. Did you know – you can easily shop online and get free shipping to the store. Then, you are guaranteed to have the Halloween items you want.
It is possible to have a frugal Halloween and still have frightful fun for all of the trick-or-treaters. Just remember what you plan to spend and stick to it. Don't be afraid that a frugal Halloween means no fun Halloween. It means you are being wise with your choices while still enjoying the holiday.
What are your favorite ways to have a frugal Halloween?