Teri Ijeoma: The Most Interesting Woman Changing How to Invest
Inside: Teri Ijeoma is a trader, professional speaker, writer & entrepreneur. She has made it her life mission to help people of color to become financially independent through active trading.
The world has been trying to figure out how to invest for the past few decades. People are wanting to get into the game only before being held by big banks and hedge funds.
There's always a new trend, but this time around there is a woman who will change it all: Teri Ijeoma.
She teaches us the simplistic basics of how to become an investor using her proprietary IWT system so you don't need any experience or qualifications to be successful.
Teri Ijeoma has been featured in Forbes, Business Insider, Yahoo Finance, and many other publications for her work and how she is changing the wealth gap for people of color.
I'm sure you'll find Teri Ijeoma to be quite engaging and a gifted teacher.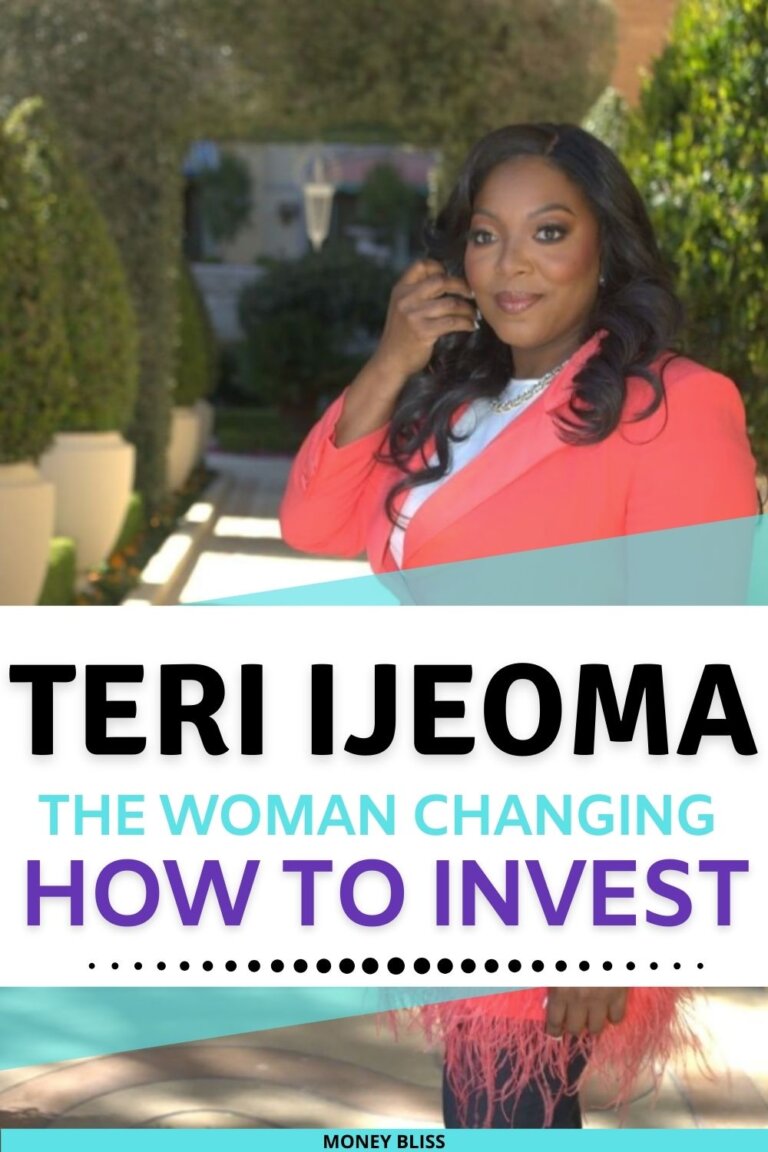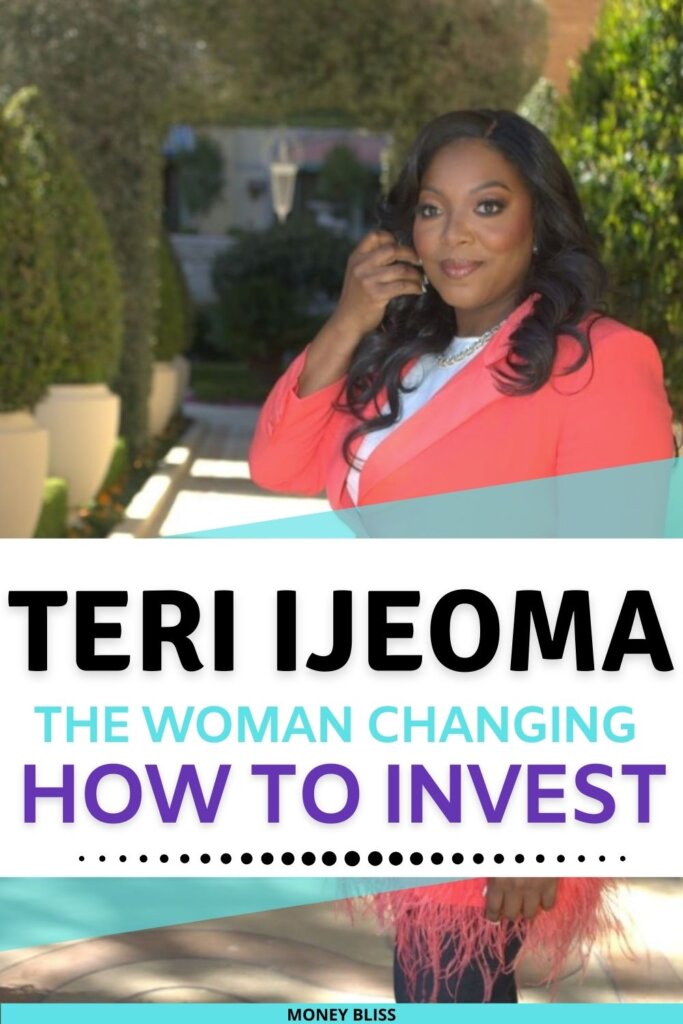 This post may contain affiliate links, which helps us to continue providing relevant content and we receive a small commission at no cost to you. As an Amazon Associate, I earn from qualifying purchases. Please read the full disclosure here.
Who is Teri Ijeoma?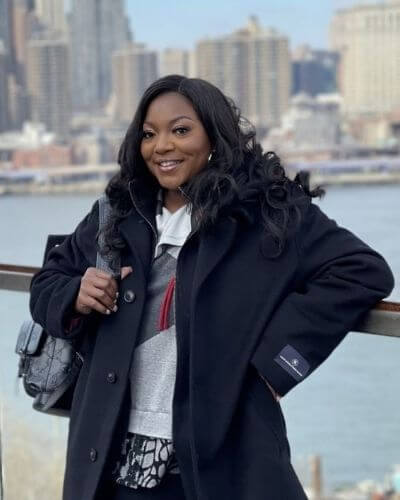 Teri Ijeoma is an African American woman who is changing the face of investing.
After working in education and non-profits, she decided that there was more in life she wanted to do and explore but was limited to an assistant principal salary.
She started trading stocks 11 years ago as a side hustle to supplement her income. She was so successful that she quit her job and began traveling the world full-time.
Teri's story is an inspiration to anyone looking to change their life for the better.
She also runs the popular website Teri Ijeoma where she shares her knowledge on investing and entrepreneurship.
What inspired Teri to begin investing?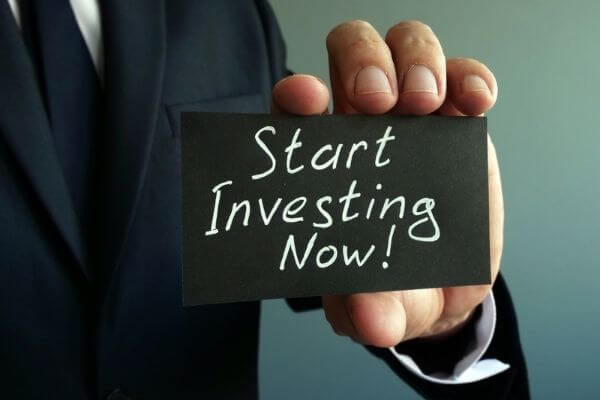 In high school, Teri was first introduced to the stock market by a program at Northwestern University. This program took juniors in high school to the Chicago Stock Exchange where they introduced the student to finance. That was her first introduction to stocks.
When Google had its first IPO in 2004, she asked around in her family and no one knew how to invest in stocks.
When she continued her degree at MIT and did an internship with Morgan Stanley, she was exposed to the stock market a second time.
Since Teri Ijeoma was working for someone else and facing a lot of stress from her job, she was looking for an exit strategy. She decided to find another way to make money that was less stressful and more simple. That's when she began investing.
Teri's goal is for anyone to be able to start investing without too much effort or education required. She offers training courses and financial education through the Trade and Travel website.
How has Teri's approach to investing changed over the years?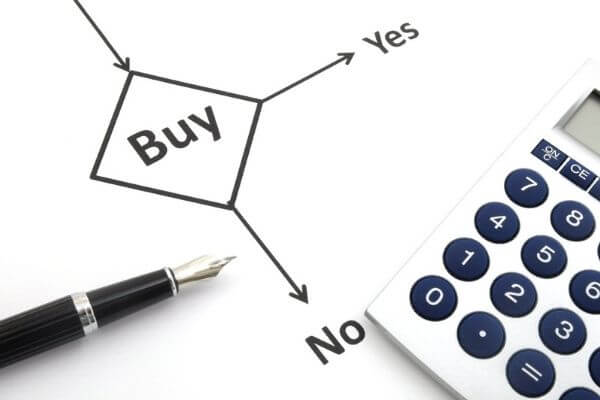 Teri's approach to investing has refined over the years as she has gained more experience. Early on, she was more conservative in her investments, but she has since become more aggressive and willing to take risks in order to achieve higher returns.
For instance, it took her students to convince her to start trading options.
Teri's stock watchlist of companies to invest in has remained mostly the same, with a few changes that have primarily been for performance. For example, she never invests in penny stocks because they are too volatile. She favors the tech sector.
This is women teaching many people how fast can you make money in stocks.
What are some of the most important lessons Teri has learned about investing?
Some of the most important lessons Teri has learned about investing are:
Always do her own research
Use proper risk management
Never invest more money than she can afford to lose
Manage her overall portfolio
Her first big loss on Pandora defined her career as a trader. We can all thank her mom for convincing her to keep trading.
What advice would she give to someone who is interested in starting to invest?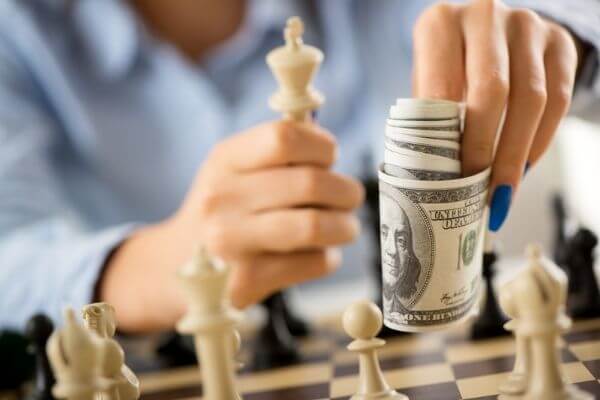 Follow one strategy.
In Teri's case, she would tell you the Invest with Teri method has served her well over the years as well as the thousands of students in her $1000 a day club.
As a former educator, Teri has developed a terrific curriculum and supportive community for those interested in starting to invest. In fact, most regret waiting so long to become one of her students.
Her mantra is to stay calm and doesn't panic when the stock market declines. "A lot of people panic when there's a market crash," Ijeoma says, "but that's actually the best time to invest."
By buying low and selling high, you can make a lot of money off of the stock market.
How did Teri start teaching others to invest?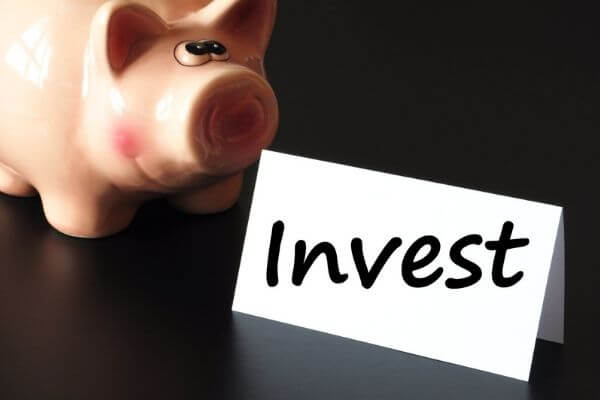 During her travel, people are always asking Teri how she was affording to travel.
She is open and honest and said she has been able to make money in the stock market, and that curiosity has led her to trade stocks full-time allowing her to travel.
Teri was constantly asked to show others how she was making money in the stock market, which led her to trade full-time, and if she could teach others.
Her first class was in Thailand with people she meet traveling and then in Vietnam. By the time Teri returned to Dallas, Texas, her friends begged her to teach them, so she started a small in-person class.
Due to the popularity and success of her early students, she created an online investing curriculum with Teachable, which now has amassed thousands of students.
Teri's Initial Goal with Trading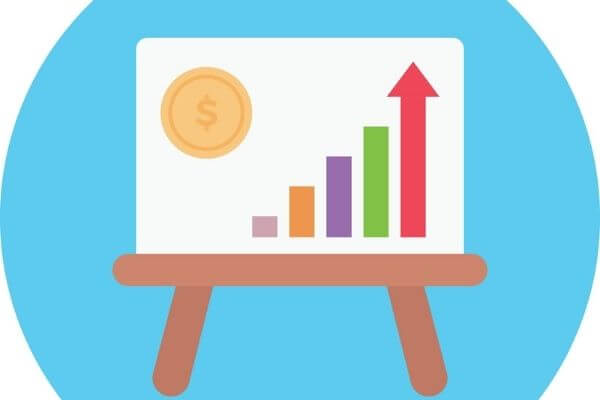 Today, Teri is an amazing example of how to invest.
When she wanted to leave her job as an assistant principal (probably making above the median teacher salary of $60000), she needed to make $300 a day by trading stocks.
Her goal was to replace her assistant principal salary entirely through trading.
She has become a multi-millionaire through her own hard work and determination and now teaches her students to make over $1,000 a day!
Teri's story shows that anyone can change their life if they put their mind to it and are willing to learn.
Her experience and knowledge have made her one of the most sought-after educators in the area of trading and investment.
Teri Ijeoma Net Worth
First of all, no one knows the exact net worth of Teri Ijeoma. She is a multi-millionaire and has been quoted to be worth $40 million in a recent YouTube interview.
However, Teri has a level of humility not seen in many millionaires that built a successful startup businesses. You will never know her exact net worth because that is her business and not yours.
She will admit her tax bill is way more than she ever made as an assistant principal!! In fact, she is very frugal and picky when she decides to spend her money.
Will Teri be the next self-made billionaire?
Teri Ijeoma's Highest Dollar Trade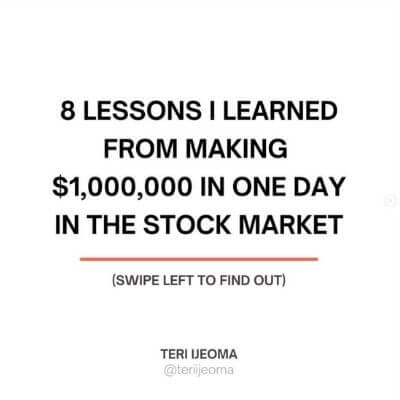 Back in 2021, she made over $1 million dollars in a day. Yes, that is seven figures.
She first revealed this to her Trade and Travel students. Then, she released the exciting truth to her Instagram community.
Her next goal is to make $8 million in one day.
Teri Ijeoma's Online Courses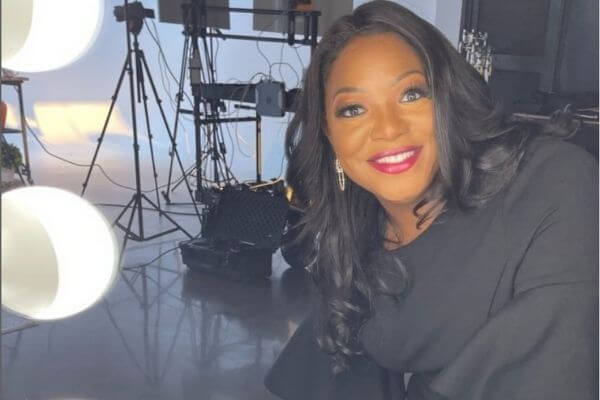 Recently, Teri revealed she has made over $30 million in online courses with her uber-popular Trade and Travel course.
She has built a passive stream of income with her online courses, which are heavily supported by her IWT coaches and staff.
Even if you have little knowledge of the stock market, you can learn quite a bit from her online investing courses.
Teri Ijeoma Age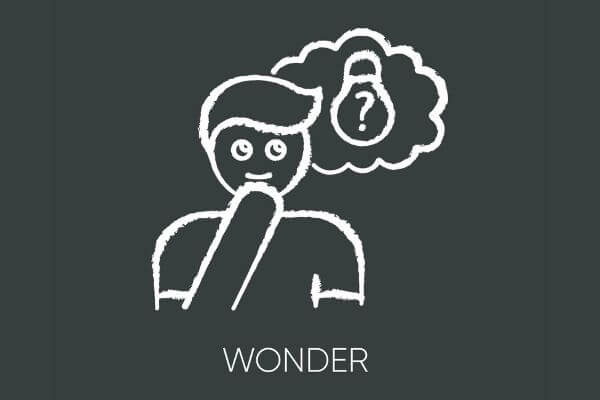 First of all, what women would want their age revealed? Seriously!
This single woman is in her mid-30s and every single guy wants to be her husband.
Where is Teri ijeoma from?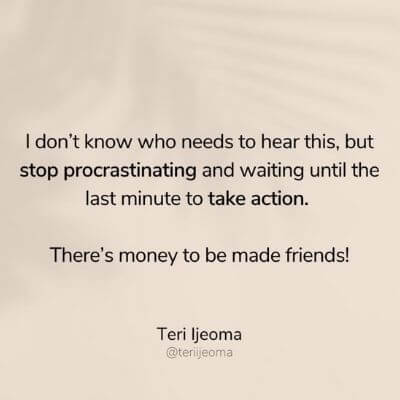 Teri grew up in Dallas, Texas.
Her family stressed the importance of education as a way to succeed. She was raised by her single mother and grandmother in a modest environment. She is a woman of faith.
Teri is now using her knowledge and experience to change the way people invest their money.
Teri's Online Paid Curriculum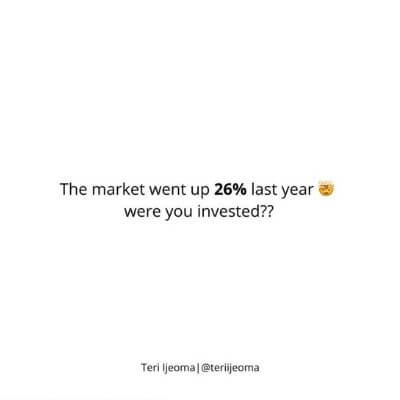 What makes Teri Ijeoma unique is that she offers an online curriculum, Trade and Travel, to share her investing strategies with people all over the world. She wants to teach people how to invest and make money for themselves, which is a valuable service.
Her courses are affordable and easy to follow, so anyone can benefit from her teachings.
Her passion for teaching and trading has made her one of the most interesting women changing how to invest.
Teri's Free Trading Gems
Teri educates others on how to invest through her YouTube channel, blog, and social media platforms.
Teri wants to help people become financially independent and believes that anyone can learn how to invest if they have the right information.
As someone enrolled in her Trade and Travel course, she drops many fabulous trading gems during her interviews.
The Top Teachable Creator
Teri Ijeoma is the grand champion spot of Teachable's 2019 Creator Challenge.
In addition, she was Teachable's first course creator to generate over $10 million in sales in one year. Now, she is sold over $30 million in online courses.
Trade and Travel – Make Income with Stocks


Teri Ijeoma is a world-renowned trader and educator who has dedicated her life to helping people learn how to invest. She has developed unique strategies that remove the stress and risk from trading, making it accessible for everyone.
Teri's signature course is Trade and Travel. Properly named given why she started trading – to travel.
The Trade and Travel program provides step-by-step guidelines for trading. It covers topics such as risk management, technical analysis, and how to find opportunities in the market.
There are many important factors to keep in mind when starting to invest. Firstly, it is important to get started and learn as much as possible. This involves minimizing risk while building confidence. Another key element is to take profits when they are available, but also be prepared for losses.
In the long run, these measures ensure an investor achieves success.
Her students have access to all of the resources they need to learn quickly and become successful traders.
How long is the Trade and Travel course?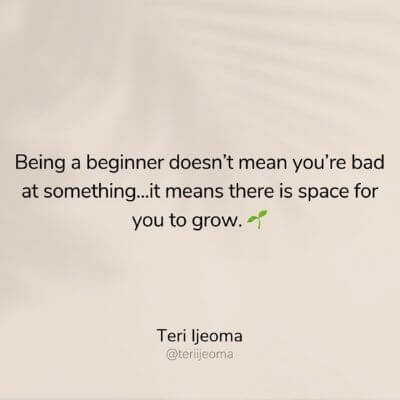 In a nutshell, Teri Ijeoma offers an 8-10 week course that provides over 100 hours of training on how to trade. Plus weekly coaching calls to help you master her strategy.
The program is designed to give you the freedom you need to achieve your goals and live life on your own terms.
With Teri's VIP Trade and Travel Program, you'll have all the tools you need to succeed in the trading world and travel the world with ease.
The great news is you can start on the first section is known as Trade and Travel (or TNT by her students) and later upgrade to VIP.
Personally, I believe you need both courses to be a highly successful trader like Teri.
Read more on my Trade and Travel review.
Is Teri Ijeoma for real?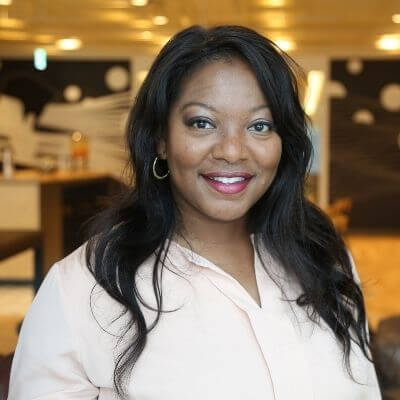 Yes. Teri Ijeoma is a real person. An active swing trader. A gifted teacher.
As well as so many terrific qualities of a wonderful person.
She is experiencing time freedom like she never had as an educator.
Teri's Official Social Media Channels

Teri is all over the social media channels.
However, there are a lot of scammers! So, if you are receiving a DM from "Teri," then you have found yourself a scammer. This multi-millionaire would never do that and doesn't have the time.
So, here are her official social media channels:
If you are stuck in the "I don't want to work anymore" mindset, then this is the lady you want to follow.
Teri's Stock Trading Strategy
Okay, first of all, if you truly want the info on Teri's strategy to trade stocks and options, then be prepared to enroll in her course.
But, I will give you a small teaser.
When the market is going up, you're focusing on finding good companies and doing risk management.
When the market goes down, you are looking at charts, gaps, and Globex.
She recommends options trading to those investors who are excelling at the basic TNT to maximize earning potential, but you need to understand risk management.
How Does Teri Spend Her Days?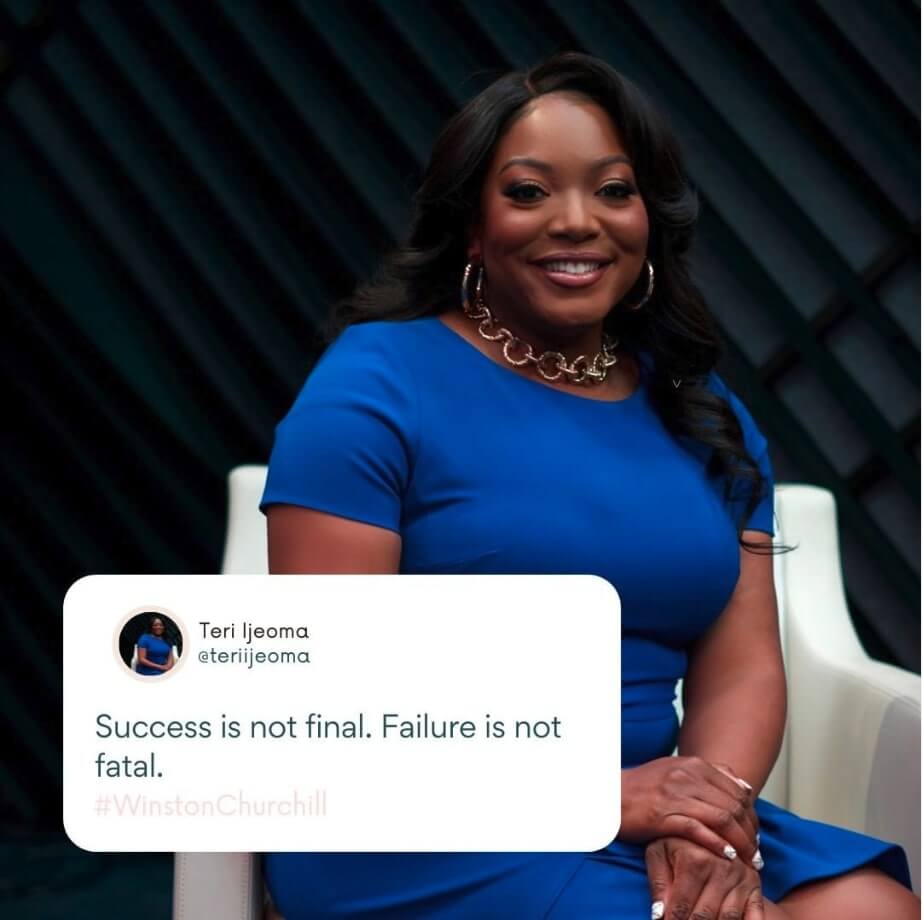 Well, she is one busy woman!
Trading (obviously) is her focus.
But, she is all business when running her Trade and Travel Business, her brand, building content for her YouTube channel as well as plenty of speaking engagements and media appearance.
More than likely she already has a billionaire morning routine because that is where she is headed.
Teri Ijeoma Reviews
The first time you see Teri you will see her gleaming smile and feel her positive vibes. Followed quickly by her signature laugh.
She is known to say, "Let's go" when she is excited about teaching her curriculum or talking about her past successful trades.
Her trading community will tell you she wants everyone to find success and use money as a tool.
She is changing the way people think about wealth and investing but has taught her community to believe that all personal success begins with money.
Maybe Teri's inspiring story will become one of the best movies about Wall Street!
Ready to Learn a New Skill Set for Life?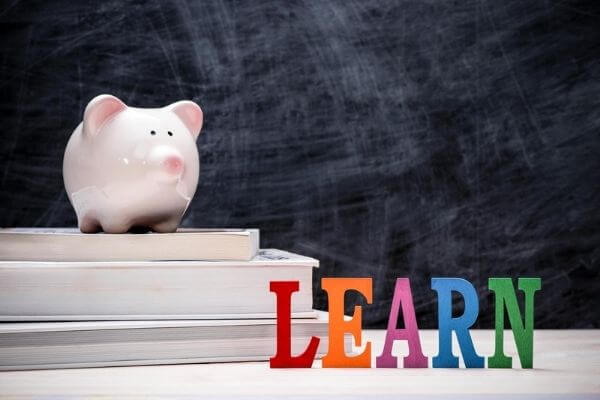 Trading has brought a new level of confidence, discipline, and patience to Teri, and it has given her students the ability to face any challenge that comes her way.
Trading is a skill set that can free someone from the challenges they face in life, and Teri is living proof of that.
If you get the pleasure to meet Teri Ijeoma in person, then you are one lucky person. She lights up any room she is in with her smile, contagious laugh, and genuine heart.
Yes, Teri Ijeoma is for real, and her story is one that should give hope to anyone looking to change their life.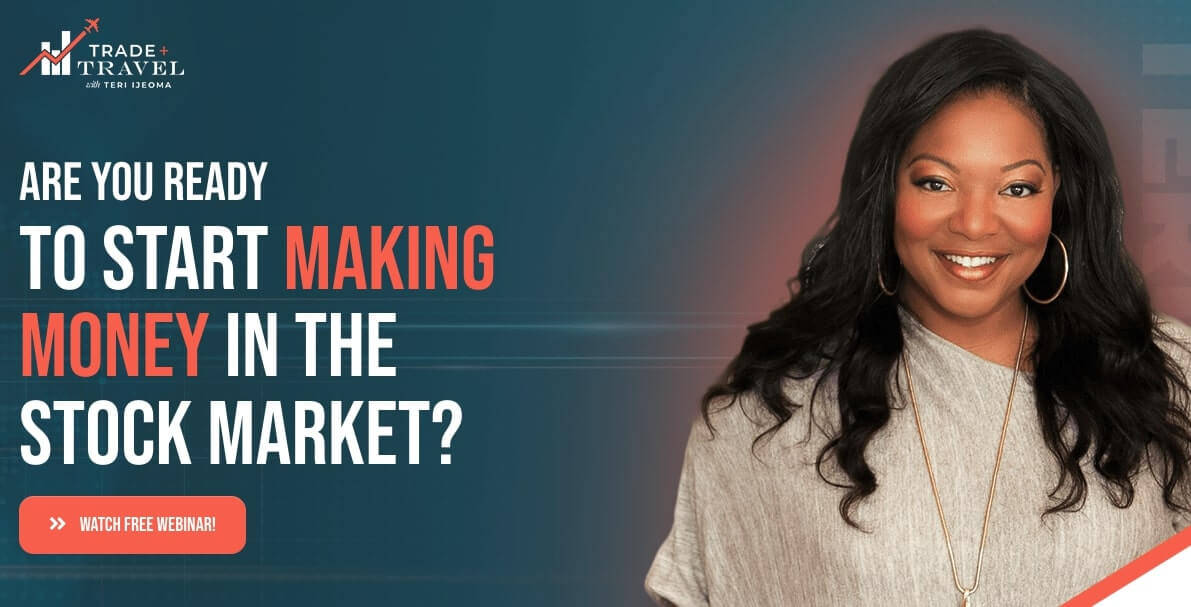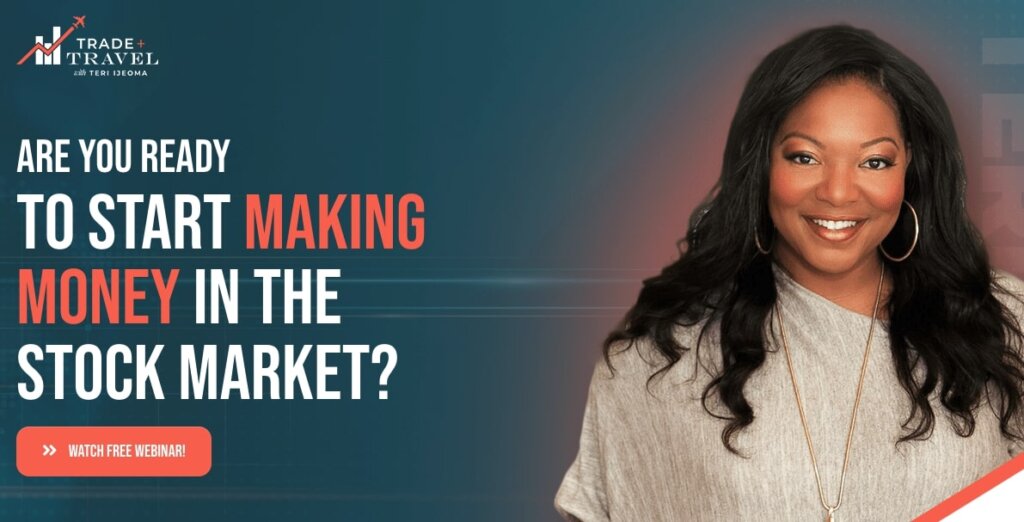 So, what are you going to do with this knowledge?
Are you going to sit and think about what you could do with the extra money? Or are you ready to dig into her popular courses and start making an additional stream of income?
The choice is yours.
But, you cannot complain about your future if you skip getting an investment education from one of the best investing courses available.