This post may contains affiliate links, which means I receive a small commission at no cost to you. Please read the full disclosure here.
Money is everywhere.
Money comes. And money goes.
The big question is where did you money go last year?
Hopefully, you had a plan for your money and you spent it like you planned.
If so, high five! If not, don't be discouraged.
This list is developed of ten money tips to help you succeed in 2019.
Stick around for a little while. (Make sure to join our email list!)
I can guarantee you that you will learn a thing or two (or ten or a hundred)! Your finances will look different at the end of 2019 than they look now.
You won't be the same person with money that you are right now. (And that is a good thing.)
Here at Money Bliss, we want you to change your personal finance situation. Thus, giving you the ability to enjoy life and money.
Whatever that looks like for you – pay off debt, save money, reach financial freedom – we have you covered.
In order to be successful, you must be constantly learning and growing.
So, without further ado, in no particular order, the money tips for success in 2019!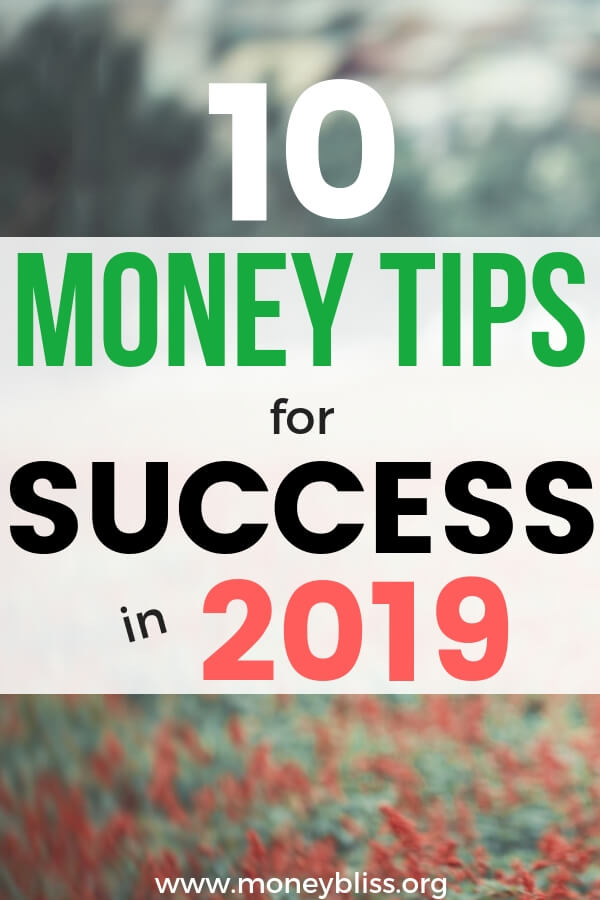 10 Money Tips for Success in 2019
In no particular order because money touches every aspect of your life.
There you go!
Ten money tip posts to help you succeed in 2019!
In all honesty, these money tips barely crack the surface to money management. They do provide a starting point to begin managing money and not being managed by money.
In order to be successful, you must:
Have a plan
Start
Believe in Yourself
Act!
At the end of the day, action moves you forward.
Enjoy reading! Happy learning!