This post may contain affiliate links, which helps us to continue providing relevant content and we receive a small commission at no cost to you. As an Amazon Associate I earn from qualifying purchases. Please read the full disclosure here.
---

The word Christmas and gift giving go hand in hand.
The reoccurring question for many shoppers, "Is there a way to spend less at Christmas?"
For some families, Christmas means inundation of presents. For others, it is simply a time to get together and spend quality time together. Others, it is the longing to give presents, but lack of money to spend.
Regardless of where you fall along the spectrum, buying presents tends to be a part of Christmas.
The average American spends about $800 on Christmas each year. Which can be mind-boggling for many people. And that is just the average number.
If that isn't you for whatever reason, then you are wondering how to spend less at Christmas.
However, you can be savvy and spend WAY less.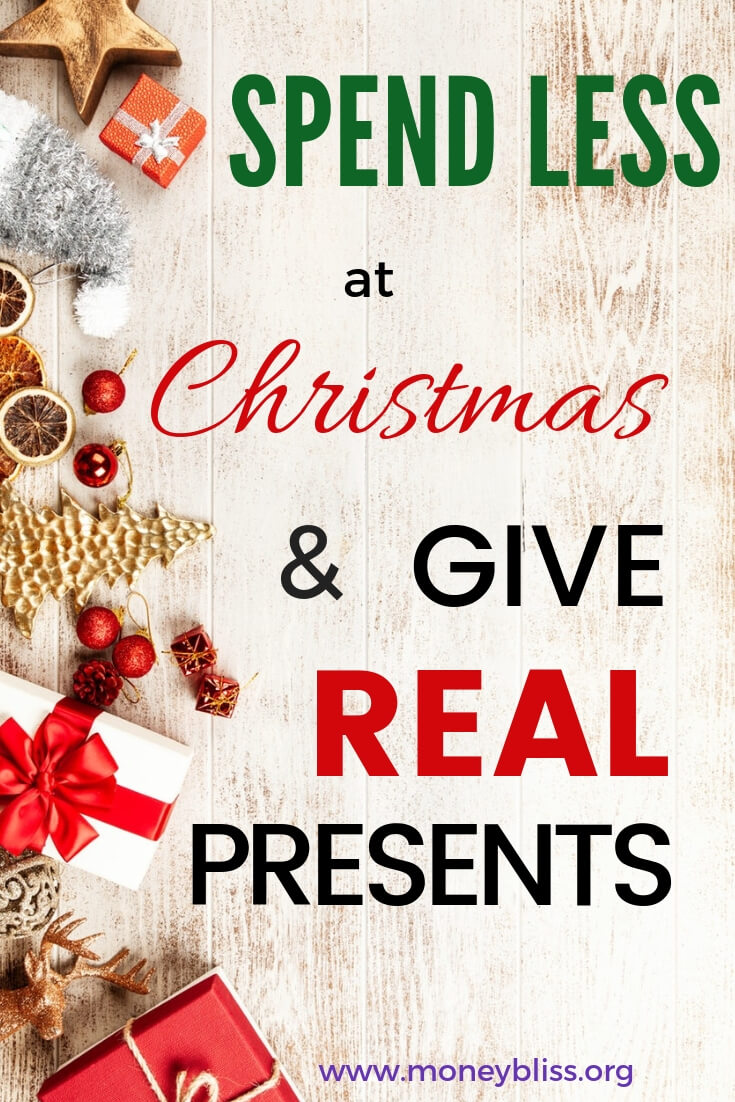 Savvy Ways to Spend Less at Christmas (And Still Buy Real Presents):
These are simple ways you can stretch your Christmas dollars further.
You can still have a fantastic holiday season!!
1. Buy Less
Yes, this one seems pretty obvious.
Be armed with knowledge on staying within budget this holiday season. On this post, 8 Simple Tips to Stay on Budget at Christmas, #5 is the hardest for me personally. But, when I do, I save thousands over the year.
However, with all the deals and marketing, it is hard to resist one more present. Just that one more present…
Justification moves in fast on spending the money.
Tips to Buy Less:
Decide how many presents you want to give each person.
Set a budget that is doable for your current money situation.
Remember what you decided and commit to buying less this year.
Download your copy of the Christmas Budget Tracker and Gift Planner to keep you on track.
Related Post: Awesome Gift Ideas When you're Broke
2. Shop Local
You can pick up unique items for those special people on your list. There are many ways to save money when shopping local.
Plus it is a great opportunity to help local small business owners.
Look for coupons in mailers, check their online website, or even find small business that have bundled a gift together.
If you are looking for a personalized gift, shop Etsy. This is another small business owner – just with an online presence. Also, many items are less than the mass produced version plus they are personalized.
3. Use Deal Sites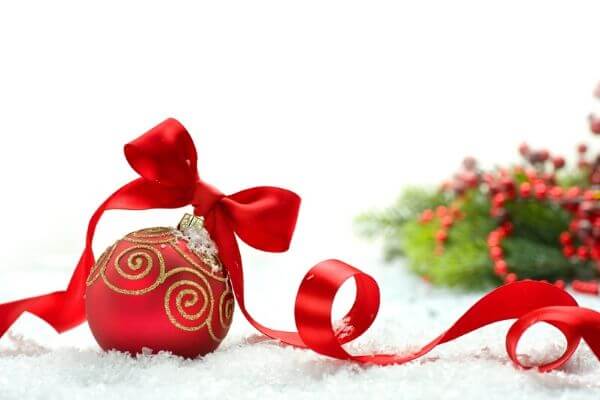 This is simply the easiest way to save money – not just on gifts, but entertainment and eating out.
All gifts are at least 50% of the retail price.
You can easily gift them through email. You save money. They get to try a new restaurant or activity. It is a win-win!
The first thought is…Oh, I don't want them to know I didn't pay full price on their gift. Throw that thought out the window. They will view you as a savvy shopper. Plus you probably can spend more than you planned on.
Here is an example: You were planning to spend $25 on Aunt Susie. You have two options. First option, you can buy one deal for $12 that is worth $25. Second option, you can buy one or two deals spending $25 that are worth $50. Pretty savvy, right?!?! My favorite deal site to find presents… Groupon.
Another great option is to check into an Entertainment Book. They are full of coupons for all sorts of restaurants, retailers, and activities. Plus the price can't be beat!
Related Reading: The Most Epic Christmas Gift Ideas for Kids Under $10
4. Give the Gift of Time
Personally, this is one of my favorite gifts!!
Spending quality time with my family and friends. (Hint: no phones allowed.)
You can make it completely free or you can spend money on an activity together using a deal found in #3 above. Also, you create long-lasting memories together.
Some ideas…You can spend the day at the new park and pack a lunch, the evening painting a project together, or spend the day volunteering at a shelter. Be creative!
Resource to help you: How to Spend ZERO at Christmas in a Materialistic Society
5. Amazon's Deals & Own Brands
Shopping at Amazon can be tricky. However, if you are armed with savvy knowledge, then you can actually save money on Amazon.
There are many ways money saving tricks on Amazon.
Many people have heard of Lightning Deals with Amazon, but have you heard of Amazon Outlet? Did you even know that existed?!?!? What about all of Amazon's own brands? This is online shopping and saving money combined into one.
Lightning Deals
With Lightning Deals, you have the chance to purchase an item at a discounted price for a limited amount of time. Thus the "lightning" concept, you have to move quickly. Check the latest lightning deals here.
Early Black Friday Deals
So much hype is put into Black Friday! But, retailers have gotten smart. Typically, the best deals are not found the day after Thanksgiving anymore. This isn't 100% the case. But, more deals are happening earlier as well as for the last minute shoppers. Check out Amazon's Black Friday Deals here.
Amazon Outlet
At the Amazon Outlet, you will find low prices on markdowns, clearance items, overstocks, and more!! The savings vary per department, but you can score some great deals. For the most current items in the Amazon Outlet, go here.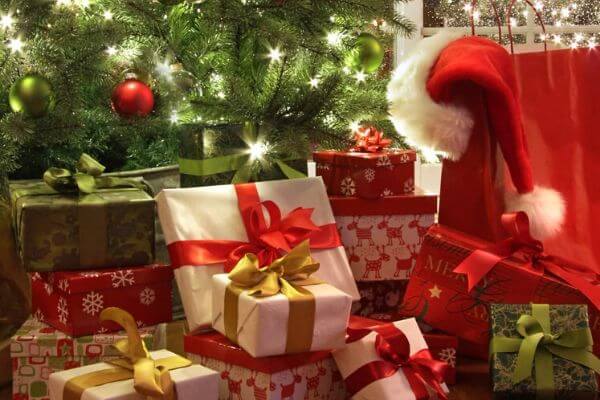 For Clothing
This is probably the biggest secret of Amazon – their own clothing line called Amazon Essentials! At first, I was hesitant because the prices are 50-75% less than other retailers. However, my hubby found this and we couldn't pass up the savings. (Just FYI…The quality is great and has held up for a fraction of the price.)
Check out everything in the Amazon Essentials Clothing line.
For Electronics
I first learned about the Amazon Basic items when I purchased this (and it works so much better than any other knockoff brand). You can find batteries, cable cords, camera accessories, laminators, safes, office chairs, and so much more. While most of these items aren't gift giving, knowledge is power here on saving money on the household basics.
Learn more about Amazon Basics.
As you can tell, I prefer online shopping to shopping in the stores. I can get exactly what I want and never leave my house. I love the convenience of shopping online and delivered to my doorstep.
Okay, honestly, I cannot stand the traffic around the mall. No one knows how to get in and out of the parking lot. #worstdesignever
6. Keep the Goal in Mind
There are plenty of money saving tips above. However, overspending can blow away any goal to spend less.
Take time before the holiday season gets crazy busy. Outline how you plan to spend your money and your time.
Figure out your Christmas Budget now. Don't delay.
Don't get caught up in what everyone else is doing. Many times the simpler, more relaxing Christmases are the reason for the season. Enjoy your family and have less stress.
Plus make this a debt free Christmas when you spend less on Christmas gifts.
Download the Christmas Budget Tracker and Gift Planner now.
Bonus Tip: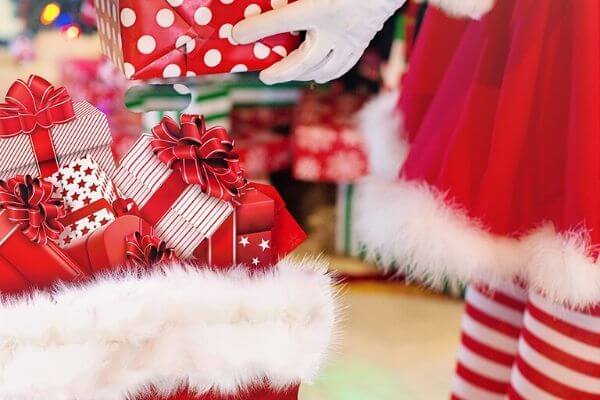 Think about what you are planning to buy for your family in the upcoming year. It could be sports gear, trip related items, clothing, art supplies, the list could go on and on…
For instance, we needed to get camping gear for our kids specifically air mattresses and kid sized Camelbaks. Since I was already planning to spend the money, we decided to give it to them early as a Christmas present. And they loved it plus they still talk about that Christmas.
Simple way to spend less on Christmas gifts.
This simple money saving tip is helping to save money across multiple areas of your budget. What can you buy today as a gift that will need to bought in the future anyways.
Plenty of great tips and ideas to spend less on Christmas and give real presents. That is how to spend less at Christmas as a savvy shopper.
The joy of Christmas is in the giving of presents. Not spending more than you planned and regret it.
In conclusion, there are ways to give amazing presents without breaking the bank. Let the holiday spending stay during the holiday and not carry over into January.
Comment below on which savvy way you plan to implement at Christmas and what savvy presents you are giving this year.
More Christmas Tips: