Save for Christmas: 25 Simple and Festive Ways to Make Your Holidays Easier
This post may contain affiliate links, which helps us to continue providing relevant content and we receive a small commission at no cost to you. As an Amazon Associate, I earn from qualifying purchases. Please read the full disclosure here.
---
Are you ready to save for Christmas this year? Maybe get a Christmas saving plan in place?
It's beginning to look a lot like Christmas! (Regardless of the time of year, Christmas is always right around the corner.)
Jingle bells…jingle bells…jingle all the way!
Time to get prepared, right?
Each year, we start hearing the Christmas and holiday songs earlier and earlier.
And each year, we always say that this will be the year that I will be more prepared and save money for Christmas.
So, will this be the year that you begin to save for Christmas in advance? Or will it be like last year with a last-minute scramble and a little credit card debt?
This will be the year you save up for Christmas!
Since Christmas will be here before you know it!
Let's learn how to save for Christmas, find 25 ways to save more money at Christmas, use a Christmas savings account, and start a Christmas saving plan.
Are you ready? Let's go…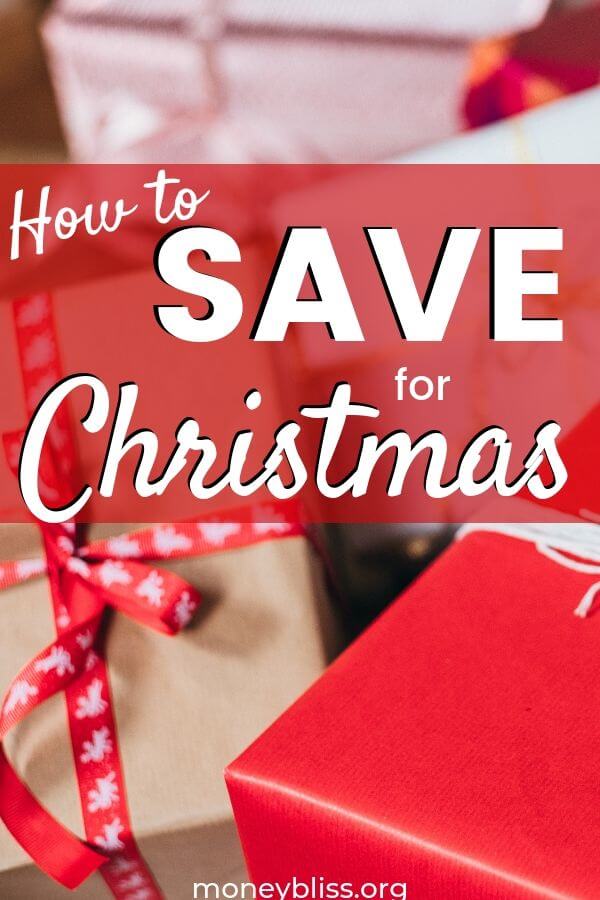 How to Save Up for Christmas
Just like with any type of savings. You are setting aside money to be used for a specific purpose in the future. This time… a Festive and Jolly Christmas!!
It isn't withholding yourself from enjoying life and not spending money.
Saving money ahead of time eliminates these things:
The stress of how to pay for it
Overspending
Guessing game if you have enough money
Instead, you are well-prepared for a stress-free, debt-free holiday season. Who doesn't want that?
1. Make a Christmas Budget
First things first.
Make your Christmas Budget. Specifically, a Christmas that you can afford.
Decide on how much money you can spend this holiday season. Are you willing to spend that money on Christmas or would you prefer to spend a little less and put the rest towards something else?
Joint households…make sure both parties are in agreement on the Christmas budget.
This needs to happen in advance if at all possible. That way you can stay on track.
Pitfall to Avoid: One of the common mistakes is not accounting for all of the holiday related spending. Our Christmas budget template includes everything that arises during the Christmas season (food, decorations, gifts, entertainment), so you aren't surprised. Then, you won't overspend and blow your Christmas budget.
2. Gift Wish List
The fun step! Time to make your gift wish list!
Daydream about the perfect gift for everyone on your list.
To help you, download our Christmas Gift Planner to keep track of all of your ideas. These free printables are in our resource library along with other amazing freebies.
Prioritize your gifts. For example, your kids and spouse will probably use more of your Christmas budget. Then extended family, friends, or co-workers.
Reality Sets In: Maybe this year, you are financially unable to provide the Christmas of your dreams. You can still make the season memorable with how you spend your time and the activities you do.
3. Make Sure Things Match Up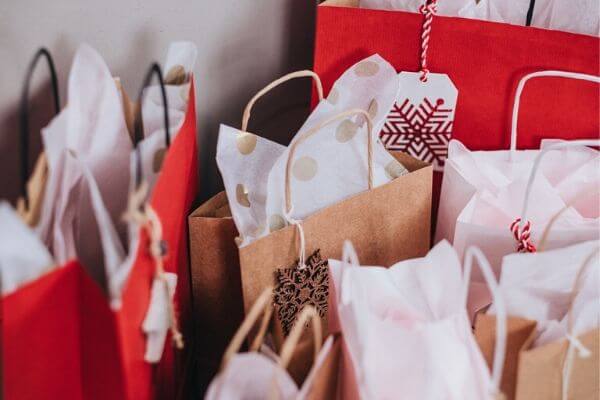 Now, look at your Christmas budget and your gift wish list… Does your Christmas budget align with your gift planner?
Don't just try and fudge the numbers to make it work. That is a slippery slope to overspending.
If things don't match up, then assess your priorities and where you want to spend your money.
Make this year you limit Christmas gifts to just 3 gifts for each kid. That is one way to save money at Christmas and focus on what truly matters.
If you are one of the lucky few, then consider donating the rest of your Christmas budget to those in need. Or surprise the person behind you and pay for their gifts or groceries.
Make it a Habit: This is a tip you can use year-round when you budget money. It is always worth striving to live below our means. Make sure your spending is less than what you planned for.
4. Set Money Aside
This is the crucial part of saving for Christmas.
Time to save!
Each week or each month money must be set aside for Christmas.
Think of it as another bill and pay it early.
That may mean redirecting money from another part of your budget. Maybe eat out less? Possibly pause your subscriptions for a month or two? Maybe only buy the necessities and have a spending freeze to save extra money?
Start earning a little extra income on the side?
In order to be successful in saving for Christmas, then you must start setting money aside on a consistent basis. Keep reading and we will discuss how to set money aside with a Christmas Savings Account.
Helpful Tips: Below we will discuss how to plan to set money aside with a Christmas Savings Plan. Start saving now!
5. Shop on Sale
Furthermore, after-Christmas sales are a good place to save money.
It's not uncommon for Christmas items to be on sale for 90% off and there is no better time than the present when it comes to buying gifts.
Always check the clearance sections and keep your eyes open for great deals at different stores so you can get even more savings because these types of discounts happen all year round!
25 Ways to Save for Christmas
These are the exact ways to save money for Christmas. You can enjoy a budget Christmas and still have a fantastic occasion.
You just need to be savvy with your money!
1. Limit Gifts
2. Travel on Off Days
3. Shop Early
4. Track Your Christmas Spending
5. Revisit Expensive Christmas Traditions
6. Stop Shopping when Your Gift Shopping is Done
7. Consider Giving an Experience instead of Expensive Materialistic Gifts
8. Pull Out Your DIY Skills
9. Say No to Christmas Parties
10. Steer Clear of Gift Exchanges
11. Use Your Gift Planner List
12. Stick to Your Christmas Budget
13. Reuse Christmas Gift Bags
14. Don't Be Afraid to Re-gift
15. Stop Impulse Buying
16. Reuse Holiday Decorations
17. Trim Your List of Who You Buy Gifts For
18. Email Christmas Cards
19. Give Money to a Charity Gift to Bless Others
20. Ask for Gift Receipts
21. Use Amazon Prime to Save on Shipping
22. Stash Deeply Discounted Bargains in a Gift Closet
23. Grocery Shop a Week or Two Before
24. Start a Christmas Savings Account
25. Don't wait until December to buy gifts
26. Sell Stuff with Apps
27. Pause your Gym Membership
28. Drop Subscriptions
29. Use Cash Back Apps
30. Don't forget to start to look for deals EARLY
31. Use loyalty cards to save more money
32. Planning and saving a bit each month
33. Shop at thrift stores
34. Make your own party favors or decorations
35. Make a list – and check it twice!
When Should you Start Saving for Christmas?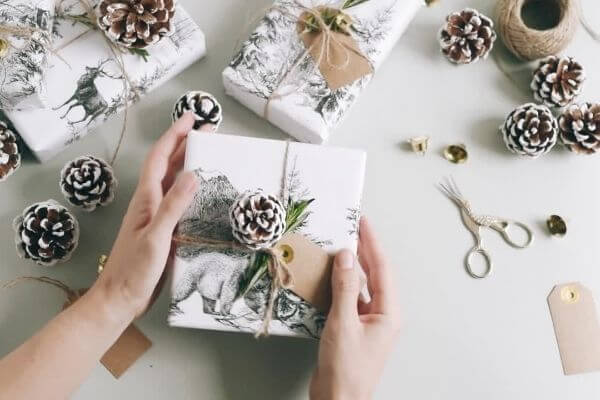 There's no reason to put yourself through the stress of trying to save for Christmas.
You should start saving in January and aim to have a stash of cash by October or November.
That is the best case scenario.
A little behind the ball… then, put a little money aside each month. Set aside as much as you can afford.
There is no reason to put yourself through that kind of stress if you haven't started saving for Christmas. So, plan a smaller Christmas that you can afford.
Christmas Savings Account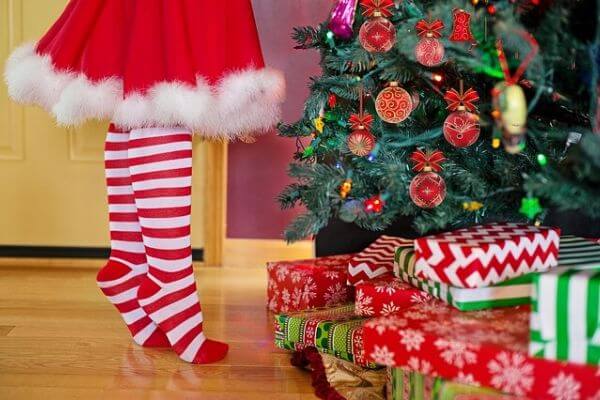 Now, it is time to work on actually saving money.
This is money set aside in a Christmas Saving Account.
That way the cost of the holidays doesn't catch you off guard. You will be prepared to lavish your family in gifts.
Just, by saving money into a Christmas Savings Account weekly or monthly.
Plus you are keeping debt away and not part of your holiday plans for this year.
In all actuality, it is one of the other possible bank accounts you should have.
Learn how to save money in your Christmas Savings Account before time runs out!!
1. Open a Christmas Savings Account
Where to keep your Christmas money hidden away?
There are a couple of different ideas:
Either one work perfectly to save your Christmas money.
The key for success is putting your Christmas money in a place where you won't be tempted to use it for another purpose.
Also, when it is time to spend the money, you are able to track and see when the money you set aside for the holidays has been spent. No debt hangover or overspending this year.
2. Set Up Automatic Transfers
So so critical! When you set up a recurring transfer, then you are automatically saving money without even realizing it.
For many of the Christmas savings plan, you are transferring a small amount of money when your paycheck is deposited into another account.
Make your Christmas more magical by planning in advance. Don't want to save what may or may not be leftover at the end of the month.
Savvy Tip: Don't mix your Christmas saving account money with a general savings account. You don't want to accidentally spend your Christmas money on other things.
3. Adjust Spending
In reality, most people don't have extra money laying around at the end of the month.
We planned to be better with our money this month. But, it didn't work out. Here are great tips to stop spending money.
Don't focus on what didn't happen. Focus on the difference when you have money to spend for Christmas gifts.
Look at your overall budget to see where you can trim your spending. Don't think you can trim anything? Then, figure out your bares bones budget and determine if you would have extra money left over.
Immediately when you paid, put money into your Christmas savings account. Don't plan for the leftovers. Save your Christmas money when the pot is still full.
4. Give Up Something
This is one of my favorite ways to find extra money at Christmas… by giving up something for myself and giving to someone else.
Isn't that what we are taught to do?
You can be an incredible blessing to someone else.
Find ways to save more money by giving up something for a time period.
5. Find More Money
If needed, look for ways to make a few extra bucks here or there. Some ideas include…
Plenty of ways to earn extra money!
Christmas Saving Plan
Now, it is time to figure out how much to save for Christmas to have the stress-less holiday of your dreams.
1. Know Your Christmas Budget Number
Decide the amount you plan to spend on this year's Christmas budget.
Plan to stick to it.
Use the resources earlier to help you decide on your Christmas Budget and the template from our resource library.
2. Number of Weeks or Months Until Christmas
In actuality, you probably want to finish saving for Christmas before the last day of December 24th.
So, the goal to finish saving money for Christmas would be around November 1st. (December 1st at the absolute latest.)
The sooner you have your holiday money saved, the sooner you can start picking up any early Christmas shopping deals. Typically, the lower prices start early in November.
How many weeks are left from when you are reading this until November 1st?
How much do you need to save weekly?
3. Make Your Christmas Savings Plan
So, let's assume… You want to save $1000 for Christmas and there are 3 months left until November 1st. Then, you would have to save $333 each month or approximately $84 a week.
Another example, this year your Christmas Budget is $500 and you have 4 weeks until November 1st. Then, you need to save $125 a week.
The most common amounts people want to save for the holidays are typically $450, $900, or $1800).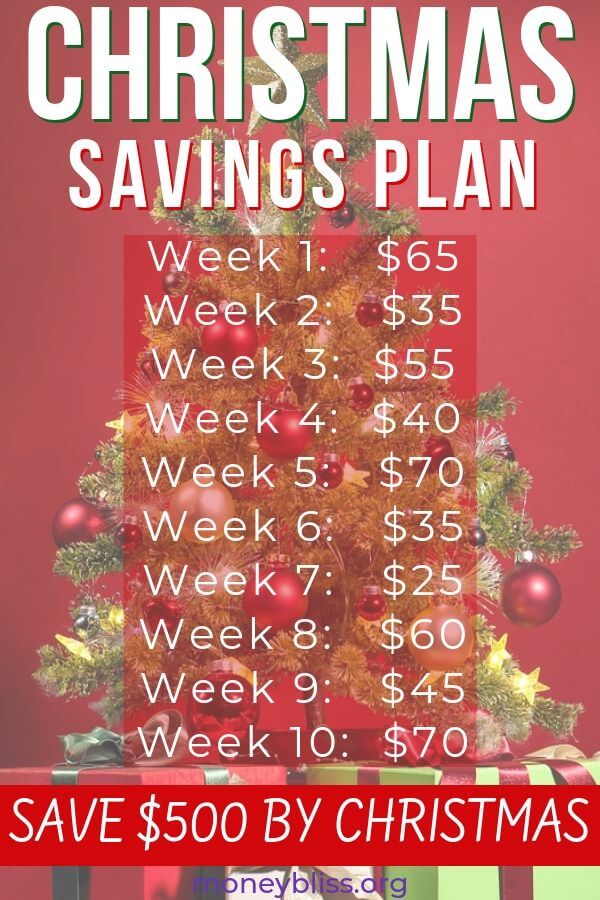 Save for Christmas with a Christmas Savings Plan
Christmas and the holiday season is meant to be enjoyed.
Take the time now to plan ahead and actually save for Christmas this year.
Open up your Christmas Savings Account and fund it with your Christmas savings plan.
Don't start the New Year with a overspending debt hangover.
Make this year festive and fun (and paid in cash)!