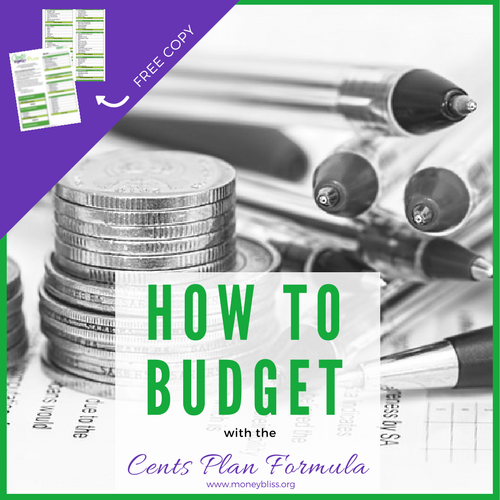 Are you letting money control you? Learn how to control your money.
There are many thoughts on how to spend your money, how much to save, what qualifies as a mandatory vs. discretionary expenses…the list can go on and on. Another big questions is what is the percentage of money to be allocated to each category.
That is why the Cents Plan Formula is simple, easy, and flexible. Ultimately, you decide Where Cents Parallel Vision.
The Cents Plan Formula is made up of 5 categories:
Save
Basic Expenses
Give
Fun Spending
Debt.
Learn more about how to budget with the Cents Plan Formula here.
---

Money is the last thing anyone wants to deal with, but it is the first thing to cause people stress.
"Jumpstart Your Money Mindset is exactly what it states, a chance to be motivated to have a new relationship with money. It is a wonderful balance of encouragement and practical tools that are helping to shift my thinking about money. I feel empowered to take baby steps to see what I am capable of doing with my finances." – T.S.
Learn 7 key factors with this FREE program to become successful with money.
---

Without a money coach, more than likely would just continue on the money path you are currently on.
If you want a change, I have the tools to provide you accountability and actionable results. With one-on-one coaching, it provides the time and presonalization needed to reach your personal money goals. Just like with a personal trainer, career coach, or life coach – you want to see results.
This can be a quick consult or a customized journey just for you… you guide the areas to address to reach Money Bliss.
---
Learn More with the Money Bliss Tips…
Today is the day for you to begin your journey to Money Bliss. Turn a new leaf with money.  Look ahead to what lies before you. Get weekly tips and other amazing opportunities!
Ready to learn the tools needed for enjoying life and money. But, nervous? Unsure?  These mini cycles (programs) are developed as quick learning areas. Download your Free Cents Plan – Not a Budget.  Check out the FREE email course – Jumpstart.
Key Learning Areas:
---
Resource Library
Tons of printables and worksheets in the resource library. Everything is free for personal use. Get access here.
FREE ACCESS!
All of the resources you need to succeed with money. Gain instant access to financial printables, worksheets, guides, and more!
---
The password will be be emailed to you!