40 Financial Experts Divulge Their Best Money Management Tips
This post may contain affiliate links, which helps us to continue providing relevant content and we receive a small commission at no cost to you. As an Amazon Associate, I earn from qualifying purchases. Please read the full disclosure here.
---
Money management should come naturally, right? Just like riding a bike. Little bumps along the way and then smooth sailing from there.
But, is personal money management that easy?
Unfortunately, for most of us, we were not taught basic personal finance skills. We walked onto a college campus with companies offering a free t-shirt to sign up for a credit card. The beginning of the debt trap started way too soon.
Maybe you were lucky to learn a few tricks, but haven't made the progress that you wanted to.
That is why you are the luckiest person to read this post on the best money management tips! There are so many fabulous words of advice that you should bookmark it and save it. (Or even pin to your Pinterest boards.)
Money management encompasses five key areas:
Making Money
Budgeting
Saving
Investing
Spending
As natural humans, the last category of spending is the easiest to do and fun place to be.
You must devote to learning the money management skills of budgeting, saving, and investing.
Today, you are going to learn from financial experts. These are the people who teach people every single day about ways to improve their money management skills.
You don't want to miss any of these money management tips.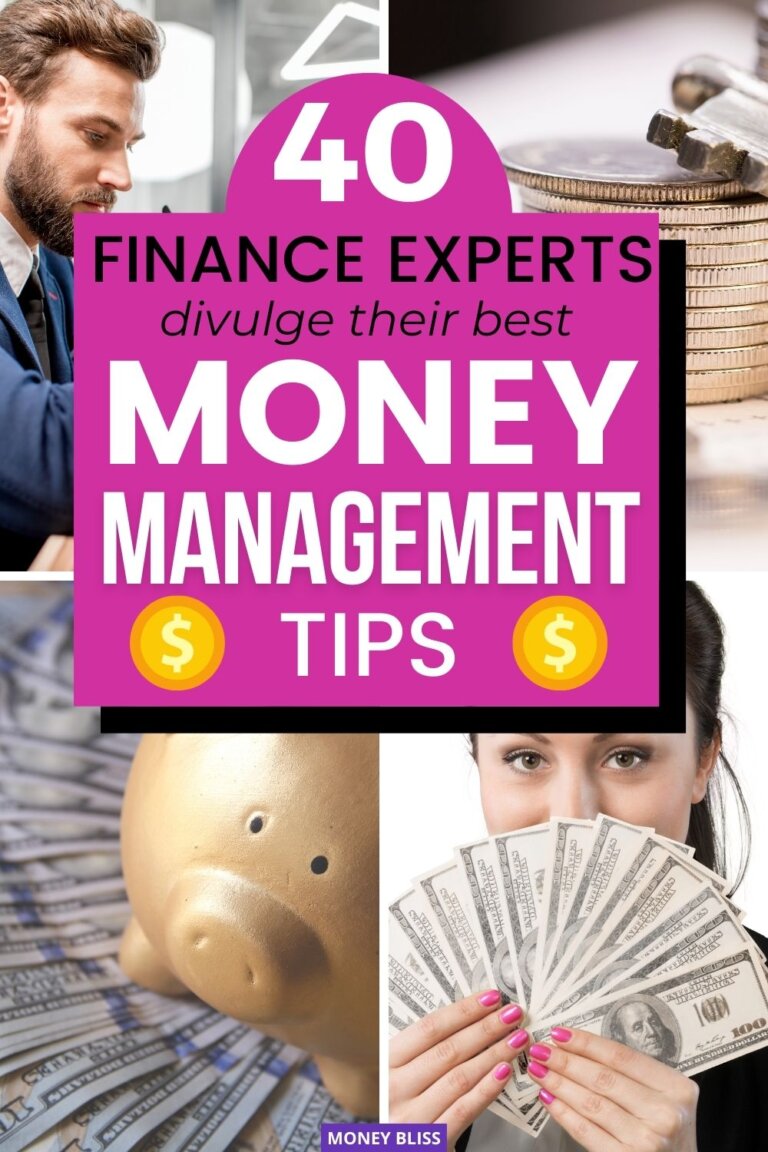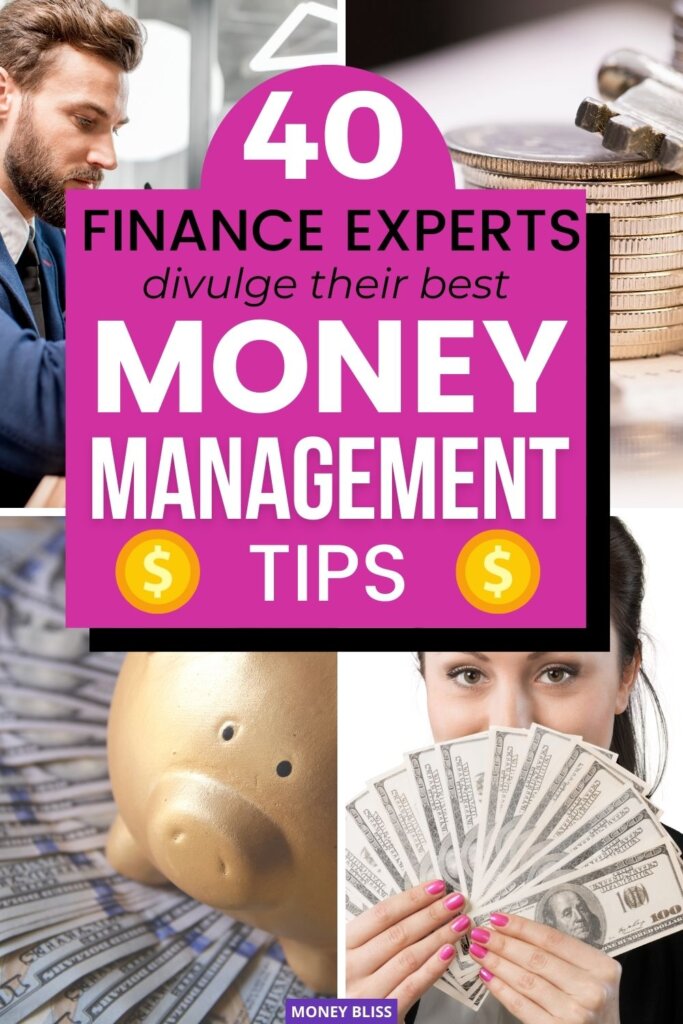 What is the goal of good money management?
The ultimate goal of solid money management is to not be a slave to your money.
By working, you are paid an income. Then, you save part of that income. That way you don't have to work every single day of your life for an income just to meet your expenses.
Becoming active in managing money means you are proactive in saving / spending money and not reactive trying to make ends meet.
This post you will teach you how can I improve my money management skills.
You will hear from various money experts on what is basic money management and their advice is golden.
Money Management Basics
Why Does Money Management Matter Today?
Saving for the 65 year old you is hard, hard to focus. Saving for today is something we can see, understand, and focus on.
That's why the pursuit of financial independence and creating a focused approach to your finances and a large savings rate is the ultimate answer.
It sneakily focuses on today as you get your financial act together now, but also because of the power of compounding focuses on the 65 year old you.
Many people put their lives on hold while they pursue financial freedom or financial independence.
Once you can cover your expenses and save a little bit, you can use the incremental financial freedom you gain along the way to design a life you love. This could include taking a mini-retirement, starting your own business, working part-time, etc.
There are so many things we can do to make our lives better as we build financial freedom.
Building wealth is like building blocks of Legos that you want to tower in the sky. You can't just jump to the top of the tower; you must build one step at a time.
Similarly, with net worth, you can't magically have a million dollars without reaching smaller milestones first.
You need to take things one step at a time with your personal finances. More importantly, you must know your reason why you desire to prioritize your money management.
By knowing what you want from your money journey, it will help you make the daily, small decisions that will build your net worth.
Understand the Money Bliss building blocks to financial freedom.
Money Mindset, Values, and Goals
Money in Relationships
When it comes to managing your money in your marriage it's critically important that you do it TOGETHER with your spouse. Although you may come from different backgrounds, have different personalities, and handle money differently it's very important to get on the same page.
Sit down with your spouse and create your dream life together. What does it look like? What type of lifestyle is it? How much money do you need to afford it?
After you create your dream life together bring all of your finances to the table. Talk about your debt, mortgage, investments, etc. Be open and honest and come with a lot of love and empathy. Make a plan you can both agree upon and stick to it.
Teamwork makes the dream work. If you love your spouse and want to have a successful and happy marriage, you must get on the same page with your finances.
If you are in a relationship, it is critical that you keep your partner included in the household finances.
Nothing destroys a relationship faster than money and nothing can build your wealth faster than having a partner who is committed and excited to take your lives to the next level.
Too many times only one person in the relationship handles the finances and the other one checks in from time to time.
Try to find a way to keep them involved and interested if personal finance is not their thing. Doing this will allow you to see massive results in your personal wealth and net worth.
Accountability
It's still a sad reality that it's not considered polite to talk about money. And, because money touches all the most important parts of our lives, it's a very intimate topic! Finding a money buddy is an excellent antidote.
A money buddy is a trusted friend with whom you can be totally open about your finances: your goals and dreams, as well as your insecurities and mistakes. You can share your actual numbers without fear of judgment, and of course, you do the same for your friend. You can be accountability partners to each other, through the inevitable challenges, both big (job loss, medical crisis) and small (a sale at your favorite store, how much to spend on vacation).
So much of our money behaviors are on autopilot. It's when we can interrupt our default reactions, pause and take a breath to reconnect with our true intentions, that we make wiser financial decisions. A money buddy can be a great way to do that.
A monthly money meeting can be done by yourself, with a friend, or as a family. It's easy too!
Each month, each participant should prepare for the meeting by recording all collecting basic personal finances info of their bank accounts + balances, all debts, and a few short and long term financial goals. Nothing too crazy.
Next, get together with your group and go through each person's finances one by one. Allow them to talk through any money events that happened that month (e.g. why bank account numbers balance went down, why they acquired new debt, how they paid off old debt, etc.), and then allow them to go through some of their financial goals (new ones, changes to old ones, etc.).
This is all very simple, but the act of writing this information down each month plus discussing it with other people has huge positive effects. You'll be less likely to slip up on your goals and you'll be more aware of your financial situation throughout the year.
Income / Make Money
Budgeting / Spending
Savings
Investing
Smart Credit Card Usage
Managing your money like a pro doesn't mean that you can't use credit cards. Many credit card companies offer rewards and cash back that you can use to your benefit.
Discounts on travel, cash back on purchases, and other rewards add up to saving more of your hard-earned money.
It's okay to use credit cards for daily purchases like groceries and gas for the car, to earn extra rewards. But make sure you can pay your credit card off every month, you don't want to carry a balance and pay high interest rates on a credit card.
Photo Credit: baldthoughts.boardingarea.com
Use a rewards credit card for all of your purchases. You can earn cash back, airline miles, or hotel points to pay for your travel expenses. Just make sure you pay the balance in full each month to avoid paying interest.
The money you save by using rewards for your travel can then be used to pay off your debt or save for your future. This is a big part of our strategy to eliminate our mortgage quicker and fully fund our retirement accounts.
Photo Credit: littlefamilyadventure.com
Prioritize experiences over "stuff" and travel for free. You can do this by taking advantage of credit card bonus incentives (i.e. 30,000 airline miles for a $500 spend in the first 3 months) to build a travel fund.
It's important to limit charges to regular expenses and not overspend resulting in balance carryover with finance charges.
I use Travel Freely, a free app to keep track of my reward offers and find the best reward offers and bonuses every month. You can learn more about how I use this service.
Solid Money Management leads to how can I be rich
Wow, those are tremendous money management tips for beginners and great reminders who have been diligent in managing money.
As the famous saying,
A penny saved is a penny earned.

Author Unknown
That is the basic philosophy on how to become rich.
It is taking one of the best money management tips and learning to master that skill. Then, moving on to the next idea.
Learning to manage your money is not a one-time occasion. It is something you must do continually.
Just because you are afraid to start and make money mistakes, don't let that hold you back from living the life of your dreams.
Don't forget to bookmark this amazing money management resource! Pin to your Pinterest boards now.