How to Move Out at 18: The Ultimate Guide to Moving out at 18 with No Money
Inside: In this guide, you will learn everything you need to know about moving out at 18 with no money. This includes tips on how to find a place to live, how to furnish your new home, and how much it will all cost.
Thinking about moving out when you turn 18?
You have been waiting for this moment. But there's just one problem: you're not sure if you have enough money.
Moving out at 18 with little money is daunting, but it can be done. With a little planning and some creative thinking, you can make the transition to adulthood without breaking the bank – or your parents' backs.
You will also get advice from someone who has done it before (me!) on what mistakes to avoid and what lessons you can learn from my experience. Along with guidance from young adults who moved out recently.
So whether you are looking for guidance or just want reassurance that it is possible to move out at 18, this guide is for you!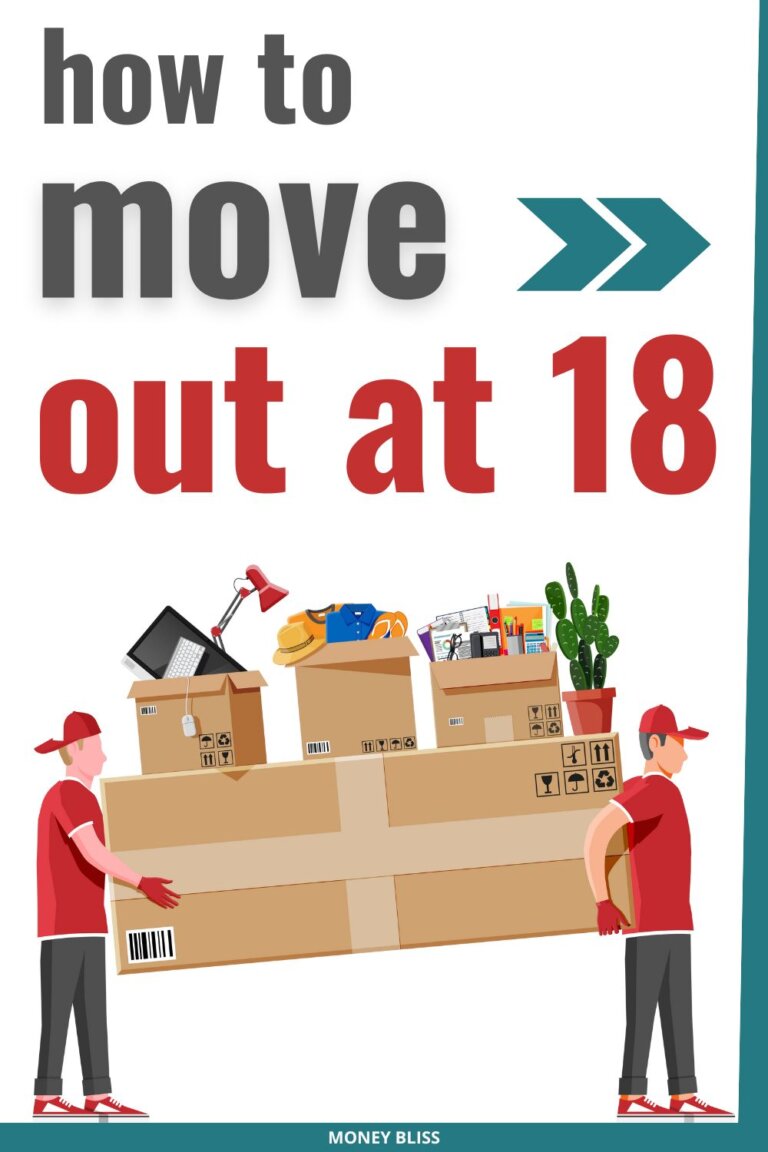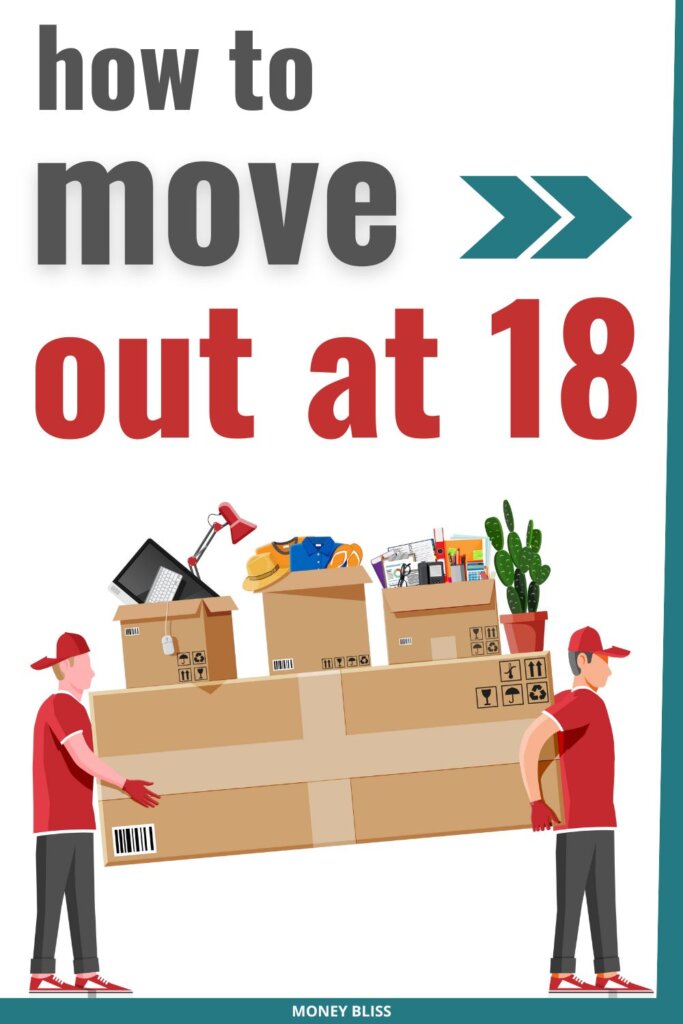 Is it realistic to move out at 18?
This is a question that is on the minds of many teenagers and their families.
The first step is to start planning early and make sure you have plenty of cash saved up.
Although it can be a daunting prospect, it is possible to move out at 18 and live independently with the right planning and guidance.
What do I need to consider before moving out at 18?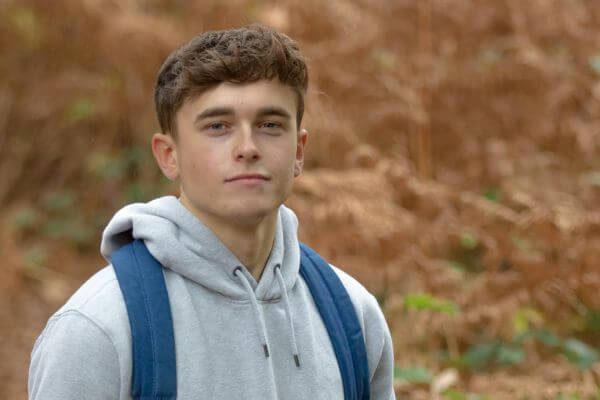 Before making the decision to move out at 18, it is important to consider a variety of factors including financial obligations, budgeting, and long-term planning.
Be aware of what is expected of you in terms of responsibility and independence.
Moving out at 18 can be a big jump, and it is important to understand the implications of making this decision.
Why you should move out at 18?
1. Gain independence and autonomy
2. Grow emotionally and mentally
3. Become more responsible
4. Learn how to manage finances
5. Opportunity to truly understand self-reliance
6. Have more free time to pursue hobbies and interests
7. Reduce stress with family members
8. Gain confidence and experience by taking risks
What are the pros and cons of moving out at 18?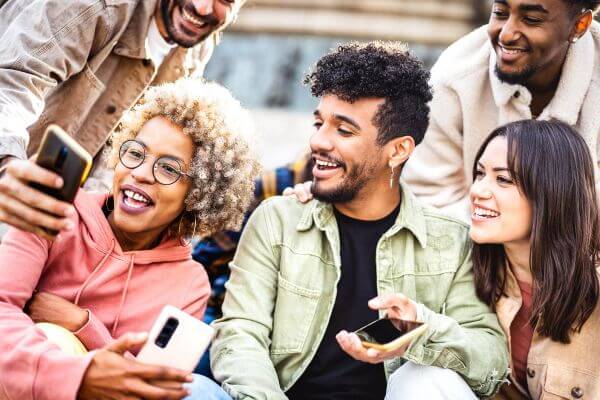 The decision to move out at 18 is a big one and comes with a range of pros and cons that should be taken into consideration.
On the one hand, it can be an exciting and liberating experience to have more freedom and set your own rules without parental restrictions.
On the other hand, it can be a challenge, with greater financial and social responsibilities and a need to plan ahead in order to make the transition as smooth as possible.
You may need to make compromises with regard to your lifestyle and luxuries.
How to move out at 18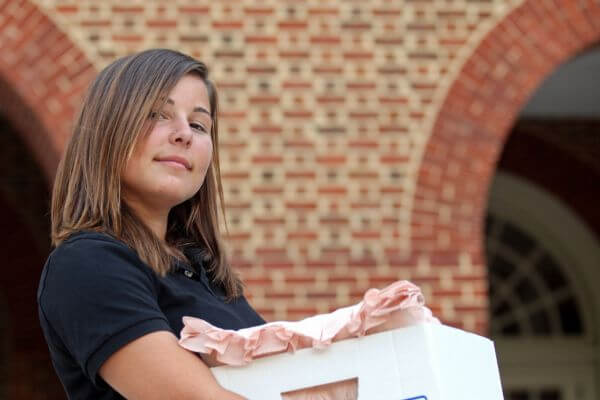 Leaving the nest is a huge milestone—and it can be a scary one. But don't worry, we've got you covered.
Here's everything you need to know about moving out at 18 and everything you must consider.
Step 1: Check your finances
When considering how to move out at 18, the first thing is to check to make sure you are financially prepared.
You need to understand the concept of a budget. Then, you will see all the costs that will now be coming your way and make sure you can handle them.
Remember, the more financially sound you start off with, the less you will have to rely on your parents for additional funds, so start saving early.
Step 2: Make consistent income
You must have enough savings or a stable source of income to cover your planned expenses, as well as any unexpected costs.
"Make sure that you have reliable money coming into to fully support yourself and what you want."

From a recent college graduate
If you don't have a job, then wait until you are working on a regular basis before moving out.
Think about:
Step 3: Start an emergency fund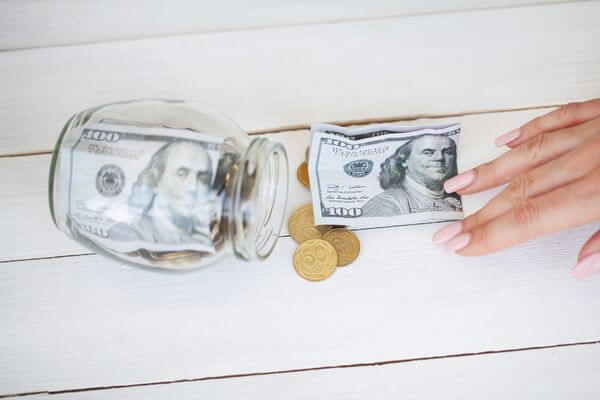 The goal of an emergency fund is to have money set aside and never need it.
However, unexpected events, such as car repairs, medical bills, or a phone breaking, can occur at any time and are necessary to cover.
The purpose of creating an emergency fund when moving out at 18 is to protect oneself from unexpected expenses.
Step 4: Save 3-6 months of expenses
By moving out, you are telling the world you are prepared to make that decision. Experts recommend saving 3-6 months of living expenses in addition to having a proper emergency fund.
This is to avoid relying heavily on parents for additional funds.
You are better off postponing your move-out date until you have enough money in the bank.
Step 5: Make a budget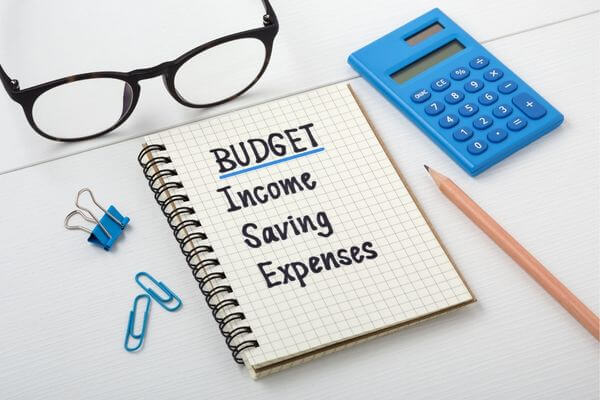 Adulting = living on a budget.
There is absolutely no way to get around that concept.
Moving out at 18 can be an exciting and daunting prospect.
The key to successfully managing your finances is to create a budget. Here are some step-by-step instructions to help you get started.
Step 1: Determine Your Income: Before you determine how much you can spend on living expenses, you need to figure out how much income you're bringing in each month. This includes any part-time job wages, scholarship money, grants, or financial support you may receive from your parents.
Step 2: Calculate Your Fixed Expenses: Fixed expenses are the same from month to month. They include rent, utilities, car insurance, car payments, healthcare, student loan payments, gym memberships, and subscriptions.
Step 3: Determine Your Variable Expenses: Variable expenses are expenses that may change from month to month. These include groceries, restaurants, clothing, entertainment, and gas costs.
Step 4: Put Together Your Budget: Does it make financial sense to move out right now given your income vs your expenses?
Step 5: Track Your Spending: Once you have a budget in place, you'll need to track your spending to ensure you're staying within your budget. There are plenty of budget apps available to help you keep track of your spending and make sure you're not overspending.
Following these steps will help you create a budget when moving out at 18 and ensure that you're spending less than you're earning.
Step 6: Research the area where you will be living
The area where you will be living is important to research for a number of reasons.
The first reason is obvious—you need to know if there's an apartment or house that you can afford to rent.
The second reason is less obvious but just as important: you need to know what the area is like before you move there.
Not all rent markets are created equal, so make sure you compare prices in different cities and suburbs to find the best deal.
Here is a first apartment checklist to help you out!
Step 7: Side hustle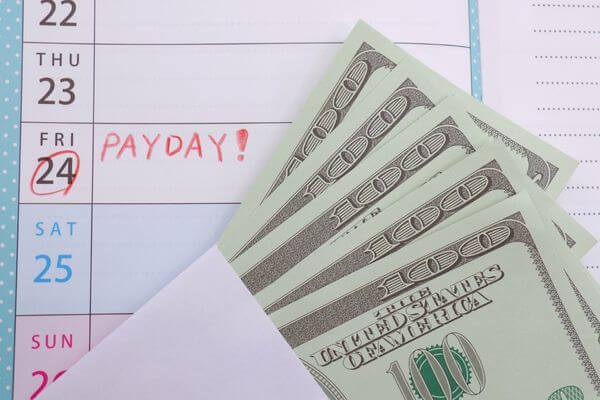 Side hustling can be a great way to help move out of your parent's house when you're 18.
It can help to boost your disposable income and give you the financial freedom to cover your own expenses.
At this age, you will have more free time than ever! So spend that time making more money!
Whether you choose to deliver food, tutor students, become a blogger, or even walk dogs, these jobs give you the freedom to work on your own terms and make an extra income.
Step 8: Take only necessary items with you
More than likely, you will move every year or two, so you don't want to have to move a ton of things.
Plus more and more people are choosing to own less stuff.
To help you, here is an expanded list of items to take with you when you move out:
Essential items: clothes, toiletries, kitchen items, cleaning supplies, bedding
Electronics: laptop, phone, television, video game console
Documents: driver's license, passport, birth certificate, Social Security card, insurance information
Furniture: couch, chairs, bed frame, dressers, tables
Decorations or family photos, if needed
A toolbox with basic tools and fasteners
Emergency items: flashlight, first-aid kit
A small amount of cash for unexpected expenses
Step 9: Determine your priorities
Moving out at 18 can be a life-changing event, and it should never be done on a whim. Before doing so, plan out the steps you will take to make the move.
Take a look at your finances and lifestyle. Are there any items that you can eliminate from your budget or lifestyle in order to save up and make the move? Being able to afford it will be essential for success.
Filter your wants from your needs. This is an important part of living on your own at 18. You must be able to make sacrifices in order to save and make the move successful.
Start by planning. That will help you to build a strong foundation in life.
If your goal is to be financially independent, then you need to make sure you have the cash flow to make that happen.
Step 10. Talk to your parents about your plans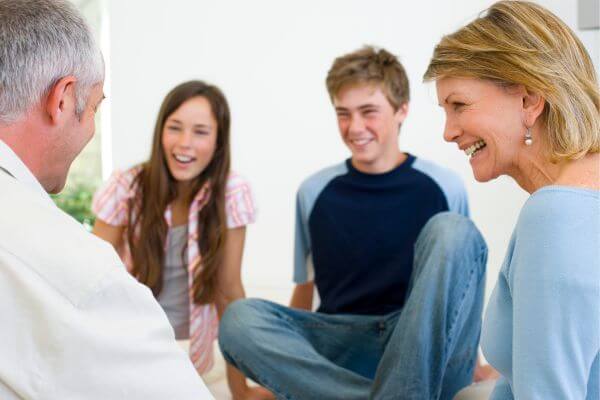 Be open about your plans and discuss them with your parents.
Let them know why you want to move out, where you are planning to move, how you plan to pay for rent and any other important details.
Reassure them that you still love them, even though you are leaving their home. This can be a difficult situation for parents, so make sure to show your appreciation and respect for all that they have done for you.
Consider giving your parents a key to your new home if it will make them more comfortable, and tell them that you will call and visit regularly.
Parents – here are the best 18th birthday ideas to send them off in style!
Step 11. Keep a Stable job to help pay for your expenses
Moving out at 18 can be an intimidating experience, but with a little planning and hard work, you can make it happen.
Once you move out, you have to have income coming in to pay your bills. Period.
Make sure you show up on time and do your job correctly. Having a good work ethic will make it easier for your boss to consider you for raises and promotions.
There is no using good excuses to miss work anymore.
Bonus Tip: Avoid moving out on a whim (without a plan)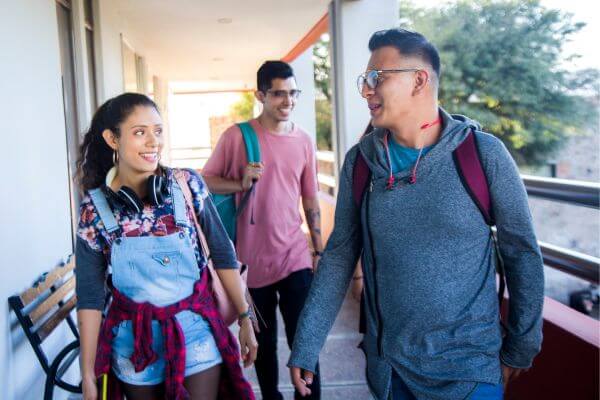 Before you make the decision to move out at 18 with no money, it is important to take the time to assess your situation.
Making rash decisions can be detrimental to your future.
You should have a plan and budget in place before you make this big step. Be sure to have some extra savings for unexpected expenses.
If your financial situation is not ideal, you may want to consider waiting until you are truly ready.
Moving out at 18 can be a challenging process, but with the right preparation and planning, you can successfully make the transition into adulthood and independence.
This post may contain affiliate links, which helps us to continue providing relevant content and we receive a small commission at no cost to you. As an Amazon Associate, I earn from qualifying purchases. Please read the full disclosure here.
How much money should I have saved to move out at 18?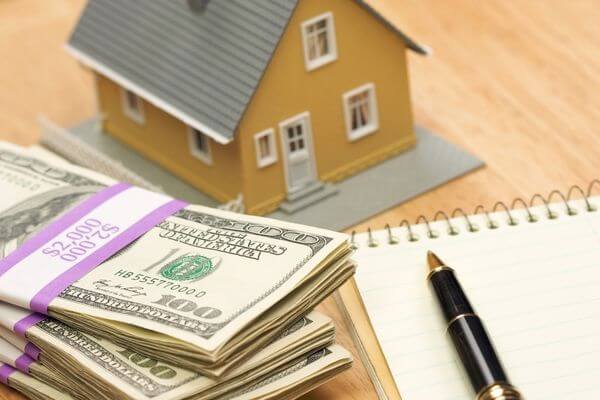 Ideally, you should have saved up at least three to six months of living expenses before moving out at 18.
This should include rental payments, food and utility costs, and any other expenses associated with living in your new home.
You should also have a steady monthly income that will cover your expenses.
To accurately calculate how much money you need to save before you move out, you should create a budget of your expected monthly expenses in your area and then quadruple that number. This will give you enough money to cover all living expenses for at least 4 months.
You need to make sure to use this financial advice for young adults.
Tips for Living on Your Own as a Young Adult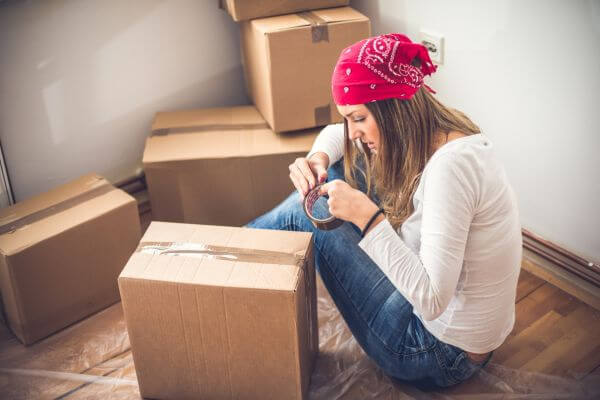 Leaving the nest is a rite of passage for many 18-year-olds.
But it's not always easy, especially if you're doing it with no money.
Here are some tips to help you make the transition to living on your own.
Tip #1: Set a budget for living expenses
Setting a budget for living expenses is essential for young adults who are looking to live on their own, as it can help them to plan ahead and understand how much money they need to cover their costs.
A budget helps to figure out their fixed expenses such as rent and utilities, as well as variable expenses like groceries and entertainment.
Knowing how much you can afford to spend on each category can help you to limit your spending and save money for the future.
Budgeting also allows teens to identify any potential problems with their finances and take steps to address them before they become unmanageable.
Tip #2: Get a roommate if necessary
It is important to get a roommate if necessary to live on your own because it can greatly reduce the cost of living.
When living on your own, rent and bills can be expensive and the cost of living can be too much for many to handle. Having a roommate means that the costs of rent and bills can be split between two or more people, making them more manageable.
Additionally, having a roommate can also increase safety and security in the home, as there will be someone else to look out for you.
Tip #3: Consider moving to a place with cheaper rent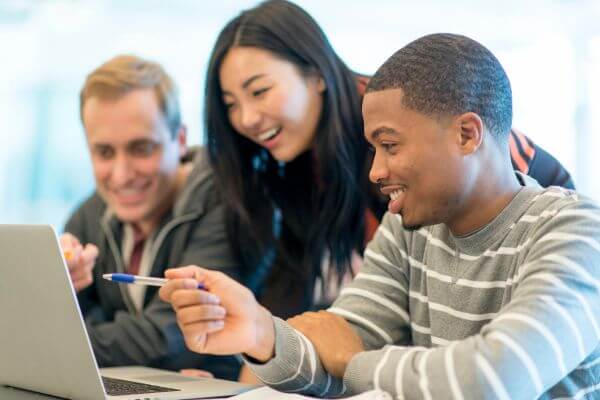 Moving to a place with cheaper rent can be an essential step when looking to live on your own.
Not only can a suburb or smaller city offer lower rent than larger cities, but it is often easier to find affordable options such as group housing, rooms to rent, or roommates.
Tip # 4: Save money by making your own meals
You must start learning to cook. Even if it is simple meals, being able to whip up frugal meals will be a huge help to your wallet.
You can check out this budget grocery list to get started.
Making your own meals will save money while living on your own by reducing the amount you spend on meals outside of the home. Meal prepping is an excellent way to stretch your budget and make sure your meals are healthy and delicious.
Plus, learning to cook is an essential life skill that can help teens become more independent and self-sufficient.
Tip #5: Look for free entertainment
Living on your own can be tough, especially if you're trying to juggle a job and limited finances.
But that doesn't mean you have to miss out on entertaining yourself.
There are so many things to do with no money!
Tip #6: Plan ahead for unexpected expenses
Some unexpected expenses that you may encounter when living on your own may be things like car repairs, replacing a broken window, or unexpected bills like a parking ticket.
It is important to have money set aside and to be prepared for these types of costs.
It is not a matter of what will break but when.
This will help to keep your finances in order and will help you to avoid any unexpected surprises.
Tip #7: Build your credit score
Building a good credit score can help you live on your own successfully when you turn 18.
A good credit score is usually considered to be 700 or higher, and can help you get the best loan terms when you are ready like to secure a nice apartment and get lower interest rates on vehicle loans.
Paying your credit card bill on time, reducing your debt, and avoiding applying for new credit are all key elements of building a good credit score.
By practicing good spending habits and monitoring your credit score, you can positively impact your credit score and make yourself a more attractive borrower.
FAQ
Can you Move out at 18?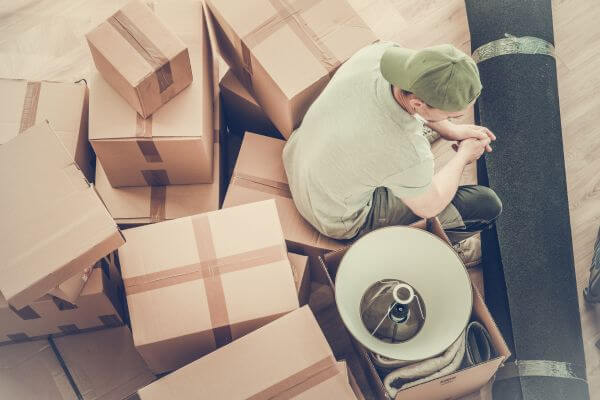 Moving out at 18 is a great opportunity to learn how to be independent and take on a new challenge.
It may be intimidating at first, but it is also a great way to gain the confidence and experience you need to succeed in life.
You must consider your finances and your parents' reaction. But if you're prepared, it can be a great experience.
While it is realistic to move out at 18 and live independently as long as you plan ahead and create realistic expectations. With careful budgeting and the right opportunities, you can make the transition from living with your family to living on your own.
Moving out at 18 is a big decision. So, make sure you are prepared.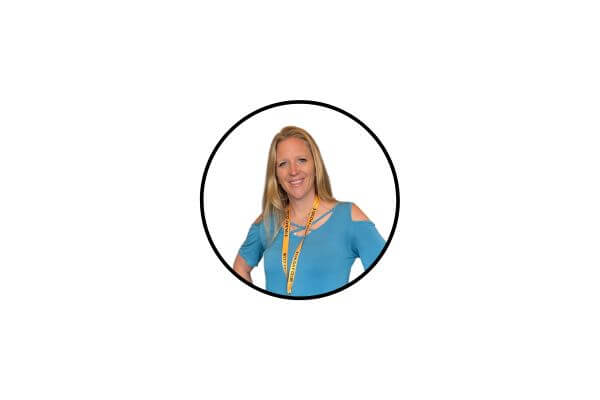 Did the post resonate with you?
More importantly, did I answer the questions you have about this topic? Let me know in the comments if I can help in some other way!
Your comments are not just welcomed; they're an integral part of our community. Let's continue the conversation and explore how these ideas align with your journey towards Money Bliss.