How to Enjoy Your Stay at Great Wolf Lodge Colorado Springs + Save Money
This post may contain affiliate links, which helps us to continue providing relevant content and we receive a small commission at no cost to you. As an Amazon Associate, I earn from qualifying purchases. Please read the full disclosure here.
---
Over the past weekend, we were able to stay at the newly opened Great Wolf Lodge Colorado Springs! It is quite a big deal! Colorado Springs has a water park.
It was the first time we have ever stayed at one of Great Wolf properties. We had a fantastic time! Plus, we were lucky…it was a Christmas gift from the grandparents! Personally, I love gifts that create memories and not stuff!
UPDATE – We traveled again to the Great Wolf Lodge in November 2019. Birthday present for the kiddos!
Before and after our trip, I have view received lots of questions about Great Wolf Lodge Colorado Springs. So, I thought it is beneficial to review the Great Wolf Lodge with tips on our stay, share our experiences, and provide money saving tips.
Just a note… all of these opinions are 100% my own and not sponsored by the Great Wolf Lodge Colorado Springs or given any discounts.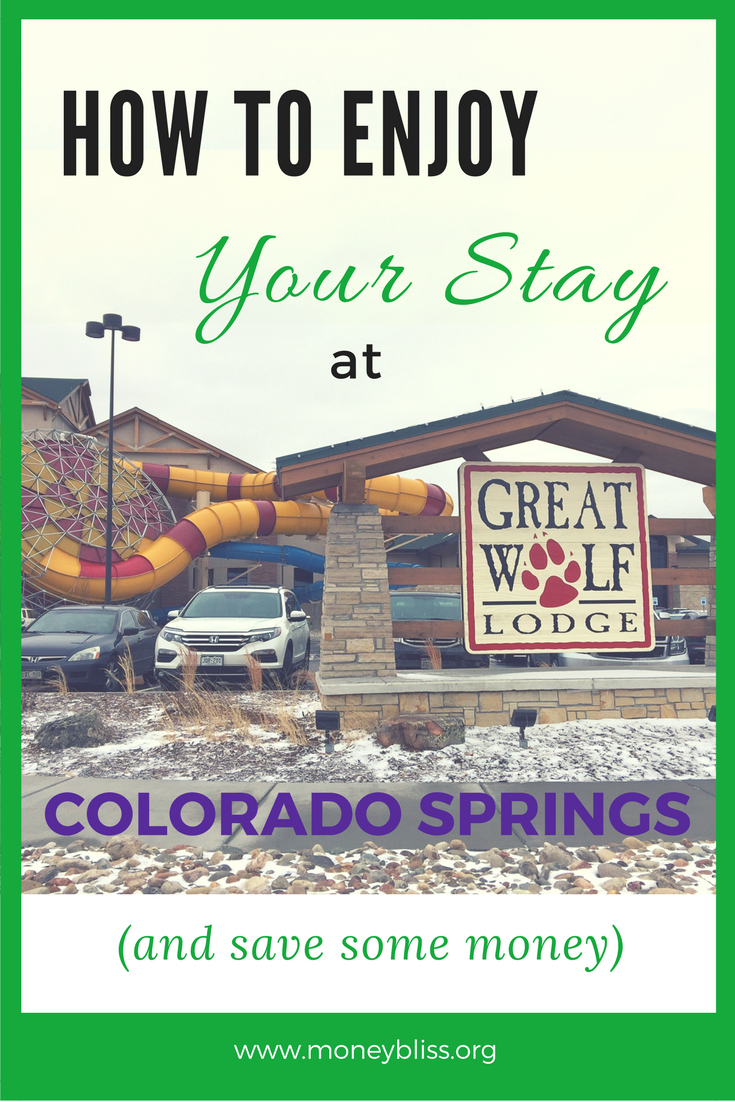 Overall, we were impressed with Great Wolf Lodge Colorado Springs! Everyone in our party had a fantastic time. We were tired when we left, but it was that good kinda of tired! We played hard. Enjoyed quality time as a family. Looked like drenched rats who were hungry after hours of swimming. Great experience! Now, let's dig into my review of the new Colorado Springs water park.
How to Enjoy Your Stay at Great Wolf Lodge Colorado Springs + Save Money:
1. Book in Advance
Since this is a new place, Great Wolf Lodge Colorado Springs booked up pretty early. For the best prices, avoid weekends, holidays, and school breaks. From family members who have stayed at the Great Wolf Lodge properties, your first hotel booking is the most expensive. Sure enough, we received a rebooking coupon after our stay! Then, they are good at sending deals to their email subscribers. Check out their Special Offers page. Also, Groupon is known to have AWESOME prices on Great Wolf Lodge. You just have to watch for them.
UPDATE: We booked almost 9 months in advance. We planned a Thursday night getaway and we enjoyed fewer crowds. Hint: Find dates when your school district is out, but others are still in school.
2. Get a waterproof camera
I regret having very few pictures of my kids at the waterpark. I was in the water with them the entire time. Honestly, I wished I had a waterproof disposable camera. Many guests were using a waterproof digital camera like this or this. Next time, I probably will purchase one of those given much the prices have come down. Or just invest in a waterproof phone case.
Many waterparks are now requiring a full chest harness in order to bring cameras on the ride!
UPDATE: We purchased a waterproof digital camera this time around. Well worth the money! We have great family pictures.
3. Pack lots of snacks
Hours of playing in the water make for some pretty hungry kids! Pack lots of protein-dense snacks and water to drink.
The resort has restaurants and buffets on site. But, it is nice to fill a hungry belly while everyone is showering for dinner.
4. Separate your swim gear from luggage
You are able to start enjoying the water park at 1 pm. However, your room might not be ready until later. So, leave your luggage in the car.
Grab your swim gear and have some fun before your room is ready. Personally, I love the Eagle Creek packing system for traveling.
5. Avoid check-in between 12:30-2 pm
Check-in was the most contentious issue I read in reviews prior to our stay. Personally, I found check-in to be smooth, and the hotel staff knowledgeable and friendly.
However, we checked in outside of the above timeframe. If there is a line when you arrive, your party can explore the hotel – just make sure they are back by the time you reach the front desk.
UPDATE: This time we used Pre Check-in. The process was simple and easy. Upon arrival, our packet of info was ready with all our badges.
6. Quiet floors
If you have little ones in your party, try and avoid floors 3-5. One of their attractions, MagiQuest has interactive stations next to hotels rooms. They have quiet hours when the game can't be played. During our stay, the quiet hours didn't start until 10 or 11 pm. Way to late for our little kids! On the flip coin, if you have older children who would be taking advantage of MagiQuest late at night, these are the best floors for your family.
UPDATE: They moved MagiQuest to the lower levels. So, this is no longer a concern. To get an awesome view like this, request the west side of the hotel.
7. Bring a cover-up to walk back to your room
The towels from the waterpark must stay in the waterpark area. It is a walk to the hotel side of the resort.
Pack a swim robe or towel for the stroll to the rooms. We visited in the middle of a snowstorm, just looking outside made me feel cold. For kiddos, these are my favorites!
8. Pack a breakfast for the morning
If someone would have told me my kids would wake up after 8 am, I would have laughed my head off (they always wake up at 6 am regardless). But, they slept in! Thankfully, I packed a quick breakfast. T
he rooms have mini fridges and a microwave. We ate a quick breakfast and snuck out of our room to hit the water slides when the park opened at 9 am.
9. Elevators
The resort only has three elevators to reach the hotel rooms. During peak times, they will be crazy! Plan ahead and avoid the elevators during these times – check-in, dinner time, 8:45-9 am, and check-out (10:30 ish). The lines get long. Plus the MagiQuest games are filling the elevators with kids going up and down.
UPDATE: We have no issues with wait time on the elevators. The hotel was not completely full either. Also, MagiQuest was moved downstairs, too.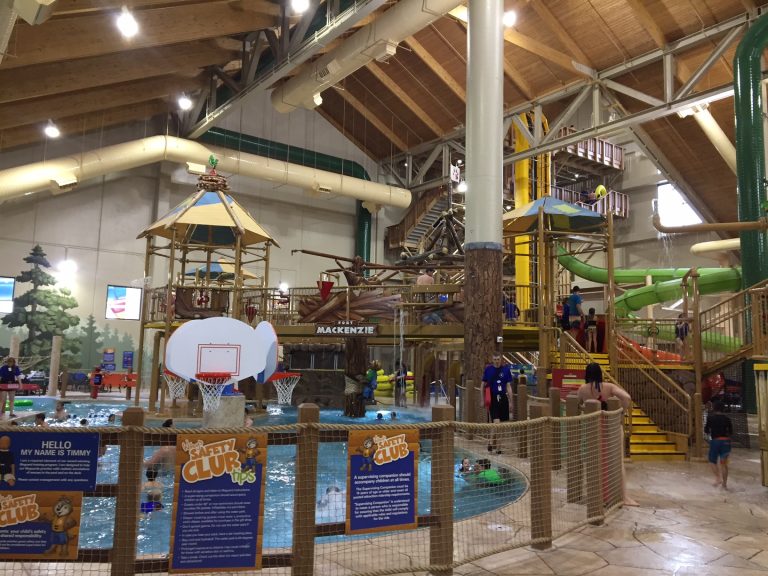 10. Plan Spending Money
Great Wolf Lodge Colorado Springs knows how to get you to spend money and they make it super easy with the wristband pass. The waterpark is the only attraction that is included in your resort stay (and a few evening kid activities). All of the other attractions are extra costs. Some of them are pay as you go. Some attractions are bundled in a pass.
The passes start at $35 and up PER child (and vary by your child's age). On your first couple of visits, you can sneak by without all of the extras. Our kids barely even noticed all of the other attractions. Just plan ahead on how much you can truly afford to spend. Or have the kids bring their spending money.
UPDATE: A new entertainment facility called The Summit has been built nearby (in the same parking lot). They have bowling, arcades, and laser tag for WAY less! Plus they have happy hour prices from 3-6 pm on Monday – Friday. If you are willing to venture outside, it is easy to save tons of money.
Bonus Tip from November Stay:
We walked into the Great Wolf Lodge and found half of my daughter's soccer team was there too. Completely unplanned! The girls, however, had a fabulous time playing with their friends. The adults enjoyed the camaraderie. Next time, I will plan a trip with friends because everyone had that much more fun!!
Overall, we had a great experience at Great Wolf Lodge Colorado Springs.
We will definitely return. I love creating memories! The above tips should help you enjoy your stay and the time with your family at the newest Colorado Springs water park. And hopefully, save you some money! Best gift from the grandparents!
Come back and let me know how your stay was!