Gift for Life – Personal Finance and Money Gift Ideas
This post may contain affiliate links, which helps us to continue providing relevant content and we receive a small commission at no cost to you. As an Amazon Associate, I earn from qualifying purchases. Please read the full disclosure here.
---
Soon our recent graduates will be heading out into the real world. Or better put – the need to start adulting. And you are looking for graduation gift ideas.
Personally, I know many things I wished I knew sooner.
So, I could make better choices across many facets of my life. Have you been in the same boat?
Most of early choices relate to money because every part of our lives touch money in some way or another. Did any graduation gift or Christmas gift make an impact? Honestly, do I even remember any graduation presents?
If you are searching for the best graduation gift ideas, think about what you wished you knew at their age. It may have not been what you wanted then, but what you wished you would have known now. Same for birthday or Christmas presents.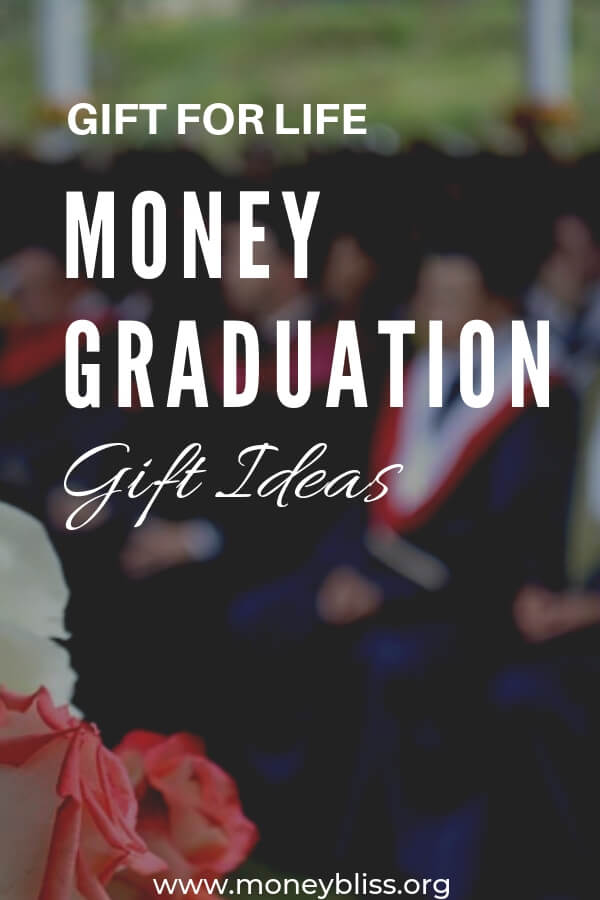 Guess what? Not a shocker here, but most schools do not teach personal finance.
These students have been primed and prepped for every skill they will need in the workforce. Except for the ONE necessary skill to succeed in life.
Understand how to manage money and not have money manage you.
Seriously, the statistics are staggering. Most young adults do not know how to balance their checking account, what overdraft protection is, or why we pay taxes. Let alone know how to live within their means (typically called a budget or at Money Bliss we like to call it a Cents Plan).
Simply put… The personal finance knowledge to spend less than what they earn.
Is money gift ideas the best idea? Give them straight cash? Or investing in their personal finance future?
Money Gift Ideas for Graduation, Christmas, or Brithday
Everything here at Money Bliss shop is developed to help you succeed. Reach financial freedom.
Understand what you need to do in order to succeed.
Wouldn't that information be handy for anyone struggling with money or a recent graduate? The insight to build a strong foundation to financial freedom and success with money.
We are happy to make sure these are sent as gifts. Find the options here.
This is book rooted from letters written to the author's daughter when she was too young to understand money concepts. Then, later as an adult, she didn't care to manage her finances with the detail like her dad.
The words are powerful and loving. It is a simple approach to understanding money in a very complex financial world.
Not everyone loves to discuss money or spend all of their time managing money. This is one of the few books I actually recommend buying and keeping on hand. Learn The Simple Path to Wealth.
Many people grasp when I say this one, but what better way to instill the need to save. Then, to start an account for them.
Since this isn't as easy as picking up a quick gift because you need personal information from the person receiving the gift.
In addition, challenge them to pick one of the 52 week money saving challenges.
I've even heard people so determined to save that they set up automatic transfers into the account, but didn't know the online password so they couldn't access the money. That isn't mandatory for everyone…just throwing out the idea.
Open a Premier High Yield Savings Account.
This is one of my personal favorite personal financial books.
It has the tidbits of knowledge along with sound financial advice to start making a huge impact in your life. Unshakeable: Your Financial Freedom Playbook is sound financial advice for the recent college grad as well as someone who needs to get their personal finance situation pulled together.
In today's environment, it is key to know the basic investing lingo.
It is a quicker read than Tony Robbin's original book, MONEY Master the Game.
What better way to emphasize the importance of compound interest than by starting an investment account?
A $100 graduation gift or Christmas gift will go much further when compounded over time.
For example, a $100 gift for 18 years (assuming an 8% average return) would be worth $4,045. Your personal investment was only $1,800. Pretty sweet gift to any young adult.
This is always a wonderful opportunity to teach lessons and spend quality one-on-one time with the graduate. Some investment accounts include TD Ameritrade, Swell Investing, or even a money market account.
Open an account and pick up a copy of The Automatic Millionaire to go with it.


This is a classic book to engage readers on how to grow wealth and many of the obstacles one must overcome.
The original version was written by Napoleon Hill. The book includes interviews with many well-known historical figures – Thomas Edison, Henry Ford, and President Franklin Roosevelt. The knowledge people needed in 1937 is still needed (and relevant) today to manage money.
The main reason why any young adult needs this book is to understand that there is more to money than just buying and spending. It is about creating a money mindset in order to grow wealth.
Pick up this classic today.
Related Post: Awesome Gift Ideas When you're Broke
While this might not be the coolest gift at first, in the long run they will thank you. Living within your means is the key to long term financial success and eventually financial freedom.
The younger generation is much more likely to grasp onto the concept of personal finance and money management if there is an app for it.
If you want a traditional software (non-cloud based), the best options include Quicken and Moneyspire.
Many of the most popular apps provide gift subscriptions. For a full list of budgeting apps, go here.
Great way to invest in the young adult's future is with the one thing they will use the most often – their wallet.
The simplest way to not overspend money and stay within budget is by using cash.
Today, there are many options for cash envelopes that are prettier and sturdier than the traditional white envelope. Discover the best cash envelopes for every type of person.
Find options for cash envelope wallets. Plus find a cash envelope wallet for him.
This book focuses on your relationship with money. It focuses on the same things as the title.
What is more important – Your Money or Your Life?
The authors discuss how materialism and consumerism is changing the money landscape for many people. This book is good for those graduates who care more about the minimalist lifestyle. Find it here.
Best Finance Books for Unparalleled Success with Money
Graduating with Student Loan Debt
If they are graduating with student loan debt, help them create a plan to pay off debt. (Or send them over to Money Bliss to learn how.)
First, help them understand how to refinance student loans to save on interest.
Pay for their Undebt.it+ 1 Year Membership to help them figure out how to pay off student loans the faster.
In the end, your gift will multiply with the interest saved by paying off debt faster.
Honestly, every young adult could benefit from a conversation with you. A chance to learn about your money mistakes and failures.
During this time, you can help them discover early in their adulthood what matters most to them and make a plan for that to happen.
This is the best personal finance money gift idea that will last a lifetime.
Many teens, college students, and millennials may not be open to the conversation, but you are planting the seeds in order to grow.
Think Behind Just Cash and Stuff
Writing a check is easy. Picking up a gift card is simple. These are quick one time uses that have little long-term financial impact.
Remember the best graduation gift – even birthday or Christmas gifts – are those that last a lifetime and make a memorable impact.
Ask yourself who made an impact in your life? What did they do to do that?
Even if they may not want to listen, they will benefit in the long run.
Other Great Reading Gifts: