This post may contains affiliate links, which means I receive a small commission at no cost to you. Please read the full disclosure here.
Online shopping is growing by leaps and bounds. It is easy, convenient, and best of all, you can make money while shopping online. Sounds crazy, right? But, it is true. You can (and I do) make money while shopping online.
For me personally, I do most of my shopping online because of the convenience. Obviously, I am not alone in shopping online. In 2015, $335 billion was spent shopping online, according to Forrester Research Inc. From the same report, it is expected online sales will grow by an average 9.32% annual rate through 2020.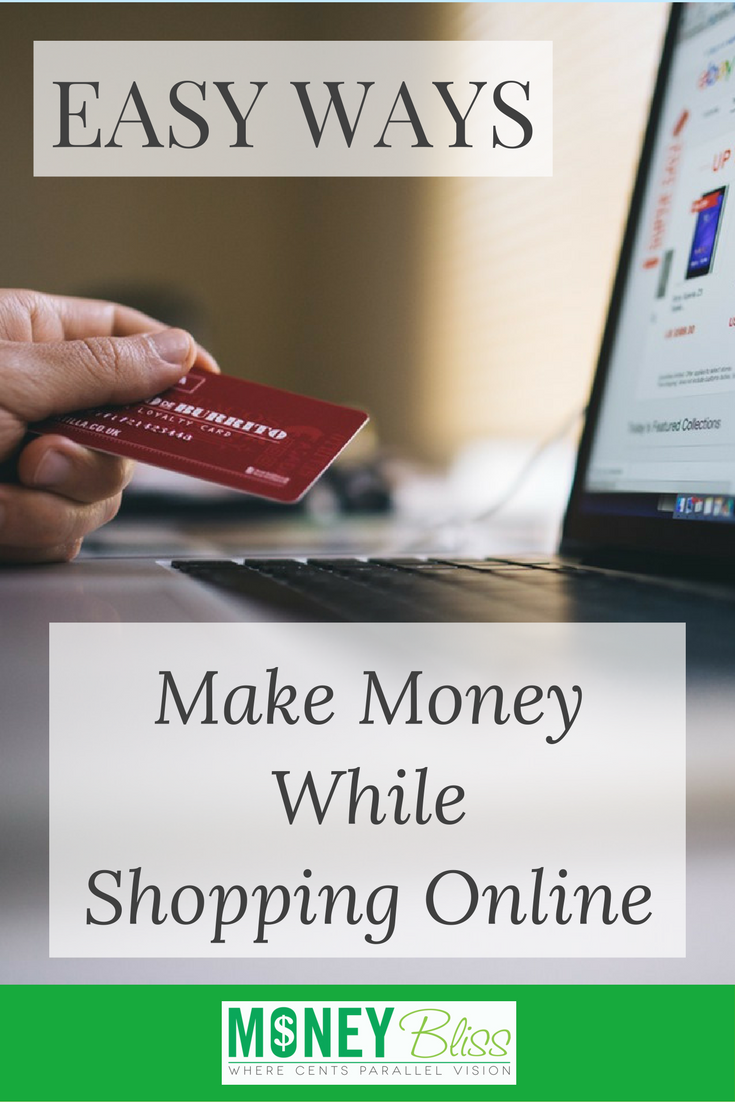 Easy Ways to Make Money While Shopping Online:
(I use each of these sites on a regular basis and personally recommend them.)
When you shop through Ebates, you can earn up to 40% cash back at your favorite stores. Most stores average between 3-6%.  Over the course of the year, I easily average a BIG FAT CHECK of $100.  It's simple! If you are shopping online, why not make money while doing it?!?!
To earn money with Ebates, you need to sign up here.  Also, you get a $10 reward for signing up through this link.  Now, the key to earning money with eBates is to start you shopping purchase at their site.  Purchases you make at Ebates stores are only credited if you start your shopping session at Ebates.com or another Ebates service (like the Ebates toolbar) and click to a store via an Ebates link.
For me, I shop online wherever and then get to the checkout cart.  BEFORE I checkout, I go to Ebates, find my selected store, and click that link on Ebates website to make my money. One extra step, but I have been doing it for so long it is routine. Earn money. Simple.
TopCashBack is very similar to Ebates – you save money every time you shop online! You can earn up to 25% cash back. Most retailers average about 4%. One huge difference is you can choose when you want your payout. Also, you can get a bonus when requesting payout by Amazon.com Gift Card or American Express® Rewards Card.
To start earning money, sign up today at TopCashBack. All money is earned after the purchase if successfully tracked. Yes, they pay you a commission for your purchases when you shop via their partner stores. Your account will be credited as cashback. Simple!
I follow the same procedure as Ebates. Many times I compare who is paying a higher percentage – Ebates or TopCashBack.  I get to the checkout cart for whatever store I am shopping at. Go to TopCashBack, find my selected store and click that link to make my money. One small, routine step to earn extra money while shopping online.
Ibotta is a Cash Back App that I use for grocery shopping as well as online shopping.  You earn a percentage or a flat dollar amount when you spend a certain amount.  Check out this post on how to use Ibotta to save money on groceries.
To sign up for Ibotta, go here and star earning money back.  Just for signing up, they will give you a $10 bonus – use this link.
Ibotta has an entire saving sections dedicated to mobile shopping.  You can earn 1-20% cash back when you start your purchase through the Ibotta app. Simple. Easy money in my pocket.
All of these are easy ways to make money while shopping online! You have to remember to start your shopping at one of these sites first and let your savings add up.  Plus you earn money just for signing up at Ebates ($10 reward) and Ibotta – $10 bonus.   Comment below on how much you earned while shopping online and how you plan to spend it.
Top Money Bliss Tips:
Earn Money with Cash Back Apps for Groceries
Complete Guide to Sinking Funds – Why They are So Important?
Almost There!
Learn the basics needed to change your financial future forever.
This will be the best choice you have made for yourself.
START YOUR PATH TO MONEY BLISS