This post may contains affiliate links, which means I receive a small commission at no cost to you. Please read the full disclosure here.
For many people, how to eat healthy on a budget is a hotly debated item. Trying to figure out the cost of eating healthy is another.
Honestly, just the amount spent on the grocery budget is very contested in many households.
However, it is the one area that decisions must be constantly made. What to eat? What to plan for dinner?
The question is eating healthy expensive? Or can it be affordable?
For me, as a mom, I want to provide the best possible food for my family. However, I know that we don't have an unlimited amount of money to spend on groceries.
So, I must be smart in the choices I make and the food that I buy. Sound familiar?
Honestly, a myth exists that eating healthy costs a fortune. Remember the coined phrase, "Whole Paycheck." Many people think the only possible way to eating healthy on a budget is the only way to go.
So, does healthy food truly cost a fortune?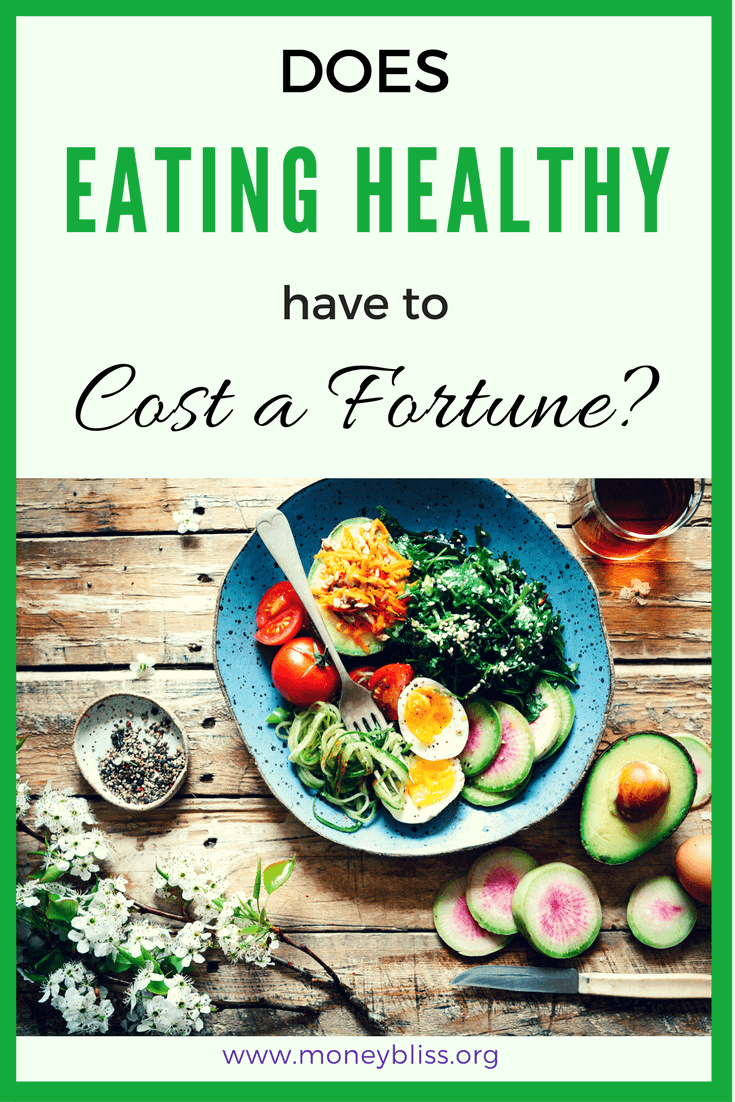 Price of Convenience
This is what kills every grocery budget each and every month. The price of convenience.
While it is easy to pick up prepackaged goods, they come at a cost. A monetary cost of being more expensive. In addition, many times, they are full of preservatives and other not-the-best-things for-you ingredients.
The argument here is "I don't have enough time."
I totally get it. Time is precious. However, I have personally noticed more energy when I am focusing on eating healthy and not grabbing convenience items.
For me, extra energy wins hands down over convenience.
If you are looking for convenience, check out Amazon Fresh or Thrive Market. Pay for delivery of fresh, nutritious foods rather than quick convenience items.
Price of Organic Foods
Thankfully, the prices on organic foods have come down significantly over the five years. Organic items are becoming more mainstream than ever before. Which is great news for all of us!!
The key to buying organic fruits and vegetables and not spending a fortune is to buy them in season. Make sure to pick up a copy of the Grocery Stock-up List.
This will help guide to what a reasonable price to pay for grocery items.
Also, the list includes many organic items.
Also, I use the Dirty Dozen and Clean 15 List to further stretch my grocery budget. This is a guide put together by the EWG on the pesticide use on popular fruits and vegetables. For further reading, go here.
As for processed foods, spending extra money on the organic version is probably not worth it. Studies have shown because of all the processing needed that is the food loses most of its nutrients anyway. Spend the extra money on organic milk, meat, fruits and vegetables.
Where to Find Healthy Foods
Every region has their own local grocery stores or chains. So, recommending one store isn't fair because there are plenty of options to choose from. Take the Grocery Stock Up List and shop the stores in your area. See which ones have comparable prices for many of the items you regularly buy.
While this task may take you an hour, it will save many hours later (plus money in the bank for not turning towards convenience).
Even if you live in remote locations, you can still access organic foods with services like Thrive Market.
Related Resource: 53 Items Not to Buy at the Grocery Store
Another option is to think outside the box – in this case, think outside the grocery store. There are plenty of CSAs or Community Supported Associations to get local produce from. Some pickup locations are even closer than the nearest grocery store.
For meat, ButcherBox is a great alternative to the meat sold in the grocery store. Personally, I think it is higher quality than what I can find elsewhere. (Unless your meal is cooked straight from the farm or ranch, which call yourself lucky.)
Bottom Line on Cost of Healthy Eating
No, eating healthy does not have to cost a fortune.
It may take a little bit more planning and strategizing. But, the cost of healthy eating does not need to eat a hole into your monthly spending.
If you think that I may be crazy and live in a super low-cost area, there is a study to back up my personal claims. In 2013, Harvard School of Public Health determined it cost only $1.50 per day to eat healthier. Yep, that is true. Add in the cost of inflation and it takes $1.61 per day to eat healthier.
For less than $50 per month, one person can eat healthier. A family of four would cost an additional $200 per month.
Given the average family wastes $1,200 – $5,000 a year in food, eating healthy seems fairly doable.
If you are ready to learn how to lower your grocery bill, go here.
Resources to Help You Eat Healthy:
Guess what, eating healthy does not have to cost of fortune. Healthy eating is affordable.