This post may contains affiliate links, which means I receive a small commission at no cost to you. Please read the full disclosure here.
Just because you want to save a few bucks here and there… does being frugal mean you are cheap? Or does it make you smart?
Many times, this debate can become very heated over a holiday dinner conversation.
Are you frugal?
Are you cheap?
Frugal vs. cheap.
The opinions on both of them vary differently, and honestly, it is because everyone puts a different meaning to the words frugal and cheap.
In order to bring a consensus to this debate, let's dig into the definitions of each word – cheap and frugal. Then, look at a frugal vs cheap chart to review real life examples.
Because all in all, we want to know what does frugal mean and that we aren't looked at being cheap.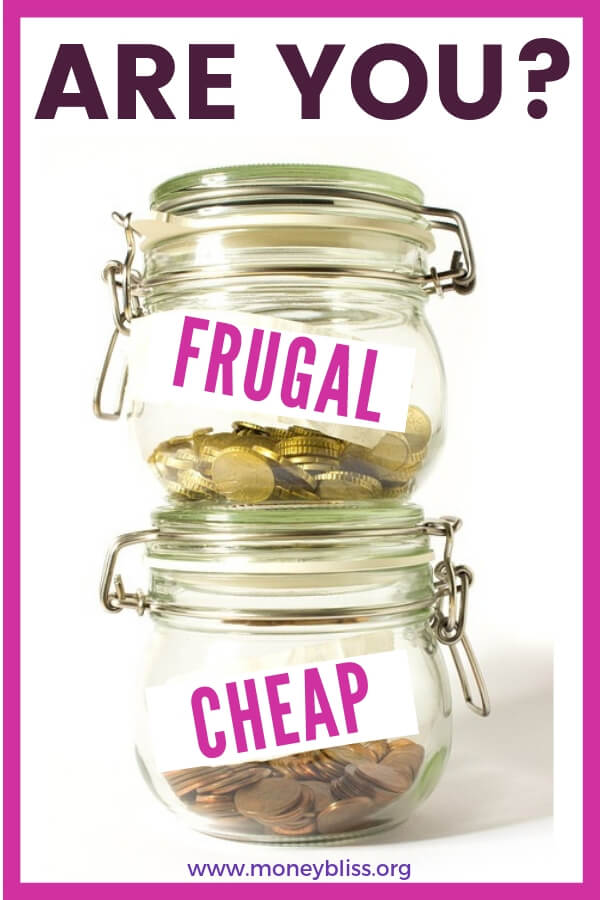 Does being frugal mean you are cheap?
What is the difference between being frugal and cheap?
Don't think back to your cheap uncle or someone else within your circle. The reason why is you never know what another person desires in life. Is it to travel more? Retire early? Or enjoy stuff now? Being frugal could be part of their money journey.
Both are ways to save money.
What does frugal mean? What does being cheap mean?
Too many times the definition of frugal and cheap get intermingled to mean the same. But, do they really have the same meaning?
Let's dig into the definitions from Merriam-Webster dictionary:
Frugal: characterized by or reflecting thrifty and efficient use of material resources
Cheap: (four possible meanings)
1: charging or obtainable at a low price (a good cheap hotel or cheap tickets) or purchasable below the going price or the real value
2 : stingy (My uncle was too cheap to pay for dinner.), of inferior quality or worth (cheap workmanship), contemptible because of lack of any fine, lofty, or redeeming qualities (feeling cheap)
3: gained or done with little effort (a cheap victory or talk is cheap)
4: obtainable at a low rate of interest
Okay, the very first thought is frugal has one definition whereas cheap has 8 variations of the same word.
That makes the conversation of being cheap much more complicated than the term of frugal.
Frugal vs. Cheap
Both mean ways finding ways to save money. These money savings tips help you long term.
In layman terms, being frugal with money means using the resources given to you wisely. It is being thrifty and making the most efficient use of your money. Many people may envy you (or reject you) for being frugal because they don't understand the true definition of being frugal.
Being cheap with money means two very different things.
The first meaning is obtaining a low price on something you already planned to purchase. The second meaning is withholding spending money even when you have the resources to do it.
In order to be frugal, there are times it is wise to find a low price on something that you planned to buy. Then, does that mean you are you cheap? Or does that make you wise and frugal?
Honestly, it is a fine line between frugal and cheap.
Each day we get to choose how we spend or don't spend our money. It is always best to make a plan for your money. That way you are controlling your money rather than having your money control you.
How do you want to be known? By being frugal? Or being cheap?
Frugal vs. cheap – the debate is real for many people.
Related Post: The Ultimate Guide to a Frugal Lifestyle
Cheap vs. Frugal Test
Where do you fall?
| | |
| --- | --- |
| Cheap | Frugal |
| Going out to eat and ordering tons of food and then skimping on the tip | Going out to eat and ordering a meal you can afford and leaving a standard tip |
| Refusing to replace clothes that are clearly worn out. | Shopping the clearance section at the store for clothing items to be replaced |
| Cheap people will not give money to causes or non-profit organizations. | Frugal people give what they are able to causes and non-profit organizations that they believe will impact the good for society. |
| Cheap people think short term. | Frugal people think long term. |
| By being cheap, it affects others. | By being frugal, it only impacts you and your household. |
| Only willing to spend the cheapest amount possible on something. | Willing to spend more money for quality items. |
| Spending the least amount possible is always the #1 goal. | Spending less is great, but not when it sacrifices other values. |
| People see being cheap as offensive. | People find being frugal to be smart. |
| Cheap means you spend money just because it was cheap. | Frugal means you make smart choices with your money. |
| People don't want to be around cheap people. | People want to be around frugal people (in hopes they learn some tricks). |
| Cheap means you want someone else to pay for you or by mooching off others. | Frugal means you have the resources to pay. It is just a matter if you choose to spend your money or not. |
| Cheap is ordering one drink with unlimited refills and splitting it. | Frugal is ordering water and drinking water. |
| You drive to every grocery store to get the cheapest price on groceries. | You pick one grocery store will the best sale and shop there. Thus, saving gas money, your time, and your sanity. |
Related Resource: 53 Items Not to Buy at the Grocery Store
Bottom Line – What Does Frugal Mean?
So, in all, being frugal means at time you are cheap. You like to score a deal here and there. You enjoy saving money on purchases.
However, being frugal does not mean you are stingy with money. If you are, then yes you are cheap.
Personally, I think being frugal is great for saving money. In the end, every penny saved is one less penny that must be earned.
Frugal Resources to Help You:
How to Stop Being Cheap?
For this discussion, we are using these definitions of cheap:
That is how being known as cheap has gotten its bad rap.
Let's discuss stingy. One of the first ways to being less stingy and cheap with money is to open your hand. Keep what money lands in your hand and let the rest fall away to someone else in need. You can do this by giving back. It can be with your time or your money.
See the benefit of helping others and not be known as an old miser of money.
If this concept is new to you, then read How to Start Giving Money when you Never Have?
Today, items are made very, very cheap. Many times that means the quality will only last a few times. Yes, you can score a deal for a dollar. but, would have it been wiser to spend a few more dollars on something that is quality and don't break.
Think about what you replace most often. Is there a way to upgrade the quality and save more money over time.
A perfect example is clothing. Personally, I wear jeans and dresses that cost over $50 each. However, I wear them all the time! So, the cost per wear is probably in the pennies by now. Here is a resource to help you – How to Shop for Clothes on a Budget.
How to Start Being Frugal?
Being frugal means you are making wise choices with your money.
For many people, that is a hard choice to make.
Because it means you may have to start living within your means and not have debt. It means paying in cash vs. loans.
Think about what you could do differently with your money and how you shop.
Could it be buying items on sale at the grocery store instead of the full price strawberries? Thus, lowering your grocery budget.
What about a spending freeze to truly understand your wants vs. needs?
What about moving to cash envelopes for those overspending areas that temptation is way too great?
None of these ideas involve extreme frugality. It is just small ways here and there to start being frugal. In this post, I tell how we saved over $5000 by being frugal in one area. It is #6 on the list. There are times I still can't believe I admitted it. But, it is true and something we still continue to this day.
What do you think? Does being frugal mean you are cheap?