Do Teachers Get Paid in the Summer? Tips to Maximize Income
Inside: The summer months are a great time to cash in while teachers get paid. Here are some tips to maximize your income as a teacher.
The school year is almost over, and soon students will be heading off to summer vacation. But how about teachers?
Teachers are expected to start getting paid in the summer too- or at least that's what we've been told. However, some believe there may not be enough money for this extra pay out of pocket if all schools do it by themselves.
So now I want you to think back on your child's teacher from last school year – did they get paid in the summer?
Summer is here, and it's time for teachers to ask "do I get paid in the summer?"
The answer depends on your state. The following are guidelines for what teachers should expect from their employer during the summer break as well as tips to maximize their paychecks.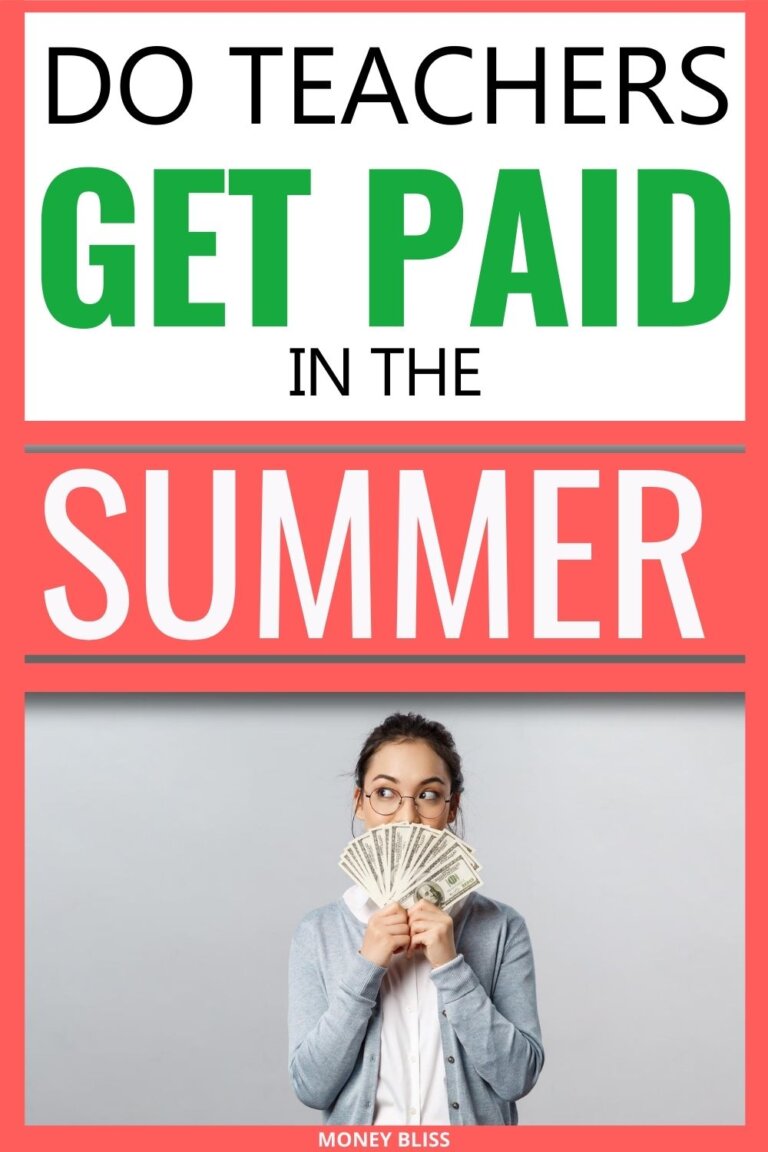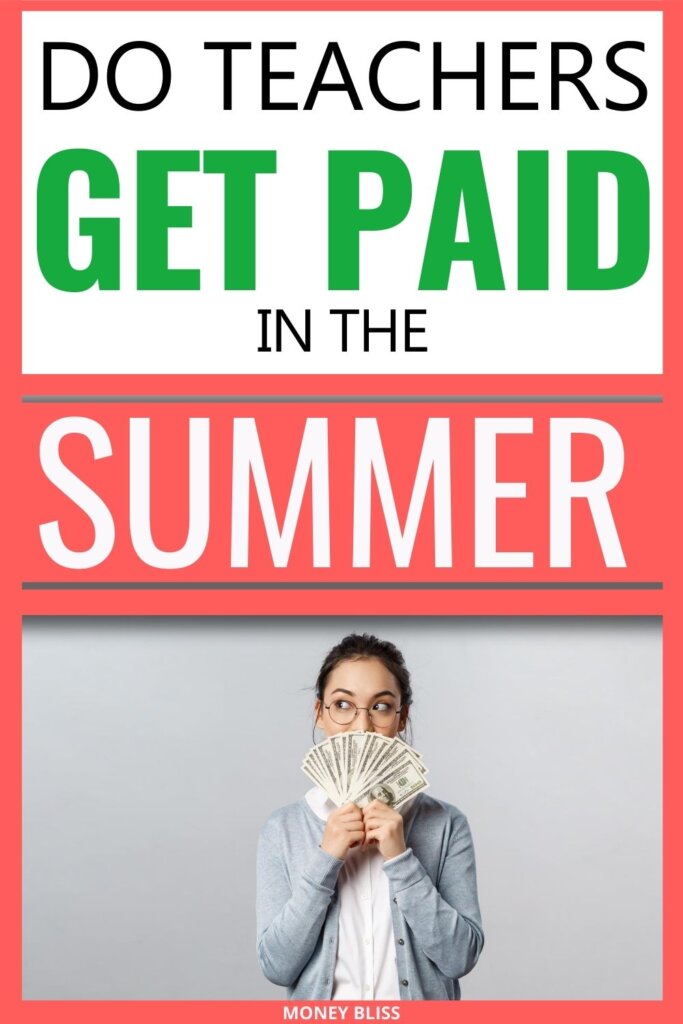 What is the average salary for a teacher?
The average salary for a teacher varies depending on the country, level of education, and years of experience. However, a teacher's salary is typically lower than other professions with similar levels of education and experience.
This is the unfortunate truth for the teaching profession. Truly I believe teachers deserve to be paid higher as they are guiding our future generations.
On average, the national classroom teacher salary was $65,090 for the 2021-21 school year, according to the National Education Association.
This varies depending on the factors mentioned above, such as degree attained and experience level.
average salary for a teacher Examples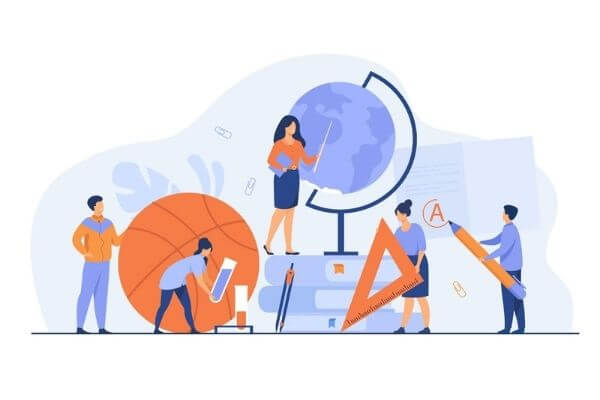 Using the same data from NEA, let's look at some examples.
For example, the average teacher salary in California is $84,531 per year, which California ranks 2nd highest for average teacher pay among 50 states. Illinois starting salary is $68,083 and ranks #12 in the nation.
Whereas, Arizona's teachers survive on a starting salary of $50,782 ranking #26 in the nation. In Colorado, the average starting salary for teachers is a pitiful $35,292 ranking #48 in the nation.
Do teachers get paid in the summer?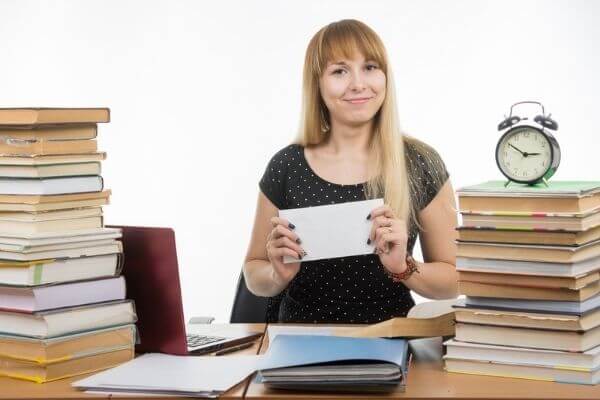 There is no one answer to this question because teacher salaries can vary depending on the state or country in which they work. In some cases, teachers may get paid during the summer months, while in other cases they may not.
Most teachers in the United States are paid over a 12-month period.
During that time, they work 10 months and receive a paycheck for those 10 months. For the other two months, they do not get paid since they're on summer vacation. However, there is an option to have a 12-month pay cycle where teachers are paid all year long.
Alternatively, some teachers choose to have a 10-month pay cycle where they only receive paychecks during school hours. This can be difficult because budgeting is hard when you're only getting paid during certain times of the year. You'll likely spend more money than you make during those eight weeks of summer vacation!
The 12-month pay structure is an option for any teacher that wants to collect their salary all year long. It is important to note that this alternative might come with less money per month, but it spreads out the income evenly throughout the year. Teachers should schedule their pay dates around the year so they make a consistent amount of money throughout – more on that shortly.
Teachers need to be careful when structuring their pay dates during the summer because they'll likely spend more in that time period. It is important to understand how your pay is structured so you can plan accordingly.
This post may contain affiliate links, which helps us to continue providing relevant content and we receive a small commission at no cost to you. As an Amazon Associate, I earn from qualifying purchases. Please read the full disclosure here.
Are you passionate about words and reading?
If so, proofreading could be a perfect fit for you, just like it's been for countless of readers! Learn how you can create a freelance business as a proofreader.
Check out this free workshop!
Bookkeeping is the most stable, reliable & simple business to own. This is how to make a realistic income -either part-time or full-time.
Find out TODAY if this is THE business you've been looking for.
How many weeks do teachers get off?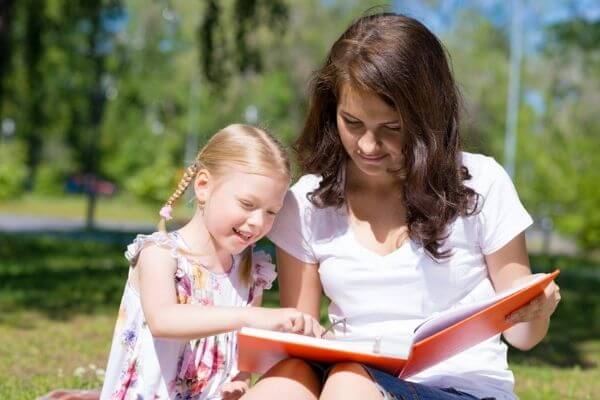 Teachers in the United States typically get a total of around 13 weeks off over the course of the entire school year. The summer break is typically six to eight weeks long, and most teachers use their winter break and spring break to take some time off as well.
What do teachers do during the summer?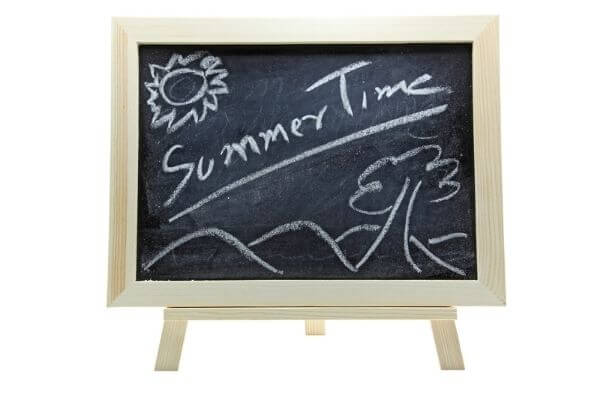 During the summer, teachers have a lot of time on their hands compared to the school year. They can take up new hobbies or just relax and enjoy the break!
Teachers often take a summer break to do things they enjoy. They might go traveling, spend time with their family and friends, or just relax by the pool.
Find 17 more ideas on what teachers do in the summer.
What do teachers do in the summer for money?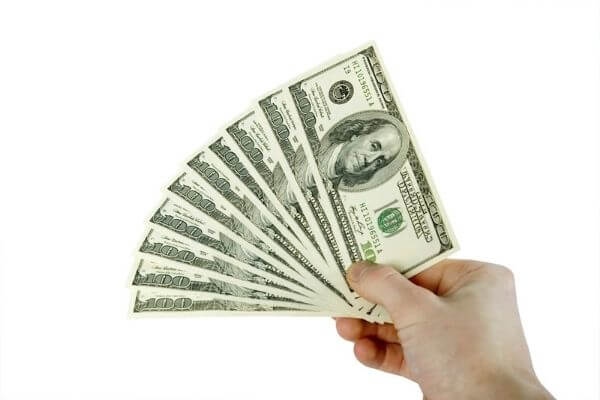 Teachers typically either work in the summer or take a break without working.
Depending on their profession and geographical location, some teachers will find jobs during the summer while others will not. Some may also teach for a summer school or choose from one of the ideas below.
What are some ways to maximize income during the summer months?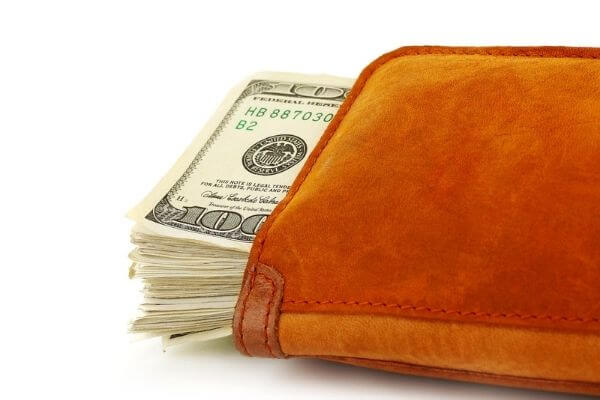 There are a few different ways to make the most of your income during the summer months.
First of all, many teachers find that this is the best time to enjoy a getaway from the school system. They want to have their downtime, decompress, and relax.
Financially speaking, you must be prepared with your budget to make the most of your paychecks.
Plan ahead
Depending on how you opt to get paid during the summers is important. If you choose the larger paychecks over 10 months, then you need a plan for money when your checks stop for the break. If you keep your pay consistent throughout the year, then you may want to work on cutting back on certain expenses since you have more time over the summer.
Teachers can have the same schedule as their children. This gives them a chance to spend more time with them and see them in a different environment than at school.
Many times, teachers are not going to complain about a summer schedule that has flexibility and is similar to those of their kids. They know that they need to arrange ahead and structure their schedule correctly in order to take advantage of the time they have outside of work.
Most teachers put in a lot of hours, but it's worth what they get out of it because they enjoy teaching and being with children.
Have a money saving goal in place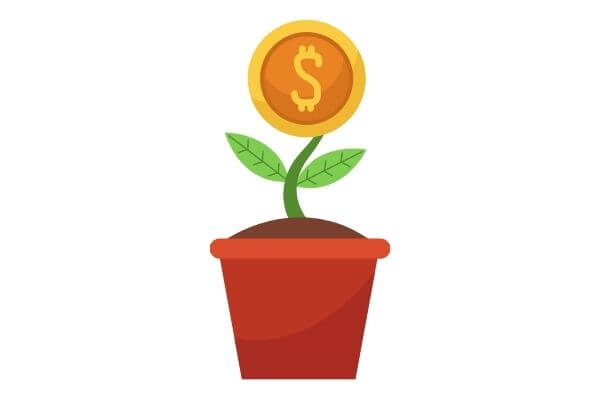 This is especially true if you do not receive paychecks during the summer. You need to have money saved up to cover any summer expenses.
A great idea is to create a summer savings account to accrue funds for when school breaks for the session. This choice allows teachers to save money that will be automatically deducted from their checks throughout the year and deposited into a different account, which will earn interest.
In order to make this work, it is important that teachers choose banks that are not convenient and do not offer online access as the temptation may be too great and cause unwanted withdrawals from the fund.
Understand your work life balance
Teachers work long hours throughout the week. The statistics vary on exactly how many hours. However, there is a consensus the number of hours has increased since 2020 (source).
For a teacher, their working hours include school-related activities like conferences and staff meetings, which can include teaching extracurricular programs like club soccer or lesson planning for new teachers. Oh, and don't forget their main focus is to teach our children.
While it is important to maximize income during the summer months, it is also important to find a job that does not require so much time and energy. A summer job can be more of a lifestyle choice than just an employment opportunity. A summer job can be physically draining and require you to work long hours and to live with the same mindset year-round. Some jobs are easier during the school year due to shorter days, fewer students, or less paperwork.
For others, their time freedom is more important than living on a tight budget.
How can teachers make extra money during the summer?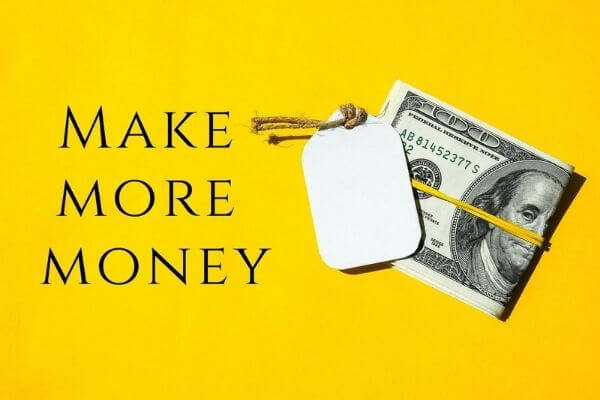 Teaching jobs are plentiful during the summer months when kids are home from school.
Also, this may be a great time to invest in furthering your education, garner new skills to change industries, or start a side hustle.
Many teachers take on a side job during the summer to make some extra money. This is especially true for newer teachers looking to pay off student loan debt. The most common option is to become a private tutor, but there are plenty of other ideas.
There are many different ways for teachers to make extra cash during the summer. So, let's get you some extra cash ideas!
Idea #1 – Get paid to tutor students over the summer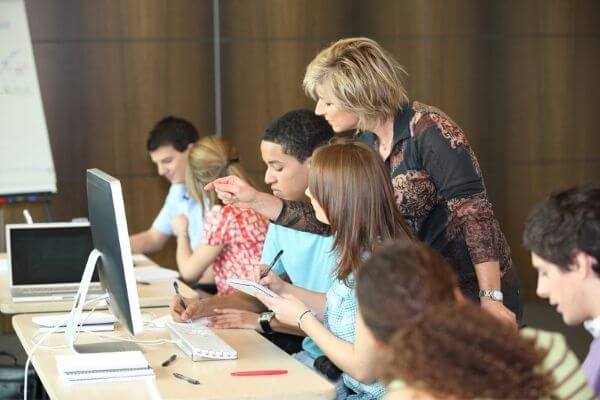 Private tutors are the most common side job for teachers. If you're already a great teacher, you'll have no trouble getting referrals and growing those classes.
You can also look into online tutoring, which has exploded in popularity recently. Tutoring is a flexible summer job for teachers who want to keep their skills sharp.
Here are some places you can find work as a teacher: Skooli, TutorMe, Aim-for-A Tutoring, and more.
You could make up to $50 an hour tutoring students. There are also plenty of summer job opportunities for teachers who want to stay connected with their students during the summer.
Tutoring is a great way to make extra money for teachers year-round.
Idea #2 – Take on a part-time job
If you're looking for ways to make extra cash during the summer, consider taking on a part-time job. There are many opportunities available, and the pay is usually good.
As an example, a teacher who has been teaching for 14 years, every summer he takes on an additional job to make up for the low pay he receives during the school year. He has money taken out of his summer pay every week to supplement it during the school year months.
There are many opportunities in retail, restaurants, construction, and other fields. There is a great need for part-time people making wages over $17 an hour.
Idea #3 – Teach summer classes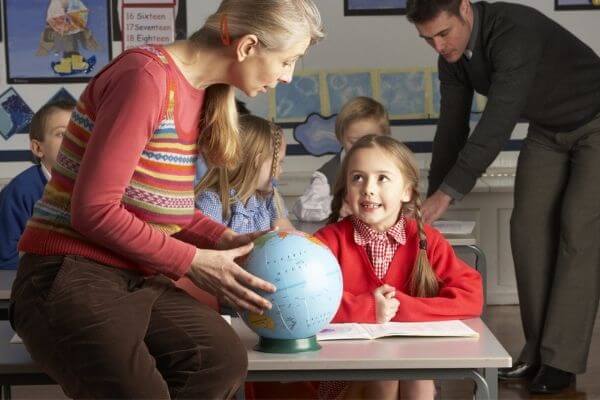 Another popular option for teachers who want to make extra money is teaching summer classes.
Many parents are worried about their kids losing previously learned information and practice the entire summer to improve retention rates. In addition, many school districts offer summer classes to help students retain information.
Check with your local school district to see options.
Idea #4 – Search for seasonal work
As the school year comes to a close, many teachers are looking for ways to make money during the summer. Fortunately, there are a number of options available with seasonal jobs starting to come available. In addition, many are outdoors and you can enjoy the sun and some fresh air!
Teachers can also look into manual labor-type jobs or summer camps for income in the summertime.
Most of these types of jobs start hiring during the slow winter months. So, make sure to apply early and have something set up before the school term ends.
This is great for someone who wants an early morning job!
Idea # 5 – Professional Development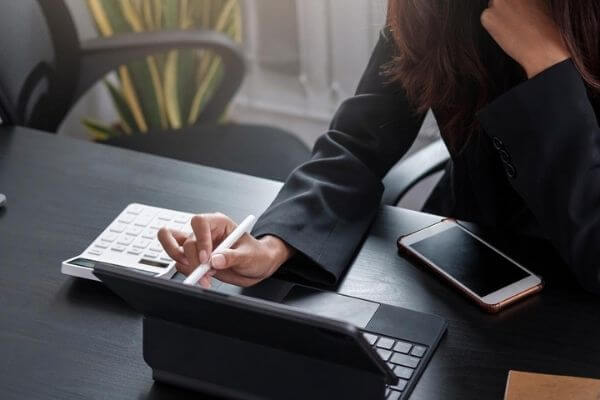 The concept of being willing to learn is important for teachers. It's one reason why taking on professional development courses during the summer can be so valuable. Working through professional development courses during the summer can also give you an edge when it comes time to look for a new teaching job.
However, this is how you earn a higher salary year-round.
Teachers can increase their earnings by holding a master's or doctoral degree. Some states pay teachers with master's and doctoral degrees higher wages than others. This is how you increase your hourly wage.
Idea #6 – Sell Lesson Plans
Yep, this one is becoming even more and more popular!
Why should you let all of your great lesson plans just sit aside during the summer? Start hustling and sell your lesson plans for the cash.
Etsy is a great place to start.
Idea #7 – Start a Side Hustle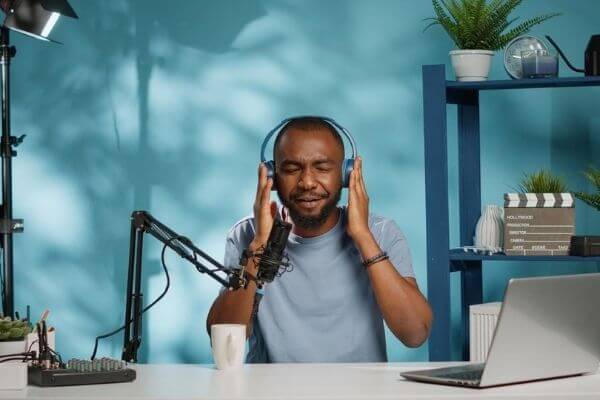 What is a side hustle? It's something that you can do to supplement or replace the income from your main job, like running an eBay shop during the summer when you're not teaching. Or even your own blog?
Think about the hobbies you enjoy and see if you can make money by doing something you enjoy. That is a great place to start!
Here are great ways to make money on the side:
It is possible to make more money on your business than you make more money in your current job or career.
Idea # 8 – Learn to Make Money From Stocks
If you're interested in learning how to trade stocks, this is the perfect place to start.
One former assistant principal, Teri Ijeoma, changed her life when she left her job as an educator and become an active trader.
What is a day trader or swing trader? It's someone who trades stocks on the stock market but knows when to get out.
You can also make money as a swing trader by taking advantage of fluctuations in stocks. For example, you can make money as a swing trader by buying stocks at the low point and selling them at the high point.
If you are interested in swing trading stocks, you must get an investing education. Most of my fellow traders are former teachers after taking the Trade and Travel investing course.
Idea #9 – Work at a Summer Camp or other Child Care Jobs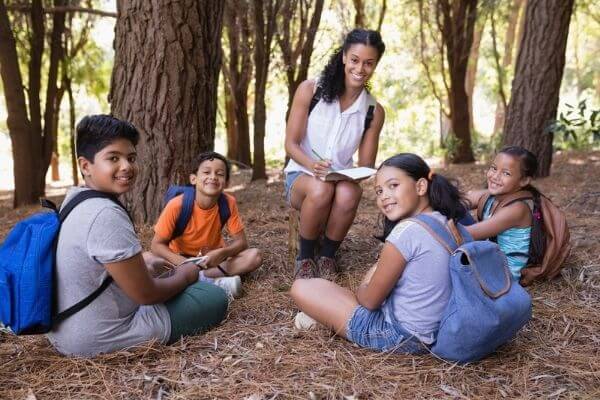 There are many ways for teachers to make extra money during the summer and have fun by working as camp counselors.
There are also many child-related jobs that need great employees when kids are home from school due to summer break. Some parents will keep their children busy throughout the summer, but others are worried about what they have learned in school and may soon forget.
Also, many families are looking for nannies while their children are out of school. Parents want teachers to play a role in helping them with school retention throughout the summer, and not be behind in August or September.
Most of these jobs will pay higher because they prefer a licensed teacher.
Idea #10 – Offer to give people rides or any personal assistant help
You can make money by giving people rides in your car. For example, you could offer to pick up strangers at the airport and take them to their hotel or host a taxi service.
You could be a personal assistant and help with chores or errands around the house.
People are always looking to outsource things and you could easily make some extra side money.
This is a good list of ideas for teachers to make money during the summer.
What are some tips for budgeting during the summer months?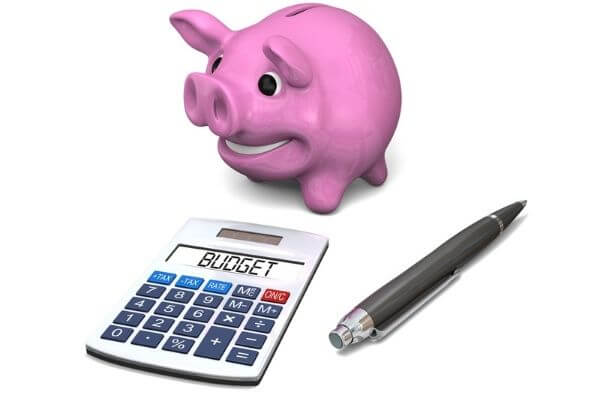 Summertime is a great opportunity to relax and take a break from work, but it can also be a time to save money and prepare for the next school year. Many educators receive a paycheck during the school year but don't have regular income over the summer. This makes it important to budget throughout the year, so you can have enough money saved up when school starts again.
Budgeting can be a stressful process.
However, budgeting should not be about cutting corners or reducing spending, but rather about creating financial freedom for the long term. The tips in this article are actionable and will help attain financial independence for the future.
Some tips for budgeting during the summer months include setting a budget for the summer months, creating a savings goal, and cutting back on expenses.
It is important to remember that many people are traveling and spending money during the summer months, so it's important to be smart with your budgeting decisions. By following these tips, you can make sure that you have enough money saved up when school starts again!
Tip #1 – Create a budget for the summer months
Budgeting during the summer months can be difficult for those without consistent pay. However, it is possible to do with some creativity and planning. Here are a few tips:
Create a budget for $500 less a month than your paycheck. This may seem challenging, but it is possible if you make cuts in specific areas.
Save that $500 for your current saving goals.
Look at expenses that you don't care to spend money on and cut them out.
House hack your vacation spots by house-sitting for someone else!
Be more realistic about how much you spend during the summer.
Make sure you are reaching your long-term goals.
Budgeting can be made easier with the help of planning ahead and keeping a buffer of money available.
Tip #2 – Save money during your summer break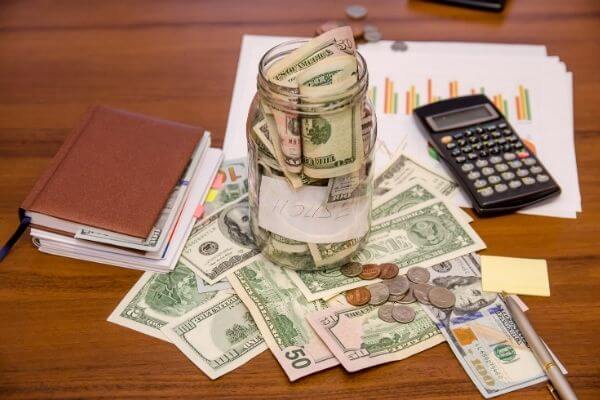 There are many ways to save money during your summer break.
Saving money can be difficult, especially during the summer when you may have more free time.
It is important to organize your finances and set a budget before spending so that you are not surprised.
It is important to allocate the money saved into long-term goals or savings accounts so that you can reach them one day!
You can start by taking advantage of many of our popular money saving challenges:
Tip #3 – Find Ways to Make Extra Cash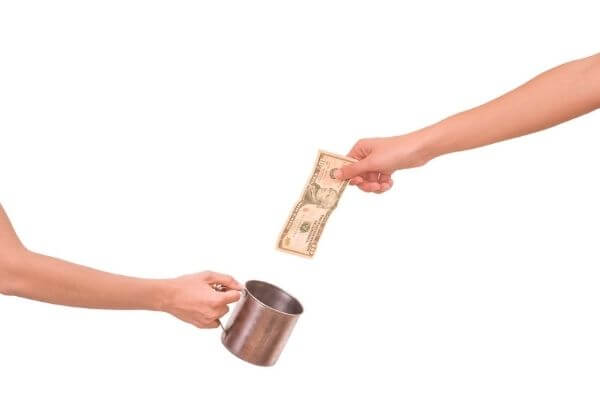 There are many different ways to make extra cash during the summer months. In fact, we detailed many options above.
This is the perfect time to make extra money. As we outlined already, many teachers are severely underpaid for the work and dedication they put in. So, you might as well find a way to make extra money now and then get back to what you love during the winter months.
Many teachers find other ways to make extra money during the summer. Some work in summer school, while others take on private students. Still, others find work in professional development courses. Whatever route you decide to take, be sure to keep learning and growing as a teacher. That's the best way to maintain your edge in the competitive job market.
Tip #4 – Find free fun!
Another tip is to make a list of summer activities that are affordable and fun.
Here is a little secret… you do not need to spend a fortune in order to have fun. In fact, there are plenty of things to do with no money!
Stretch your budget by picking a few higher ticket items and supplement the rest with free fun!
How do you spend summer break?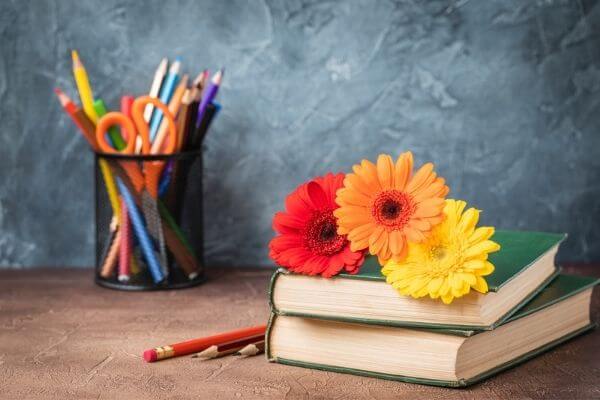 Most teachers would agree that the summer break is necessary to avoid burnout during the first six weeks of school. The summer break also gives students and teachers a chance to recharge their batteries and start the new school year fresh.
The teachers I know usually spend their summer break going on trips with my family and friends or relaxing at home. As well as catching up on home projects or reading books and watching movies during free time.
With Your Teacher Pay Structure, What are Your Next Steps?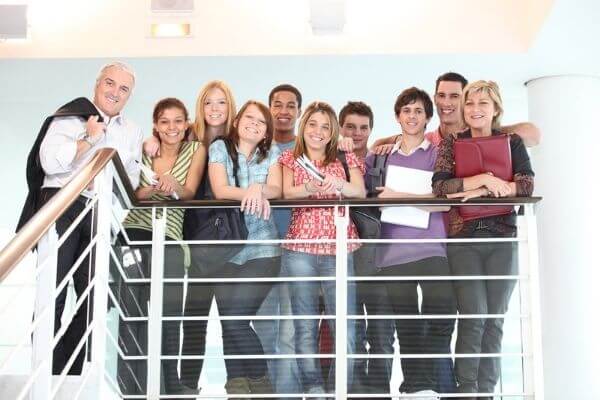 There are a lot of different ways to spend summer break! Some people choose to travel, others stay home and relax. Still, others take on summer jobs for teachers or side hustles to make some extra money.
And then there are the teachers – they often use their summer break to catch up on work or prepare for the upcoming school year.
No matter how you choose to spend your summer break, it's important to enjoy it! Take some time to relax and recharge, but also make sure to stay productive and get things done.
That way, you'll be ready for whatever comes your way when fall arrives.