This post may contains affiliate links, which means I receive a small commission at no cost to you. Please read the full disclosure here.
Christmas is a gathering! Whenever, there is a gathering – it typically involves food and laughter. During the holiday season, that means a lot of food – from holiday dinners, special traditions, or quality family time. It is a season to celebrate.
According to a survey by Deloitte, people plan to spend $172 on food and entertaining in 2017. The total amount spent on the holidays is just shy of $1 trillion dollars.
Sometimes we have traditions. Sometimes we want new Christmas dinner ideas. Since the holiday traditions are vast and different, I rounded up bloggers to share their Christmas Dinner Traditions and how they save money. So, let's dig in and learn how we all celebrate the holidays through food…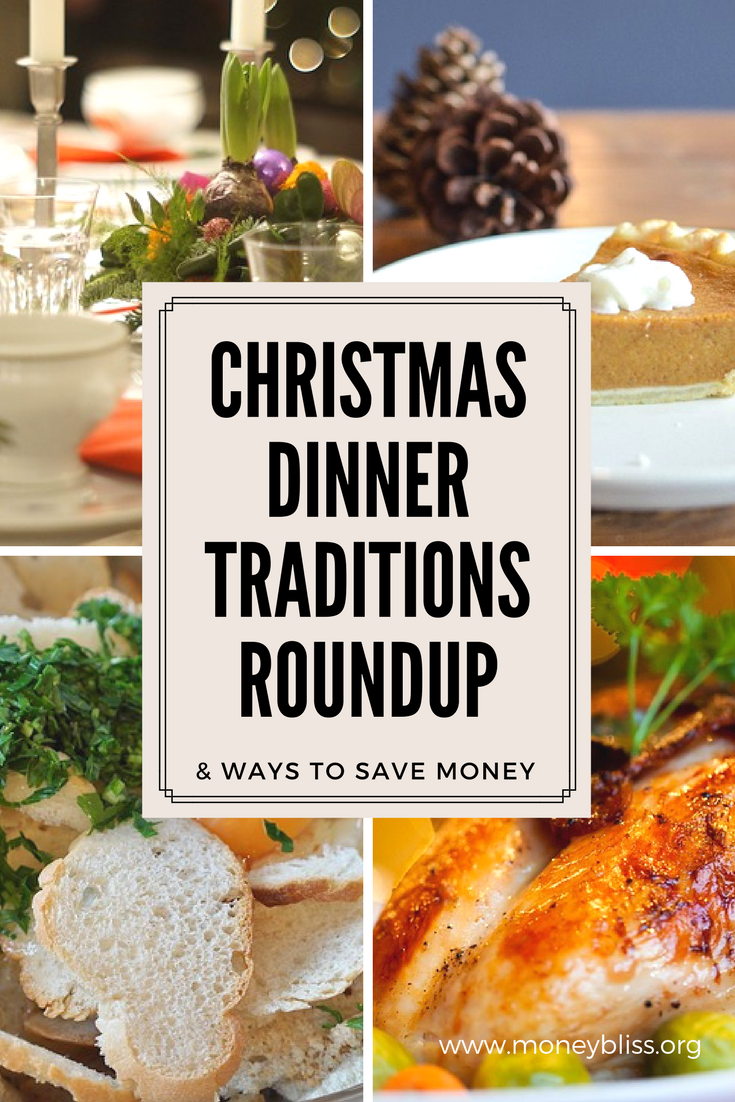 Tarah from What I Gather
Personal Tradition – Our tradition is visiting different family members every year since our kids' grandparents are so spread out. No matter where we are, we love to bring a special healthy dish. Our go-to sides in the past have been a paleo sausage "stuffing" and maple pecan sweet potatoes. This year, I'm trying out an ancho chili Brussels sprouts recipe!
How You Save $$ – We save money by always splitting up the responsibilities amongst all guests. The host usually does the main course and a side or two and the rest of us bring one or two dishes, as well. It saves time and money for everybody!
Why the Tradition is Special – I love the holidays and I love food. I am all about balance, so I love contributing a healthier alternative to traditional holiday dishes and also leaving room for a few treats, too.
Do you splurge on the Christmas dinner, but save in other areas? – In a sense. We don't do a huge Christmas dinner, but we love to bake cookies for Santa, have a special Christmas morning breakfast, and have a big (but relaxed) meal with family. So, we spread our budget among all those things.
After answering these I realized that even though I love holiday foods, most of our traditions have less to do with food and more to do with spending time together—cutting down and decorating our tree, watching Christmas movies, and looking at lights. 🙂
Connect with Tarah at her site www.whatigather.com. Follow her on Instagram, Pinterest, or Facebook.

Kim from Kimbrough Daniels, LLC
Personal Tradition – One of our traditions at Christmas is that we focus on three main meals: Christmas Eve, Christmas morning and Christmas Day dinner. On Christmas Eve, we usually have a simple soup or chili. I can prep it ahead of time and everyone can grab a bowl. Christmas morning we have an egg dish and baked French toast. I prep those the day before, so I can just pull them out and pop them in the oven first thing. Then Christmas dinner is usually very simple: a protein (Salmon has become a favorite), veggies and a salad.
How You Save $$ – We save $ because we eat fairly simple meals. I also make a list of EVERYTHING from beverages to desserts and I try to get it all in one trip to the grocery. Multiple trips tend to turn into "impulse" buying sprees. Making a list keeps me on track and organized.
Why the Tradition is Special – These meal traditions are special because we begin talking about them right after Thanksgiving. We vote on the soup(s) for Christmas Eve and then we make a list of the dishes we love to have at Christmas. We all love food and tend to bond over the planning and the eating.
Do you splurge on the Christmas dinner, but save in other areas? – The only thing we eat that I consider a "splurge" is the protein. We usually opt for Salmon or Beef. Turkey is often the least expensive protein, but we save Turkey for Thanksgiving only.
Connect with Kim at her site. Follow her on Instagram, Pinterest, or Facebook.

Laura at Driven By Curiosity
Personal Tradition – One would think that all Germans have the same food for Christmas dinner on the

24th of December

. However, that is definitely not the chase. Throughout Germany, there are many different Christmas meal and Christmas traditions – like some will have potato salad with wiener, other will have carp with fried potatoes.
My family (we live in Saxony which is located in the east of Germany near the Czech boarder) has what I would consider the most traditional German Christmas meal: roasted goose and rabbit with red cabbage and dumplings.
For lunch on the 24th, my family likes having a soup with some pieces of the goose and noodles. In the afternoon, we snack on gingerbread, Spekulatius (spicy shortbread), Stollen (fruit cake), Baumkuchen (cake in form of a tree trunk) and marzipan potatoes.
Dinner is always exactly at 6pm. For dessert, we like to have ice cream – but I think every family is different here!
In Germany, we continue celebrating Christmas throughout the 25th and 26th as both days are holidays. My family likes eating the leftovers from Christmas dinner, however when we visit my grandma we have potato salad with wiener (my grandma seriously makes the best potato salad ever).
How You Save $$ – My dad makes everything from scratch. Also, he cooks a huge amount of food which we can then eat over the next few days – so it is kind of like meal prepping for the Christmas holidays!
Why the Tradition is Special – Beside that fact that everyone in my family absolutely loves food, Christmas dinner is a precious time to come together and celebrate. My dad is a wonderful cook and does the magic in the kitchen. My mum is the one to clean up the mess after! Me and my sister help where we can, for example. I like forming the dumpling with my dad, my sister prepares the dessert – that is our little tradition.
Do you splurge on the Christmas dinner, but save in other areas? – We buy the goose from our local farmer and we get the rabbit from friends. It is very important to us to eat good, local, organic food all year around but especially at Christmas. So, we definitely splurge on that! We save by not overdoing it on decor and buying unnecessary knick-knacks. We keep it minimalistic and classic when it comes to decor. Nothing extravagant or overdone; my mum just uses what we already have.
Connect with Laura at her site www.drivenbycuriosity.co.uk. Follow her on Instagram or YouTube.
Kristy at Money Bliss
Personal Tradition – Each year, we have a different themed dinner. We steer clear of doing turkey and all of the fixings since we ate that a couple of weeks prior. In previous years, we have cooked up the following: Mexican Fiesta, Pizza Parlor, Burger/Hot Dogs Stand, Messy BBQ, Everything Salad, Italian Spread, Greek-Fest, and Football Favorites. (Yes, we name the themed dinner for fun!) Typically, we decide on the Christmas meal at Thanksgiving.
How You Save $$ – First, we have a small stockpile of food that is purchased when on sale. So, that helps in cutting down costs. Typically, I search the freezer for what needs to be cooked up or someone's favorite meat to start the decision making process. Some years, we save more based on the theme chosen. Other years, we spend more like when I purchased most of the Greek food from a local restaurant.
Why the Tradition is Special – Back in the day, my mother-in-law would ask her boys what they wanted to eat. She was something simple that everyone would enjoy. My husband enjoyed being able to have a voice in what was cooked. His favorite – Burgers! The year we had the Burger/Hot Dogs Stand, he was grilling in the snow and loving every minute of it.
Do you splurge on the Christmas dinner, but save in other areas? – This varies from year to year. It depends what we decide for the themed meal. Our focus is on experiences rather than gifts. So, our Christmas gift giving is only three presents per kid (pajamas, something they need or to read, something fun). Also, many of our Christmas decorations are hand me downs – yes, I will gladly take that 12 foot Christmas tree for free!
Connect with Kristy at her site. Follow her on Instagram, Pinterest, or Facebook.
As you decide on your Christmas dinner meal, I hope this post provided insights to various traditions! There are ways to save money here and there. Most of the bloggers seem to prefer saving in other ways as well as on the holiday meal. Connecting with friends and family was a higher priority!
Comment below on what you loved the most or what you want to incorporate in your home.