Christmas Shopping Tips: How to do Christmas Shopping on a Budget
This post may contain affiliate links, which helps us to continue providing relevant content and we receive a small commission at no cost to you. As an Amazon Associate, I earn from qualifying purchases. Please read the full disclosure here.
---
When do you typically think about Christmas shopping?
Around Thanksgiving? Year-around? Christmas Eve?
Regardless of when you plan to start your Christmas shopping, it is never too early to start creating your Christmas budget. Especially if you are Christmas shopping on a tight budget!
When are trying to figure out what should I buy for a Christmas gift on a budget? It can seem like you are putting together a jigsaw puzzle based on what you can afford.
Well, there is great news you will find out in this post! By starting a little early and planning you can guarantee Christmas shopping on a low budget will work for you! Then, you can keep on charging around with your personal money goals.
One of the best tips for Christmas shopping on a budget is to save money all year for the occasion.
That way you avoid the trap of not having money to spend and then resorting to charging your Christmas presents on a credit card. Just a warning… a small amount of debt can turn into a slippery slope and can snowball into much, much more!
Back in the day, many families received a bonus around the holidays. They would determine their Christmas budget on the amount of money they are awarded in this bonus for gifts. However, there is a downfall and risk to use this strategy because these bonuses aren't guaranteed. Nowadays, very few companies actually give out Christmas bonuses.
So, take it upon yourself to save money on a consistent basis. This could be in the form of bank account or cash envelope. Either way, you can set aside a set dollar amount or a percentage of your income throughout the year for Christmas shopping.
If you are serious about learning how to Christmas shop on a budget, then it is crucial to start with a budget and share your plan for Christmas gifts without exceeding this pre-determined budget.
By spreading out the amount saved for Christmas shopping or actually buying gifts throughout the year, you can successfully keep your budget in control. More importantly, you can eliminate a great deal of stress, which often accompanies last-minute Christmas shopping.
This is exactly how do you make a Christmas special on a budget.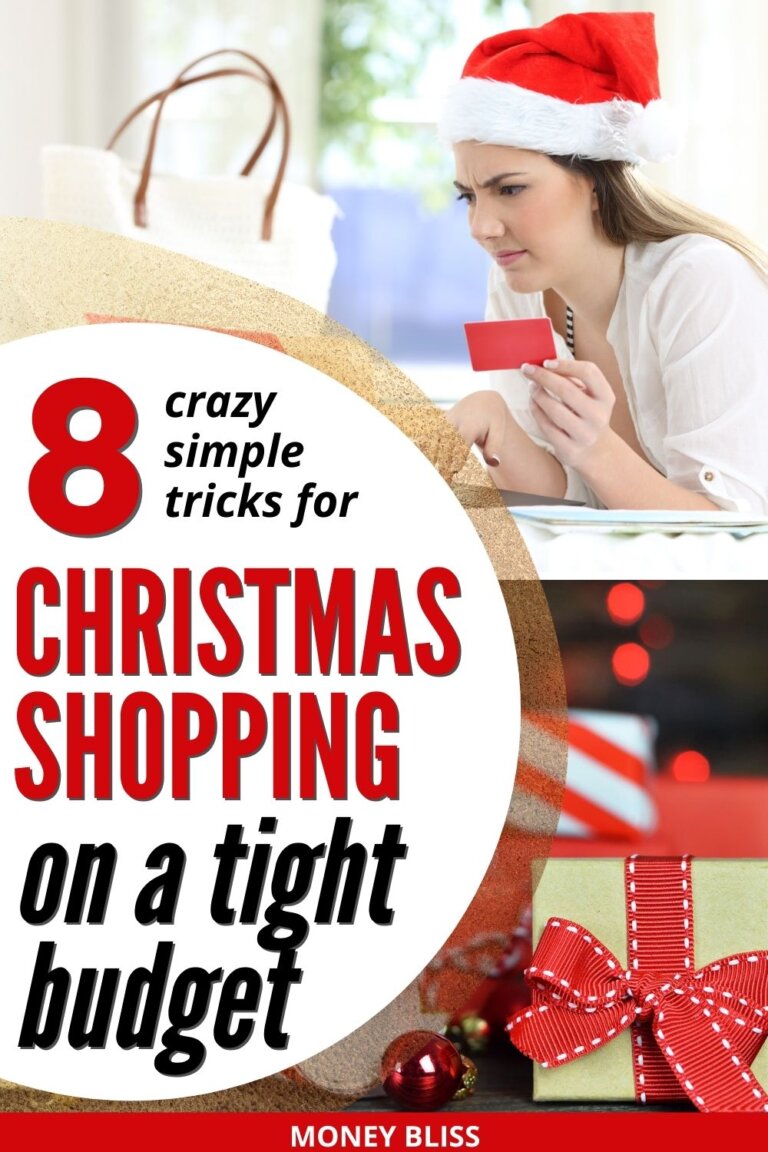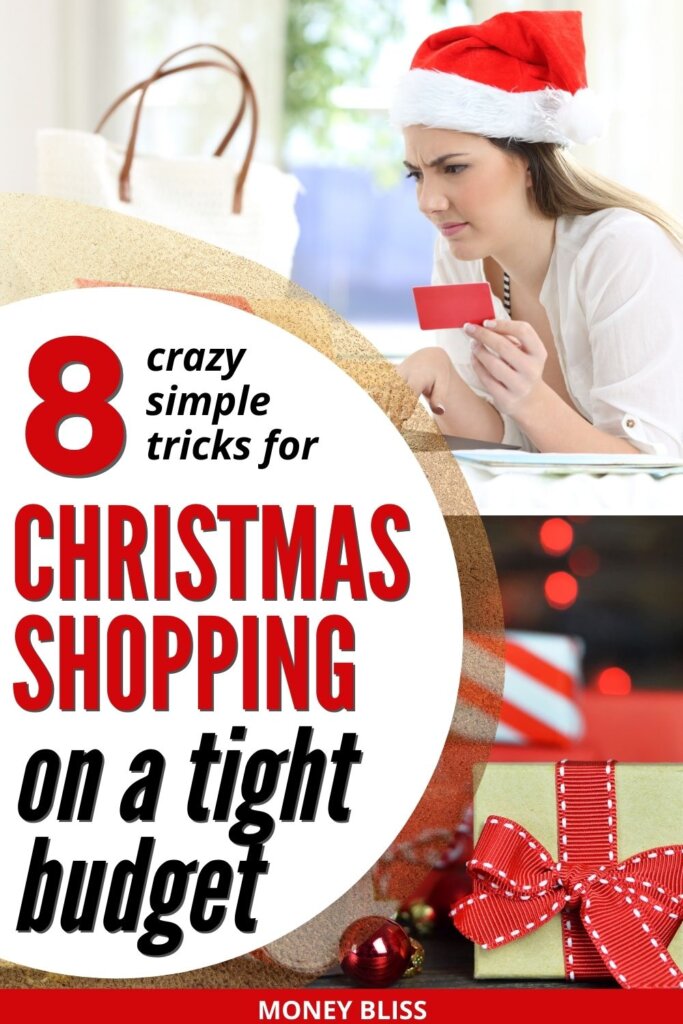 Simple Ideas on Budgeting for Christmas Shopping
One of the best budgeting for Christmas tips is to actually plan out your Christmas shopping. For some of us, who despise planning, you may loathe the idea.
However, in the end, it is one of the best money saving ideas to embrace for long term financial freedom.
If you are trying to figure out how can I do Christmas cheap, then this post has eight simple ideas for budgeting for Christmas shopping.
1. Decide Your Christmas Budget
It is necessary to determine how much to spend before your start Christmas shopping and especially Christmas shopping online.
It is never too early to start thinking about creating your budget for Christmas shopping. As much as I would like to be able to purchase everything under the sun for our friends and family, I must make choices on where my hard-earned money should go. (Hint: This is wise money management advice all-year-around.)
With most of our unfortunate reality, we must budget carefully to be able to purchase Christmas gifts for everyone on our list. With this in mind, it is very imperative to set a budget for Christmas shopping and stick to that budget you agreed on.
2. Make a Christmas List (and check it twice)
After creating a Christmas budget, making a Christmas list in the one of the best budgeting for Christmas tips you can take away!
Just like with regular money management, it is a smart move to make plans for your money BEFORE you start spending it.
Grab our free printable gift tracker and start writing down everything you can possibly buy during the holiday season.
Review your Christmas list and make sure your dream list is something that you can truly afford. Make sure to check it twice!
3. Limit the Number of Gifts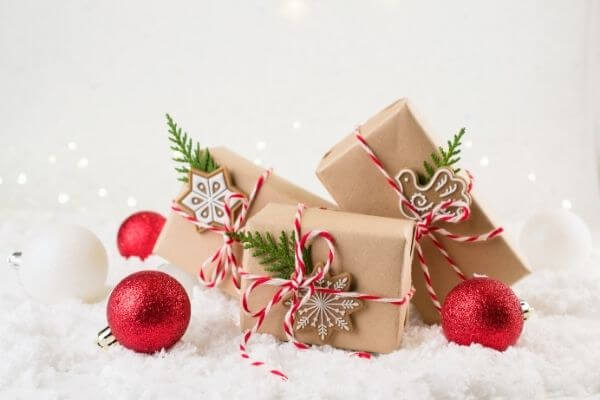 What is the true meaning of Christmas? Buying loads of presents you can barely afford or spending quality time with family and friends?
It is absolutely okay to limit the number of gifts you buy for each person on your list.
Many people apply the 4 gift rule at Christmas to stay within their Christmas budget, avoid overspending, and to teach their kids that materialistic items is not the purpose of Christmas.
This gift-giving idea is simple and based on each child receiving four presents:
a want
a need
something to wear
something to read
4. Shop Early or Shop Late?
Decide what type of shopper you are. Do you prefer to shop throughout the year and pick up frugal bargains? Or are you scrambling at the last minute to shop to do your Christmas gift shopping on a budget?
Honestly, there is no right or wrong answer.
You need to decide how to Christmas shop on a budget that will work for your personality.
Your shopping habits will decide how you will best stay within your Christmas budget and not stress more during the holiday season.
5. Use Cash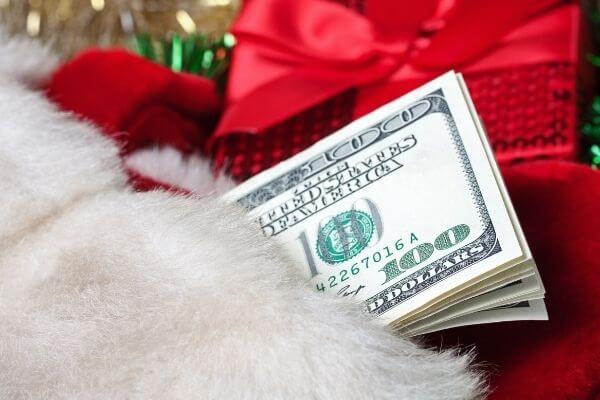 Okay, cash is becoming phased out as credit cards and debit cards are the norm. In this case, we are talking about the premise of using cash.
You have the cash available to spend on Christmas shopping sitting in your bank account.
It doesn't matter if you shop with cash, debit card, or credit card, you can cover all of your Christmas shopping with the money allocated in your Christmas budget. The goal is to enjoy a debt free Christmas.
Before you begin to shop online, evaluate the amount of Christmas gift money you have saved. Then, double-check that amount equates with the budget set for your Christmas shopping.
Even if you are using a credit card and the bill will arrive the following month, today you must have enough money to repay the bill in its entirety and avoid paying interest.
6. Buy in Bulk
Buying in bulk is a term that refers to the idea of buying large quantities of goods or services at a discounted price.
If you're low on money or short on time, bulk shopping can be a good idea. Many stores offer discounts for customers who purchase large quantities of goods at one time.
This is great for someone who needs to buy a large number of gifts for extended family.
7. Negotiate a better deal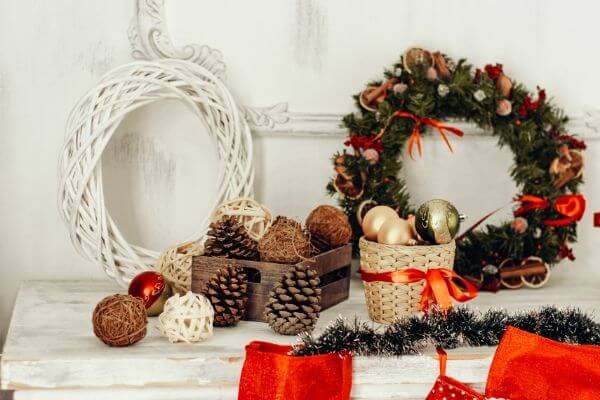 Negotiate a better deal.
Sometimes all you have to do is ask for a discount.
If the company has any promotions or special offers, make sure to ask them about them before making your purchase. Just click the chat or help button when shopping online.
8. Add to Online Cart & Don't Buy (Yet)
This is probably my favorite trick for Christmas shopping online!
Add the item to your cart and make sure you go far enough through the checkout that the company has your email address. But, don't buy yet.
Wait for 24 hours.
More than likely, the company will send you a promo code for 10-25% off.
Shopping on Amazon? Add to a wish list. Then, the Amazon app will notify you of a lower price or lightning deal!
Cha-ching! Saving on Christmas shopping.
9. Combine Presents with Needs
This money saving tip is truly my personal favorite!
Think ahead of what the person you are buying for needs and try to find presents that suit that need.
For example, our kids wanted their own snorkeling gear for our next vacation. We have no idea when that trip will happen. So, we bought them snorkeling gear for their birthdays. Instant win-win!
Curious to know how we afford trips… We use a vacation fund.
10. find extra savings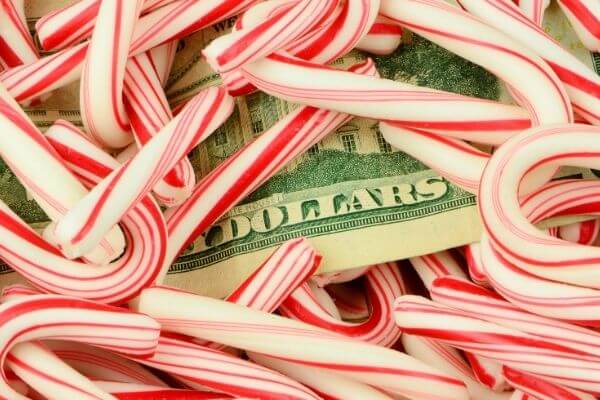 Key tip for Christmas shopping on a budget… always look for deals and a lower price!
Given that so much Christmas shopping is done online, this is a great way to find a cheap presents for much less.
Here are some great apps to make sure you either get cash back or they check for extra coupon codes:
During this time of year, you should never pay for shipping. Honestly, it is one of the reasons, I truly like Amazon prime membership. They will drop ship your gifts to your destination at no extra cost to you.
11. Skip the Bags
Pull out the wrapping paper, ribbon, and bows!
You can spend about $10 a year to wrap all of your gifts, which is a bargain given most holiday gift bags cost about $2-5 each.
Plus if you have little eyes that like to peek, a wrapped box with ribbon is much harder to figure out their presents. This is my favorite book to teach kids about waiting patiently for their Christmas gifts. (Also, it is a big hit with my kids, too!)
Frugal Saver Tip – If you absolutely despise wrapping your presents, then save the gift bags and tissue paper to reuse year after year. That is one of the most fabulous money saving tips for Christmas shopping on a budget!
Christmas Shopping Tips: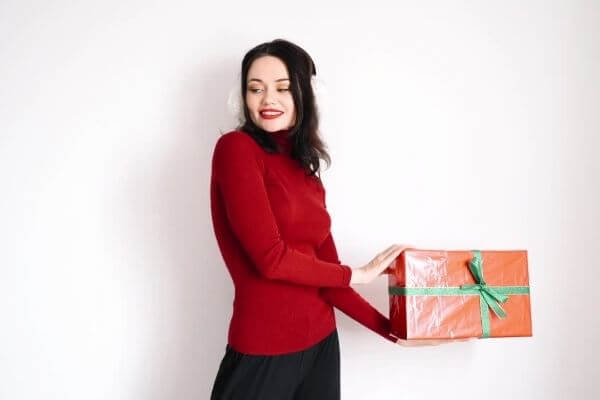 The tips outlined are important, but they don't tell the whole story. The key to saving money throughout the year is making sure you check your budget and keep an eye on how much you spend before Christmas hits.
It's easy to get caught up in the season and overspend without realizing it.
The best time to save money is before Christmas hits.
Here are some Christmas Shopping Tips to remember.
Make a list of people who would like gifts
Check out sales at stores around town
Buy gift cards for stores where you know people shop
Make your gifts more personal by decorating them yourself
Avoid the guilt of overspending on Christmas with these ideas to make your next holiday a little more affordable
The key to saving money throughout the year is making sure you check your budget and keep an eye on how much you spend.
It's easy to get caught up in the season and overspend without realizing it.
My Christmas Gift Shopping on a Budget Went over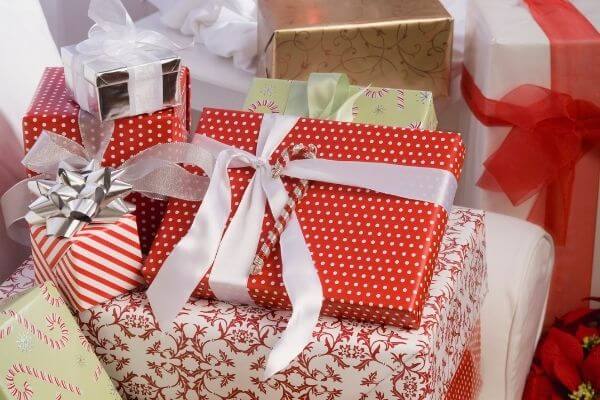 Yikes, this is exactly what you didn't want to do. But, the temptation to keep grabbing a couple of things was too much.
We all have the best of intentions, but may find themselves going over your budget when Christmas shopping. You need to keep things in perspective when this happens.
The key is not to go too far over Christmas budget.
If you spent more than planned on one or two people on your Christmas list, then you can recoup this by purchasing less expensive gifts than planned for a few other people to compensate.
Don't throw in the towel and give up completely when Christmas gift shopping on a tight budget.
What are your favorite for christmas shopping Tips?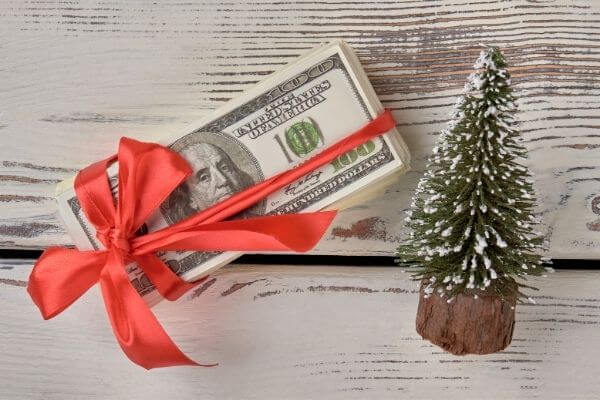 Whether you are looking to figure out how can I do Christmas cheap? Or just to save a few extra dollars with these money saving tips?
In this post, we covered the best ways to be prepared for Christmas shopping on a budget.
But, don't just stop there, use these tips to improve your money management all year around.
Saving extra money just for Christmas is one of the frugal living tips you can start with. Starting in January, stick around Money Bliss and learn a few more ways to improve your money situation.
You won't regret learning budgeting tips for Christmas. That will change your finances forever.
More Christmas Shopping Money Saving Ideas: