The 60 [BEST] Budget Grocery List for Cheap Eating
Inside: Are you looking for ways to save money while eating nutritiously? This guide has a comprehensive list of affordable cheap food options.
Are you looking to save money on groceries? If your answer is yes, then you're in the right place.
In this post, I'm going to show you the 60 best budget grocery list for healthy eating.
But before we get started, let me ask you a question:
Do you know what the number one reason people overspend on groceries is?
They don't know how to cook, so they overspend on prepackaged foods and grab whatever they want.
Right now, you want to save money and eat nutritiously, but you don't know where to start.
There are so many different options for budget-friendly food, it's hard to know what's the best bang for your buck.
This guide has a comprehensive cheap grocery list that will keep you full and satisfied. From meat to grains, fruits to vegetables, this budget grocery list has it all.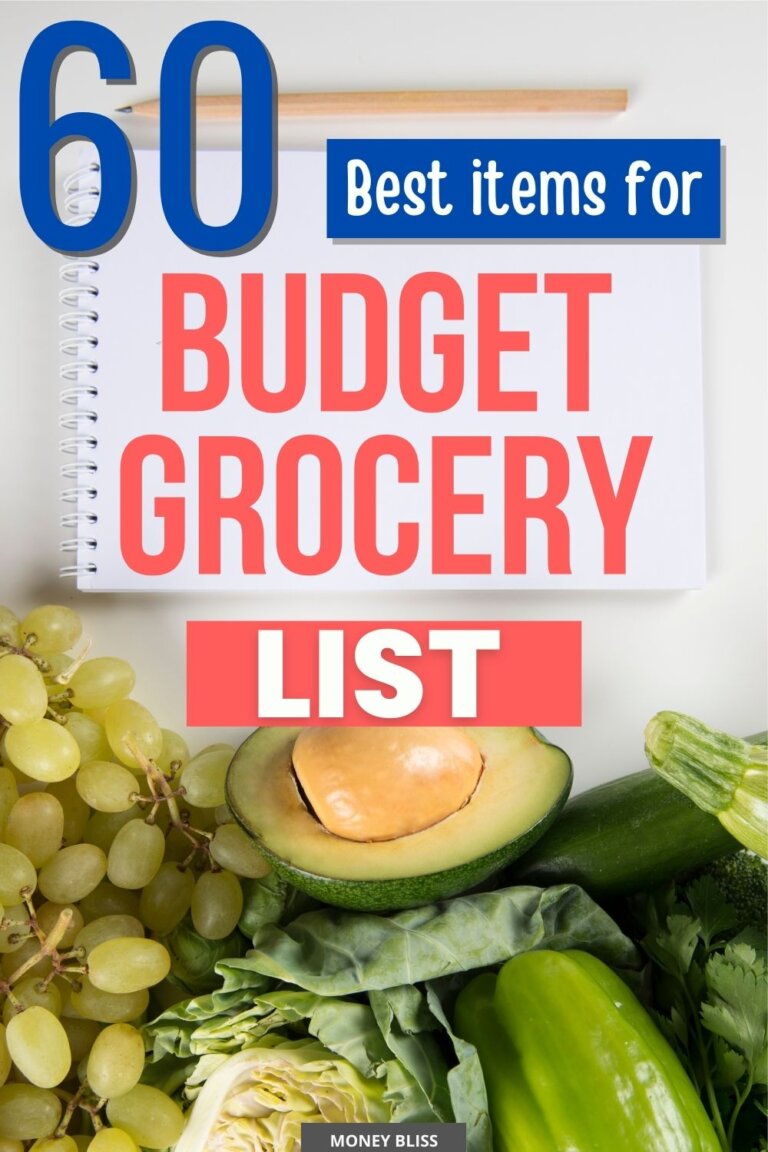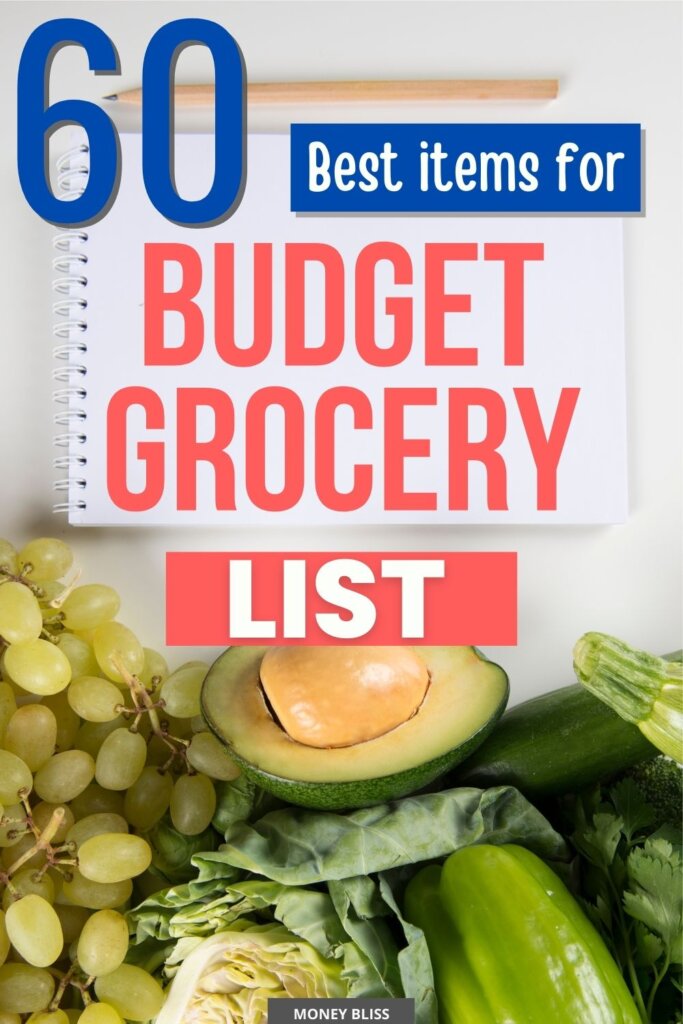 What are the cheapest grocery items?
When trying to save money on groceries, it's important to buy the right items to get the most bang for your buck.
Besides stocking up on the best cheap foods to buy when broke, you want to shop for what is on sale and what is in season.
Your staples will always be around the same price, but the perishable foods will vary by month and store.
What are the healthiest food items that are budget friendly?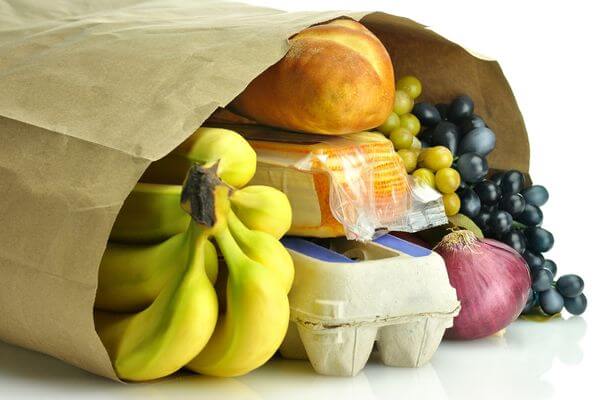 Eating a vegetarian diet is a great way to save money on groceries.
Not only is a vegetarian diet typically cheaper than eating meat, but it can also be more nutritious and delicious.
By focusing on plant-based proteins like lentils, beans, and oats, you can save money while still getting the protein and other vitamins and minerals you need.
Eating a vegetarian diet is an easy way to save money and eat healthier. With a bit of planning, you can make delicious, budget-friendly meals that will keep you full and energized.
This post may contain affiliate links, which helps us to continue providing relevant content and we receive a small commission at no cost to you. As an Amazon Associate, I earn from qualifying purchases. Please read the full disclosure here.
More Than 100 Feel-Good Vegetarian Favorites to Delight the Senses and Nourish the Body
500 Vibrant, Kitchen-Tested Recipes For Living And Eating Well Every Day
The 50 best budget grocery lists for cheap eating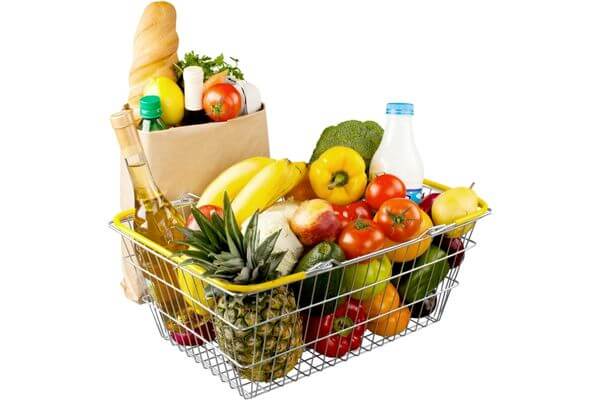 Eating healthy doesn't have to be expensive.
In fact, with a little planning and creativity, you can eat healthy on a budget.
Here are 50 of the best budget grocery items to help you save money and eat healthily.
1. Dried Beans
Dried beans are a great food to have on a budget because they are affordable, and have a lot of nutritional value. They are a great way to get protein and fiber, and they are also low in calories.
This is a main staple in a vegetarian and vegan diet. Dry beans like white beans, pinto beans, garbanzo beans, and black beans are super cheap and are a definite buy if you are on a budget.
Dry beans are a more economical option than canned beans, though they do take a bit more time to prepare. I prefer to cook dried beans in my Instant Pot.
2. Potatoes
Potatoes are one of the most cost-effective and versatile vegetables you can buy when you're on a budget. Here are some examples of inexpensive potatoes and their uses:
Regular Russet Potatoes
Gold Potatoes
Red Potatoes
Fingerling Potatoes
3. Peanut butter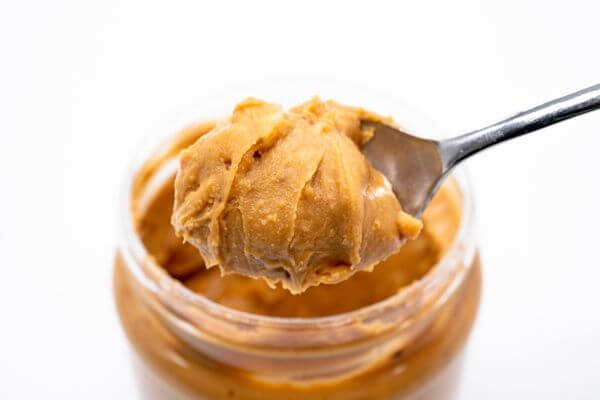 Peanut butter is a staple in most people's diets. It can be eaten on its own or used in recipes.
It is a good source of protein and healthy fats.
4. Oatmeal
Oats are one of the most affordable and healthy grains you can buy.
They have a low calorie count and are a good source of fiber and magnesium.
They can be cooked in a variety of ways and make a great breakfast, snack or lunch.
5. Eggs
When it comes to making a budget grocery list, eggs are an excellent choice.
Eggs offer a great source of protein, vitamins, minerals, and antioxidants, while also being very affordable. Well except when eggs skyrocketed in price in December 2022.
At less than ten cents per serving, eggs are one of the cheapest sources of protein around. Plus, their versatility is unparalleled – you can make omelets, burritos, baked goods, and more.
6. Bananas
Bananas are a staple food for many people around the world.
They are inexpensive, easy to store, and simple to access.
7. Apples
All apples are not the same price. You need to look at the price per pound – not each.
Red Delicious and Gala apples tend to be the cheapest, while Yellow Delicious and Granny Smith are slightly pricier.
This is a great option to choose organic apples as the price difference is minimal.
8. Rice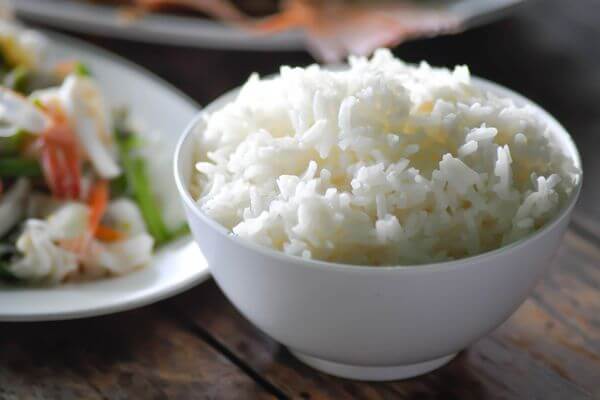 When it comes to cheap eating, rice is one of the best values you can find.
Many people overlook rice, but it is highly used in the Mediterranean diet.
You can add rice to your stir fry or DIY burrito bar. Don't forget to add your spices to make your rice taste amazing!
9. Lentils
Did you know you can turn lentils and make plant-based meat? I didn't either until I made the taco meat found in this recipe.
Lentils are now one of my favorite ways to make a meal or stretch a meal by adding this to ground turkey.
10. Carrots
Carrots are also widely available and easy to find, making them a great staple to keep on hand.
The benefits of buying carrots are abundant. Carrots are packed with fiber, potassium, beta carotene, vitamin K1, and antioxidants, and eating them as part of a balanced meal reduces the risk of cancer, helps with weight loss, improves eye health, and lower cholesterol levels.
Save more money by buying whole carrots instead of baby carrots.
Stop stressing out about what to make each night! Get Weekly meal plans delivered every Friday morning to your inbox – you don't have to worry about going to find new recipes each week
Save your favorites with printable recipes & shopping list
Save time in the store with a complete shopping list.
Looking to prep freezer meals, but unsure where to start? MyFreezEasy has all of the meal planning and details covered. They make it easy, so all that needs done is just the prep. Build a meal plan around your food preferences and cooking style. Easy!
Seriously, did I mention how much I like MyFreezEasy?
A monthly membership is way cheaper than picking up fast food! Easy way to save money.
11. Pasta
When it comes to budget-friendly meals, pasta is one of the best and most versatile options.
Not only is it cheap, costing less than a dollar a pound, but you can use it to create a variety of dishes. For instance, you can top it with sauce, cheese, or butter to create a main or side dish.
It's also a great way to stretch the meat portion of dinner.
12. Canned tomatoes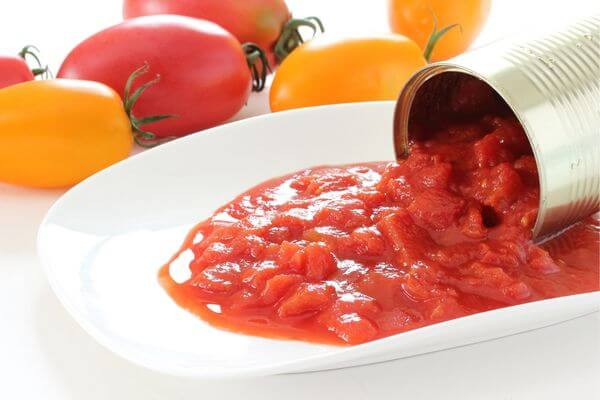 Canned tomatoes can be an excellent choice for budget-friendly meals as they are cheaper than buying fresh tomatoes.
You can easily add them to meals or stews.
Also, you can buy organic canned tomatoes cheaper, so that is the recommendation.
13. Onions
Onions are often overlooked! A cheap option, usually costing less than fifty cents a pound.
They are a great staple to keep on hand all the time and you can usually get them for a good price. Onions are a great addition to soups, stews, casseroles, and other dishes to enhance flavor.
Not only do they add flavor to many dishes, but they also contain many health benefits such as antioxidants and compounds that help combat inflammation and reduce cholesterol levels.
14. Canned pumpkin
The cost of buying canned pumpkin is relatively low, with a 15-ounce can costing around a dollar or two.
Not just for pumpkin pie! Canned pumpkin is also incredibly versatile and can be used in soups, muffins, and curries.
In addition, canned pumpkin is a convenient and ready-to-use food item, whereas other produce requires more preparation.
15. Oranges
Oranges are an affordable fruit that can be used in many recipes. They are also a good source of vitamin C.
They can be found in most grocery stores and are usually priced around $0.65-$0.90 per pound.
16. Frozen berries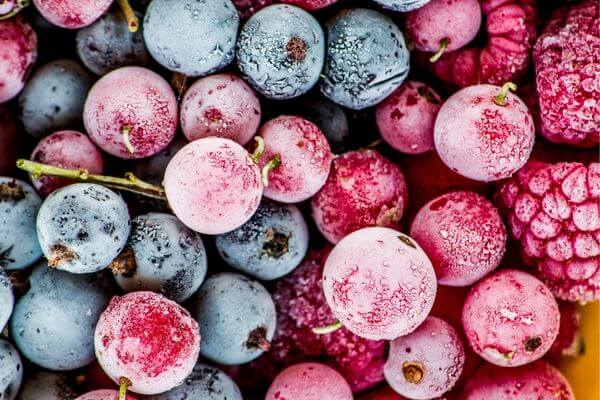 Frozen berries are a cheaper and more nutritious option than buying fresh berries.
Popular types of frozen berries include strawberries, raspberries, blueberries, blackberries, mixed berries, and cranberries.
You can blend them up in a smoothie, bake them into a coffee cake or eat them whole.
17. Cabbage
Cabbage is a budget-friendly food that can be used in many recipes.
Yet, most people only make cabbage with corned beef on St. Patrick's Day.
Cabbage is another inexpensive vegetable that you can buy for less than 80 cents a pound. If you haven't tried a cabbage steak, then you are missing out.
18. Kale
Kale is an inexpensive, nutrient-rich leafy green vegetable that is of great value for budget eating. The low cost of kale makes it a popular choice for budget eating, with a bunch costing around $1 to $1.50.
It is packed with antioxidants such as vitamins A, C, and K, as well as fiber, calcium, iron, and potassium.
Kale is highly versatile and can be used in a variety of dishes such as salads, soups, stews, and slaws.
19. Applesauce
Applesauce is something I always stock in my house.
Not only is it budget-friendly food, but it is also great when you feel under the weather.
20. Celery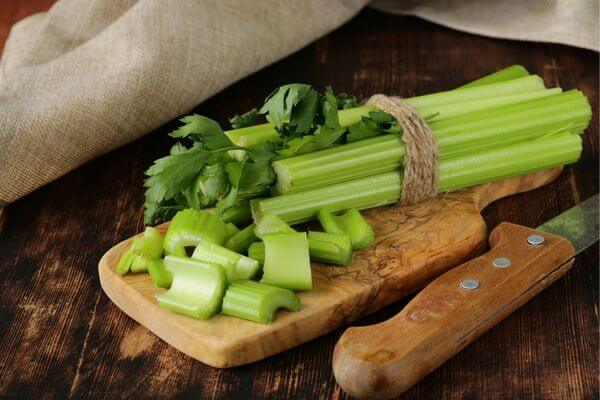 Celery also adds flavor to many dishes, making it an economical choice for those trying to save money on food.
The benefits of buying celery are numerous, as it is a versatile vegetable that can be used in soups, casseroles, stir fry, and as a snack.
21. Sourdough Starter
A sourdough starter is a combination of flour, water, and wild yeast that creates a fermented, leavened bread dough.
It is a great budget grocery list item because it is a natural, cost-effective, and sustainable way to make bread.
Sourdough starters can be used over and over again, reducing the cost of buying pre-made bread.
You can make your own sourdough starter, buy a sourdough kit, or ask a friend for their sourdough leftovers. I am known to give away my extra sourdough start in my neighborhood!
22. Bouillon
Stop buying expensive cans of broth! Use bouillon instead.
You can buy bullion in beef, chicken or vegetable flavor. I prefer to buy the bouillon base that needs to be refrigerated.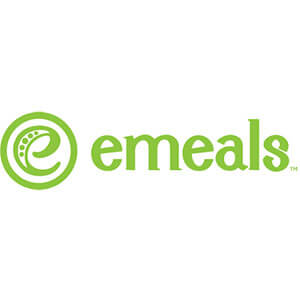 Getting dinner on the table has never been easier with healthy, homecooked meals the whole family will love..
23. Coconut Oil
Skip the butter and substitute recipes with coconut oil.
This is a cost-effective substitute.
24. Quinoa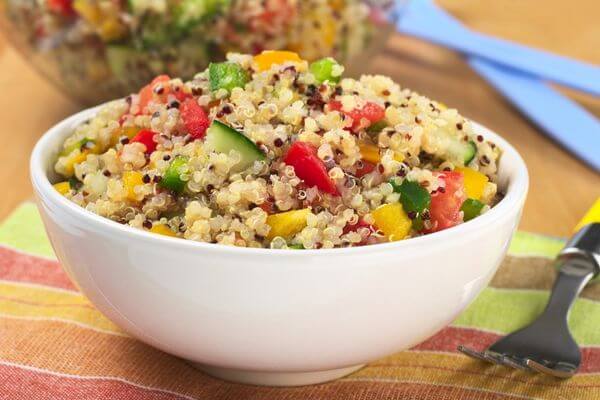 Quinoa is a whole grain that is becoming increasingly popular as a budget food because of its high nutritional value and relatively low price.
It is gluten-free and is an excellent source of plant-based proteins, essential amino acids, and dietary fiber.
Quinoa is versatile and can be used as a side dish, an add-on to main dishes, or in soups, stews, and casseroles.
25. Pasta Sauce
Pasta sauce is very versatile and inexpensive. For an even cheaper option, you can buy generic pasta and turn it into a tasty meal for under $4.00.
Overall, pasta is a great budget food that can be used to make a variety of delicious dishes.
26. Whole Chicken
Buying a whole chicken is more economical than buying specific cuts of chicken.
You can purchase a rotisserie chicken already cooked from the store or cook it yourself.
Additionally, buying a whole chicken allows you to make use of the bones to make broth, a great way to maximize nutrition.
27. Chicken Thighs
Another cost-effective option when it comes to chicken is buying chicken thighs or sometimes ground chicken for less than $2 a pound.
Dark meat such as chicken thighs is often cheaper than white meat and can be used in a variety of dishes. Making a rub with spices and topping it with BBQ sauce, or marinating it in a homemade marinade of oil, vinegar, and spices can make a tasty and tender dinner.
28. Sweet potatoes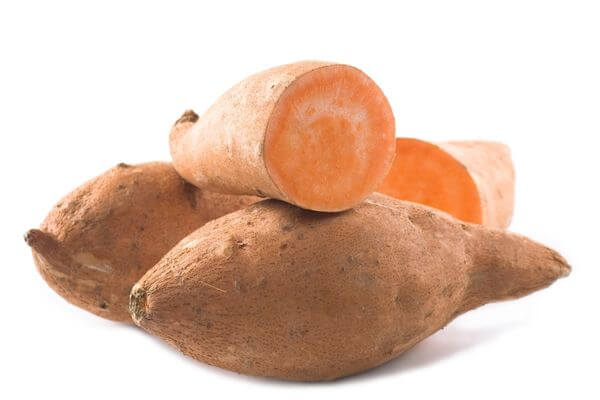 Sweet potatoes are a cheap and nutritious vegetable that can be used in a variety of meals.
They can be roasted, mashed, or made into soup. Shop around for the best prices on sweet potatoes as they vary significantly by store.
29. Green salad
Salad is a great way to enjoy a healthy meal without breaking the bank.
All you need is some fresh ingredients and a little creativity. And if you have a garden or some space in your backyard, you can grow your own salad ingredients.
Add some nuts or hemp hearts to give your salad a protein pack goodness.
30. Spinach
Spinach is a vegetable that is low in cost and high in nutrients.
This is a must have in your grocery cart.
Spinach can be used in a variety of dishes, including salads, soups, and stir-fries.
31. Frozen vegetables
Frozen vegetables are also an economical option, especially when other favorite vegetables are out of season.
Great examples of frozen vegetables include edamame, Brussels sprouts, chopped spinach, corn, green beans, mixed peppers, mixed vegetables, broccoli, and peas.
32. Tuna fish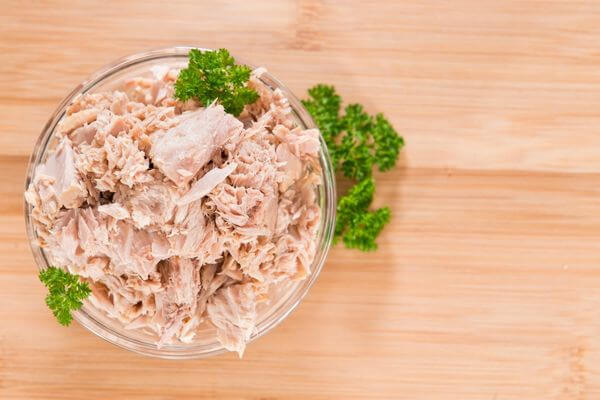 Canned tuna is an inexpensive and nutritious source of protein, with cans lasting for years and being a great way to store bulk food in your pantry.
It is high in protein, omega-3 fatty acids, and B vitamins, making it an ideal option for a healthy diet. Tuna is low in calories and fat and provides important micronutrients such as selenium, phosphorus, and magnesium.
It is also great for making meals like tuna salad, sandwiches, tuna casseroles, and tuna patties.
33. Garlic
Garlic is an incredibly cost-effective grocery item, selling at 50 cents or less per bulb. Not only is it extremely affordable, but it also comes with a wide range of health benefits.
It also has an amazing flavor-enhancing quality, so a little bit goes a long way.
With such great value for money, garlic is a must-have item for any cheap grocery list.
Effortlessly julienne, chop and slice vegetables with Fullstar's cooking gadgets.
This small, compact strainer is easy to use and store in a quarter the size of the traditional colander or sieve.
34. Tomato Sauce
Tomato sauce is a versatile and affordable condiment that can be used in a variety of dishes. It can be used as a base for sauces, as a dip, or in a stew.
Great to have on hand!
35. Watermelon
When in season, watermelon can be found for a great price, often going for three or four for a dollar, making it an incredibly affordable option.
Not only is it a great source of nutrition, but it's also delicious, making it a great choice for fruit salads or all on its own.
36. Grapes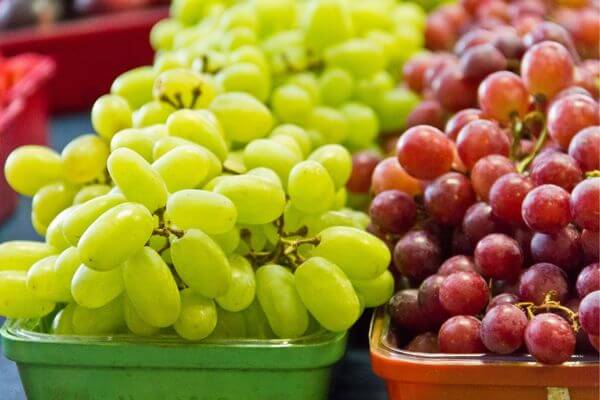 When shopping for grapes, the best option is to purchase them when they are in season during the summer months and on sale.
Grapes are a great, healthy snack when eaten straight off the vine or frozen as a sweet treat. They also make a delicious addition to fruit salads, pasta salads, and chicken salad sandwiches.
Overall, grapes are one of the most affordable and versatile fruits around.
37. Pears
Depending on the season, fresh pears can be a great budget-friendly option as well.
You might be able to find a pound of fresh pears for around one to two dollars.
38. Broccoli
The cost of broccoli varies depending on where you buy it and what type of broccoli you buy.
Broccoli heads are going to be more expensive than buying broccoli with stalks.
Frozen broccoli can also be a great option as it is usually cheaper than fresh and is already chopped for convenience.
39. Edamame (soybeans)
Edamame, also known as soybeans, is a low-cost, high-quality protein food. They can be boiled or steamed and are a good source of fiber and iron.
They are also a good source of folate, magnesium, and potassium.
40. Corn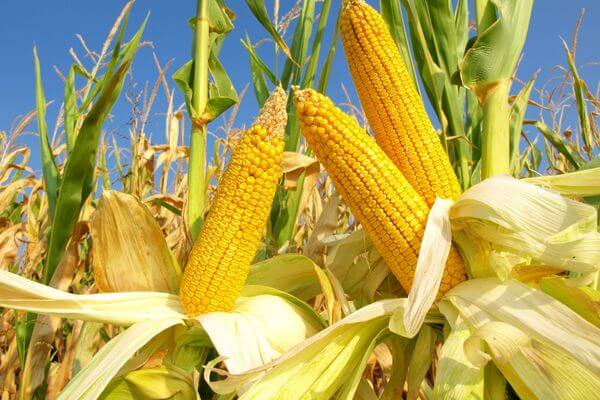 Corn on the cob is a summertime favorite. It is simple to make and can be enjoyed by all.
All you need is a corn cob, some butter, salt, and pepper.
Typically, you can buy fresh corn on the cob for less than $.25 an ear.
41. Corn Based Foods
The best budget corn items for eating include corn tortillas, cornmeal, or tortilla chips.
Corn tortillas are an inexpensive alternative to flour tortillas and can be used for enchiladas, tacos, or for tortilla soup.
Cornmeal is great for homemade cornbread, breading foods, or for corn cakes.
Tortilla chips made from corn are a cheaper alternative to potato chips.
42. Salsa
Salsa is a delicious and healthy dish that can be made cheaply using common ingredients or store-bought.
It is a great way to get vegetables into your diet and can be a great accompaniment to many meals.
43. Avocadoes
Avocadoes are also a healthy snack that can be eaten on the go.
Too many times, avocadoes are listed as an expensive food item. But, they are more filling and more nutritious than a bag of chips.
44. Squash and Zucchini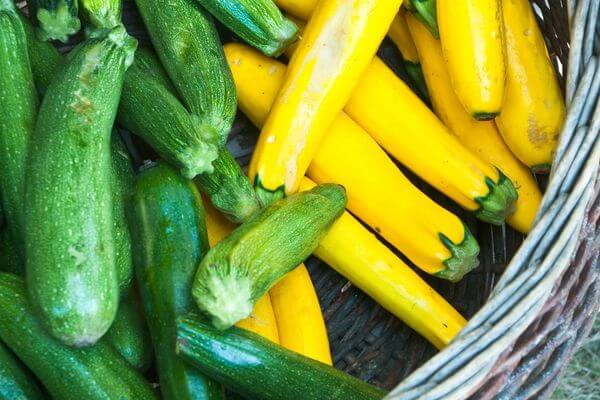 Squash and zucchini are two types of summer squash.
They are both edible and have a mild flavor. They are easy to prepare and can be used in a variety of dishes.
Plus you can make these amazing Chocolate Zucchini brownies!
45. Canned refried beans
Canned refried beans are a cheap, convenient, and fairly healthy food option. A can of refried beans can cost between about $.50-$1.00, making them an affordable option for people on a budget.
Canned beans are also a great option in emergencies when you need a meal quickly, as you can make various dishes such as black bean tacos and chickpea curry.
Overall, canned refried beans are a cheap, convenient, and fairly healthy option for those on a budget who need an easy meal.
46. Ground turkey
When it comes to ground turkey, it is cheaper than the ground beef alternative.
But, many may say that it shouldn't belong on the budget grocery list.
However, ground turkey is a great meat choice for a budget grocery list because it's affordable, it's versatile, and it's high in protein. It can be used in a variety of recipes, and
47. Milk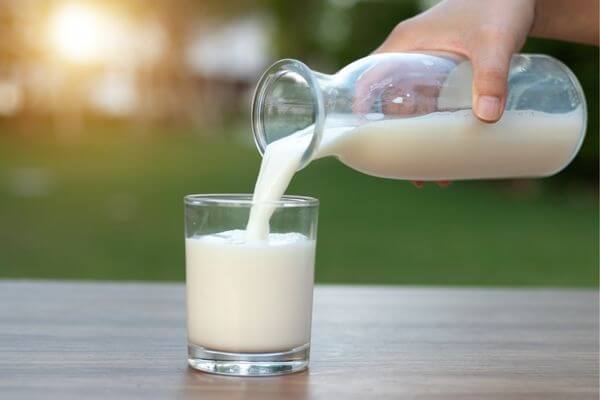 Thanks to government subsidies, milk is one of the cheap eating products due to its cost and nutritional value.
Milk can be used for drinking on its own or for meals such as waffles or pancakes, French toast, biscuits and gravy, cereal and milk, mashed potatoes with white gravy, and much more.
48. Yogurt
The price range for yogurt can vary depending on the type and quantity that you purchase. For example, a large tub of yogurt can be purchased for around two dollars, while individual containers of yogurt can cost more.
Additionally, opting for generic or store brands can help to save money over name-brand options.
49. Cottage cheese
Cottage cheese is a good source of protein and calcium.
And very cheap! On sale, you can pay between $1-2 for this item.
50. Bread
Bread is a staple food, and is often a cheap food to buy.
Many turn to peanut butter sandwiches as a low cost meal.
If you aren't going to finish the loaf, you can always freeze the rest.
51. Cereal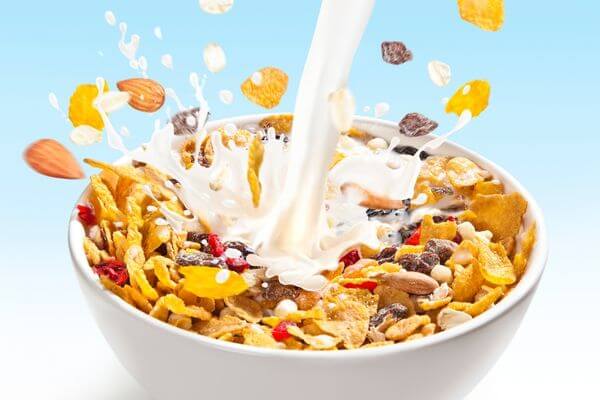 Cereal can be a good breakfast or snack, and it is a good way to get some vitamins and minerals.
However, cereal can be quite expensive if you buy it at full price.
Look for weekly sales on cereal or opt for store-brand bags.
52. Ramen Noodles
Thankfully, ramen noodles are cool to eat! And not just looked upon for the poor.
Ramen noodles are a popular budget meal. They are easy to make and can be bought in bulk.
53. Popcorn
Popcorn is a cheap food that can be enjoyed by all.
Rather than buying bagged popcorn, opt for popcorn kernels and invest in a popcorn maker.
Popcorn is a versatile food that can be enjoyed in a variety of ways.
54. Peanuts
Peanuts are a budget-friendly item that can be used in a variety of ways.
Even better, you can make your own trail mix and save lots of money!
55. Mac and Cheese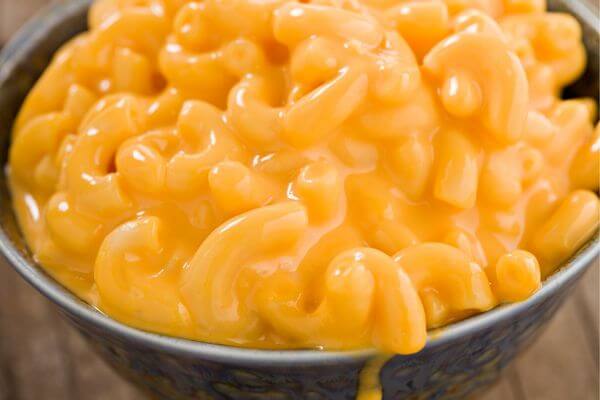 There are so many things to eat on a budget, but sometimes the best option is something you can make yourself.
Mac and cheese is a classic dish that is cheap and easy to make, which makes it a perfect choice for a budget meal.
Plus, it's a dish that kids will love. Whether you're cooking it for yourself or feeding a crowd, mac and cheese is a simple option.
56. Apple Cider Vinegar
Apple Cider Vinegar is a popular item in budget-friendly meal planning because of its many health benefits.
This type of vinegar is made from apples which are fermented, resulting in a liquid that is rich in acetic acid, enzymes, probiotics, and other beneficial compounds.
ACV has been used for centuries to treat many ailments, such as digestion problems, skin issues, and even weight management. It can be used as a natural cleaning agent, as a salad dressing, and as an ingredient in dishes.
57. Chia Seeds
Chia seeds are also incredibly filling and low in calories, making them a perfect budget food.
They can easily be added to dishes like oatmeal, smoothies, salads, and baked goods to increase the nutritional content.
58. Mustard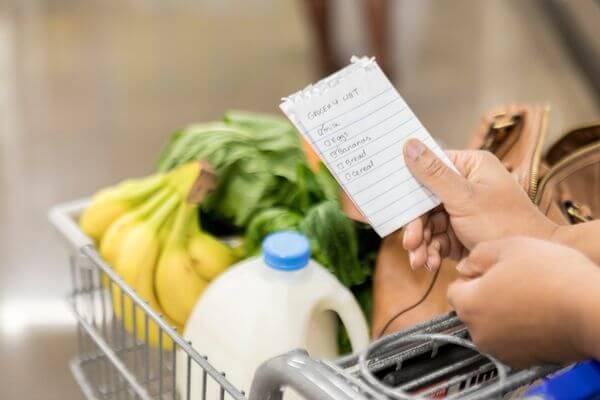 Mustard is a condiment that can be used in many dishes. It can be used as a dip, a sauce, or as a spread on a sandwich.
Mustard can be bought in a jar or a bottle for around a dollar.
59. Coco Aminos
Coco aminos is a soy sauce alternative to be used in place of soy sauce as a marinade, added to sauces, and used for Asian-style dishes
It is popular among budget-friendly cooks because it has a deep, umami flavor while being lower in sodium than traditional soy sauce.
It adds a savory flavor to dishes without the salty taste of traditional soy sauce, making it a great healthier option for those looking to increase their consumption of plant-based proteins.
Additionally, coco aminos is often cheaper than traditional soy sauce, making it a great option for those looking to save money on their grocery bills.
60. Hot Sauce or Sriracha
Using hot sauce or sriracha sauce is not only a great way to spice up a meal, but also a great way to eat less.
Add some hot flavors to your favorite meals.
Bonus – Sale Items
Make sure to check the weekly sales flyers and find deals on food.
This is the #1 way to save money on groceries!
If you are a loyal customer of a store, you may be able to get coupons on future purchases.
Tips and tricks for shopping on a budget with a list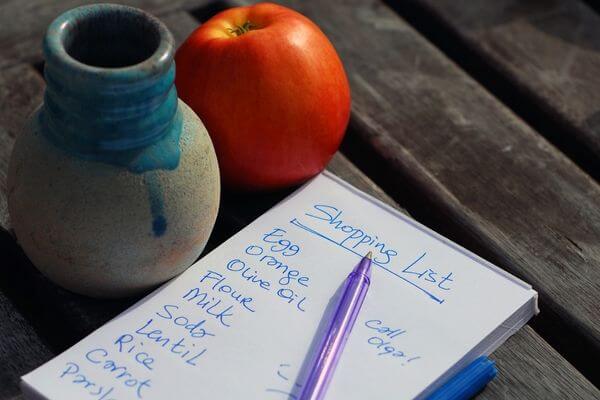 Saving money means using a few frugal hacks to make the most of your money.
1. Shop Your Own Pantry
When trying to save money on food, it's important to take into account what's already in your pantry before buying more.
You may have heard of the popular pantry challenge! This is a frugal way to stretch your dollars.
So, checking items already available in the freezer, cabinets, and refrigerator can help you save money by using these items rather than purchasing new ingredients.
2. Buy the cheapest versions of food items
Generic store brands are often just as quality as the name brands and are much less expensive.
Did you know? Many times the name brand rebrands its goods for private labels.
One of the best frugal living tips.
Meal planning made simple.
They offer so many customizable meal plans – Paleo, Clean Eating, Low-Calorie, Gluten-Free, Low-Carb, Portion Control, 30 Minute Meals, Slow Cooker, Heart-Healthy and more!
For only $5 per month, the eMeals weekly dinner plans include seven meals, a dynamic shopping lists and recipe instructions that are simple and easy to follow.
Unsure, start with a risk-free 14 day trial here.
Meal plan for an entire month!
This SUPER simply meal planner bundle shows you how to meal plan in a fraction of the time PLUS save money on groceries.
No more stressing what dinner each night!
Take back your time by knowing what is for dinner.
3. Shop the Weekly Ad and Look for Discounted Items
First, look at the sale prices in the weekly ad. Check out the front and any highlighted area of the store's sales flyer for the best items.
Personally, I only shop for non-perishable food items if they are included in weekly sales and hit my stock-up price.
When shopping look for clearance items or mark down meats. Did you know this billionaire shopped at midnight to get markdowns when he was broke?
4. Make a shopping list before going to the grocery store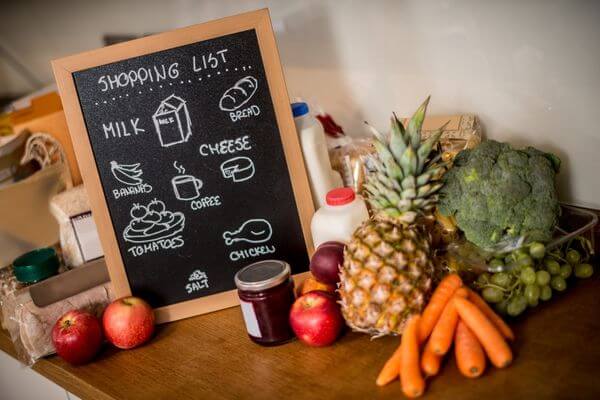 Making a shopping list before heading to the store can help you stick to your budget by providing a structure and plan for your food purchases.
Hint… start with the weekly sales ad first!
5. Create a meal plan
Furthermore, when creating a meal plan for the week and writing down the necessary ingredients for each meal, you can better plan your budget and stay focused on the items you need when in the store.
Buy versatile food that you can use for multiple purposes.
For example, stretch that whole chicken over multiple meals. Use your bag of carrots in more than one meal.
Learn how to meal plan for a month.
6. Buy in bulk if possible
Buying in bulk is an important part of grocery shopping on a budget as it can help you save money. Especially for families!
This assumes that you will be able to eat the bulk goods before the expiration date.
7. Comparison shop between different grocery stores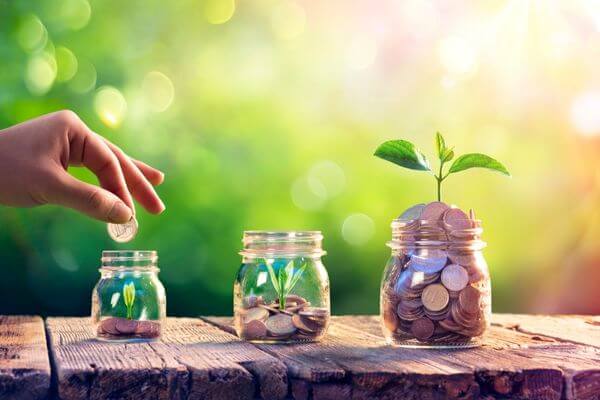 Shop at the least expensive local grocery store.
This takes a little bit of work to compare prices, but shop at the store that has the best prices on the foods that you eat the most. But, once you know which grocery store works for you, stick with it.
If you are new to the area, ask friends or post a question on social media to see where others shop and find great bargains.
8. Look for coupons
When shopping with coupons, it's important to identify the items that you buy often and look for sales or discounts on those items.
Here are the popular places to find coupons:
Digital coupons: These are found within the grocery store's app or website.
Traditional Paper Coupons: Look for coupons in newspapers, magazines, store circulars, and online.
9. Eat before you shop.
Grocery shopping while hungry can lead to impulse buying and unhealthy food choices.
The same holds true when creating your online pickup order at home!
10. Prioritize your Food Purchases
Let's face it… you may not be able to buy everything you want.
Before you go shopping, make a list of the food items you absolutely will need.
Then, layer on the additional fun or more expensive purchases if you have extra money leftover.
Grocery List on Budget Printable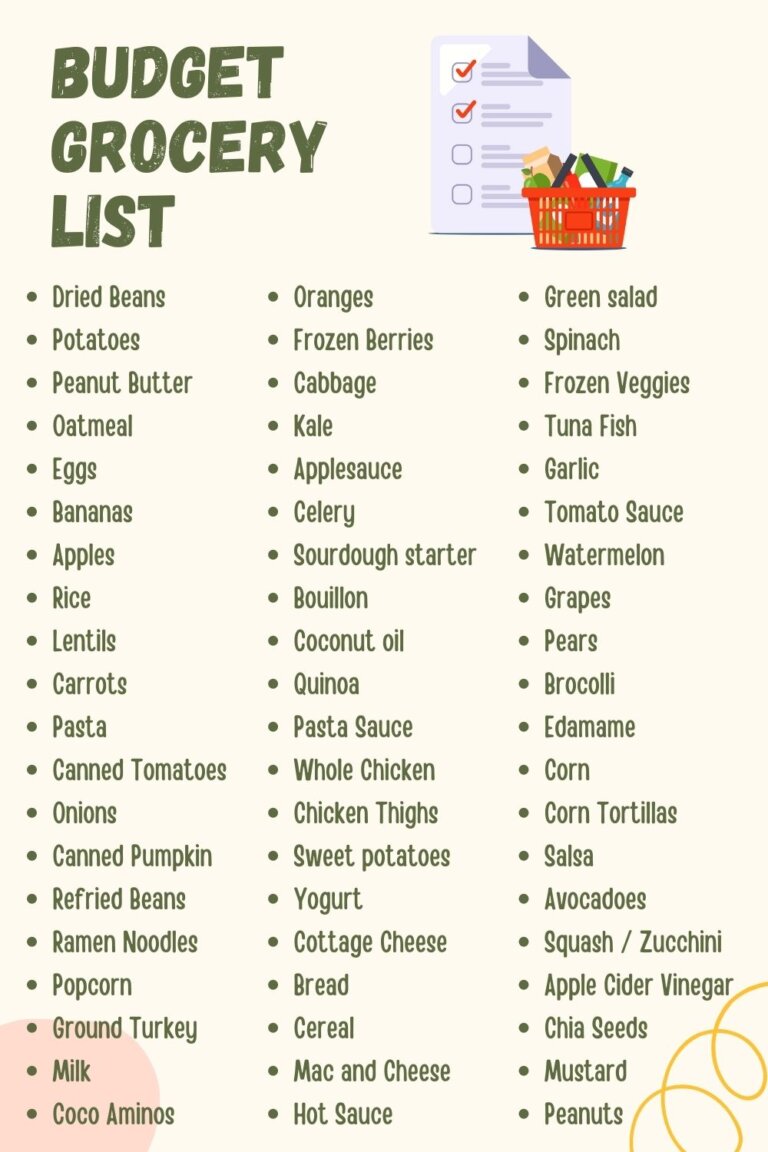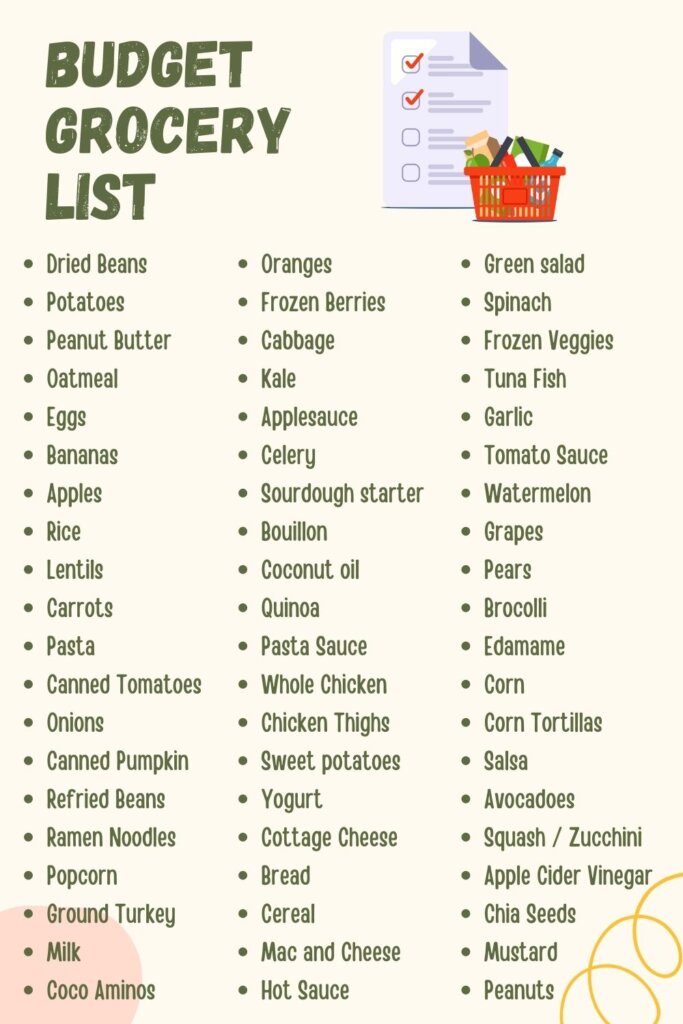 Using this budget grocery list printable can help you save money.
Also, keep these samples on hand at all items so that you do not have to make multiple trips to the store.
How to spend only $50 a month on groceries?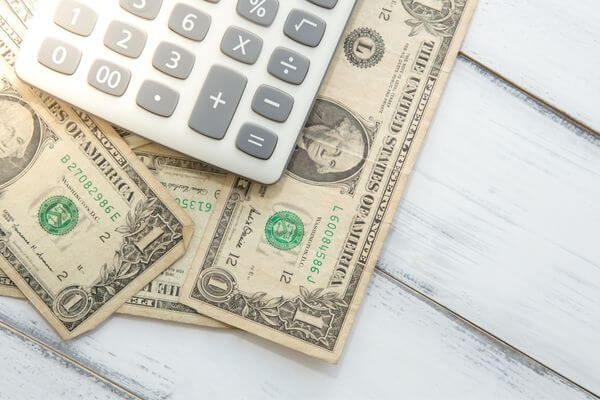 You have to be honest with how much you plan to spend.
That will be the hardest step and not overspending on your groceries.
Step 1: Make a Meal Plan and Grocery List
First, you will want to create a meal plan and grocery list that fits within your $50 budget. Make sure to plan for dinners and stock up on basics like condiments and spices.
Planning ahead and sticking to a list will help you save money and avoid impulse buys.
Step 2: Shop Smart
When grocery shopping, always keep an eye out for deals and coupon codes.
Stick to generic brands when possible and always be sure to compare prices. Also, try to buy in bulk when you can.
Step 3: Make Double Batches
Another great way to save money on groceries is to make double batches of meals so you can freeze one for later. This way, you won't have to buy more ingredients in the future and you'll save time on meal prep.
You may think this will increase your food budget, but it will actually lower your cost over time.
Step 4: Limit Waste
Finally, try to limit waste as much as possible.
This means using up all the ingredients you buy and being mindful of how much food you are throwing away.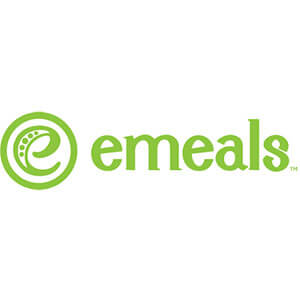 Getting dinner on the table has never been easier with healthy, homecooked meals the whole family will love..
FAQ
Start Your Budget Grocery Shopping List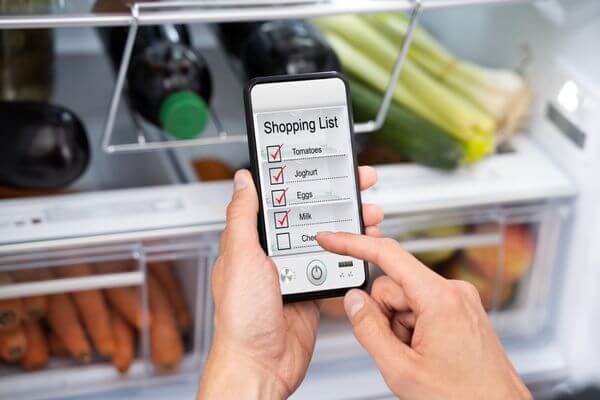 Eating on a budget does not have to be difficult.
With a little bit of planning and creativity, you can easily put together a grocery list that is both affordable and nutritious.
So what are you waiting for? Start your budget grocery shopping list today!
Learn about the frugal home must haves.