This post may contain affiliate links, which helps us to continue providing relevant content and we receive a small commission at no cost to you. As an Amazon Associate, I earn from qualifying purchases. Please read the full disclosure here.
---
Learning how to manage money effectively is one of the best gifts you can give yourself.
It will help you live the life of your dreams.
The honest question to ask is are you willing to read a non-fiction book on a topic you don't enjoy very much. Most likely, not.
But, I have complied the best books on how to manage money.
These books are simple to read and easy to implement.
That is exactly what you want when you are beginning to manage money more effectively.
One clear millionaire habit is to be an avid learner. That is exactly what rich people do. They don't put off their finances; they make them a priority.
These are my personal favorites.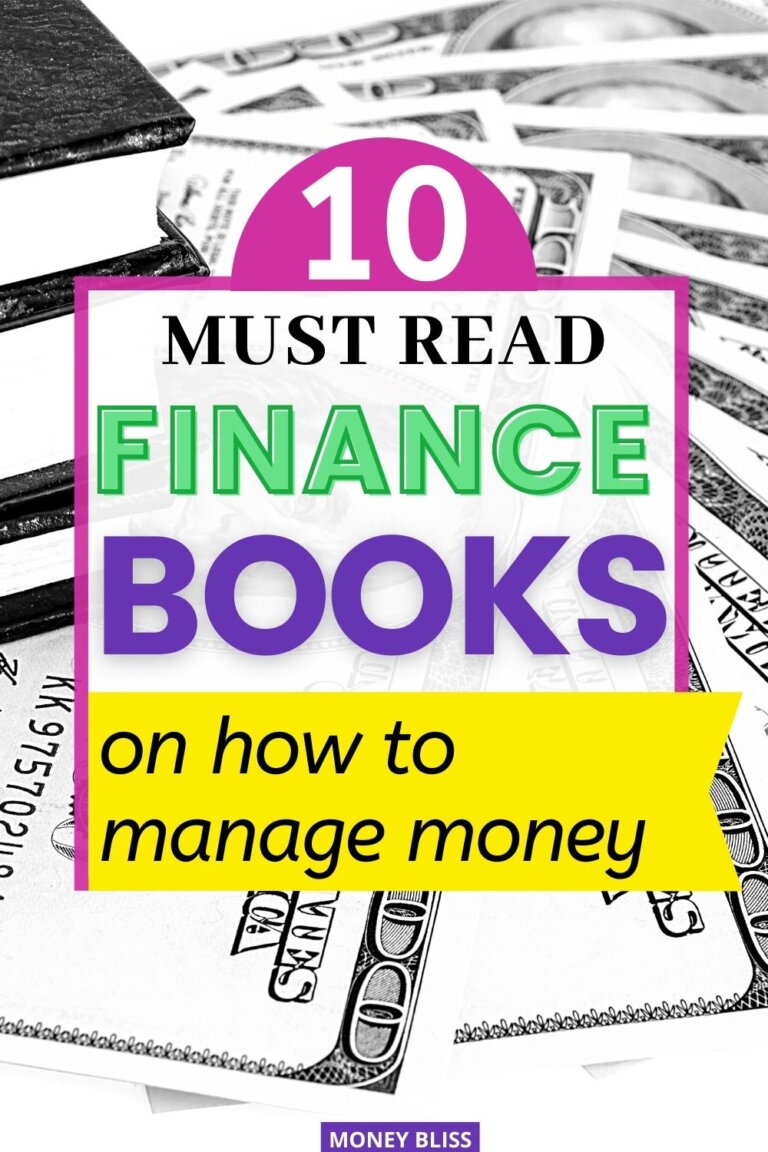 Books on How to Manage Money
There are many perspectives on how to manage money. And honestly, there isn't one opinion that dominates from another.
That is why investing in yourself to read some of the best books on how to manage money is key to long-term financial success!
While many of the concepts may be similar, there is ALWAYS something unique I learn after reading each book.
Happy reading!
Photo Credit: amazon.com
Hands down this is one of my favorite books on how to manage money of all time.
The reason is simple.
It is easier to follow regardless of your background, knowledge of personal finance, or love/hate relationship with numbers, and money savviness.
You cannot learn how to manage money successfully without reading this book. This is one of the best gifts that you can give.
Key Takeaways - Creating your F-you fund will dramatically change your financial independence and your future.
Photo Credit: amazon.com
This book by David Bach is the inspirational story you need when motivation is low to stay on budget.
You learn the secret to automatically secure your future - all through automatically saving money. This is a real system that any person can follow.
If you are struggling to stay on course and motivated, then you need to pick up this book. Once you read it, then pass it along to a friend to keep the motivational and accountability train going.
Key Takeaway - Automatically saving 10% early on will guarantee your millionaire status.
Photo Credit: amazon.com
This book covers every aspect of money from debt, saving accounts, automating finances, set-it-and-forget it investment strategy, how to handle big purchases (car, house, wedding, kids) plus how to negotiate a raise at work.
These are the basic principles on how to manage money that needs to be taught in school. Call this book your beginner's guide on managing your finances and setting yourself up for long term success!
Take control of your financial situation. By becoming active, you don't have to continue to hold for a magically change.
Make sure you get the 2nd edition that was revised in 2019.
Key Takeaways - Ramit Sethi, the author, provides you word-for-word scripts that will save you thousands of dollars on loan interest and lowering all of your expenses. That alone is worth the $9.
Photo Credit: amazon.com
The goal is to become financially independent as quickly as possible.
This is something the author Grant Sabatier has achieved and retired at the age of 30.
He offers counter-intuitive advice about money so that you can actually live the life you want. This FI movement is picking up speed and something that you shouldn't ignore regardless of your age.
Key Takeaways - You will not walk away from reading this book the same person.
Photo Credit: amazon.com
This is what we all dream of... be set for life. Not to have to worry about the next paycheck coming in. Running out of money each month. You want money in the bank and the freedom to do what you want to do.
Become set on escaping the 9-to-5 grind and lay a solid foundation with money. According to the author, Scott Trench, you must be willing to work harder and smarter than the average person.
Find the motivation to conquer your financial goals early on.
Key Takeaway - Be prepared to start saving 50% of your income while still enjoying life's luxuries at a younger age.
Photo Credit: amazon.com
This recent release is about how you behave with money. The decisions that are made on the go and not when looking at a spreadsheet.
The book is filled with 19 short stories on how emotions play such a big part with how we handle money. Everyone handles money and investing differently and that is okay, but learning how to know what works for you.
Key Takeaway - This book is meant to be thought provoking on why we do silly things with money.
Photo Credit: amazon.com
This is the perfect book for beginners written by a (retired) millennial.
You will walk away with a solid understanding of budgeting and why tracking your net worth will boost your money management efforts.
She puts everything into simple terms and provides uncomplicated and realistic solutions to handing your finances.
Key Takeaway - This book is loaded with sass and humor, so you will find the lessons upbeat and honest to a normal dreary topic of personal finance.
Photo Credit: amazon.com
The long term reason to save money today is to not work for years. If you want a drag on your portfolio by using a financial investor, then don't read this book.
If you want a classic guide on getting smart about the stock market and becoming financially independent, then this book is for you.
The author teaches how to make index fund investing work for you and help you to achieve your financial goals. Plus with having little risk.
Key Takeaway - The investment scene doesn't have to be scary and confusing after learning the basics of investing and creating a simple portfolio.
Photo Credit: amazon.com
One of the best ways to build income is to become your own boss whether, through a side hustle, real estate investing, or building a business. However, too many times expenses swallow business before they ever churn a profit back to the owner.
Mike Michalowicz will lays out the Profit First Formula, which will transform any business on the way they manage money.
This is a must-read for anyone owning their own business, a board member for a corporation, or looking to start their own business. This is how you build a sustainable, no-ceiling income.
Key Takeaway - You will finally know how much you have to invest in your business and always take home a profit.
Photo Credit: amazon.com
The last book on the top 10 best books to manage money isn't even focused on money!
It is how we handle and deal with our stuff. Unfortunately, buying all that stuff comes at a cost and normally a big price tag. Plus the cost to maintain the stuff we already own.
The book by Joshua Becker helps you to open your eyes to a slightly different lifestyle that may change your life forever.
Key Takeaways - By learning to live with less stuff, there is more money in our budget to spend on other things or experiences.
Best Money Books Of All Time
While I wouldn't recommend these money books first, they are classics that hold many of the same money principles.
To be on the "Best Money Books of All Time," they must have been in print for almost 20 years.
This list makes you realize the same money principles worked before will work again.
Time and perseverance will make you rich!
As an Amazon Associate and member of other affiliate programs, I earn from qualifying purchases.
Photo Credit: amazon.com
The original edition was first published in 1926. Yet, the parables were set 4000 years prior in ancient Babylon.
This classic book is based on saving 10%, limiting expenses, multiple and keep what you have, and continue to increase your income. While these principles are simple enough, these book elaborates with short stories of Arkad, the poor scribe who went on to become the richest man in Babylon.
Obviously, this book has writing and language that is different than what we see today, but the same principles hold true over the hundreds of years.
Key Takeaway - The lessons are powerful with the short stories on living within your means and the wealth that is built.
Photo Credit: amazon.com
This book was written by Napoleon Hill in the 1930s. Even ninety years later, his same thirteen principles ring true.
Right now, there is another fad of science trending on how by suppressing negative thoughts and focus on the positive, you can finally find lasting success. However, in Think and Grow Rich, he revealed the secrets you must master to bring you a fortune.
Key Takeaway - You must determine exactly what you intend to do and create a clear and definite plan.
Photo Credit: amazon.com
If you want to become a millionaire next door, then you must read this book from the 1990s. The author interviewed hundreds of millionaires to see if there was a repeatable pattern or system that each of them followed.
Thomas Stanley found seven identifiable qualities that you must live out on a daily basis.
Being a millionaire doesn't mean flashy cars and vacations. It means money in the bank that you can live off and live the life of your dreams. Pick up this book and memorize the seven habits of millionaires.
Key Takeaway - If you want to be wealthy, do what wealthy people do!
Photo Credit: amazon.com
Do you have a bad attitude about money? This book by Vicki Robin from 1992 will change your perspective on money with her nine-step program.
This classic book is different because it makes you think and be more deliberate on how you spend your money. The trap of lifestyle creep and consumerism is a hole that many people fall victim to without realizing it. The questions in the book will help you to address any spending and mindset issues.
Key Takeaway - The core of the book is inspiring. But, do not use the investment advice offered in step 9 and use the investing book above for guidance.
Photo Credit: amazon.com
Dave Ramsey has changed the lives of many people with their debt-free screams.
He outlines seven baby steps to get out of debt and reach financial peace in this book from 2003. Yet, he was teaching these practices many years before!
For many to find true success, they find a budget to work using the cash management system.
Key Takeaway - Make sure you have another money goal after you pay off debt. That is where many people never move forward with their personal finances to build wealth and become stuck.
How do you manage your money when you don't have any books?
Thankfully, there are many ways to learn for free!
We have tons of resources here at Money Bliss for you. So, stick around and join our tribe. You are guaranteed to learn a thing or two or hundreds!
When you don't invest in a book or a course, the learning curve will be steeper. But, with some persistence and grit, you can still achieve the life of your dreams!
Also, libraries are great place to find many of these books. Ask around you can always pick up a good book if needed.
Side Note… With that being said, there are still two that I keep in my personal library to stay on track and motivated. These are the two books: SImple Path to Wealth and Grant Sabatier's Financial Freedom.
Your Turn… What is Your Favorite Book on How to Manage Money?
We all have varying opinions, upbrigingings, and ideals. That makes our journey through life much different. Plus we all relate to money differently.
So, which one is your favorite?
Comment below.
We want to hear your story on how these best money management books changed your life.